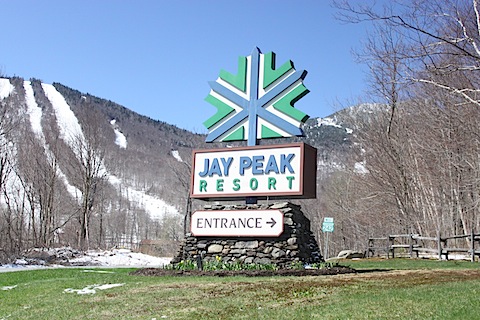 If you've been reading We are not Martha for longer than a year, you might remember the trip Sues and I took up to Vermont last January thanks to Cabot Cheese and Ski Vermont. We stayed in a luxury condo and learned how to snowboard. We had such a blast and at one point (maybe at multiple points?) we said how great of a trip it would be for a bachelorette party. While we loved snowboarding and being outside, the best part was hanging out and relaxing in the condo, getting massages, and nearly falling asleep in the hot tubs. It was the perfect setting to let go and unwind!
So, when it came time to plan Sues' bachelorette party, I immediately remembered that trip to Vermont and how much fun we had. I reached out to our darling friends at Cabot Cheese to see if they could help me plan this undercover trip. They sent me a list of a few resorts in Vermont and told me to take a look at them all. When I saw Jay Peak's website, I knew right off the bat that this resort would help make for the perfect girl's weekend. And it was very Susie. Full kitchen with granite countertops, fireplaces, decks, sweet views, and great restaurants. Plus, they just went through a multi-million dollar renovation so everything is brand new. Not only that, but the resort plays such close attention to the details. Like working with local Vermont companies to outfit the rooms, using actual ski lift pieces and parts as functional decorative accents, and using local ingredients at their restaurants.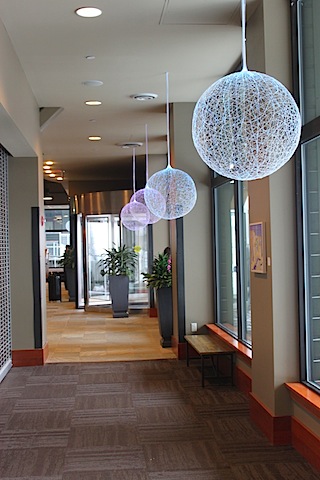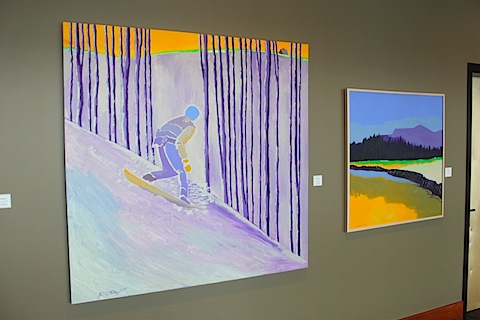 There was a group of 9 girls who went up for the weekend, all childhood friends, and Sues' friend Kyle from UNH, who is easily friends with all of us by now. It's kind of neat how everyone has been able to stay in touch and come together for such big moments in each other's lives.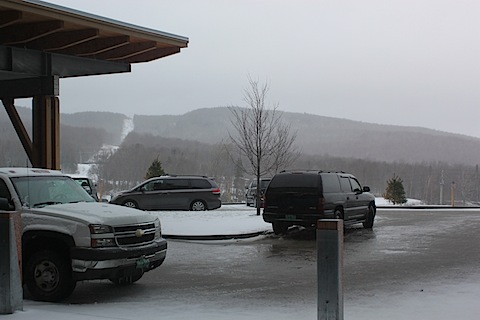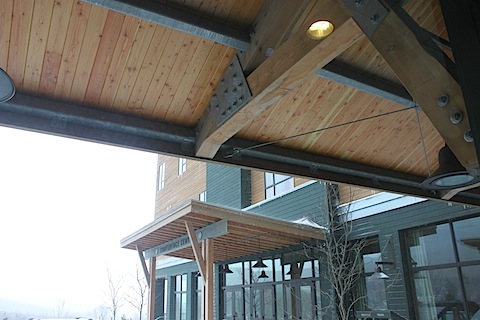 The ride to Jay, Vermont is about 3.5 hours from Boston. And of course it started snowing as we arrived! Kate and I got up there first (wearing ballet flats, woops) and took a tour of the resort with Chelsea, who works at Jay, and helped make our entire stay at Jay possible! She showed us all of the new conference rooms, that has more than 5,000 square feet of space, which brings the resort to over 37,000 square feet of conference and meeting space. Insane.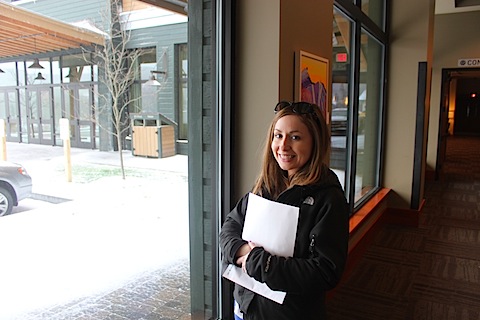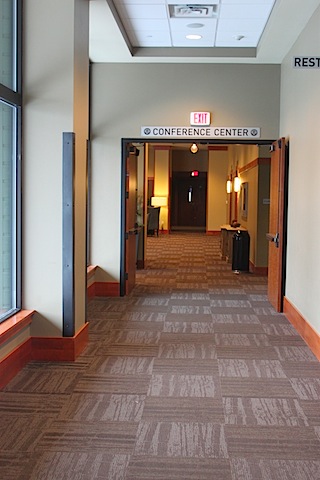 The conference spaces also feature state-of-the-art audio/visual equipment which would be perfect for a conference!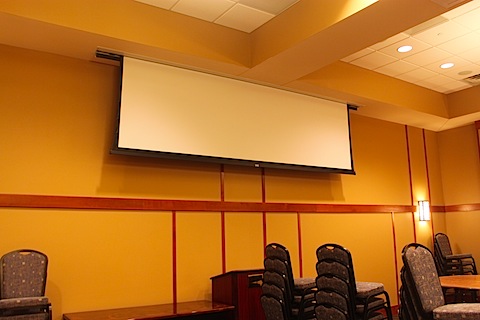 The amount of windows in some of the conference spaces is absolutely stunning! Definitely a great spot for a wedding!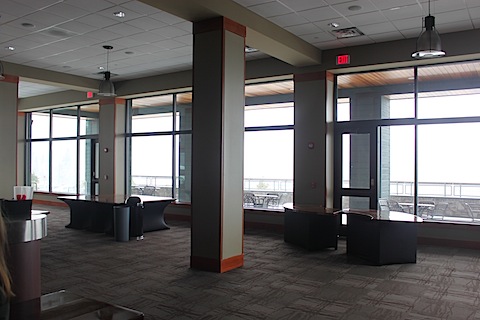 Once we were finished touring the conference rooms, Chelsea took us up to some of the guest rooms to take a look at some different layouts. Months ago, she hooked us up with a 3-bedroom suite, which at this point we had already checked-in to, but it was still fun to see the other options for lodging. Hotel Jay offers nearly 176 suites, which include a mix of studios, 1,2,3, bedroom suites and 4 bed lockouts.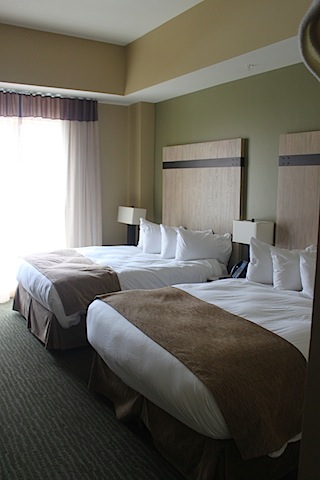 Now, I'm definitely not a hotel person at all. It's become a joke between our group of friends by how bugged out I am by hotel germs. Hotel Jay was completely immaculate. Spotless. Perfect. Not to be cheesy, but it kind of felt like home. The beds and linens were divine and I cozied right up to them! You couldn't find anything wrong with the rooms if you looked. And trust me, I always look 😉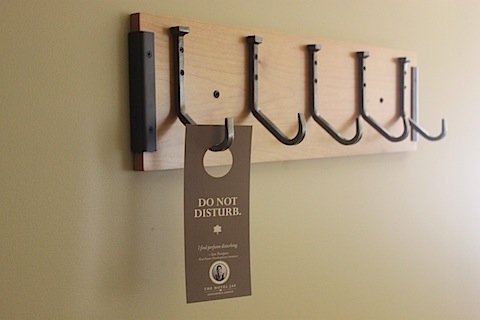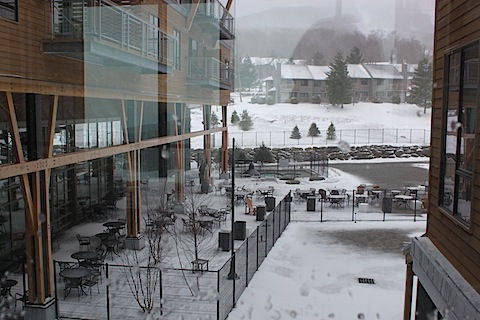 Once the guest room part of the tour was over, we went to take a look at the restaurants at the resort. There's The Foundry Pub & Grille, which is where we ate dinner Saturday night. They offer "char grilled steaks and meats, fresh pastas, and locally sourced vegetables."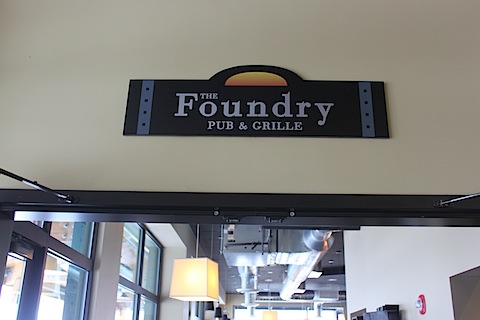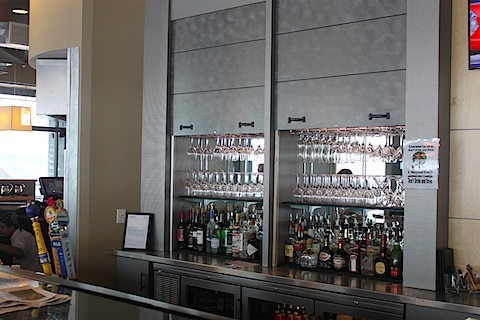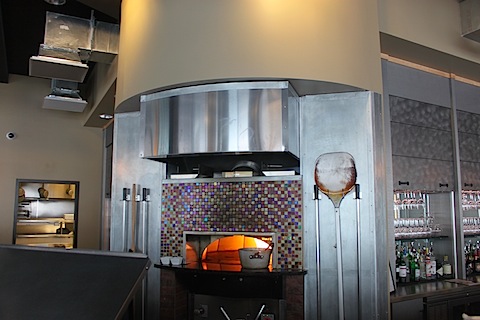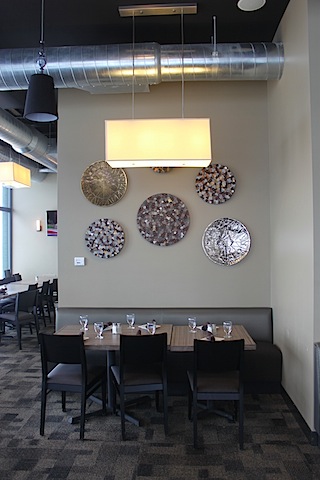 Then we went over to Alice's Table, which was closed the weekend we were there, which offers "mountain views as well as a menu with local meats, cheeses, and fresh seafood."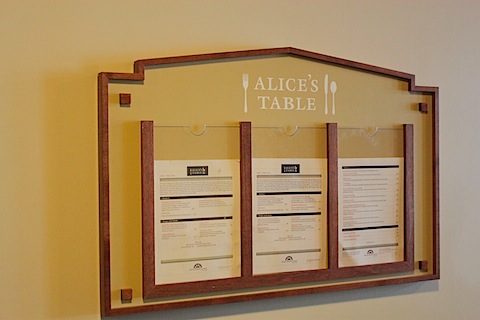 We also stopped by Tower Bar. This is where we ate dinner Friday night. More on that below!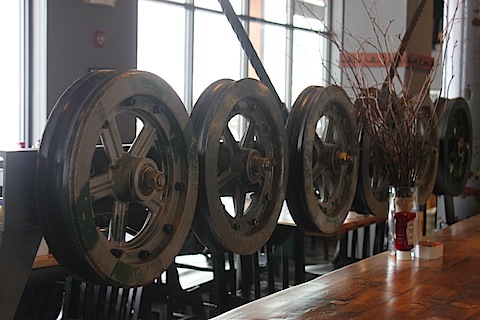 We then went over to The Pump House Indoor Waterpark, which is about 50,000 square feet! The average air temperature is around 86 degrees and the water temps are 84 degrees.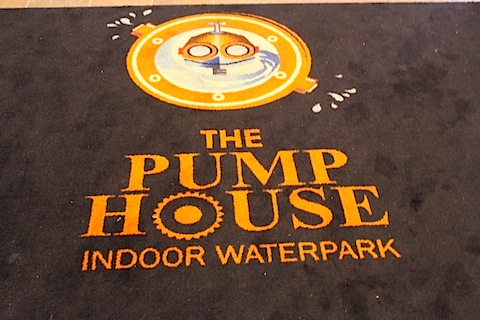 The park also has a retractable roof which helps with cooling in the summer. "The Pump House includes Big River, the longest indoor Activity River in the country, The Mill Pond children's play structure and splash zone, Big Falls climbing wall, multiple tube slides, The Double Barrel, a double-surf wave, and La Chute, which is one of only 2 indoor Aqua Loops in the world."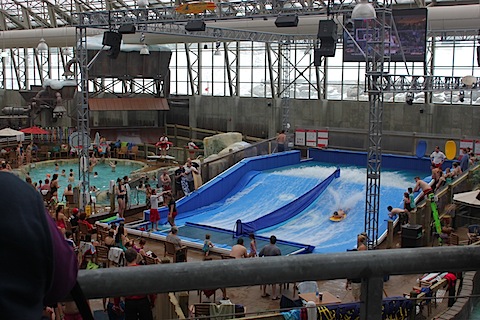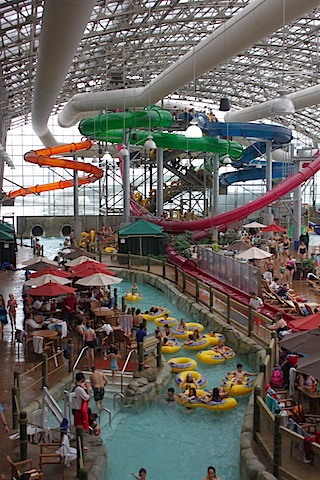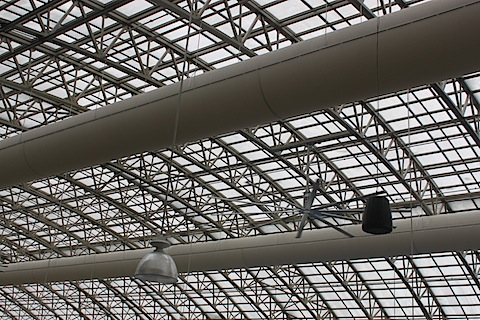 In the waterpark, you'll also find The Drink, which is a poolside bar.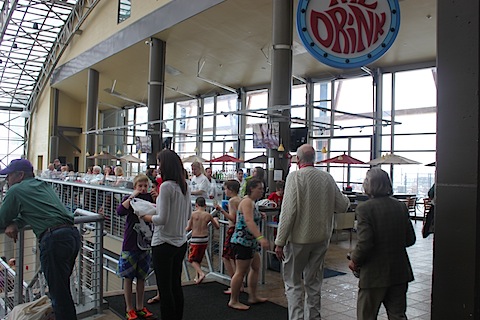 Connected to Hotel Jay, you'll find the Tram Haus Lodge, which is an even more luxury option for lodging, if you can even believe that!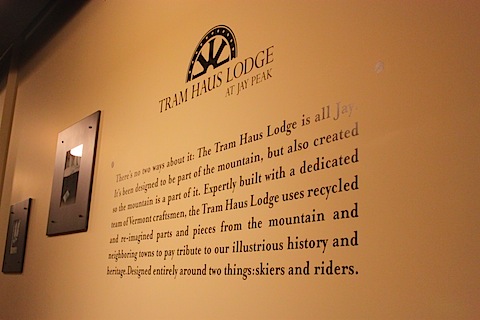 Once the tour was over, it was time to relax and get pampered at Taiga Spa. We booked Sues a massage appointment, I got a much-needed deep tissue, and Kate got a pedicure.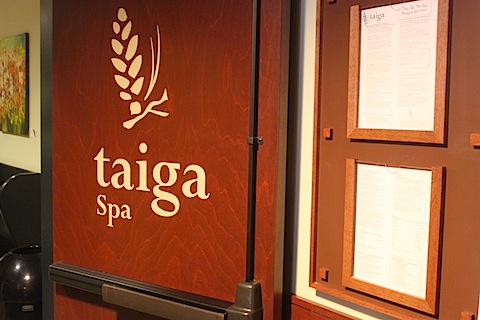 Cabot gave ALL the girls who attended a $100 gift card to use at the resort to put towards spa treatments, dining, or any activity at the resort! This was such a treat 🙂 And just one of the twelve million reasons why we love Cabot.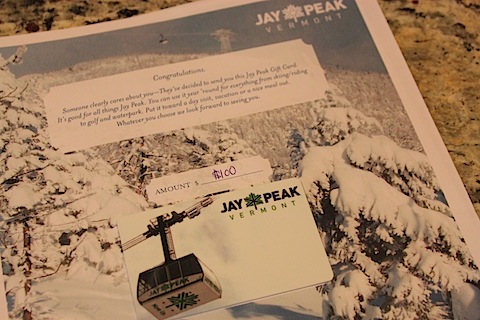 Once we were done at the spa we went back up to the rooms to settle in while Beth got her massage.
Kyle had arrived by that point, so while we waited for the rest of the girls to get there, we went to dinner at The Tower Bar. We ordered delicious wings.
And had our first experience with poutine, a dish that consists of french fries, cheese curds, and often sauce or gravy, which originated in Quebec. Jay Peak basically borders Canada, so why wouldn't we order this!? So good.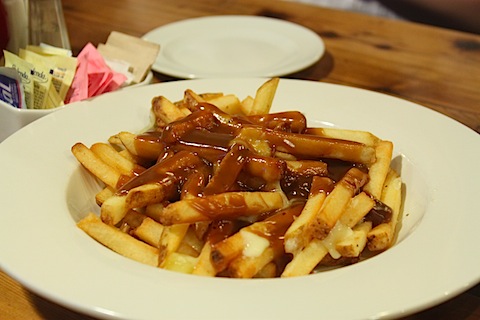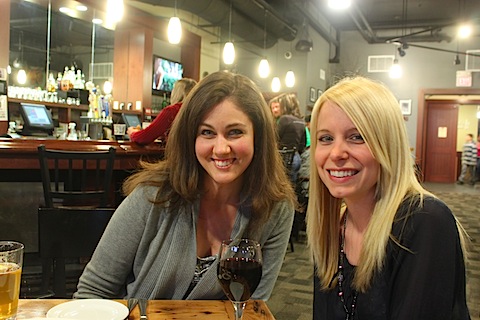 By the time we were done with dinner the rest of the girls had already arrived and were hanging out in the suite. I think the thing you need to understand about our friends is that we're not typically a wild bunch, so our idea of fun is mostly sitting around chatting with a good cocktail in hand and playing silly games. Plus, life has been so hectic for all of us lately, it was just nice to be able to catch up in a relaxed environment with some good tunes in the background at a level soft enough where we could actually hear each other speak!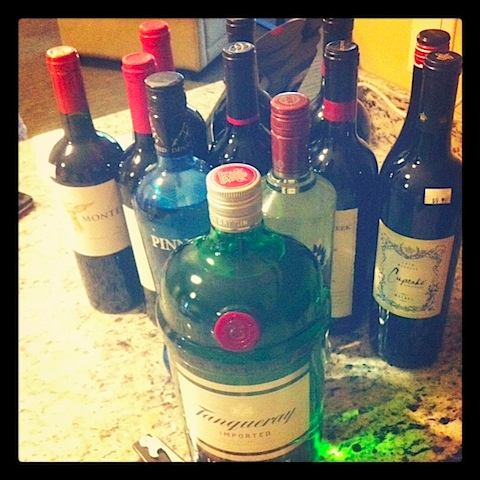 Please note, we were only in Vermont for two nights and this is what we brought for adult beverages. No clue why we thought the weekend would require all of this! I guess it's better to be prepared??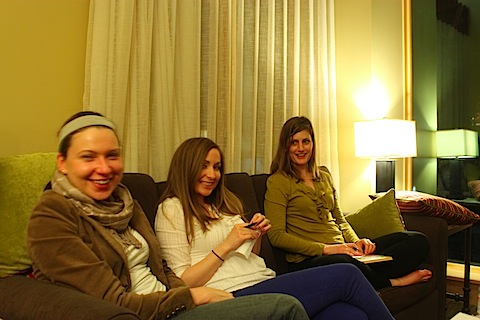 Oh, and this was the view we woke up to on Saturday morning: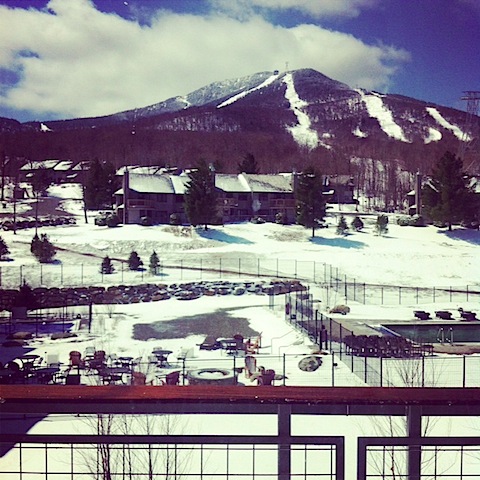 Not too shabby at all!
On Saturday, we headed down to Cabot, Vermont to take a tour of their visitor's center. What's a trip to VT without seeing our favorite friends!?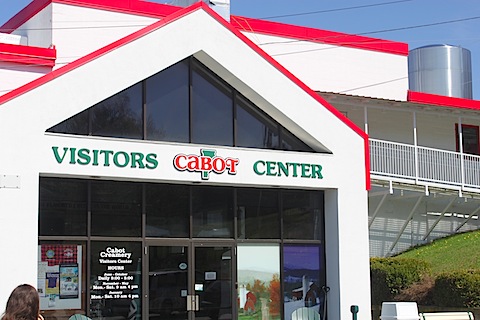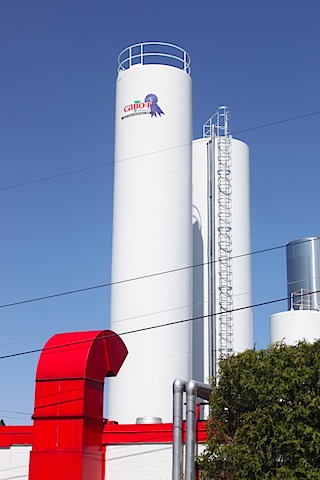 We took a tour of the facility and saw where the cheese is made, packed, and shipped. We also watched a video about the farmers and the history of Cabot and participated in a tasting, which is the best part 😉 The Cabot Cheddar shake is actually quite addicting on popcorn. We all kept going back and were being little piggies 😉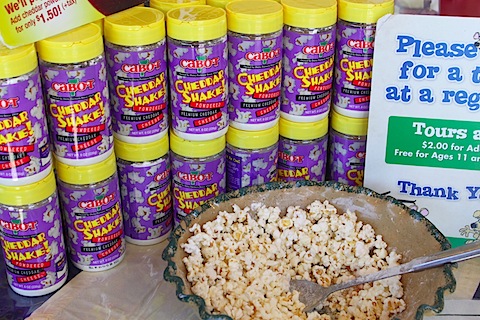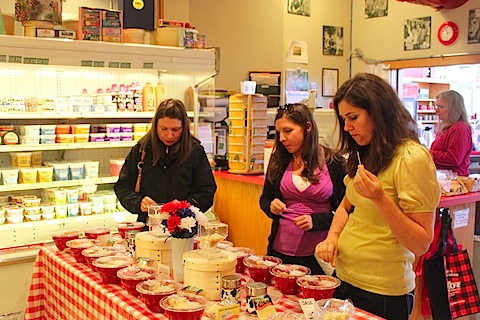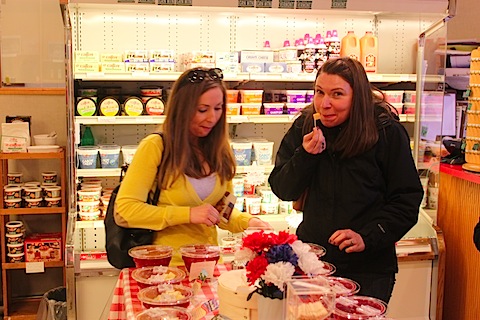 The smoky bacon cheddar was delicious as was the chipotle. Some all-time favorites are the Cabot vintage, Tuscan, and sage blends. Who am I kidding? They're all my favorite.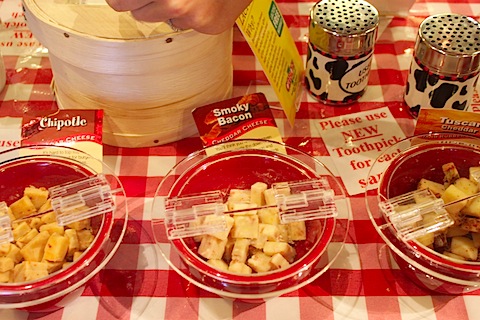 The ladies who guided our tour were gems. They even gave us lunch recommendations and called a few restaurants for us to check their hours. Vermont hospitality!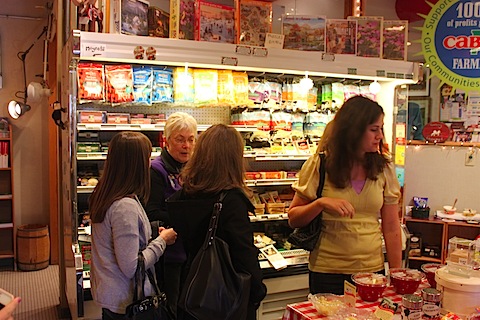 And the fridge filled with just Cabot products is something dreams are made of. Sometimes my fridge at home looks a little something like this when Cabot sends us huge boxes of cheese, hehe 🙂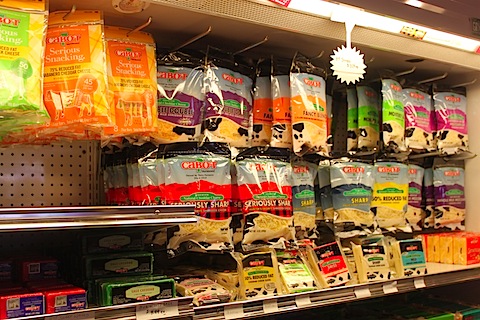 Kyle had the idea for all of the girls to bring a piece of clothing in one of Sues' wedding colors (yellow, purple, or gray), so we could take a group photo. I sent an email out to everyone to let them know the plan and was so excited everyone remembered!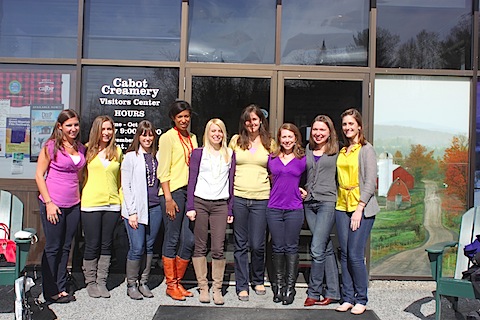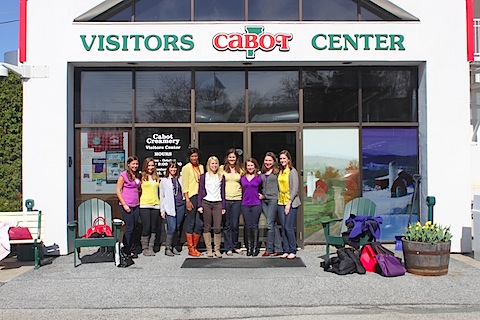 We made a quick pitstop on the way back to grab lunch then headed back to Jay Peak to relax before we went to dinner at The Foundry. But before dinner, Sues and I had a quick social media session with our friends who aren't on Twitter! We went over the meaning of hashtags and how Twitter can benefit just about anyone as long as you're following interesting people! They were sold and (almost) all created accounts! Here's Lib, Kate, and Nina tweeting. Or as one of them who will remain nameless said, "tweetering." I even got Kate to sign up for Instagram. Love it!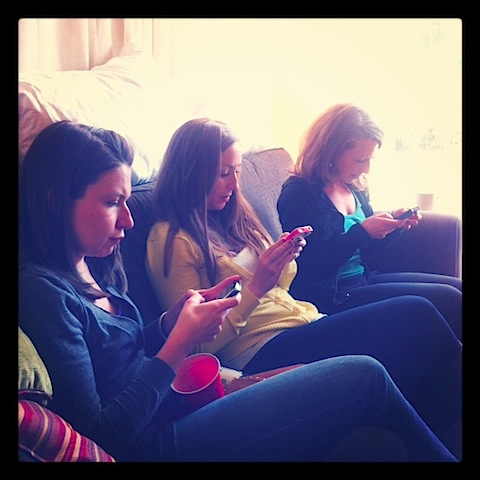 We enjoyed a fantastic group dinner at The Foundry and yes, some of the girls tweeted about it using the hashtag we created for the weekend, #JayPeakBach.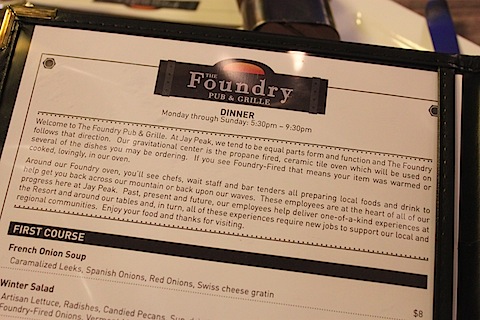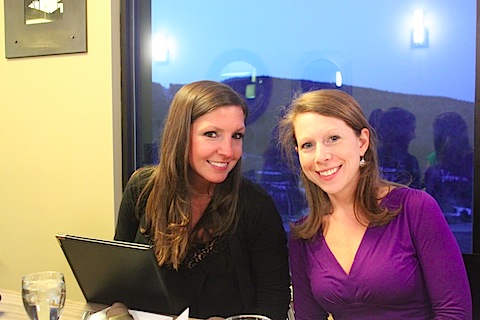 [Liz and Neen]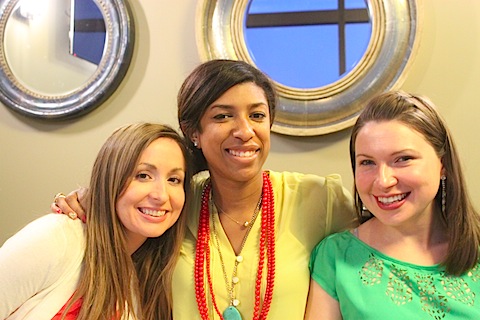 [Kate, me, and Lib]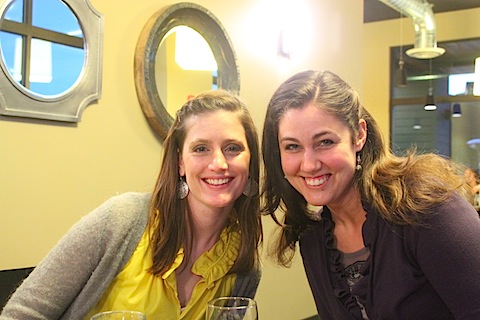 [Erin and Kyle]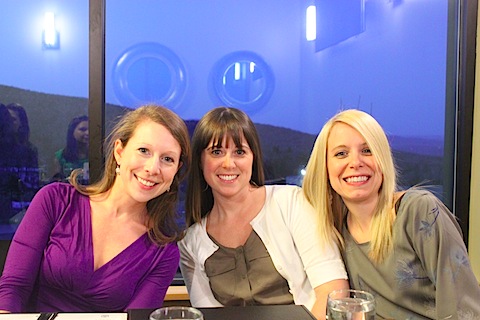 [Neen, Beth, and Sues]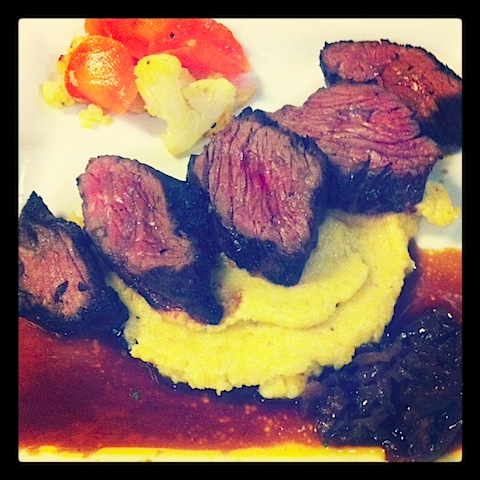 [Grilled Sliced Sirloin, Apple Cider Herb Marinated , Roasted Shallot Marchand de Vin, and polenta]
[Caledonia Gin Cobbler]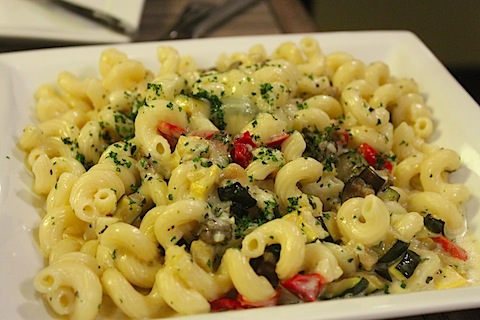 [Foundry Pasta Primavera. Cavatappi Pasta, Herb Grilled, Seasonal Vegetables, Roasted Garlic Jus, Smoked Cabot Cheddar Cheese]
After dinner we headed back up to the suite and stood around the kitchen and living room chatting for hours about who-knows-what. This is just what we do. Which very clearly explains why we've all been friends since forever.
The weird thing is that even though this was such a low-key weekend, three of us are now currently so sick. Katie, Sues, and myself are all struggling hardcore this week trying to fight off whatever it is that we caught! No appetites, achy bodies, congestion, etc. Thankfully I didn't have to work on Monday because I could hardly move but I did have to call out of work yesterday and got sent home early today. And Kate and Sues both had to call out of work earlier this week. We actually had a discussion at dinner on Saturday night about how we never call out of work. Go figure. I'm a firm believer in having bachelorette parties a significant amount of time before the wedding just to be safe and you want to give yourself time to heal, haha. I said to Sues the other day thank goodness we didn't go away the week before her wedding because there's no way we'd feel okay for it! Now we have plenty of time to recuperate and get some meds 😉
Next stop: WEDDING!
What's your ideal bachelorette party idea? It's always fun to hear what other people did!
[Chels]
Our stay at Jay Peak was 100% complimentary. The $100 gift cards were given to us from Cabot Cheese and our tour at the visitor's center was also complimentary. As always on We are not Martha, all opinions and statements our entirely our own and we only work with companies that we absolutely adore. Thank you SO much to Jay Peak (Chelsea!) and Cabot (Candace, Cheryl, and Roberta) for giving us the perfect setting for a wonderful weekend 🙂