Guess what? It's Friday and it's time for a cocktail! But you already knew that, didn't you? I don't have much to complain about today. I actually took today off from work to go to Maine with Chris, his mom, and my mom. The weather is pretty awesome and we're planning on hanging out in Ogunquit, eating lobster and drinking rum punch at Barnacle Billy's. We'll probably take a walk on the marginal way and appreciate the fact that it's in the high 60s and sunny. I haven't taken a full day off in I don't know how long and I am way beyond excited. I'm scheduling this post since I don't know when I'll be home and want you to have a cocktail recipe for this beautiful evening!
I swear, I didn't take the day off to watch the Royal Wedding! I mean, I work from home, so that wouldn't be necessary. But I have been covering the Royal Wedding from a celebrity/fashion standpoint for work, so I did tune in for a while this morning. Did you get up and watch? I love getting into all the excitement but I do think it's a tad odd that we seem to be so much more obsessed with it than even the British are. I heard they're all laughing at us because we're so obsessed 🙂 But it was awesome to watch and Kate Middleton looked stunning.
Though I'll be sipping on some rum punch today, I wanted to share another fun summery cocktail with you. This one is perfect for sitting outside with a drink. It's lemonade. OK, it's more tequila than lemonade. But still.
Tequila Thyme Lemonade (makes 1 drink):
Adapted from Martha Stewart Living
Print this recipe!
• 3 thyme sprigs
• 1 t sugar
• 2 lemon wedges
• 3 oz. silver tequila
• 1 oz. cold water
• 2 t freshly lemon juice
• Ice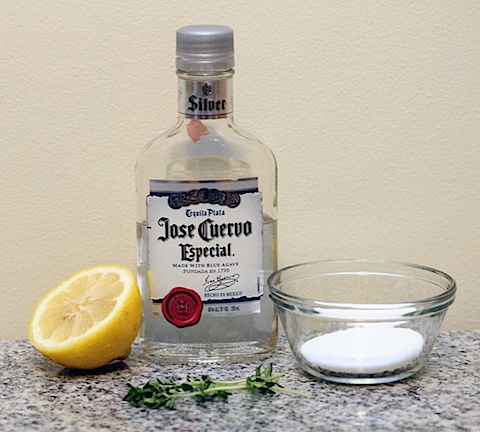 Simple and ingredients and super simple to make! Muddle the three time sprigs with the sugar and 2 lemon wedges in a glass.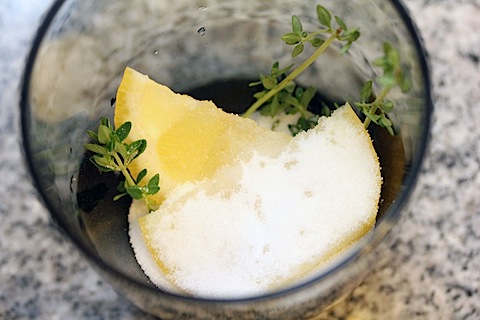 Add tequila, cold water, and ice. Taste. And realize you need to add a bit more lemon juice. Because yowza! Hello, strong Friday night drink 🙂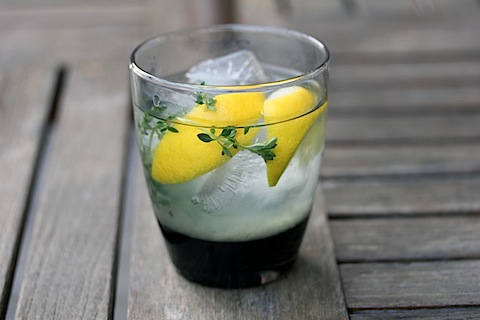 Chris LOVED this drink. Maybe I'm a huge wuss, but it was just a tad too much tequila for me. Don't get me wrong; it's the perfect drink for sitting on the patio and chilling out at the end of the long week, but danggg it was strong. So feel free to try it when it's complete and add more lemon juice and/or water. I won't tell.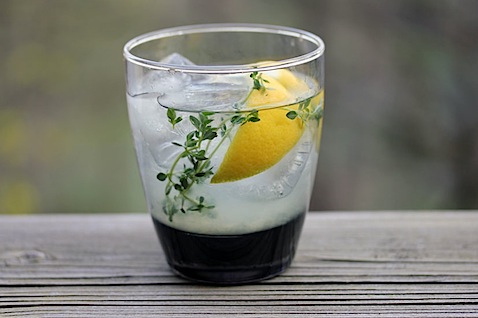 I love drinks made with simple ingredients that are tasty and refreshing. And kinda pretty, too 🙂
What's the best drink you've had lately?
I have two:
The Bloody Meyer at Brasserie Jo: It's a martini made with Ketel One Vodka, meyer lemon, macerated tomato, and cilantro. If you love bloody marys and aren't a fan of overly sweet martinis, this is for you… and me! Also, Chris and I are getting married at the Colonnade so yayyy!!! I have a feeling we'll be hanging out here a lot in the future. I kinda sort of want to make it the signature drink for the wedding weekend, SO good!
Amarena Cherry Champagne Cocktail from Top of the Hub: I love a little bubbly and this hit the spot yesterday afternoon. The cherry was just strong enough to add a little sweetness to the drink. Really though, the Top of the Hub has one of the best cocktail menus in the city. And the BEST view in the city. Even if you don't want to splurge on a whole meal there, stop in to the bar for a drink and the view 🙂
See? You can even spot our wedding venue! It's the building with the fabulous roof-top pool! 🙂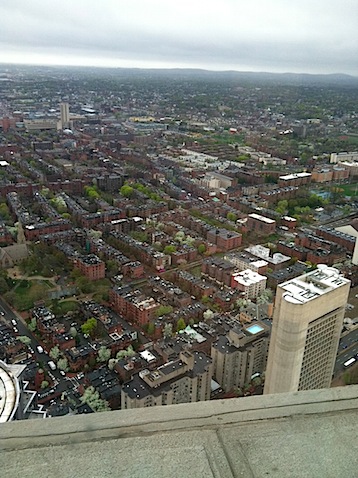 Have a fabulous, sun-filled weekend, everyone!
[Sues]