When I saw Nora Leah post the recipe for this on The Great American Cooking Project, I couldn't stop thinking about it. So I made it. And it was amazing. In fact, I made a few batches of it (AKA lots!) and froze some of it, so I would be able to enjoy it throughout the Autumn. I just pulled another batch out of the freezer the other day and realized I needed to post the recipe here so everyone else can enjoy it! I've always been a fan of Trader Joe's lentil soup, but this homemade version is so much better. And the addition of cinnamon and nutmeg will make you feel totally cozy and fall-ish

Nora Leah calls her soup October Surprise, but you can call it whatever you want. I prefer to call it the Best Lentil Soup Ever.
Here's what you'll need for The Best Lentil Soup Ever (but you can alter anything to your taste!):
1 1/2 C lentils, washed and picked over
1 lb carrots, peeled and sliced
1/2 lb small white potatoes, washed and cut into cubes
2 bay leaves
2 big pinches dried thyme
1 big pinch ground nutmeg
1 pinch ground cinnamon
8 to 10 C chicken broth (you can use veggie too)
2 T olive oil
1 medium onion, chopped
2 T minced garlic (use however much you like. I LOVE garlic)
Freshly ground black pepper, to taste
Chop up all your veggies first. And use absolutely whatever you want to use when it comes to veggies. It's your soup and there are tons of different additions that could be fabulous here, so you don't have to follow the recipe exactly (though I admit, I did kind of follow Nora's very closely, because it was so amazing sounding and tempting).
Put the lentils, carrots, potatoes, bay leaves, thyme, cinnamon, and nutmeg in a pot with 8 cups of your stock. Bring it to a boil and then turn the heat to low and keep it there, stirring it occasionally.
Put the olive oil in a skillet and toss in your onions and garlic, cooking on medium low for about 5 minutes. The onion should be soft.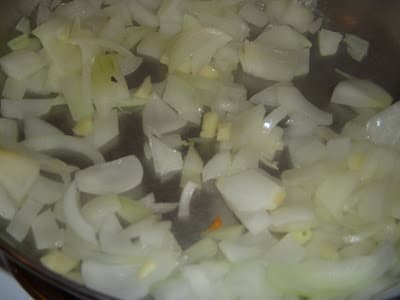 After your stock/lentil/veggie mixture has been cooking for about 30 minutes, take the bay leaves out and put the onions and garlic in. Taste it and add more seasonings if you want. I added a bit more nutmeg into the mix because I really wanted my soup to taste like fall.
Like Nora, I like my lentil soup thick, so I didn't add any more stock to it. If you want yours to have a more soupy consistency, you can add more stock in. Serve with salt and pepper to taste.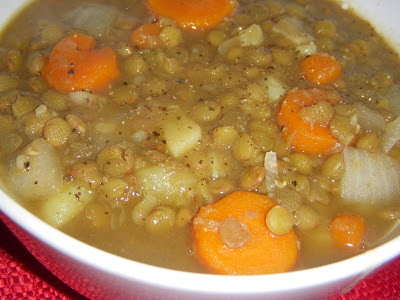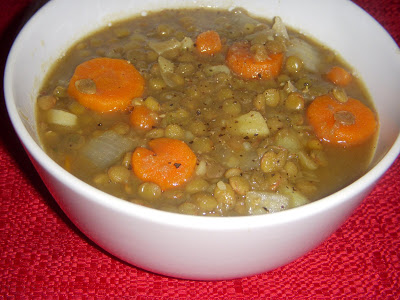 This soup was the perfect consistency and way better than any lentil soup I've had before (and that's saying a lot, considering I love Au Bon Pain's!). It's also really filling. Trust me, I'm not one to make a meal of soup, but this completely satisfied me. Especially with a side of really nice bread and butter. I'm a big fan of When Pigs Fly low carb whole wheat (I swear, it does not taste low carb at all. Seriously). I will definitely be making this every Fall and stocking my freezer full of it. And you should too. Thanks Nora Leah!

[Sues]