This simple Vanilla Syrup is one of the most versatile simple syrups and can be used in so many drinks, desserts, and more! It's easy to make and once you try it, you'll be sure to always have a jar of it in your fridge.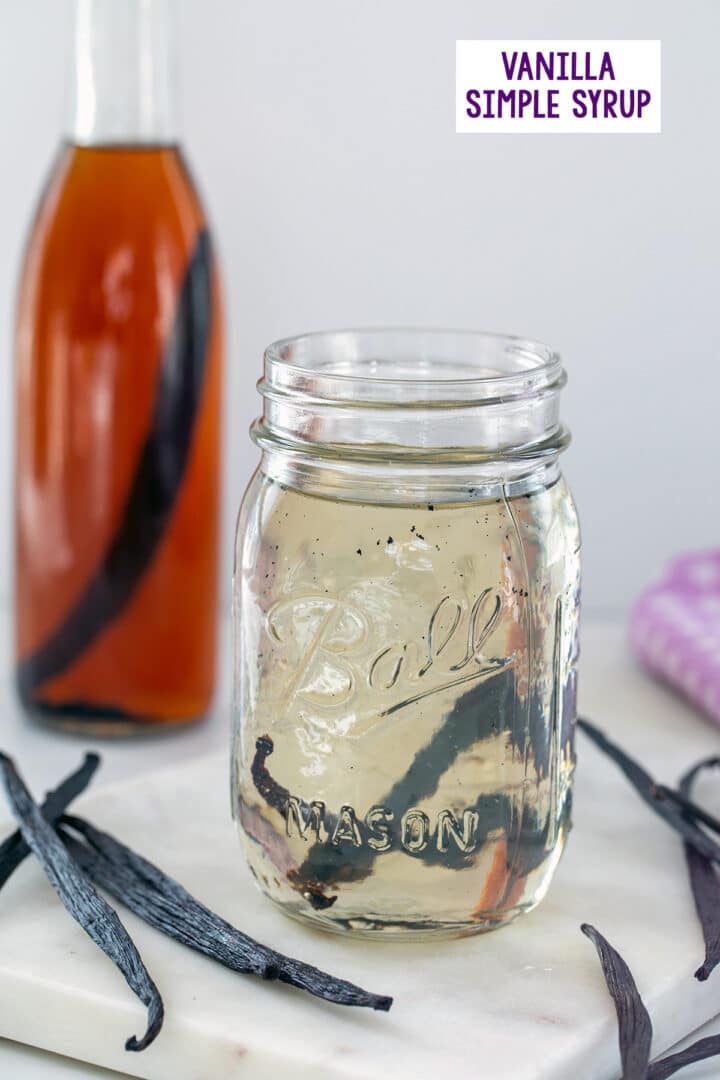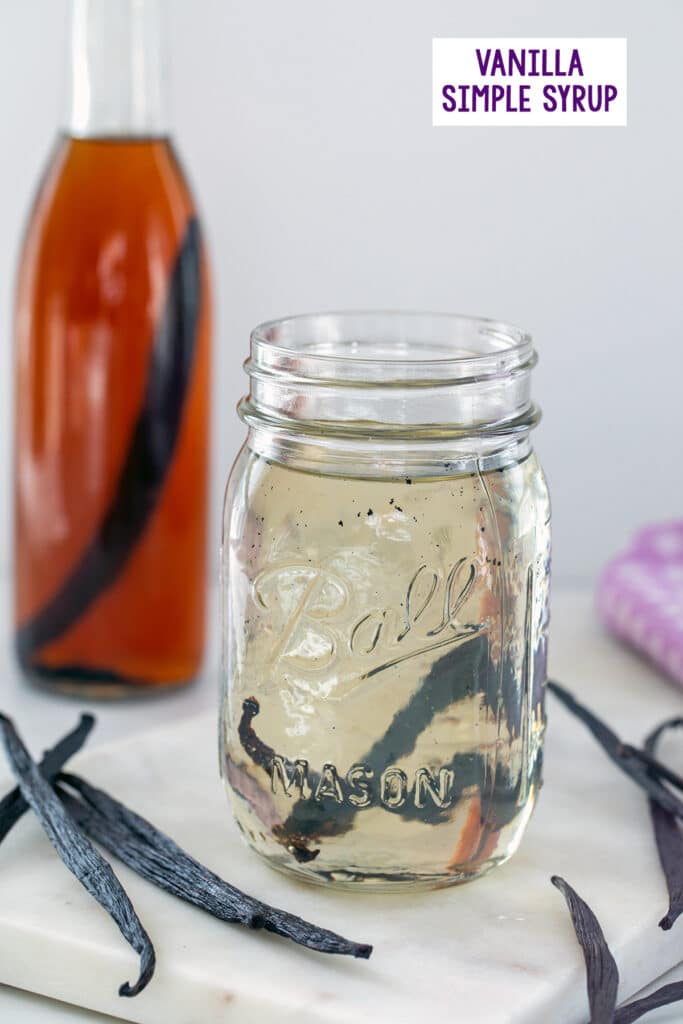 I've shared so many simple syrup recipes with you here on We are not Martha and I can't believe I'm only just now getting around to showing you how to make vanilla syrup.
Vanilla is one of my most-made syrups... It probably just ties with jalapeño, which is also a favorite in my house. I make it the most because it has SO many uses and goes with just about everything.
Plus, it's an incredibly easy syrup to make!
Why You'll Love This Recipe
Who doesn't love vanilla? And who doesn't love the idea of adding concentrated sweet vanilla flavor to anything your heart desires?
Vanilla syrup is a bit like vanilla extract, but with the added benefit of being sweet. It's so yummy, you'll almost want to put a straw into it and just sip it up!
It's one of the easier syrups to make and it only requires 3 ingredients.
Ingredients
Like I said, you only need 3 ingredients to make vanilla simple syrup... It couldn't be easier! Here's what you need:
Water
Granulated Sugar
Vanilla Bean
Scroll down further in this post to see ideas for substitutions if you want to make this syrup, but don't have a vanilla bean.
What Are Vanilla Beans?
Chances are, you already have water and sugar in your kitchen and the only ingredient you'll need to purchase for this syrup is a vanilla bean.
Vanilla beans are long, skinny pods that are filled with thousands of little brown flavorful specks or seeds. Vanilla beans are used to make the extract you likely typically use in your baking, but for adding maximum vanilla flavor to recipes, using the bean is the best!
There are a ton of options for purchasing vanilla beans and a few things you should know:
Vanilla beans can be pricey (I actually just learned they're the second most expensive spice in the world after saffron) and the prices fluctuate a lot, but they're worth it for the concentrated flavor. You'll get about ½ teaspoon of seeds in each bean pod.
There are lots of types of vanilla beans available, but don't obsess too much about which ones you get. I do recommend reading reviews before purchasing since quality can vary widely and I've had some not-so-great vanilla beans. But if a majority of the reviews are good (remember that there will ALWAYS be some negative reviews) and you're comfortable with the price, go for it.
Should I Use Grade A or Grade B Vanilla Beans?
There are two grades of vanilla beans, A and B, and though they do have some differences, they can pretty much be used interchangeably, especially in this recipe.
Grade A is often considered the "gourmet" bean and generally has a higher moisture content. The vanilla flavor is a bit more diluted, but can be transferred to a dish quickly. Grade A vanilla beans are also usually more expensive.
Grade B vanilla beans are often known as "extraction" grade beans. They have a lower moisture content and a more concentrated vanilla flavor. However, the transfer of flavor takes a bit more time, which is why these beans are great in extracts where you'll be steeping them in liquid for a while. Grade B vanilla beans are generally less expensive than Grade A.
I generally have Grade A vanilla beans on hand, so that's what I usually use for this syrup. But Grade B will work, too! Not only are you adding the vanilla bean to hot syrup, which will expedite the flavor transfer, but you're also scraping some of the seeds out, which will also add more flavor faster.
You can use either Madagascar or Tahitian vanilla beans for this syrup, but I typically like Madagascar best.
If you don't want to do your own research, I recommend these grade A vanilla beans and these grade B vanilla beans.
How to Make Vanilla Syrup
This syrup is incredibly easy to make and requires making a basic simple syrup and then infusing it with vanilla flavor from a vanilla bean.
To start, bring sugar and water to a boil. Once it's boiling, lower the heat to a simmer, and let simmer for about 10 minutes, until sugar has completely dissolved and mixture has thickened a bit (it will continue to thicken as it cools).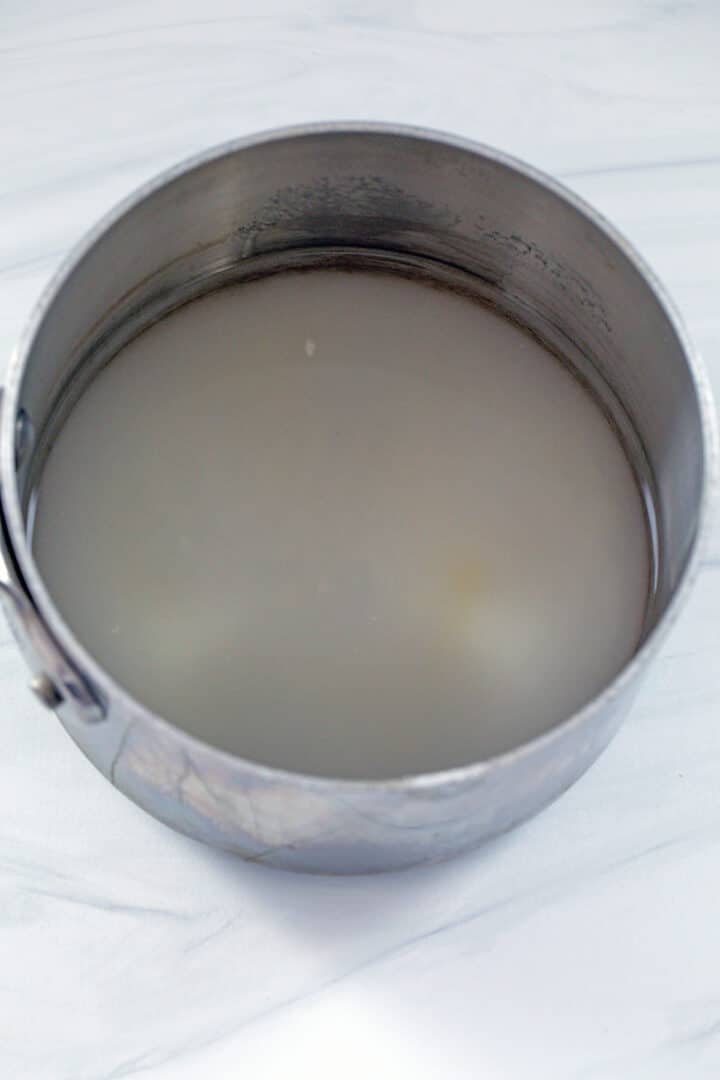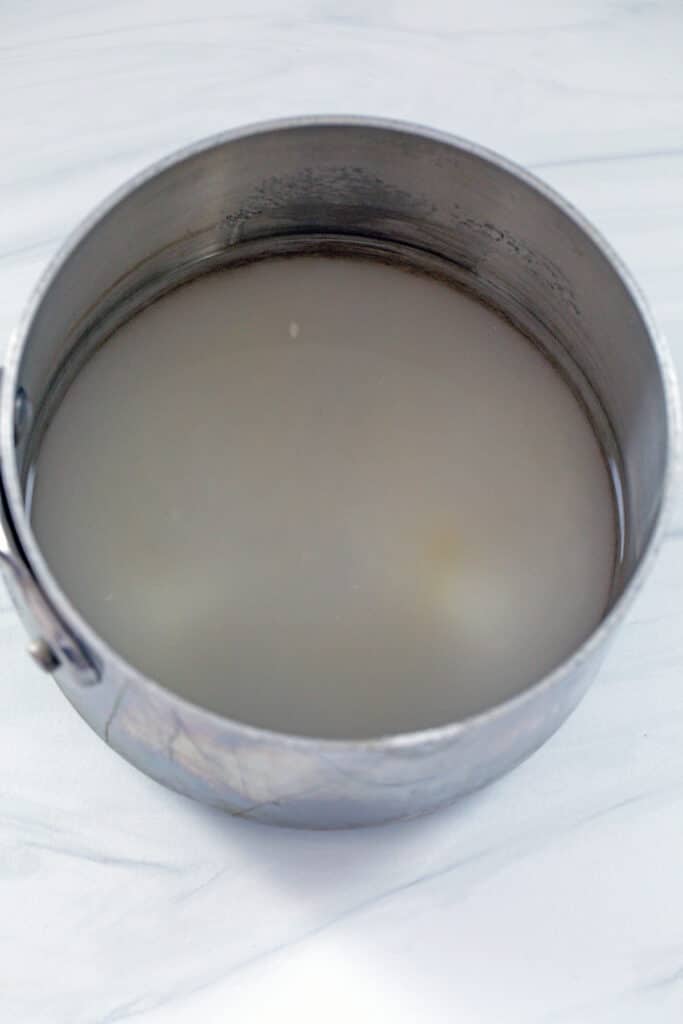 Slice a vanilla bean in half lengthwise and scrape some of the seeds out with a sharp knife.
I usually just scrape out a little bit because I like the vanilla flecks in the syrup. If you're using Grade B vanilla beans or want to vanilla flavor to be more intense quicker, you may want to scrape more out.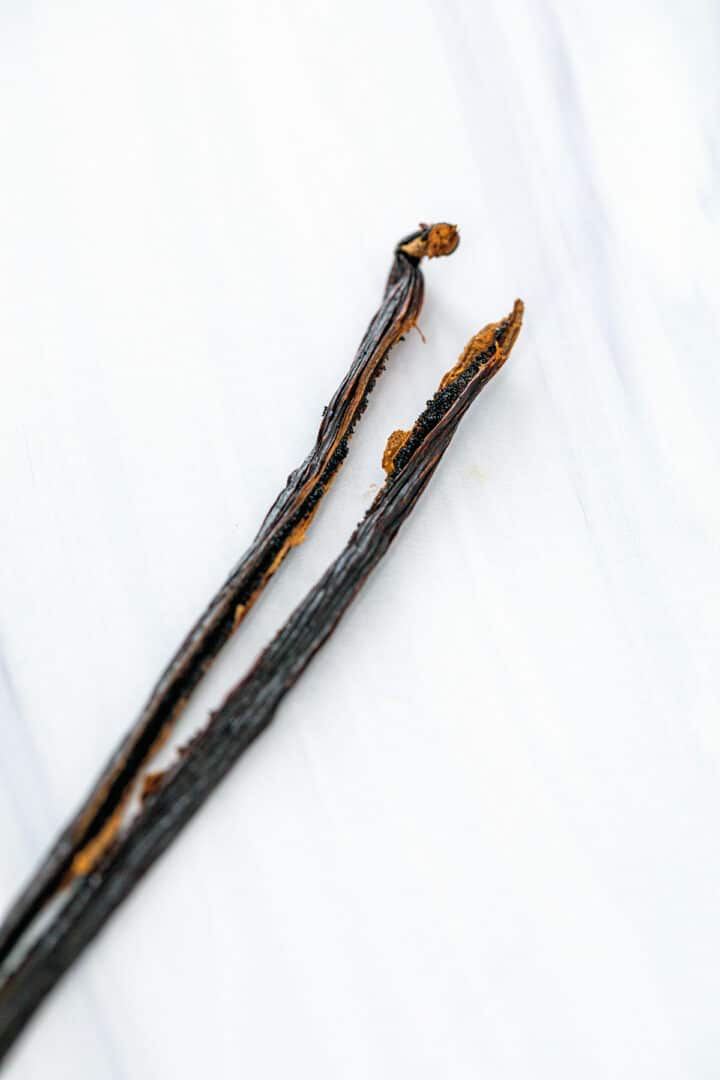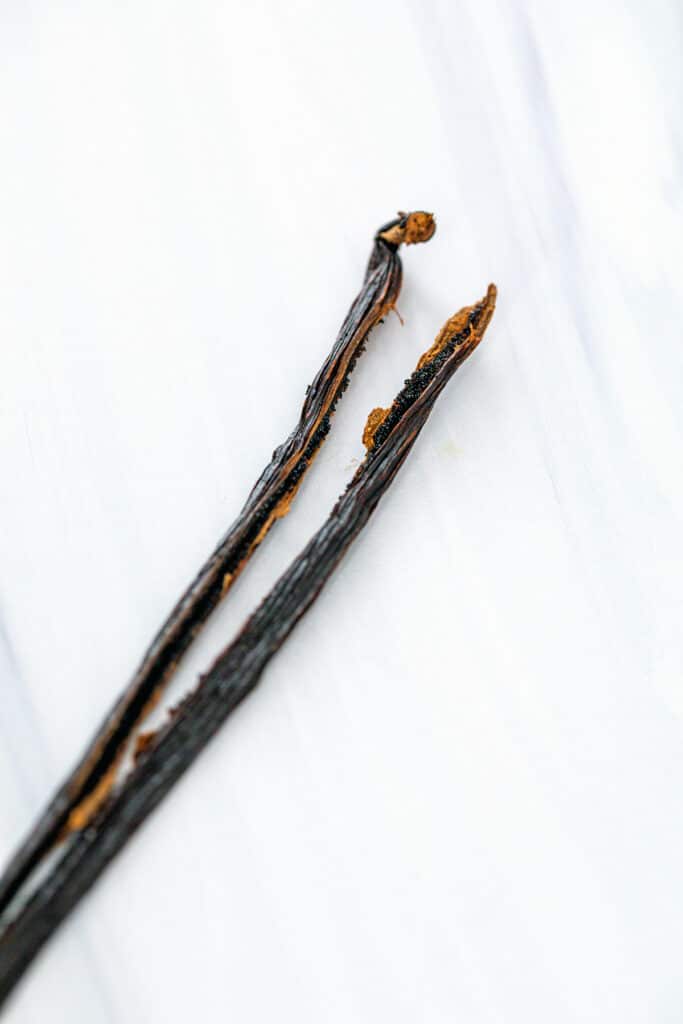 Pour the syrup into a heat-proof jar or container and add the scraped out sees in, along with the vanilla bean.
Store syrup in your fridge and let steep for at least 6 hours.
If you want a more intense vanilla flavor, you can leave the bean in after 6 hours.
I usually leave the vanilla bean in the syrup the entire time I have it in my fridge and the vanilla flavor gets so intense and awesome. If you like a more subtle flavor, definitely take it out.
If you don't have time to wait 6 hours before you use your syrup, once the syrup cools, shake the jar vigorously to infuse flavor. Taste to make sure vanilla flavor is strong enough.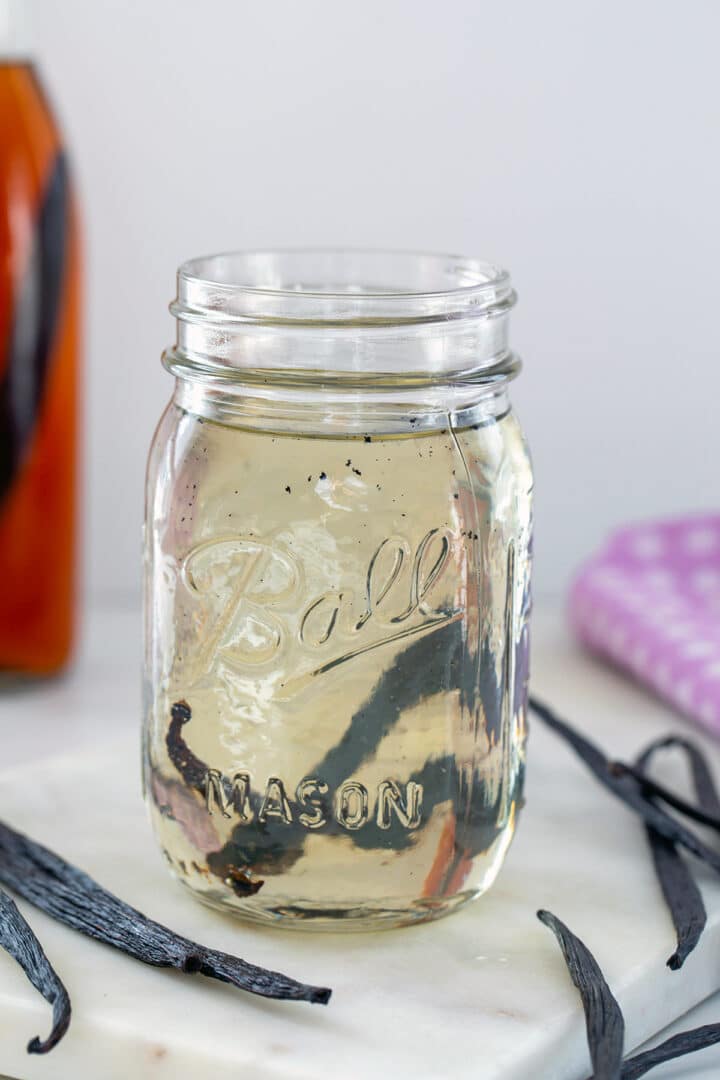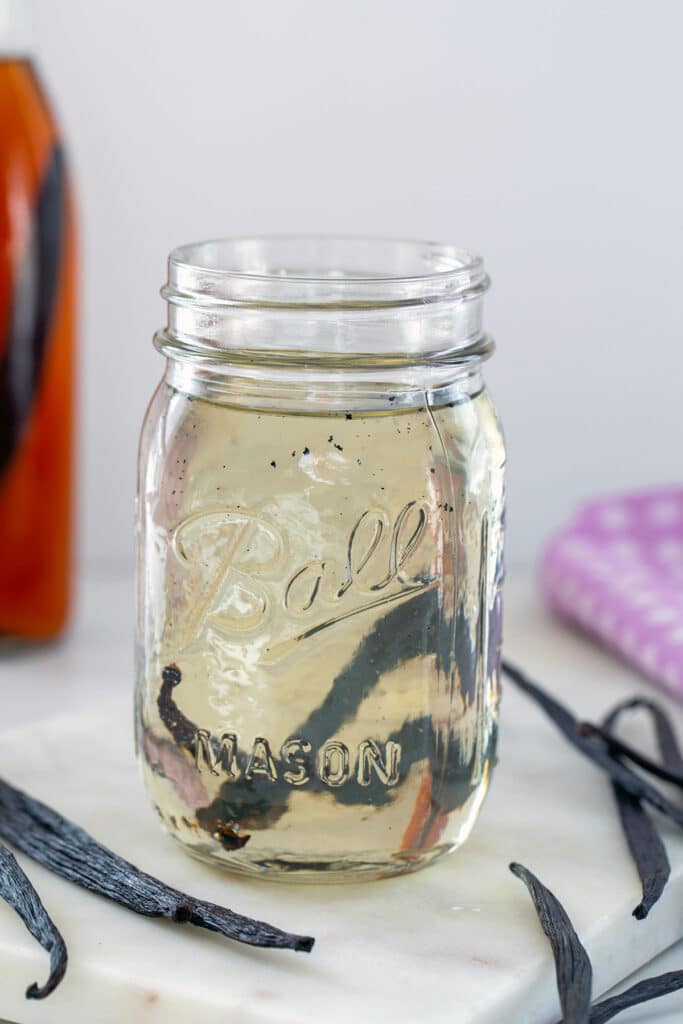 And now you can use the syrup however your heart desires. Even if that means slurping it off a spoon.
How to Use
There is SO SO much you can do with this vanilla syrup.
Cocktails: Vanilla complements so many other flavors, so this simple syrup can work in so many different types of drinks. I think vanilla works especially well with vodka, but it's also tasty with rum, whiskey, bourbon, tequilla, Baileys, Kahlua, and more. It's also delicious with blueberries, raspberries, strawberries, and almost every fruit I can think of!
If you're looking for a delicious cocktail to try it in, make this Raspberry Vanilla Whiskey Sipper.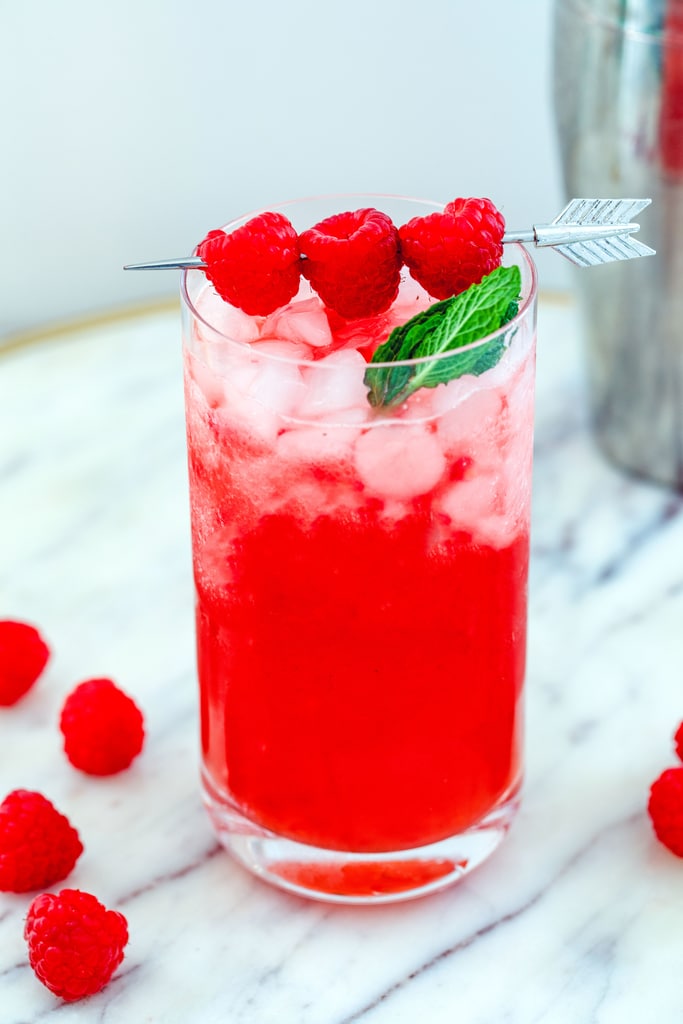 Homemade Vanilla Sweet Cream: If you love getting your drinks at Starbucks made with vanilla sweet cream, you will definitely want to try making your own at home with this syrup! In addition to vanilla sweet cream, you can make vanilla creamer with it. Get the vanilla sweet cream recipe here (and then make my Chocolate Covered Strawberry Frappuccino!).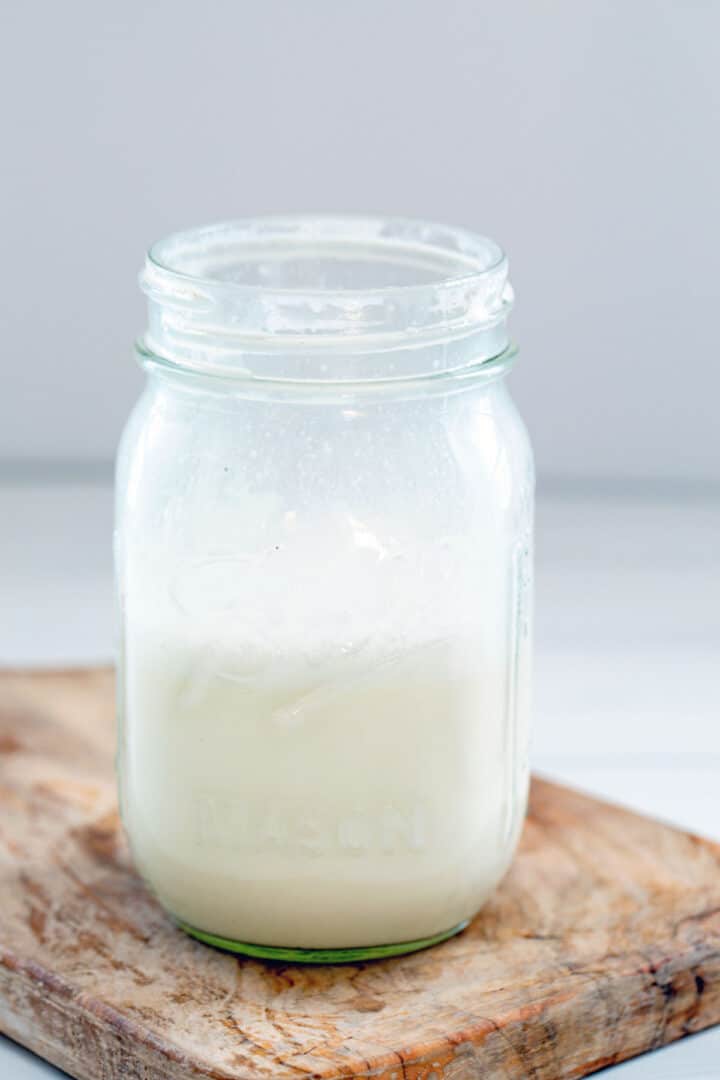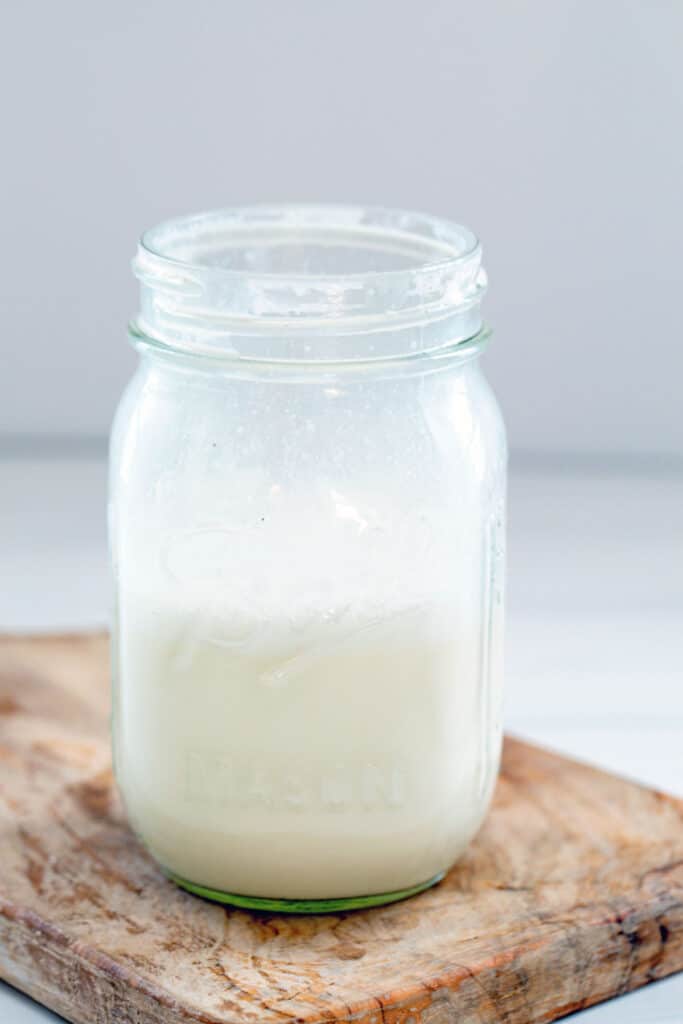 Homemade Vanilla Soda: Add vanilla syrup to sparkling water for an instant vanilla soda. Or add it to Coke or Dr. Pepper for a homemade Vanilla Coke or Vanilla Dr. Pepper!

Homemade Vanilla Milk: Use this syrup for my homemade vanilla milk recipe.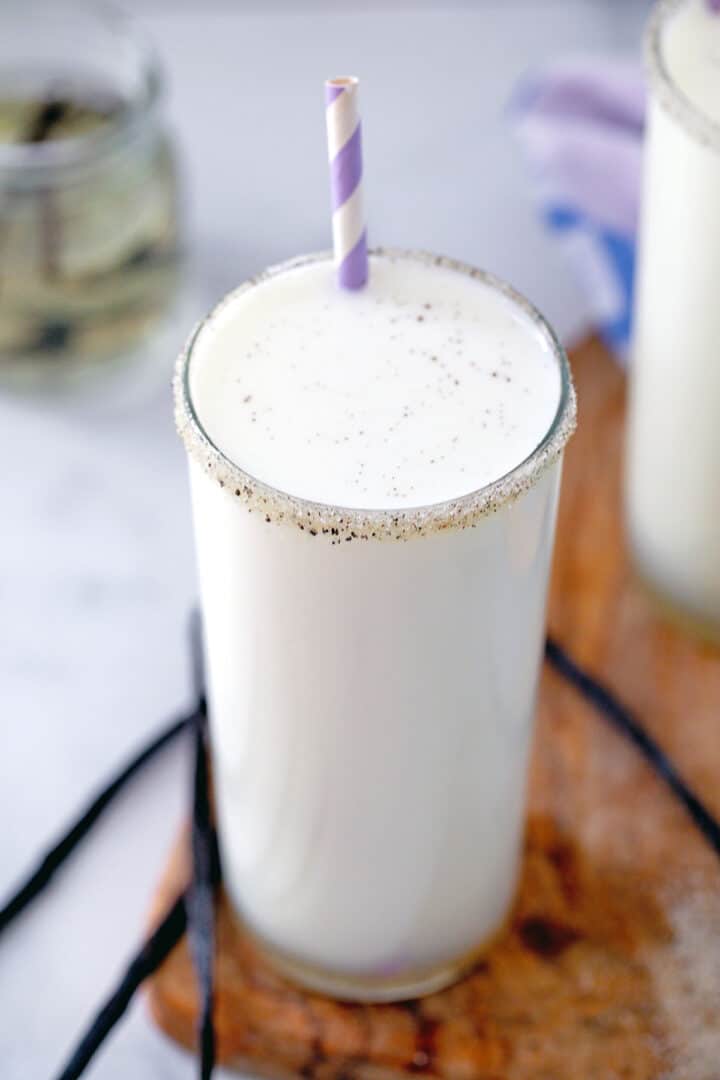 Vanilla Egg Creams: Have you ever had an egg cream before? Use the syrup to make this delicious vanilla egg cream!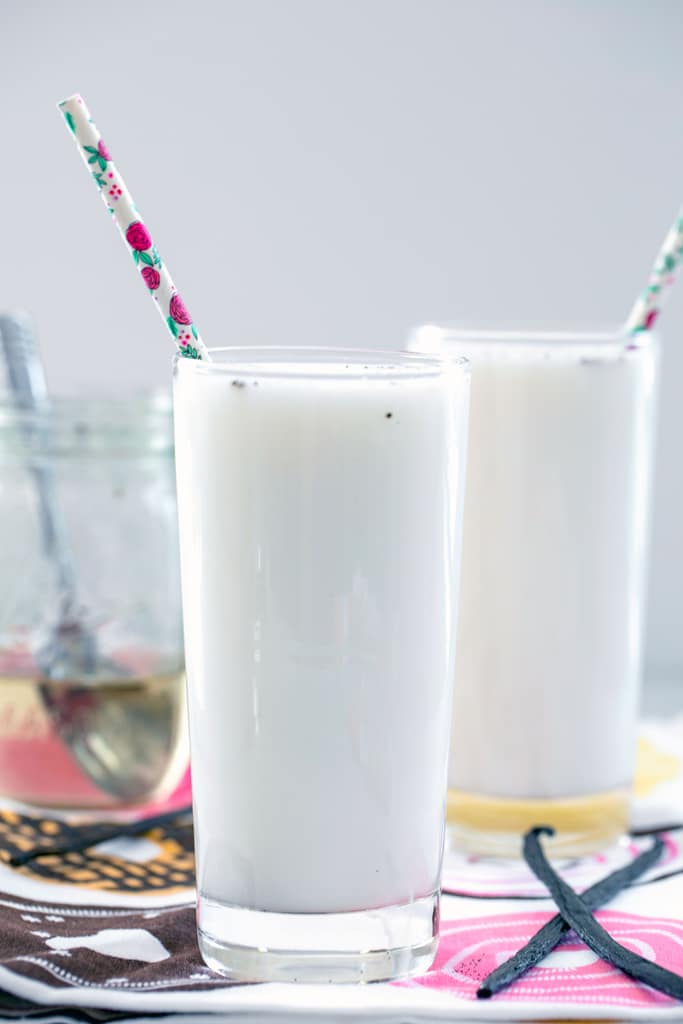 Vanilla Coffee: Instantly turn plain coffee into vanilla coffee by drizzling some of this syrup into hot or iced coffee. You can even make a homemade vanilla latte!
Ice Cream Topping: What kind of ice cream wouldn't this be delicious on? Take vanilla ice cream to a whole new level or add vanilla flavoring to chocolate or coffee ice cream.
Oatmeal or Yogurt Topping: Make your healthy morning breakfast a little sweeter and more flavorful with a drizzle of this syrup.
Pancake, Waffle, or French Toast Topping: Replace your maple syrup for vanilla syrup for a delicious brunch. It would be perfect on these coconut waffles.
Cake Moistener: Lots of bakers brush simple syrup on cakes to keep them moist and add additional sweetness and flavor. This would be so perfect on a vanilla cake, but you could really use it on any flavor!
Baking Ingredient: While you can't use this in place of vanilla extract in everything, it does make a great addition to recipes that you want to add vanilla flavor and sweetness into.
Substitutions for Vanilla Bean
If you want to make this vanilla syrup, but don't have a vanilla bean on hand, there are a couple substitutions you can make:
If you have vanilla paste, you can use this instead. You'll want to look at what the brand recommends using in place of a vanilla bean (equivalents should be on the container), but you'll probably want about 2 teaspoons. Stir the paste into the saucepan immediately after removing the syrup from the heat.
If you're looking for a great paste, I highly recommend Nielsen-Massey paste. It's pricey, but the best I've tried. They also make amazing vanilla beans, but are a little outside my budget.
If you have vanilla extract, you can use that instead, though in general, I don't think the vanilla flavor is ever quite as fragrant and delicious when using the extract (but it still makes for a great syrup!). I recommend stirring in about a Tablespoon of the extract into the saucepan right when you remove it from the heat.
I highly recommend making your own vanilla extract (especially now that you know all about vanilla beans!) as it's the best, most cost-efficient vanilla you can get. Otherwise, try your best to get PURE vanilla extract, otherwise it's often packed with sugar and water. I'm a huge fan of Nielsen-Massey's vanilla extract. It's pricey, but ounce for ounce is not
How to Store
When stored properly in an airtight container in your fridge, this syrup should keep for about a month.
I always like to store my syrups in mason jars and I especially recommend keeping a little stock of 16 oz. mason jars (they have so many other uses besides syrup storing!).
I also love storing smaller batches in 8 oz. mason jars, though this recipe makes slightly more than a cup of syrup, so you'll have a little extra. This size is great if you're doubling or tripling the recipe and planning to gift some of it.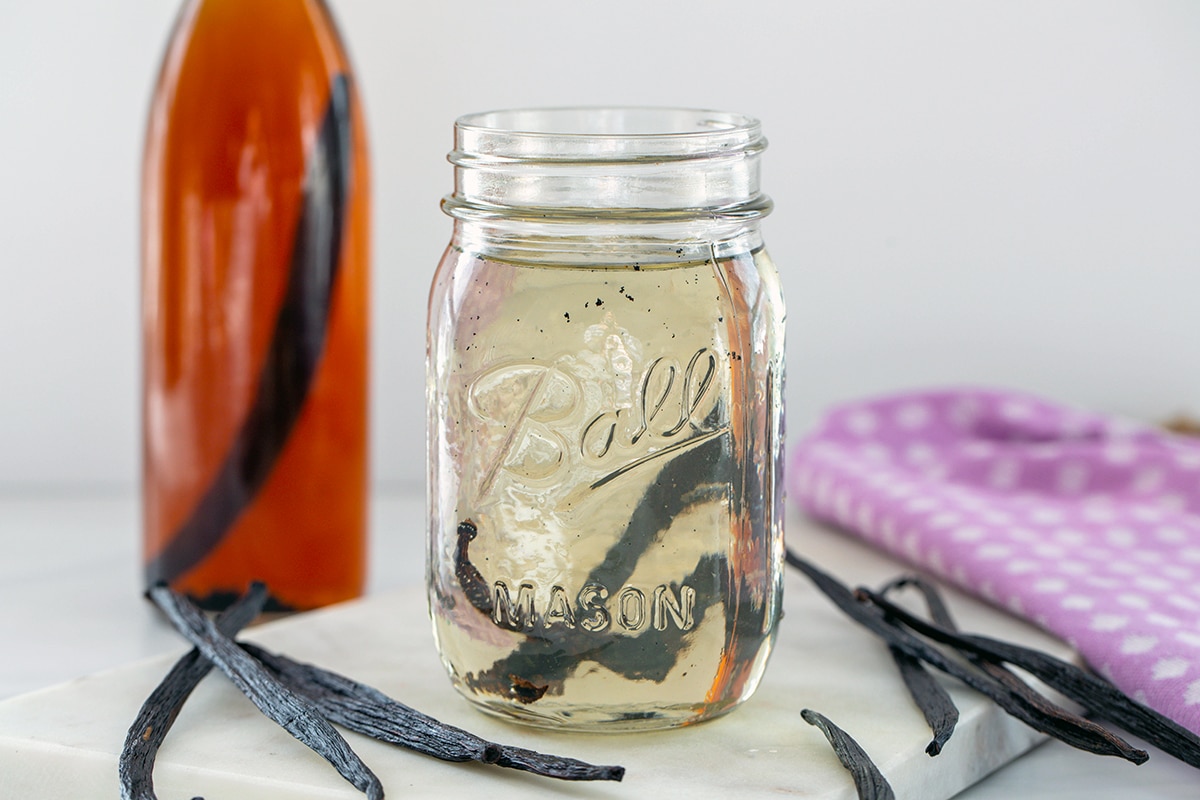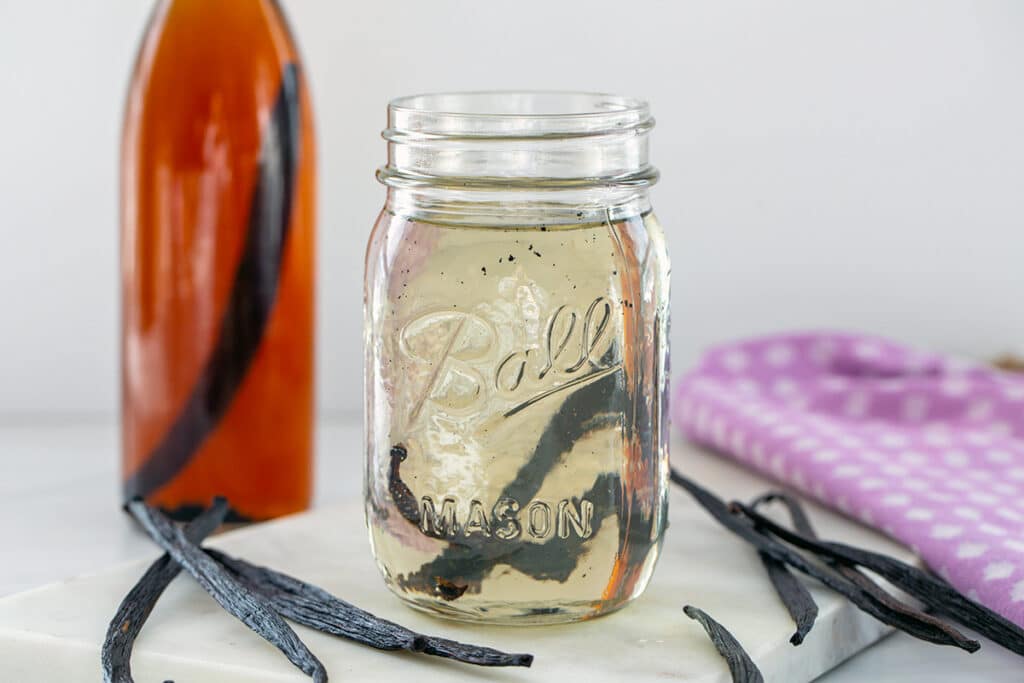 Where to Purchase
Making vanilla syrup is incredibly easy, but I also understand if you want to make it even easier and purchase a bottle! Luckily, there are tons of store-bought options available. Here are a few options: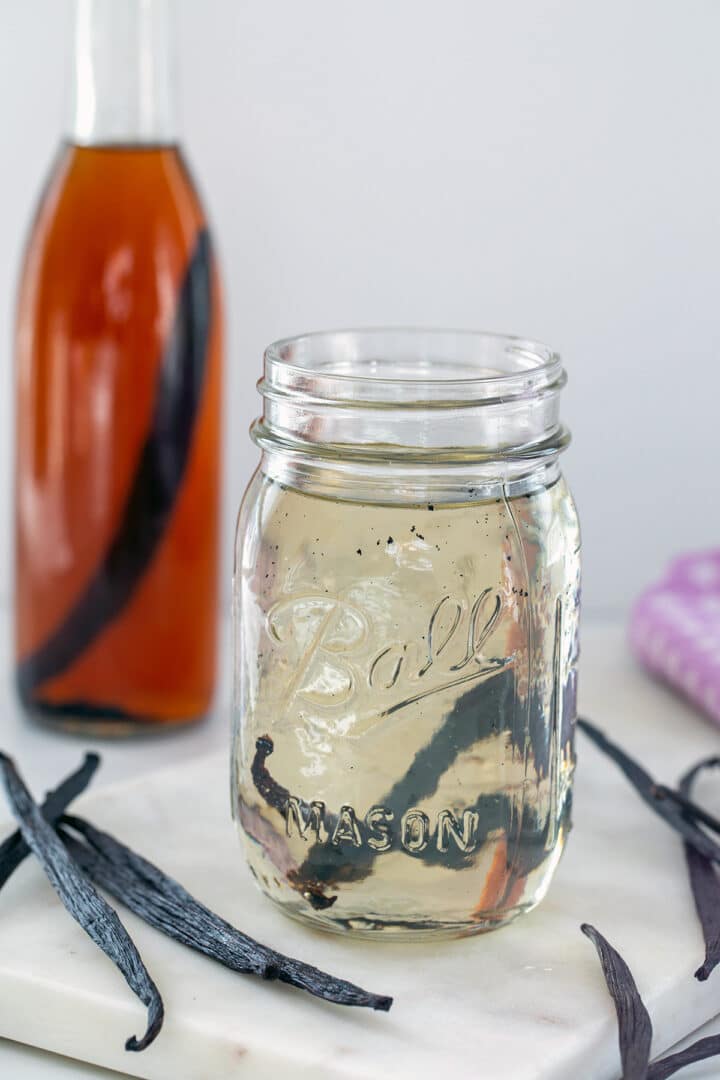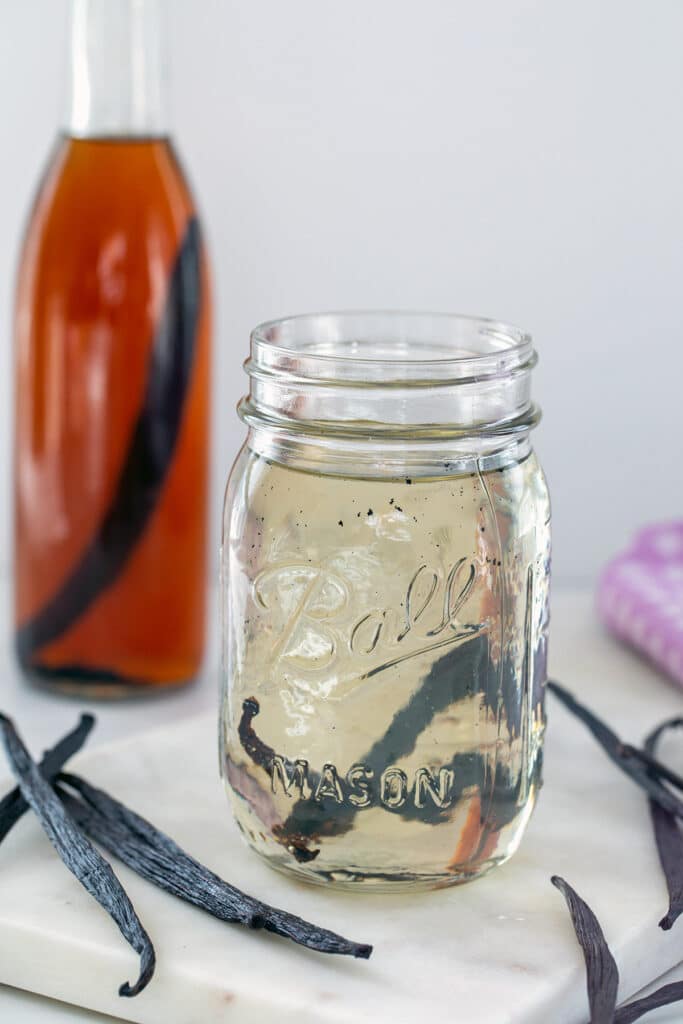 More Simple Syrup Recipes
I love creating new and unique simple syrup recipes and have SO many to share with you. All of my current syrup recipes are here and I'm always updating and adding new ones! Some of my current favorites are:
Please let me know if there are any specific flavors you want me to add!
📖 Recipe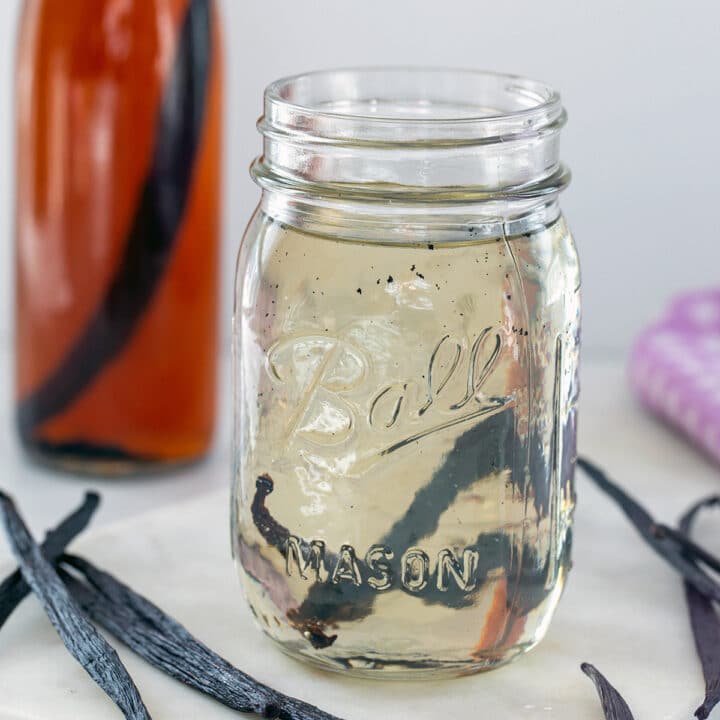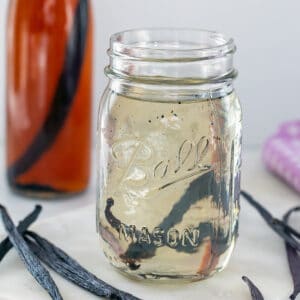 Vanilla Syrup
This simple Vanilla Syrup is one of the most versatile simple syrups and can be used in so many drinks, desserts, and more! It's easy to make and once you try it, you'll be sure to always have a jar of it in your fridge.
Print
Pin
Rate
Ingredients
1

cup

water

1

cup

granulated sugar

1

vanilla bean,

split lengthwise
Instructions
Put water and sugar in a medium saucepan and bring to a boil. Lower heat and let mixture simmer for about 10 minutes until sugar is completely dissolved and mixture has thickened a bit.

Pour syrup into a heat-proof jar or container. Scrape out some of the seeds from the sliced open vanilla pod with a sharp knife* and add them and the vanilla bean into the syrup. 

Place syrup in fridge and let steep for at least 6 hours. Syrup will thicken more as it cools. If you want a more intense vanilla flavor, you can leave the bean in after 6 hours.*

When vanilla syrup is stored in an airtight container in the fridge, it should stay good for about a month.
Notes
*If you are in a rush and don't want to wait 6 hours for syrup to infuse, let it cool and shake jar vigorously to infuse vanilla flavor faster. Taste before using.
Scraping out the seeds and adding them to the mixture will give the syrup that flecked vanilla look and will also intensify the flavor of the syrup faster.

If you remove your vanilla bean from the syrup, you can rinse and dry it and store to use again.

I like to keep my vanilla bean in my syrup... The longer it's in, the more intense the vanilla flavor will be.
Share a Photo of Your Finished Recipe!
Mention @wearenotmartha and share a photo if you've made the recipe!