On New Year's Eve morning, I told Chris to pick out a dessert for the evening. See, I love cooking and baking but sometimes I hate coming up with ideas for what to cook or bake. I went and took a shower and when I came back, he showed me a recipe for Young's Double Chocolate Stout Brownies. Obviously he would pick a dessert involving beer, right? But we're both big fans of Young's Double Chocolate Stout and it was definitely a dessert I could get behind.
We pretty much spent our New Year's Eve hanging out in the kitchen sipping champagne and goofing off. And playing with the new flash Chris's dad got us for the Canon Rebel 2Ti. We ended up with A LOT of photos. Which is also how we ended up with the fun video you see at the end of this post.
I changed up the original recipe a bit… mainly because it was written using the metric system. I don't like math and converting things and I wish the world would just use the same system already. Blergh. Anyway, I converted it for you. You're welcome. And Happy New Year 🙂
Young's Double Chocolate Stout Brownies (makes about 16 brownies):
• 1 C Young's Double Chocolate Stout
• 5 oz. plain chocolate (I used Ghiradelli bittersweet 60% cacao)
• 3/4 C unsalted butter (1.5 sticks)
• 1 cup light brown sugar
• 2/3 C flour
• 1/2 C cocoa powder
• 2 large eggs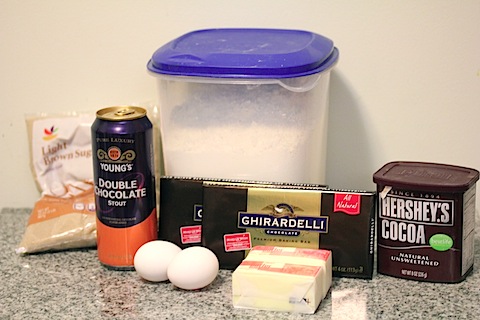 Have you tried Young's Double Chocolate Stout before? Even if you're not a beer fan, I think you might enjoy this. I mean, it's chocolate! And it's delicious.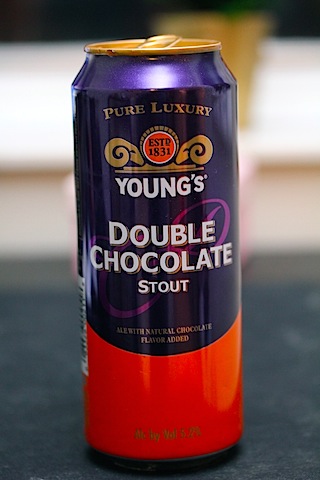 Start off by pouring the beer into a measuring cup and setting it aside to let the foam settle.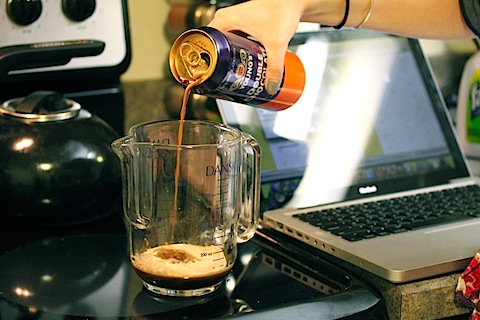 Wear a cute apron if you have one. Lucky me, my friend Erin gave me this adorable one for my birthday. I'm pretty much in love with it! And it just happened to kind of match my outfit…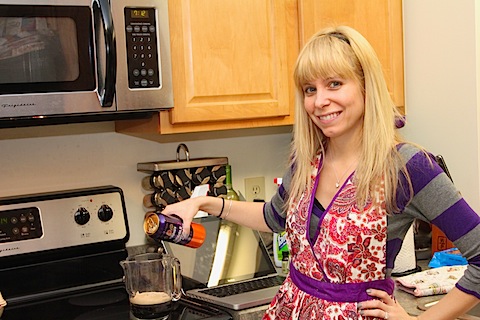 Get out your double boiler or build a makeshift one like I do (just boil a pot of water water and place a heat-safe bowl over that. Lower water to a simmer).
Break the chocolate into the bowl with the diced butter.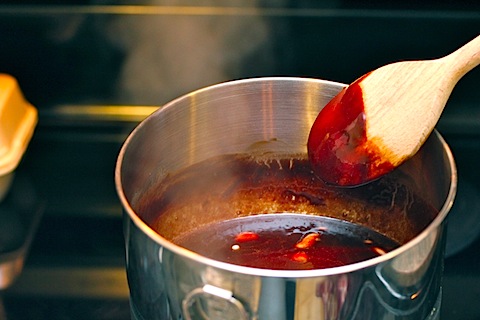 Stir until melted.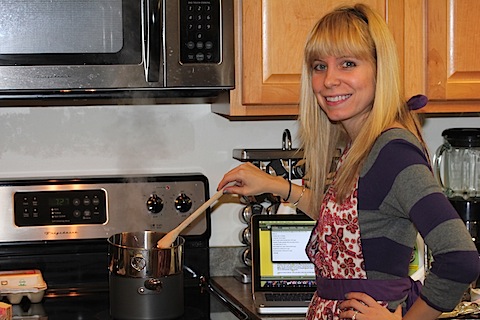 Remove from heat and make sure the mixture is nice and smooth. Then beat in the sugar. I used my hand mixer. And allow the mixture to cool to lukewarm.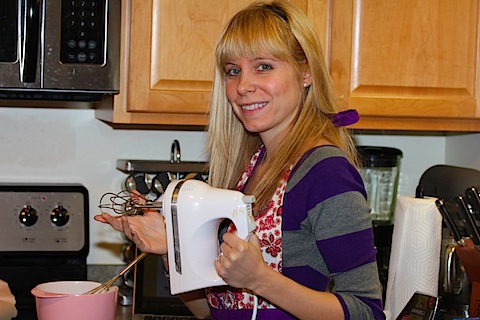 Whisk together the flour and cocoa powder and set aside.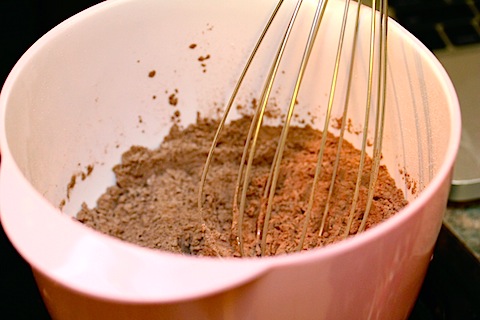 Beat the eggs into the chocolate/butter mixture…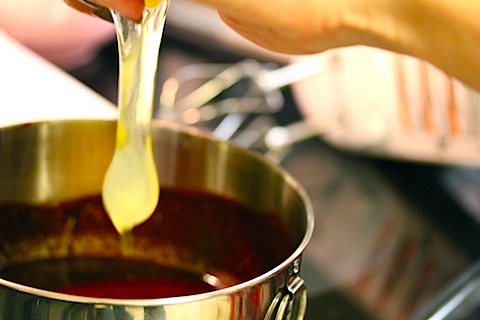 Until it looks glossy.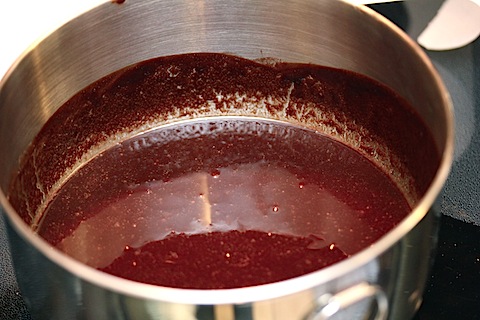 Then stir in the chocolate stout.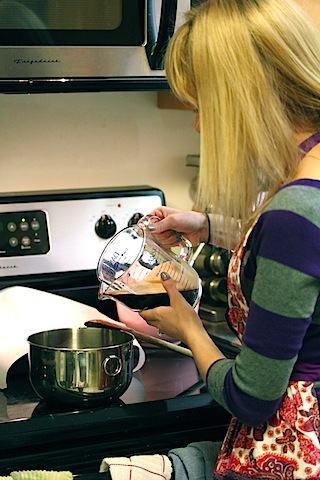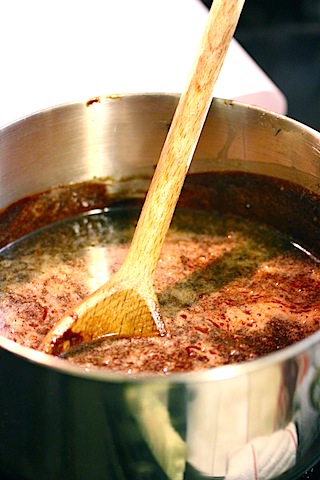 And fold in the flour/cocoa mixture.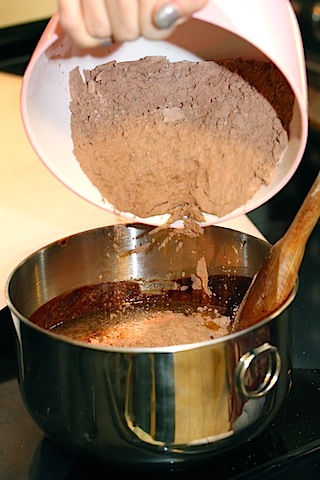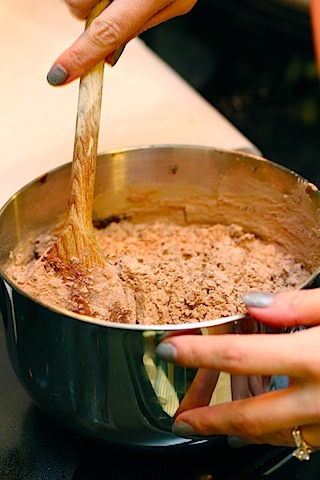 My mixture was super lumpy, so I used the hand mixer to smooth it out, without over-beating.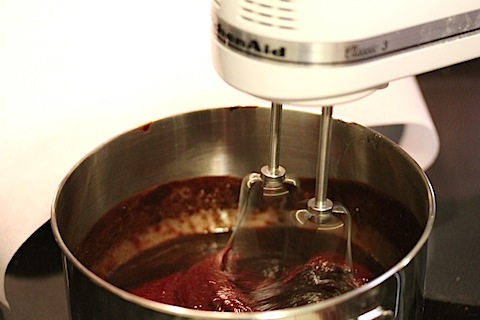 It still had a few lumps, but I figured it was just fine.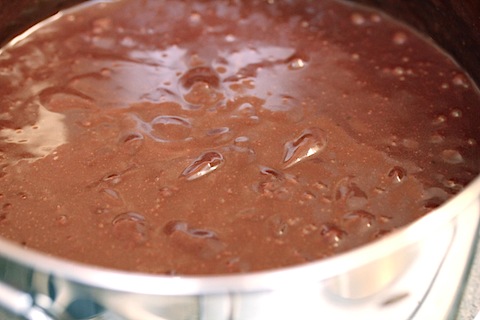 Now pour the mixture into an 8×8 pan covered in parchment paper. You might be able to simply grease the pan if you want, as covering a square pan in parchment paper is somewhat of a pain. However, if you want an excellent tutorial on how to cover the pan, I suggest this one.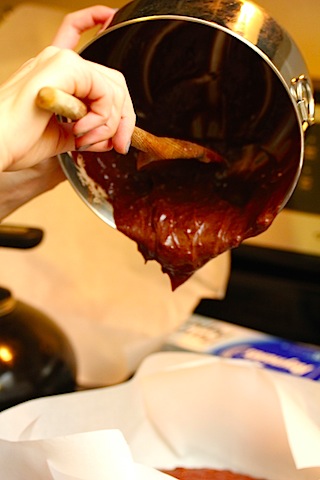 Pour the batter evenly into the pan.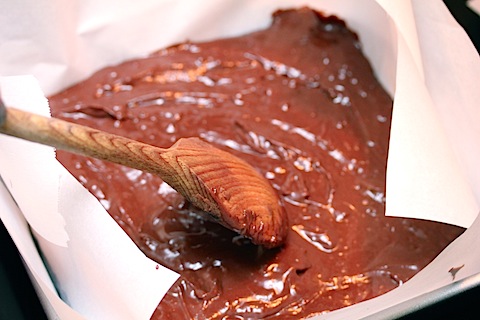 And pop it in the oven for 20-22 minutes at 365 degrees.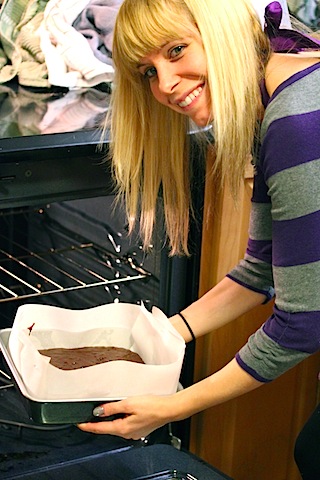 Let the smell of chocolate permeate your kitchen.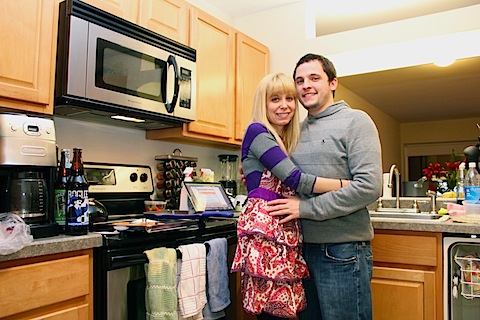 Remove the pan from the oven. Let cool in pan.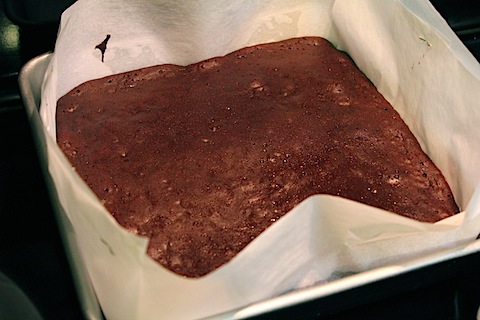 If you used parchment paper, you can easily lift the brownies out of the pan before cutting.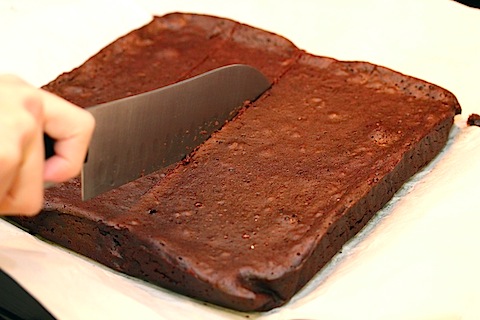 Cut into 16 squares.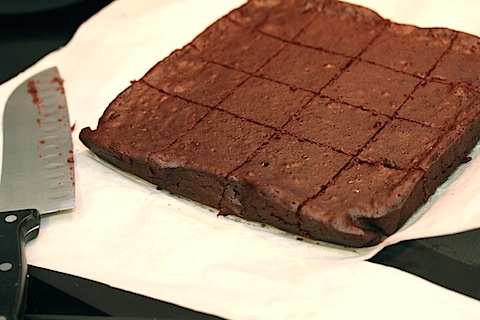 Marvel at how these are more like pure fudge than brownies. And how excited you are to try them. Especially since they were made with beer! Chocolate beer!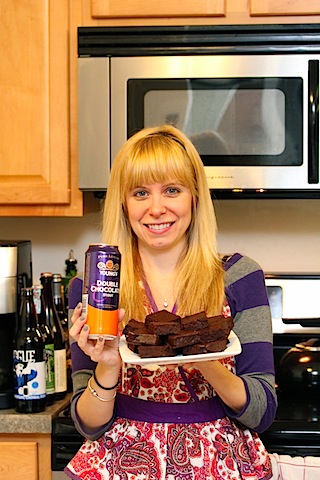 Make sure you have a can of beer ready to drink along with your brownies.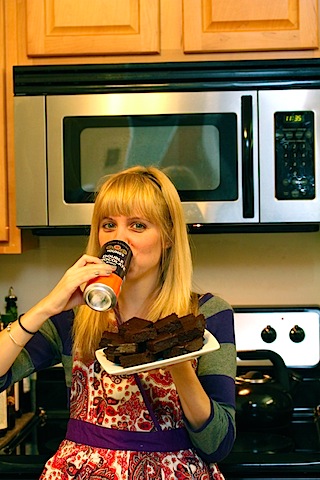 OK, fine champagne will do, too. It was New Year's Eve, so we had to pour some bubbles!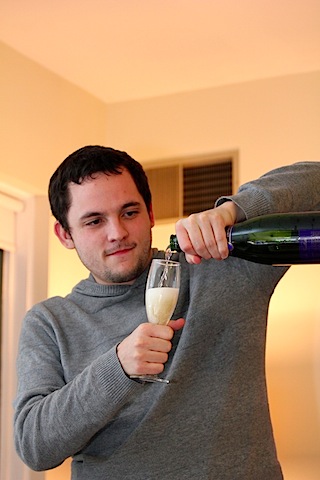 Plus, the lovely couple sitting next to us at Grafton Street bought us this bottle after we got engaged.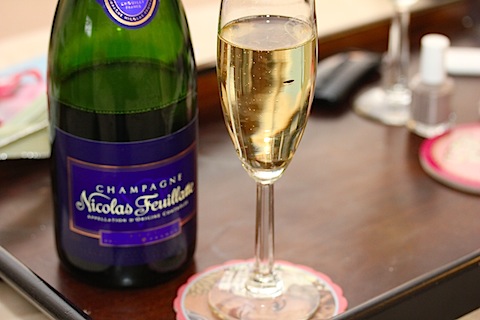 Oh yes, the brownies. WOW. I'm not even sure I would describe these as brownies. They were more like squares of fudge. So yes, you have to be a fudgy brownie person to like these. Which I most certainly am.
The stout definitely wasn't overpowering, but you could tell it was there. And I absolutely loved that.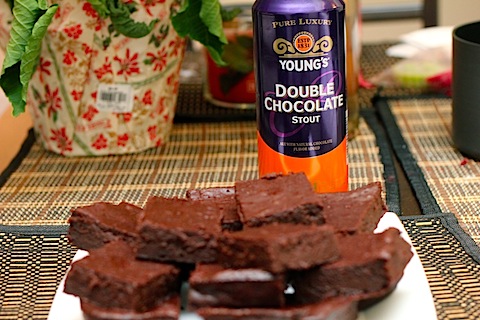 OK, now don't laugh. But we decided New Year's Eve totally called for some flavored alcohol-infused whipped cream. I'm not even a fan of whipped cream, but this caramel one? SO good. I will be making milkshakes with this STAT.
And it was absolutely perfect to top the brownie with. Yes, I realize that I just made a brownie with a stout and topped it with an alcohol-infused whipped cream. No, these brownies are not for children.
But if you are an adult, you will enjoy this immensely.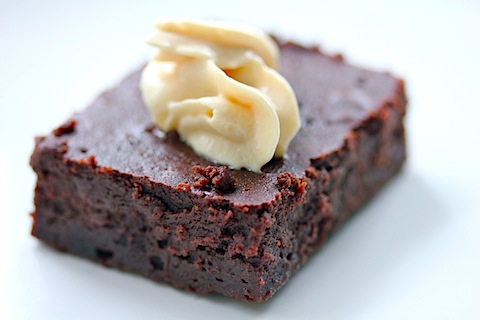 The next morning, Chris was going through all the photos we took and said "there's so many photos, it actually looks like a movie." So, we decided to make one. It actually looks like I'm making the brownies… You'll also see me making the cinnamon rolls that I'll be posting about later this week (and some shots of the delicious steak tips we made from the Meat House). This movie is so much fun, I'm thinking we might have to make them more often!
New Years Cooking from Chels and Sues on Vimeo.
So, that's how I got my New Year's off to a great start. How about you?
[Sues]