This wonderful long 4th of July weekend consisted of…
Sangria while sitting in the sun at Brookline's American Craft.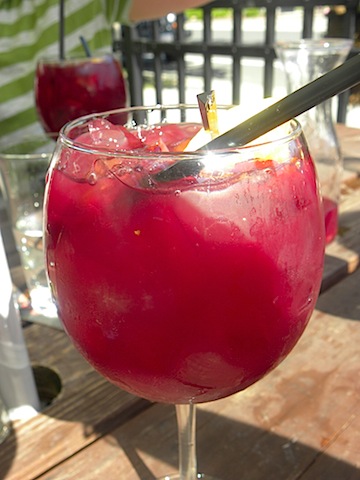 Along with a tomato, basil, and garlic mozzarella salad.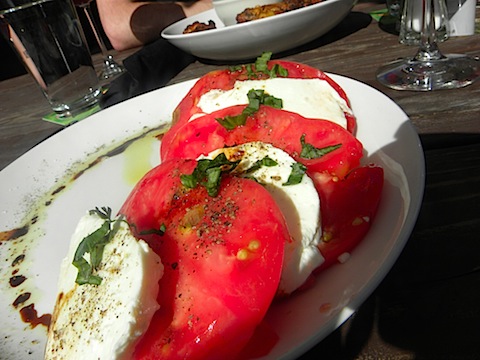 Chicken wings with honey mustard dipping sauce.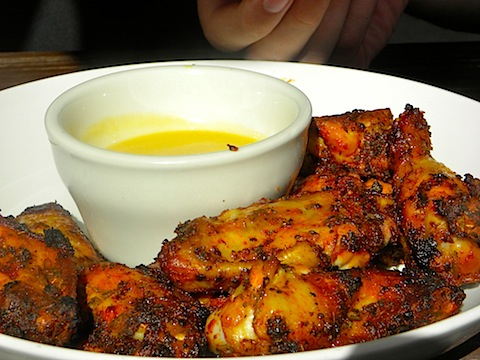 And fries with blue cheese fondue.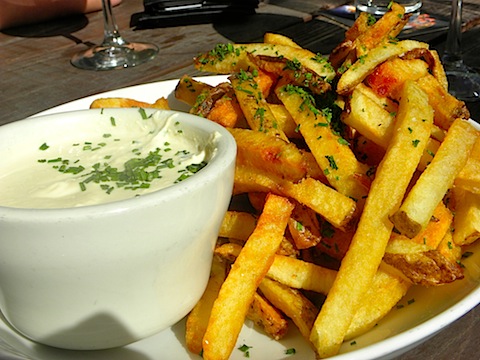 A 4th of July Red Sox game with my fabulous aunt and uncle.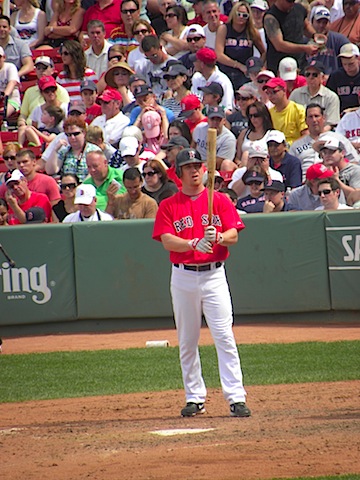 The Sox lost 6-1, but we still had a good time. It was the most beautiful day for a Red Sox game. OK, mayyybe a little too hot, but there was a pretty nice little breeze.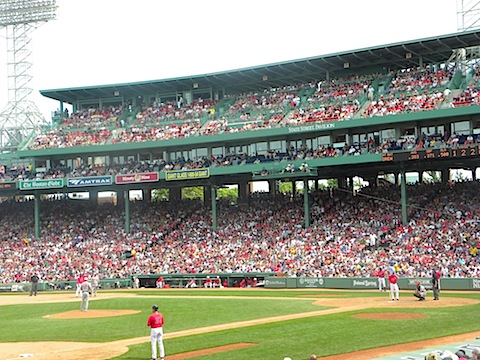 Even Wally, the Green Monster, was dressed up.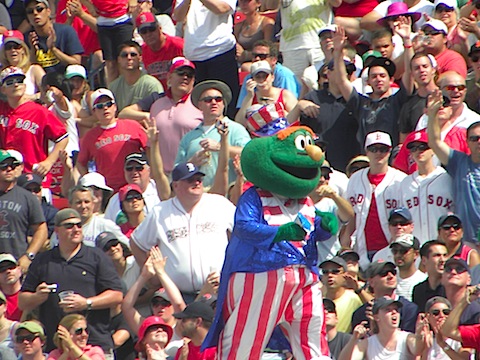 I was wondering why Chris's farmer's tan looked like he was wearing a v-neck. Now I see why…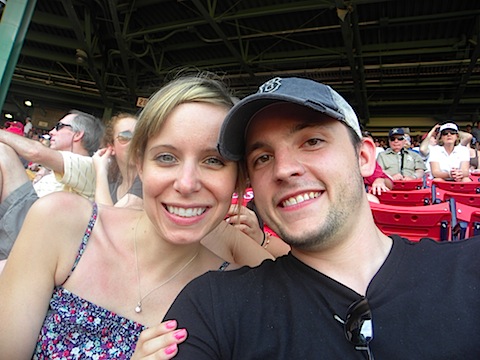 After the game, we met up with my sister and Adam for a delicious dinner on the patio at Bouchee. We indulged in some escargot.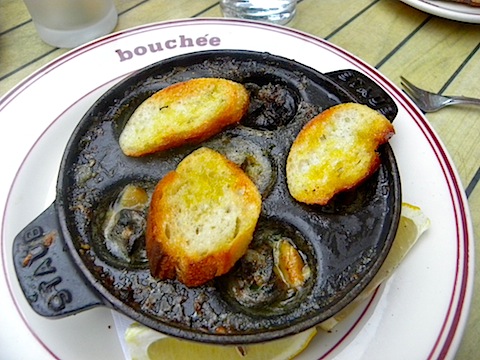 And our very favorite flatbreads. Gruyere, Caramelized onion, and ham.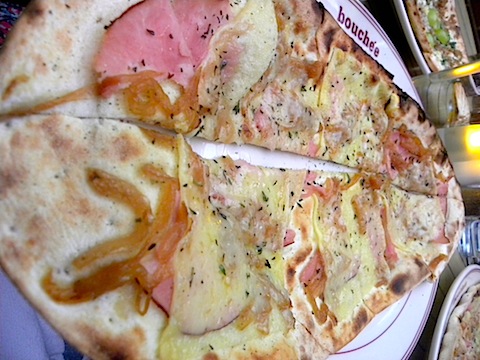 And sweet sausage, grape, and gorgonzola.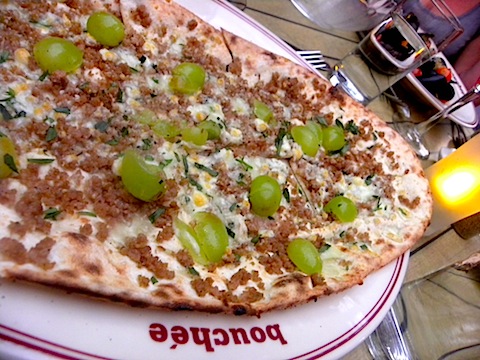 Then we met up with Chels and took a walk around the esplanade to watch Boston's fireworks show.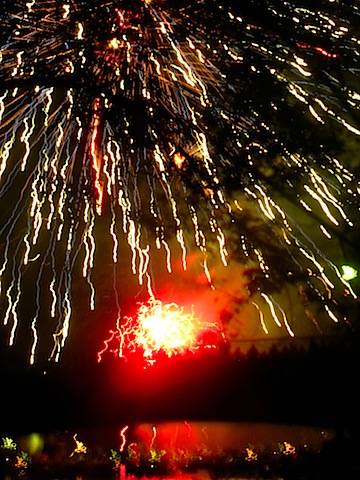 Last year Chris and I got right up close for Neil Diamond's show. We wanted to do the same this year to see Toby Keith, but we didn't get there until pretty late. And I have horrible memories of the show ending last year and not even being able to move an inch for a half hour.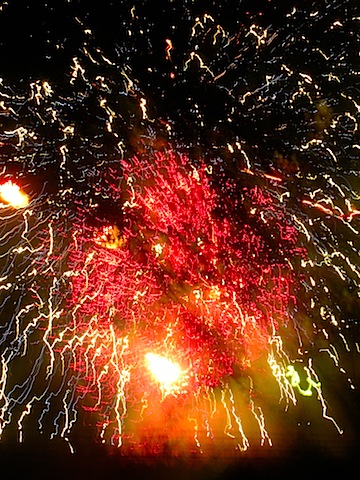 So, we kept a bit of distance, but had the perfect view of the fireworks.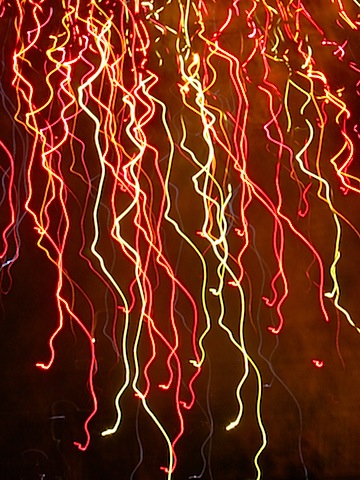 And when the show was over, we weren't stuck in huge mobs of people.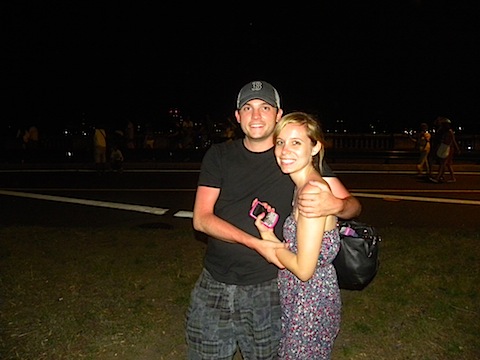 We kept saying how weird it was to be able to walk along Storrow Drive and walk along the exit we normally drive off of. Storrow is a really, really busy 3-lane road around Boston.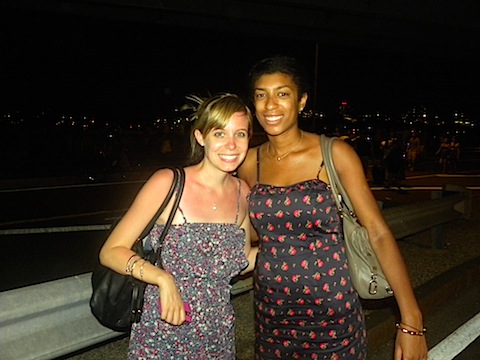 Monday has been all about relaxation (in the super hot weather!) and taking a HUGE trip to the grocery store. The fridge has been empty and desperately needed to be refilled.
Of course, the sweltering weather called for a light and refreshing salad. I decided to mix my feta with some fruit… If you're apprehensive about the fruit/cheese together combo, don't be! It's one of the best things in the world. And since I've been craving mangoes lately, I made a mango feta salad.
Mango and Feta Salad:
1 ripe mango, peeled and cut into bite-sized chunks
1/4 C crumbled Athenos feta
1 t minced basil
1 T extra-virgin olive oil
Sea salt
Freshly ground black pepper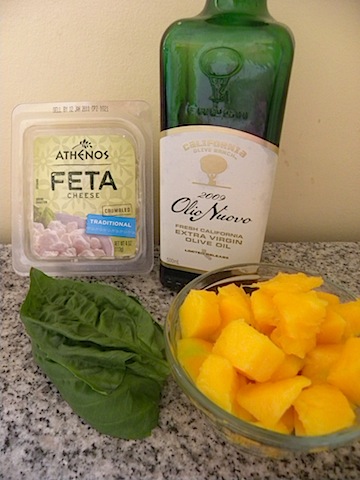 This was an incredibly simple and quick salad. I actually bough 2 mangoes to make a larger salad, but one was not ripe at all. So, this was definitely gobbled up by me in about 3 minutes (or less).
All you need to do is cube and peel the mango. And mix with the feta, basil, EVOO, salt, and pepper.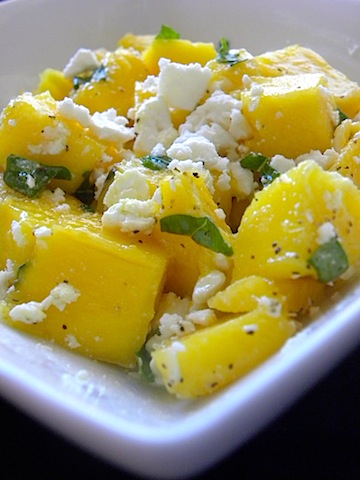 I sprinkled some more feta on top too. And this was PERFECT!! The combination of sweet and salty is to die for. And this totally tasted like summer in a bowl.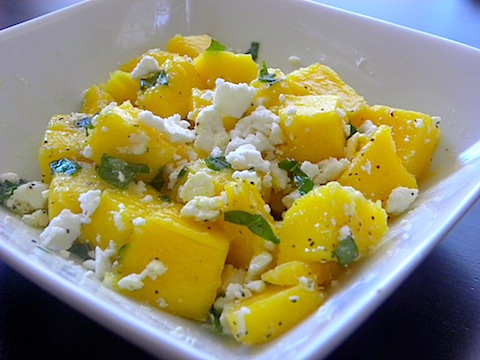 I'm pretty sure mango is going to be one of my new go-to summer fruits and I will definitely be whipping up this salad again very soon!
What did you do this 4th of July weekend?
[Sues]