Chels and I were obviously both inspired a bit by meeting Bethenny Frankel and have been toying around with several of her recipes the past week or so. While I don't fully believe in everything Bethenny promotes nutritionally, I get her general philosophy. And when Bethenny mentioned her healthy and totally delicious Zesty Baked Chicken Wings would be perfect for Super Bowl, I decided to give them a try for a small gathering we were having for the big game.
While the buffalo wings I grew up with actually aren't unhealthy (my mom always baked them and never fried), I wanted to try something a bit different. These are also the wings Bethenny made often for Denis Leary while working as his personal chef on the set of Rescue Me (and I'm a bit of a Denis Leary fan since he graduated from and taught at my graduate school, Emerson College! Jay Leno went there too!). The recipe can also be found in Bethenny's cookbook The Skinnygirl Dish.
Zesty Baked Chicken Wings:
3 T olive oil
1 T dijon mustard
Dash of cayenne pepper (I decided to use some Frank's Red Hot instead)
1 t garlic (minced- with my Garlic Zoom, of course!)
1/2 t salt
1/2 t pepper
1 T lemon juice
1/2 t lemon zest
16 chicken wings, halved at joint with tips removed
1 C freshly grated parmesan
6 T parsley, freshly chopped
1 1/2 C whole wheat breadcrumbs
Yogurt Dipping sauce:
1 C fat-free yogurt
1/2 t parsley, chopped
1/4 t lemon zest
1/2 t lemon juice
1/4 t salt
1/4 t black pepper
1/8 t Worcestershire sauce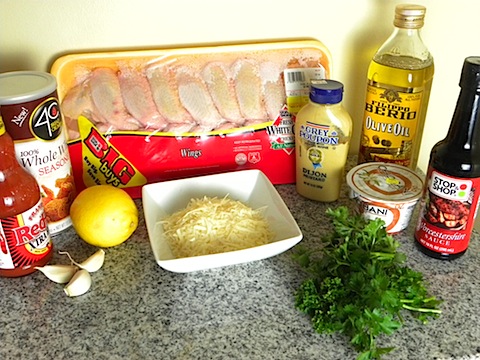 (Please ignore the fact that the Chobani Greek yogurt in the photo is vanilla-flavored. Luckily, I noticed that as I was photographing and didn't use it in the dip! Chels brought over some plain Chobani. Phew! Vanilla-flavored wing dip would have been… interesting)
The wings were super easy to prepare, especially once the chopping was out of the way. The Garlic Zoom obviously helped me get the garlic chopped up fast! I know you probably think Chef'n pays us or something, but they don't! This tool is just totally amazing and I can't get enough of it. Plus, I could eat garlic with every meal!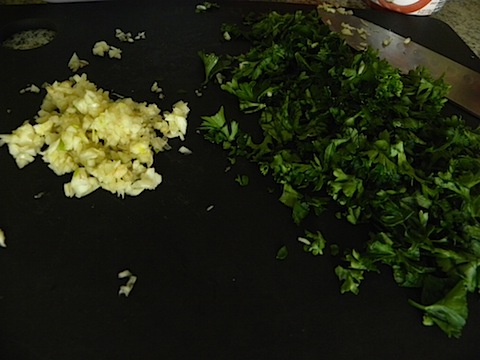 I didn't exactly love cutting up the chicken wings, so I think next time I might opt for the wingettes. But i dutifully chopped all 16 wings and then started my marinade.
Combine the olive oil, dijon, cayenne, garlic, salt, pepper, lemon juice, and lemon zest in a bowl and whisk until combined. I didn't have any cayenne on hand, so this is where i decided to use Frank's Red Hot instead. I was happy with this choice because it helped give the wings a bit of a buffalo wing taste, which everyone loves!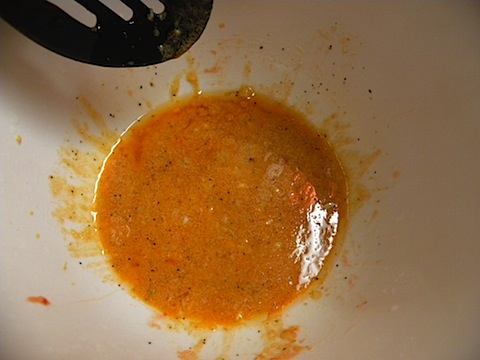 Pour the marinade over the wings in a big Ziplock bag and marinate in the fridge for as long as you like (30 mins. to 4 hours).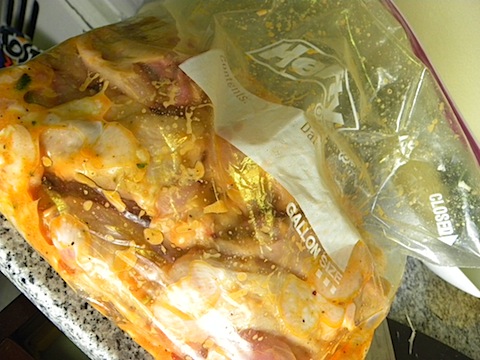 In a separate bowl combine the bread crumbs, parmesan, and parsley.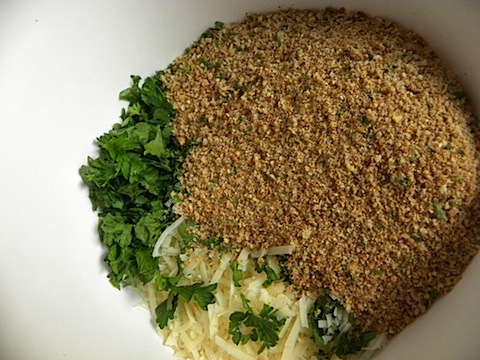 Once your wings are done marinating, coat them in the breadcrumb mixture and place on a pan. Bethenny said the pan doesn't need to be oiled, but I sprayed it with cooking spray anyway. You know, just in case!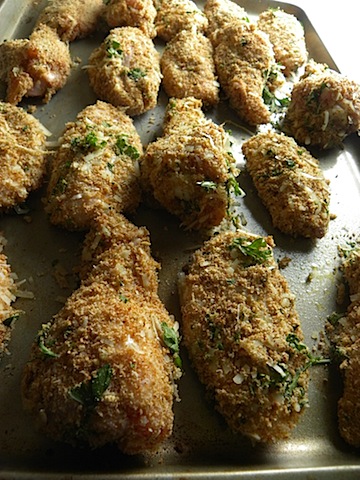 I made sure the wings were nice and coated with the breadcrumb mixture. YUM.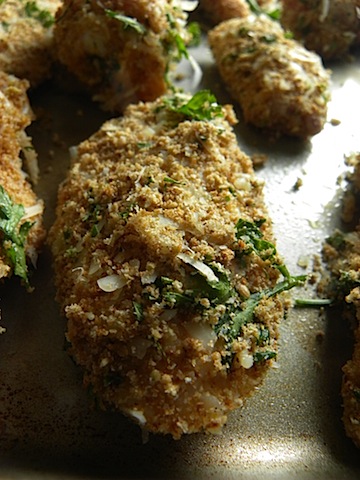 Bake at 425 degrees for about 30 mins, rotating pan halfway through.
While the wings are in the oven, whip up the yogurt dip. Just mix together all the ingredients and stir. Keep in the fridge until you're ready to serve it.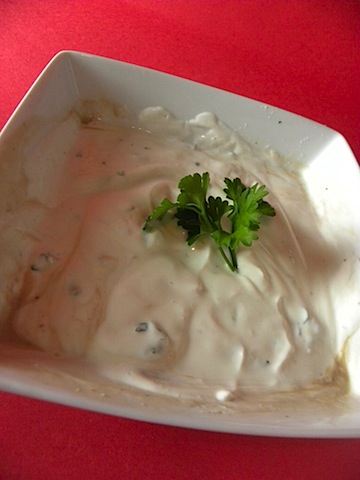 Make sure they wings are nicely browned and extra-crispy. Bethenny says the wings just won't dry out. And you know, she's totally right! I think it must have something to do with that marinade.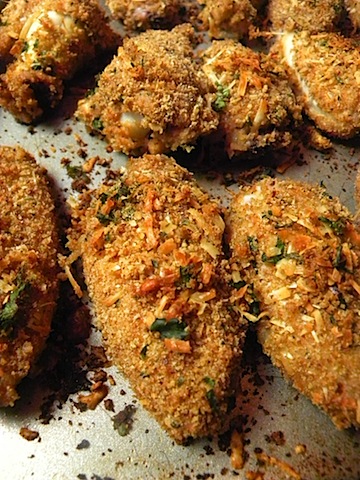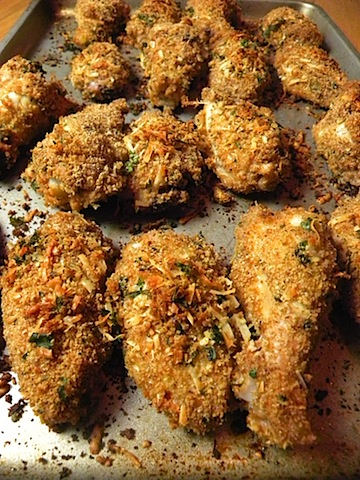 Serve them along with the yogurt dip and let your guests dig in! Or dig in yourself. You'll likely have lots of leftovers if you're not sharing with friends, though I can't totally guarantee it.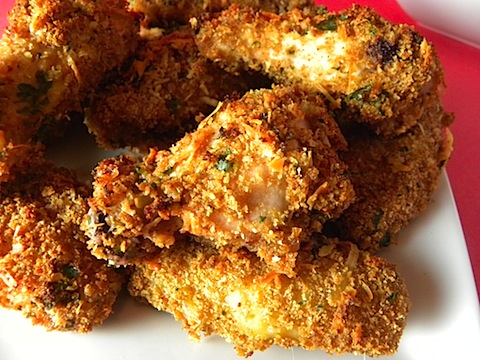 The wings are perfect because they really are crispy on the outside and super duper tender on the inside. I couldn't believe how juicy they were!
Adding the Frank's Red Hot into the marinade really helped give the wings a bit of an extra kick, perfect for anyone who really loves buffalo wings but wants to try something new.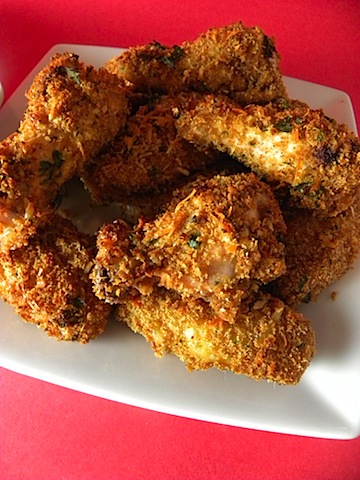 I was really excited because while grabbing some beer at Blanchard's in Allston, I noticed they had one of my very favorite beers, Krusovice Cerne, so I enjoyed one with the wings and the Super Bowl. It tastes like a super smooth cup of coffee. But better.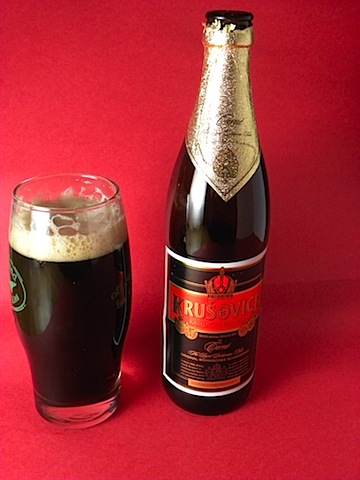 I also had a GnarlyWine from Lagunitas. I've been a bit obsessed with barley wines and gueuzes lately and have been trying to taste as many as possible. The GnarlyWine has a cute name and was pretty much exactly what I was looking for.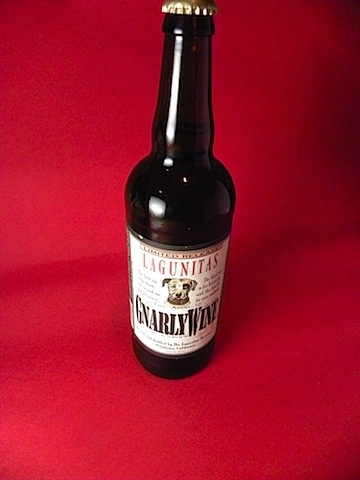 Of course, we had other snacky-type foods at our gathering too. Including Chris's famous jalapeno poppers, which I'm going to have him do a guest post on really soon! They're to-die-for.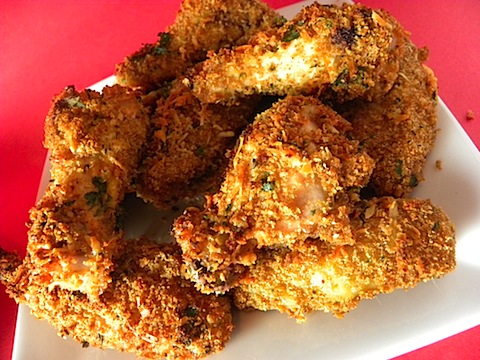 And I'll definitely be making Bethenny Frankel's zesty baked chicken wings again soon. Perhaps for another gathering, or maybe just for myself. Next time I might play around with some other spices to see what I can come up with. Wings I don't have to feel guilty about are always a win for me!
[Sues]