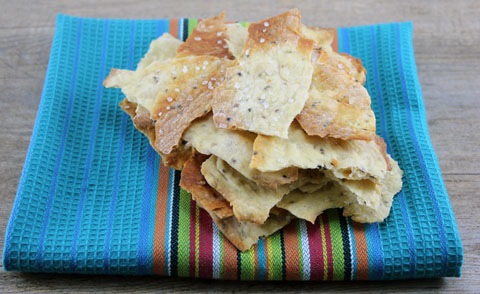 And another weekend ends. Womp womp. How was yours? Mine was… busy. And flew by in a flash. Now that there are less than 3 months until the wedding (eek!), planning has launched into full-force and I feel like I have something to do every single second. Luckily, it's a good type of busy and this week was the very best type of busy, including our big wedding food tasting at the Colonnade. I won't spill too many details except that the food was even better than we had imagined (and we imagined A LOT!) and I'll be dreaming of that meal until I can have it again on our wedding day. Also, I'm telling our photographer to make sure to get lots of shots of the food because I want to remember exactly how it looks. Also, I WILL be eating dinner at my wedding because there's no way I can miss this! And, of course, I'll be sharing all the wedding details right here when we return from our honeymoon. Have I mentioned how badly I need that vacation? Because I do. I really, really do. 89 days to go. But who's counting? (I am).
Anyway, on to something a bit lighter. You know those foods you eat and then you can't stop eating? Like cookies? And Mini Cadbury Eggs? ('tis the season!). Well, I'm the same way with crackers. Gold Fish, Wheat Thins, Cheez-It (I hate that it's Cheez-It and not Cheez-Its with an "s," but what can you do?), Triscuit (also no "s"), etc. And while, it's probably better to overdose on crackers than cookies, it's still not fabulous. So, I figured if i"m going to overdose, I may as well overdose on a cracker that's homemade and a little bit lighter.
I made these crackers for my dad's birthday dinner last week, along with the bourbon baked beans. I picked up some fabulous cheese from Whole Foods (and some Cabot Horseradish Cheddar) and, along with the shrimp my mom prepared, it was the perfect appetizer. Plus, it was such a simple recipe, it almost seems silly not to make your own crackers now.
Black Pepper and Thyme Crackers (makes about 40 crackers):
Adapted from A Stack of Dishes
Print this recipe!
2 C all-purpose flour
1 T fresh cracked pepper (tellicherry is best)
4 sprigs thyme (or any herb you choose)
1/4 t salt
1 T sugar
4 T extra virgin olive oil
3/4 C whole milk
1 egg white, beaten
Sea salt for topping
(pre-heat oven to 375 degrees)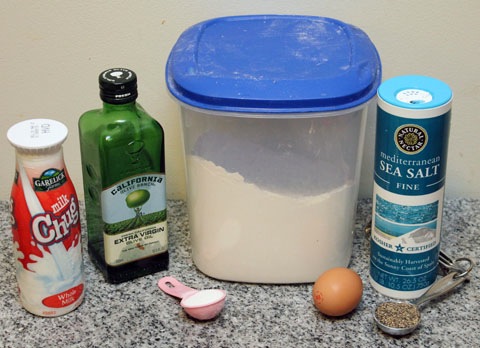 I've been obsessed with cracked tellicherry pepper lately. I'm putting it in everything and practically eating it off a spoon. Practically. If I didn't mind sneezing a bit.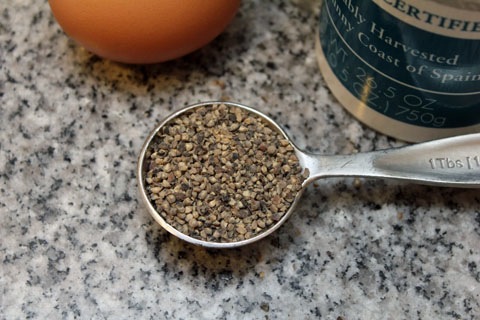 Get out your handy dandy food processor (if you don't have one, you can totally do this in a bowl using a pastry blender or your hand when it comes to blending the oil in). Blend the flour, pepper, thyme, sugar, and salt in the food processor.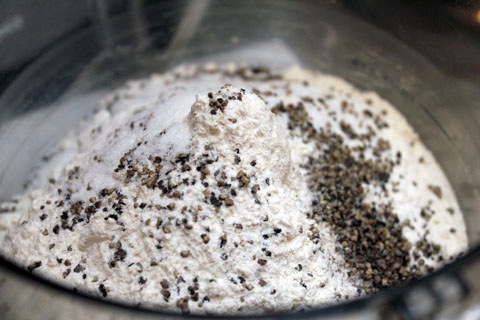 Then pour in the olive oil and pules a few times to make sure it comes together.
With the food processor still on, pour in the cream and let blend until a loose ball is formed.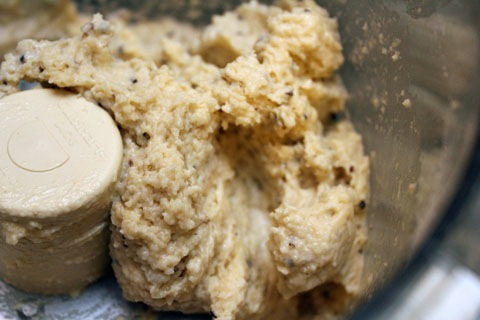 Take the dough out of the food processor and wrap in plastic wrap. Since I had one mixture with thyme and the other without, I wrapped them separately.
Chill the dough for about an hour. Trust me, you'll want to do this.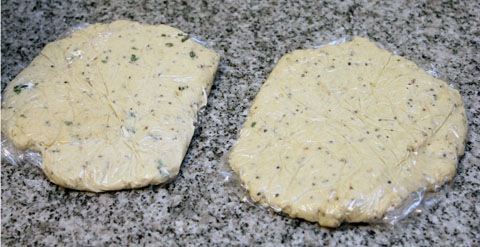 After it's chilled, place the dough on a lightly floured surface and split into 4 sections. Roll out into a rectangle as thinly and evenly as you possibly can. I had mine so thin, it was starting to break. That's when I knew it was thin enough.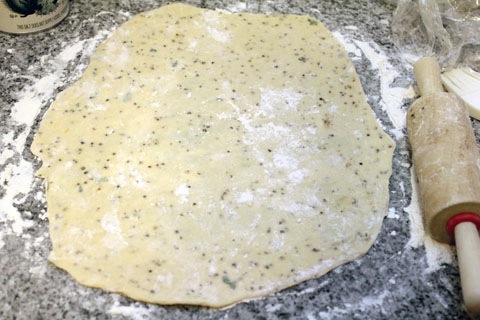 It was so thin, it was a tad difficult to move, but luckily, I had enough flour down that it didn't stick at all.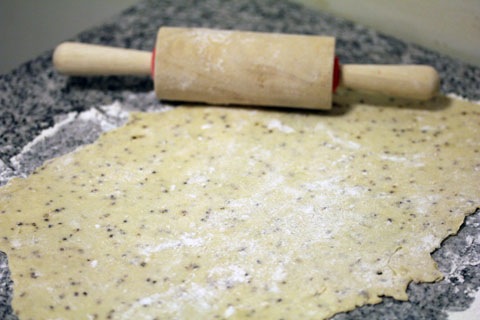 Move to a lightly greased cookie sheet.
Dab a little egg wash onto the dough with a pastry brush and sprinkle delicious sea salt on top.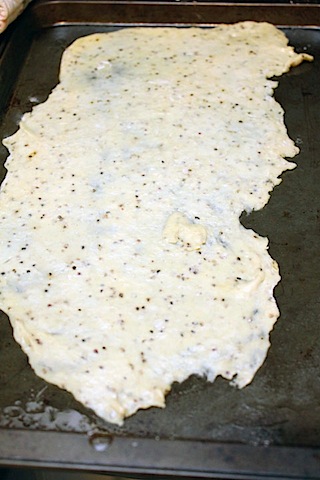 Now bake at 375 degrees for 10-15 minutes. Check it at 10 and and make sure the cracker is crispy and browning a bit, but not getting burnt.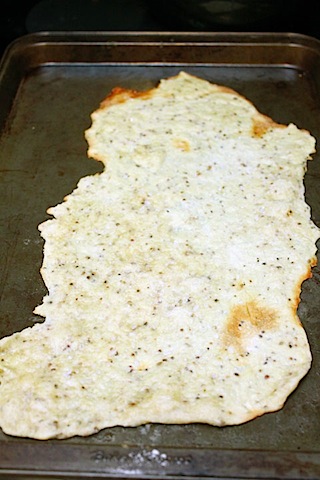 Let crackers cool on a baking rack.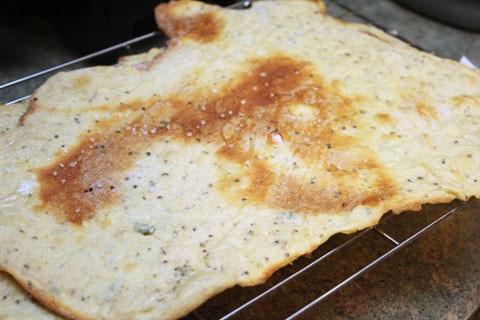 When they're cooled, break the crackers into any size you want. I loved the sort of rustic look of all different sizes.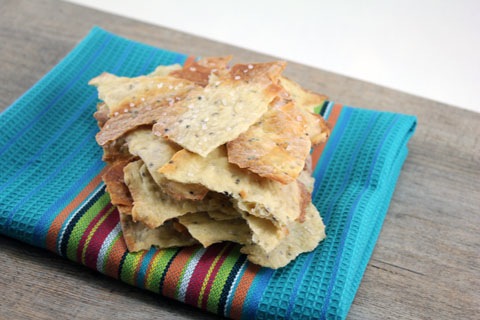 Love at first bite! These crackers were so light and crispy and yes, pretty tough to stop eating. But at least I knew every ingredient that went it them? So, it was OK that I ate about 20.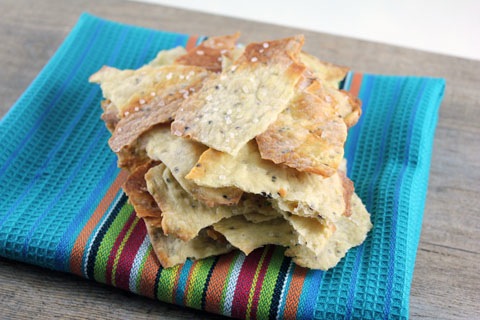 You know what really made them, though? The cracked pepper that gave every cracker a serious bite. And the sea salt sprinkled on top.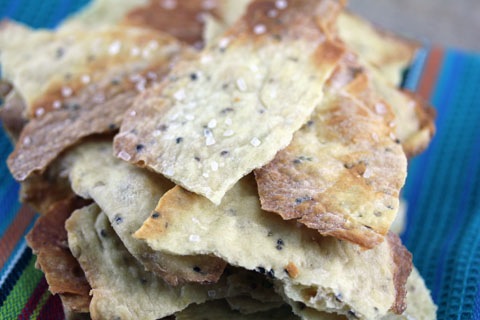 Like I said, we served the crackers with a ridiculously awesome cheese selection…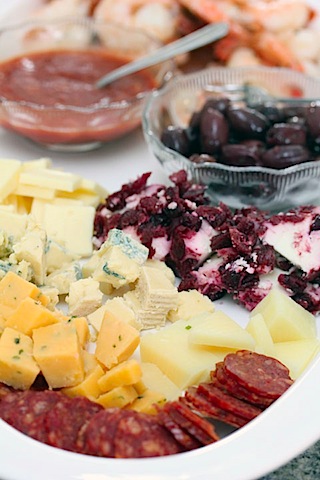 And some shrimp cocktail to boot.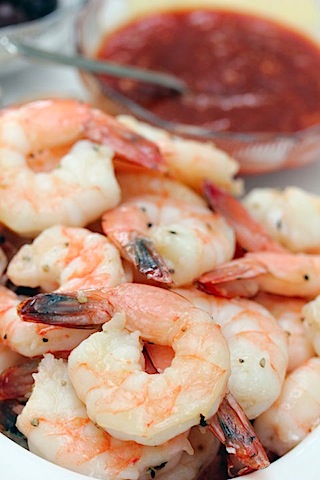 Can you even believe we were still hungry for dinner? Well, that's only because we left about 5 hours in between! We're very smart like that.
Now, I'm all kinds of inspired to go crazy and create all kinds of crackers since I now know how easy they are.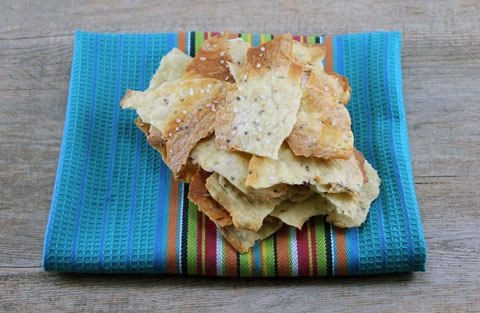 I'd love to make Cheez-It, though I have no clue how I could ever get them as delicious as they taste out of the box. Triscuit would be awesome, too, but where would I even start with those? And really, I believe olive oil really does make the best cracker and these crackers will be made every single time I entertain from now on.
Have you ever made your own crackers?
[Sues]
Pin It