Remember earlier this summer when I visited Basin Harbor Club in Vergennes, Vermont? Well, not only did Chris and I have an incredible time at the resort, but we also had a bit of fun on the way to BHC. I was originally going to share all of our adventures in my Basin Harbor Club post, but I had way too much awesomeness to share about the resort that I absolutely couldn't fit anything more into the post. But now I feel like it's my civic duty to show you more of what Vermont has to offer. And when I say more, I mean all of the breweries we stopped at in Middlebury, Vermont. Same thing, right?
Whenever we have any sort of road trip planned, I always do a little bit of research into the best breweries (and doughnut shops) in the area. We always try to find at least one spot in our travels and have had the chance to visit so many, including Southern Tier Brewing Company (in Lakewood, New York), Brewery Ommegang (in Cooperstown, New York), Dogfish Head (in Milton, Delaware), Kona Brewing Co. (on Hawaii's Big Island), and tons of spots in Maine, New Hampshire, and Massachusetts. This was our first foray into Vermont together and while we didn't get all the way up to Burlington, we did manage to find a few gems.
First up was Otter Creek Brewing Co!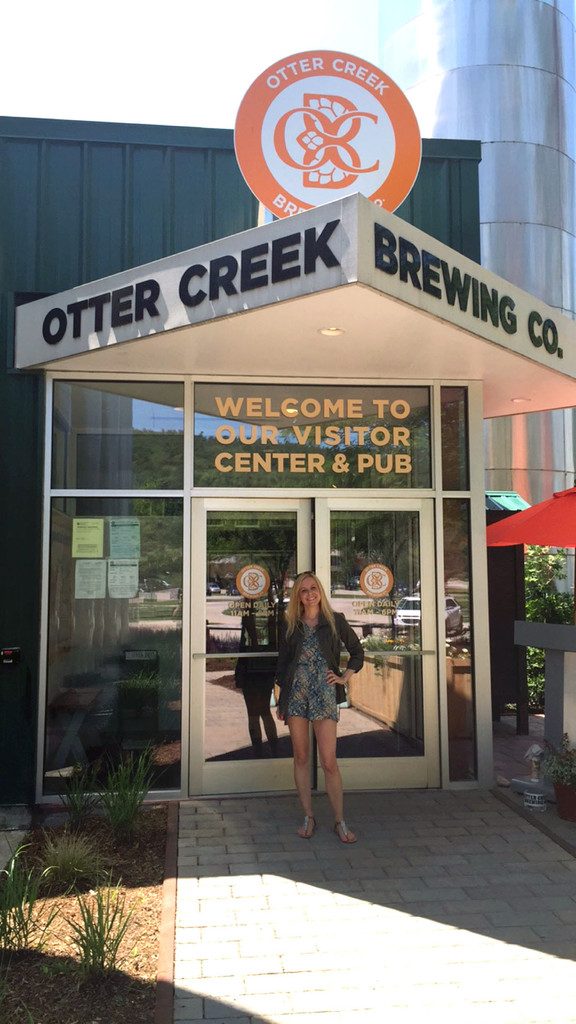 How cute is this place??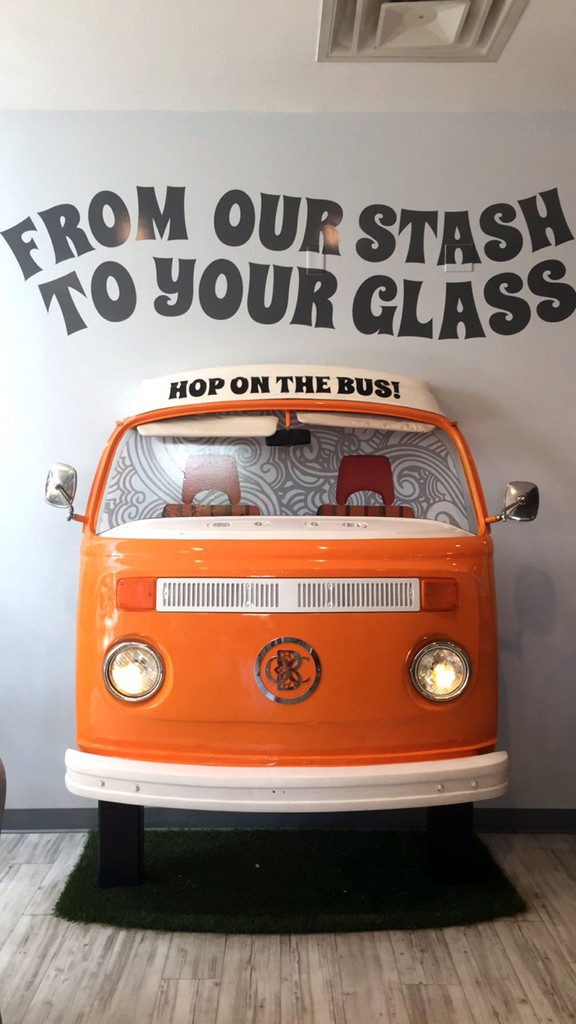 At first, I wasn't sure I knew Otter Creek, but then I saw the menu and thought, "Duh! Couch Surfer!" Of course, I knew them... I probably bought Couch Surfer for the first time because of the cute dog on the bottle label. But I'm a sucker for an oatmeal stout and quickly realized this was more than just a pretty bottle.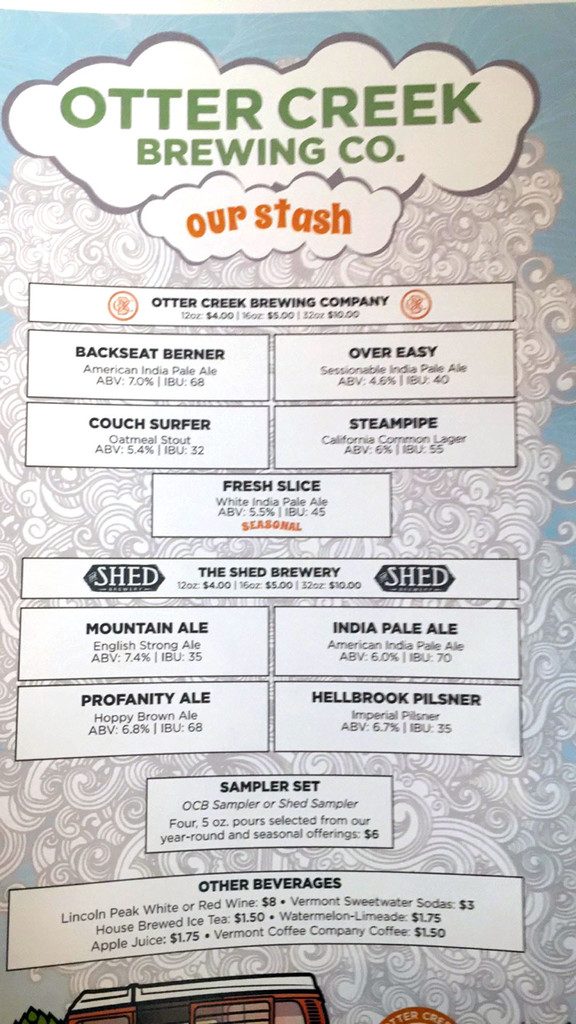 We got a flight of beers to sample, from both Otter Creek and The Shed Brewery. Yup, I could happily drink Fresh Slice all summer long.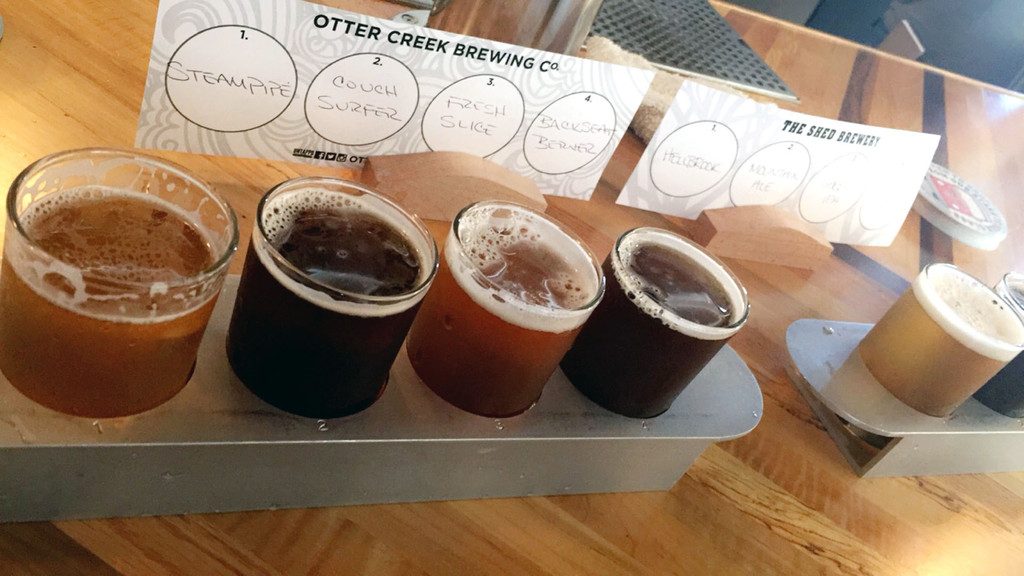 We got some snacks, too... I opted for the kale and blue cheese salad, while Chris went for the chipotle smoked wings special... Which he herby claimed as the best wings he's ever had. Guess we need to get a smoker now...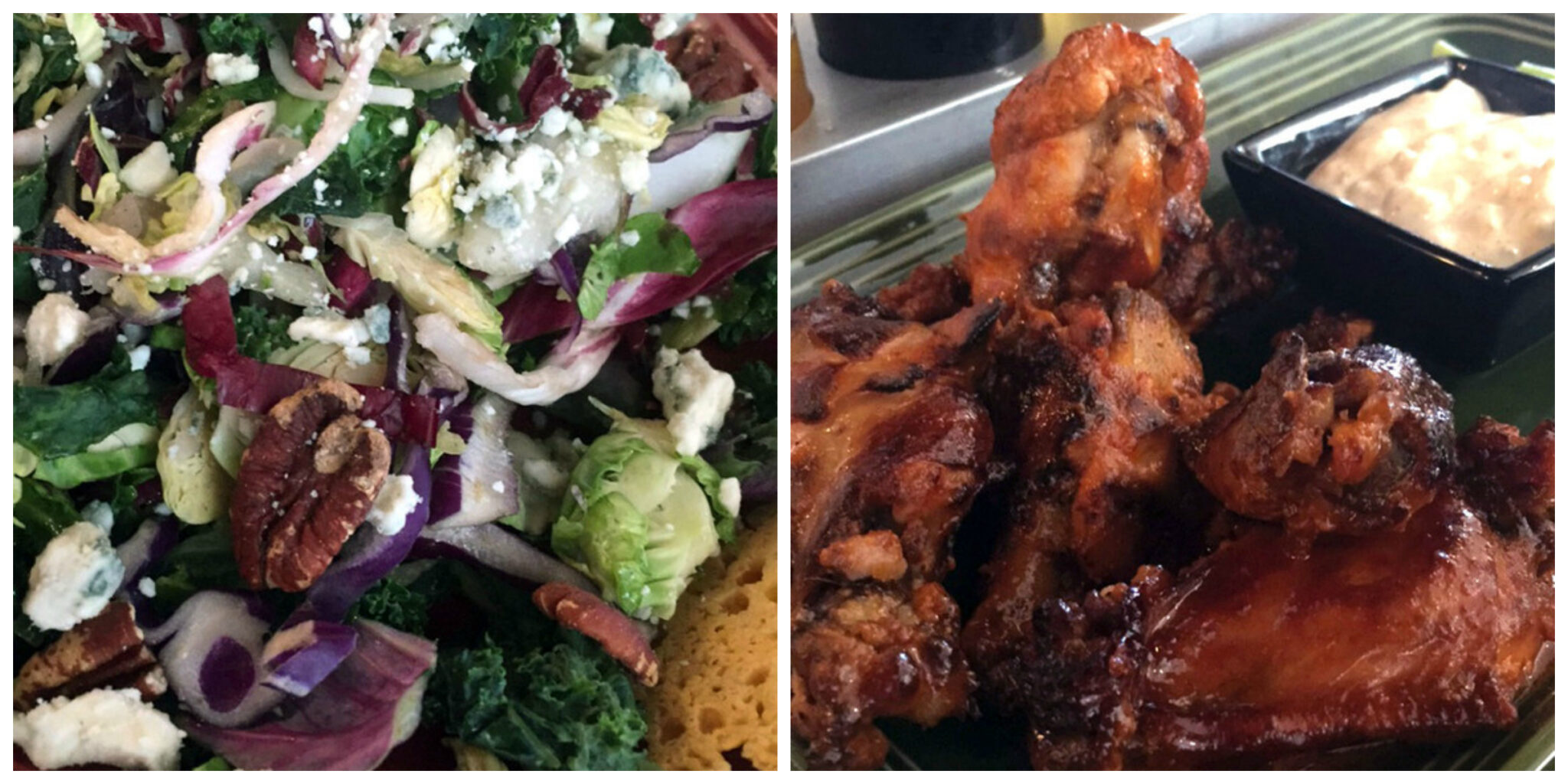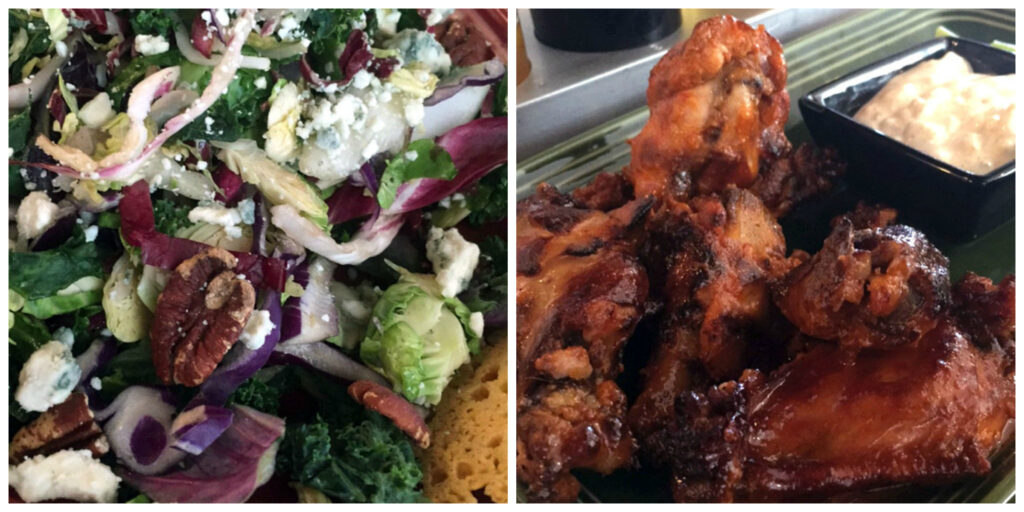 What a great welcome to Vermont we had, thanks to Otter Creek.
I was ridiculously excited that Woodchuck's Cidery was right down the street. I've been a fan of Woodchuck for years and despite all of the new ciders that are coming out these days, they're still generally my go-to.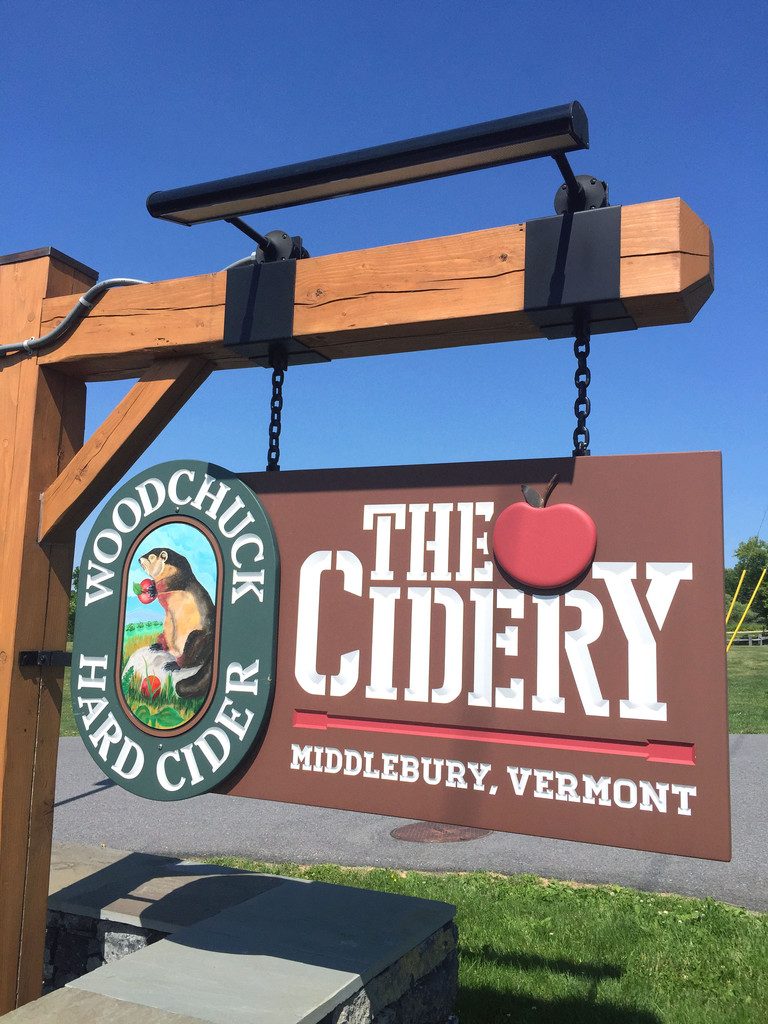 Sometimes you don't truly appreciate how good it feels to be on vacation until you're already back in the office again. Also... summer, I will miss you!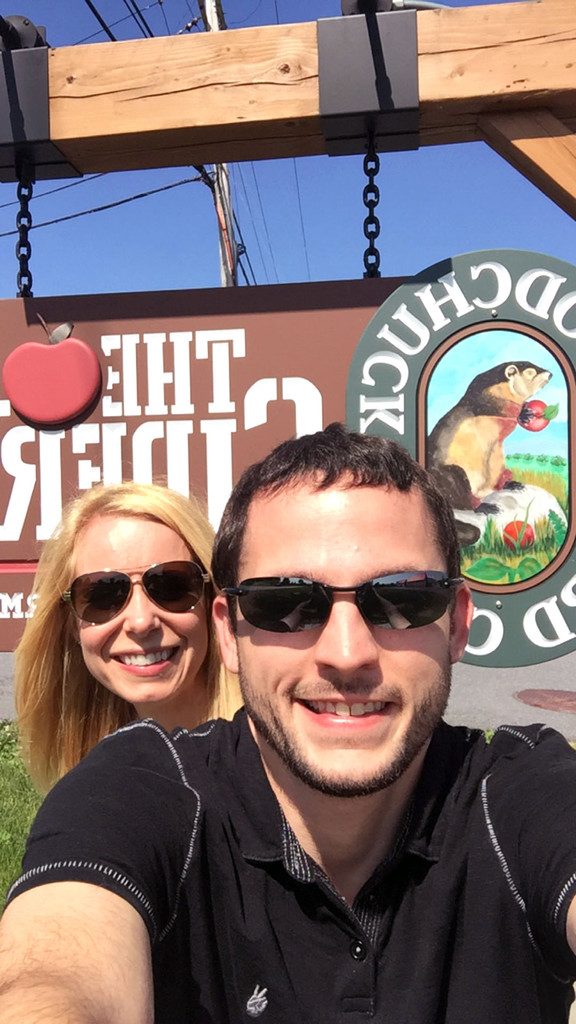 I'm a huge fan of the atmosphere at Woodchuck... It really felt exactly like you'd expect. Comfy, cozy, and like a place you'd want to hunker down in and stay for a while.
And I LOVE that they have self-guided tours, so you can just show up and walk around at your leisure.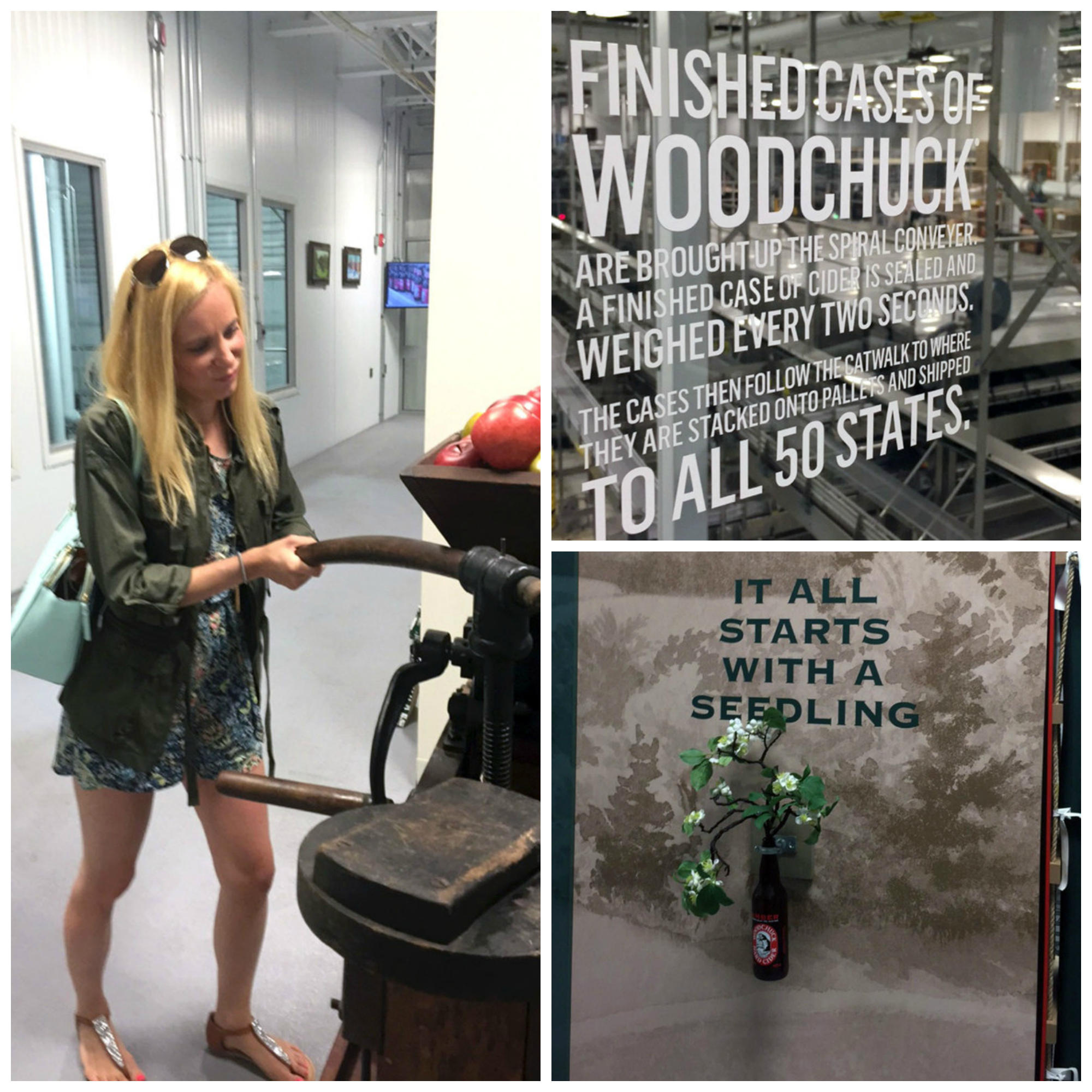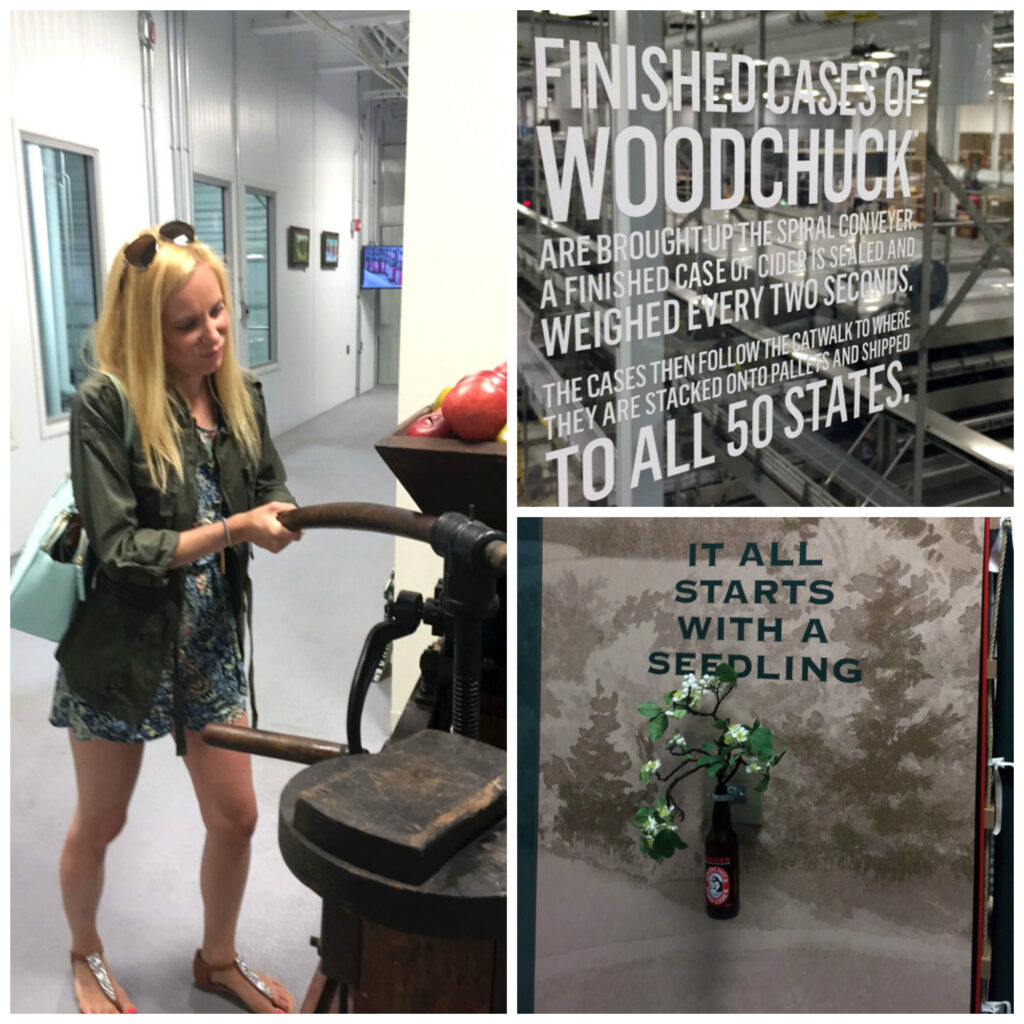 Before settling in at the bar for a flight of cider. How could you say no to that?? Aren't these taps jus the best?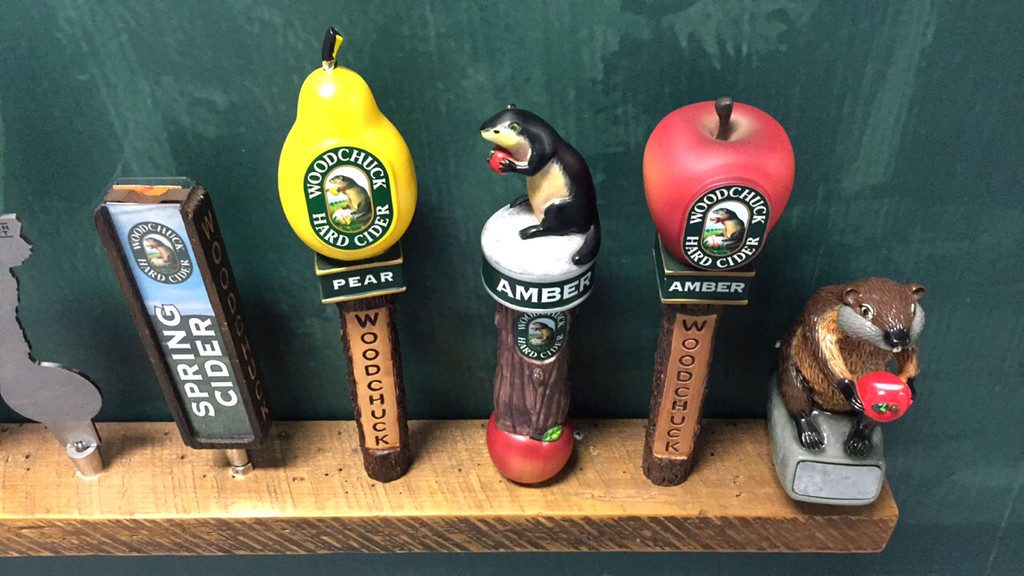 And um, how lucky were we that we arrived right at the end of Campfire Pancakes season (from Woodchuck's Out on a Limb series)? As in, there were only a few 6-packs of this deliciousness left in the place. I sipped on one in my flight and then we bought a couple packs to take home with us. Now I'm practicing my best restraint in not drinking it all at once... I'm going to be so sad when my last bottle is gone. Smoked maple cider is everything.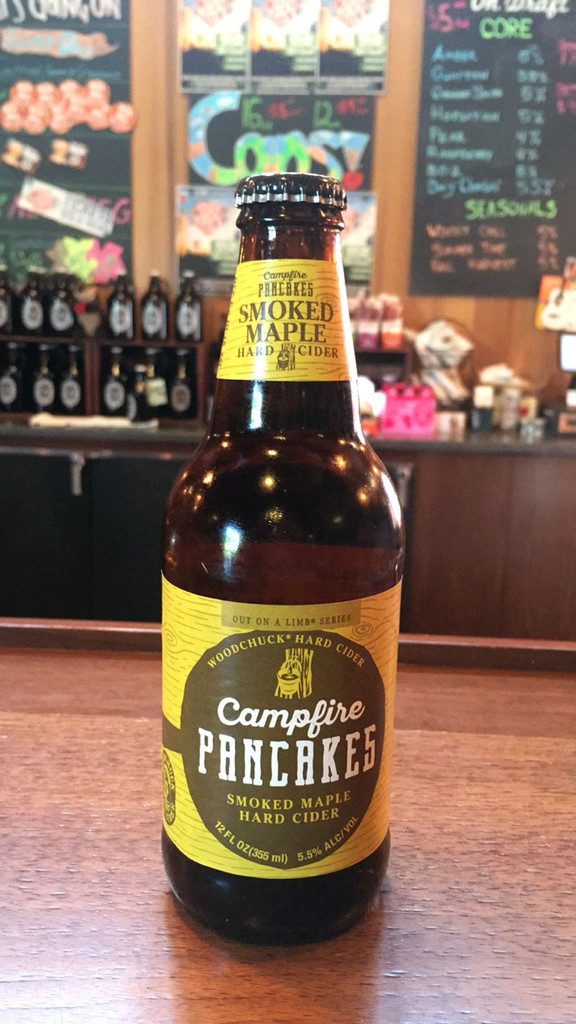 I haven't been to Vermont in years and considering I've lived in New England my whole life, I've spent far too little time here. But everything about this weekend made me fall in love with it more and more. This is the life.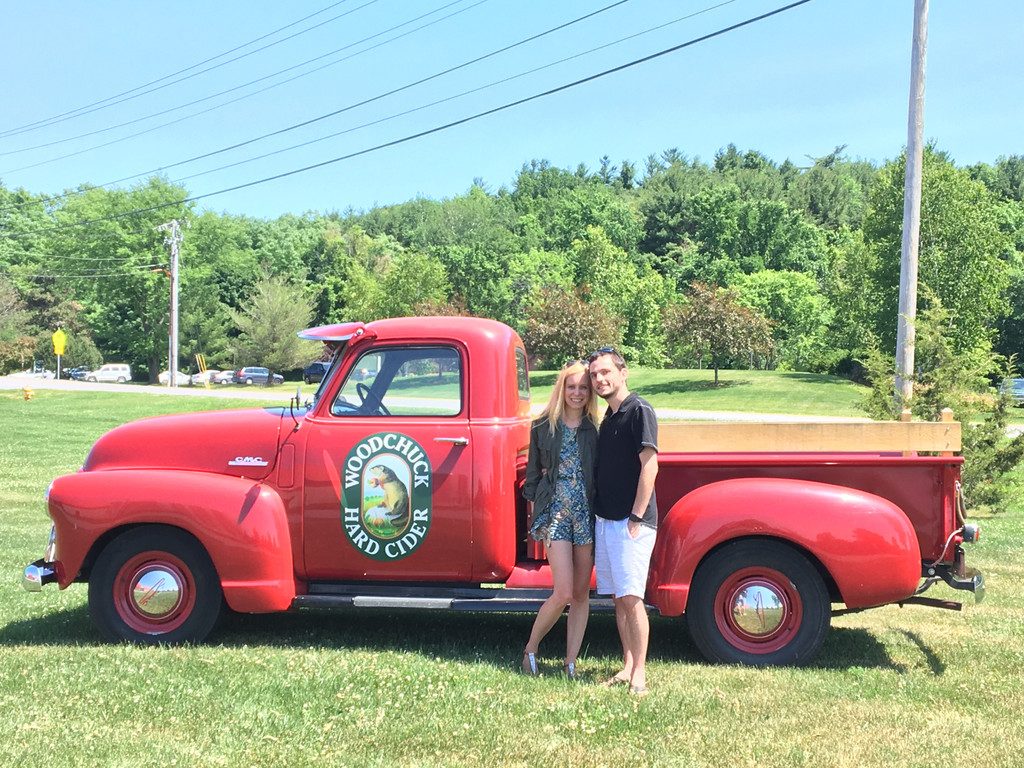 Right before we arrived at Basin Harbor, we made one more stop at Drop-In Brewery... a spot neither of us had heard of. But based on name alone, we figured we need to drop in for a bit...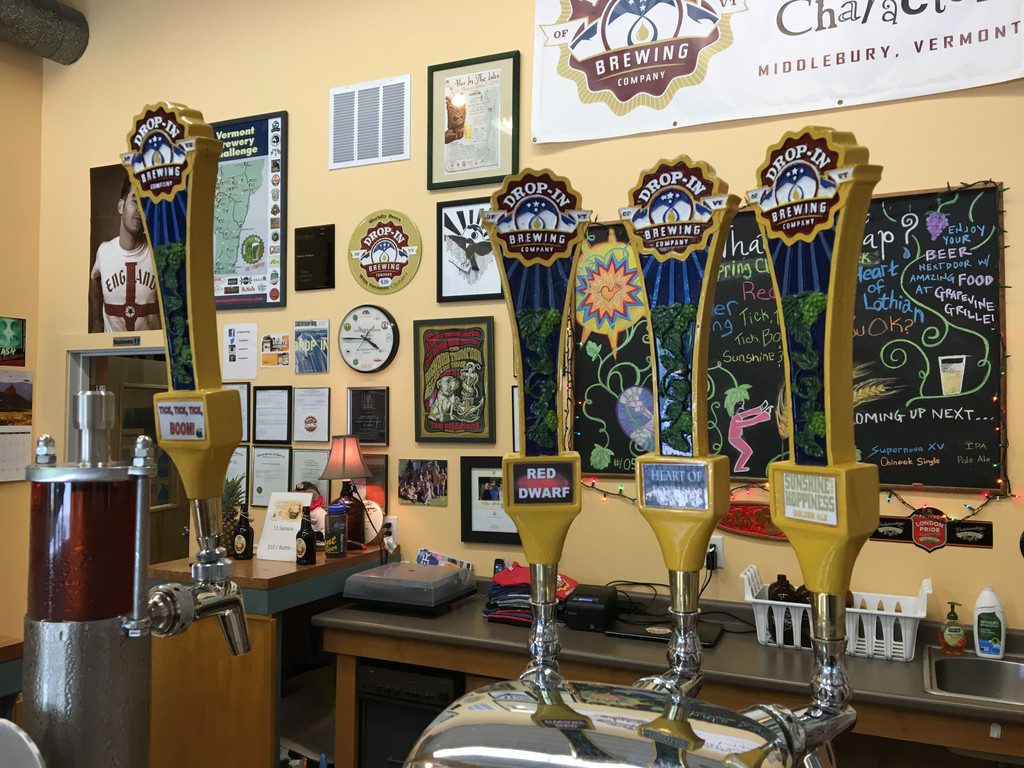 What a cute little spot! It turns out that Drop-In is also the home of the American Brewers Guild Brewing School and the people who run the place are super down to Earth and friendly. It also turns out that Drop-In is veryyy popular in Vermont. And since they make a special Beer for Basin Harbor Club called Red Chair, we heard about it a lot throughout the weekend!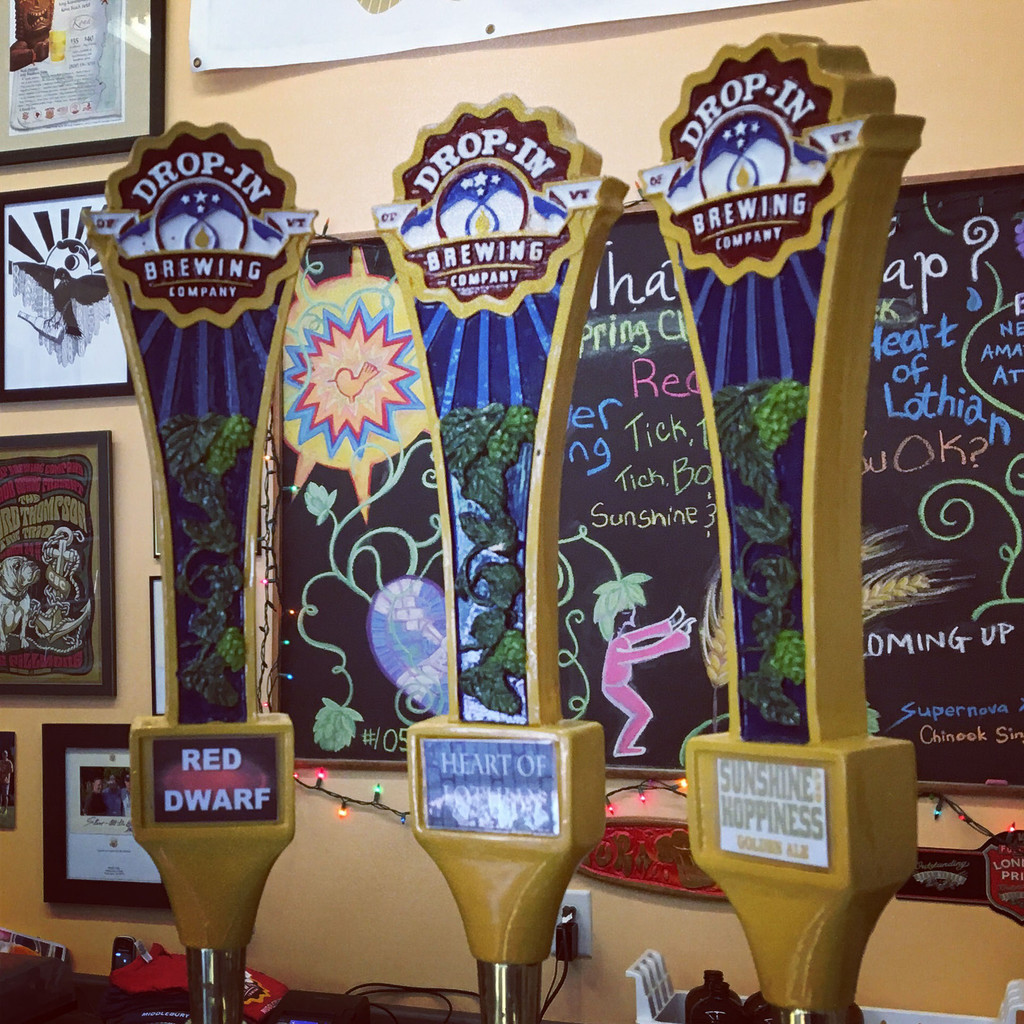 We shared a flight and I especially enjoyed the Heart of Lothian Scottish ale. A great little spot to end our tour of Middlebury before heading to a weekend full of adventure and fun.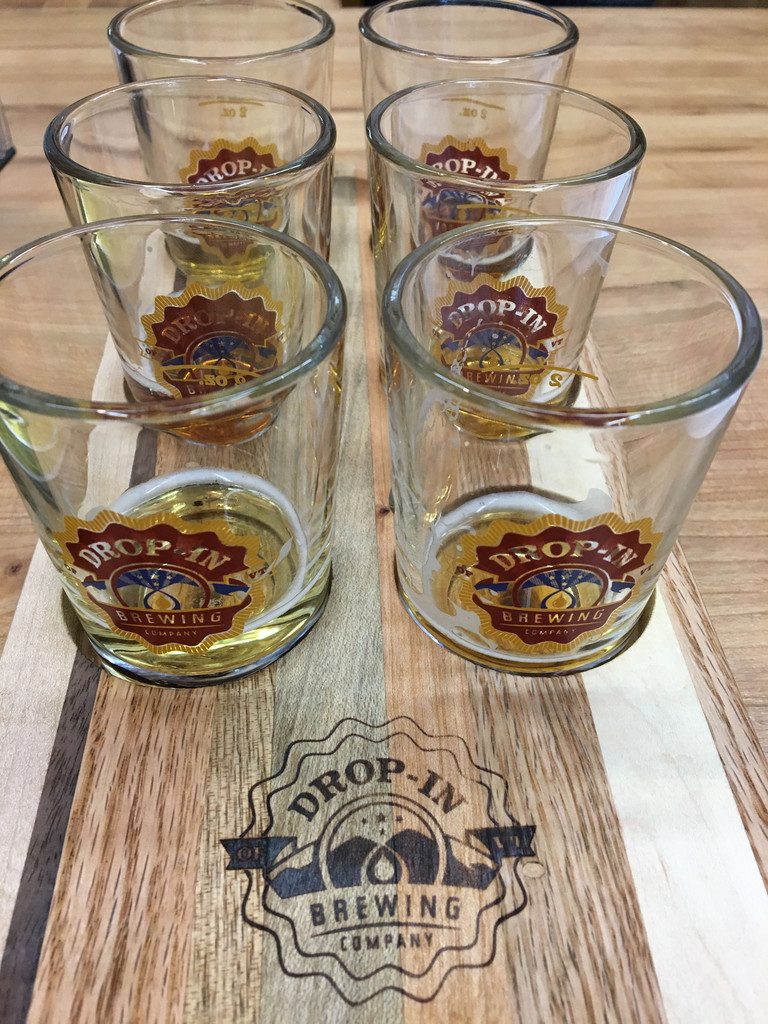 There are actually a couple of distilleries in Middlebury that we would have loved to visit as well, but we had time limits (and sobriety limits)... Which means we'll just have to go back! It's also been far too long since I've been to Burlington, VT, and I keep hearing how awesome it is and how much there is to do, including lots of beer and cider drinking. Have I mentioned how grateful I am that I live in New England and have such easy access to so many different states and all they have to offer? Seriously so lucky! Vermont, we will be back....
Have you been to Vermont? What's the best brewery you've ever been to?