It's our favorite time of year again!
We've both always loved Thanksgiving, but for the past two, we've had the wonderful opportunity to work for Butterball along with 4 other bloggers, and learn all there is to know about the most important part of the holiday (besides being thankful, of course ;))... the turkey! Last Tuesday we flew out to Chicago to attend our sophomore year at Butterball University, an intense training for the turkey talk-line ladies. It's like we get to see behind the scenes of 1-800-Butterball and participate in their turkey conversation!
Our friend Rey lives close to the Butterball offices so our first night there the three of us enjoyed a sushi dinner at
Shinto
. We ordered a couple of Rey's favorites (the little delicious roll and miso surprise), a couple "go-to" rolls (spicy tuna and volcano roll) as well as fried avocado. Yup. Fried avocado. It's as delicious as it sounds, don't you worry!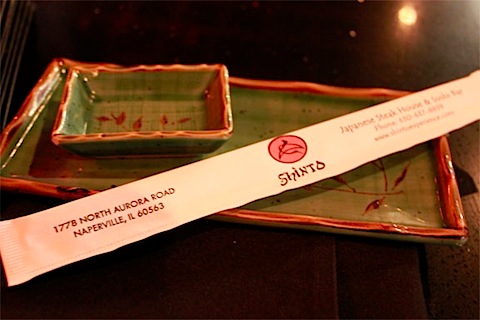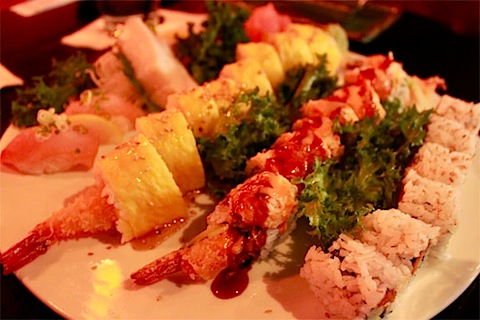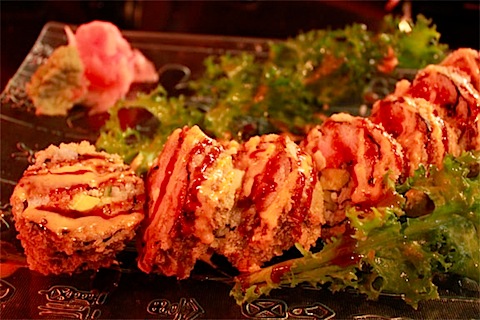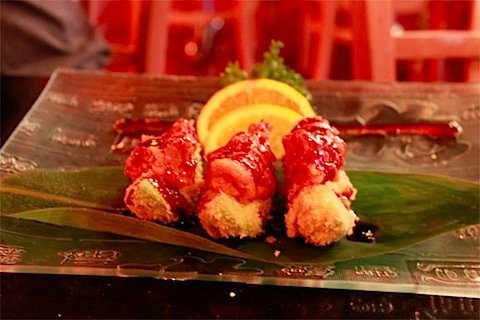 After a long day of traveling, airport hopping, and car services we were definitely ready to sit down to a solid dinner!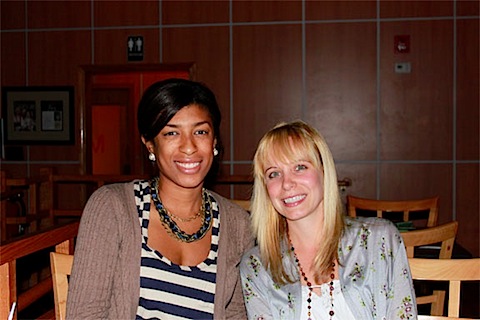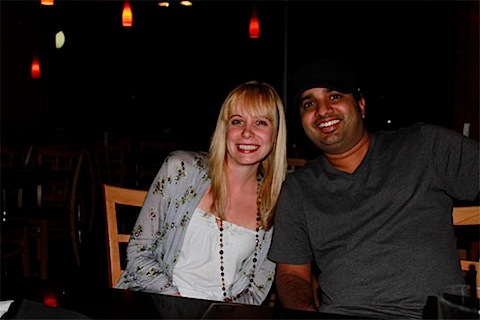 The following morning started bright and early! We met at the Butterball offices and prepared ourselves for two packed days discussing all things turkey. And when we say "all" we mean all. As in everything. No detail left behind. We learn all about thawing, cooking methods, proper temperatures for different parts of the turkey, food safety rules and laws, the history of the company, and of course we consume a lot of turkey.
On the first morning, after a talk about cooking methods, we were split into two groups and assigned our own turkeys and a method to prepare it. Some people were assigned to cook their turkey in microwaves, convection ovens, electric roasters, and roasting bags to name a few. It's a pretty neat way to gauge all of the potential questions that could possibly come through the talk-line each holiday season. This way the ladies are all well versed in all the possible cooking methods and can answer your questions quickly and efficiently!
Before we began, Marty, one of the talk-line supervisors, reminded us how to check the temperature of the thigh area of the turkey. Find the bone and move your thermometer slightly above it. The temperature should read about 180 degrees. Knowledge is power, kids 😉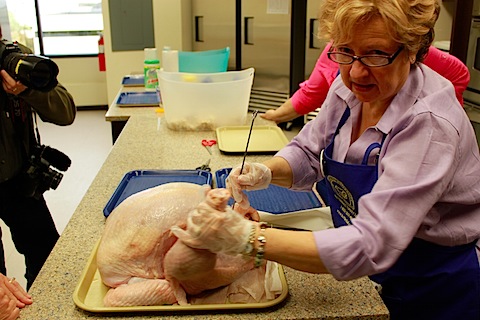 We then removed our turkeys from Butterball's new Easy Open packaging. You pretty much slip each pointer finger in each of the two holes at the bottom of the bag, pull outwards, and voila! The bag opened so easily we were all extremely impressed. There was lots of oooohing and ahhhing echos as you can only imagine from a room filled with turkey loving ladies 😉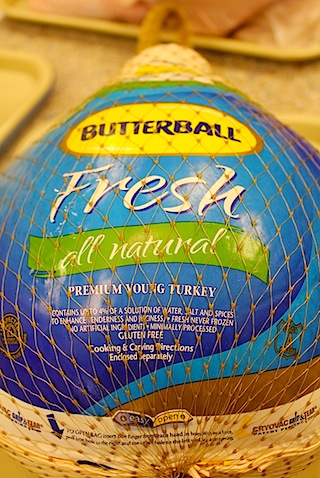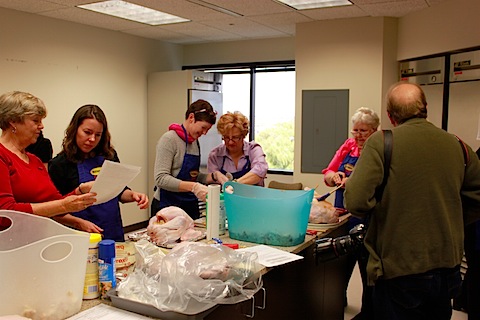 Chels's Turkey
I was assigned to cook my unstuffed turkey using the electric roaster oven method. I was pretty curious about this at first since I've only cooked a turkey in a conventional oven, but that's the thing with turkey school... you enter with an opened mind! I cooked my 12 pound turkey for about 2 hours and 15 minutes.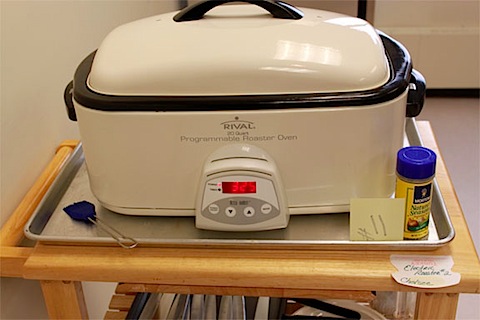 My turkey, before: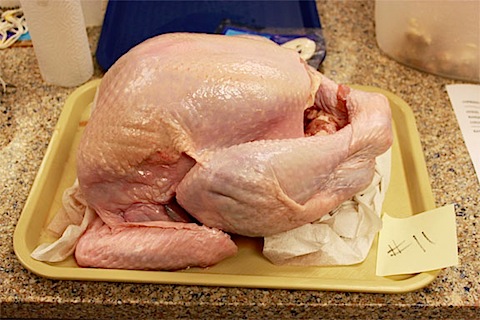 Preparing it with a brown butter glaze to get a nice golden color.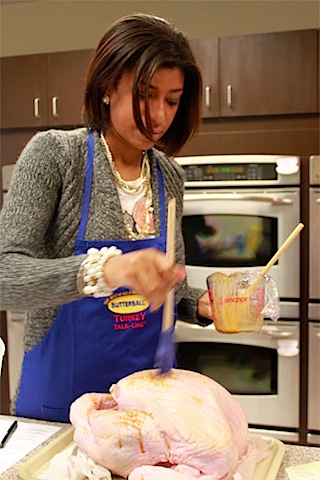 Gearing up for the big lift into the electric roaster (with Marty's assistance, of course!):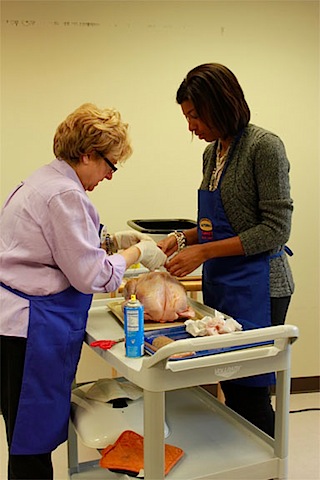 A little seasoning and salt: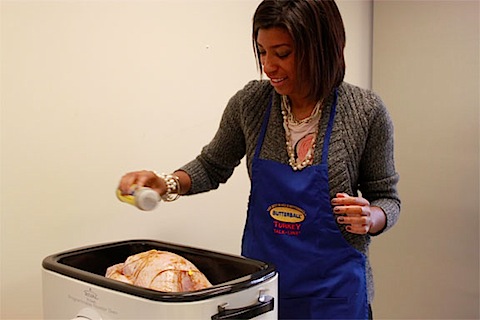 2 hours and 15 minutes later: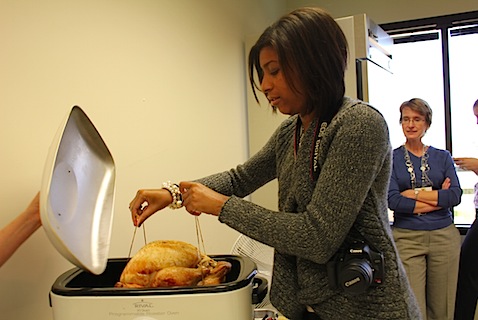 Big lift out of the roaster... Ta-da! I was actually pretty surprised at the color my turkey had since the electric roaster builds up quite a bit of moisture and isn't a dry-heating method. The legs that were near the sides of the roaster got the most color and crispier skin since they were closest to the direct heat. The breast was a bit pale since the moisture was building on the lid of the roaster and most likely dripping directly on the top of the turkey which didn't allow it to brown as well as it would using a dry-heat method.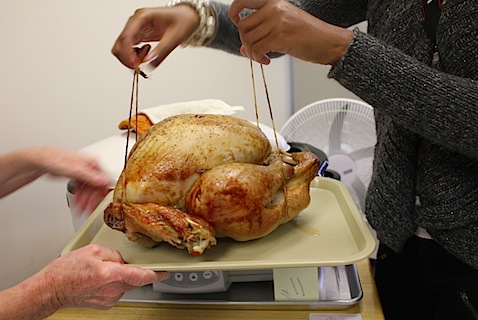 As far as taste goes, the electric roasting method proved to get the moistest meat. I was definitely surprised and happy when I noticed everyone kept coming back for more... Success!
Sues's Turkey
I was assigned to cook my stuffed turkey using the convection oven. Sounds easy enough, right? Well, I certainly learned a thing or two (or 10 million)! Like though the convection oven can cook your turkey faster, it might not necessarily cook your stuffing quite as quickly. And did you know that the #1 cause of food-born illness on Thanksgiving is stuffing? So, even though your turkey thigh might register at 180 degrees, your stuffing might not yet be at 165 degrees (safe to eat). Which means you may have to cook your turkey longer to get the stuffing hot enough... thus drying your turkey out a bit.
Though we got to work in teams to cook our own turkeys last year, this was my first time truly cooking my very own turkey!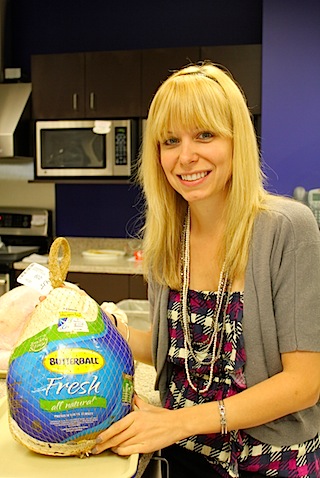 Thank goodness I was working next to one of the other Butterball bloggers, Zippy. She helped me out a couple times 🙂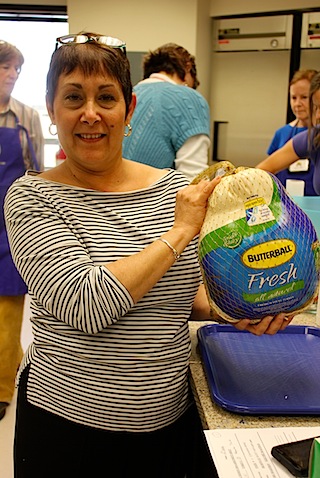 I got my turkey stuffed and the thermometer properly inserted.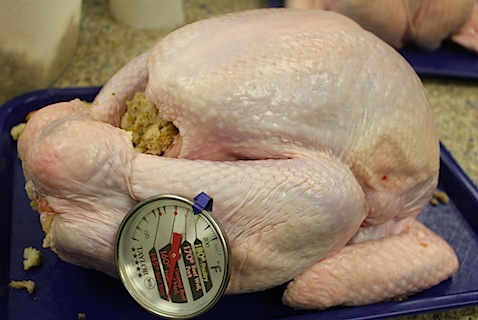 Phew!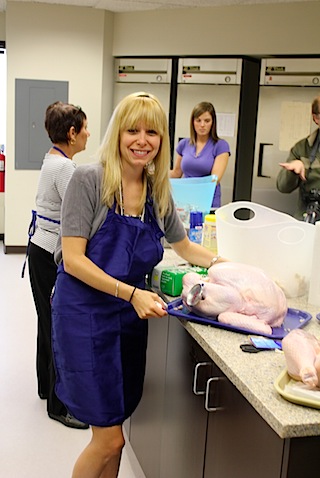 I put it in a shallow open roasting pan on a flat rack. And cooked it on the oven's convection setting at 325 degrees.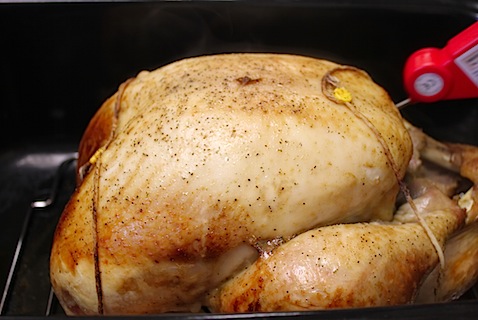 And waited. My turkey took a lot longer to cook than I figured it would. Why? I think the sides on my roasting pan were a bit too high. Also, when my thigh hit 180 degrees, it took my stuffing A LOT longer to reach the safe 165. I was definitely the last person to take my turkey out of the oven.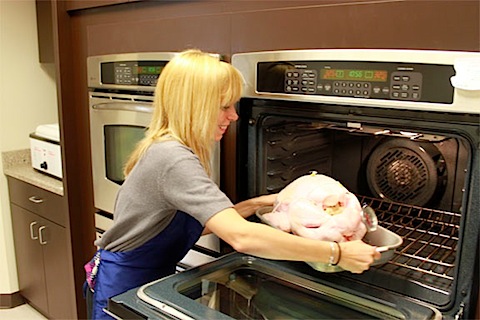 But when I did, it certainly looked awesome! I loved how perfectly browned it was and I'd be totally proud to serve this turkey to a crowd. And I'm pretty sure it's safe to eat too.... No really, I'm positive it is.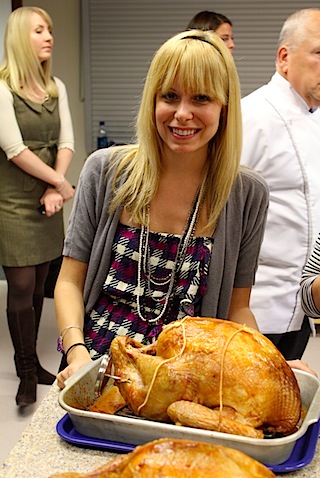 It also had some lovely, beautiful-colored drippings... hehe. What? It did!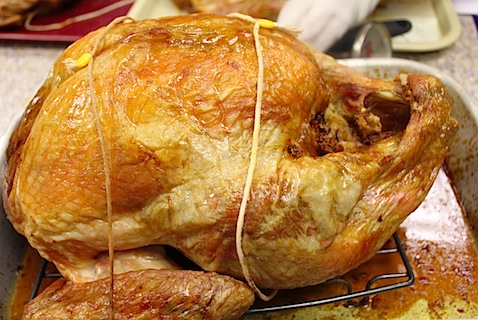 My 13-pound turkey took a total of just about 3 hours and 25 minutes to cook. It could have had something to do with the fact I kept opening the oven to check the temperatures... Oops 😉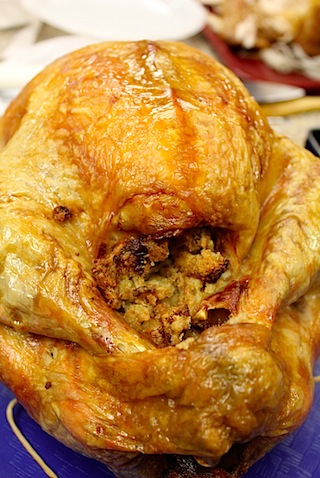 We got down to business carving and I got quite a bit of help from Butterball Master Chef Tony Seta.
The verdict? I personally thought my turkey was a bit dry, but other people seemed to love it and kept asking me how I got it nice and salty tasting (the answer: I have no clue). I think this turkey would have been much better without the stuffing because then I could take it out of the oven right when it reached the right temperature. Plus, I prefer stuffing on the side anyway 🙂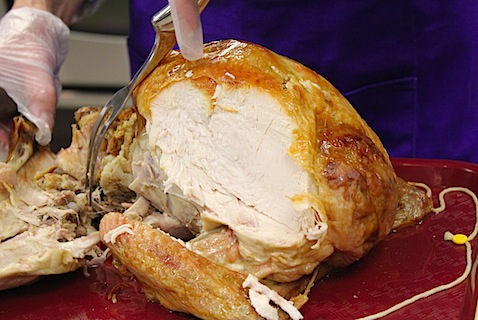 The entire line-up: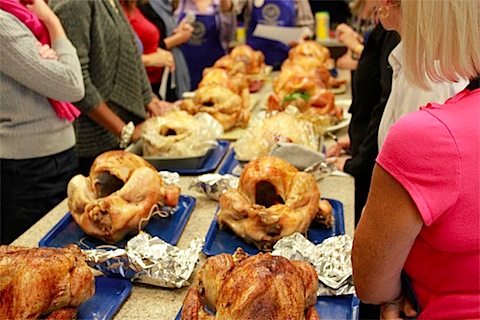 Once everyone's turkeys are done it's time for the big reveal. We all remove the aluminum foil from our turkeys and show off our hard work! It smells like Thanksgiving in October, too 🙂
Blogger, Chris Jordan, was one of the "chosen ones" and got assigned the microwave method.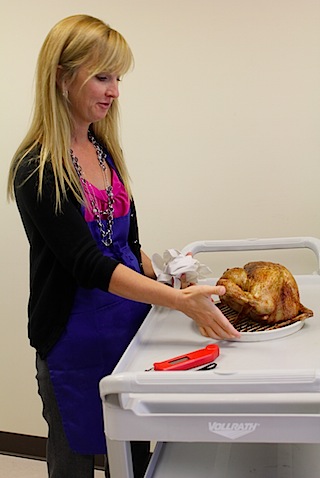 She "broke" the microave with it (really it wasn't her fault!) and had to find another one halfway through. Did you even know you could microwave a turkey? If you're super low on time, have no oven, and have a turkey small enough, go for it!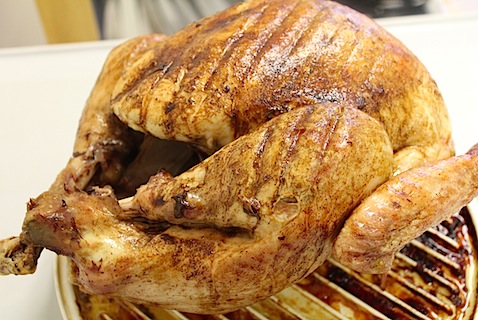 Conversation about each method and everyone's results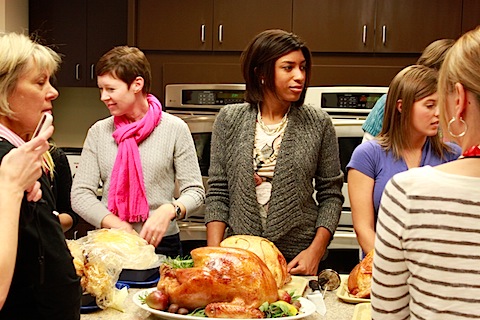 It was pretty fabulous to hear about everyone's cooking experience and their results. Also, did you know something like 30% of people use an oven bag when cooking turkey? That's a lot!
I appear to be getting lectured... Probably because the stuffing was still coming to temperature 🙂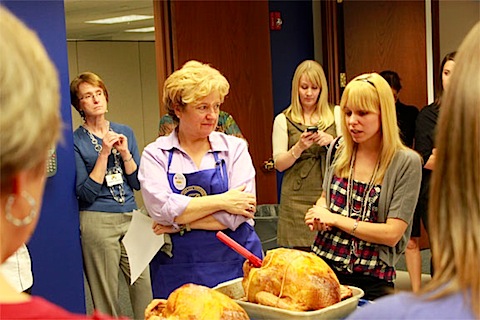 Don't the turkeys look beautiful?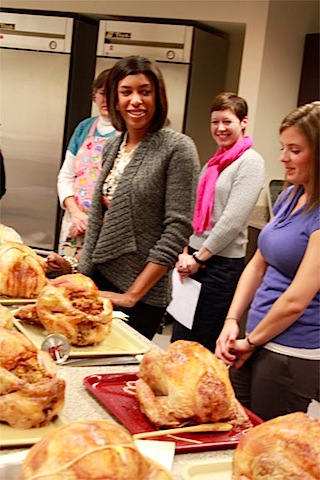 After the big reveal we all go around the room to discuss any issues and successes we had while cooking our turkey. For example, using the electric roasting method one side registered a higher temperature than the other, so the turkey had to be rotated. By doing these experiments the talk-line women are fully aware of almost any possible circumstance issue!
Carving demo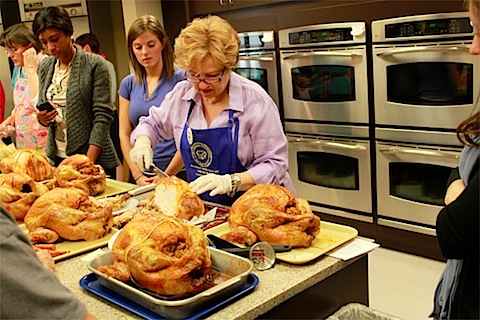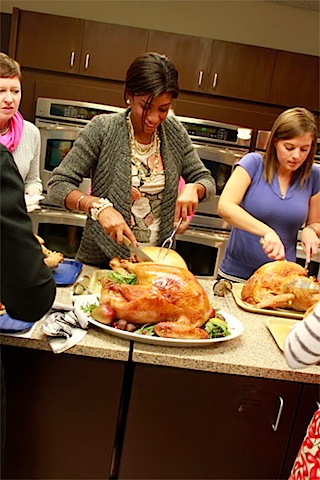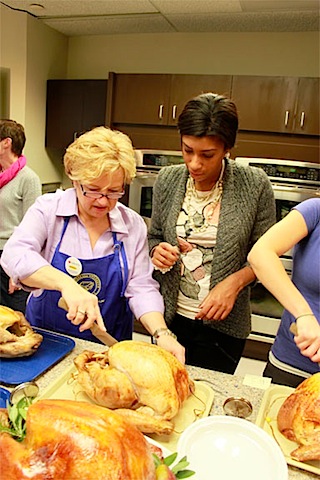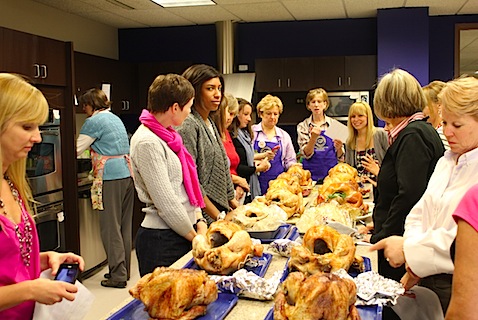 After a full day of turkey, turkey, turkey the bloggers, Edelman team, and some of Butterball corporate headed to dinner at Hugo's Frog Bar in downtown Naperville (by the way, if you've never been to downtown Naperville, it is SO adorable. And there's so much to do!).
It had been a couple hours since we feasted on turkey, so bread was much needed!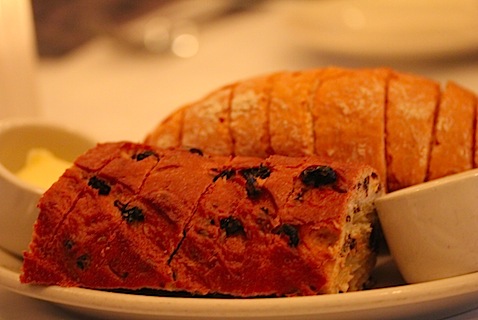 The bruschetta appetizer was also quite delicious.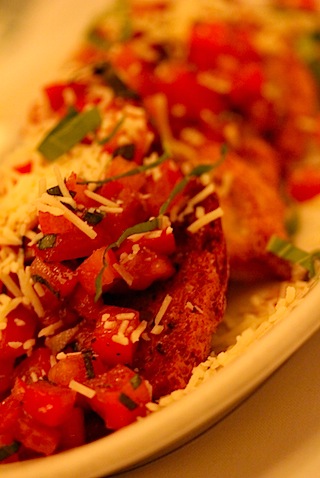 As was the calamari, of course.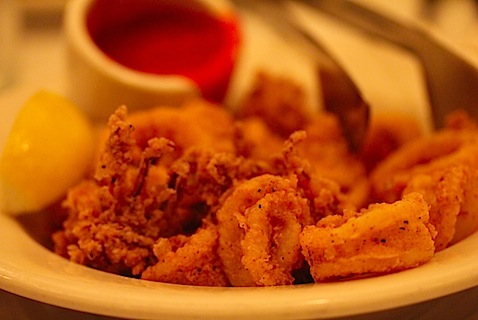 Three of us ordered the Miso Marinated Sea Bass with mushrooms and sweet peas. Why? All of us were trying to choose between that and something else, but the waiter rave about the sea bass so much, none of us could turn it down! And it's a good thing we didn't because it was seriously awesome. It fell apart at the touch and melted like butter.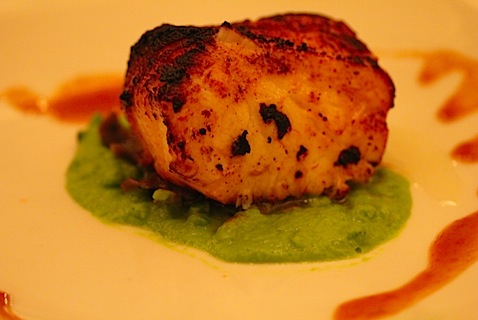 The pumpkin cheesecake with pumpkin ice cream was the perfect way to end the dinner.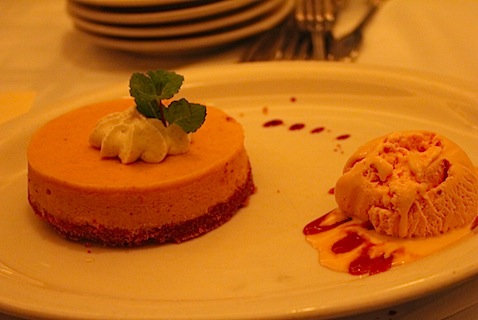 We all posed for a photo after the delicious dinner!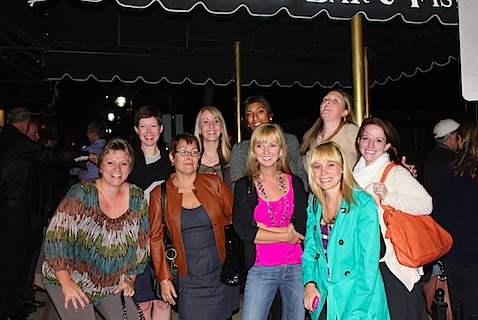 And the next day, it was back to Butterball headquarters for more learning 🙂
This is the room where the Turkey Talk-Line ladies take your calls.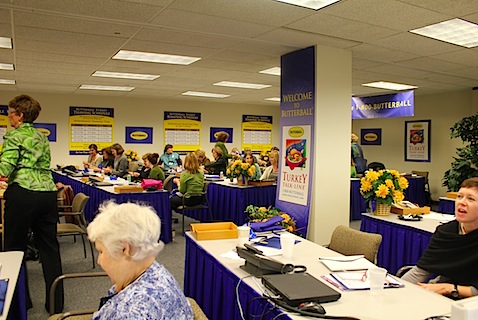 We learned about how Butterball has been doing in the past year, what this year's marketing initiatives are, and all about food safety.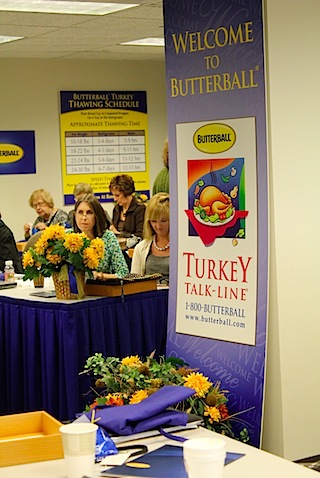 Of course, we also spent plenty of time chatting with the Turkey Talk-Line ladies. Have we mentioned how awesome they all are?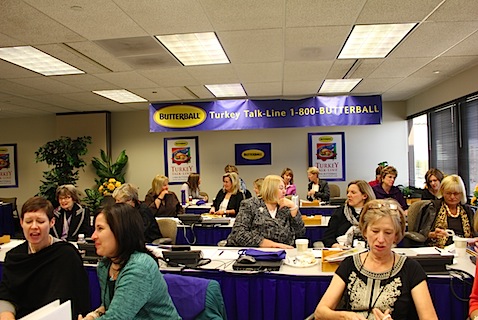 These ladies have all been with the Talk-Line for 20 years! Check out their turkey hats 🙂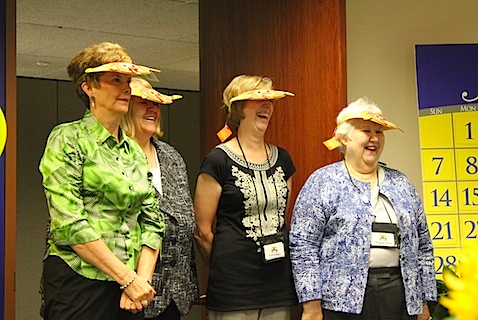 All of the lovely ladies in their Butterball aprons!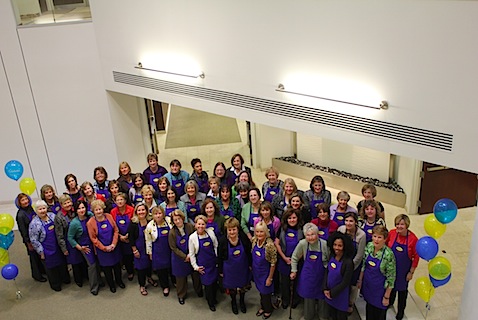 We took a lunch break, which obviously consisted of Butterball turkey (and no we're not sick of it yet :)).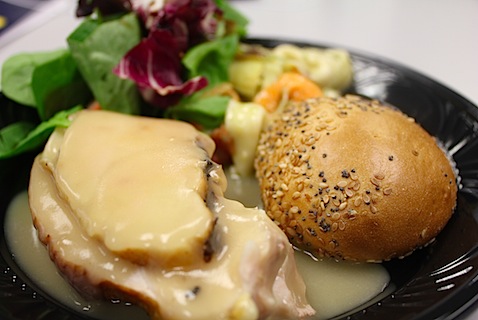 Since it was the Butterball Turkey Talk-Line's 30th anniversary, we all got to enjoy a beautiful (and delicious!) cake.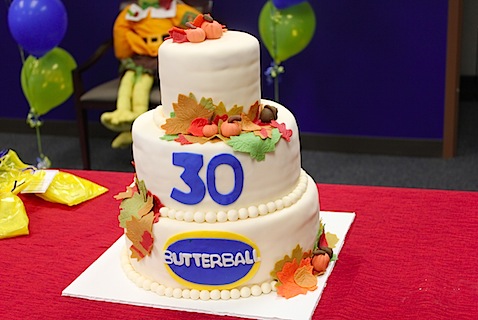 AND some of the ladies put on the most awesome skit, showing us how much the Talk-Line has progressed.
It started in 1981!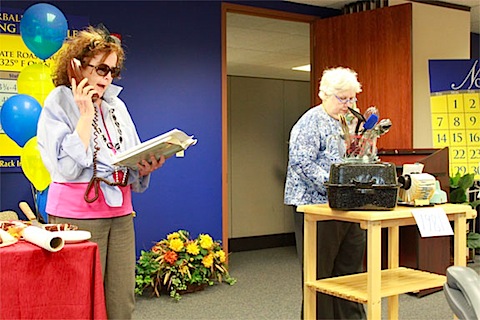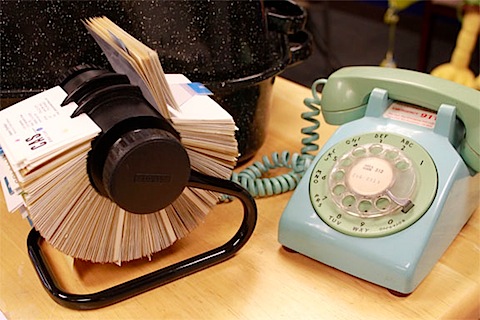 In 1995, the Internet came along... We loved the caller who asked how to use "cyber spice" on her turkey 🙂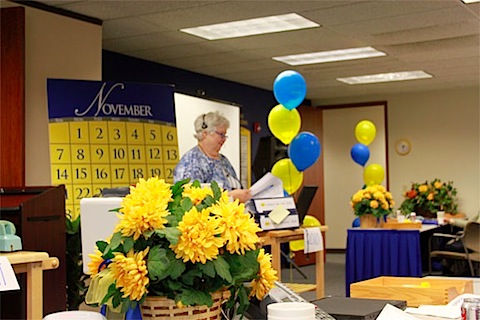 Now, it's 2010, but how will things be at Butterball in 2040?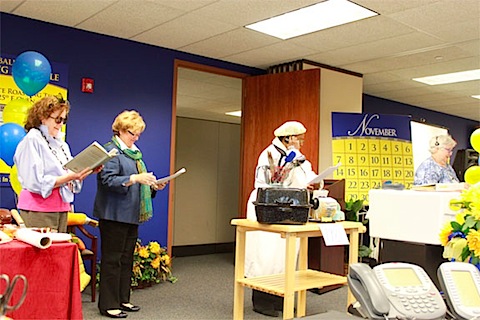 Well, the Turkey Talk-Line ladies will probably be able to "beam" themselves to your kitchen and help you in person.
We had to pose with the Butterball Turkey Roasting Schedule before catching our plane back to Boston, of course!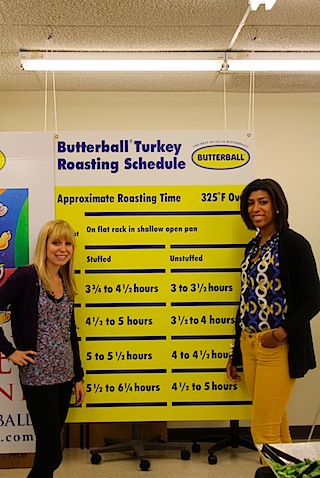 We'll definitely be keeping you updated on Butterball happenings this holiday season. We're also blogging for the website, so we'll let you know when our posts go live. And we urge you to call the Turkey Talk-Line (we'll let you know when it opens!) if you have any turkey questions. Tell them Sues and Chels from We are not Martha say hi 🙂
Thank you, Butterball, for another year of fabulous turkey education. It's safe to say we both feel SO much more confident in the kitchen with a turkey after this year 🙂 We loved seeing everyone and can't wait to call the Turkey Talk-Line ladies every 5 minutes... Just kidding, we wouldn't do that 🙂
Have you ever made your own Thanksgiving turkey (or any turkey)? How did you cook it?
[Sues and Chels]
Full disclosure: We were hired to attend Butterball University and write on the Butterball Blog and are being paid. However, all of our opinions are our own and we're under no obligation to write about our fabulous experiences on our own blog. Seriously, we can't even believe we're so lucky to be paid to have the experience of a lifetime. Life rocks 🙂