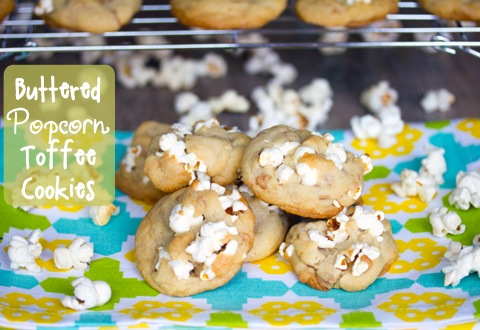 Confession time. Oftentimes after I spend a bunch of time in the kitchen baking or cooking, I'm not really in the mood to eat. Weird, right? I always do anyway (obviously), but I rarely pig out on anything I make at home, even if it's really, really ridiculously delicious. I have no idea why as this is very different than if someone is cooking for me or if I am out to eat. This is also very different than what happened with these cookies. Like really, really different. Like oh my God, my stomach hurts because I've eaten about a hundred of these in the last two days. Well, that can't quite be true since one batch only makes 2.5 dozen. But yeah. You do the math.
I can't quite decide what made these cookies so fantastic, but I can ensure you they were the best cookies I have ever made in my life. Ever. So maybe it was the popcorn. Or maybe it was the toffee. Or maybe, just maybe it was the fact that I used Star Fine Food's Butter Flavored Olive Oil in lieu of a second stick of butter? I promise they did not pay me to say that (though they did so kindly send me the oil!) and that I was actually a bit skeptical of doing so when I started getting my baking ingredients out the other day.
But yes. I ate a lot of these. And I can still stand to look at their pictures. So, that's saying something.
Buttered Popcorn Toffee Cookies (makes about 30 cookies):
Print this recipe!
1/2 C Star Fine Foods Butter Flavored Olive Oil, divided (can use 2 T regular olive oil and 1/2 C butter instead)
1/4 C popcorn kernels
1 t salt divided
2 C all-purpose flour
1 t baking soda
1/2 C (1 stick) butter, room temperature
1/2 C granulated sugar
3/4 C packed brown sugar
1 large egg
1 t vanilla extract
1/3 C toffee pieces
pre-heat oven to 350 degrees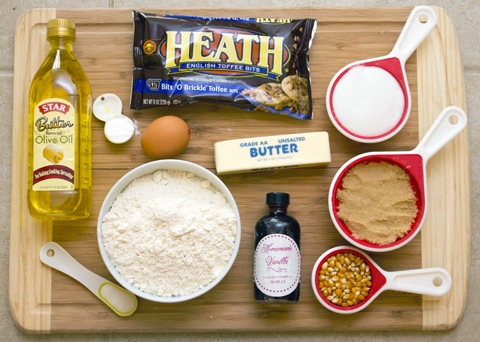 You'll start by popping the popcorn. If you're feeling super lazy, totally feel free to purchase plain popcorn from the store. But popping popcorn on the stove is seriously the easiest ever.
Put 2 T of the butter flavored olive oil (or 2 T regular olive oil) in the bottom of a saucepan over medium heat and pour in 1/4 C popcorn kernels.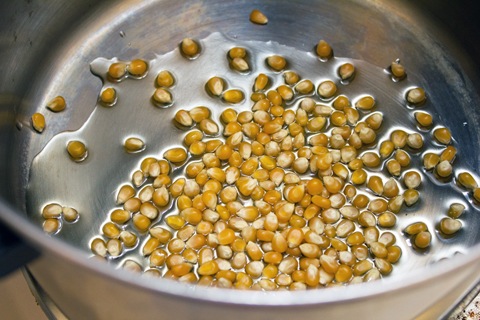 Cover the saucepan and when you hear the first kernel pop, remove it from the heat. Let it sit for a minute. And then put the saucepan back on the heat and shake the pan around until all of the popcorn is popped.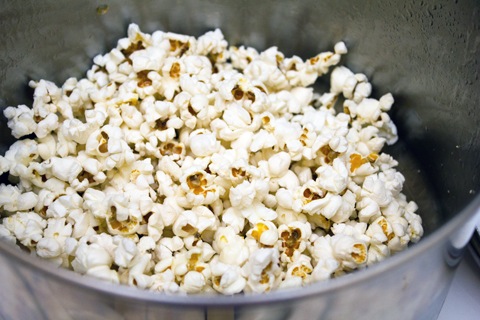 Put the popcorn in a bowl, sprinkle 1/2 t salt on it, and let it come to room temperature. If you didn't use the butter flavored olive oil to pop your popcorn, I'd drizzle a little melted butter over the top here now.
In a medium bowl, whisk together the flour, baking soda, and remaining 1/2 t salt together. Set aside.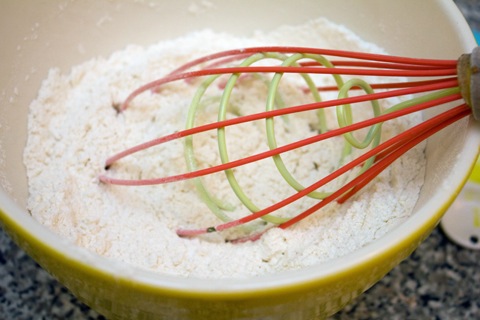 In a stand mixer (or in a bowl with hand mixer), cream together the remaining 1/4 C and 2 T butter flavored olive oil, butter, granulated sugar, and brown sugar until light and fluffy.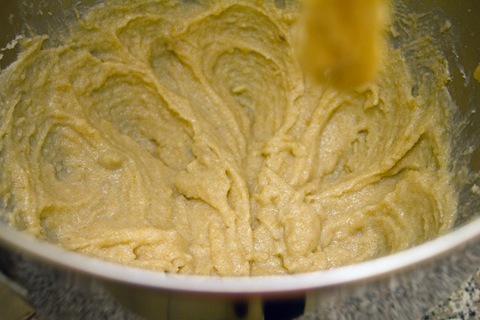 Mix in egg and vanilla.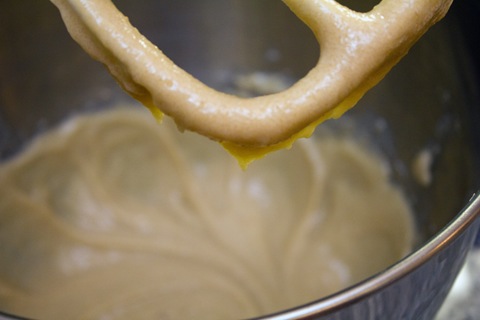 Now, add in flour mixture, mixing until just combined.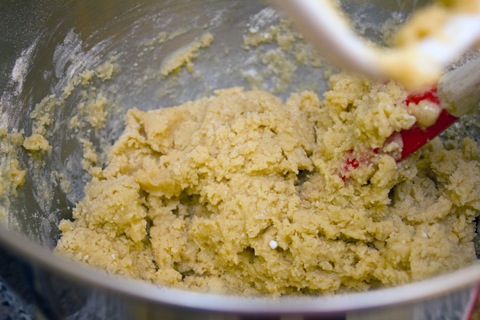 Fold in 3 C popped popcorn and 1/3 C toffee pieces.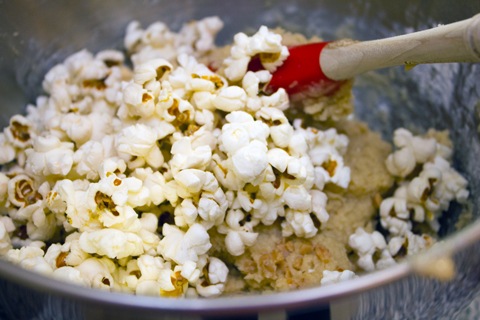 On a parchment paper or Silpat covered baking sheet. place tablespoons of dough about an inch apart.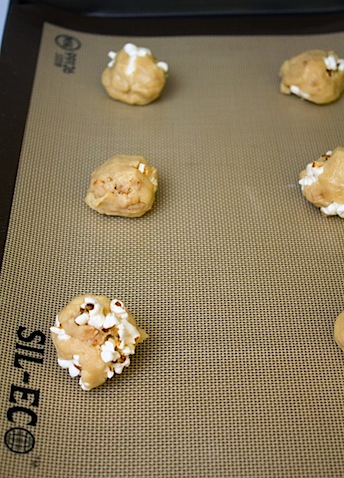 Bake at 350 degrees for about about 10-13 minutes, until just browning around edges.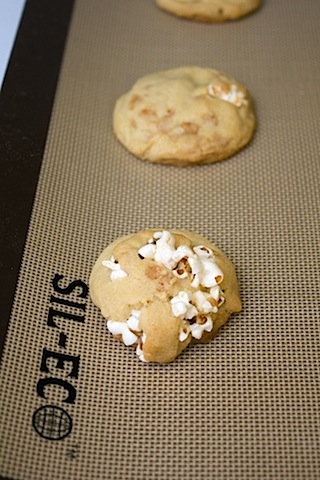 Let cool on the baking sheet for a few minutes before moving to wire racks to cool completely.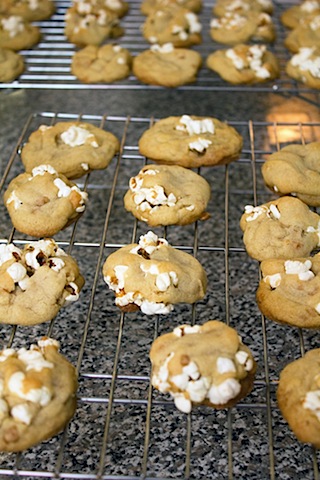 Now, try not to eat all of these in one sitting. It's hard. Oh, so very hard. And I am most certainly not the right person to go to for advice.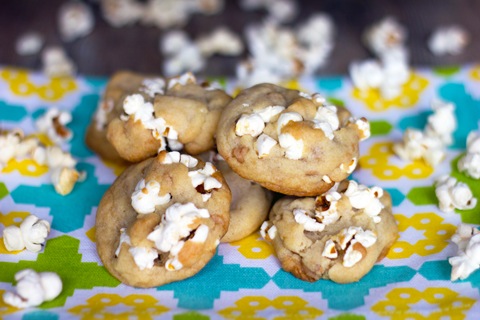 They're sweet; they're salty. And they're most definitely the stuff dreams are made of. They'll also have you counting down the hours at work so you can get home and eat more. Who needs dinner anyway?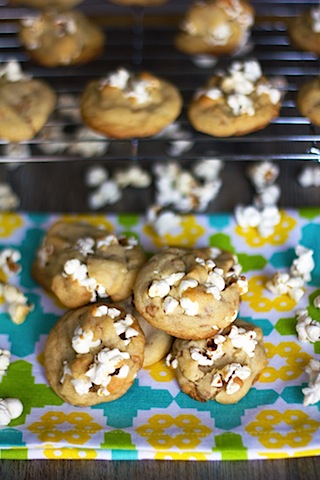 So, I wasn't quite sure that replacing a stick of butter with olive oil would be so awesome, but Star Fine Food's conversion chart let me know that 1/2 C butter = 1/4 C plus 2 T olive oil. So, I figured it was worth a try. And I don't know what it did to the consistency of these cookies, but man they were amazing. And obviously the buttery flavor was super delightful.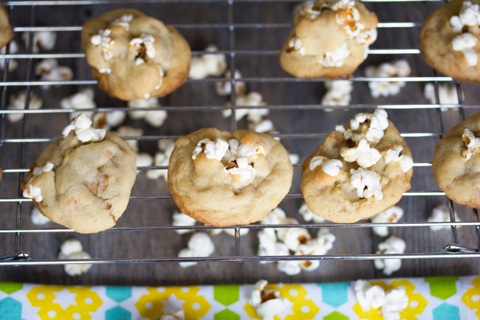 Also, there's something about toffee that just makes me super happy. I couldn't find toffee pieces in my grocery store for months (I think they stopped ordering them!), but finally managed to find my beloved Heath Toffee pieces elsewhere. Phew. Sometimes I eat them right from the bag.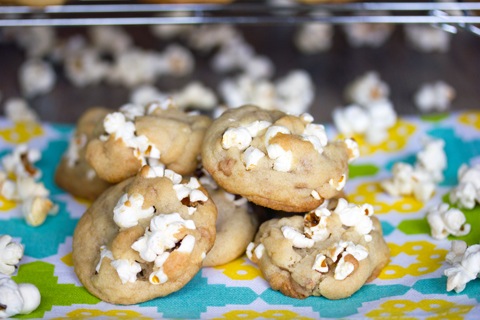 Next I think I'll try melting them straight onto the popcorn. And then I'll make these cookies again. Because I'm not so sure I can live without them.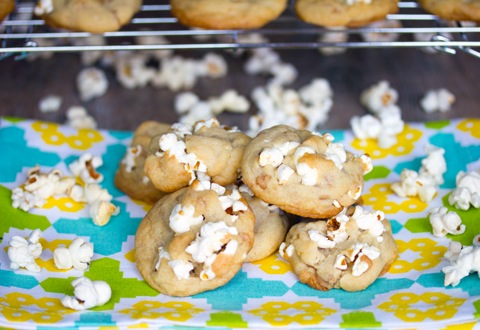 Also, take note that popcorn is a healthy-ish snack food when you don't drown it in real butter. No, I'm not really sure what that means in relation to these cookies either, but I'm going with it.
Please just make these. Like tonight? And then send them to me. All of them.
What are your favorite cookie add-ins?
[Sues]