Leftover Halloween candy? Or just a love for candy corn? Either way, these Autumn Candy Corn Granola Bars are the perfect easy-to-make sweet snack. No baking required!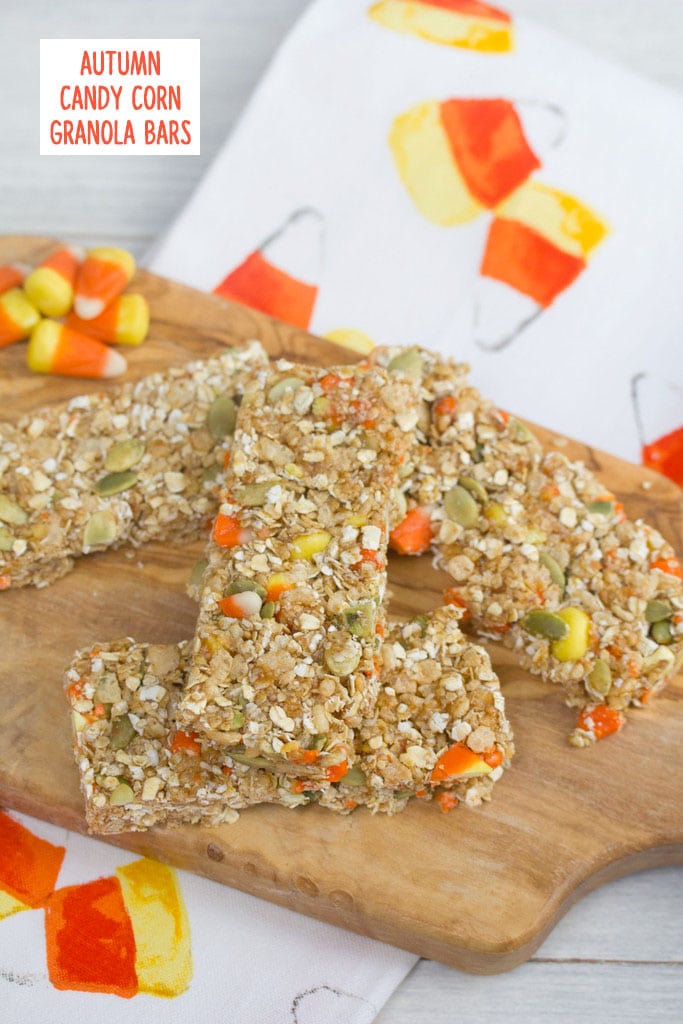 I think I just discovered a way for you to eat candy corn for breakfast. You're probably not the kind of person who spends your time trying to justify candy corn for breakfast, are you? Well, I am. And with just a few days to go until Halloween, I'm going to fit candy corn into my diet any way I can. You're either with me or you're against me... I recommend joining!
As I've mentioned only about 94034 times on this blog before, I am not a fan of most aspects of Halloween. It's the idea of grown adults dressing in costumes that mildly creeps me out. That said, I begrudgingly participate. Mainly because my friends have awesome Halloween parties and because I don't want to be an outcast at work. This year is a little bit more fun since I have a dog I get to dress up in ridiculous costumes. But otherwise, I'm just in it for the candy.
And now that I've made these Autumn candy corn granola bars, I'm totally eating that candy for breakfast. 'Tis the season!
AUTUMN CANDY CORN GRANOLA BARS RECIPE
For the most part, these granola bars are fairly healthy and a great way to start the day. I say "for the most part" because obviously there is some sugar involved... Some of that in the form of candy corn. But this is the time of year you're allowed to do it, so please feel free to take advantage.
They're also ridiculously easy to make. You legit just mix some oats, pumpkin seeds, and Rice Krispies together and bring butter, sugar, honey, and cinnamon to a boil in a saucepan.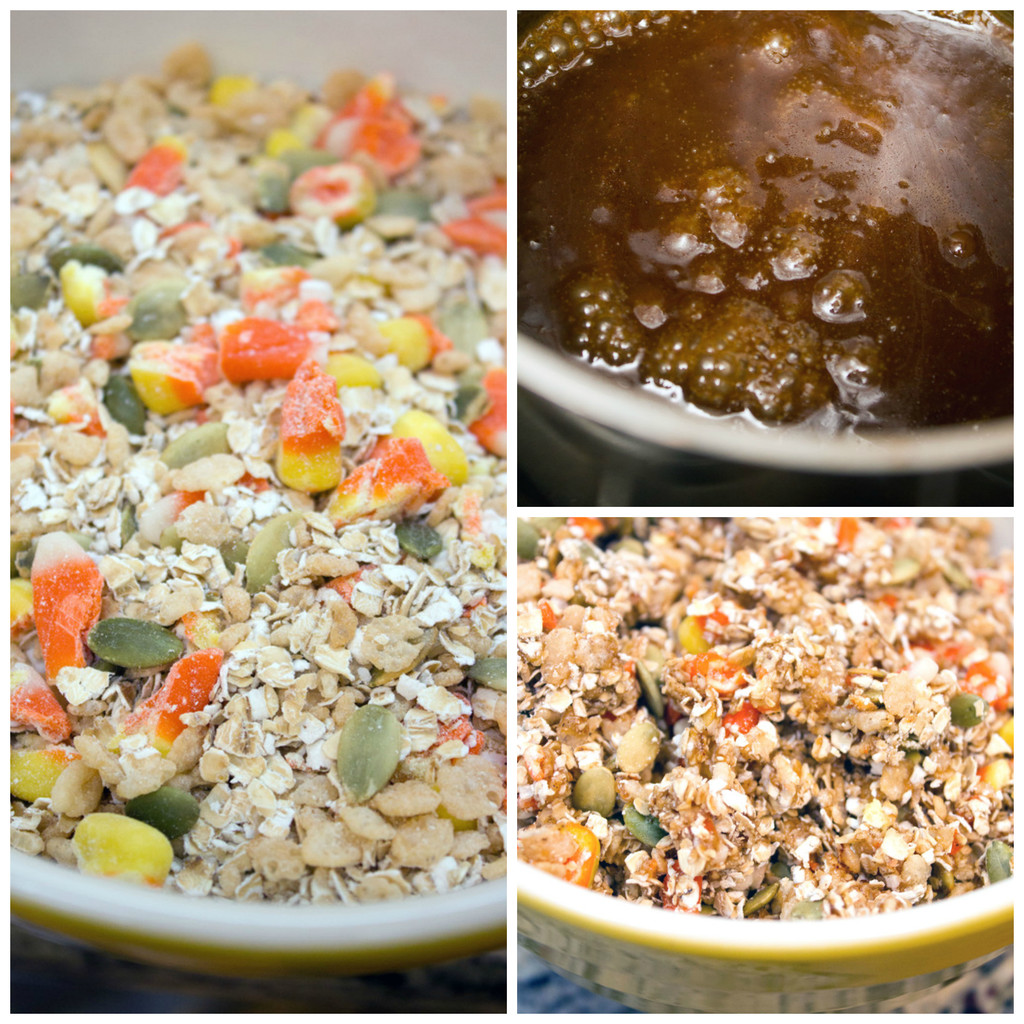 Mix everything together, pour into a pan, and let chill.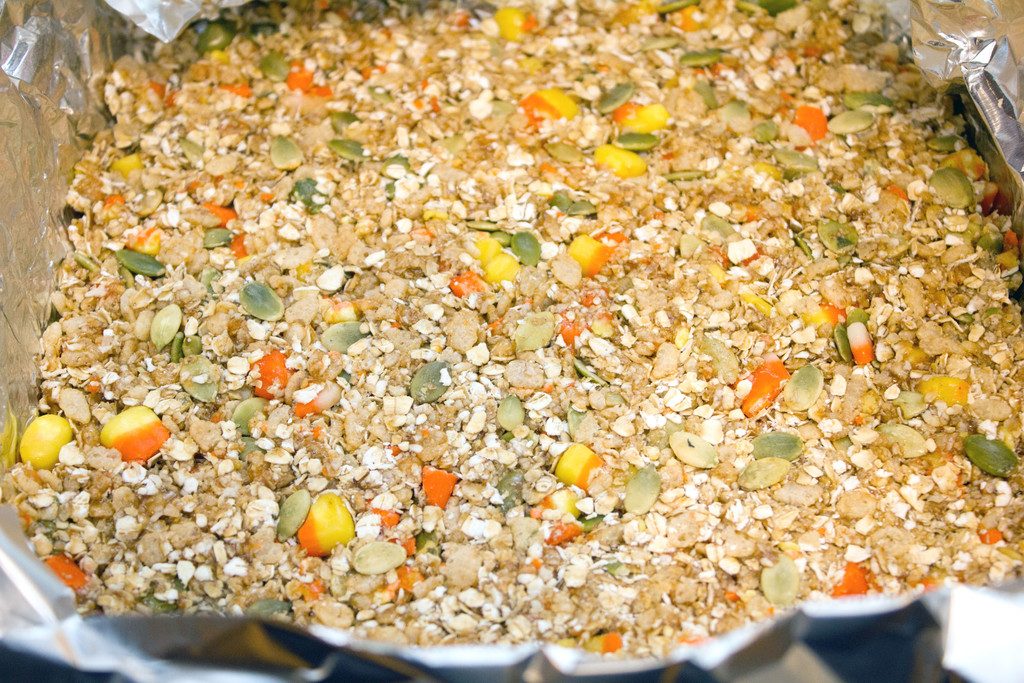 Slice into bars and enjoy.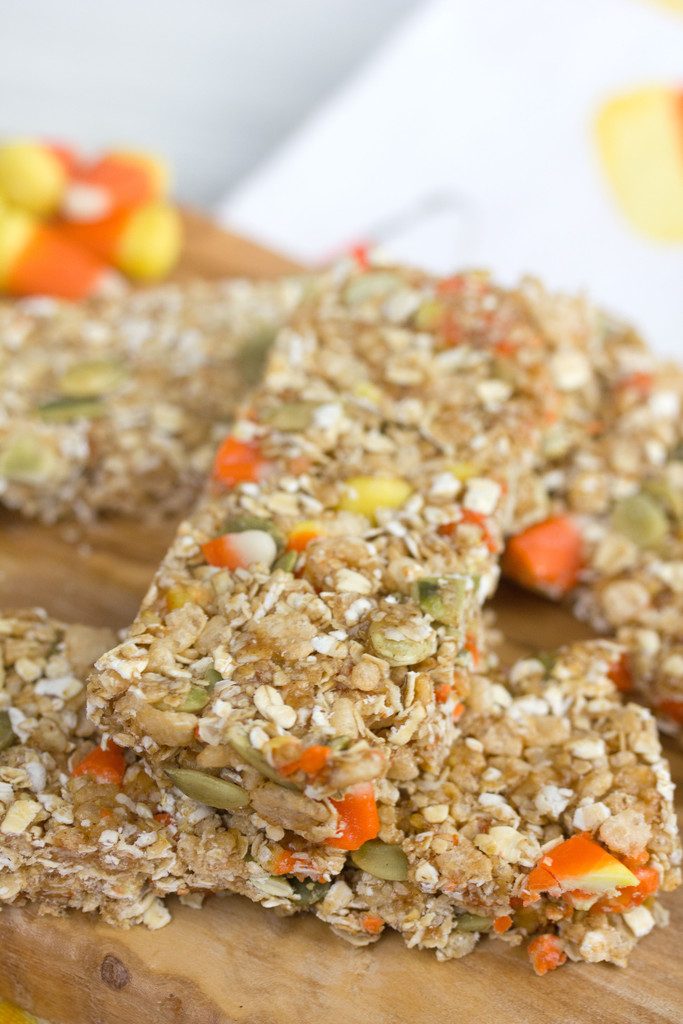 For breakfast... Or an afternoon "I need some energy!" snack. Which is pretty much every day for me. It's also just about every day that I crave candy. To be honest, I'm trying to cut down on my sugar intake a bit... But I don't really feel like that's appropriate to talk about in this post. Also, I'm well aware this is not going to happen until Halloween is over.
In the meantime, let's eat way too much candy corn until we feel so sick that we swear it off forever. Or at least for 24 hours. You could say that these granola bars help you practice portion control. They aren't fully loaded with candy corn; just enough to keep you satisfied without overdoing it.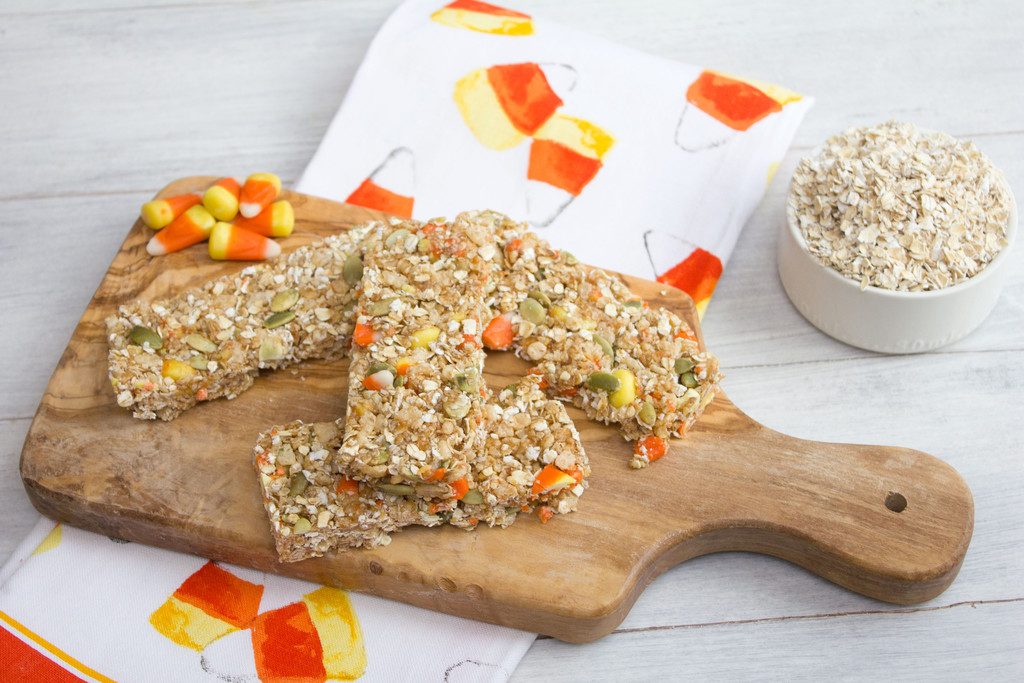 These candy corn granola bars are also fun treats to make with your (or your kids') leftover Halloween candy. Instead of keeping loads of candy corn sitting around, wrap it up into a snack that contains a little bit of nutrition, too.
Or just yell at me that I'm "wasting" perfectly good Halloween candy by mixing it up with the likes of oats and turning them into Halloween granola bars. I'll respectfully disagree while I envision developing a recipe for a big bowl of candy corn oatmeal. Maybe next year?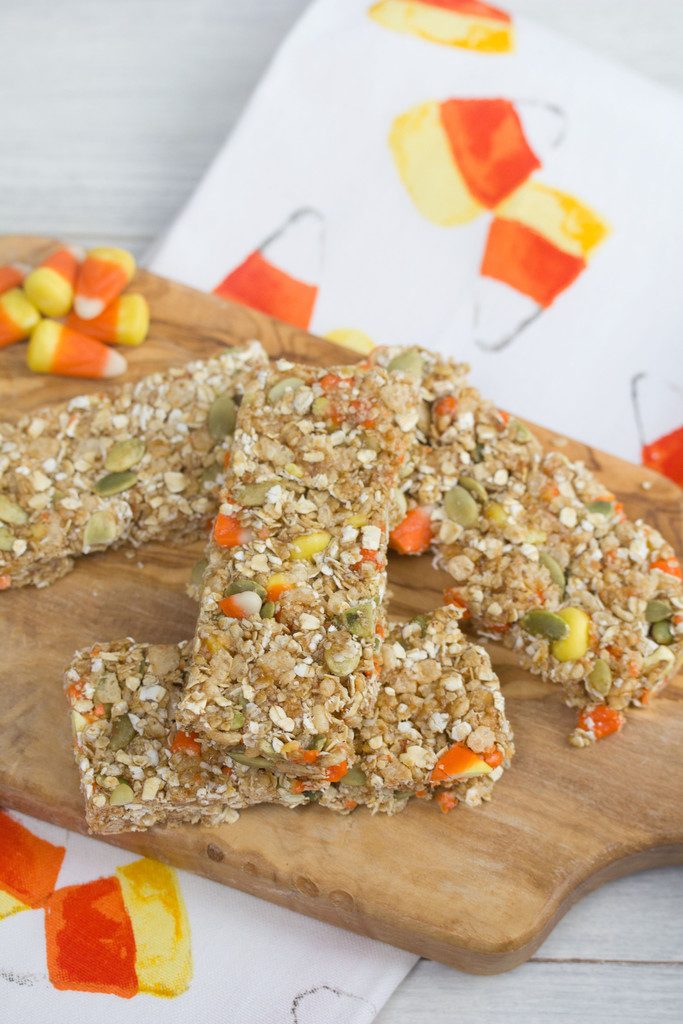 How do you feel about candy corn? We are big on it in my household... My husband is obsessed! And believe it or not, our puppy's very favorite toy is this little candy corn! We think it's hilarious and realize it's going to have to stick around long after Halloween is over. She has a million toys and always chooses this one!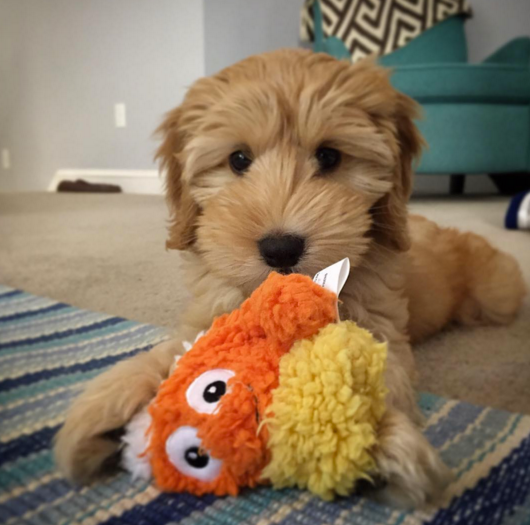 If you love candy corn, too, be sure to check out my recipes for Candy Corn Ice Cream and a Candy Corn Martini. I also love these Candy Corn Parfaits from Desserts by Juliette!
📖 Recipe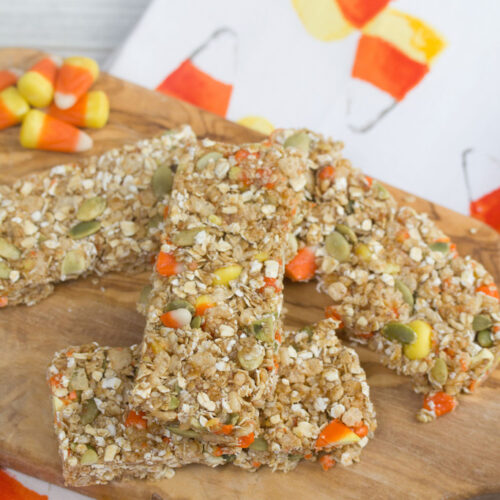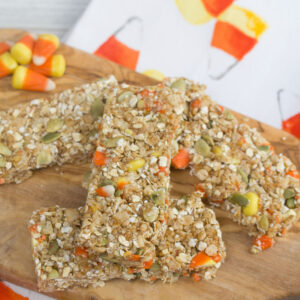 Autumn Candy Corn Granola Bars
Leftover Halloween candy? Or just a love for candy corn? Either way, these Autumn Candy Corn Granola Bars are the perfect easy-to-make sweet snack. No baking required!
Print
Pin
Rate
Ingredients
1 ½

cup

quick cooking oats

1

cup

Rice Krispies

or other puffed rice cereal

⅓

cup

pumpkin seeds

¾

cup

chopped candy corn

3

Tbsp

unsalted butter

¼

cup

packed brown sugar

3

Tbsp

honey

½

tsp

cinnamon
Instructions
Line a 9x9 baking pan with foil and lightly grease.

In a large bowl, mix together quick cooking oats, puffed rice cereal, pumpkin seeds, and chopped candy corn.

In a small saucepan over medium-high heat, stir together butter, brown sugar, honey, and cinnamon. Let mixture come to a boil, then lower heat and let simmer for about 2 minutes.

Pour liquid mixture over dry ingredients and stir well to coat well.

Press mixture evenly into the prepared pan.

Place pan in refrigerator for at least 30 minutes to allow granola bars to cool and harden.

Remove to cutting board and cut into 12 pieces.
Share a Photo of Your Finished Recipe!
Mention @wearenotmartha and share a photo if you've made the recipe!