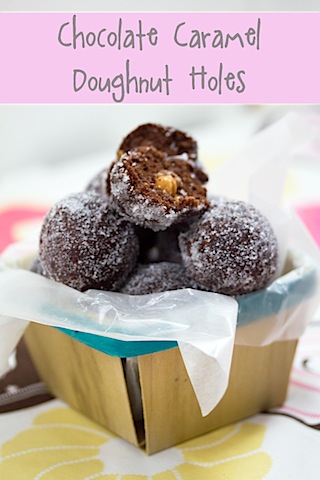 Happy last day of 2012! I'm really not quite sure how this year flew so quickly, but I can truly say I made the most of it and had my best year yet. Of course, I married my best friend, which automatically makes it the best year ever. But I also got to spend lots of quality time with my favorite people, including family and friends and had the opportunity to spend plenty of time in the kitchen. I worked harder than I ever have in my life, both at my day job and on this blog and with freelance work, too, and have nothing but positive results to show. I took time out to read a good book even when I should have been doing 12,000 other things. I grew a lot in the kitchen and feel like I'm a much better cook than I was one year ago. I was just plain happy. Which is the most important thing in life.
I have a really, really good feeling about 2013. If I thought 2012 was amazing, I really think 2013 is going to be even better and I can't wait to see all the joy and love it brings. I always make resolutions if only because I think we should always be making goals for ourselves and the new year is the perfect time to make some new ones. I don't beat myself up if I don't keep them (um, I don't think I completed any of my resolutions for 2012… except for fitting into my wedding dress. Score!) because some goals take longer than a year to accomplish and things and priorities change and life can get crazy. And that's OK. But really, I will be making pain au chocolate this year. Getting more sleep is also on my list as I haven't quite mastered how to turn out the light before midnight (I think this has been a resolution of mine for the past 6 years. Can 2013 be the year I make it happen?).
I want to cook, bake, cocktail, and entertain even more in 2013 than I ever have before.
But for now, I'm ending the year with doughnuts. Because they're the perfect way to end and the perfect way to start new. Unless one of your resolutions is to eat healthier and lose weight and then… Sorry. But they're doughnut holes at least, which can help you practice moderation.
Another one of my goals should be to make more of the things I put on Pinterest. And to follow recipes as well as to innovate on my own. Sometimes I get so sucked into trying to create my own recipes that I forget how important it is to practice technique and learn from the experts. Now that I've made these Chocolate Caramel Doughnut Holes from Martha Stewart, I feel that I can make doughnut holes of all varieties. Oh and don't worry; I will. Happy 2013 to everyone!
Chocolate Caramel Doughnut Holes (makes about 30):
From Martha Stewart
Print this recipe!
2 1/2 C all-purpose flour (plus more for work surface)
1 C cocoa powder
2 t baking powder
1/2 t baking soda
1 1/2 t coarse salt
1 C sugar, plus more for coating
3/4 C buttermilk
4 T (1/2 stick) unsalted butter, melted
2 large eggs
30 caramels or 1/2 C caramel bits
5 C canola oil, for frying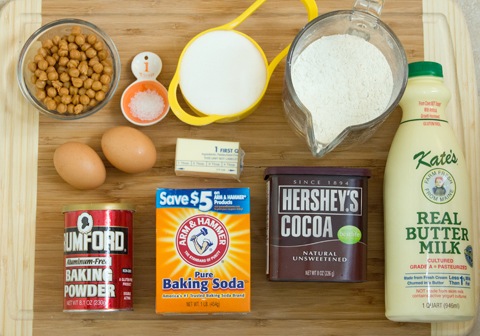 Though these doughnuts are fried, they're super simple to make. Start by whisking together flour, cocoa powder, baking powder, baking soda, and salt together in a large bowl.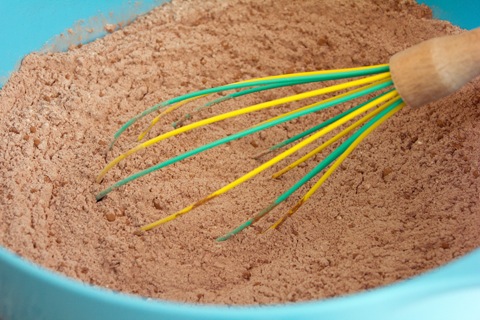 In a separate bowl, combine sugar, buttermilk, melted butter, and eggs and whisk until smooth.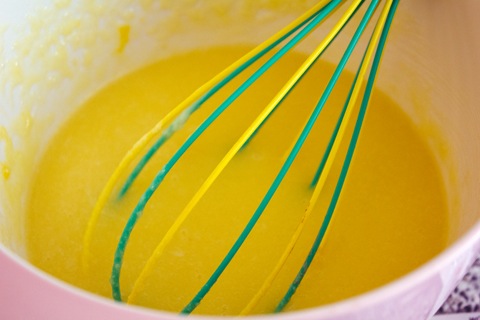 Now, slowly pour the wet ingredients into the dry ingredients and stir until just combined (try not to over-mix!).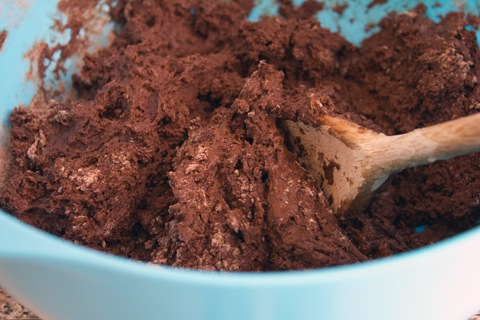 Lightly flour a surface and roll dough out into 1/3 thickness. Sprinkle some flour over the dough, too.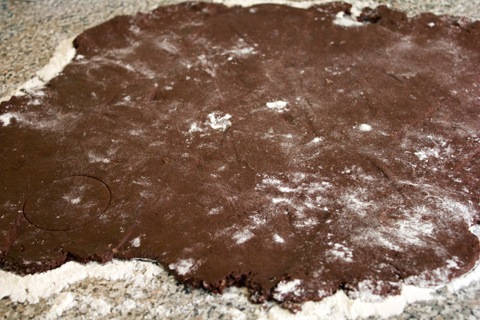 Using a 2 1/2 inch cookie or biscuit cutter, cut rounds into dough.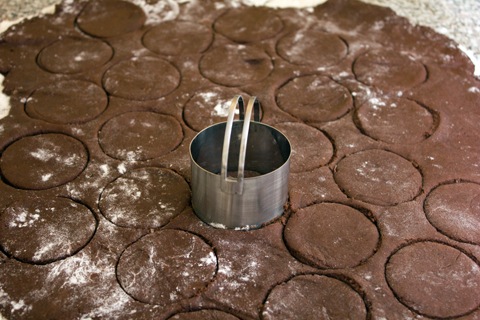 You may need a little offset spatula to lift the rounds as the dough is quite sticky (at least mine was!). I used my brand new adorable Kuhn Rikon polka dot spatula that my parents got me for Christmas! In love with it.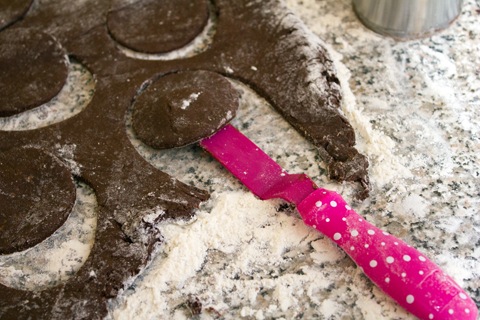 Once you have the rounds, you'll want to re-roll the dough scraps and get more.
And then you're ready to roll dough with the caramel.
For some crazy reason, I couldn't find caramels at any grocery store I went to and at my last stop I found one lone bag of Caramel Bits. I decided they'd probably end up working better anyway because they were smaller and would melt easier.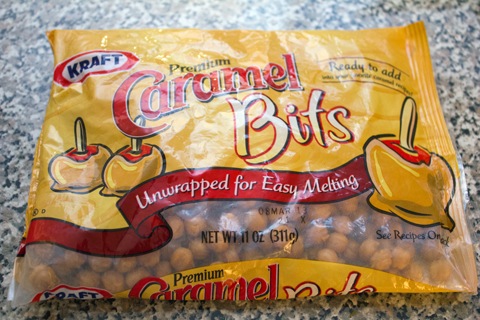 I put three in the center of my dough, but next time I might do 4 as it wasn't quite enough caramel for me!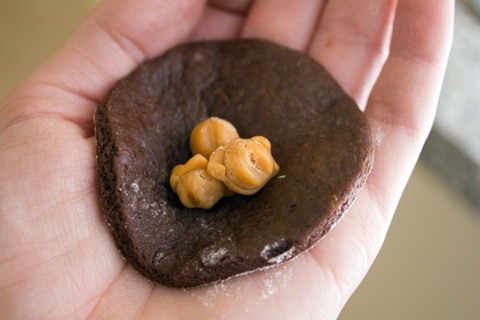 Now, pinch dough closed around the caramel and roll into a smooth ball. Continue with all of the dough rounds.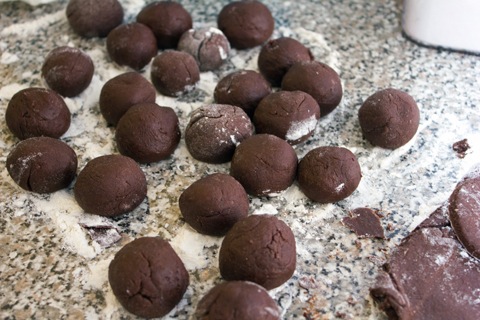 Cover a baking sheet with paper towels. And fill a wide, shallow bowl with about 1/2 C sugar.
Heat your 5 C canola oil (should be a few inches deep) in a large pot to 350 degrees. Once oil comes to temperature, place 5 dough balls in it. Let fry for 4 minutes total, turning halfway through (Martha said 5, but I found that they were too cooked after 5 minutes)… Turning was the hardest part of this ordeal since every time I turned a doughnut, it turned back. Try your best to keep your oil at 350 degrees.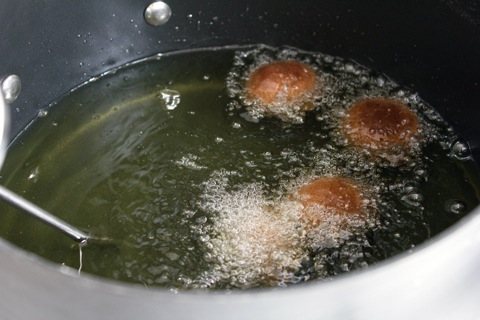 Remove doughnuts form oil with slotted spoon and place on paper towel-lined baking sheet.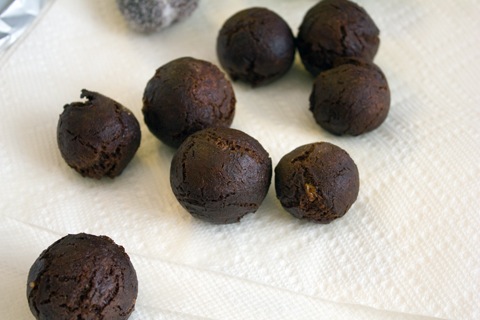 Let sit for 5 minutes before rolling in bowl of sugar. Continue with remaining dough.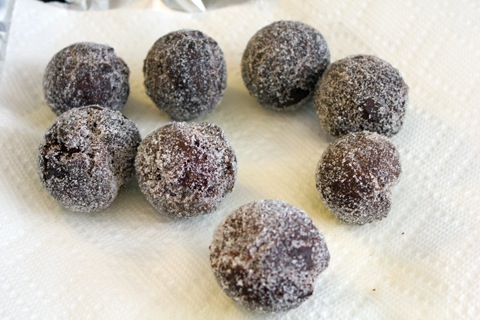 Cut one open and get luscious caramel. Even the Caramel Bits didn't do a tremendous job of melting, but they were still pretty awesome.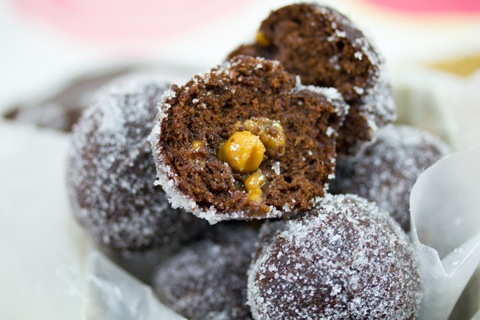 These are like Munchkins taken to a whole new level.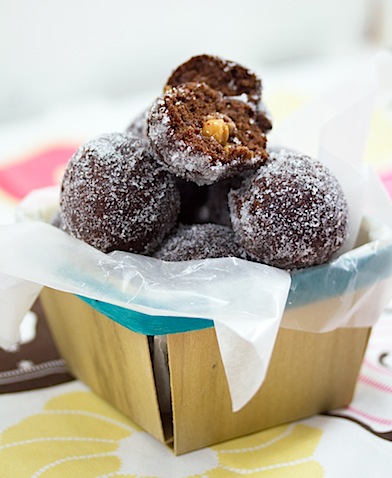 Of course, these were absolutely amazing eaten hot and fresh, but they also weren't too shabby for breakfast the next morning cold. I think you could warm them up a little bit even in the microwave, too.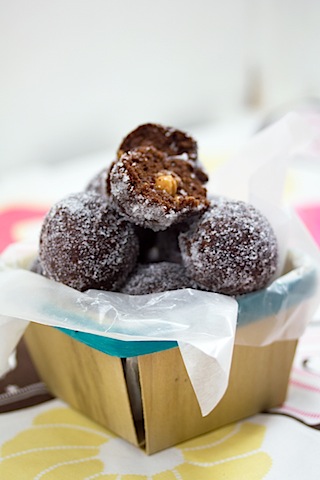 Tomorrow starts a new year and there's no better way to begin your day than with a plate full of doughnuts. And I feel like there was no better way for me to end my year than with a few doughnuts.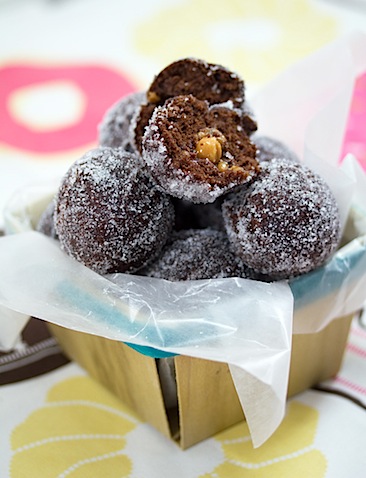 As part of a balanced breakfast, I recommend you enjoy these with a cup of coffee. Er, I mean I guess some protein wouldn't be a bad idea. Or at least something that doesn't involve sugar. But it's technically still the holiday season and sugar doesn't count. Are doughnuts technically breakfast or dessert anyway? I never could figure that one out.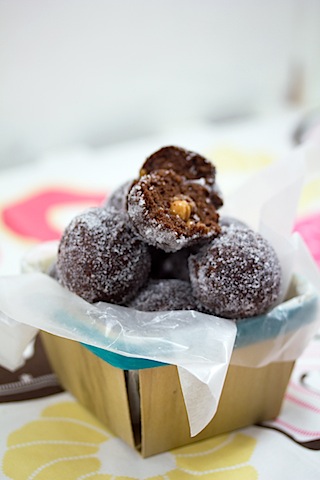 And with these doughnuts, I bid adieu to 2012. Let's hope 2013 brings lots more doughnuts and chocolate and caramel and sugar. And maybe a vegetable or two here and there, as well. If you insist.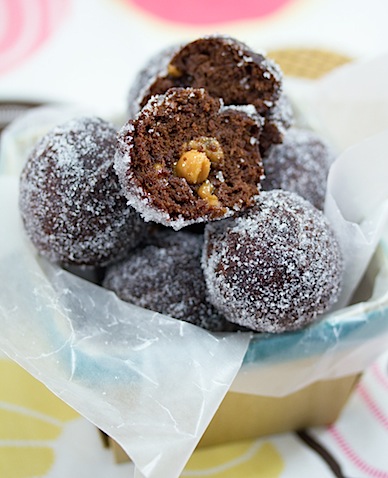 Happy New Year, friends! I hope your 2013 starts off in a magical way and that you have your best year yet. I can't wait for another year of good food, new recipes, and blog loving!
What meal will you start your 2013 off with?
[Sues]