I desperately need to be put in the holiday spirit. It's not that I'm a Scrooge or anything... It's just that the holidays crept up so quickly, my mind can't make sense of the fact that they're here. But, but, I was just in Hawaii!!! And it was 90 degrees! How is it Christmas? Wasn't it just my birthday? There are 9 day's left?!?! What about Christmas shopping?! Can websites deliver that quickly?! Those are just a few of the things that have been running through my head (I'll spare you the rest).
While the "Ugly" sweater party (so I kind of fell in love with my Gap Kids dress; so what?) helped put me in the mood- I mean come on, Santa was there!- I knew some holiday baking would do the rest of the trick. It's kind of a little twist on Christmas Bark. You could even call it half cookie/half bark if you'd like. All I know is that it's ALL deliciousness. And it's in the current issue of Bon Appetit magazine.
Chocolate Peppermint Bark Cookies:
2 C all-purpose flour
¼ t salt
1 C (2 sticks) unsalted butter, room temperature
1 C sugar
1 t vanilla extract
1 large egg yolk
6 oz. bittersweet or semisweet chocolate, chopped (I used chocolate chips)
½ C finely peppermint chopped candy canes or candies
2 oz. high-quality white chocolate (I used chocolate chips. Oops)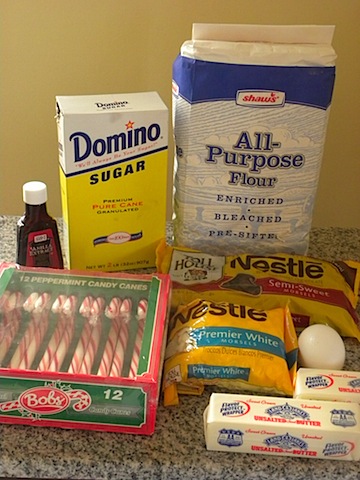 I really did not feel like venturing out simply for high-quality white chocolate, so I used white chocolate chips. Sue me. Actually don't because I'm kind of broke right now.
Anyway. Start by spraying a 13x9x2-inch metal baking pan with nonstick spray. Line the pan with a strip of parchment paper, which should cover the entire pan and hang over the sides.
Whisk the flour and salt in a medium bowl.
Using an electric mixer, beat the butter in a large bowl until creamy, about 2 minutes.
Gradually beat in the sugar until the mixture is light and fluffy, about 3 minutes. Make sure you keep scraping down the sides of the bowl.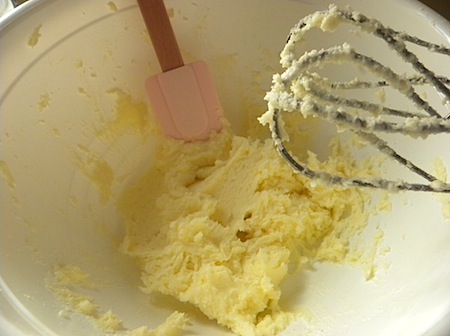 Beat in the vanilla and then the egg yollk.
Gradually add the flour mixture, beating on low speed, just until blended.
Drop dough by the tablespoon onto the prepared pan. I kind of just did it like I was making cookies, but I spaced them pretty close together.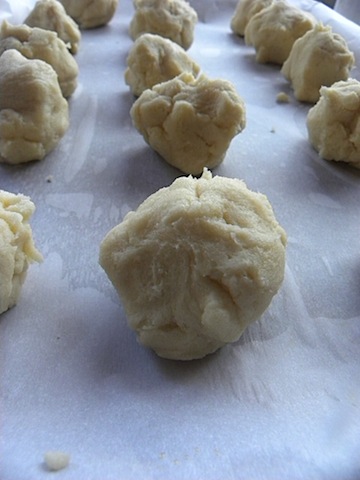 Then press down the dough to form an even layer on the pan. It really, really helps if you wet your fingerprints a few times during this process.
Pierce the dough all over with a fork. And pop it in the oven at 350 degrees for about 30 minutes (I'd set the oven for 25 and check), until it's light golden brown and slightly puffed.
Right when it comes out of the oven, sprinkle your bittersweet or semisweet chocolate all over.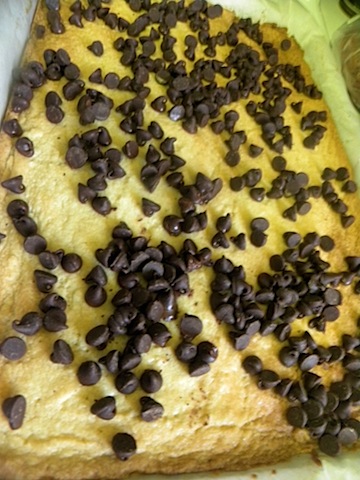 Let the chocolate sit on the cookie until it softens, about 3 minutes. Then spread the chocolate all over. Immediately sprinkle the peppermints on top, too.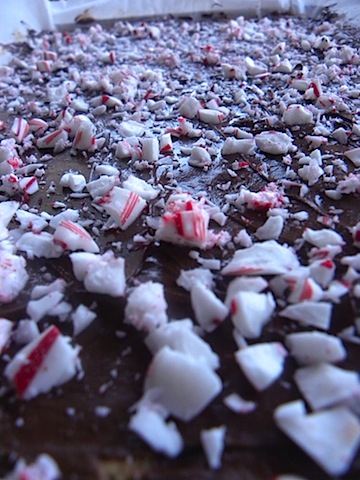 Now you want to melt the white chocolate. I did this by putting a heatproof dish over a pot of simmering water.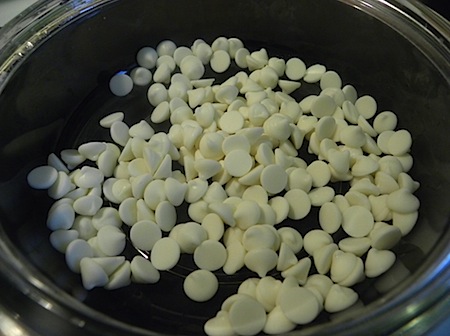 Stir the chocolate until it melts. Looks like fluff! Or glue.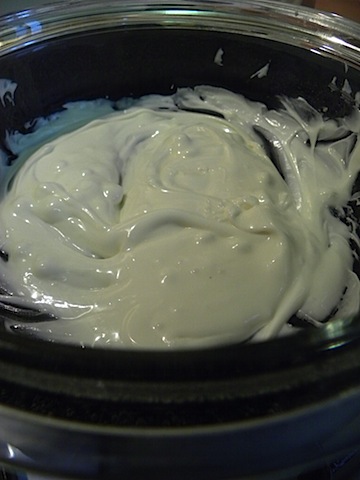 Then remove the chocolate from the pan of water and use a fork to drizzle the melted chocolate all over the cookie. Ohhh this is looking yummy!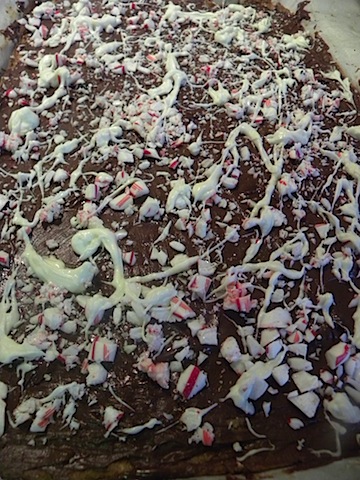 Put the pan in the fridge to chill for about 30 minutes, until the white chocolate has set.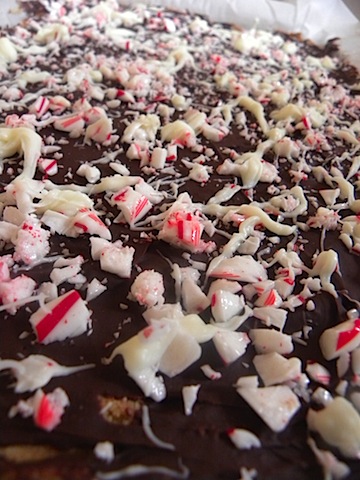 When it's all nice and chilled, lift the cookie from the pan, using the paper to lift. Set it on a work surface and use a large knife to cut it into "irregular" pieces. Because you obviously wouldn't want "regular" pieces.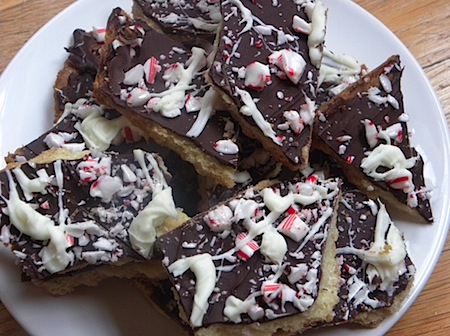 I made my pieces super big because why not? And also because I made SO much noise trying to smash the pieces with a mallet I was scared the neighbors were going to call the cops if I kept doing it.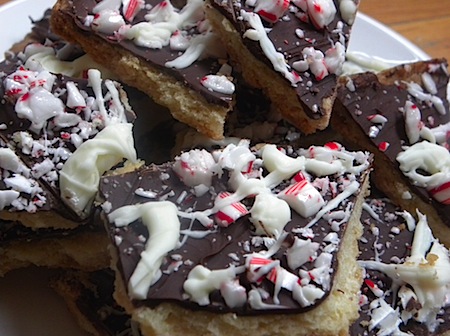 Oh. My. God. This stuff is good. Like automatic holiday spirit in a cookie/bark.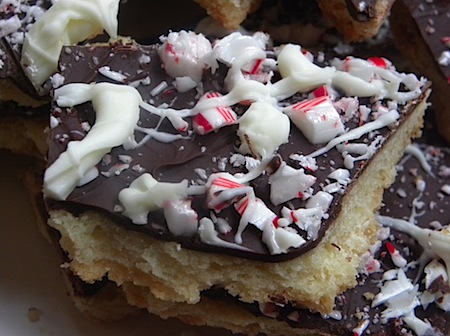 The cookie gives it a nice little crunch, as does the peppermint candy cane. I probably could have chopped them a bit finer, but I like them this way. The flavors just screamed Happy Holidays to me. Which is exactly what I needed.
Another great thing? You can make this one week ahead of time and store in airtight containers in the fridge between layers of waxed or parchment part.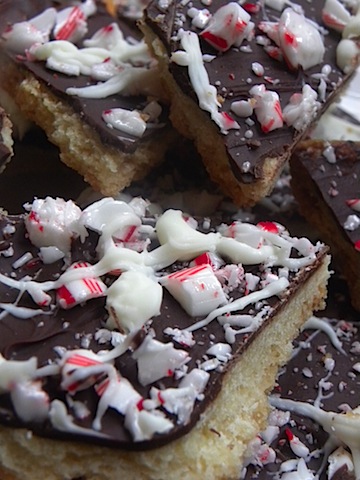 Now that the holiday spirit is kind of here, I'm going to eat some more of this and go watch Four Christmases with some hot chocolate (wine).
Are you in the holiday spirit yet? What will help you get into it?
Also, I might make this year-round with peanut butter cups instead of candy canes. Yes!
[Sues]