Pancakes are always a good idea, but German pancakes are even more delicious and easier to make! Perfect for a lazy weekend morning.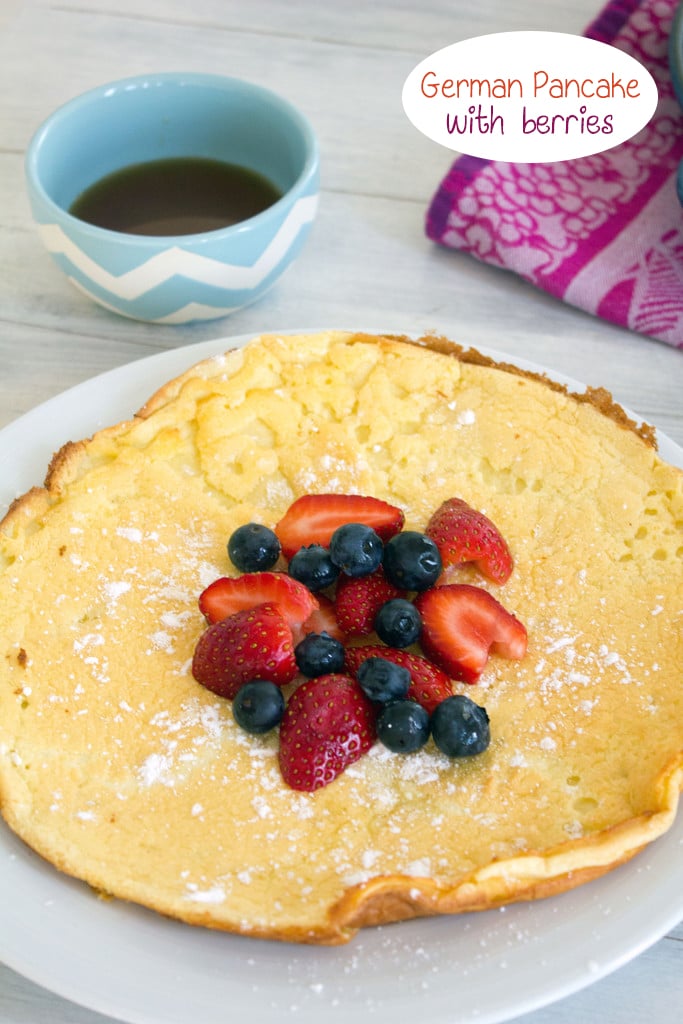 Why is breakfast so delicious? Why?? Just kidding; I actually know the answer. I'll give you two answers, in fact. It's all about the eggs and maple syrup. Really, if you try to make me a breakfast without one of those two things, don't even bother. Not worth it. I legitimately cannot think of a single breakfast I want anything to do with if neither eggs nor maple syrup are involved.
I also want to make it a life goal to incorporate maple syrup into more than just breakfast. It's now totally acceptable to put an egg on everything, so why not maple syrup? Mashed potatoes and gravy? No thanks, I'll have the maple syrup instead. Think we can make the "put some maple syrup on it" catchphrase stick? In other news, I was trying to cut down on my sugar intake for 2016, but you can probably guess how that is working out for me...
There's never a bad time for pancakes and trust me, I make them quite often. But it has been years and years and years since I've had a German pancake. When I was a kid, my dad made them for Sunday brunch all the time, but I've never made my own. I remember absolutely loving them, so I grabbed this recipe and whipped it up on a weekend morning.
WHAT ARE GERMAN PANCAKES?
If you haven't heard of German pancakes before, you may be familiar with the other name for them: dutch babies. The ingredients are similar to pancakes, but with more eggs, and instead of cooking German pancakes on the stovetop, you cook them in the oven. They puff up and end up with the consistency of popovers. I think of them as a kind of combination of pancake/popover/crepe.
Oh, and fun fact! No matter what they're called, German pancakes originated in Germany... Even when they're called dutch babies. Allegedly, they got this nickname in America after a restaurant owner got confused between "Dutch" and "Deutsch." And the "baby" is because they were served in mini versions (source).
I prefer calling them German pancakes just because that's what I grew up calling them and I guess you could say it's the more authentic name?
GERMAN PANCAKE WITH BERRIES RECIPE
In my opinion, German pancakes are actually a lot easier to make than regular pancakes. You just combine all the ingredients (this recipe has you doing it in a blender, so you don't even need to exert any arm strength) and pour them into a skillet over medium heat with butter melted in it.
Pop it in the oven and in 12-15 minutes and it will puff up and turn golden.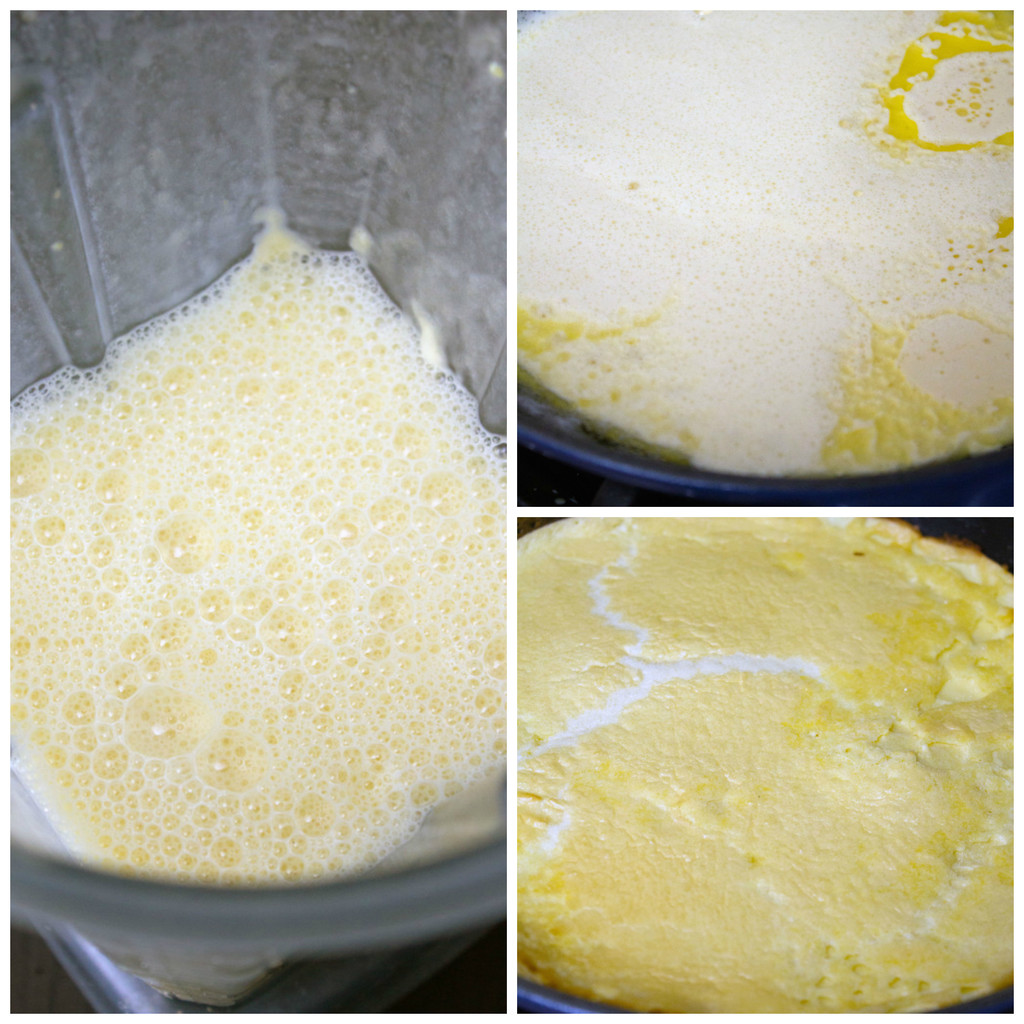 The result is a super puffy sweet pancake. It's almost a melt-in-your-mouth type of deal and, in my opinion, this German pancake is way better than an average pancake. I genuinely do not know why more people aren't making them!
You technically only need one pancake to make one to serve a table of four... But I can definitely eat more of a quarter of this baby in the morning. And if you're really in weekend mode, I think it's totally OK just to make one all for yourself.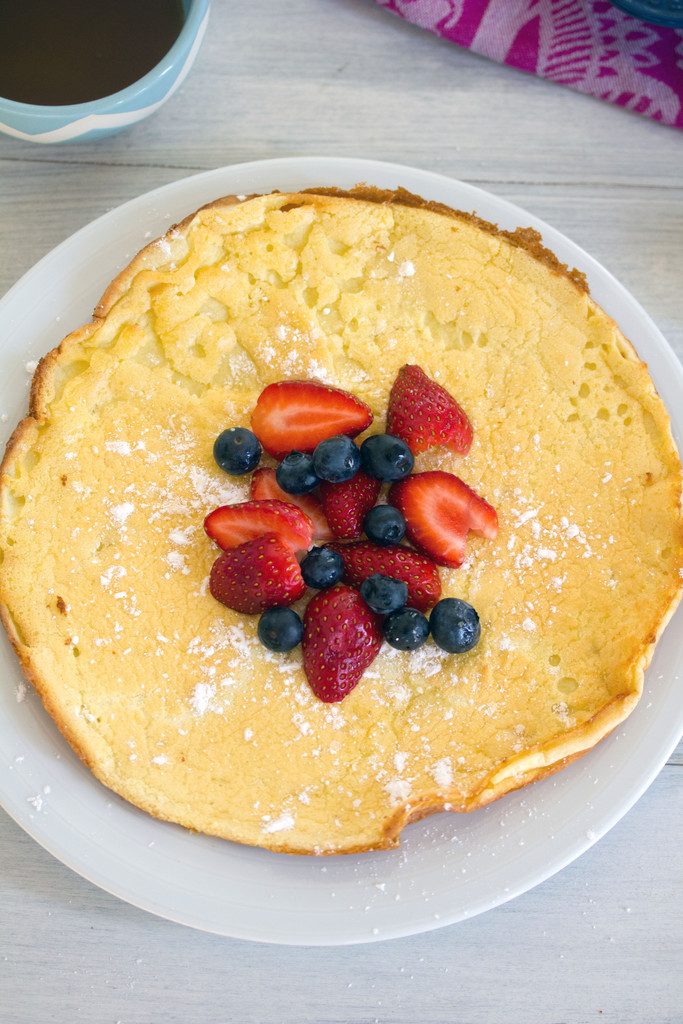 I may or may not have done this. And I would certainly do it again. Please don't try to make me feel bad… Sometimes I'm just so happy the weekend is here that I need to majorly treat myself in the mornings. German pancakes are most definitely a reason to get out of bed in the morning.
Yes, you can top the pancake with anything you want, but I kept this one simple with fresh berries and powdered sugar. And maple syrup, duh. I also added a little lemon juice and lemon zest into the German pancake batter for a zippy fresh flavor. Perfect for the mid-January blahs.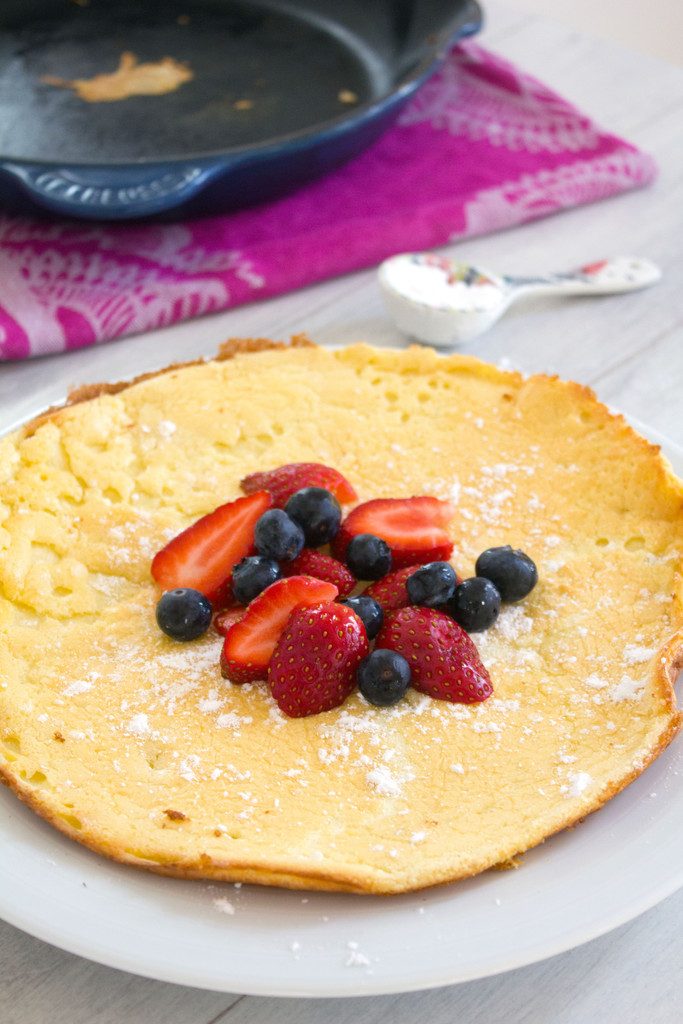 You know one reason why I think German pancakes are so much better than other pancakes? There were 4 eggs in this baby. Which is way more than in your average pancake batter.
See? Eggs really do make everything better. And not just when they're on top of the finished dish.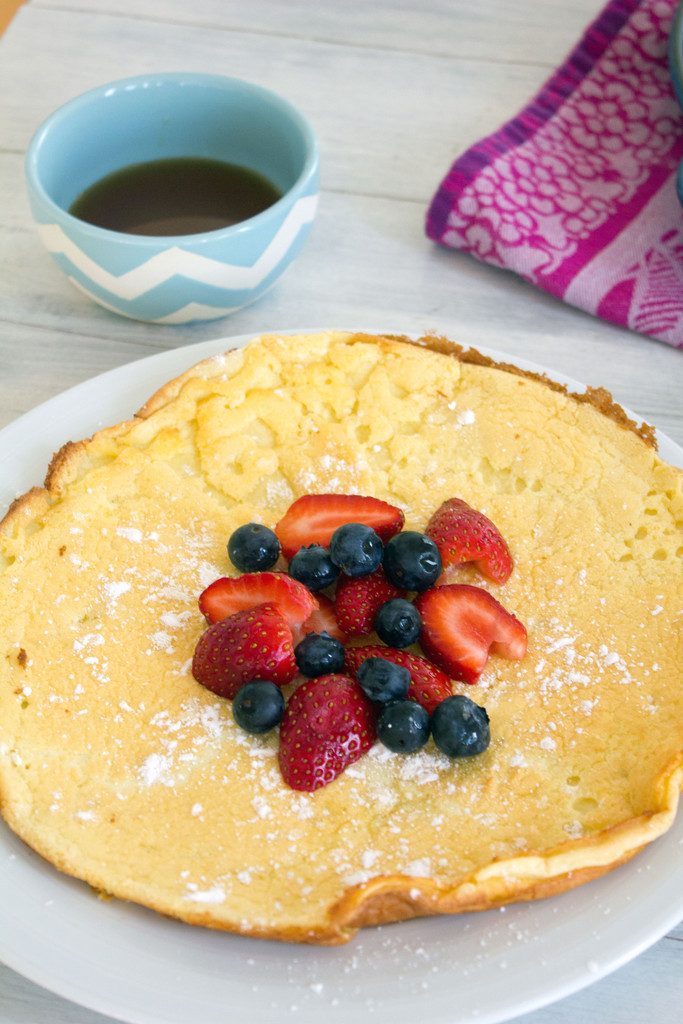 Now that I realize just how easy it is to make German pancakes, I've got about a million variations for this dish running through my head. Next up? Chocolate German pancakes. Because it almost just feels like it would be wrong if I didn't do that.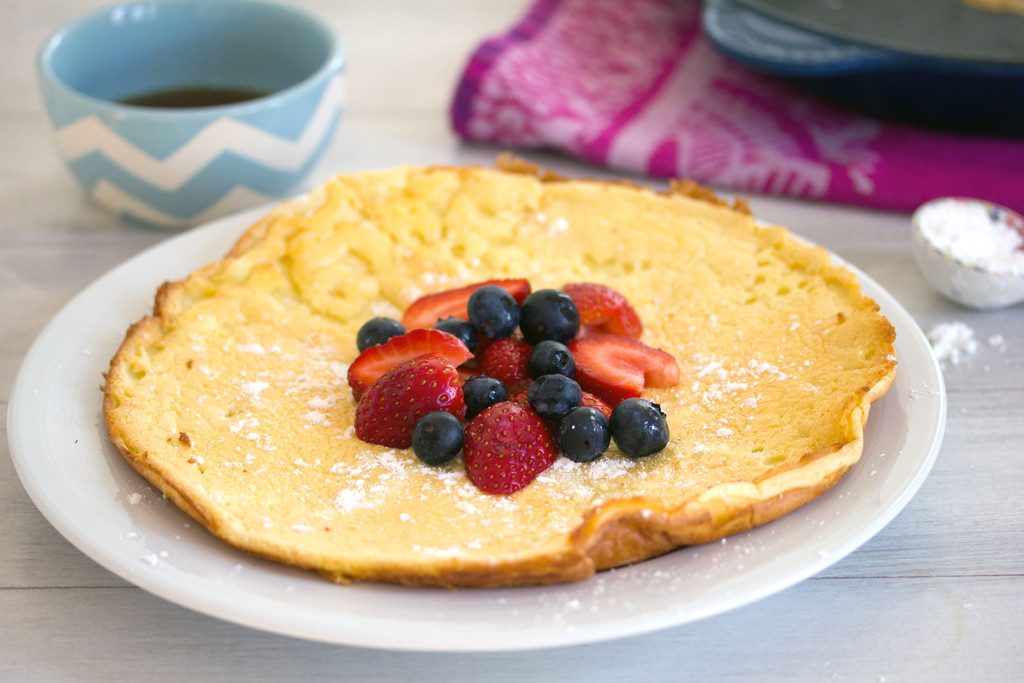 Honestly though, now that German pancakes are back in my life, they are going to be a serious staple. And I mean, this would be totally delicious with both maple syrup and an egg on top. Am I right?
Eggs, maple syrup, or both?
If you're looking for more easy and delicious breakfast recipes, check out my Mini Cinnamon Chocolate Chip German Pancakes and my Boston Baked Beans and Eggs. I'm also super excited to make these Strawberry Milkshake Crepes from Oh, Sweet Basil!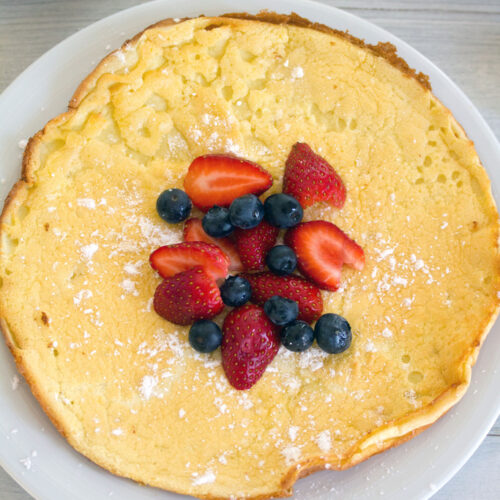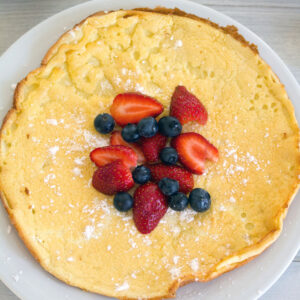 German Pancake with Berries
Pancakes are always a good idea, but German pancakes are even more delicious and easier to make! Perfect for a lazy weekend morning.
Print
Pin
Rate
Ingredients
4

large eggs

½

cup

whole milk

½

cup

flour

1

Tbsp

granulated sugar

½

tsp

pure vanilla extract

½

tsp

freshly squeezed lemon juice

½

tsp

grated lemon zest

¼

tsp

salt

2

Tbsp

unsalted butter

Fresh berries,

for serving

Confectioners' sugar,

for serving
Instructions
Pre-heat oven to 425 degrees.

In a blender, combine eggs, milk, flour, sugar, vanilla, lemon juice, lemon zest and, salt until well blended.

Heat a 9- or 10-inch cast-iron skillet over medium heat and melt butter on it.

Pour the batter into the skillet and transfer it into the oven. Bake until the pancake is puffed and golden, about 12 to 15 minutes.

Top with fresh berries and dust with confectioners' sugar.
Share a Photo of Your Finished Recipe!
Mention @wearenotmartha and share a photo if you've made the recipe!