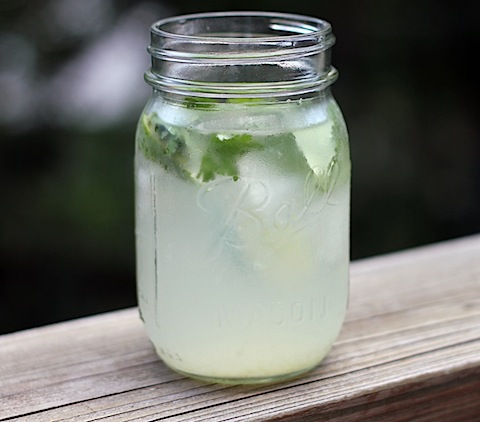 I admit, I had my first pumpkin beer last night. I know. I didn't want to, but we were eating dinner outside and it was cool and fall-like and it just sounded so good. And it was September 1, after all. But we're still in that weird in-between seasons time, with a few more days until Labor Day and a few more weeks before summer is officially over. So, here's one more glorious summery drink that will be the perfect way to kiss summer goodbye. And since it's the Cocktail Friday before the long weekend, I figured not only would I give you a cocktail, but I'd give you a giveaway, too! You deserve it. It's been a long week.
Growing up, I absolutely loved Lime Rickeys. So when I saw Martha Stewart's more adult-version in her magazine, I immediately knew it would be my end of summer Cocktail Friday drink. It's simple, but unique with the addition of cilantro and lots and lots of limes. Perfect for sipping outside with a light sweater, as you kiss the summer goodbye. Wahhhh.
Gin Lime Rickeys with Cilantro (makes about 4-5):
Adapted from Martha Stewart Living
Print this recipe!
1 C water
5 limes
1 C gin
3 T sugar (superfine if you have it)
3 C club soda
1 small bunch cilantro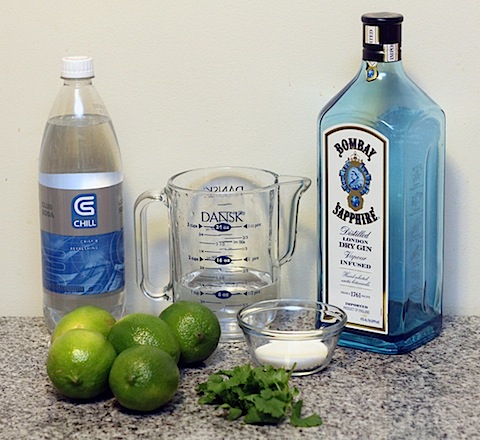 I changed Martha's ratios up a bit (more gin!), but the instructions for this cocktail recipe are super easy, even though you're essentially making your own limeade (of course you could buy limeade, too, but if you have an extra 3 minutes, I suggest making it!). Which is perfect for a Friday evening when all you want to do is wind down from a long work week with a cocktail. Simply pour the water into a pitcher and juice 3 of the limes into it. Add the gin and the sugar. Cut the other 2 limes into rounds and add them in the pitcher, too.
Refrigerate pitcher for a little while and then add in the club soda.
Pour over ice, add a bit of cilantro to each, and serve.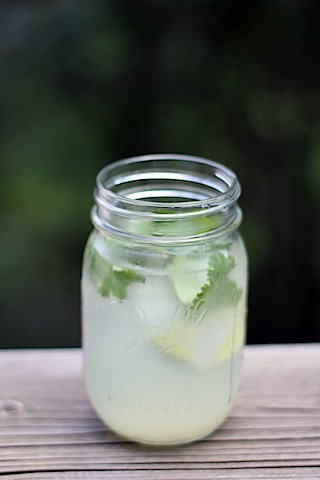 I used to not like cilantro. But then something changed and now I quite enjoy it. But even if you're not a huge fan of cilantro in burritos, tacos, guacamole, etc. I think you might enjoy it with gin and lime.
Then again, what wouldn't you enjoy with gin and lime? Point taken.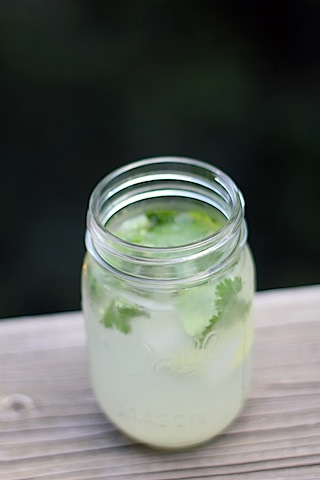 This cocktail was nice and tart from the lime, but also sweet from the added sugar. The gin wasn't overpowering at all and this could be the perfect way to introduce gin into your repertoire if you're not totally crazy about it already.
We enjoyed these cocktails on what could be one of the last warm summer evenings here in Boston, on the deck with a delicious dinner (post to follow next week!).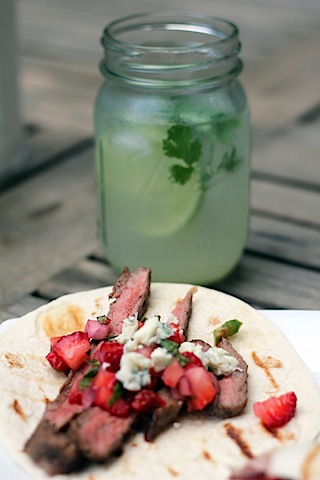 I'll miss you, summer. But now, I'm going to start scouting around for some fall drink ideas. Pumpkin pie martini, anyone?
Gap Jeans Giveaway!
If you're a long-time reader of We are not Martha, you may remember the Gap Jeans party we threw a couple years ago. Basically, Gap's fabulous marketing company, Brand About Town, asked me to be a Gap Ambassador and sent me a whole bunch of jeans from their (then) new 1969 collection. At the time, I wasn't a huge Gap fan and hadn't bought their jeans since middle school. But the 1969 collection changed my whole outlook on the Gap. The jeans fit me! And they looked good! And I loved them. And I'm not just saying that because they sent me free jeans.
Fast forward to 2011 and I can say with 100% honesty that I have not bought a SINGLE pair of jeans from any store but the Gap since my party. You might say Gap's marketing strategy worked incredibly well. And now that they're amping their program up again, I'm getting very, very excited. The other day, I came home to a package from them containing two pairs of jeans from Gap's 1969 collection (that they teamed up with Vogue to showcase). Yay!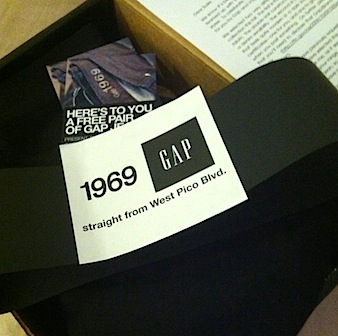 They sent me their Ponte Legging Jean and Pintuck Trouser Jean. Hello, new fall jeans! Both pairs of jeans are pretty awesome, but seeing that I'm already in love with legging jeans, I couldn't wait to try these new SUPER soft ones on. Best. Jeans. Ever. The first time I wore them, I can't even tell you how many times I actually looked down, thinking my pants were unbuttoned. Why? Because they are SO comfortable around my waist that I seriously felt like I was not wearing pants. Isn't that kind of amazing? Pants that make you feel like you're not wearing pants? Best thing ever.

Chris and I went to the driving range last night and then decided to stop by Legacy Place for some pizza from Wicked. We happened to be sitting outside right next to a Gap and we popped in after dinner just so I could see what else was going on for fall. Well, we walked in and I saw a huge display of legging jeans. I think I started shaking with happiness, realizing how many colors and shades the legging jeans come in. And the store just happened to be having a one-day 50% off sale. So, I bought another pair. The super duper soft Ponte Legging Jeans come in two colors, the black I have and an olive color. I'm crossing my fingers that Gap will start designing these pants in every color under the sun. Please.
I also wore the black Ponte Legging Jeans out during the hurricane on Saturday night for our friend Naomi's bachelorette party and kinda felt like I was running around in the rain with no pants on. Or that I was out at the Top of the Hub in my sweatpants. Nothing better.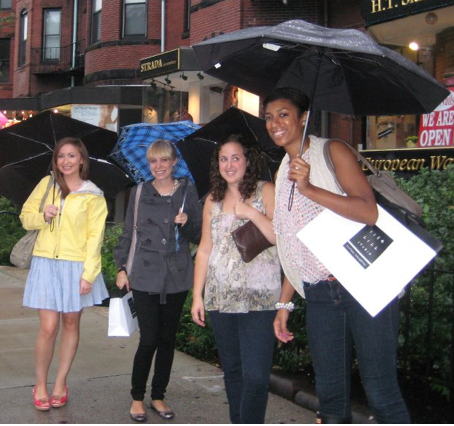 Now here's where you come in. Brand About Town was also thinking of you when they sent me my new jeans. They included a jeans certificate for me to give away to one of our amazing readers. The certificate will allow you to get any new pair of Gap jeans, up to a $90 value. How awesome is that?!
Here's how to enter:
1) Leave a comment on this post letting me know what pair of jeans you like best from Gap's 1969 denim collection.
For extra entries:
2) Follow We are Not Martha on Twitter (if you already follow us, let me know, too)
3) Tweet: "@WearenotMartha is giving away a pair of @Gap jeans!" and use hashtag #GapAmbassador
4) "Like" We are not Martha on Facebook (if you already "like" us, let me know, too)
Be sure you post a comment for each way you enter, so I know!
Since it's the Friday before a long weekend, I'll give you until Tuesday, September 6 (my sister and Adam's anniversary!) at 11:59 p.m. to enter.
Good luck and happy fall shopping!! (and Cocktail Friday) 🙂
[Sues]
A huge thank you to Brand About Town and the Gap for giving me the jeans and free jean certificates. While I did get the jeans for free, all opinions on this blog are 100% my own and I'm absolutely obsessed with my new jeans! We never talk about things we don't actually love here on We are not Martha 🙂