After realizing alcohol in cupcakes is amazing (see red wine cupcakes), my mind started working overtime. What else could I do? What other alcohols could I involve? Then I realized the only logical next step. Beer! But beer in a cupcake? Would it work? I immediately thought that Guinness would be the best bet. And when I looked online, I saw that others had the same idea. And since it looked like it worked, I of course had to try it. I loosely followed a fabulous recipe I found at
Big City, Little Kitchen
, but changed it up a bit.

Here's what you need for Guinness Cupcakes:

1.5 C Guinness

1 stick butter, plus 1 T (unsalted)

3/4 C unsweetened cocoa powder

2 C dark brown sugar

3/4 C sour cream

2 eggs

1 T vanilla extract

2 C flour

2 1/2 t baking soda
For the frosting:

8 oz cream cheese

3 C confectioner sugar

1/3 C milk
First, chop your butter into little pieces and melt it in a saucepan over medium heat along with the Guinness.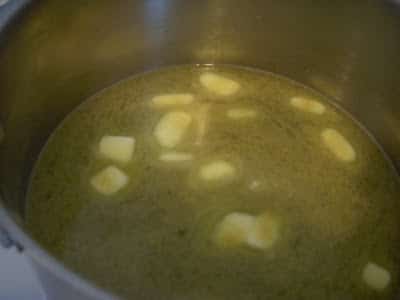 Once it's melted, remove the pan from the heat and whisk in the cocoa and sugar.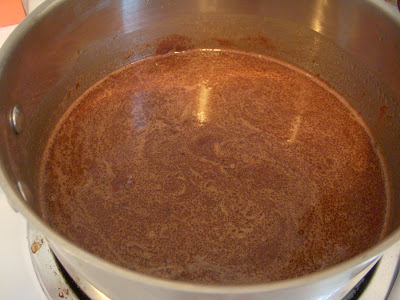 In a separate bowl, whisk together the sour cream, eggs, and vanilla.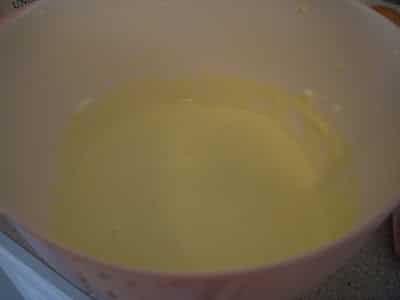 Add that to the beer and butter mixture.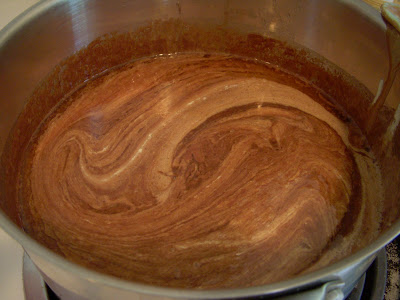 In yet another bowl, sift together the flour and baking soda.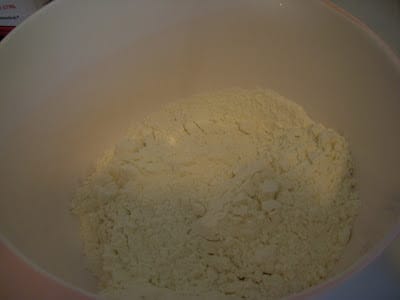 Fold that into the chocolatey/buttery/Guinness mixture (doesn't that just sound amazing?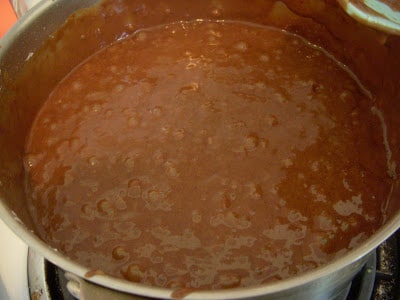 The mixture was a little lumpy, so I stirred as much as I could to get rid of as many lumps as I could. It still wasn't perfectly smooth, but it definitely didn't matter in the end.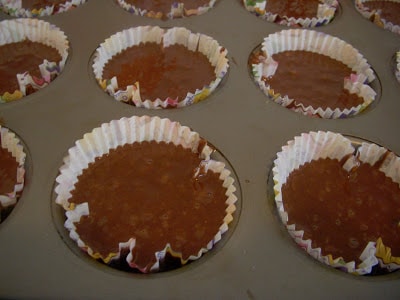 Bake the cupcakes at 350 degrees for about 20 minutes. Let cool completely.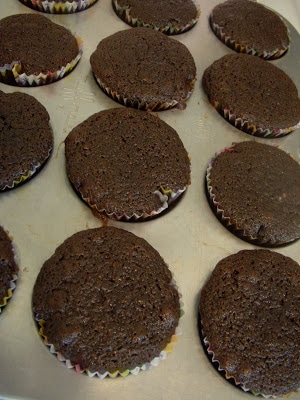 Now for the frosting. First let me take a moment to tell you how obsessed I am with those little milk chug bottles (you can see it in the first photo). I never buy whole milk, so when I need 3/4 cups for a recipe like this, these bottles are awesome because I don't have to waste much. It's the little things, people.
Anyway, for the frosting, I made a pretty typical cream cheese frosting. The recipe I was following was for more of a glaze, which I didn't like, so I kept adding more confectioner sugar to make it more "frosting-like." Next time, I would use less milk too. In my mixer, I whipped together my cream cheese until it was smooth, added in some of the sugar, added the milk, and continued beating. And then I added more confectioner sugar until it was more of a consistency I liked.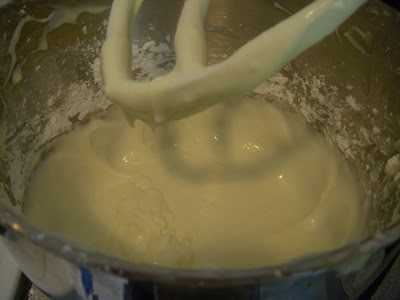 And then I frosted them! And quickly realized I desperately need some cupcake decorations that aren't pink. Because pink sprinkles on top of beer cupcakes just didn't seem right. I briefly considered adding some green food coloring to the frosting, but that just seemed way too St. Patrick's Day for me.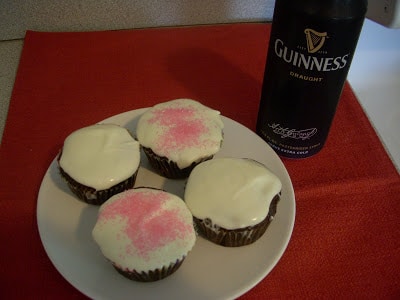 And like the red wine cupcakes, the Guinness cupcakes were also fabulous! I had some beer experts tell me so. Not to mention, even my non-beer liking friends also loved them. Much like the wine cupcakes, the alcohol taste was subtle. Definitely there, but subtle. And because Guinness already has a bit of a sweet taste to it, it was the perfect compliment to a cupcake.