Hopefully you're not getting sick of hearing about Hawaii yet. I'm almost done… just one more on Honolulu and I'm done!
After realizing it wasn't going to stop raining in Hilo (until we left), Chris and I decided to drive to Kona (where the sun shines!) and spend another night there. We drove down to the Southern point of the island and then up to the west, making lots of stops along the way.
First we stopped at Punalu'u Beach because we really wanted to see a black sand beach!

It was incredible and like nothing I've ever seen before.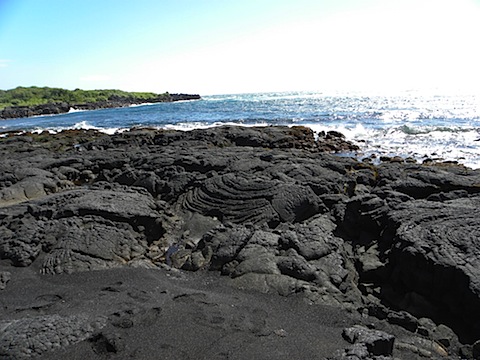 And even better, we saw a giant sea turtle! This thing was huge!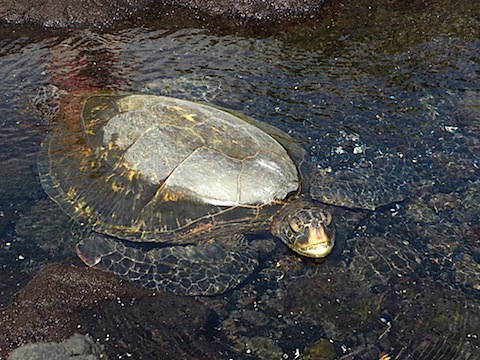 Black sand!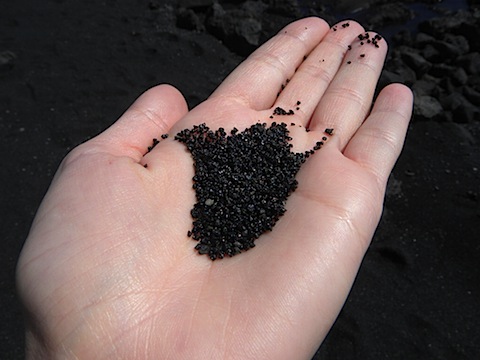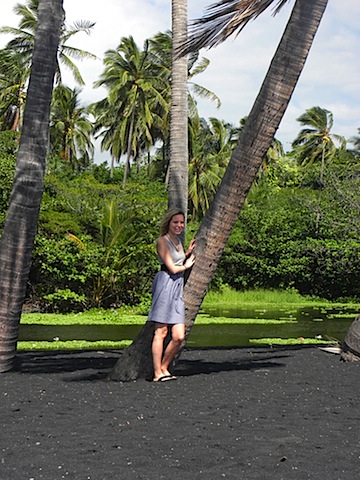 The beach also made for some really pretty photos.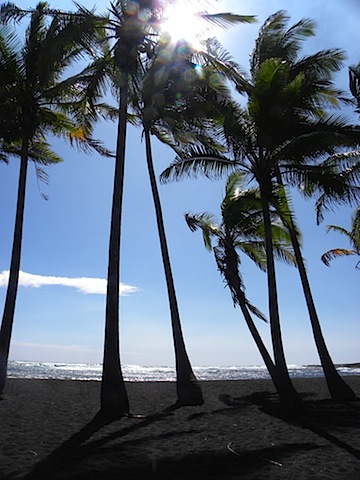 Then we stopped somewhere I was really, really excited about. Punalu'u Bake Shop! It's the Southernmost bakery in the country.

They had tons of baked goodness, but no cupcakes in sight!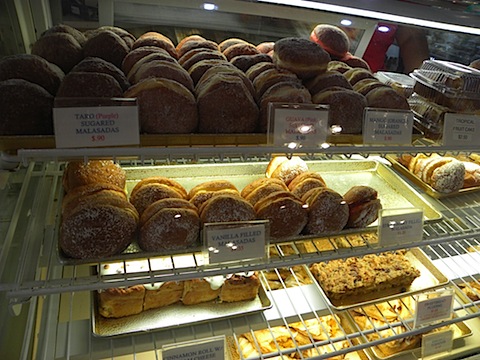 I had to try the malasadas I had been hearing so much about. And oh my God, they were awesome. Kind of like an apple cider donut and kind of like fried dough, it was heavenly. Does anyone know where I can get something like this in New England??
We also tried the cinnamon bun with cream cheese frosting.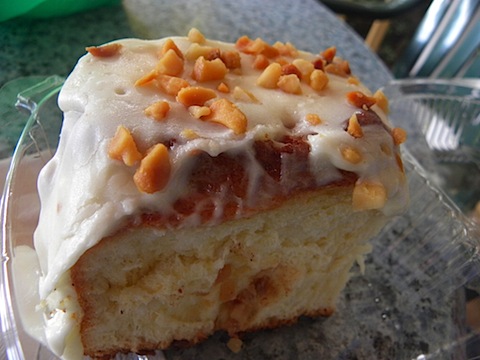 A malasada with vanilla cream that tasted like a Boston cream donut.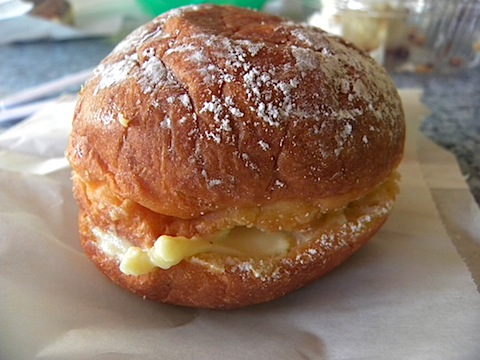 And a sweetbread.
We decided to take a drive down to the southernmost point in the country. Our guidebook said the road was fine the entire way, but about halfway down, the paving ended and it got really rough. It probably wasn't the best idea for us to drive down this in our rental car (the only car we could rent was a Mustang convertible!), but we kept going.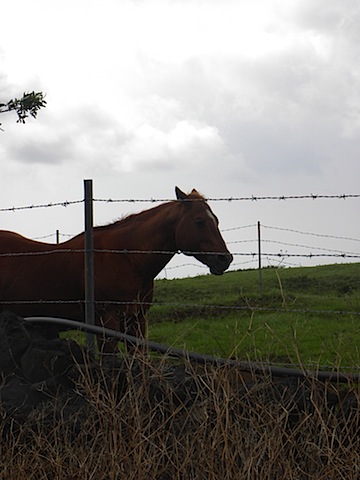 When we finally got there, it was a fantastic view. But super, super windy.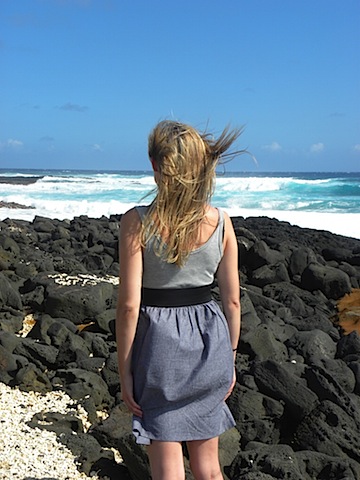 Kind of cool to be standing as far south in the USA that you can get!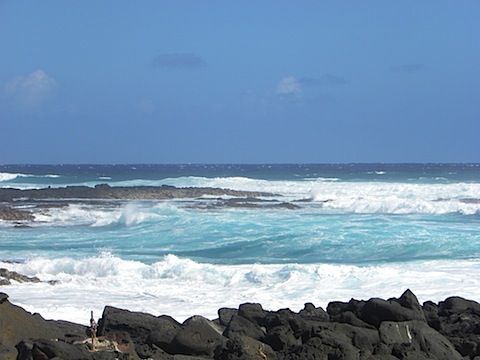 We got back on the road and headed to Pu'uhonua, not fully knowing what it was. It was an ancient place of refuge for Hawaiians and was filled with really cool history.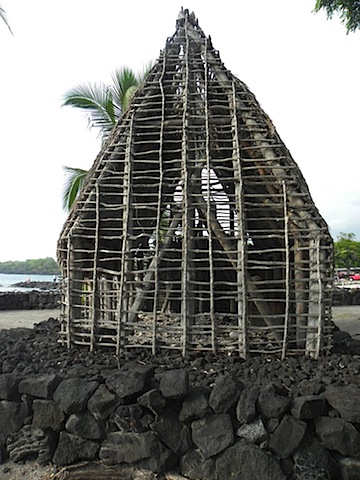 Back in the day, if you broke the law (and it was really easy to break the lawn in Hawaii), you would be in big trouble (likely executed). But if you reached this place or refuge, you would be safe!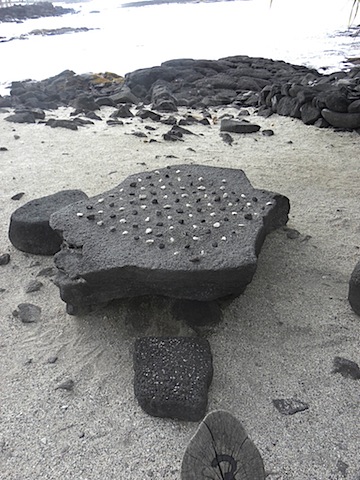 Lots of Gods are guarding Pu'uhonua.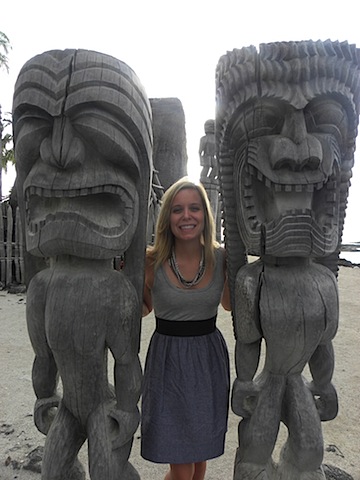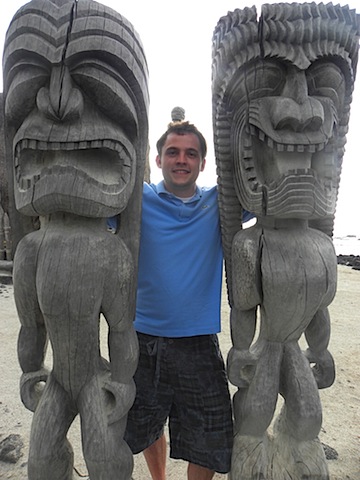 That evening, we stayed at the Royal Kona Hotel. We had dinner at the hotel's restaurant, Don the Beachcomber.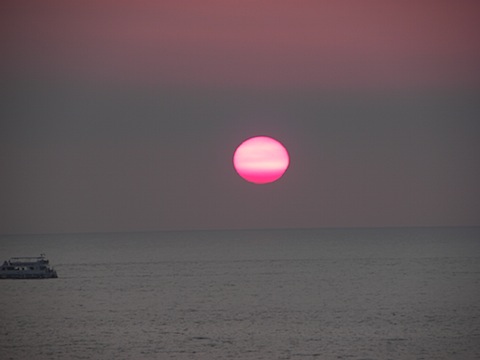 It was definitely one of our best meals of the trip! I obviously took photos of all the food, but the lighting was pretty awful, so I'm not going to bother posting them. But we had a delicious crab cake Caesar salad to start; and then I had the Cioppino with tons of fresh seafood in it and Chris had the Miso Mahi Mahi. The restaurant was right on the water and the view was beautiful.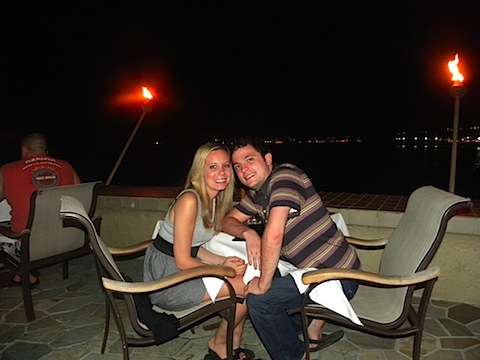 I love this picture of a little geko Chris picked up after dinner.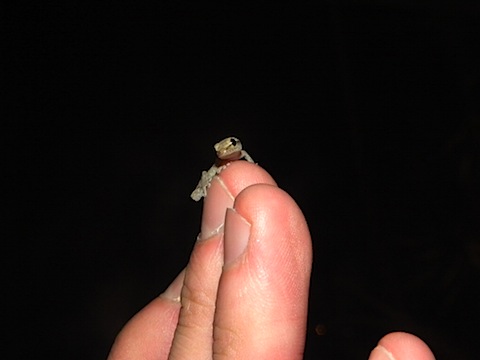 The next morning we took my sister and Adam's suggestion and had breakfast at Java on the Rocks, which was located right around the corner from our hotel and again, right on the water.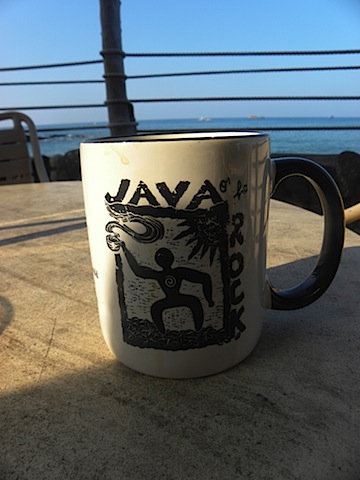 We had big mugs of Kona coffee and I ordered the Greek scramble.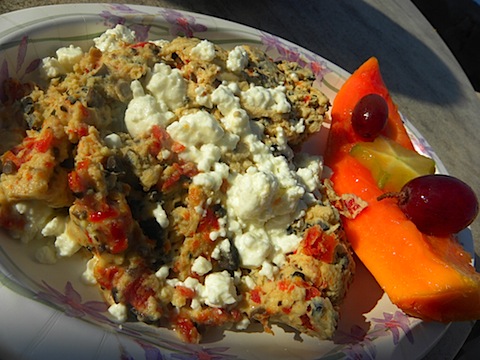 Perfect morning view!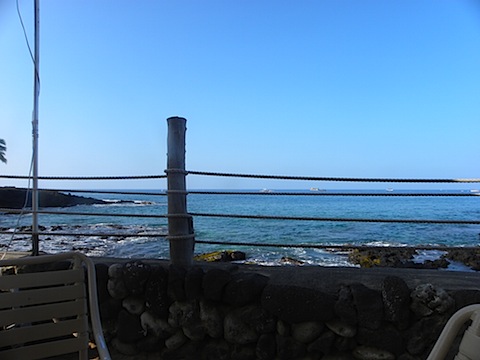 I was really excited for our next stop- Kona Joe! There are coffee plantations ALL OVER Kona. It's basically my dream come true because I'm a huge coffee fan and I was excited to be ordering coffee all over the place in Hawaii. My sister and Adam had taken a tour of Kona Joe and loved it, so we figured we'd do the same.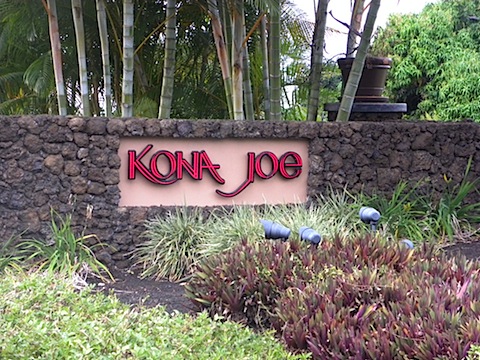 I want to hang this in my apartment. I love how it says "reduces jet-lag"… worked for me!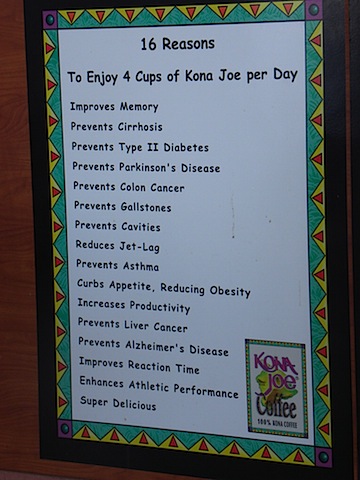 Kona Joe had a cute little shop overlooking the gorgeous plantations.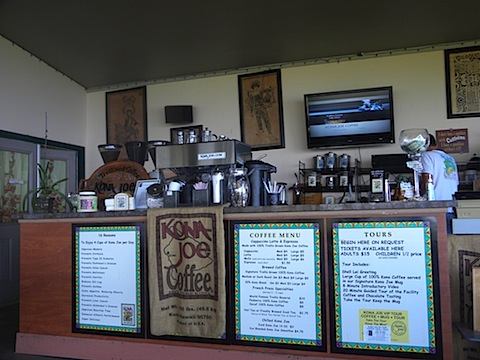 We got a tour of the whole plantation/factory and learned so much! Kona Joe is the only plantation that trellises their coffee, using the same techniques as vineyards. They actually have a patent on this technology. We got to see how the whole process works right after the berries are picked.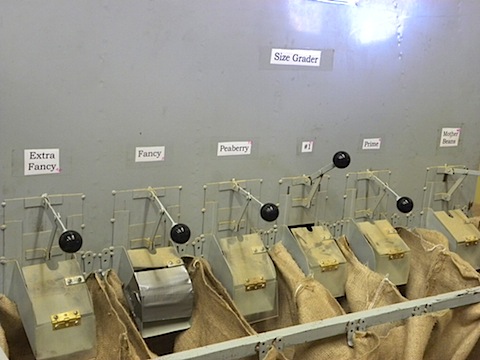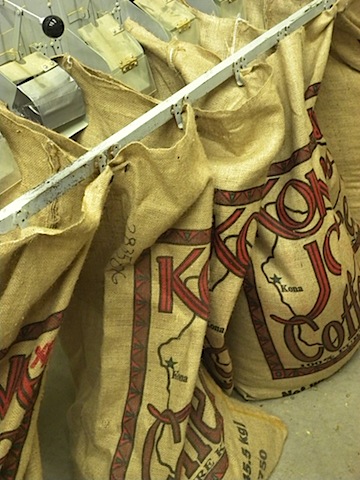 Our tour guide was AWESOME and totally seemed to do everything. He served us coffee, took us on the tour, took people's breakfast orders, and even made banana nut muffins!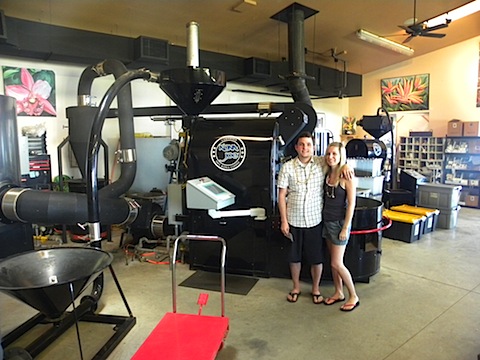 It was cool to see the plants trellised too… looking just like grapes at a vineyard!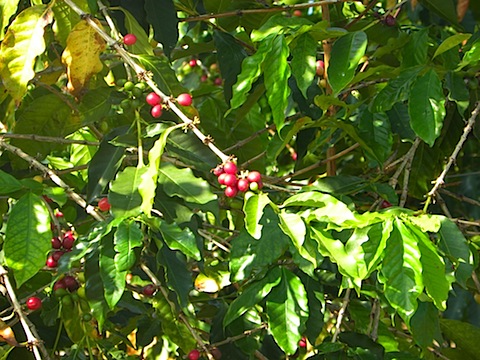 Because we were strangely still thirsty, we obviously had to stop at the Kona Brewing Company!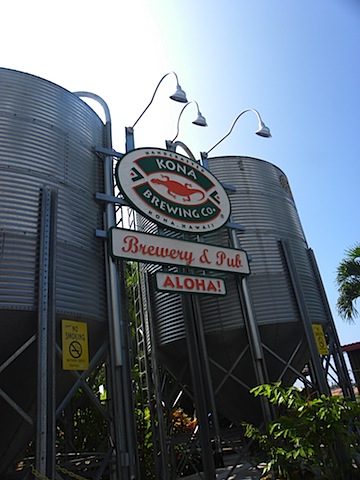 Unfortunately, the tours were running to late in the day for us to stick around, so we just ordered flights instead!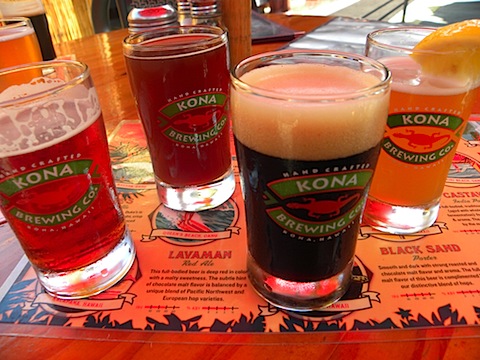 I just learned that Kona actually brews beer in Portsmouth, NH, but that just seems a bit wrong. Nothing like the real thing right in Hawaii.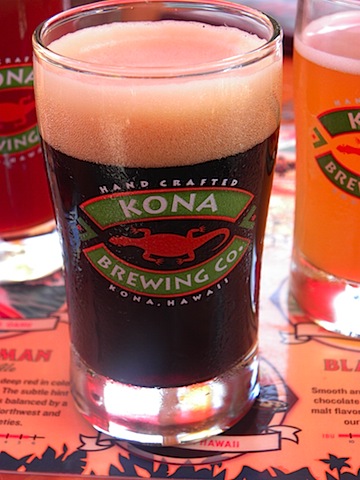 Before we headed back to Hilo, we spent a couple hours at Hapuna Beach. This beach is often voted the most beautiful beach in America and it was easy to see why. The water was so beautiful!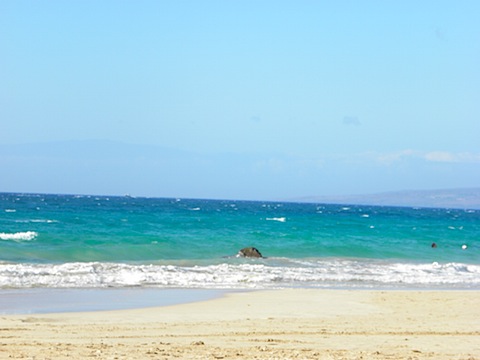 I could have spent a good couple days here… though as the day went on, it got windier and windier.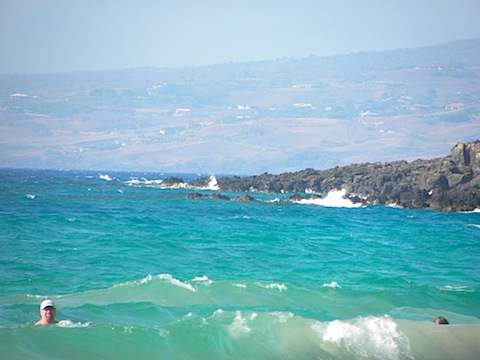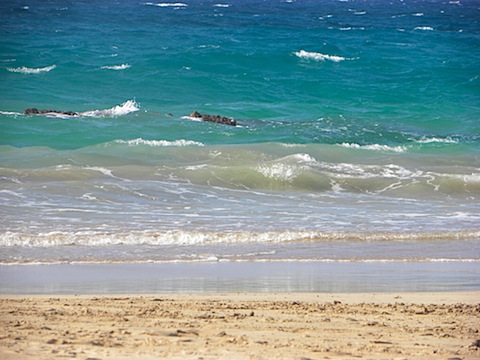 We kept heading back North and then East, so that we made our way around the entire island and back to Hilo. Where it was, of course, raining. Though my sister swears it was sunny the entire time we were gone. Hilo's weather must really hate us!