One last post about Hawaii, I promise! I needed to bring it to a conclusion and share a few things about Honolulu. Thanks for sticking with and I hope you enjoyed 🙂
We had one last adventure in Hilo before we headed to Honolulu. And that was to watch the lava flow from the active volcano. This was a completely surreal experience! We had to climb over lava rocks for about a half a mile or so in the pitch dark (with flashlights). We got as close as we were allowed and just sat in awe as we watch the ocean waves hit the lava. Wow.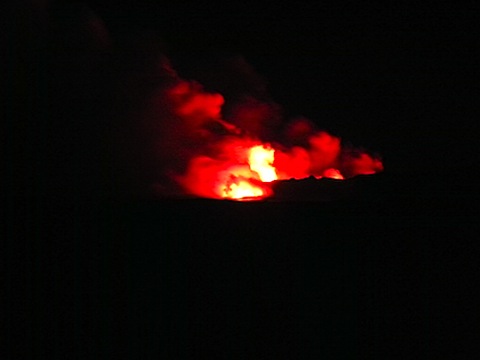 That was a great last experience because the next day we were off to Honolulu! We only had the weekend in here, which wasn't enough time at all, but we enjoyed every second of it!
Our hotel, The Westin Moana-Surfrider was absolutely breathtaking. I could have stayed here A LOT longer than two nights. Clearly we weren't the only ones who thought it was beautiful as we saw at least 12 weddings take place in 48 hours!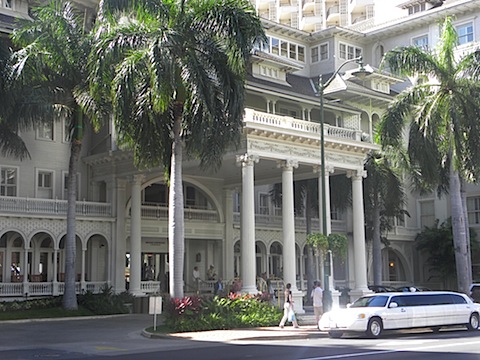 The hotel was right on Waikiki and we ended up spending a lot of time relaxing by the pool and on the beach. While the Big Island was more about adventure, we wanted Honolulu to be more about relaxing. It was so nice to have Beth and Adam with us the whole time, too!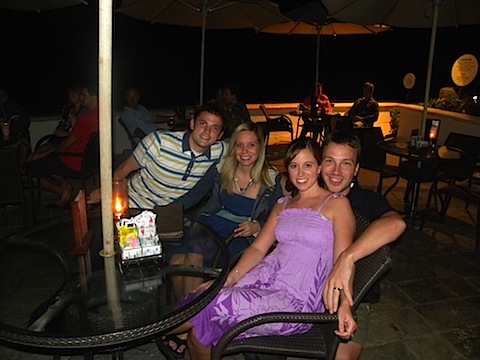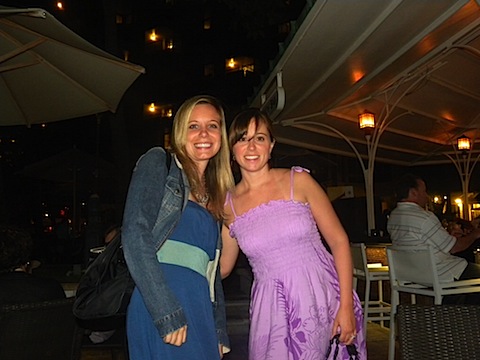 Even though we wanted to do a lot of relaxing, we knew we definitely wanted to see Pearl Harbor. We heard the lines there can get really ridiculous, so we opted for taking the Roberts Hawaii bus tour that brought us right to the museum and U.S.S. Arizona Memorial.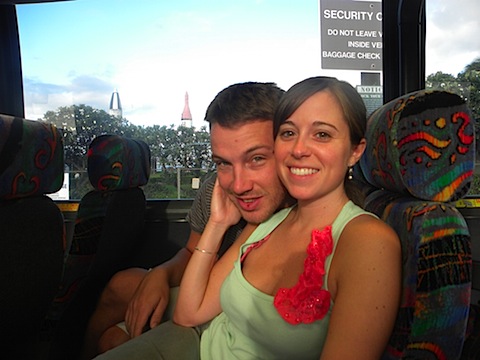 We spent some time in the museum learning all about Pearl Harbor and watching a short movie before boarding the boat to the U.S.S. Arizona Memorial.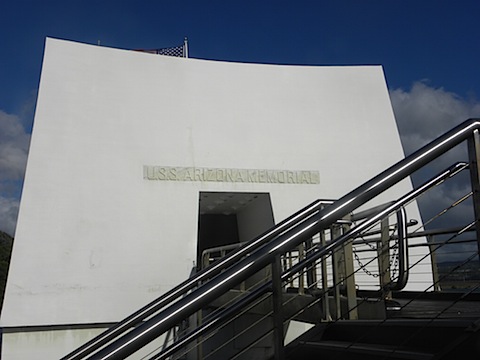 No matter how often I heard about Pearl Harbor, I really didn't understand it truly until I was here.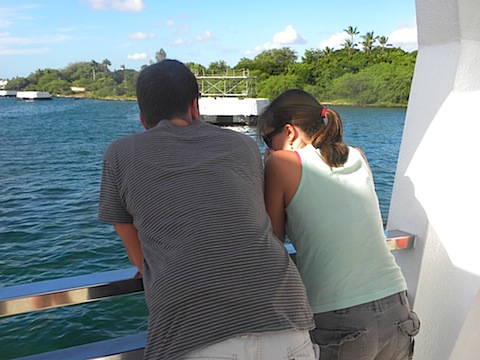 I love these candid shots we got of each other at the memorial.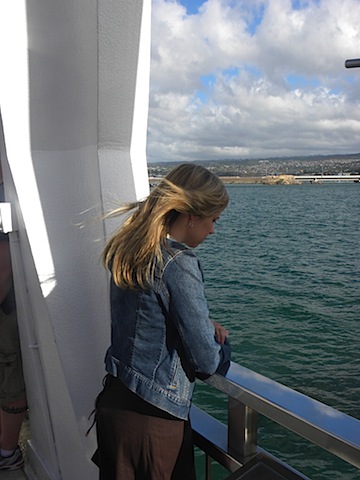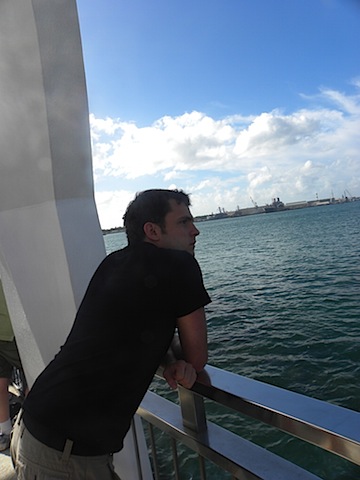 It was so incredible to actually be here. You can see the sunken Arizona under water and there's actually oil still floating around! Definitely an emotional experience when you think of how many people died aboard the Arizona (1,177).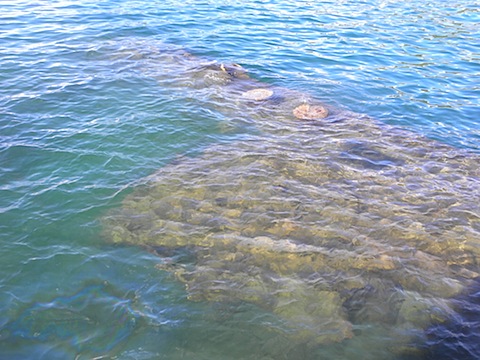 The memorial included a wall with the names of everyone who passed away on the U.S.S. Arizona.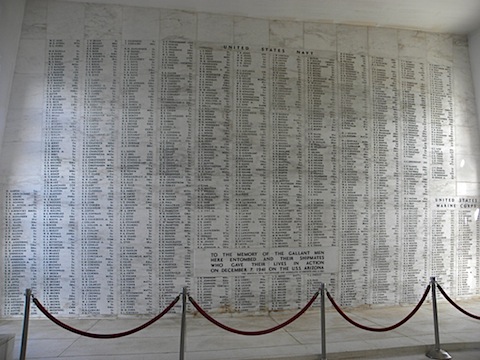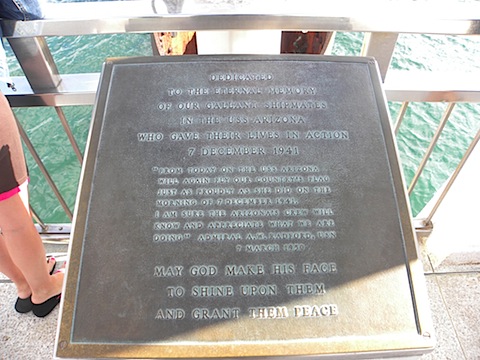 It was an absolutely beautiful day.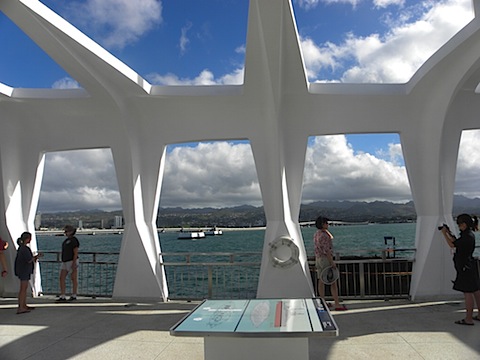 And I think we all left with a greater appreciation for our country.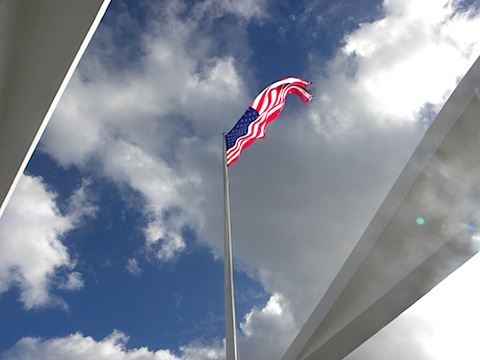 The tour brought us to a few more places. And along the way, we ran into the filming of Lost! I don't watch the show, but it was still pretty cool.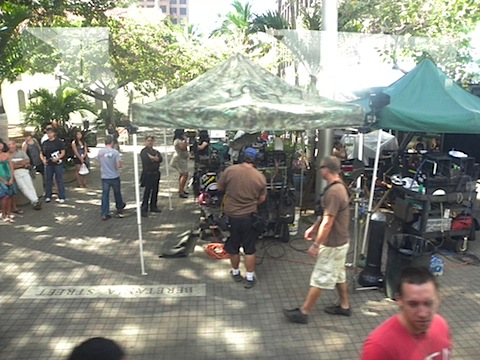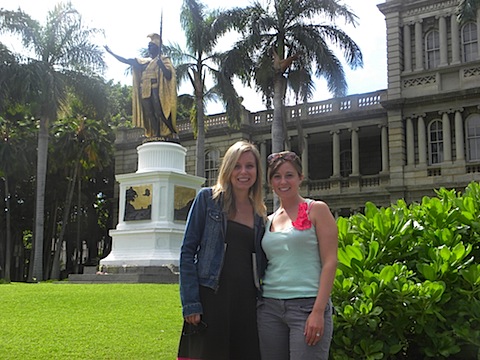 We stopped by Ioloni Place, which is the the only official residence used by a reigning monarch in the U.S.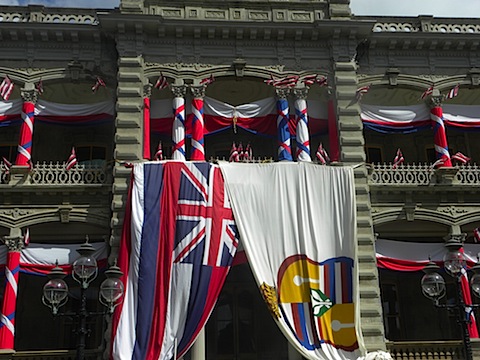 For dinner we went to India Cafe, the restaurant owned by the family of Prabu (Adam's co-worker's husband). The restaurant has won tons of awards in Hawaii and the food was awesome! SUPER spicy just like we wanted it!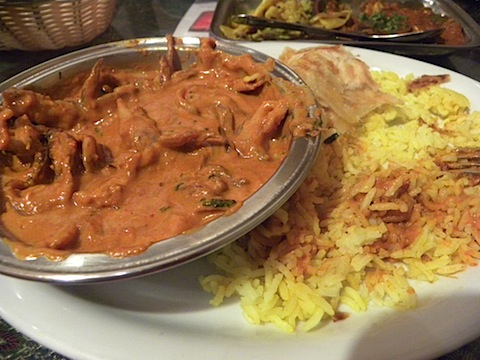 The next morning we had breakfast in our hotel. My eggs benedict with crab cake was seriously divine.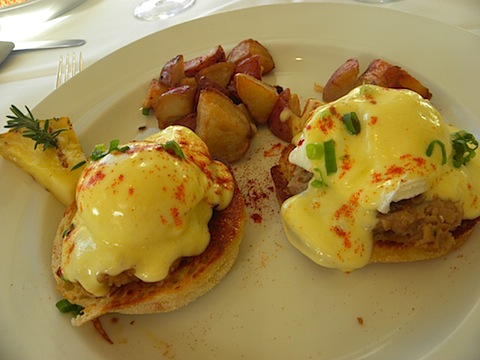 But then again, all the food was delicious!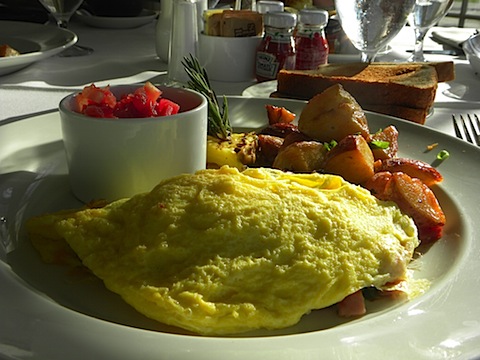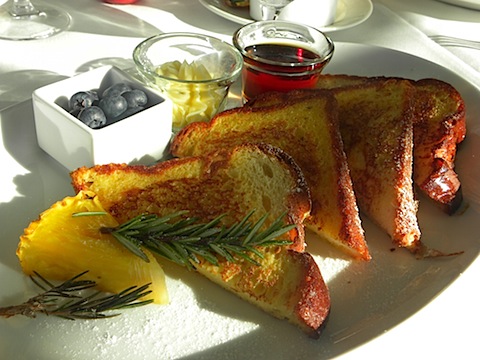 The view from the restaurant: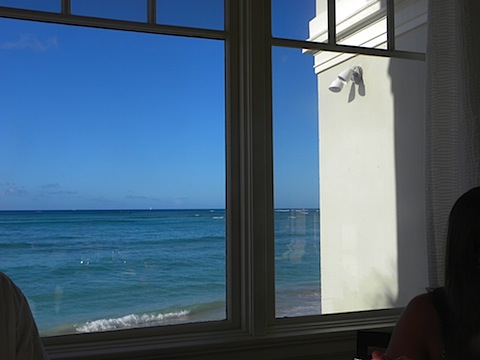 Right outside our hotel in our Hawaiian apparel: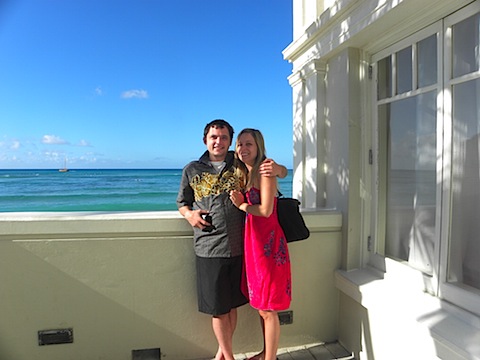 On Waikiki Beach: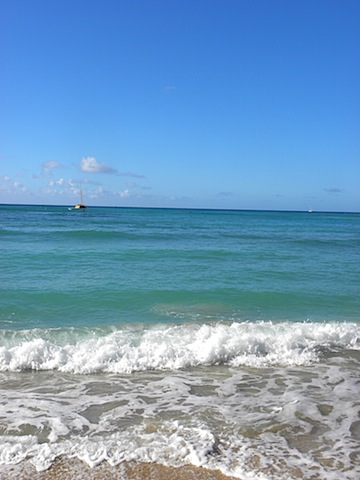 Later that afternoon, we did a lot of wandering around Waikiki. If asked to describe Waikiki, I would say it's like a Newbury Street on speed (for all you Bostonians). Otherwise, maybe a bit like Rodeo Drive (probably on speed too). Designer stores EVERYWHERE. Any high-end store you can think of was along the streets and often 2 or 3 of the same stores within a few blocks of each other. And as a nice contrast to Hilo, everything stayed open super late!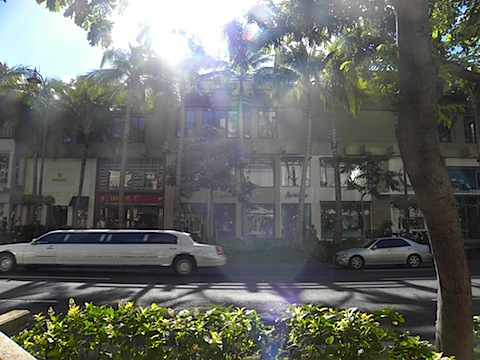 There was also a cute little marketplace with tons of Hawaiian goods. We stopped at a kiosk that let you choose an oyster and keep the pearl (and buy a setting for the pearl, of course!).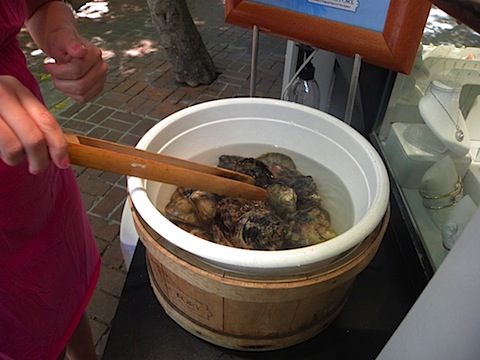 I took the plunge!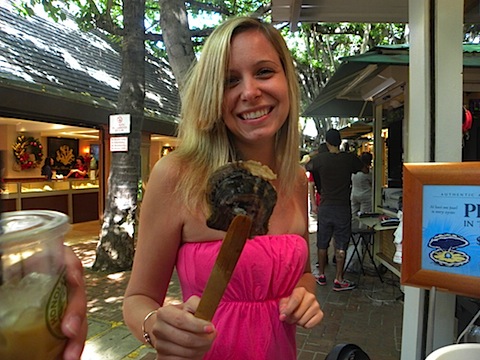 And my pearl was beautiful.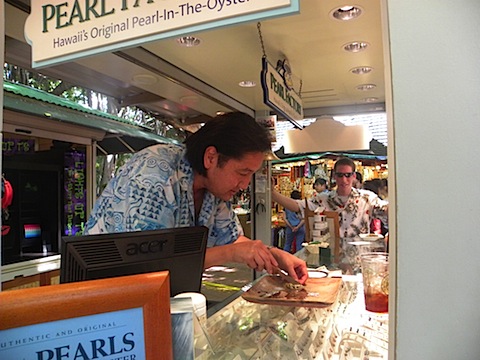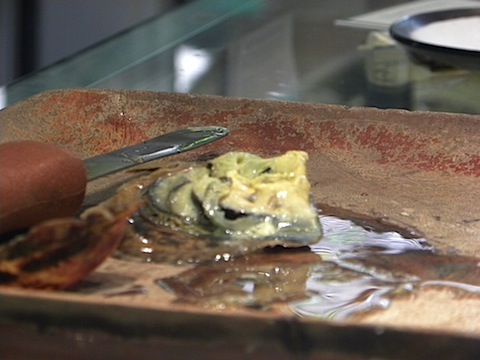 Chris made it into a nice little necklace for me, which is a constant reminder of Hawaii. I love it!
We got some sushi for lunch.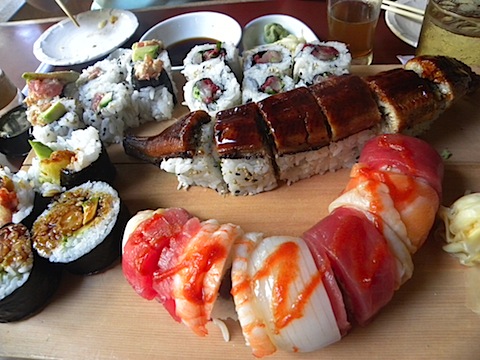 And headed back to the hotel to watch the sunset.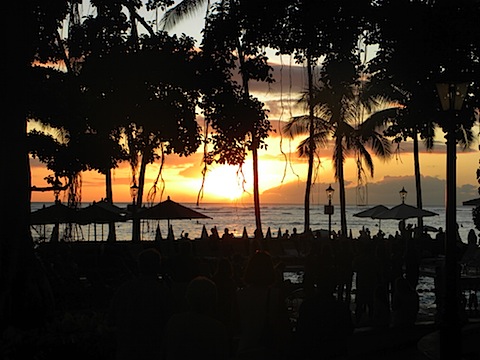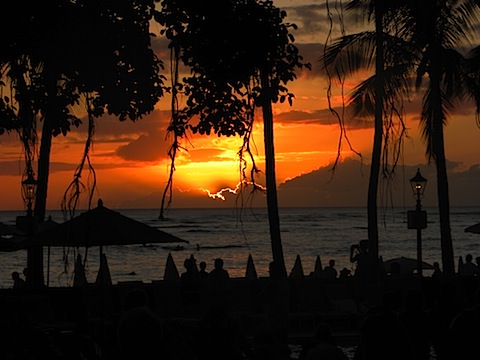 Beth and Adam flew back to Hilo that evening and then Chris and I left for Boston around 10 p.m. And didn't get back to Boston until Monday at 5 p.m. (when Chels lovingly picked our zombie selves up from the airport! I missed her!).
Hawaii was definitely the vacation of the lifetime and I miss it dearly. Especially since it snowed like crazy in Boston this morning! I also miss my sister and Adam, but feel so happy for them knowing that they live in this paradise!
[Sues]