If you're reading this blog, chances are you either love food or know someone who does. That's why I thought it would be fun to put together a list of the perfect holiday gifts to get for all the food lovers in your life this year. After all, there's nothing worse than randomly wandering from store to store on the days leading up to Christmas, freaking out about what you're going to buy. Oh, and most all these gifts can be bought online... So, technically you don't even need to step food in the mall. Sounds like the perfect holiday season to me.
This list might also inspire you to go shopping for yourself, too. And remember, there's absolutely nothing wrong with that. Tis' the season 🙂
Just an FYI that some of the links to gifts are affiliate links (meaning that at no extra cost to you, I will earn a commission if you click through and make a purchase). Thank you so much for supporting WANM!
Holiday Gift Guide for Food Lovers 2010: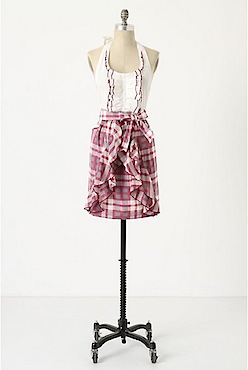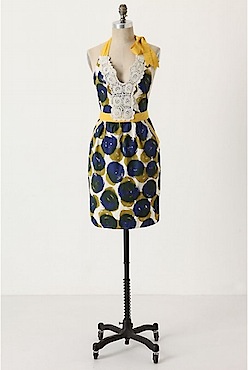 Cute aprons:
I have a special place in my heart for the aprons from Anthropologie. They have a huge selection of aprons in all different colors, patterns, and ruffles (ruffles!) to ensure you'll be able to find one for all the eclectic personalities in your life. Yes, I love an apron that you actually want to wear as a dress.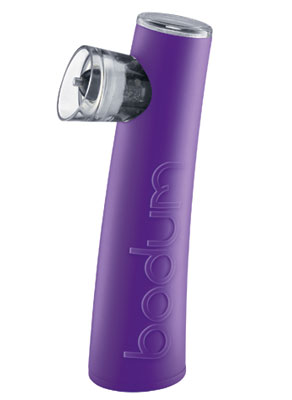 Bodum Gravity Grinder:
File this one under fun. OK, and helpful, too. This pepper grinder automatically springs into grinding action when it's angled toward food. The Bodum Gravity Grinder comes in a wide variety of colors and if I were you, I'd want one for pepper and one for salt since I like matching things.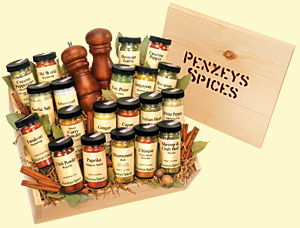 Penzeys Spices Gift Box:
Did You know Penzeys has gift boxes? Seriously, they have about a billion different boxes, with everything from "Pepper Lovers," to "Some Like it Hot" to "Indian Curry" to "Cheese Seasonings" (YES, you heard me right; cheese seasonings). Want to get something even more special? How about a gift CRATE! You know any chef would be happy with a crate full of spices. If you have no idea what spices the food lover in your life needs or wants, you can always get them a Penzeys gift card.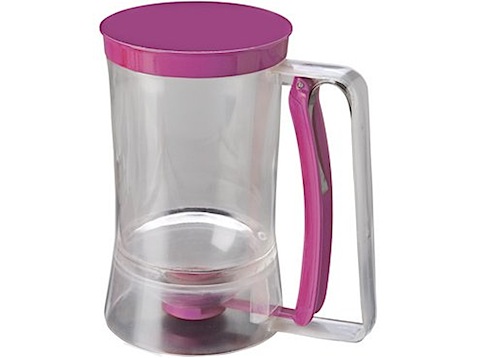 Cupcake Batter Dispenser:
I mean, really, you could dispense any batter with this Cupcake Batter Dispenser, but I definitely see why cupcakes would make the most sense. My least favorite thing about making cupcakes is transferring the batter from the mixing bowl to the cupcake tins. Problem solved! You pour the cupcake batter into this and then pull the handle to dispense as much batter as you want!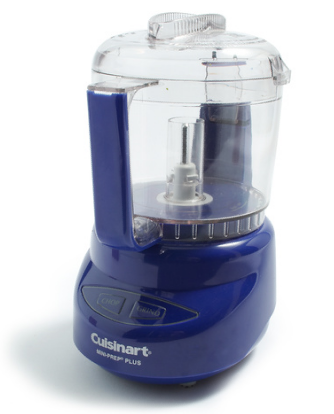 Cuisinart 3-Cup Mini-Prep Plus Food Processor:
If the food lover in your life isn't yet lucky enough to have a food processor, get them started out with something small. Like the Cuisinart 3-Cup Mini-Prep Plus Food Processor. This was my first food processor and it was perfect for all the little kitchen jobs, like making pestos and sauces and chopping herbs.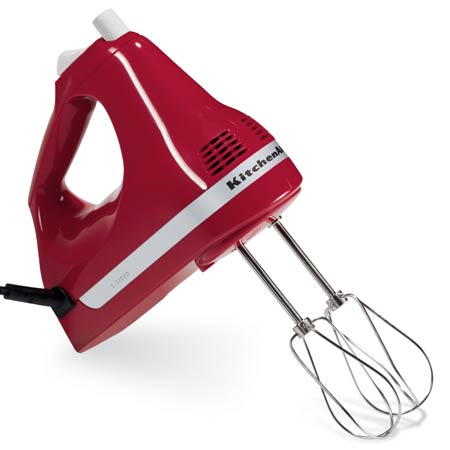 KitchenAid Hand Mixer:
And for the beginner baker in your life, how about a KitchenAid Hand Mixer? This is what I was using before I got my beloved KitchenAid Stand Mixer and it made life so much easier. I still use it all the time for whipping cream, making frosting, and tons more.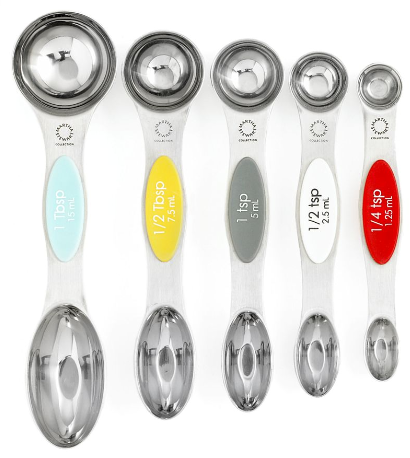 Martha Stewart's Magnetic Measuring Spoons:
If you're anything like me, you spend half your time in the kitchen looking for your measuring spoons. If you're also like me, you like a nice sturdy measuring spoon. Enter Martha Stewart's Magnetic Measuring Spoons. They're pretty. And you can hang them on your fridge, so you always know where to find them. And by you, I mean your gift recipient. Of course.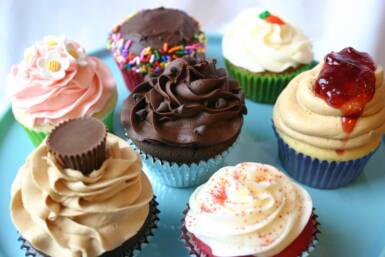 Cupcakes:
For those people who have everything, why not get them a delivery of cupcakes? If you're in the Boston-area, check out Mix Bakery's website and schedule a special holiday delivery. Or, even better, start your own Cupcake of the Month Club and schedule a Mix Bakery delivery to that special someone every month. Hi, if you're my friend, this is one gift you'll be getting me 🙂 Many cities have cupcake delivery shops, so get on the Google.
Vosges Chocolate:
What to get for the person who has absolutely everything? Chocolate, of course. I'm a big fan of Vosges Chocolates because of the totally unique varieties. Not only are they fun to snack on, but they can make the perfect ingredient in a new dish.
How about a Black Salt Caramel Bar?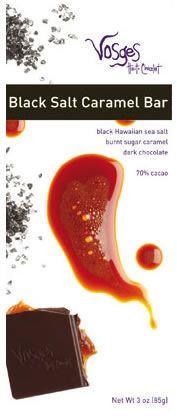 Or a Red Fire Exotic Bar (featuring Mexican Ancho and Chipotle Chiles)?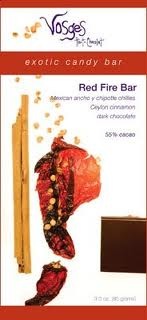 Vosges also sells tons of beautiful truffles and have all kinds of holiday gift packages for you. At all price ranges. Nobody on your list will be disappointed with a gift of chocolate!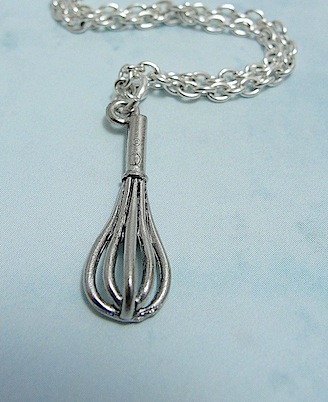 Foodie Jewelry:
You can get a necklace for literally every kind of foodie in your life (the above is the Whisk Charm Necklace from Treasuredcharms Etsy Shop. A quick Google (or Etsy) search should help you find anything you desire, but here are a few more I'm a fan of: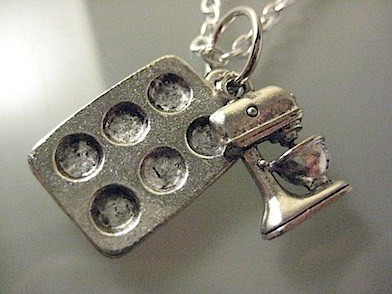 The Baking Lover's Necklace (CherryLymeade Etsy Shop)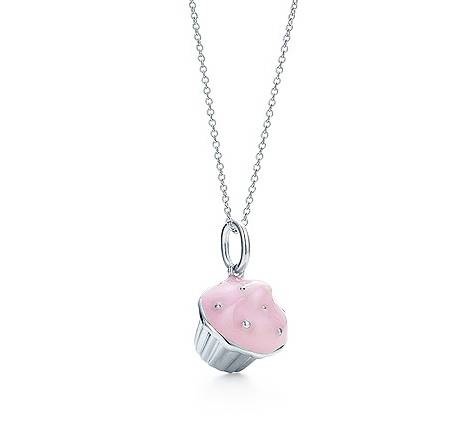 Cupcake Charm (Tiffany's)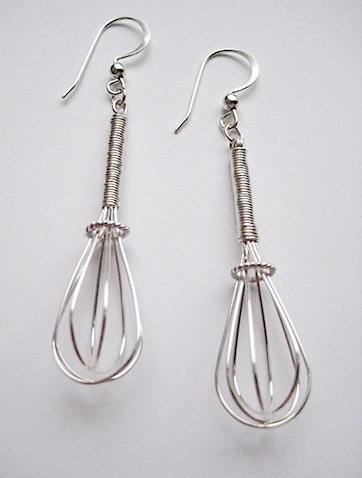 Sterling Silver Whisk Earrings (Exodesign Etsy Shop)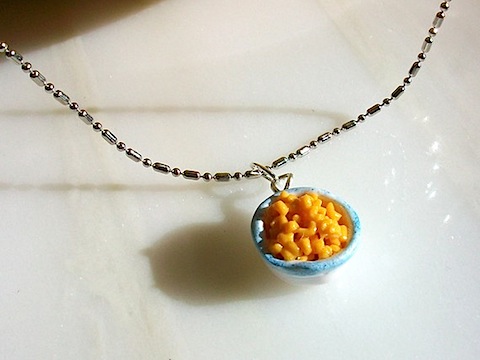 Mac and Cheese Charm Necklace (Sifuentesrn Etsy Shop)
I Heart Bacon Necklace (Crumpetcake Etsy Shop) (Shhh. This is totally my next gift to Chelsee).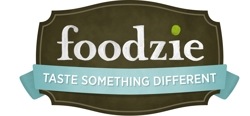 Foodzie Gifts:
Have you heard about Foodzie.com? Foodzie is kind of like the Etsy of food. They sell all kinds of food and beverages made by small companies. You can even shop by region, if you want to shop for specialty foods local to you. Here are some of my favorite Foodzie gifts: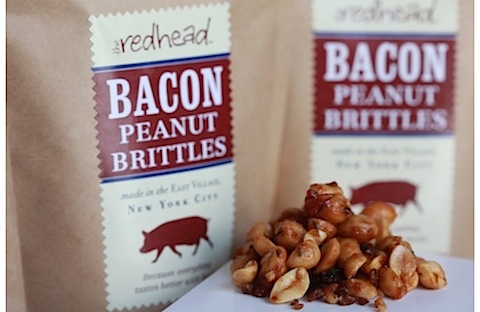 Bacon Peanut Brittle... A combination you've probably never tried... But probably should! (The Redhead Foodzie Shop)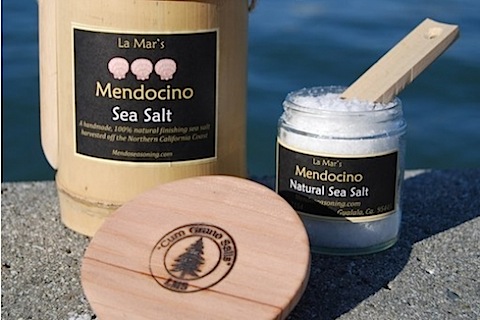 Mendocino Sea Salt... I tried this at Foodbuzz Festival and fell in love. The smoked variety is to die for! (Mendocino Sea Salt Foodzie Shop)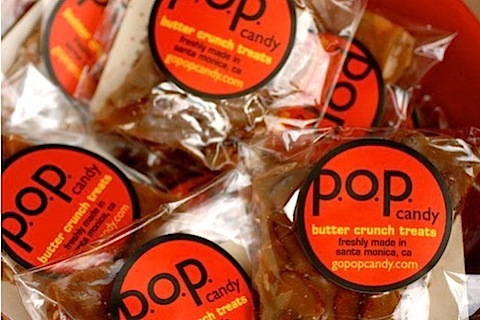 I also tried p.o.p candy toffee at Foodbuzz Festival and was obsessed with each and every bite of every variety. The thyme, walnut, and cherry was a particular favorite (p.o.p. candy, Prices vary)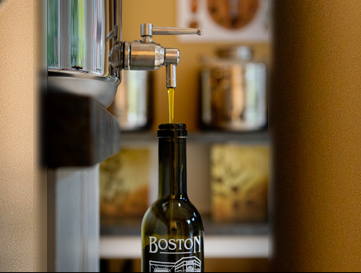 Good Olive Oil:
Nobody but a food lover would appreciate the gift of olive oil. But a true food lover will likely go crazy over this. Olive oils and balsamic vinegars come in all different varieties and flavors and provide entirely unique tasting experiences. Either do a search online to find your favorite olive oils, or head to a local store.
I love hanging out at the newly opened Boston Olive Oil Company in Boston. And when I say hang out, I mean hang out. Not only do they have all the varietals, but they have tons of infused olive oils, too. And you can try them all (taste testing olive oil is basically a hobby of mine). The Blood Orange Olive Oil and White Truffle Olive Oil are two of my favorites. But don't forget about the balsamic vinegars, too. The Strawberry Balsamic and Honey Ginger Balsamic are to die for.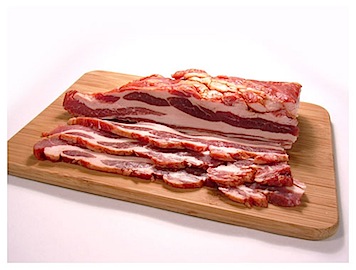 Of-the-Month Clubs:
Of-the-Month Clubs are my favorite gifts to get people that I realllyyy love. They can be a bit pricey, but totally worth it considering they can bring your loved one 6 months to a year worth of happiness. They have these clubs for literally EVERYTHING, including lobster, peanut butter, olive oil, hot sauce, ice cream, beer, dog treats and cake.
A Bacon-of-the-Month Club is perfect for bacon lovers. The only club I can recommend for certain is the Grateful Palate (their website has been down for months now, but you can call the number given for orders or check out their Facebook page).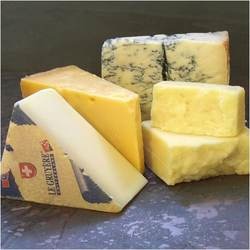 Cheese-of-the-Month Clubs are another favorite of mine (especially for my dad!). I've done tons of these over the year and honestly, they've all been pretty good. I think iGourmet.com's Cheese-of-the-Month Club was especially excellent. A selection of cheeses sent to your doorstep every month? Yes, please!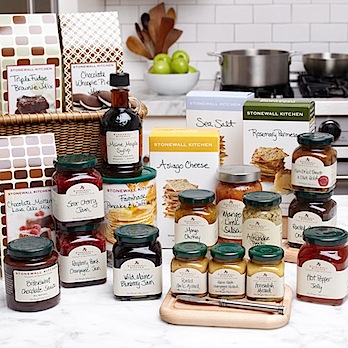 Stonewall Kitchen Gifts:
You all know what a big fan of Stonewall Kitchen I am. If you don't know you do. They literally have something for everyone at their shop. You can put together your own basket of goodies for a loved one of choose from one of their pre-made gifts (in a wide variety of prices). Above is the Stonewall Kitchen Best of the Best. A couple other favorites: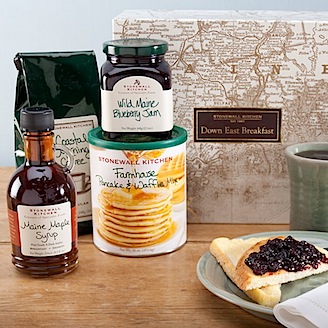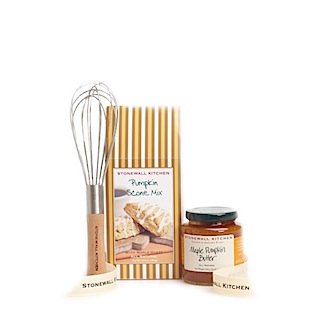 Pumpkin Grab & Go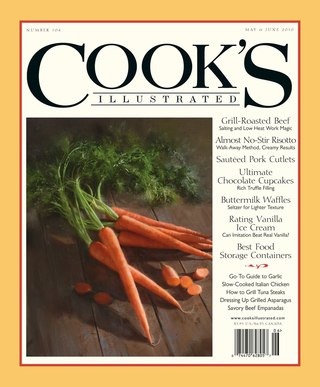 Cook's Illustrated Subscription:
While I love the idea of gifting someone with your favorite cookbook, I am even more a fan of the idea of giving someone the gift that keeps giving. A magazine subscription. My personal favorite cooking magazine is Cook's Illustrated because of its amazing content, no ads, and well thought-out recipes. It's pricey for a magazine, but well worth it. My other favorites include Martha Stewart Living (of, course!), Everyday Food (perfect for beginner cooks, though good for everyone), and Bon Appetit.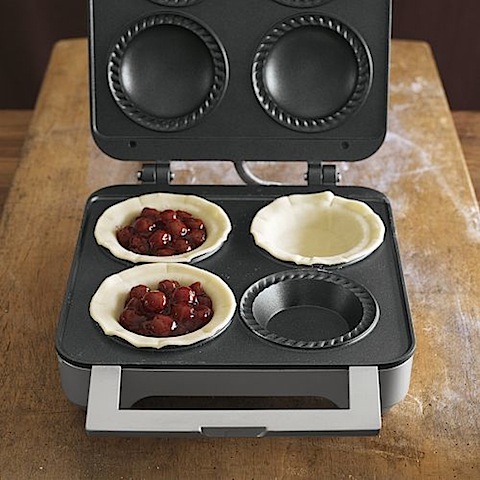 Breville Mini Pie Maker:
OK, so this is kind of my guilty pleasure of the Food Lover's Holiday Gift List. The Breville Mini Pie Maker from William Sonoma. The second I saw it, I was obsessed. I've never made a mini pie in my life, but with this little pie maker, I have a feeling I'd be experimenting all the time. The Breville Pie Maker seems to be the talk of the Internet lately and I have a feeling it's going to sell hugely this year. Mini pies for everyone!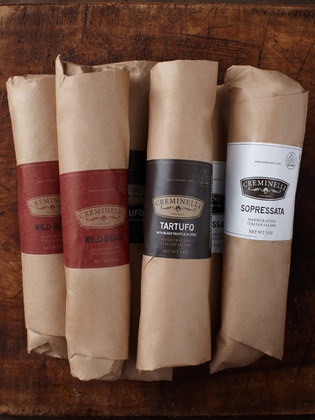 Creminelli Salami:
The gift of salami. Really. Chels made a risotto with the Creminelli Salami we got sent to us and I can second her to say, it is absolutely amazing. And you really haven't had salami if you're just eating it from the deli counter at your grocery store. Trust me on this. Creminelli has a huge selection of artisan salamis that will make any foodie go wild. If you really want to blow them away, I think the white truffle salami should do it.
Also, you should know that between now and Monday, Creminelli Salami (and Beehive Cheese) are on sale on Gilt.com! They're offering awesome prices on the salamis and cheeses, so I recommend heading there and getting your purchase on. If you're not a member of Gilt and need an invite, feel free to use my invite link (aside from salami, they offer awesome deals on lots of fun stuff like designer clothes, shoes, and more)!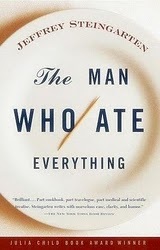 Foodie Literature: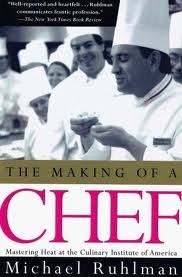 Again, I love a good cookbook, but for the food loving readers out there, you might want to consider some foodie literature. Food writers have all kinds of wild stories about their adventures in eating that will keep you entertained and leave you hungry. The Man Who Ate Everything by Jeffrey Steingarten has long been a favorite of mine. Here are a few more:

The Making of a Chef: Mastering the Heat at the Culinary Institute of America by Michael Ruhlman- one of my favorite people EVER,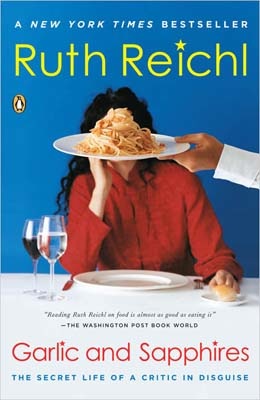 Garlic and Sapphires by Ruth Reichl.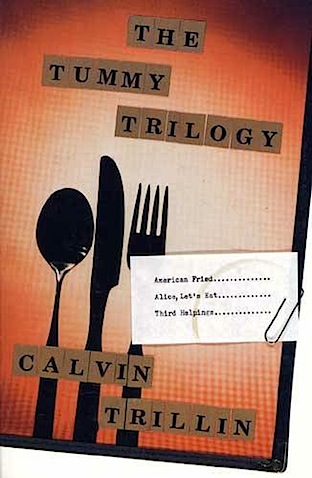 The Tummy Trilogy by Calvin Trillin.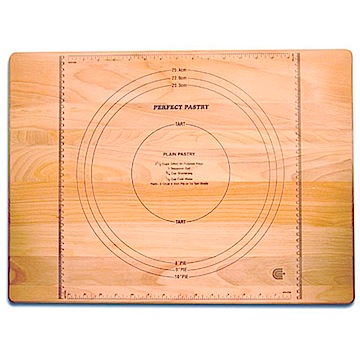 Pastry Cutting Board:
There's nothing I love more than a good cutting board, but you might think they make a boring gift. Well, here's one with a real purpose. The pastry cutting board This cutting board has built-in rulers and measurements to get the perfect pastry rounds. Talk about making life easier!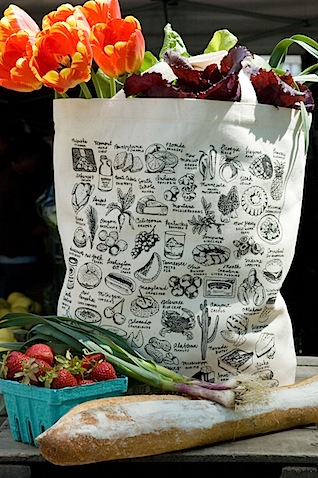 Reusable Grocery Bags:
People who are really into food, often find themselves at the grocery store more than they'd like to admit. So every cook really needs a few good reusable grocery bags. I think the above State-By-Food Bag is adorable. It has illustrations of food from all 50 states. But I'm also a huge fan of Flip & Tumble Bags because they fold up into a little ball and fit easily in your purse.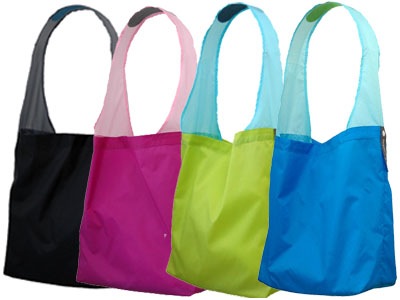 Plus, they come in all kinds of pretty colors!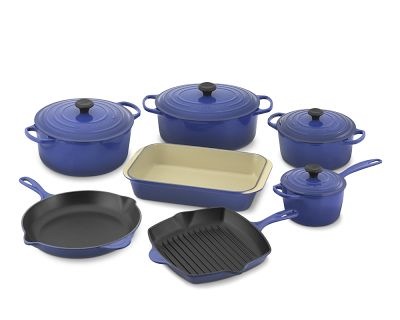 Le Creuset anything:
Just trust me on this one. Your foodie friends will greatly appreciate anything Le Creuset. I mean, a dutch oven, grill pan, or baking dish? If it's Le Creuset, it will be loved. Just check to see if your friend has already started a collection in a particular color, so you can match it.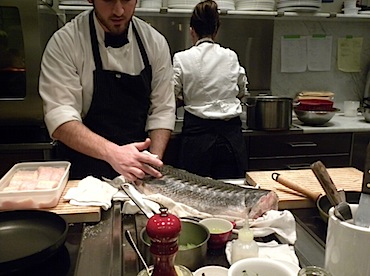 Cooking Classes:
For the gift that also allows you to spend quality time with a loved one, cooking classes are the way to go. You should be able to find classes for everyone from beginners all the way to advanced. If you're in Boston, definitely check out Stir Kitchen. The classes are pricey (and there really demos), but the food and wine are plentiful and the chefs are amazing. I'm also a fan of Stonewall Kitchen's cooking classes.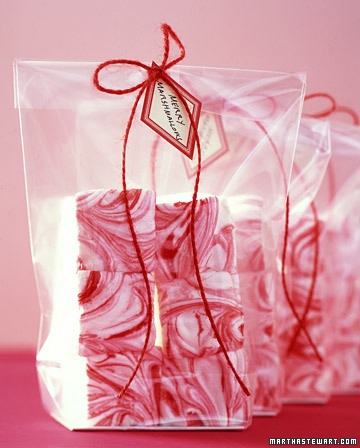 Martha's Homemade Food Gifts:
Perhaps you're trying to save some dough and prefer to gift your friends and family with homemade gifts this year. Well, you can do so much more than baking cookies and sticking them in a tin. Martha Stewart has a tutorial filled with 30 different food-related homemade gift ideas. I'm an especially big fan of the candy cane marshmallows you see above, but I also love the idea of homemade spices, jarred granola, and more.
I hope my Holiday Gift Guide for Food Lovers inspires you in your holiday shopping ventures. Or maybe it just gave you a few things to add to your own Christmas list!
Please note, I'll gladly accept any and all gifts from the above list. Just saying' 🙂
Also, I'd love to hear what else you'd include in the Foodie gift guide. I, of course, am always interested in gifts for food lovers (slash myself!).
Happy Holidays!!
[Sues]