Iced lattes are so easy to make at home and this Iced Lavender Latte involves just 3 ingredients. Espresso (or coffee), lavender simple syrup, and milk are poured over ice for your new favorite drink of summer!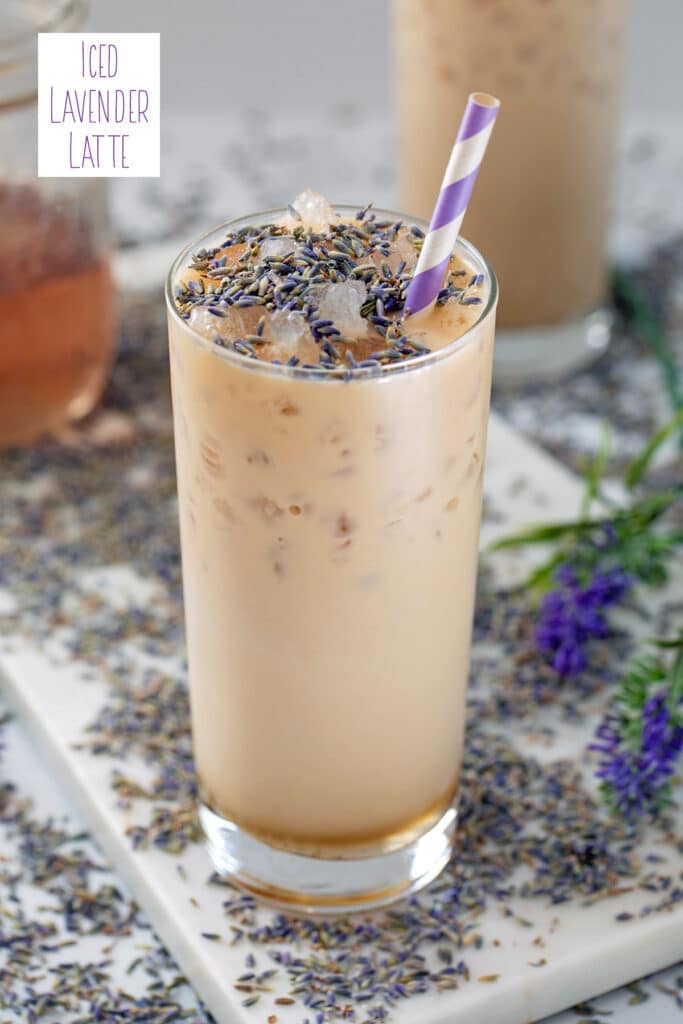 Raise your hand if you like to take an afternoon coffee break?? I do!
I'm all about hot black coffee in the mornings and on winter afternoons, but in the spring and summer, I like my afternoon coffee to be iced. And to maybe involve a little sweetness, too.
And maybe a light floral summer flavor... Like lavender.
These iced lavender lattes couldn't be easier!
Why You'll Love this Recipe
Two reasons! These lattes are delicious and SO easy to make. Many people are a bit intimidated by hot lattes as they involve steamed milk and froth. But with an iced latte, there's no need to steam the milk (obviously!) or froth it. You just straight up pour it in.
They're so easy to make, you can whip one up in just a few minutes during your afternoon break. And you can enjoy the latte with these lavender cookies.
Ingredients
These iced lavender lattes involve just 3 ingredients:
Espresso (but you can also use strong coffee)
Lavender Simple Syrup (see more below)
Milk (I like to use whole milk)
OK, I guess you need ice, too, but can ice really be considered an ingredient?
How to Make Lavender Simple Syrup
I have an entire post on the process for making lavender simple syrup, but really, it couldn't be easier. All you need is water, granulated sugar, and culinary-grade dried lavender.
If you're in search of dried lavender, I recommend either this one or this one.
All you need to do it bring water, sugar, and dried lavender (culinary grade) to a boil. Then let it simmer for for 10 minutes, before removing from heat, putting the cover on it and letting it infuse for an hour.
Once you have a jar of it in your fridge, it should stay good for about a month... Which means lots and lots of lavender lattes!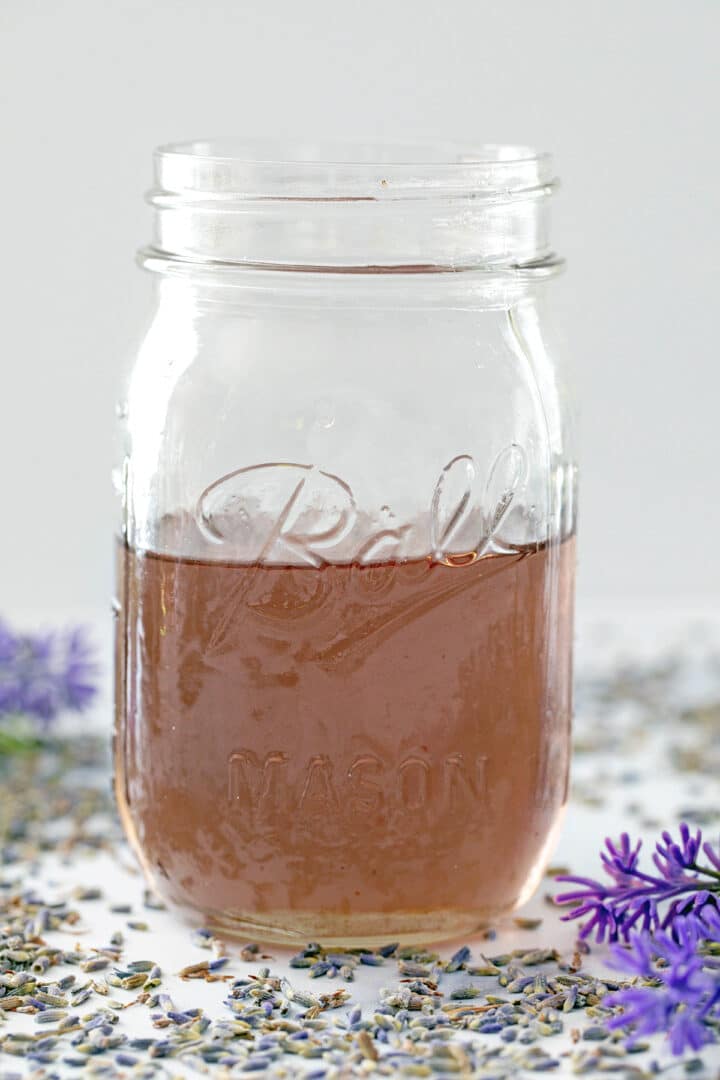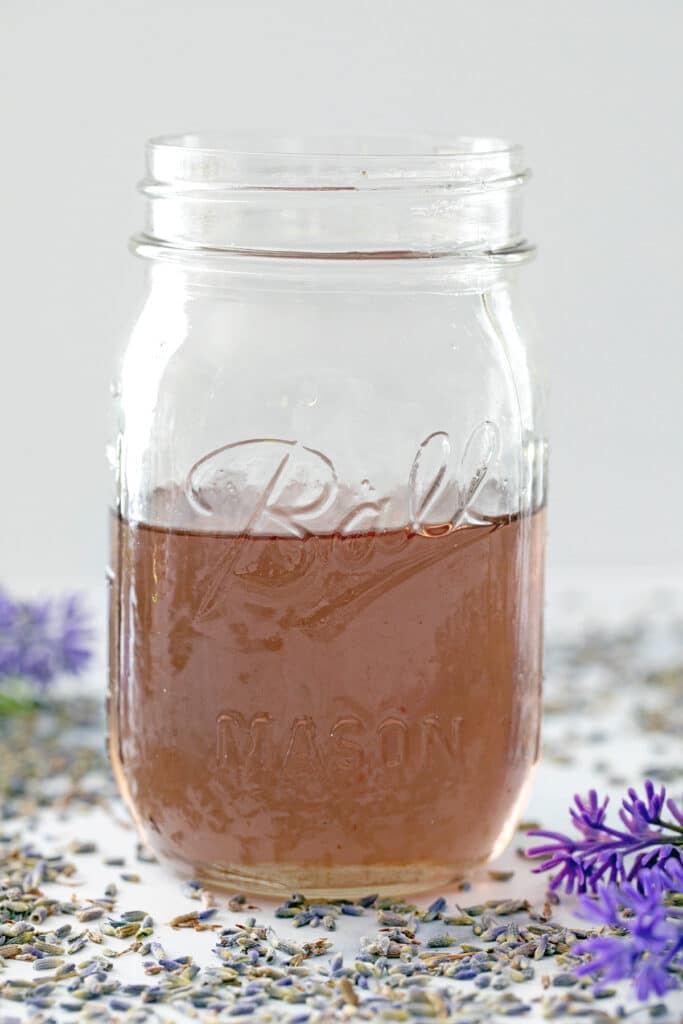 If you don't want to make your own simple syrup, you can also easily purchase it!
Some brands I recommend are Pink House Alchemy, Collins, and 1883.
Ratio of Espresso to Milk in Ice Latte
Everyone has a different preference of how they like their espresso to milk ration in an iced latte, though the traditional way to make them is with 1-2 oz. of espresso and 8-14 oz. of milk (source).
That's a little too much milk and too little coffee for me, so I adjusted to use 6 oz. espresso and 6 oz. milk. I also added in 1 oz. of the lavender simple syrup.
Funny enough after I got to my perfect ratio, I found Starbucks iced latte recipe and they use the same exact ratio!
Of course, you are welcome to use more or less espresso or more or less milk in your latte- it's all about preference!
How to Make Iced Lavender Lattes
Making an iced latte is as simple as pouring the ingredients over ice!
Fill a glass with ice (I use 15 oz. glasses) and then pour espresso in.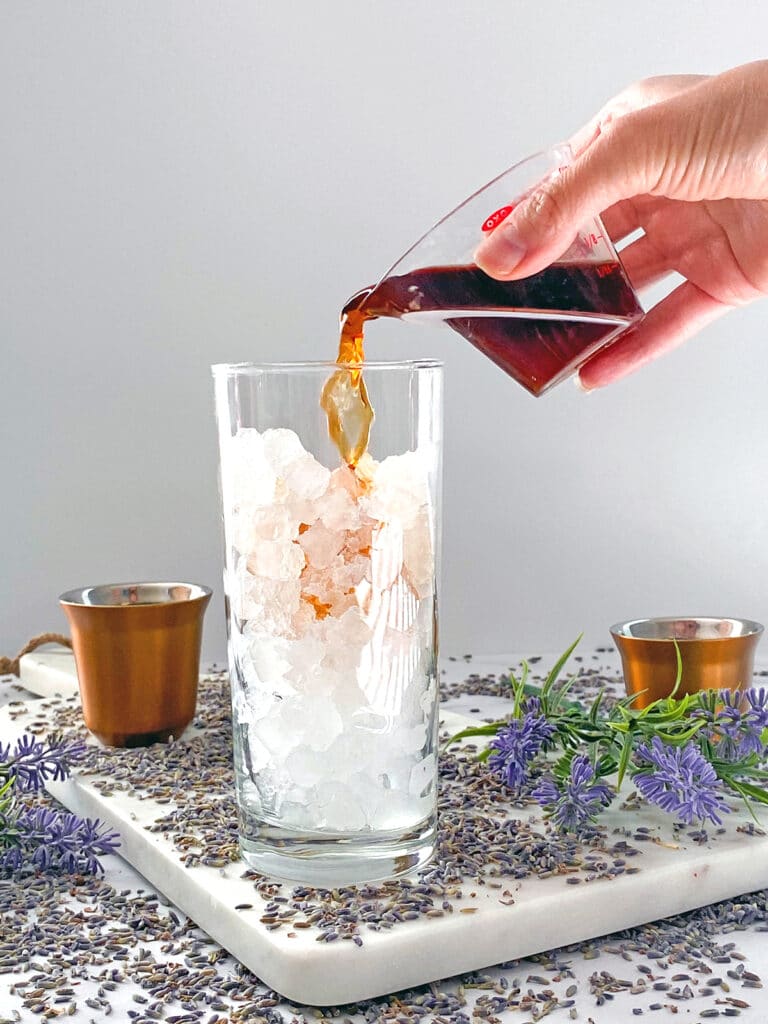 Add in the lavender simple syrup.
Followed by the milk.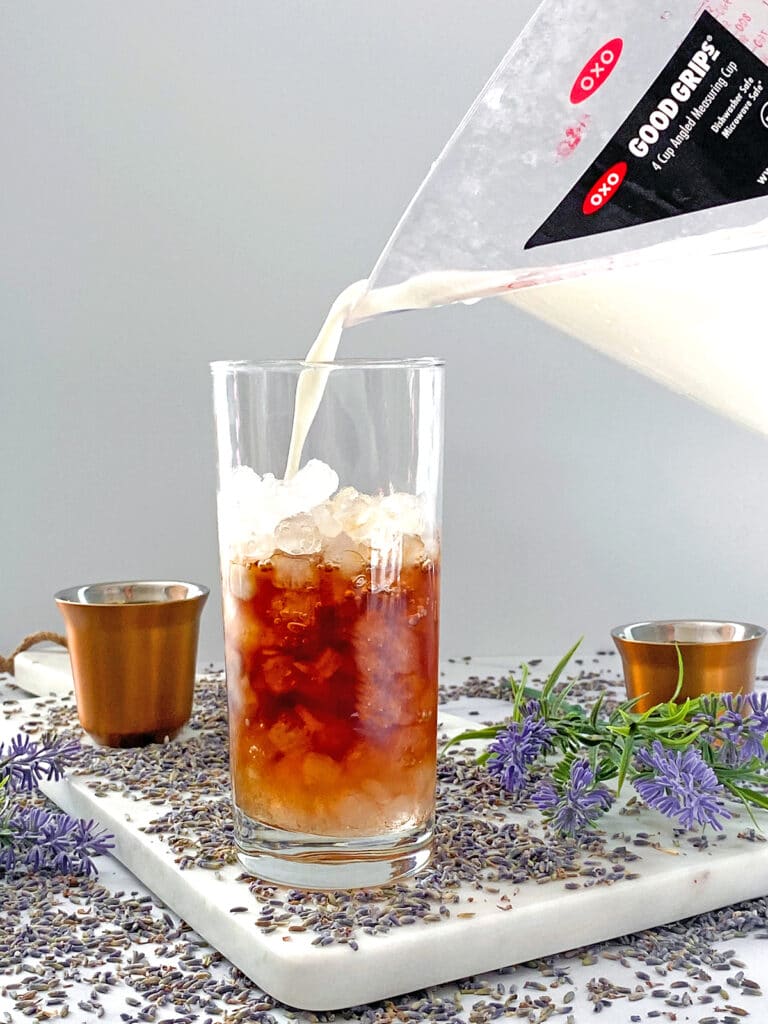 Use as much milk as you like.
In my mind, there's nothing prettier than the swirl action that takes place when you pour milk into a glass of espresso or coffee.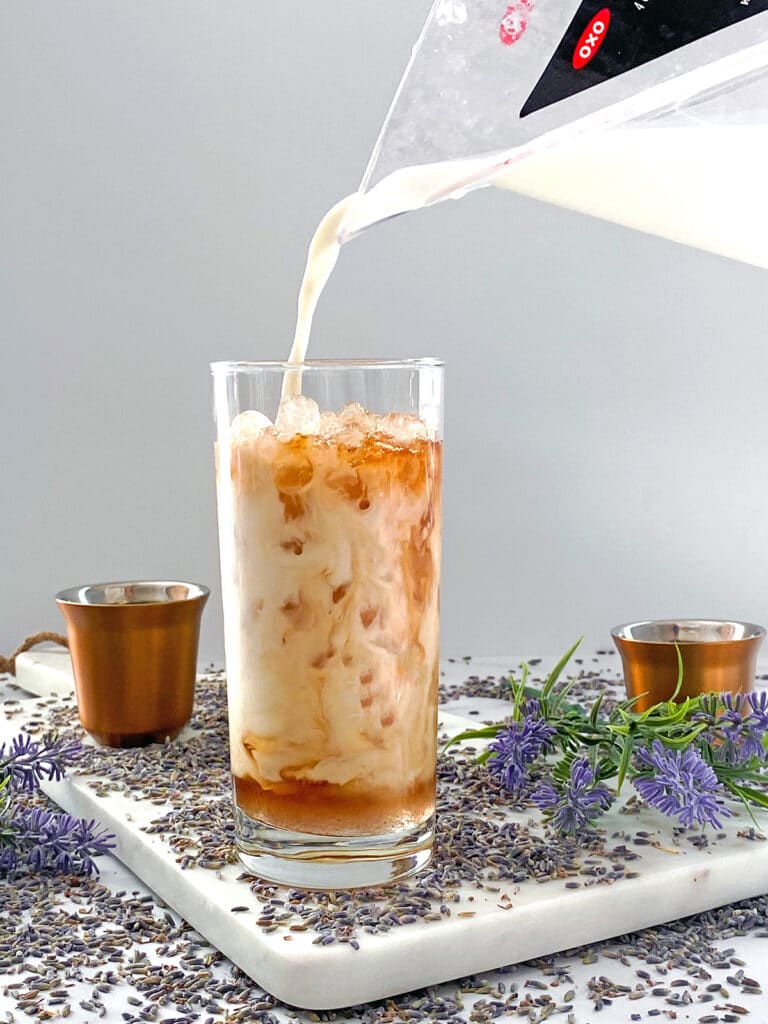 You can top your glasses with a little dried lavender if you want. I think it's pretty and it will mostly stay on the top, so you won't have to drink it.
The lavender flavor in this iced latte is seriously perfect! It's light and sweet and just slightly floral, but in a super subtle way.
My husband claims to not like "floral" drinks, but I made him an iced lavender latte without telling him what it was and he loved it!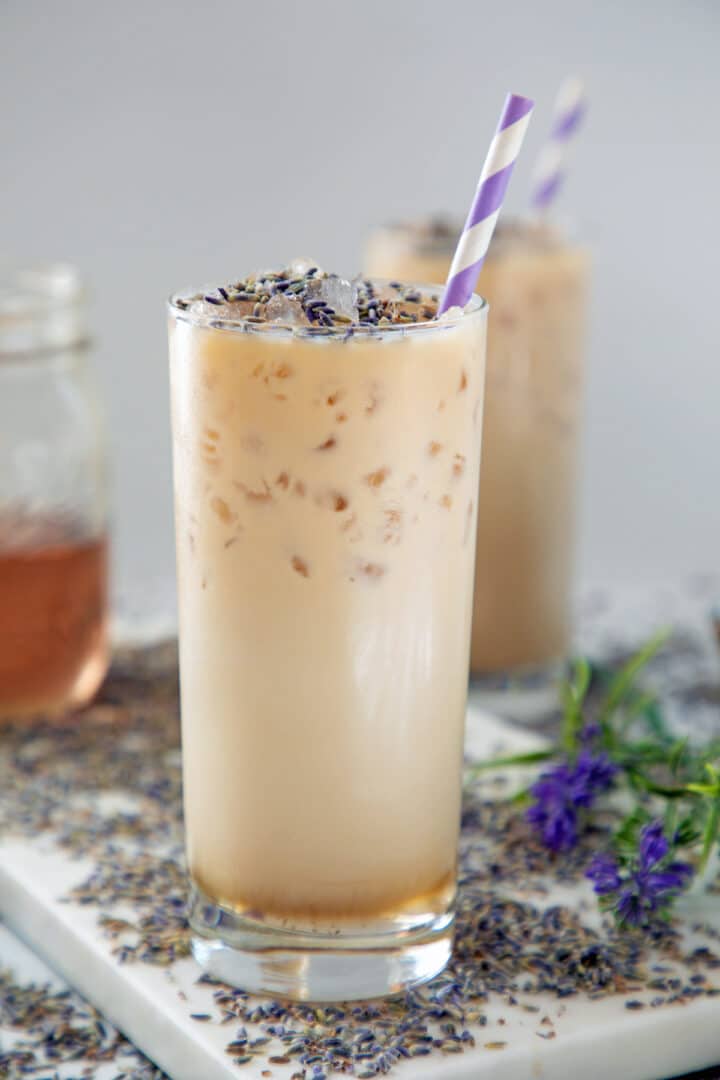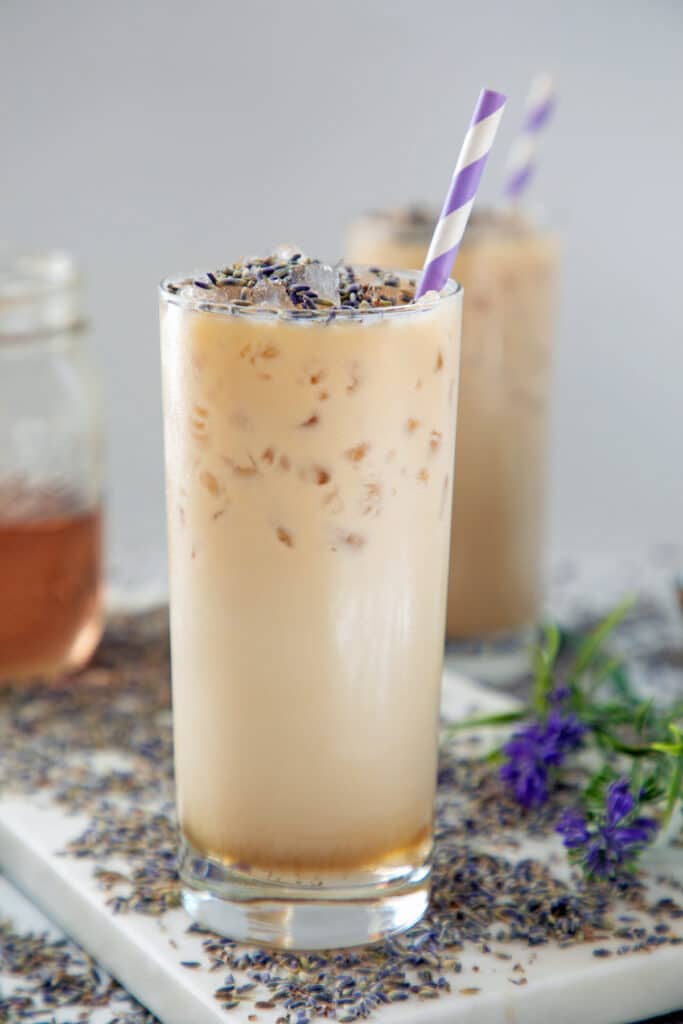 Can I Use Coffee Instead of Espresso?
Sure! I recommend using a strong coffee, but you can use any kind you want. Technically, you might have to call this an extra milky iced coffee instead of a latte, but I won't tell anyone!
Cold brew is also a great option for iced lattes since it's nice and smooth (and obviously already cold!).
Can I Use a Different Kind of Milk?
Yes! I typically use whole milk for the most latte-ish latte. But you can certainly use any % of milk or any dairy or nondairy alternative (oat milk is also a fave!).
Since the milk doesn't need to be frothed, you don't even have to worry about frothability (I have no idea if that's actually a word, but I'm going with it because I like the way it sounds).
Variations on Recipe
You probably guessed it, but you can make this iced latte in any flavor you want! So, if you're not a fan of lavender, turn this iced lavender latte into an iced vanilla latte or even an iced blueberry latte!
All you have to do is switch out the simple syrup. I have tons of simple syrup recipes on the blog or you can obviously purchase pretty much any flavor!
Some iced latte flavors I think would be delicious include: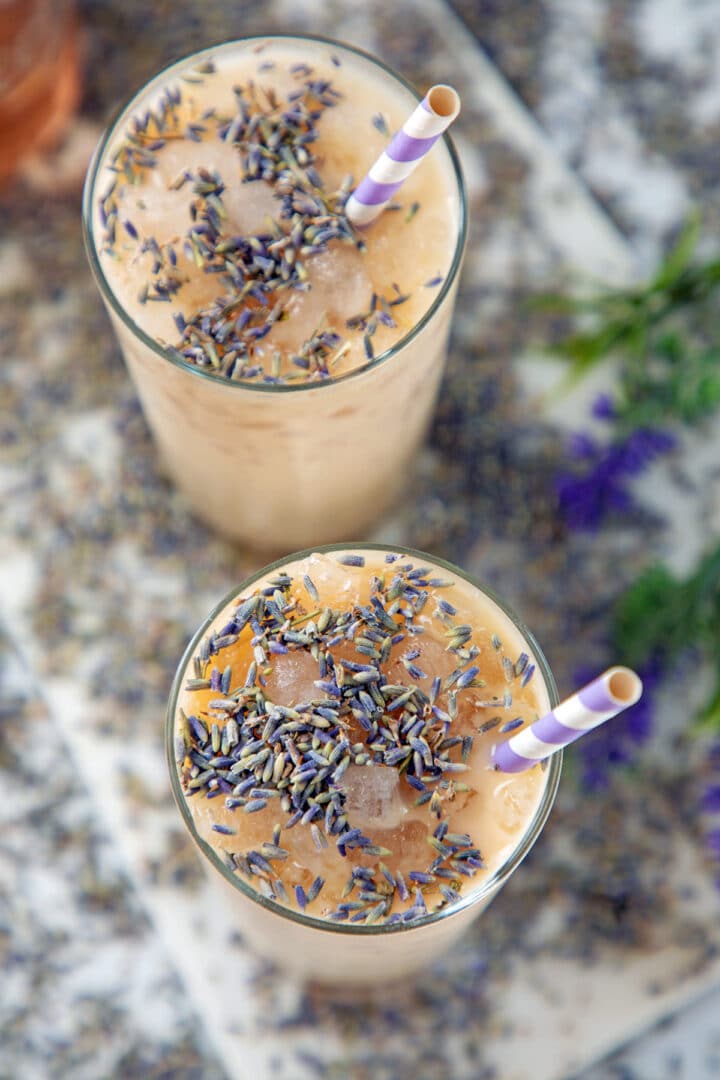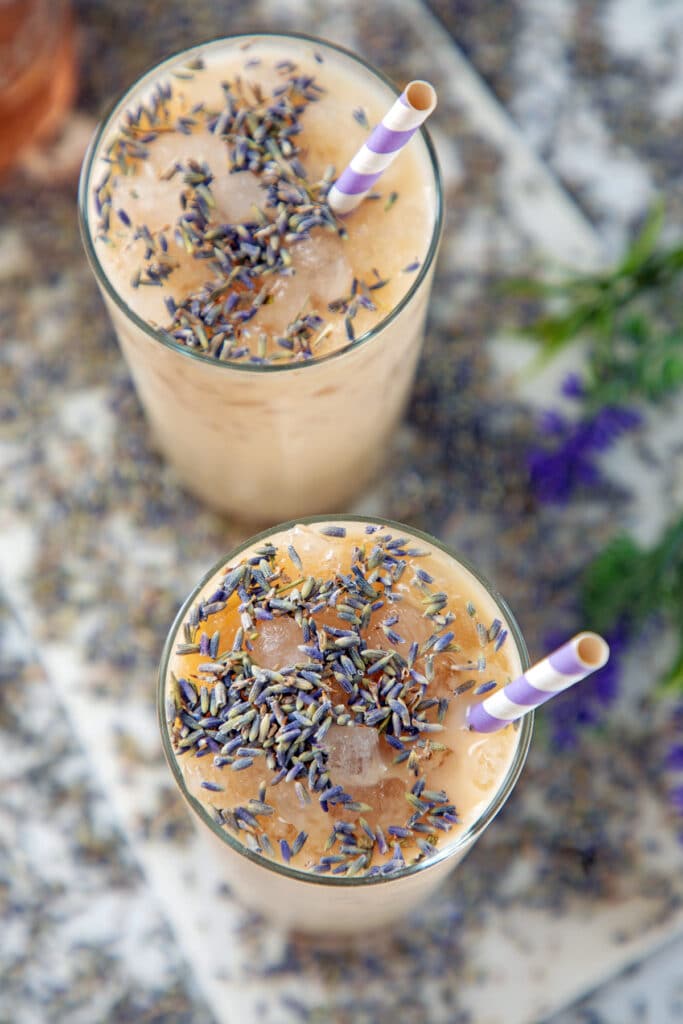 More Lavender Recipes
If you purchased dried lavender for these iced lavender lattes and are looking for more ideas for what to do with it, I've got you covered! Here are some of my favorite recipes that involve dried lavender:
Imagine a nice big iced lavender latte with a lavender cupcake on the side? That's my idea of summertime heaven!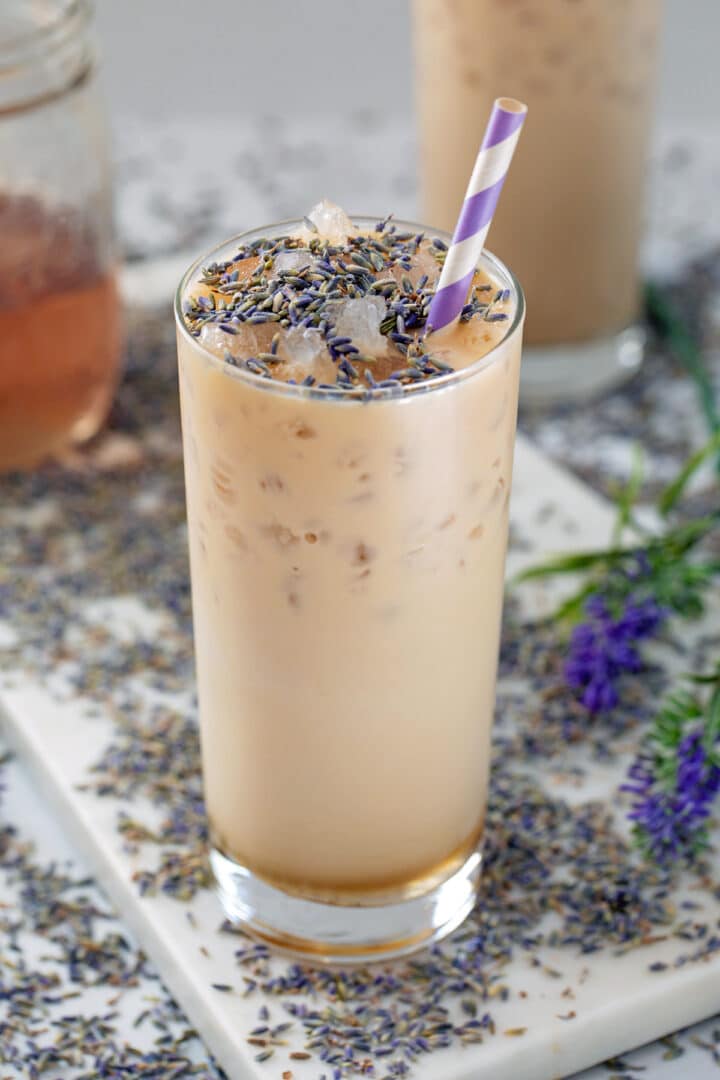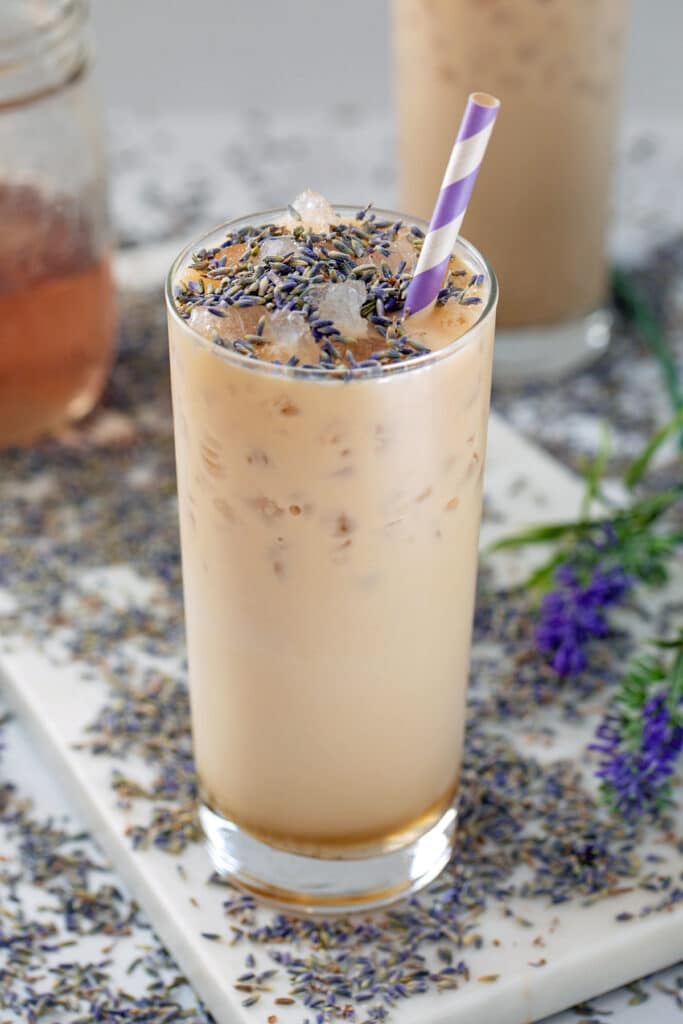 Something tells me these iced lavender lattes are going to become your new official drink of summer.
And that your friends and family will start popping by your house in the afternoons instead of waiting in the Starbucks line. You might need to start baking some scones and cookies, too.
Do you enjoy drinking iced lattes in the summer?
📖 Recipe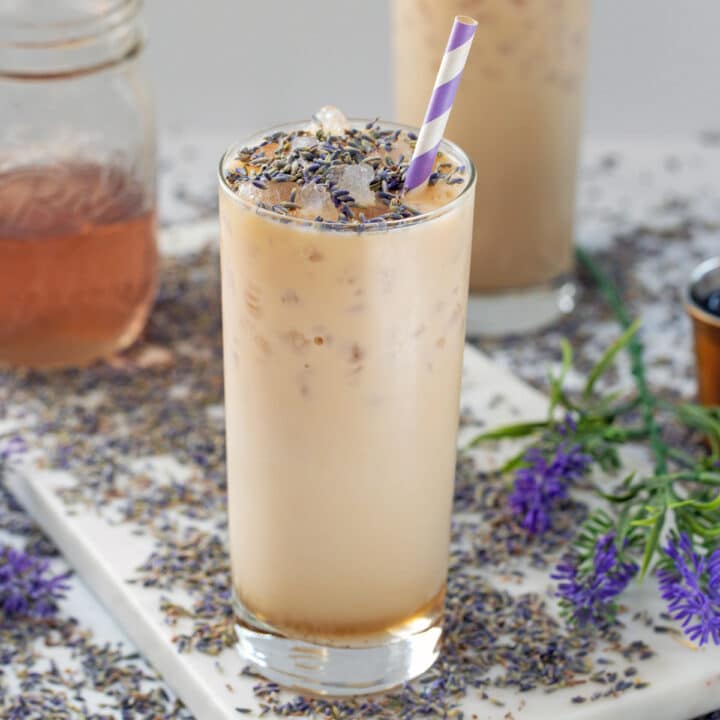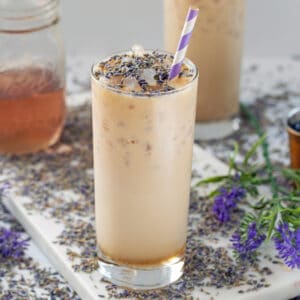 Iced Lavender Latte
Iced lattes are so easy to make at home and this Iced Lavender Latte involves just 3 ingredients. Espresso (or coffee), lavender simple syrup, and milk are poured over ice for your new favorite drink of summer!
Print
Pin
Rate
Ingredients
4

oz.

espresso

(or strongly brewed coffee)

1

oz.

lavender simple syrup (Homemade or store-bought)

6

oz.

whole milk

(or dairy or nondairy alternative of your choice)
Instructions
Fill a tall glass with ice.

Pour espresso, simple syrup, and milk into glass.

Stir, top with additional dried lavender if desired, and enjoy!
Notes
Feel free to use more or less espresso and more or less milk depending on your preferences.
Share a Photo of Your Finished Recipe!
Mention @wearenotmartha and share a photo if you've made the recipe!