Love Chinese food, but hate the way it makes you feel? This recipe for Lighter Sesame Chicken is easy to make at home and healthier than the average Chinese takeout!
(This recipe for Lighter Sesame Chicken was originally posted in August 2008, but was updated with new photos in 2019).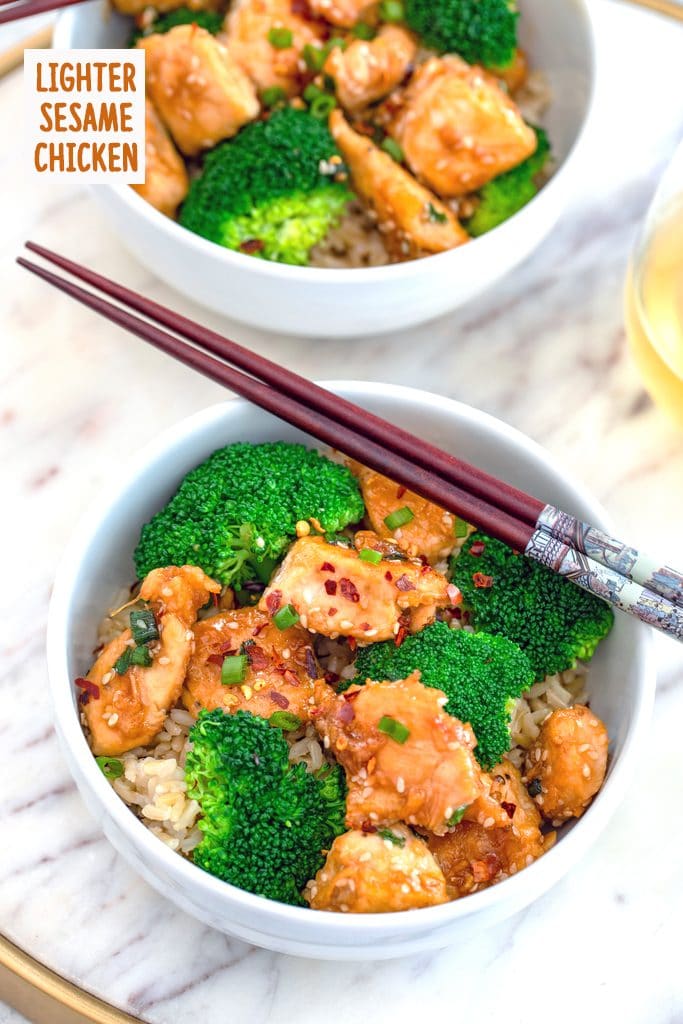 Chinese food is one of my (many) weaknesses. There's just nothing better than sitting on the couch and digging into those cartons filled with greasy goodness. Or going to the local sketchy Chinese restaurant with your friends at 1 a.m. when you leave the bars. But then, you never feel good in the morning, do you? You wake up wondering why you had to eat that last scallion pancake or shovel in that last bite of lo mein. You vow you'll never do it again. But then you do. Because it feels worth it in the moment.
I wanted something to cure my Chinese food craving without feeling the need to spend an extra few hours at the gym, so I turned to Martha Stewart. And I found a recipe for a lighter, healthier version of sesame chicken. Who doesn't love those little fried balls of chicken, dripping in sauce? Of course, Martha's version isn't deep fried, but I trusted it would at least be delicious. I made a few alterations to the original recipe, including making a lot more sauce, and ended up with a delicious sesame chicken that's so much healthier than the original!
LIGHTER SESAME CHICKEN RECIPE
Besides being healthier than the typical restaurant version, the other great thing about this homemade sesame chicken is how easy it is to prepare. You'll start by cooking your rice. And while that's cooking, you'll make the sesame chicken sauce, which consists of honey, soy sauce, sesame seeds, sesame oil, and garlic.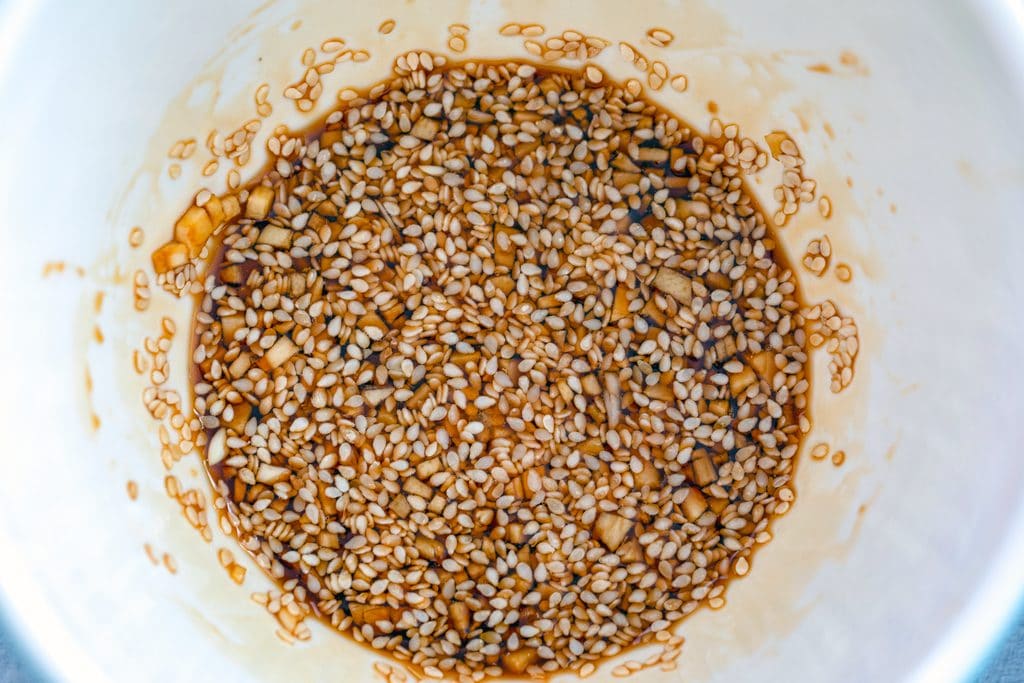 Then, in a large mixing bowl whisk together the egg whites and cornstarch and toss the chicken in it with salt and pepper. Heat vegetable oil heat in a large skillet and add chicken. Cook it for about 8 minutes, until it's nice and golden. Add in the sauce and scallions and toss the chicken to coat in the sauce.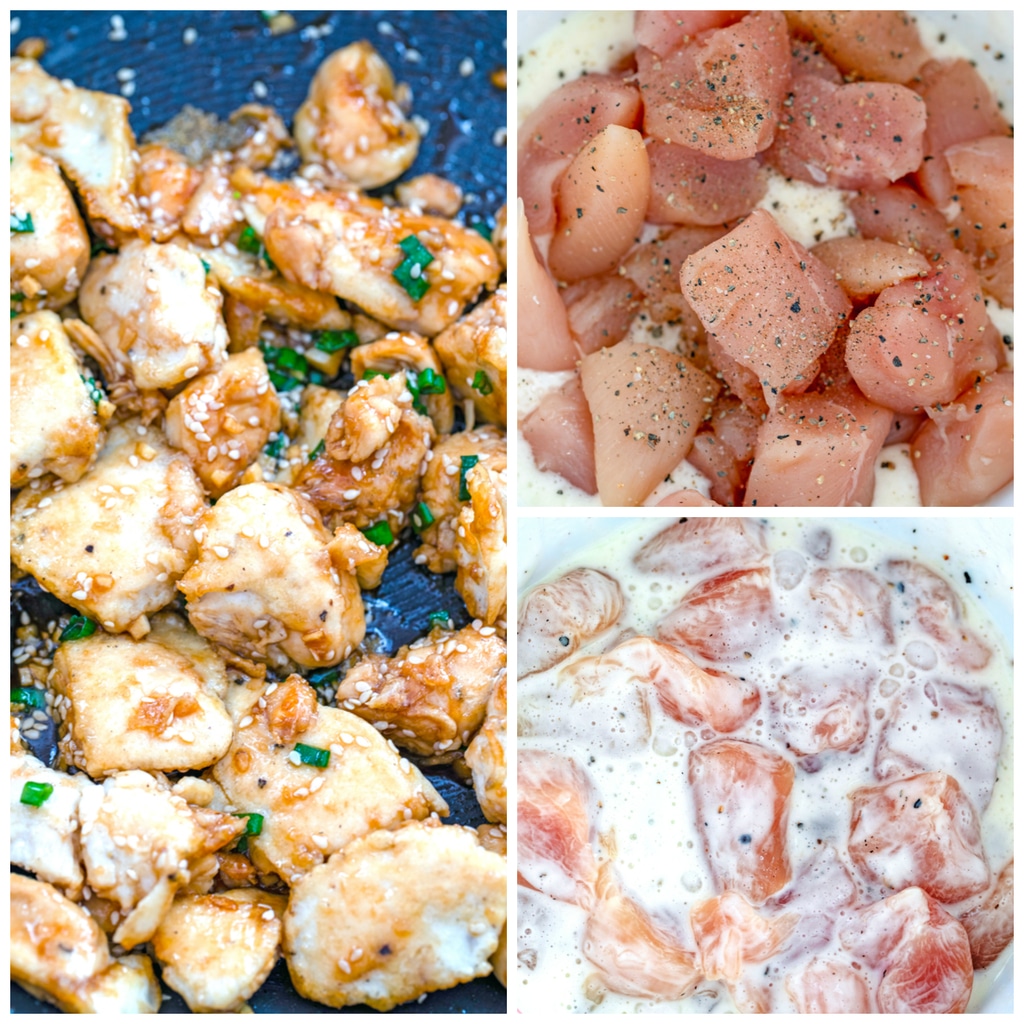 In the meantime, you'll want to cook your broccoli. I only like to put mine in boiling water for a couple minutes as I love it nice and crispy. And just like that, you're ready to put everything together and dig in. Make sure if you have any extra sauce, you drizzle it over the chicken. Also, top with red pepper flakes if you like a little kick.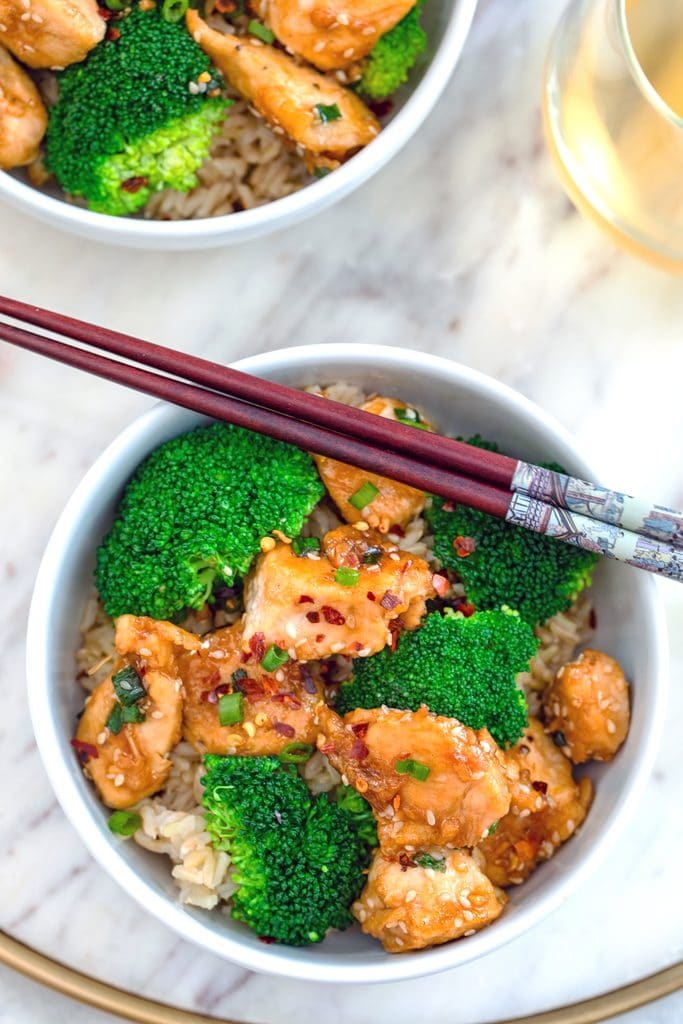 I was thrilled with this lighter version of sesame chicken! Yes, it's a lot lighter and healthier than what you get in Chinese restaurants, but I promise it's just as tasty! Maybe even tastier? It doesn't feel heavy and oily like takeout so often does. And the sauce is SO good! Like I said, I made a lot more than the original recipe called for because there's nothing better than eating up that rice with extra sauce.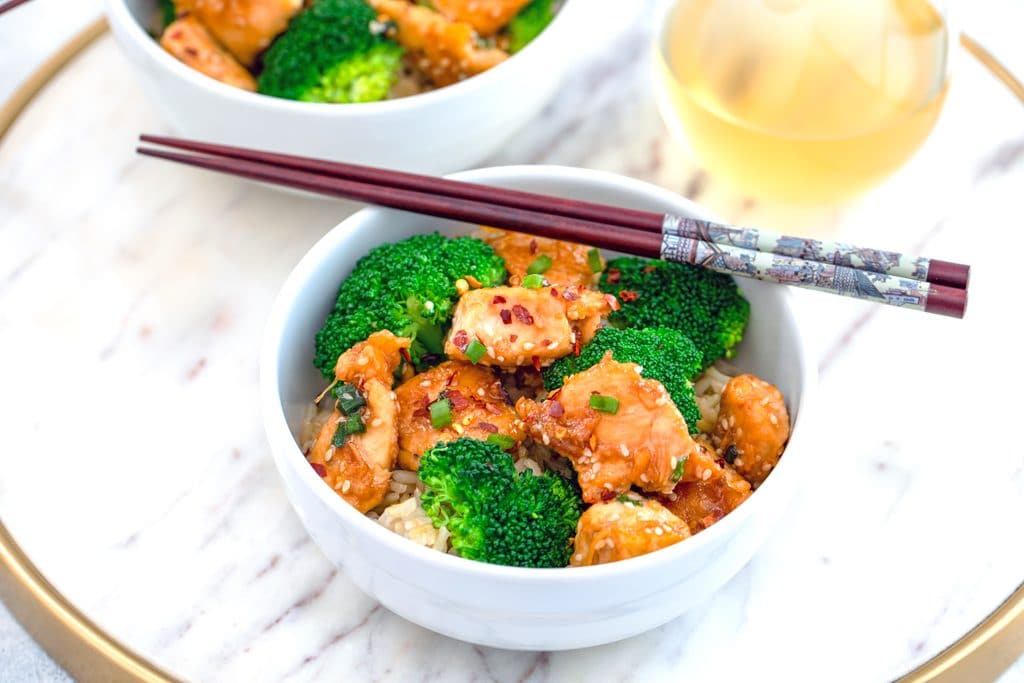 Obviously brown rice is healthier than white... And the fresh broccoli adds a bit more nutrition.
Also? I definitely use any excuse to eat with chopsticks. Especially when I'm at home since it's good practice for when I'm out in public (potentially making a fool of myself eating rice with chopsticks). Anyway, I love these pretty ones I got from Chinatown in Chicago.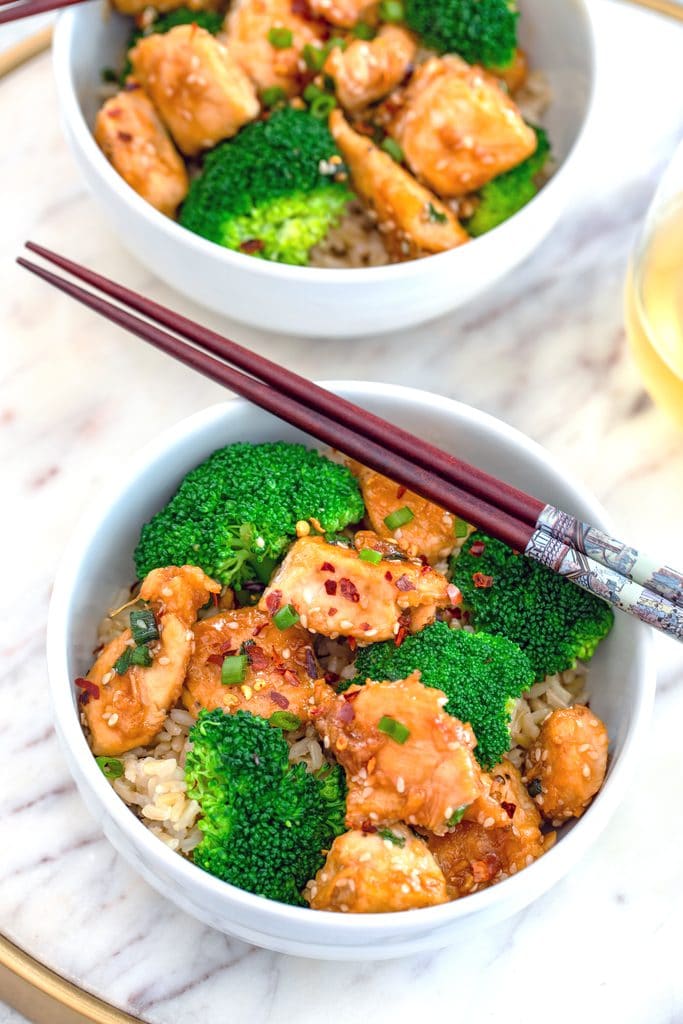 And now that I mentioned scallion pancakes, I desperately want to make my own. Dp you think there's a lighter version of those?? If I keep this up, all I'll need are those little white cartons to store it all in.

Oh and really, there is nothing better than eating this
sesame chicken
while watching the Olympics in Beijing. So you better make it fast!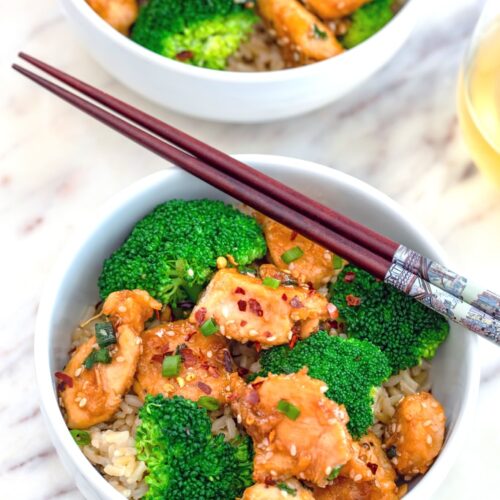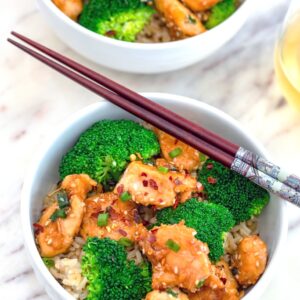 Lighter Sesame Chicken
Love Chinese food, but hate the way it makes you feel? This recipe for Lighter Sesame Chicken is easy to make at home and healthier than the average Chinese takeout!
Print
Pin
Rate
Ingredients
1

cup

brown rice

2

cups

water

1 ¾

tsp

salt,

divided

¼

cup

honey

¼

cup

soy sauce

2

Tbsp

sesame seeds

1 ½

tsp

sesame oil

2

cloves

garlic,

minced

2

large egg whites

¼

cup

cornstarch

1

lb.

boneless, skinless chicken breasts,

cut into 2-inch chunks

¼

tsp

pepper

1 ½

Tbsp

vegetable oil

4

scallions,

thinly sliced

1

head

broccoli,

cut into florets

Red pepper flakes,

for topping (optional)
Instructions
In a medium saucepan, combine rice, water, and ½ tsp salt. Let mixture come to a boil and then reduce to a simmer and cover. Let simmer until all the water has been absorbed and the rice is nice and fluffy, about 15-20 minutes.

In a small bowl, combine honey, soy sauce, sesame seeds, sesame oil and garlic and stir together.

In a large mixing bowl, whisk together egg whites and cornstarch. Add in cubed chicken ¼ tsp salt, and pepper and toss to completely coat chicken.

In a large skillet, heat vegetable oil over medium heat and add the chicken. Cook for about 8 minutes, until it's cooked through and golden.

Add the sauce and scallions to the skillet and toss to make sure the chicken is coated with the sauce.

While chicken is cooking, heat a large pot of water and remaining tsp salt until boiling. Add broccoli florets to pot and cook uncovered for 2-3 minutes until bright green and tender. Drain into a colander.

Serve chicken and broccoli over rice. Make sure to pour on any sauce left in the pan and sprinkle with red pepper flakes, if desired.
Share a Photo of Your Finished Recipe!
Mention @wearenotmartha and share a photo if you've made the recipe!