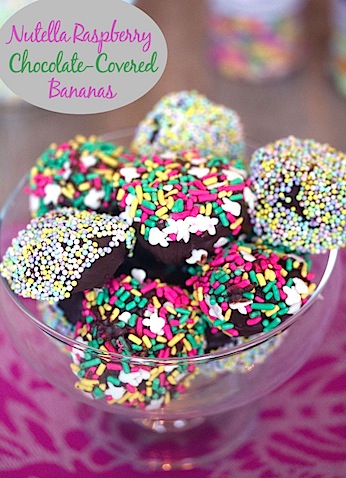 Sprinkles make everything better. Well, almost everything. I suppose they don't cure diseases or make people rich or help you find a job. I do believe, however, that they can make someone fall in love with you. Because how could you not fall in love with someone who made you treats covered in sprinkles? I guess that means you should be falling in love with me? I swear, I made these just for you.
But seriously, I want to feed the world these Nutella Raspberry Chocolate-Covered Bananas. Especially people who claim they don't like bananas. I know that I could convert every banana hater over to banana lover with these. First, I would draw them in with the sprinkles. They would not be able to resist the brightly colored, spring-themed sprinkles. Then they'd see the chocolate. And once they heard it was actually raspberry-flavored chocolate, they'd grab one of these bite-sized treats. When I tell them there's a banana underneath the raspberry chocolate, they may shudder and make a move to place the nugget back in the bowl. But then I'd just have to whisper one word. Quietly, but clearly….. Nutella. There is Nutella inside. And then said banana-hater would not be able to resist at least trying these delights… So, they'd quickly pop one in their mouth. Their eyes would get wide, they'd whimper "oh my God" and then they'd grab another. Mission accomplished. Oh and for all the banana lovers? You don't stand a chance not eating an entire batch of these. Just warning you.
Nutella Raspberry Chocolate-Covered Bananas:
Print this recipe!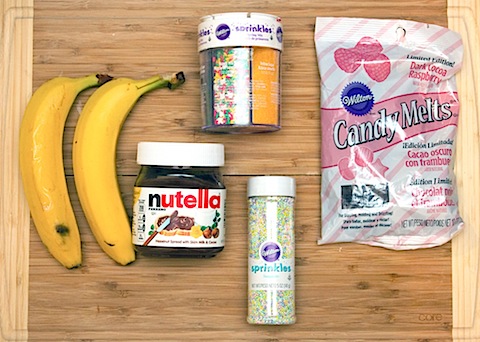 Start by slicing your bananas into 1/4-inch slices.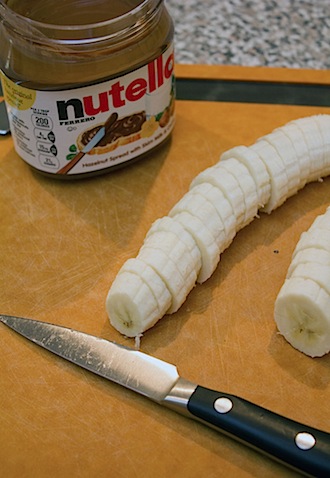 Then, make little Nutella sandwiches with them by spreading Nutella on one banana and topping with another. I recommend utilizing a toothpick to keep the two banana slices together so they don't start sliding.
Pop these babies in the freezer for about 30 minutes.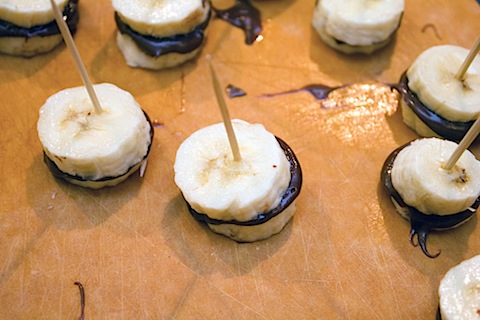 Melt your chocolate in a microwave safe bowl (side note: Wilton Candy Melts are so much easier to melt in the microwave than chocolate chips).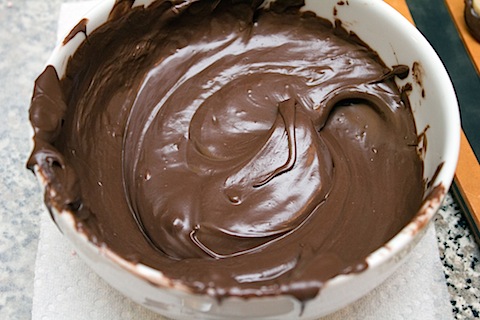 Fill a couple little bowls with your favorite sprinkles.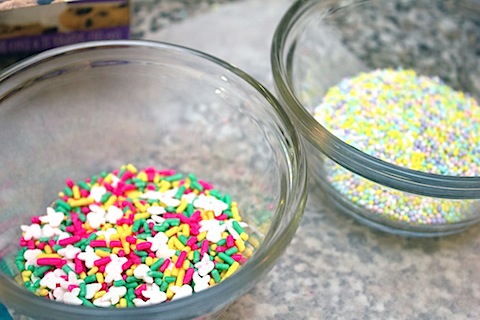 Take banana sandwiches out of the freezer and dip them completely in the chocolate. Then dip in the sprinkles.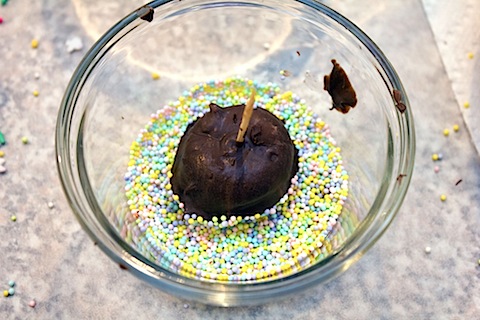 Remove the toothpick quickly as the chocolate will start to harden right away.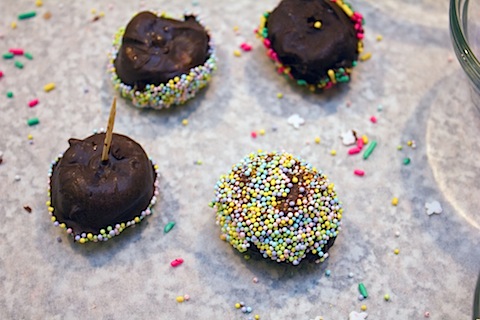 It will only take a few minutes before they're ready to be dug into! But you should keep them in the fridge if you don't devour them all right away.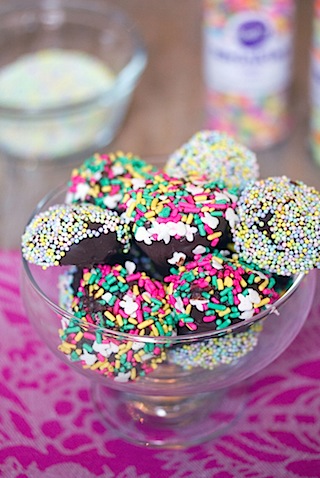 I'm telling you, there is something absolutely awesome about these that you won't even believe until you try.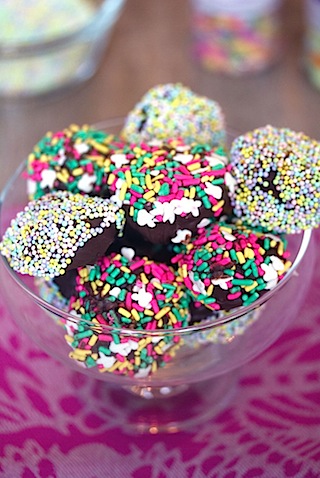 You bite into one and your teeth hit the perfectly chilled candy shell before sinking into a ridiculously flavorful banana Nutella mixture.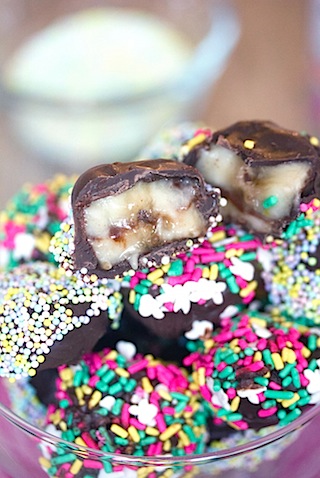 The first thing Chris said when he tried one was "Whoa, even Adam would love these." Adam is my brother-in-law and he doesn't like bananas. I'm probably going to force him to try one of these.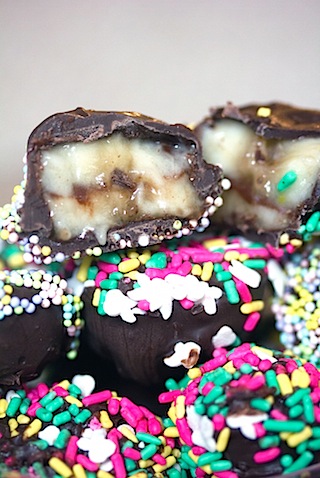 I ate a million of these and now I want to make a million more and keep them in my freezer for eternity. OK, so I'm not quite sure how long they would last in there, but I'm willing to try. And I'll admit I kept these in the fridge for a week and kept eating them and they were still perfectly delicious.
Did you notice that some of the sprinkles have adorable little bunnies in the mix? Obsessed.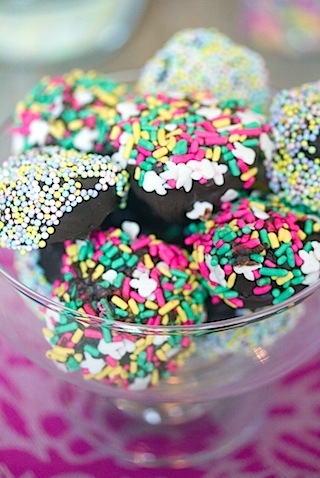 Give me sprinkles or give me… Well, I don't think there really is anything comparable to sprinkles. Actually, on that note, would you be mad at me if I posted about sprinkles again tomorrow? And then talked about them all day long on Twitter? Because I'm actually headed to Sweet Up at Wilton's Headquarters tonight and tomorrow! I'm crazy excited to meet the other Treat Team bloggers, to get my dessert decorating on, and to be a part of the media event that gives a sneak peek of Wilton's new products and more.
If you're interested in tuning in to the big event, it will be live streaming on YouTube from 1:00-2:30, so you can be a part of it, too! Wilton has always been very near the top of my list of brands that I respect and use most often, so I can't get over the fact that I'm actually going to their headquarters. I just feel so, so lucky!
True or false: Sprinkles make life a little bit happier?
[Sues]
Whole Grain Sampling Day Giveaway Winner!
I also want to announce the winner of my Whole Grain Sampling Day giveaway. Congratulations to Lauren B. who said, "Making banana bread with whole wheat flour is the way to go! with dark chocolate chips. Best snack or breakfast ever." I will contact you today, so you can get your box of whole grain delights!


Full disclosure: I used products that Wilton sent me in this recipe, but was not required to write a post. All opinions are 100% my own and I've always been an avid user of Wilton products!