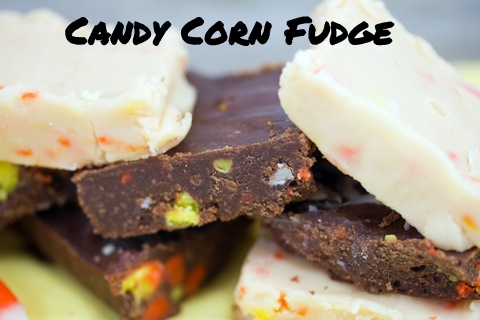 It's that time of year again! Candy corn time. It's so fleeting. And that's a very good thing. I make one candy corn recipe a year and then I retire from the orange and yellow goodness until next year. It's the only way I can handle it year after year without shunning it forever. Everything in moderation is true of most things, but nothing more than candy corn. Although this recipe certainly does not follow any moderation when it comes to sugar. But as candy corn only coms into my life once a year, I say indulge!
In case you're a newer reader or you need a little refresher, last year I made a candy corn martini: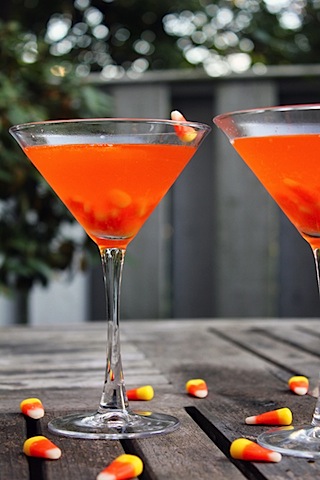 And the year before that was candy corn ice cream: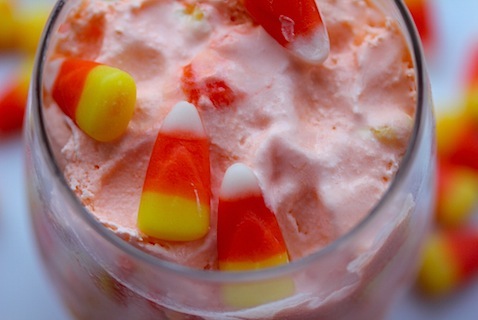 This year, I plotted on how I could smush even more sugar into candy corn and landed on the idea for candy corn fudge. Perhaps this was my attempt to really do myself in and stop myself from ever buying a bag of candy corn again. Verdict? It didn't work. But I am pretty much all set with it for the season. And I may possibly be all set with sugar for quite a while, too. Hmmm.
I made two different versions of this candy corn fudge. I started with a white chocolate one, which may well have been the sugariest treat I've ever encountered. Then I made a dark chocolate one, which was a little more mellow.
Candy Corn White Chocolate Fudge (makes about 16 pieces of fudge):
Print this recipe!
2 C sugar
4 oz. white chocolate (or dark chocolate)
3 T butter, plus more for greasing pan
1 C half-and-half
1 T corn syrup
1 C chopped candy corn
You can add vanilla, too, like I have pictured above. I was going to add it, but then I figured there was sweet flavor enough.
Now, making fudge requires a great deal of patience and perhaps some practice, too. It doesn't always turn out and sometimes it kind of sort of turns out. Just make sure to follow the temperature instructions as closely as possible and you should be good to go.
Start by putting sugar, chocolate, 1 1/2 T butter, half-and-half and corn syrup in a heavy bottom saucepan.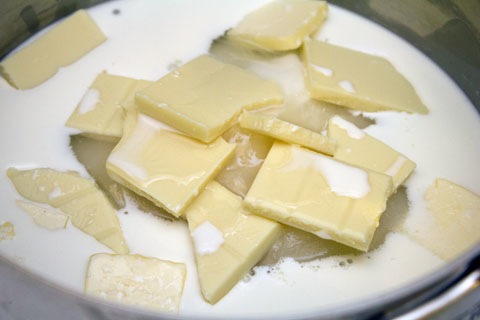 Cook over medium heat, stirring all the while, until the sugar is completely dissolved.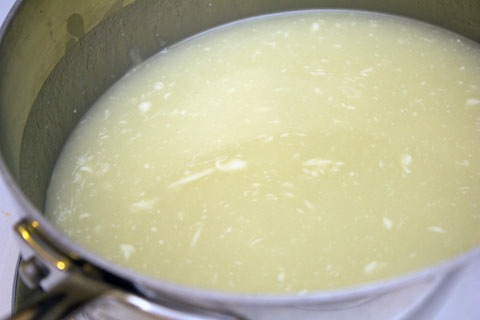 Once the sugar is dissolved, turn heat up and bring to a boil. When mixture is boiling, cover saucepan, lower heat to medium-low, and let sit for three minutes.
Then remove the cover and using a candy thermometer, cook until mixture reaches the soft ball stage at 234 degrees.
I used two candy thermometers because each was telling me something different and it was freaking me out. I eventually added a third (I know; I'm crazy) and think I determined the problem child thermometer, but am sad to say it's my favorite candy thermometer ever and I'm having trouble coming to terms with it. Life. It's hard.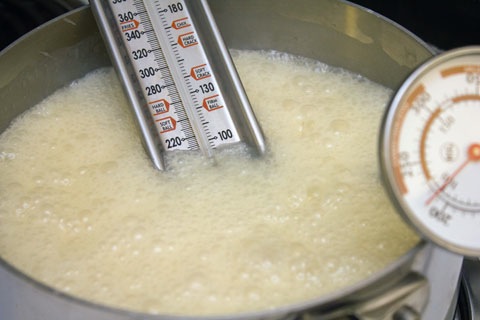 Oh, look. My mixture is at 234 degrees… If you're not lying to me, Mr. candy thermometer.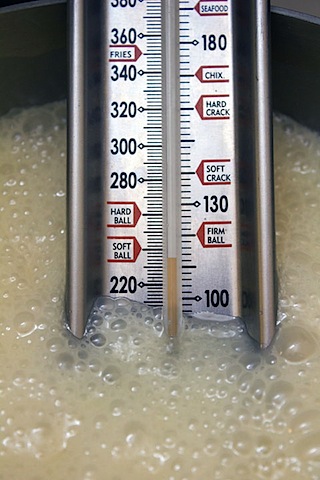 At this point, turn the heat off and add the remaining 1 1/2 T butter to the mixture. Be sure not to move saucepan or shake it in any way. You will now wait for the mixture to lower its temperature to 110 degrees.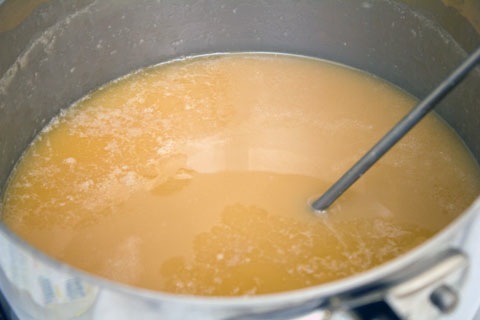 This will likely take a while. It too my mixture about 45 minutes. My candy turned kind of brownish too, which I was a little disappointed in because I wanted a bright white fudge with candy corns peeking through. Oh well. In the end, it was a more pure white anyhow.
Oh look, it's 110 degrees!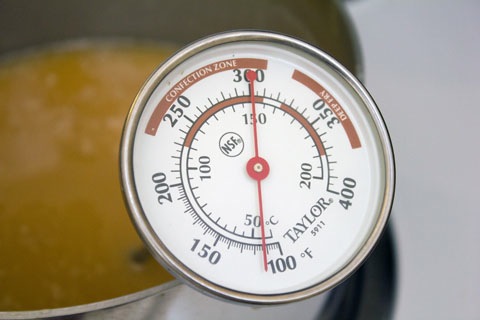 While you're mixture is cooling, make sure your candy corn is all chopped up.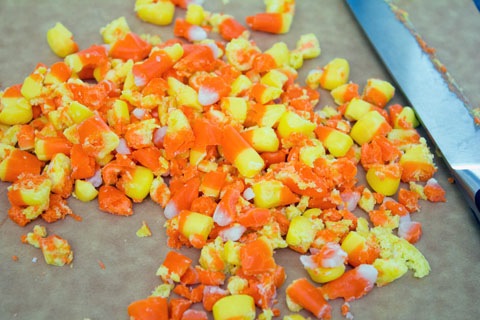 And when your mixture is at 110 degrees, being stirring vigorously with a wooden spoon. Stir until the mixture loses its shininess and takes on a matte look instead. Once this happens, quickly stir in candy corn.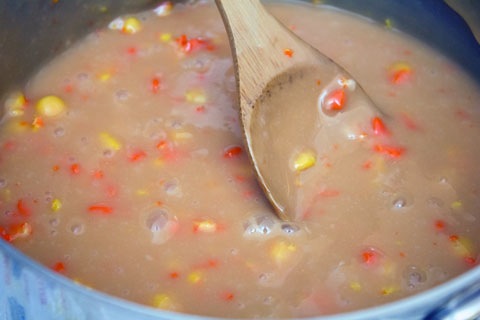 And pour into a greased 8×8 pan. You could also grease parchment paper fitted into the pan and pout your mixture over the parchment paper. In my opinion, that makes for a bit of an easier time cutting the fudge.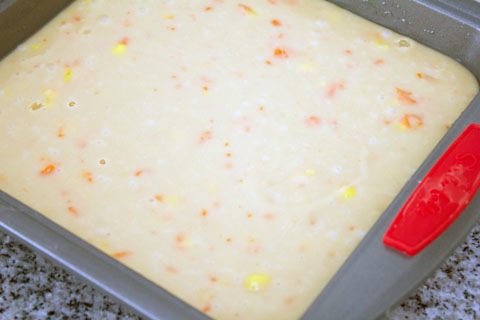 You must let your fudge set now. This can take anywhere from 15 minutes to an hour or two. I say the longer the better before cutting in.
I then repeated the whole process with dark chocolate because I wanted to try both. This time I used the darkest chocolate I had; Ghirardelli's 86% cacao.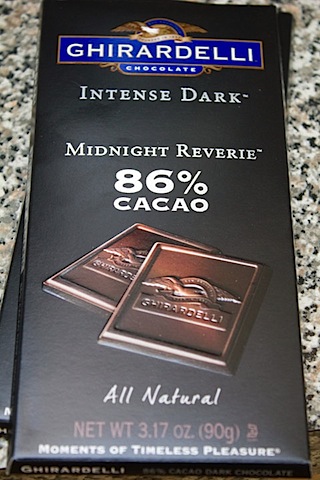 And then I cut both fudges into squares.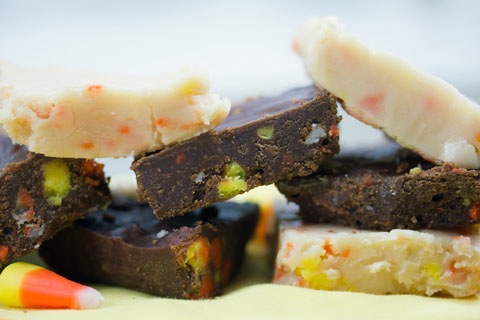 And began the quest to determine which one I liked better. Tough one!!
The white chocolate was super duper sweet. Like almost a little too sweet for me. The dark chocolate one was a lot less sugar-heavy and was super rich instead. It actually tasted like a brownie.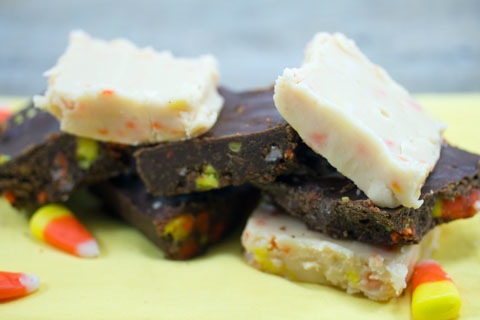 It's all about what you like. But we are putting candy corn into this fudge, so I don't think we have the right to really complain about too much sweetness. That's a whole part of the game.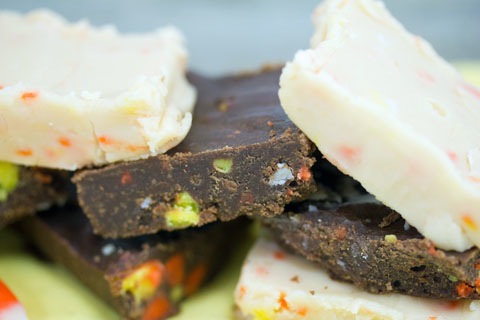 Do you prefer white chocolate or dark chocolate fudge?
And with that, I say, hasta luegeo candy corn! I'll see you next year! I'm already starting to plot and plan my 2013 recipe.
Recent Giveaway Winners!
I'm excited to announce the winners of both the Ninja Cooking System and the Müller Yogurt coupons!
The Ninja Cooking System winner is Shannon (Shan55)!
The Müller Yogurt coupon winner is Judith (jfglitter)! Congratulations! I will be emailing you both shortly, so we can send out your prizes.
[Sues]