Hello! I'm Chelsee and I'm on an organization kick! Can't stop, won't stop 😉
If you remember this photo from my office organization post a couple weeks ago, you'll remember that I said I have a fun little project coming up soon!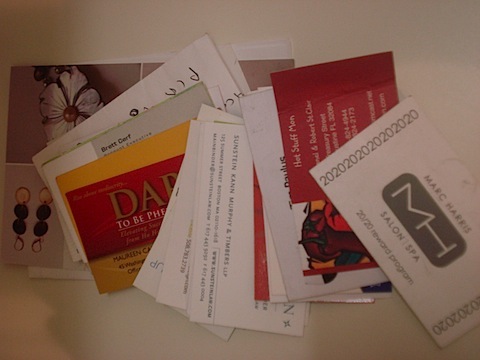 Well, I was recently sent a NeatReceipts mobile scanner and digital filing system!!!! Yes, I'm a geek because when the PR company approached me and asked if I'd be interested in owning one I was overly giddy! I'm talking insane exclamation points were involved. I have an intense relationship with anything sold in an office supply store. I mean, I did spend most of high school and college loyally working for Staples. And not to mention one of my most favorite times of year, over my own birthday and some major holidays, was back to school time... for the new supplies, not sitting in class actually learning useful information. And then there are extreme emotions involved when the topic of electronic gadgets for my computer are brought up. You can only imagine.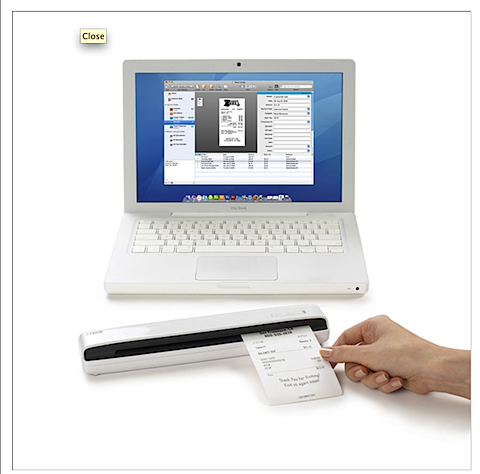 (source)
The past few times I've gone to my doctor's office I've noticed the receptionist at the desk always scans patient's insurance cards in through this small narrow scanner. Although I had no immediate need to scan insurance cards, I was obviously jealous because hello, Staples probably carries them. And to be completely honest, I really didn't even know what the machine was capable of beyond scanning cards. So when I was asked if I wanted the NeatReceipts scanner in my life, I did a little research to see what else it did. Here's what I found:
• Identifies and extracts the important information from receipts, business cards, and documents and digitally organizes them
• Scans receipts to create expense reports
• Maintains records for vendors, dates, totals, and sales tax
• Allows you to assign categories to each receipt and save digital copies for tax documentation
• Captures contact information from business cards
• Saves the actual image of the business card with each contact
• Sends contacts to your address book
• Syncs contacts to a cell phone
• Capable of creating searchable PDF files and capturing text so you can edit it.
You simply insert paper items in the scanner, hit scan, and the machine gently pulls the item through. You can also select the scan to be read as full color or black and white. Once I started playing around with the scanner, I created separate folders for Blog Contacts, Restaurant Contacts, and Networking Contacts. As a blogger I've received a ton of business cards from other bloggers, restaurants in my travels, and at networking events. I figured this would be the perfect tool to keep an electronic file of all of them, plus it makes it so much easier since everyone's email addresses and urls will be stored electronically in one place! As I continue to scan my heaping piles of business cards I'll probably find I need to create additional and even more specific categories.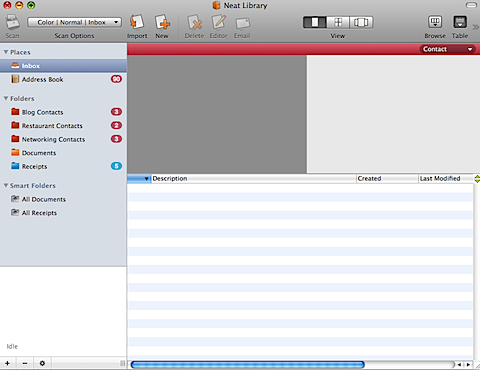 Below is a view of the software once a receipt is scanned in. The software recognizes off of the receipt the store name (vendor), date, purchase amount, payment type, and sales tax. You can then categorize each receipt, whether it be a personal travel expense, business expense, a dinner, or anything in between. It's a great and simple way to keep track of your finances while saying "so long, farewell, auf wiedersehen, goodbye" to all the paper clutter!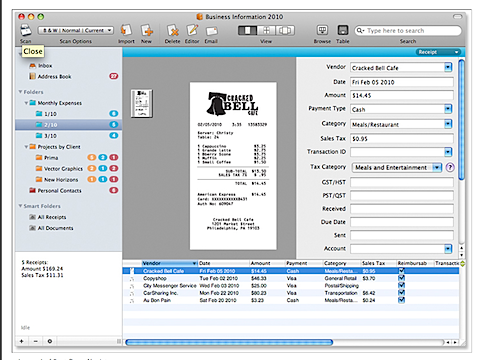 (source)
I've been pretty impressed with my new scanner so far... it's the perfect tool to simplify and differentiate between my design and art expenses, blog related materials, and personal expenses. And with it's compact size it fits comfortably on most every desk. And it weighs 10.6 ounces so it's extremely easy to travel with if you needed!
Giveaway
(source)
This giveaway is BIG. B-I-G! The NeatReceipts Mobile Scanner and Digital Filing System is valued at $199.95 so this is a real deal expensive giveaway! We're not messing around 😉
Included in the box:
• NeatReceipts Mobile Scanner
• Software CD
• USB Cable
• Scanner calibration and cleaning paper
• Protective travel sleeve
• Quick Start Guide
Leave a comment on this post by Tuesday 8/10/2010 at 11:59PM EST sharing with us how you currently store your business cards and receipts... IF you even store them! I know I definitely did NOT before I got this machine! We'll announce a winner next week! GOOD luck, friends!
For other Neat products and updates, visit their website and visit them on twitter.
[Chels]