This homemade peach juice is a simple and refreshing way to enjoy the flavor of summer's favorite fruit! With just a few ripe peaches and three other basic ingredients, you can have a glass of fresh juice in no time at all.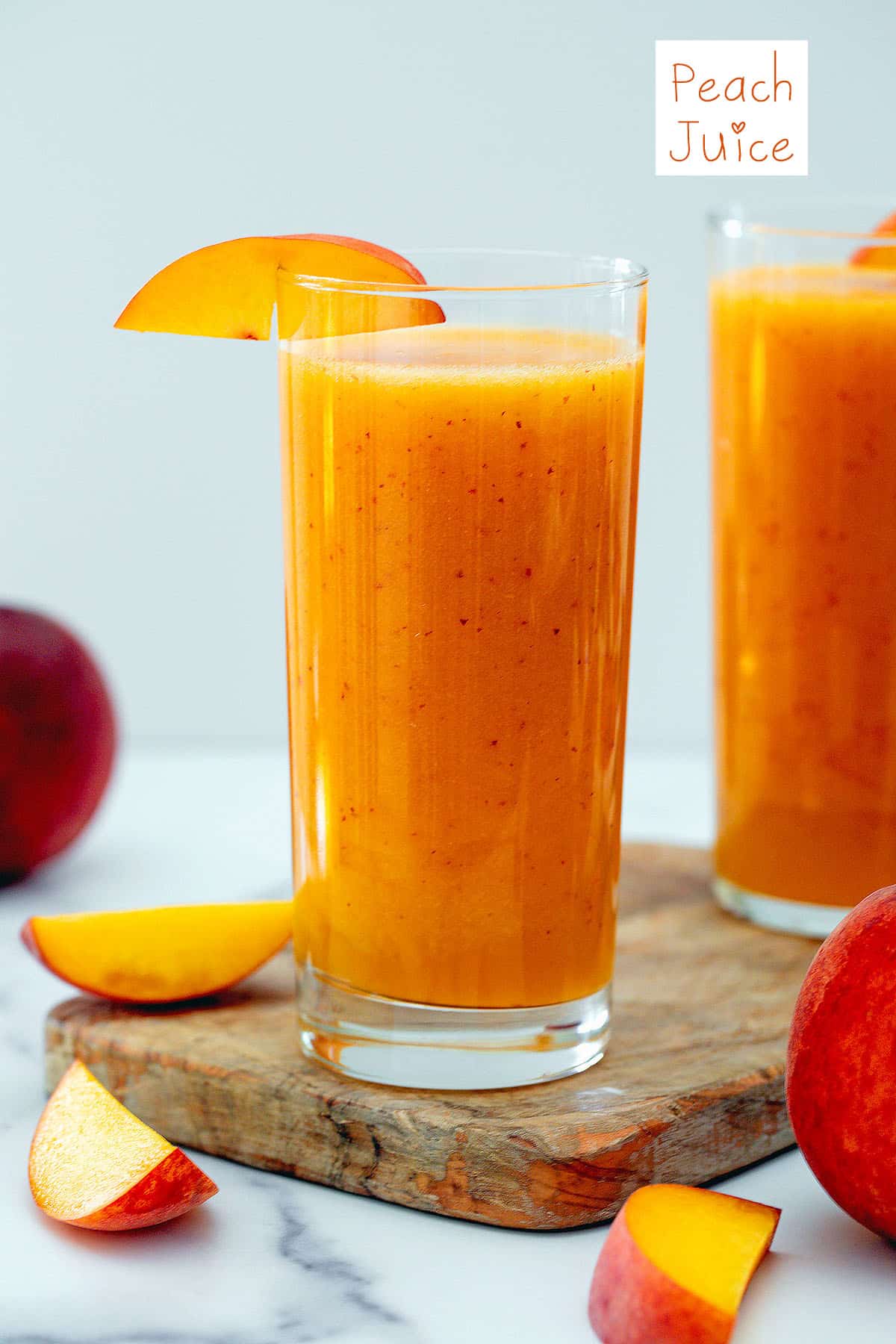 Jump to:
Raise your hand if you agree with me that peach juice is the most underrated of the fruit juices.
Everywhere you go, you can order orange juice, apple juice, pineapple juice, and even prune juice, for goodness sake. But peach juice? It's rare that you'll see it on a menu anywhere. Unless, of course, you're frequenting Starbucks, but even there, it's out of stock half the time you want it.
Though you can sometimes find a couple varieties in a big grocery store, you won't see it nearly as often as other juice flavors.
It could be because peaches are generally super seasonal, more expensive, and more difficult to transport than many other fruits. Or it could just be because peach juice hasn't yet become ubiquitous with American culture like orange juice and apple juice are.
Whatever the case, I'm in on a mission to make fresh peach juice as popular as other juice, starting with these easy recipe.
❤️ Why you'll love this recipe
If you're a fan of fresh summer peaches, you're going to love them in juice form! This peach juice is so easy to make at home with just a few ingredients. And it's very easy to adjust to your own personal tastes in terms of sweetness and flavor.
Whether you want to have a glass of fresh peach juice with your morning breakfast or you like the idea of adding it to various drink recipes like Starbucks does (you can use it in this Peach Green Tea Lemonade!), you'll want to make a batch of this any time you have some extra peaches on hand!
🗒 Ingredients
Like I mentioned, you only need a few ingredients to make this simple peach juice. Though, of course, there are lots of additions you can make to jazz it up... I offer some fun variations below!
Here is everything required (be sure to check out the recipe card at the bottom of this post for ingredient amounts and full recipe instructions):
Fresh peaches: You can use any variety of peach you want for this juice as long as they're riper and juice. I like to use yellow peaches for the color. You can use white peaches if you don't care about the bright vibrant color.
Lemon juice: Since peaches brown just like apples do, I recommend using a little lemon juice to prevent this. It also adds a nice burst of citrus.
Honey, agave, or maple syrup: Peaches vary so much in terms of sweetness, so how much sweetener you use will largely depend on your peaches and how sweet you want your juice.
Water: Your peach puree will be quite thick, so you'll want to thin it out with water to turn it into more of a juice.
I recommend using a blender for this juice, but I also have a few other options below if you won't have a blender. I've had a lot of blenders over the years (including a Vitamix) and this is my favorite blender, especially for the price (I received this blender for free, but wasn't asked to promote it and highly, highly recommend it!)
❓ Peeled or unpeeled?
You will certainly find different schools of thoughts on this, but I personally choose to keep the skins on my peaches when I use them in juice.
Not only does the peel contain a lot of healthy fiber, but I think peaches are a pain to peel and leaving the skin on makes this recipe incredibly quick and easy.
The skin will make your juice a bit thicker, but I do recommend putting it through a strainer to thin it out a bit.
You just have to be sure to clean your fresh peaches really well before slicing them!
If you do choose to remove the skin, here is a helpful guide for peeling peaches.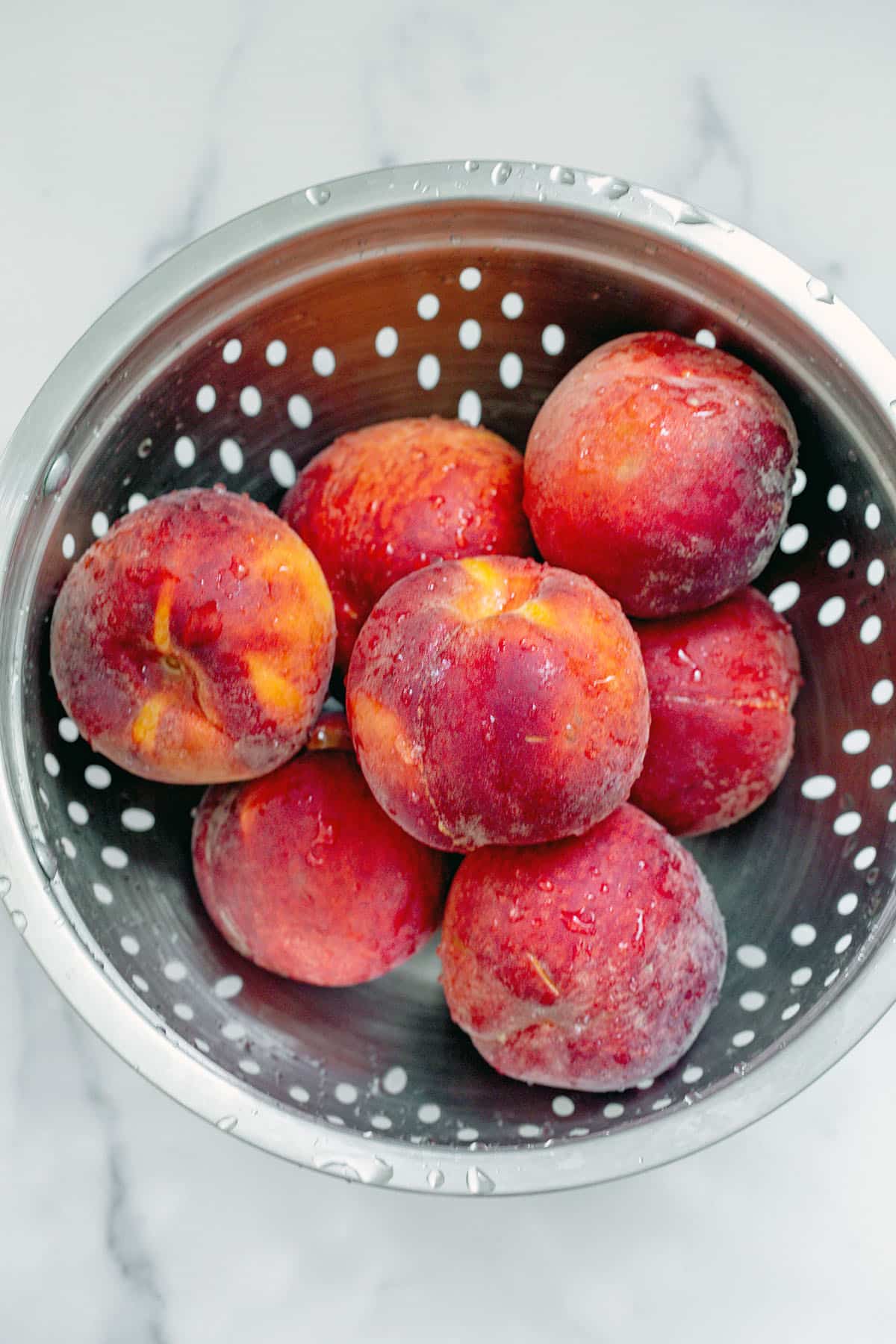 For this recipe, you need approximately 2 pounds of peaches, which is about 4 large peaches. However, it's easy to double this recipe or to adjust it to how many peaches you have on hand.
So much of this recipe is dependent on your peaches (how big they are, how ripe they are, how sweet they are, etc.), so as long as you have the ingredients and process down, you can easily adjust the amounts of each ingredient.
🍑 How to make peach juice
This homemade peach juice should only take you about 10 minutes to make! You really just need to puree the peaches with lemon juice and then add water and sweetener until it tastes good with the consistency you like.
Once your peaches are cleaned really well and dried, cut them into slices.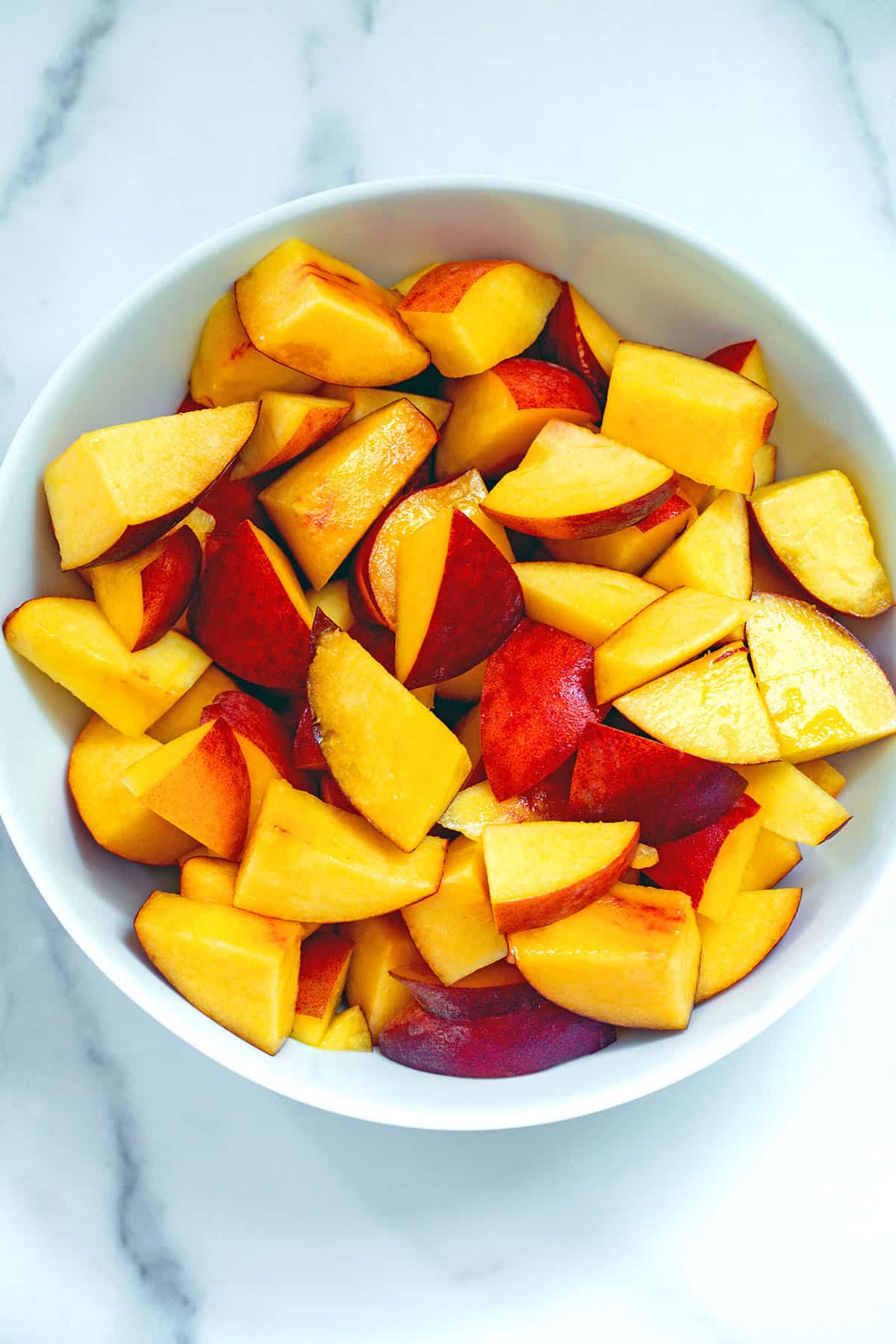 Put them into your blender along with some lemon juice. I do recommend using lemon juice to help prevent your peaches from browning and also for adding a nice zing of brightness.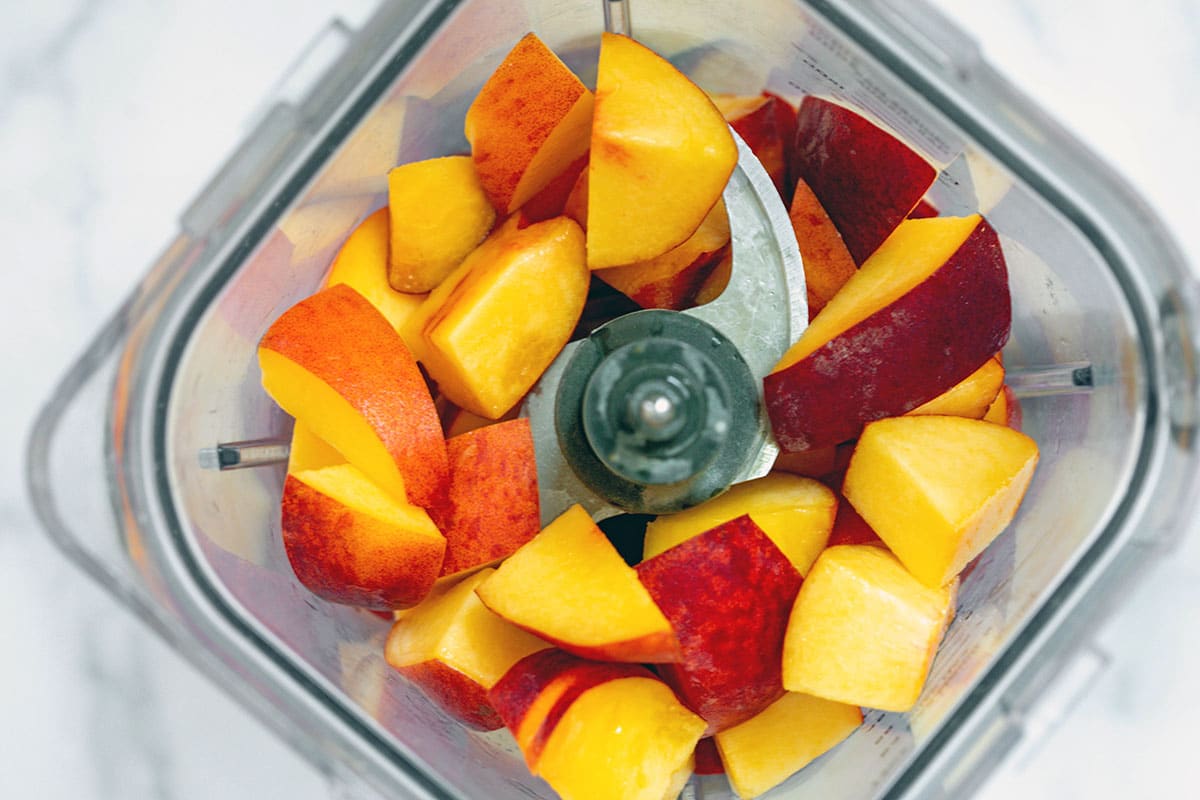 Process the peaches until fully pureed.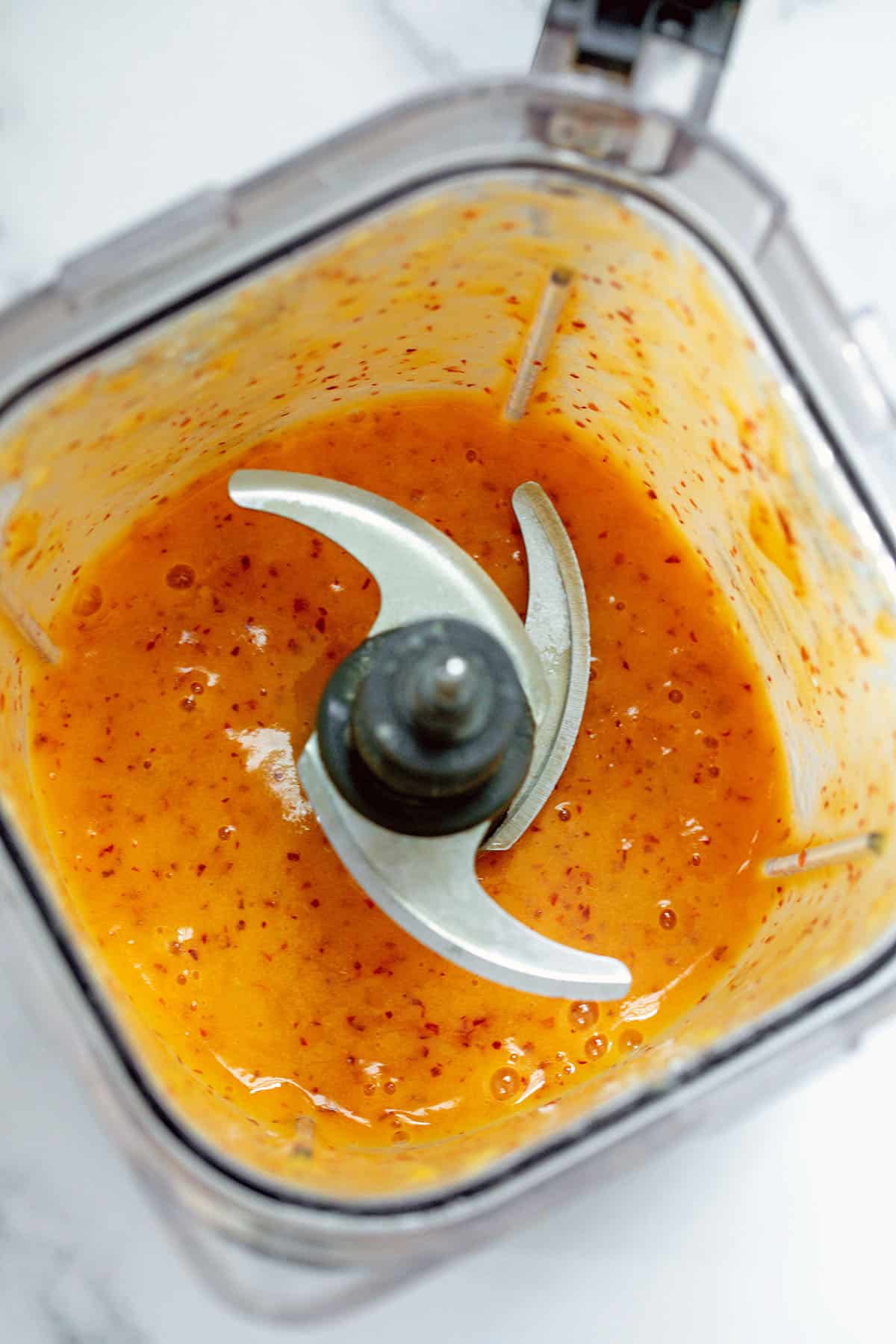 If you left the skin on the peaches (which I always do!), you will have some yummy pulp in your juice. If you prefer a smoother juice, you can strain the fresh peach nectar through a fine-mesh sieve into a bowl or pitcher.
Note that if you use unripe peaches, your juice will likely be super thick and not very sweet.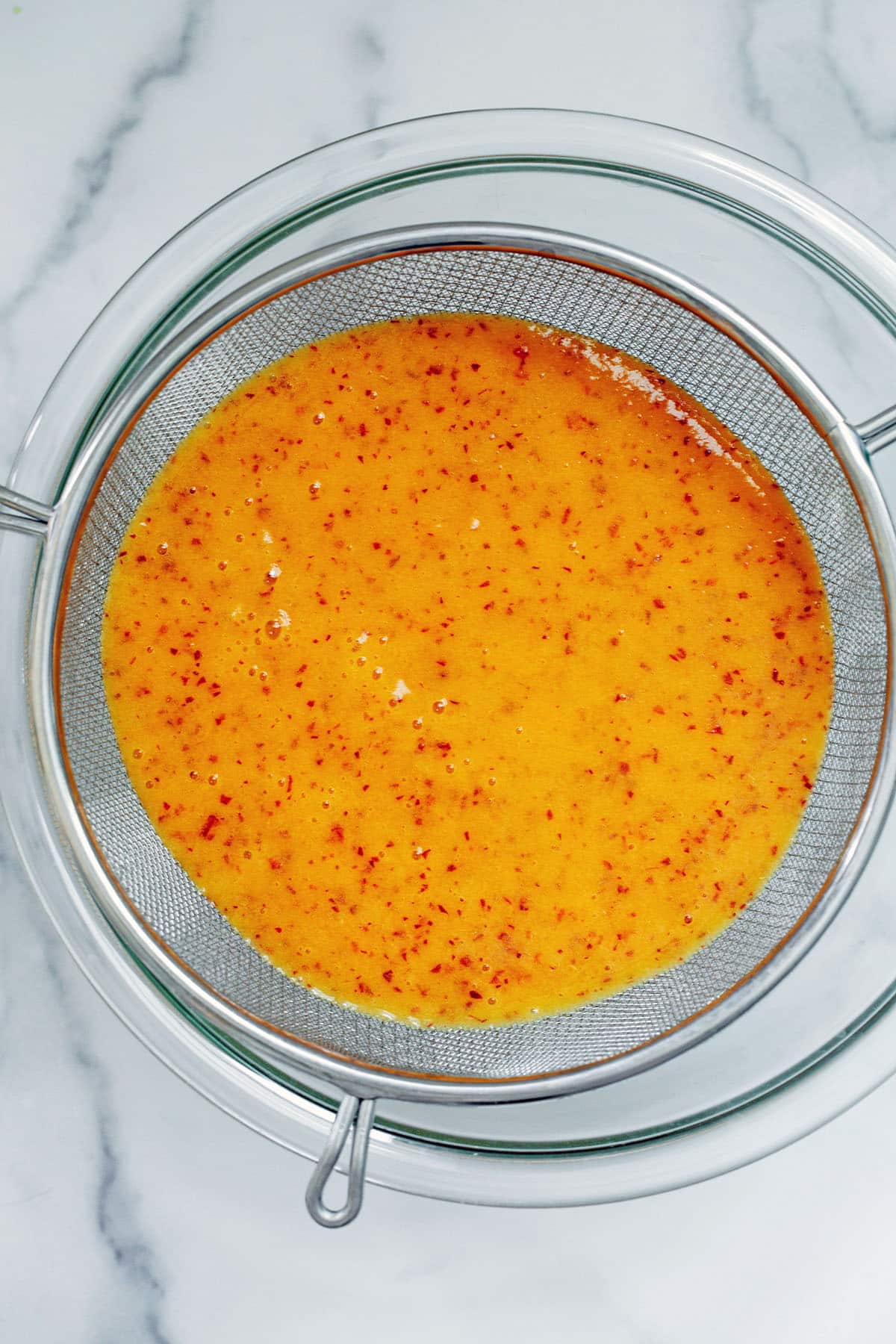 I strained my mixture once, so I still have a little pulp. You can strain multiple times to get your puree even smoother if you prefer.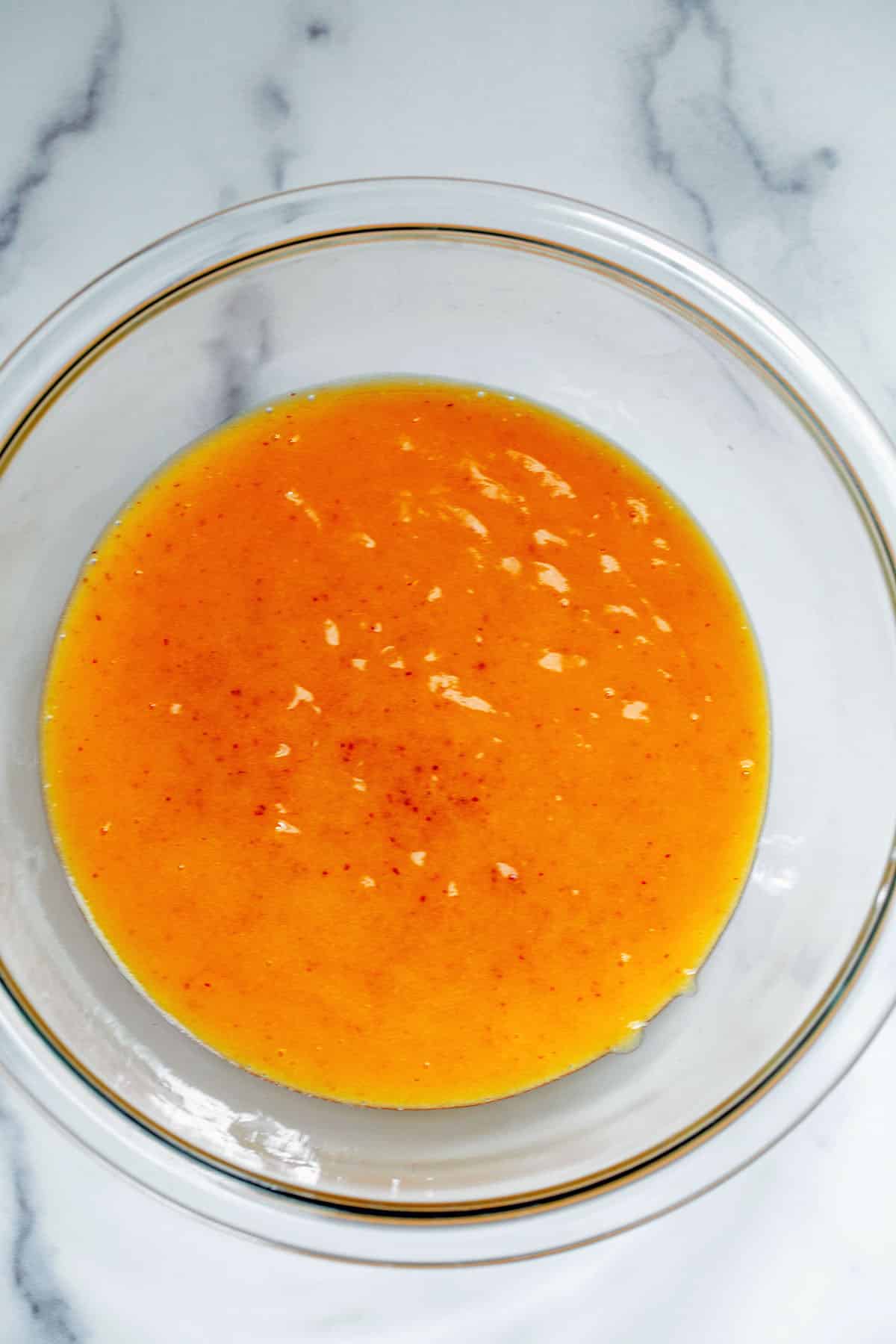 Now you'll want to add water to the peach puree to thin it out and turn it into a juice. I recommend starting by stirring in a cup of water and seeing how the consistency is.
If you want to thin it out more, add more water a little bit at a time.
And now for the sweetener. I'd start by stirring in 2 Tbsp of honey, agave, or maple syrup. Give the juice a taste and add more if you think it needs it.
If you prefer a no added sugar option, you can certainly skip the sweetener, but unless your peaches are super sweet, I think you'll want to add a little.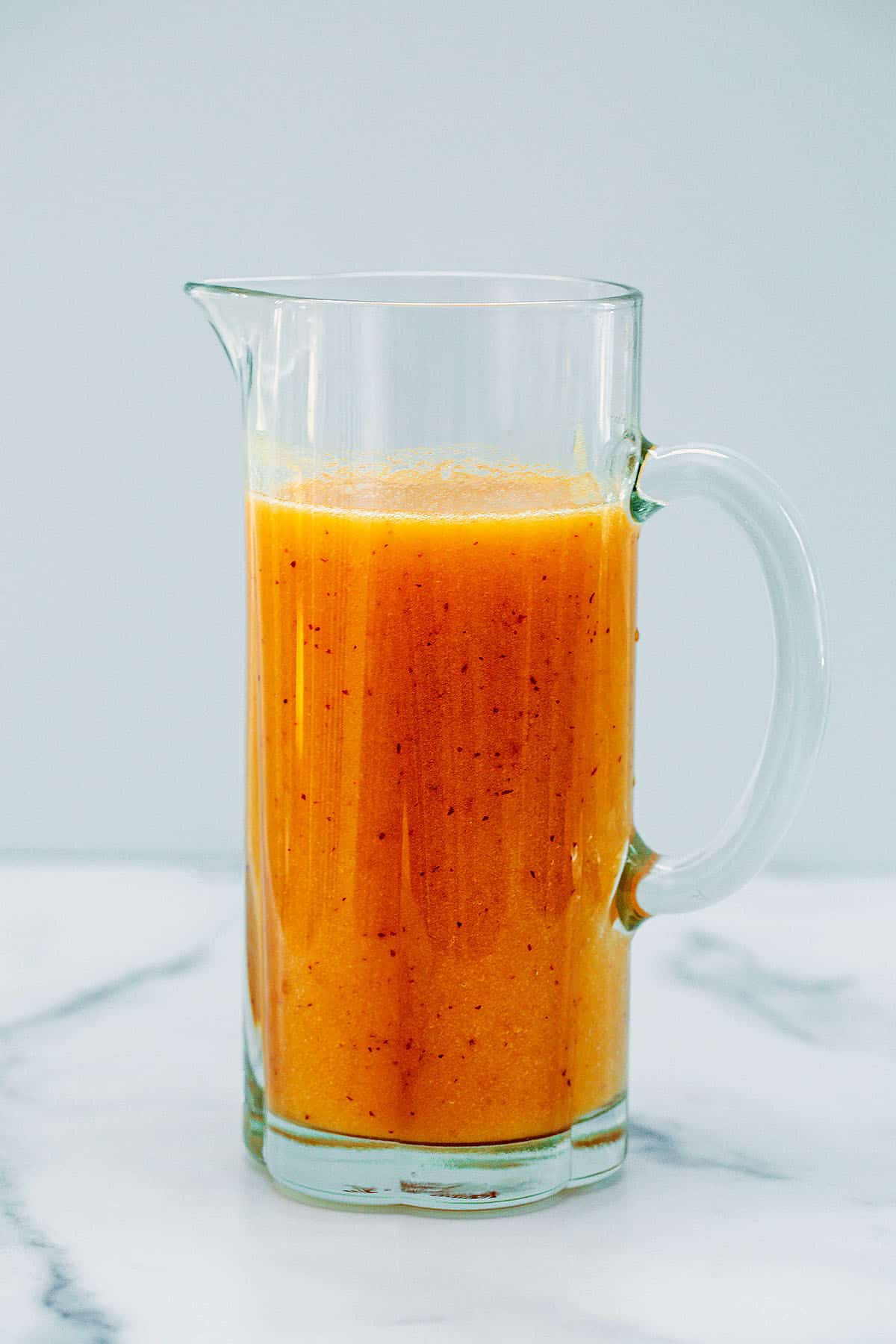 Pour the peach juice into a nice tall glass and enjoy it with your friends and family. This is truly summer in a glass and it's the most refreshing drink!
There's nothing quite like a ripe summer peach and there's something so special about sipping it. This would be great for serving on the weekend alongside some Hawaiian roll french toast or strawberry crepes.
I think your whole family will be thrilled when they sit down at the table to a glass of peach juice!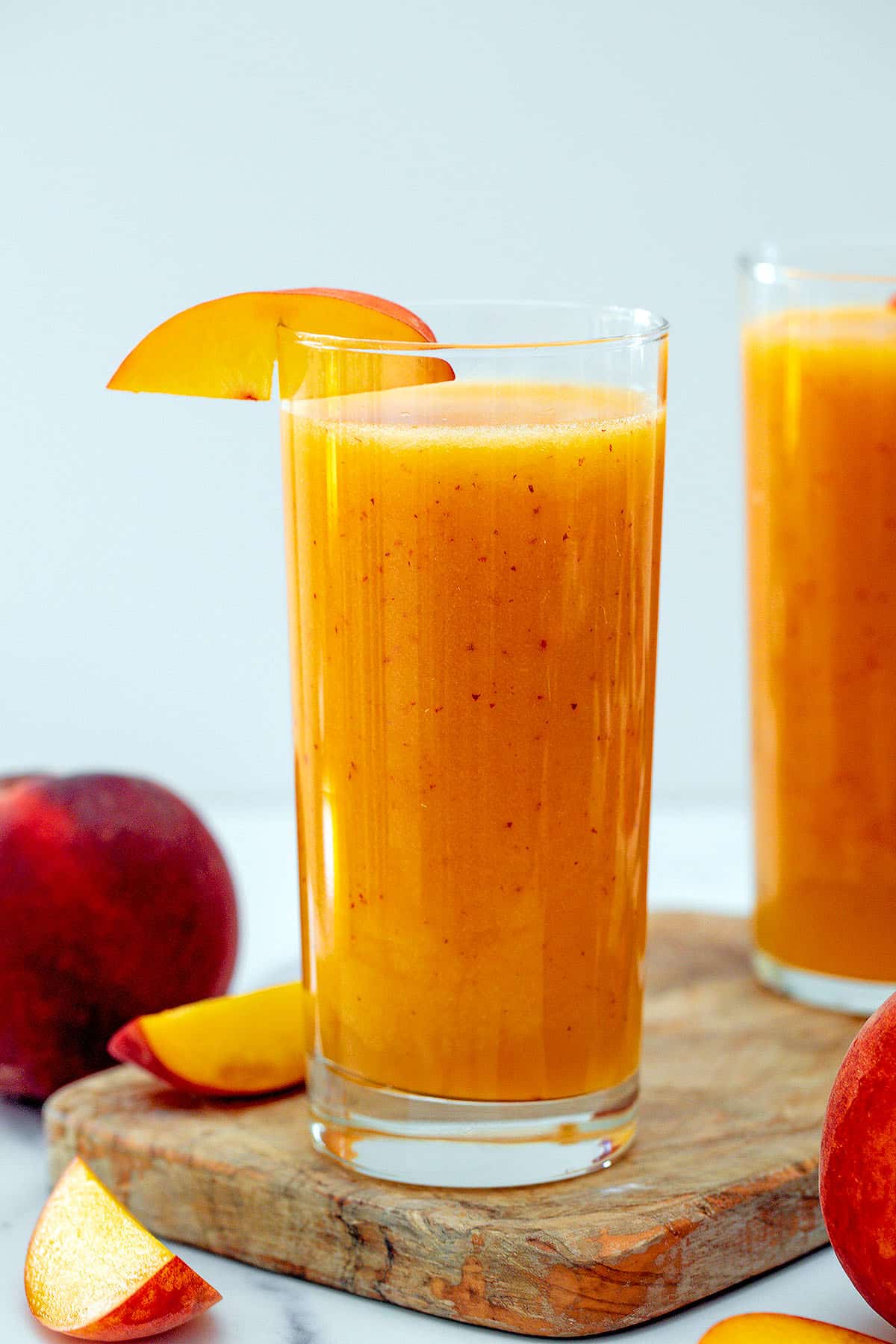 ⏲️ How to store
If you happen to have a any leftover juice (though I'm telling you, this will disappear faster than you think!), I recommend storing it in airtight containers, like mason jars or glass bottles, in the fridge.
When stored properly, it should stay fresh for 3-5 days.
🥶 Can I freeze juice?
You can definitely freeze your homemade peach juice! Just pour the juice into freezer-safe containers or ice cube trays (being sure to leave some space at the top for expansion) and place in freezer.
Once juice is frozen, you can transfer the juice ice cubes to a ziplock freezer bag for more convenient storage. Frozen peach juice can last for up to 6-12 months.
When you're ready to enjoy it, defrost the juice in your fridge.
🎉 Variations on recipe
I love the simplicity of this recipe and the fact that you only need 4 ingredients to make it. But the flavor of peaches goes so well with many other flavors and there's a lot you can do to this juice to jazz it up a bit. Here are some fun ideas:
Add berries like strawberries, raspberries, or blueberries
Add other fruits like mango, pineapple, or banana
Add spices like cinnamon or nutmeg
Add herbs like mint leaves or basil
Add coconut milk, almond milk, or oat milk for a creamy peach drink
Add carrots for a delicious fruit and veggie drink
Mix with sparkling water or club soda for a yummy peach sparklers
Use the homemade peach juice in mimosas with champagne or prosecco
Add to lemonade for a fresh peach lemonade
Mix the peach juice into iced tea for a delicious peach iced tea or use it in this Iced Peach Green Tea Lemonade Starbucks copycat.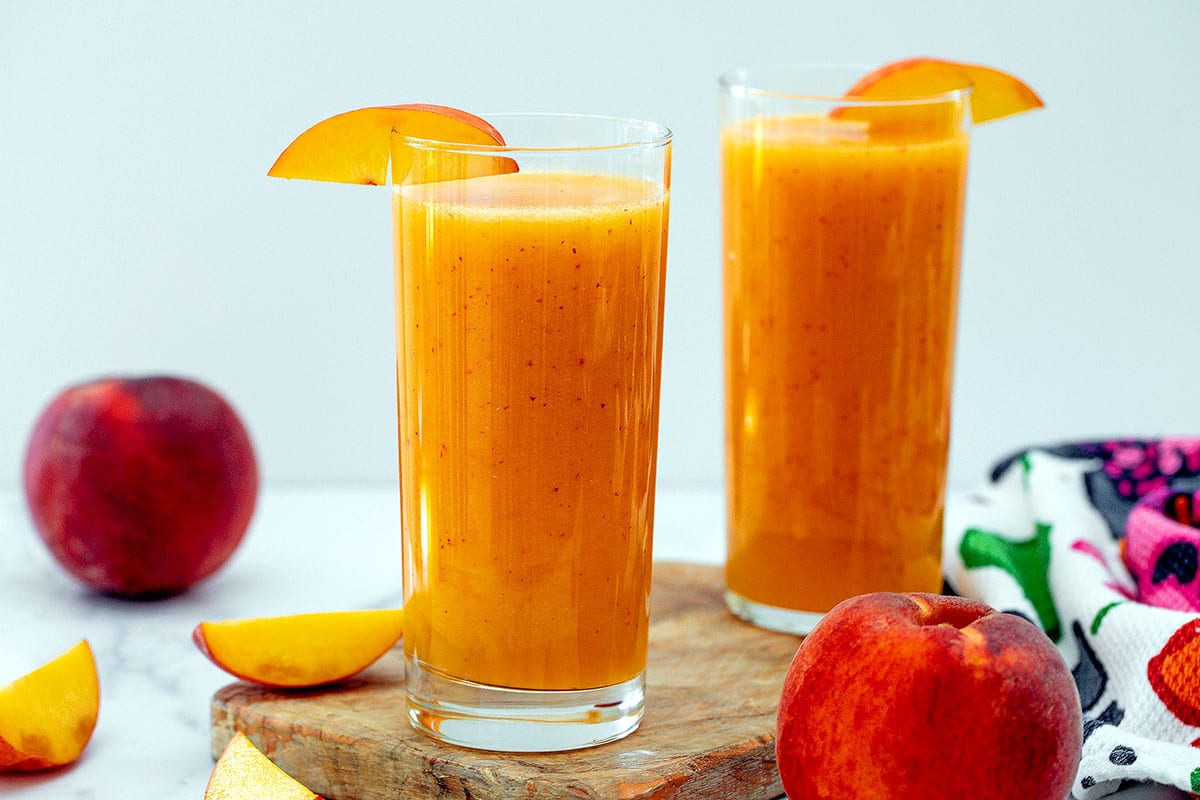 🧊 Can I use frozen peaches?
You can! When making juice with frozen peaches, you should thaw them before using. You may not need quite as much water when mixing the juice, so adjust according to the consistency you want.
🥣 What if I don't have a blender?
I think the blender method is easiest, but if you don't have a blender, but you have a food processor, you can use that instead. your juice might be a bit pulpier with a food processor, but you can always run it through a strainer.
You could also make your peach juice with an immersion blender. Just put peaches in a large deep bowl or large pitcher (you don't want your juice to splash out as you blend it!) and use the immersion blender to puree until smooth.
Of course, you can also use a cold press juicer to make this juice. Just note that using a juicer strips the juice of some of its nutrition and you won't get all the health benefits from that delicious fruit pulp.
👩‍🍳 More peach recipes
If you want to take full advantage of peach season, be sure to check out some of my other favorite recipes that utilize fresh peaches!
I'm always sad when peach season is over because I feel like I never have enough time to get my fill. So, I'm taking every opportunity I can get this summer!
I hope this easy recipe encourages you to make your own fresh peach juice. And maybe, just maybe, we can make peach juice as much of an American tradition as apple juice and orange juice.
What's your favorite homemade juice?
📖 Recipe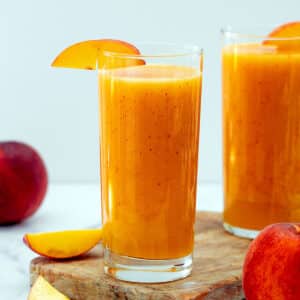 Peach Juice
This homemade peach juice is a simple and refreshing way to enjoy the flavor of summer's favorite fruit! With just a few ripe peaches and three other basic ingredients, you can have a glass of fresh juice in no time at all.
Print
Pin
Rate
Ingredients
2

pounds

peaches

(about 4 large peaches), skins left on or peeled off

1

Tbsp

lemon juice

1-2

cups

cold water

1-4

Tbsp

honey, agave, or maple syrup
Instructions
After thoroughly cleaning and drying peaches, cut them into slices (removing pits). Remove any bruised or brown spots.

Place peach slices in blender with lemon juice and process until peaches are completely pureed.

If you don't want a pulpy peach juice, strain your nectar through a fine mesh sieve into a bowl or pitcher. Otherwise, pour peach nectar into bowl or pitcher.

Add 1 cup of water and stir. Continue adding water until desired consistency is reached. Taste the juice and add honey or agave syrup until desired sweetness is reached.

Pour peach juice into a glass and enjoy!
Notes
Store fresh peach juice in airtight containers in the fridge for 3-5 days.
Share a Photo of Your Finished Recipe!
Mention @wearenotmartha and share a photo if you've made the recipe!