Meatloaf doesn't get a lot of love. But The Pioneer Woman's meatloaf will certainly change that. This meatloaf is covered in bacon and a delicious brown sugar ketchup sauce.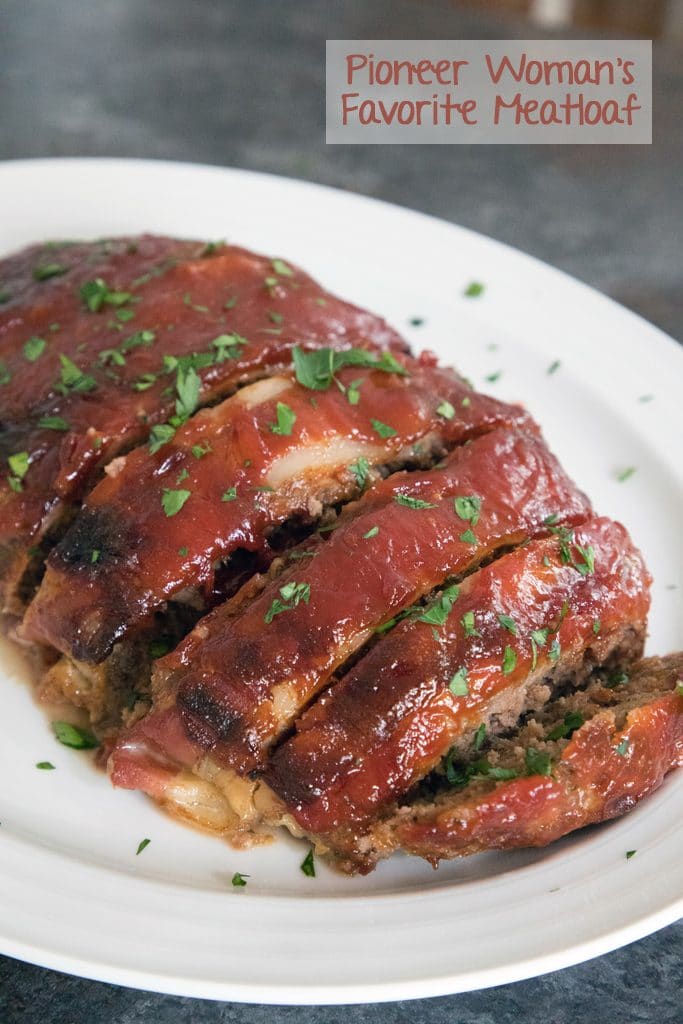 Why does it seem like everyone is always hating on meatloaf? It just doesn't seem fair. On the one hand, I kind of get why a "loaf of meat" seems a bit strange. But hold please… Why then, are meatballs perfectly acceptable, no questions asked? I just can't get behind that logic and think meatloaf needs a few more people in its corner fighting for it.
I don't know how long this meatloaf hatred has been going on, but at least since 1983 when A Christmas Story came out. Remember when Randy is sitting at the table saying, "Meatloaf, smeatloaf, double-beatloaf. I hate meatloaf!"? That's all I think about when I'm making meatloaf…. Well, that and "Ma! The meatloaf!" from Wedding Crashers. Clearly, I know my meatloaf pop culture. Didn't even realize meatloaf pop culture was a thing, did you?
Anyway.  When done right, meatloaf is absolutely delicious. And you know, I'm not even sure there are many ways to not do meatloaf right. Like, it's meat. But it certainly can be done better. And wrapping it in bacon and adding a delicious brown sugar ketchup sauce is certainly one way to do that.
The Pioneer Woman figured that one out with her Favorite Meatloaf recipe. Full disclosure… I actually believe my dad figured the whole bacon on meatloaf thing first since he's been doing it as long as I can remember. But for the purposes of this post and considering where the recipe is from, I'll give all the credit to The Pioneer Woman.
Pioneer Woman's Favorite Meatloaf Recipe
I'm so excited that my local grocery store now has a pretty good selection of grass-fed beef. Here's what I used for the Pioneer Woman's meatloaf.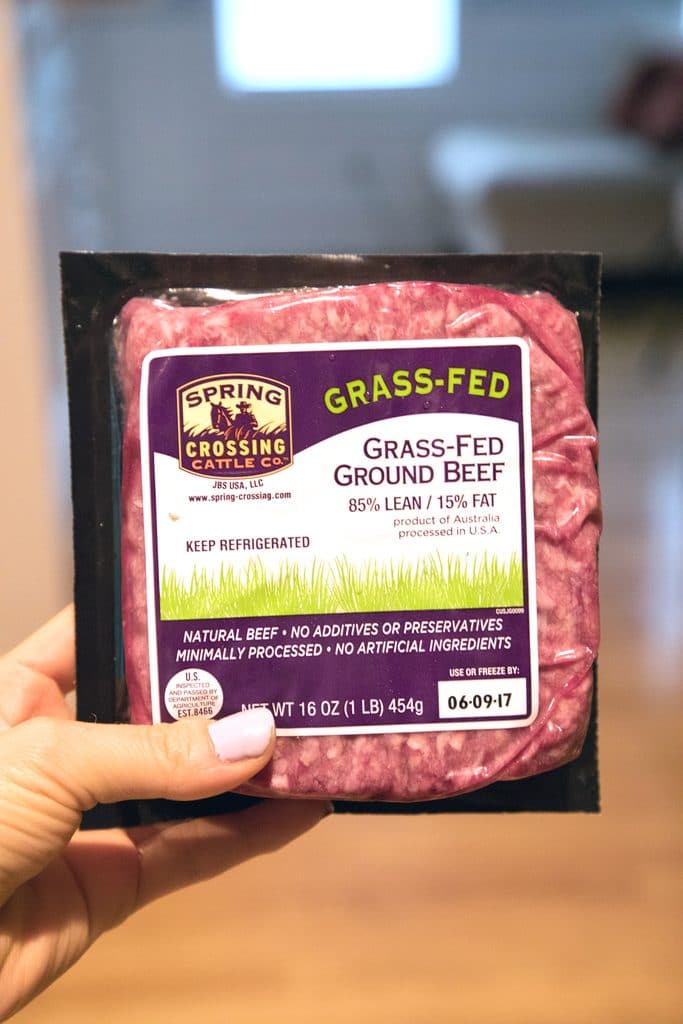 If you've ever made meatloaf before, this one is made in a pretty typical way. Which means that it's easy! Put all the ingredients in a bowl and mix together with your hands. And then form into a loaf.
The big difference with Ree Drummond's meatloaf is that this is bacon meatloaf and so, there's bacon wrapped around it!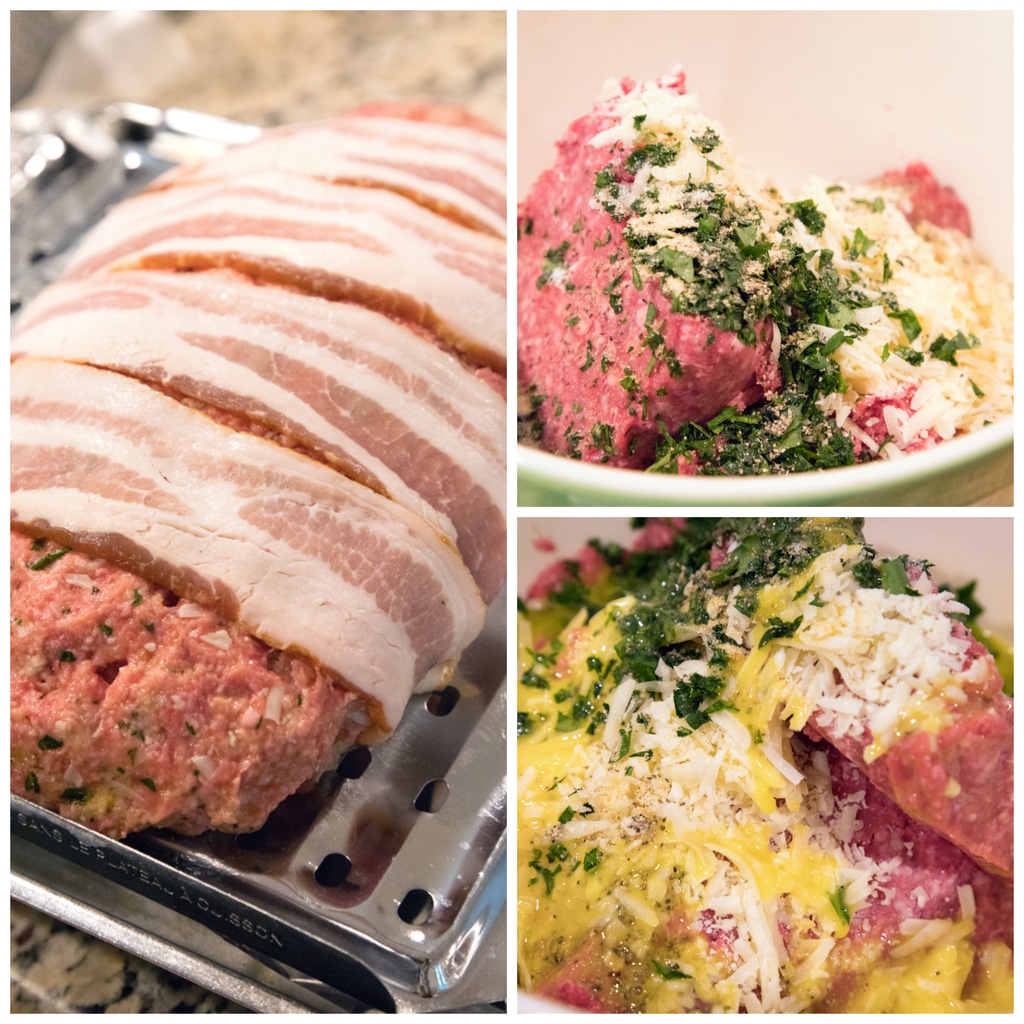 After the bacon wrapping, you'll smother it in sauce and then bake for 45 long excruciating minutes. Then you'll pour even more sauce over it and bake it some more. And don't forget to save some sauce for dipping!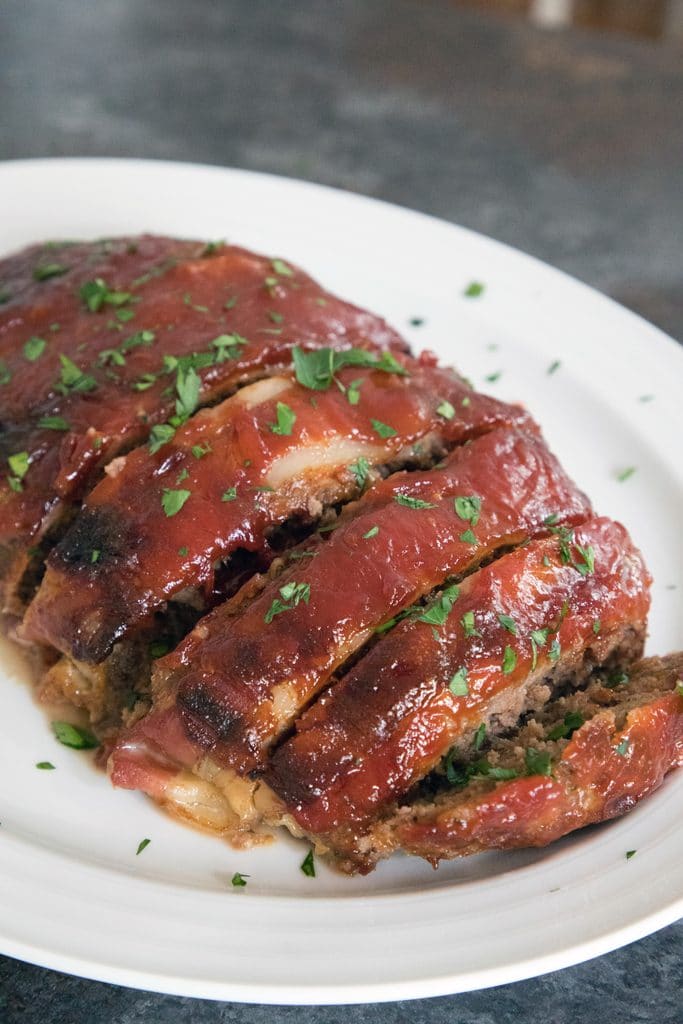 Yup, the Pioneer Woman's meatloaf is good. Really, good. I think it's a combination of its simplicity, plus the bacon, plus the sauce.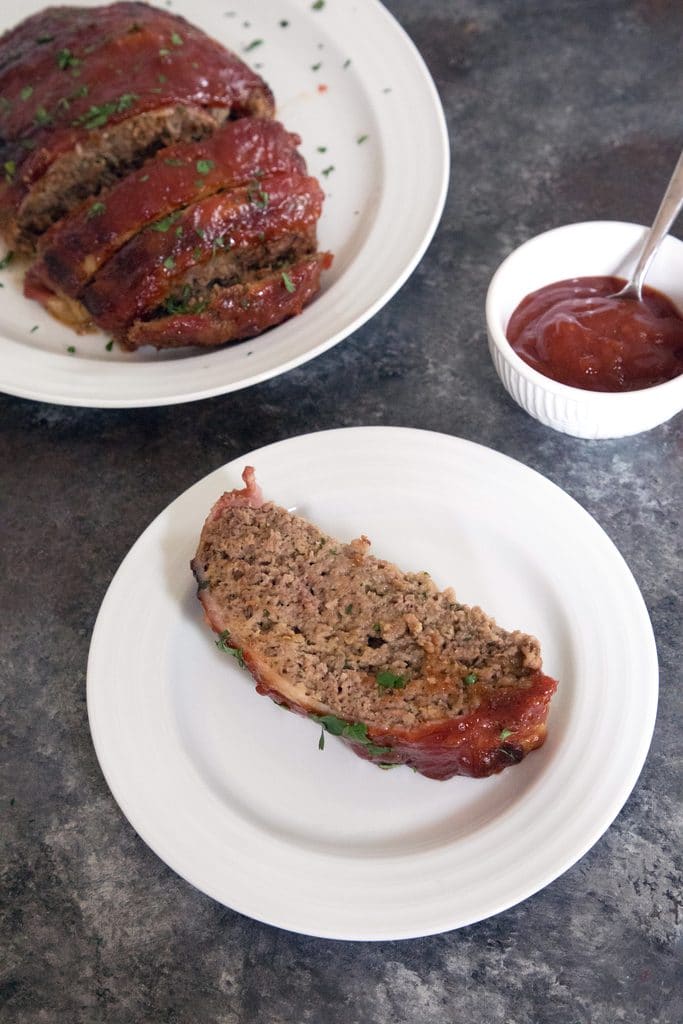 Though it doesn't really need anything else, the bacon meatloaf is also kind of a blank slate. You can add whatever you want to it… perhaps some garlic or a little more sweetness. Do you have a favorite meatloaf secret ingredient?
This recipe also makes a lot of meatloaf. Like, you better have some leftovers or else you may have a problem. No judgement, of course. But the only thing better than meatloaf fresh out of the oven on a Sunday evening is a bacon meatloaf sandwich for lunch the next day.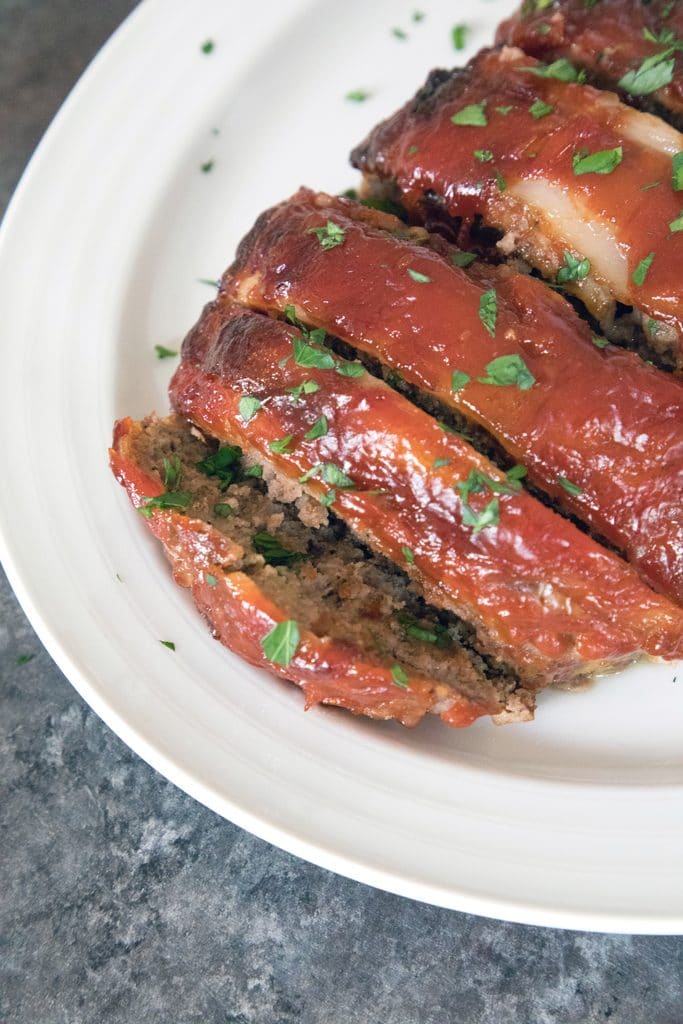 If you're one of those people who's been a meatloaf hater, I'm going to have to insist you try the Pioneer Woman's meatloaf and then come back and talk to me. I think you're going to start singing, "meatloaf, beatloaf, I love meatloaf!" Or maybe it will be "Bacon meatloaf, bacon beatloaf, I love bacon meatloaf!"
Are you a meatloaf fan or do you have your doubts? Have you ever had bacon meatloaf?
If you're looking for more delicious dinner ideas, check out my Thai Beef Basil with Coconut Rice or my Greek Skillet Lasagna. For a different spin on meatloaf, try this Chicken Quinoa Meatloaf from Aimee Mars!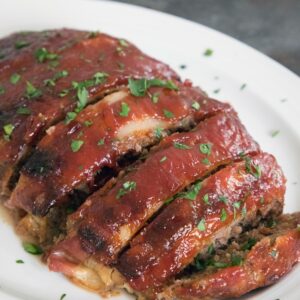 Print Recipe
Pioneer Woman's Favorite Meatloaf
Meatloaf doesn't get a lot of love. But The Pioneer Woman's meatloaf will certainly change that. This meatloaf is covered in bacon and a delicious brown sugar ketchup sauce.
Ingredients
Meatloaf
1

cup

whole milk

6

slices

white bread

2

lbs

ground beef

4

large eggs,

lightly beaten

1

cup

freshly grated or shredded Parmesan cheese

1

tsp

salt

1/4

tsp

freshly ground black pepper

1/3

cup

minced parsley

10

slices

bacon

Sauce

(recipe below)
Sauce
1 1/2

cups

ketchup

1/3

cup

brown sugar

1

tsp

dry mustard

Tabasco sauce,

to taste
Instructions
Pre-heat oven to 350 degrees.

In a large bowl, pour milk over bread slices and allow to soak for 2-3 minutes.

Combine ground beef, eggs Parmesan, salt, black pepper, and parsley along with the bread in a large mixing bowl.

Using clean hands, mix the ingredients together. Form the well-combined mixture into a loaf on a broiler pan (to allow the fat to drain a bit).

Neatly arrange the slices of bacon over the top, making sure to tuck the pieces under the meatloaf.

Pour and spread about 1/3 of the sauce over the meatloaf.

Bake at 350 degrees for 45 minutes, until the edges of the meatloaf are nice and browned. Pour another 1/3 of the sauce over the top of the meatloaf, and bake for an additional 15 minutes.

Slice and serve with more sauce on the side.
Sauce
Add ketchup, brown sugar, dry mustard, and tabasco sauce in a mixing bowl and stir.