Our local Thai place knows us. It's to the point where we call and the same thing happens every time. The girl who answers can't understand our order and always think I'm ordering ground beans instead of ground beef. And then the guy in the background says, "Oh, I know who they are," and takes the phone and verifies that we want the same thing as usual. I'm half embarrassed by this and half proud of it. I can't fully decide which, but I do know that it makes our ordering experience much more pleasant knowing we'll get exactly what we want because of our friend. And it's always fried rice.
If you're going to sit here and tell me you don't like fried rice, you can just stop right now. Because I do not believe you. Rice is rice and it's a carbohydrate and I get that it can be a little bit boring at times and not worth the calories, but when you fry it up, it is anything but. I have a fried rice "problem" and though I love pretty much all Thai food, I always seem to order basil fried rice (with ground beef… not beans!). I also make a pretty mean homemade beef basil, but I use brown rice and don't fry it. I decided to switch things up a bit and make a fried rice, but using quinoa instead. Because I love quinoa and wanted to make fried rice not soooo unhealthy. I didn't add any meat or tofu to this one, but packed it with veggies instead.
Technically, this should be called Fried Quinoa. But then everyone would be sitting here saying "Le sigh. There goes Susie again, frying things things that have no business being fried." And I guess you'd kind of be right. But it's not like I went all state fair on these and deep fried quinoa in a thick batter. No. I fried it like I would rice. Quinoa Fried Rice. Think of it like Chicken Fried Steak if you will. Kind of. Though I have to admit, that name has always made me cringe a little bit.
Quinoa Fried Rice (serves 6):
Print this recipe!
4 C cooked quinoa
2 T canola oil
1 red pepper, diced
1 green pepper, diced
3/4 C chopped carrots
2 cloves garlic, minced
6 scallions, diced
3/4 C peas
3 eggs, lightly beaten
3 T soy sauce
1 T rice vinegar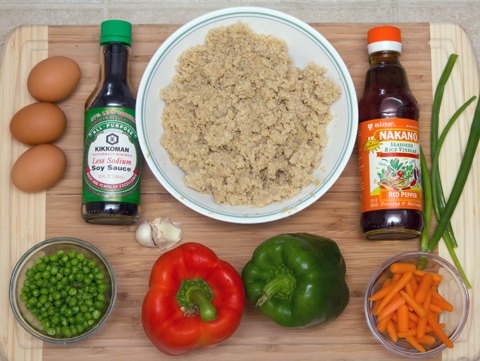 It's even better if that quinoa has been in your fridge just chilling for a day or so. It's not often (slash never!) that I have four cups of leftover quinoa in my fridge, but I made a big batch on a Sunday evening with this recipe in my head. And then it was ready to go when I was ready to make this… It also made this dinner super quick and easy.
In a large wok (pssst! If you're in the market for a wok, my All-Clad one is the best ever!), add 2 T of canola oil over medium heat. Then add the peppers and carrots and cook for a few minutes. Then add the garlic and half the scallions and cook for another 2 minutes, until peppers and carrots are tender, but still brightly colored.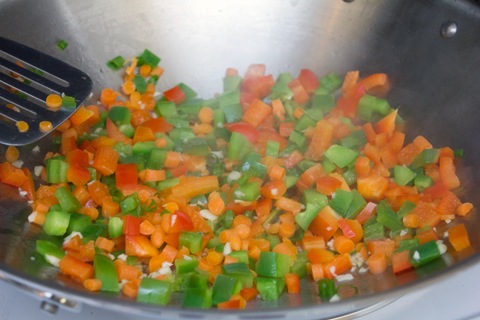 Next step is to add in all that beautiful quinoa. See how pretty my wok is? Cook for about 2 minutes.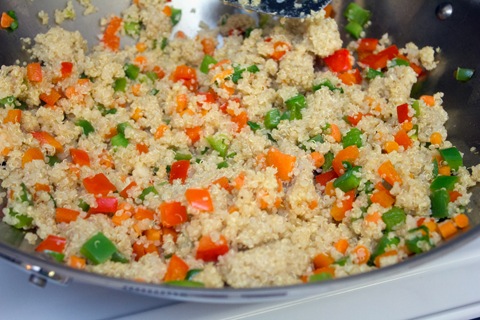 Then push the quinoa to the side of the wok to make room for the eggs. Now, eggs are my most favorite part of fried rice, so I add three. None of that one egg business over here. Pour lightly beaten eggs into cleared space in the wok and cook, stirring for about two minutes, mixing the egg into the quinoa mixture.
It's all coming together! Mix in the peas now, too!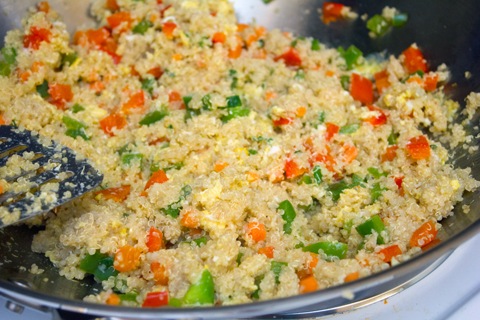 Add the soy sauce and rice vinegar to the mixture. You can add sesame oil, too, if you have it. I would have, but after spending 15 minutes looking all over my kitchen and pantry for my sesame oil, I gave up. I love sesame oil! Don't you? Also, the soy sauce really adds a ton of pizzazz to this dish. Top with the remaining scallions, too!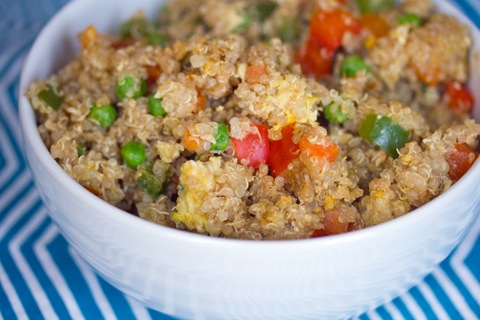 New favorite! I hate to say that this didn't even taste like quinoa, because I absolutely love quinoa, but you actually couldn't really tell it was quinoa. It tasted like fried rice!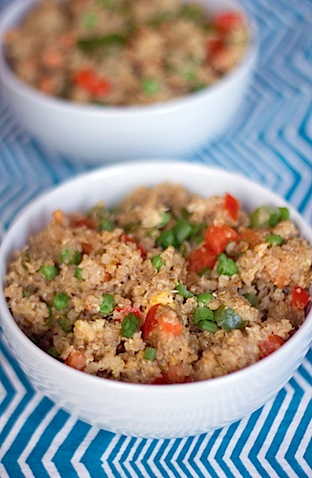 Which I'm counting as a good thing. Because maybe it will help you get your fried rice kick in a little bit of a healthier way. But seriously, the frying and the addition of soy sauce definitely disguises some of the quinoa's nutty flavor. Picky kids or other family members who won't go near quinoa? Try this on them!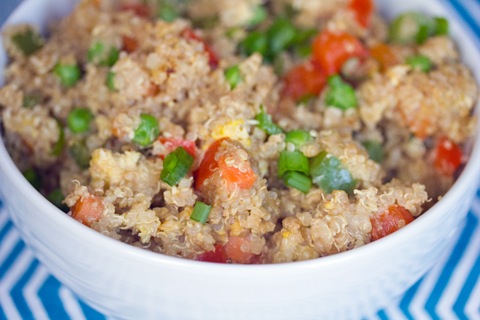 This is the kind of meal I want to make at least once a month. And then have enough leftovers to bring to work for lunch for at least a couple days after that. It's quick, easy, and versatile as you can add in pretty much anything you want. Also, bonus points for being protein packed from the quinoa. The frying is just a minor detail. But that's completely true! With just 2 tablespoons of canola in the entire dish, I'd say it really is pretty minor, especially considering the results.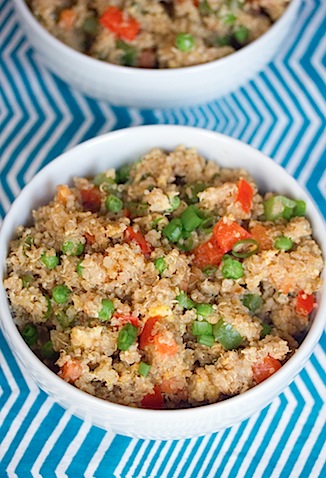 But really, now that I mentioned "fried quinoa," I'm seriously considering what it would be like to do some deep frying! Maybe in arancini form? OK, done. That recipe is coming soon. Whether you like it or not.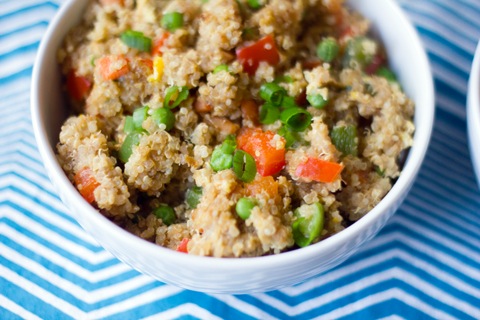 If only all of my meal planning were that easy!
Has this week been absolutely flying for anyone else? We made a big office move at work and between settling in and having tons to do, it's making the week just fly. I'm OK with that considering I get to hang out with the one and only Mitzi dog this weekend! And also because I just plain old enjoy weekends, in general.
Do you ever substitute an unhealthy ingredient in a recipe for a healthy one?
[Sues]
Colavita Gift Basket Giveaway Winner!
I also realized that I totally forgot to announce the winner of my Colavita Gift Basket giveaway! So, without further ado, the winner is Mia who said "I'd love to try the Chardonnay balsamic vinegar! But all of their products look amazing!" I'll email you for details, Mia! Congrats 🙂