What's better than sangria on a hot summer day? Sangria popsicles packed with raspberry and kiwi, perfectly refreshing and delicious!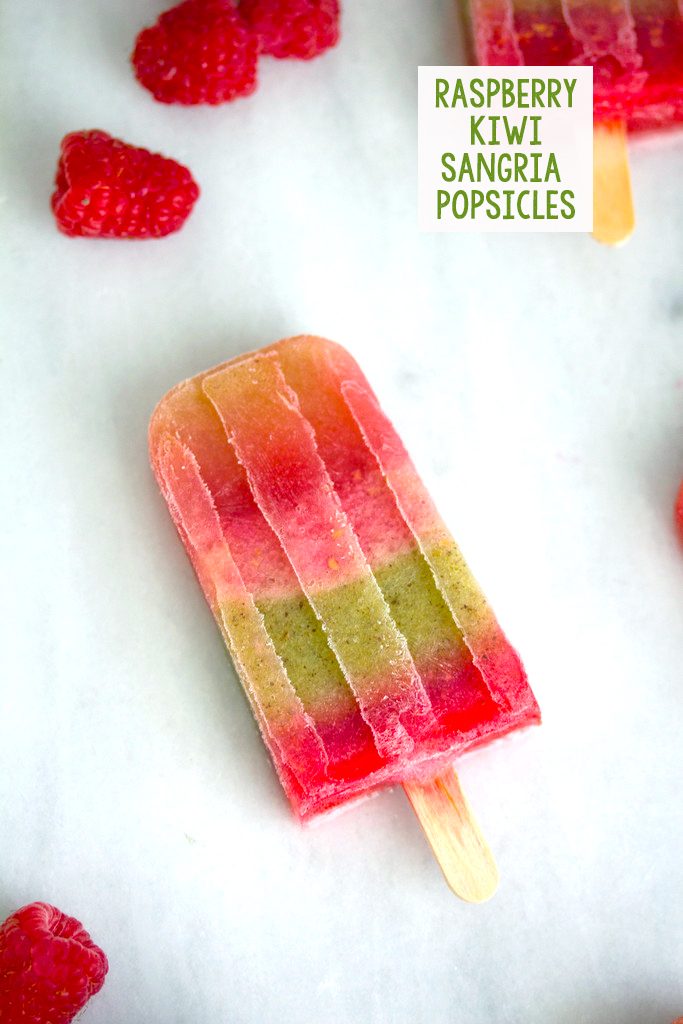 If you're like me, you have a summer bucket list filled with 43,595,924 things that you didn't do this summer. Mine consists of things like spending a million hours on the beach, eating fried clams, toasting s'mores over a campfire, and sipping gallons of sangria on my deck. Ok, now that I'm officially bawling my eyes out, I need to come to terms with the fact that this is Labor Day weekend. Deep breaths.
The good news is, last year I let go of all my fashion judgement worries and wore white pants basically all year long. Well, aside from most of the winter when Boston was drowning in snow and it was a rare occasion for me to even put on pants since I couldn't leave the house. I just really like white pants and think white clothing is beautiful in winter and so I said "screw it" and gave a dirty look to anyone who looked at me all judge-y when I wore white pants after Labor Day. And I'll likely do the same this year.
While sangria is typically a summery drink, it can also easily be incorporated into your weekend cocktail-ing plans. And I am definitely not letting this one go… Especially after my rather dismal summer performance in the sangria-making department. These popsicles totally kill two birds with one stone. Bird #1: They will cool you off and Bird #2: They are made with sangria. Do you even really need more of an introduction than that?
RASPBERRY KIWI SANGRIA POPSICLES RECIPE
And this sangria popsicle recipe is superbly easy. All you need to do is puree raspberries and kiwi, combine them with some wine, and freeze them. Even I can do that after a long day at work. Then I just let them freeze while I doze off on the couch and dream of cocktails.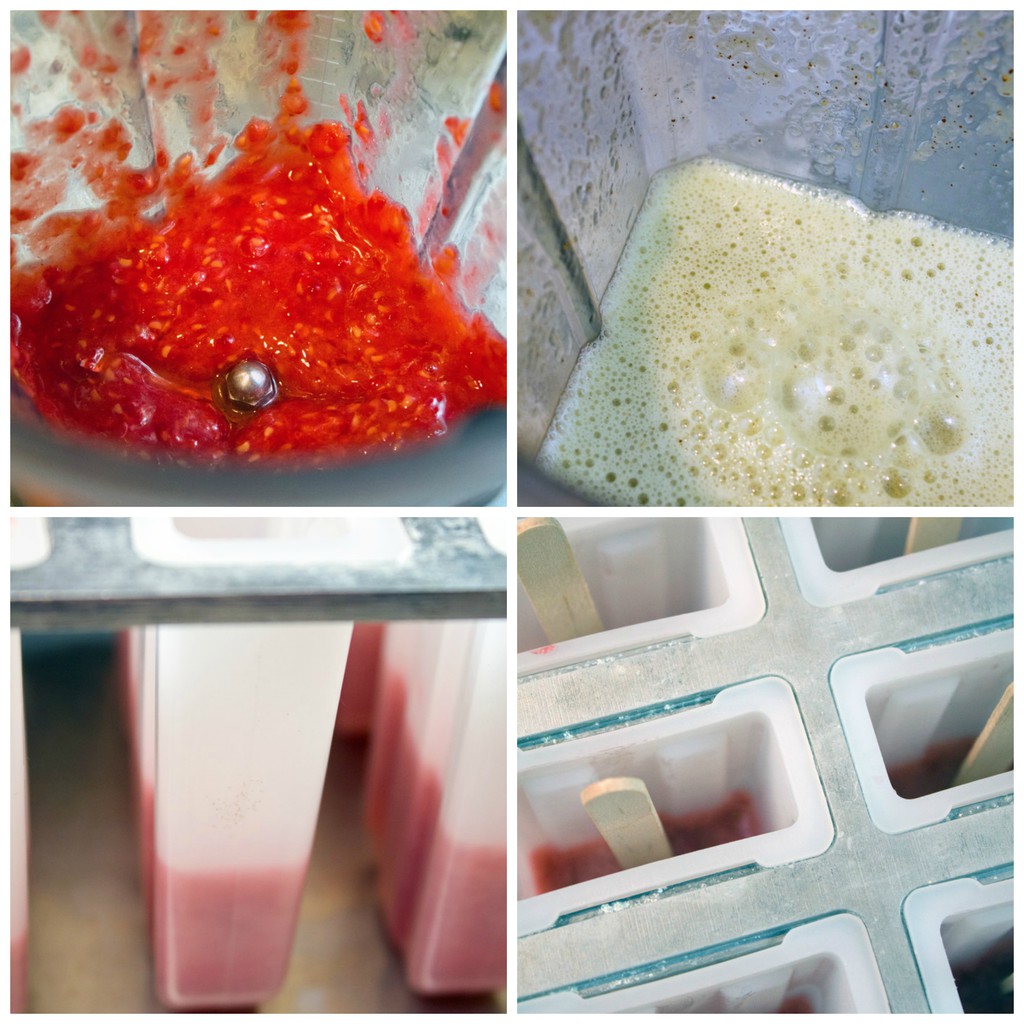 Who needs pitcher of sangria when you can have popsicles of sangria??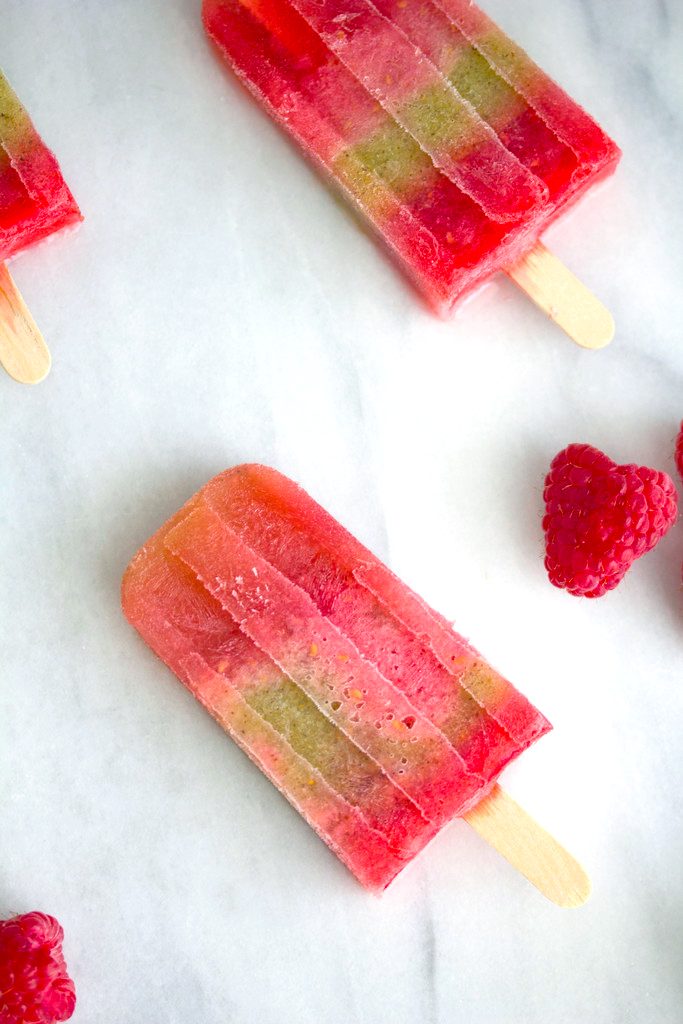 I'm seriously ashamed to tell you that these were my only popsicles concoctions of the summer. Granted they were totally worth the wait.
But if you're only going to make one kind of popsicle, I think you should make them boozy popsicles and preferably with sangria involved. Fruit, too. Fruit cancels out the wine I think, so feel free to eat a couple of these. That's probably a very delusional statement, but I'm OK with that.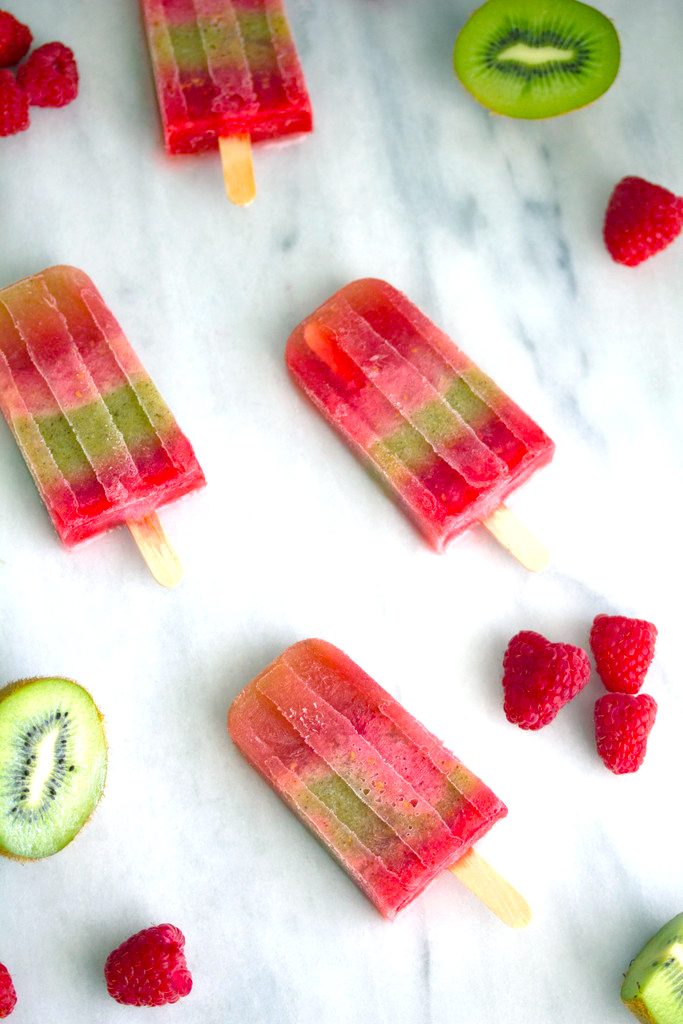 My neighbors totally think I'm having tame little gatherings in my backward with everyone eating popsicles. Little do they know it's sangria on a stick.
Of course you could make sangria popsicles with really any fruit of your choosing. I've bought a carton of raspberries every single time I've gone to the grocery store this year. And I don't eat kiwi nearly enough even though they're seriously delightful. Plus, pink and green together is just so pretty.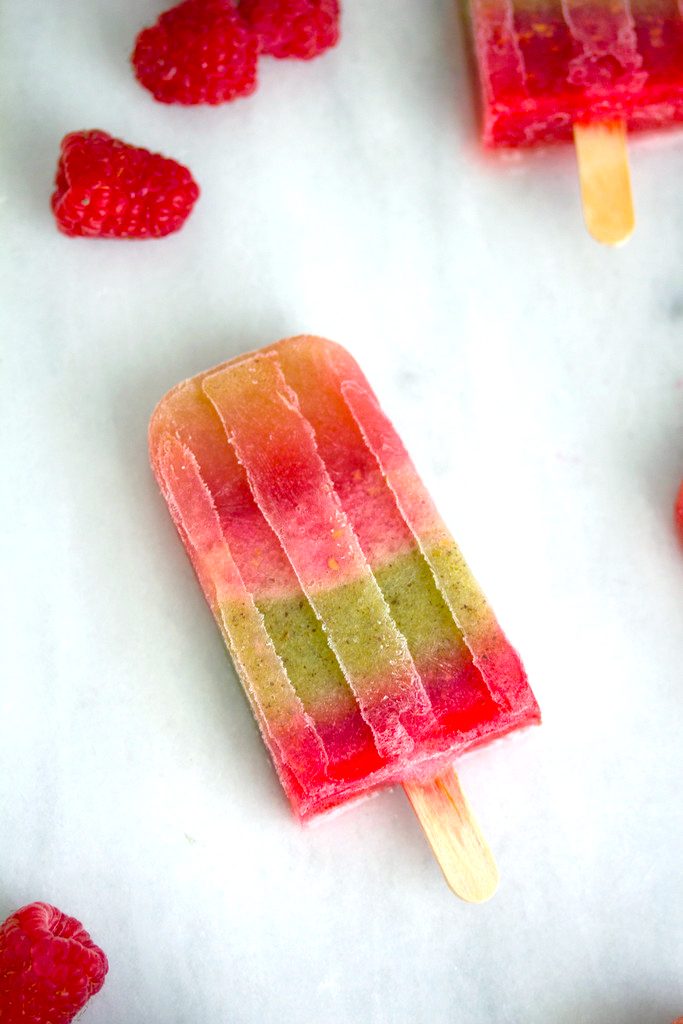 Much like my penchant for white pants, I'm also choosing to go with theory that sangria popsicles never go out of style. So, even though this is the last unofficial weekend of summer, don't feel like you have to rush to the kitchen. But if you do, take comfort in the fact that these are ridiculous easy to whip up.
I hope you have lots of fun plans this weekend and are also planning to finish your entire summer bucket list over the next three days. I wish you the very best of luck. I need to at least sneak some s'mores in there somewhere, right? And obviously a couple more of these sangria popsicles.
What is left on your summer bucket list?
For more fun summer treats, check out my Fruity Pebbles Greek Yogurt Popsicles and my Watermelon Rosé Slushies. I also love these Blackberry Granola Popsicles from Good Things Baking Co.!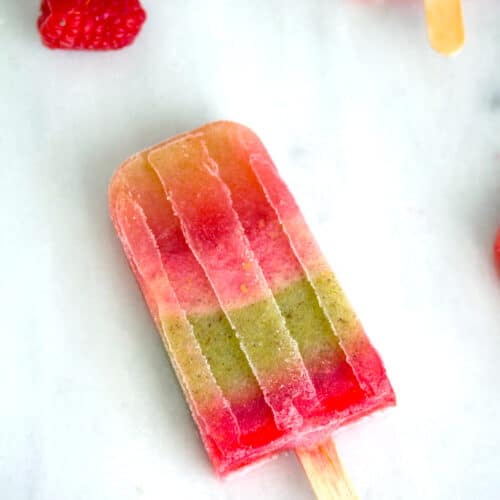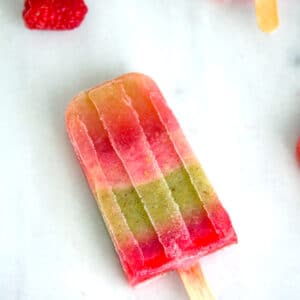 Raspberry Kiwi Sangria Popsicles
What's better than sangria on a hot summer day? Sangria popsicles packed with raspberry and kiwi, perfectly refreshing and delicious!
Print
Pin
Rate
Ingredients
6

oz.

fresh raspberries

2

Tbsp

water

1 ½

cups

white wine,

divided

2

Tbsp

granulated sugar,

divided

1

kiwi,

peeled and roughly chopped

2

Tbsp

lime juice
Instructions
Puree raspberries and water in a blender until smooth. Place mixture in a bowl and stir in 1 cup white wine and 1 Tbsp sugar.

Fill popsicle molds about ⅓ of the way up with raspberry mixture. You will use about ½ of the raspberry puree mixture. Freeze molds until liquid is beginning to harden, 20-30 minutes. Remove from freezer and stick a popsicle stick into the center of each pop.

Clean blender out and puree kiwi and lime juice in blender until smooth. Place mixture in a bowl and stir in ½ cup white wine and 1 Tbsp sugar.

Pour mixture in popsicle molds over raspberry puree about ⅔ of the way up the mold.

Freeze filled popsicle molds until beginning to harden, 20-30 minutes.

Remove from freezer and pour remaining raspberry puree mixture over the top of the kiwi layer. Freeze for another 30 minutes, until popsicles are firm.

Once frozen, remove popsicles from molds by running molds briefly under warm water.
Share a Photo of Your Finished Recipe!
Mention @wearenotmartha and share a photo if you've made the recipe!