These look like simple chocolate-frosted cookies. But take a bite and you'll uncover the reason they're called surprise cookies… there's a marshmallow hidden inside! These cookies will make you feel like a kid again.
(This recipe for Chocolate Surprise Cookies was originally posted in January 2008, but was updated with new photos in 2018).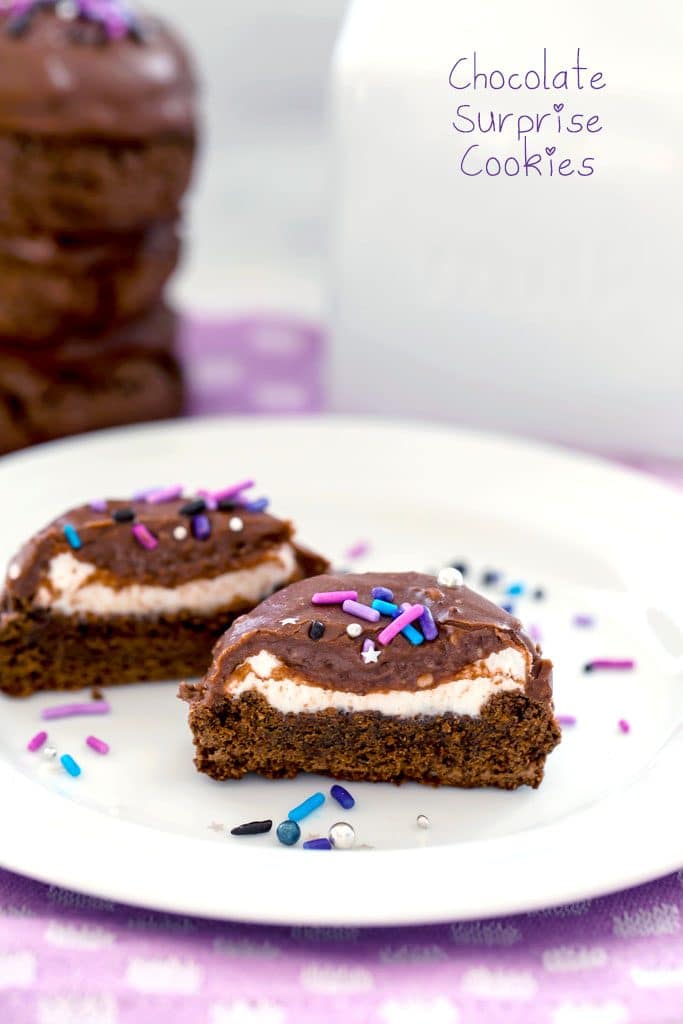 I don't make cookies often enough (probably because I'm obsessed with making cupcakes), but I wanted to switch things up tonight for dinner with a friend.  Um, have you ever stopped to think about how many different types of cookies are out there? SO many. But after much looking at pretty much every cookie recipe in the world (no lie), I found a recipe that involves chocolate and marshmallows. That's all I need to know.
These chocolate surprise cookies come from a Martha Stewart Kids recipe. But what differentiates a kid's cookie from an adult's cookie, I ask you? A simple marshmallow? Well, if that's the case, I think I'd prefer to be a kid forever, thank you very much. I'm definitely not willing to give up marshmallows and I'm an adult that is going all in for the surprise aspect of these chocolate surprise cookies.
CHOCOLATE SURPRISE COOKIES RECIPE
The batter for the cookies is simple to make with flour, cocoa powder, eggs, milk, vanilla, butter, sugar, and baking soda. The cookies are baked for 9 minutes, before you take them out of the oven and push half a marshmallow into the center of each. Then back in the oven for another minute. How easy is that?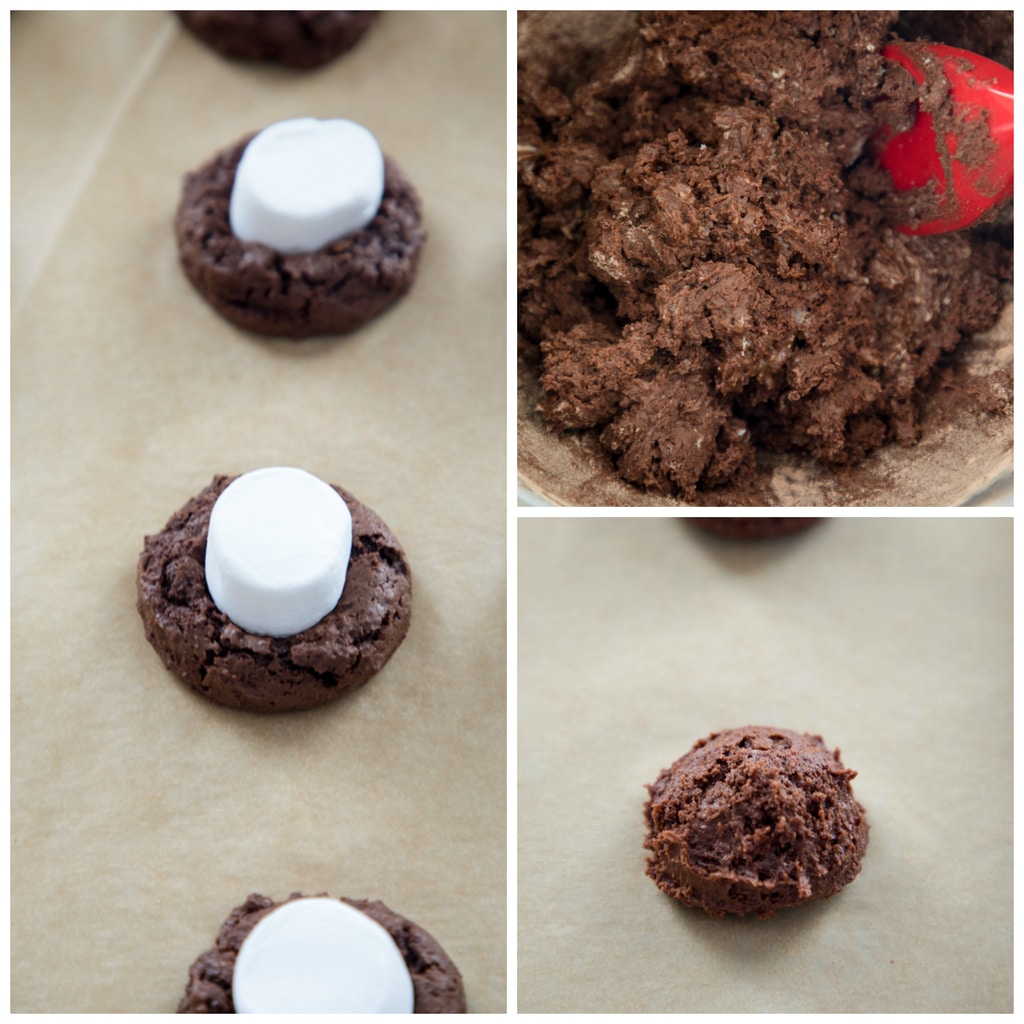 Whip up a quick frosting consisting of cocoa powder, confectioner sugar, butter, vanilla, and milk.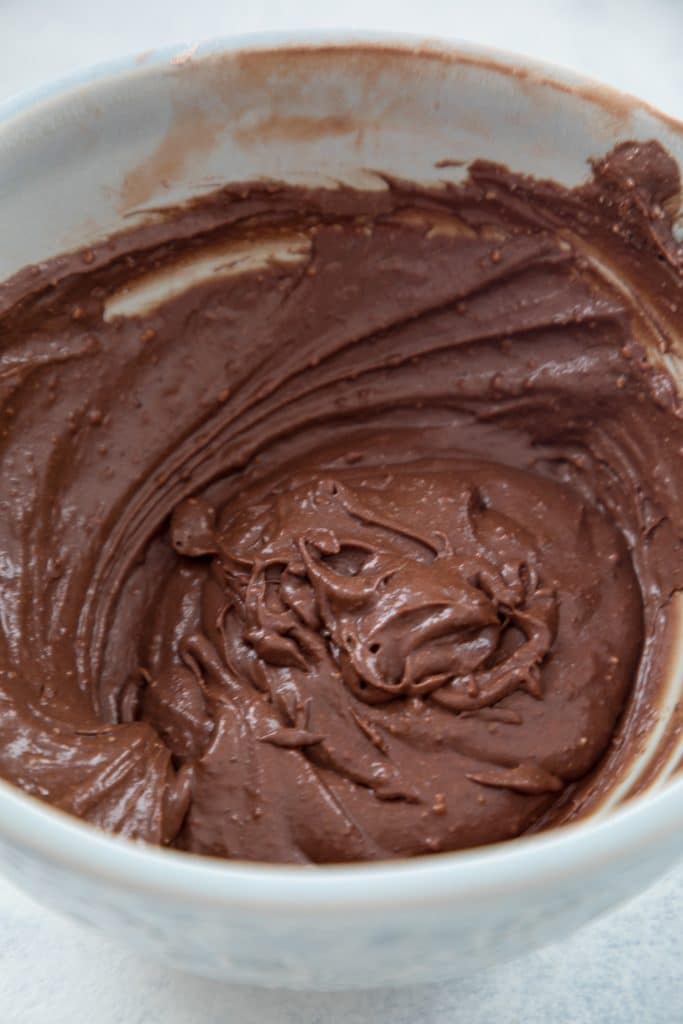 And put a tablespoon of frosting in the center of the cookie, covering the marshmallow (hence the surprise part of the cookie).
So sneaky…they seem like simple chocolate cookies! You would never suspect anything suspicious going on, right??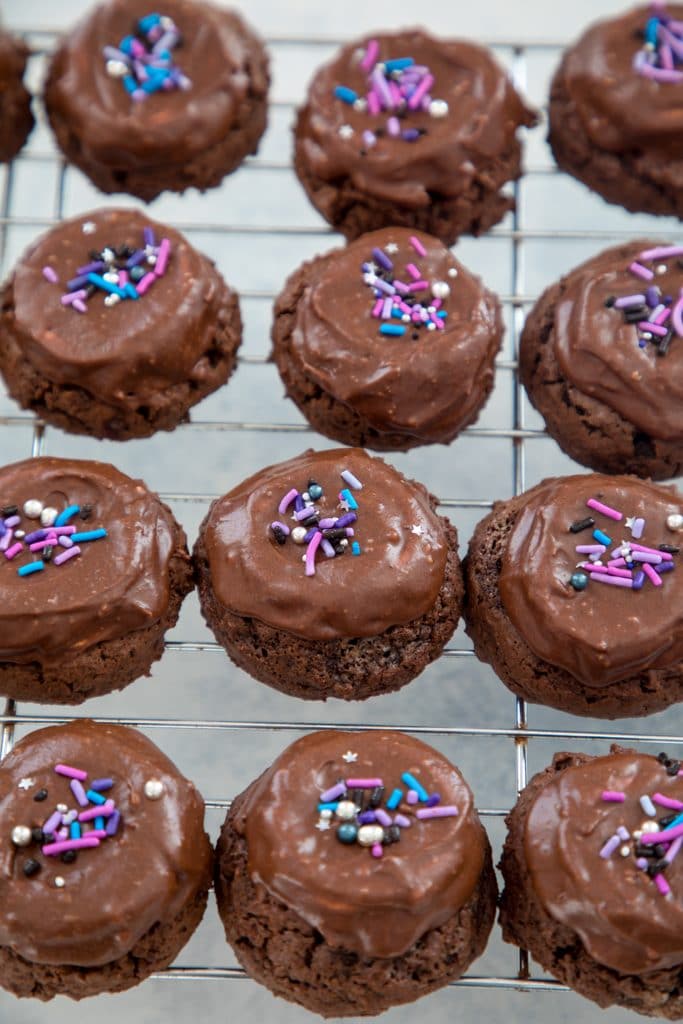 But look what's waiting for you when you cut them open! And how deliciously pretty they are. They look a bit like Mallomars, which I'm actually pretty sure I've never even tried? But I have a strong picture of them in my head and I Googled them and it appears I'm correct. These chocolate surprise cookies are a super easy-to-make version of Mallomars.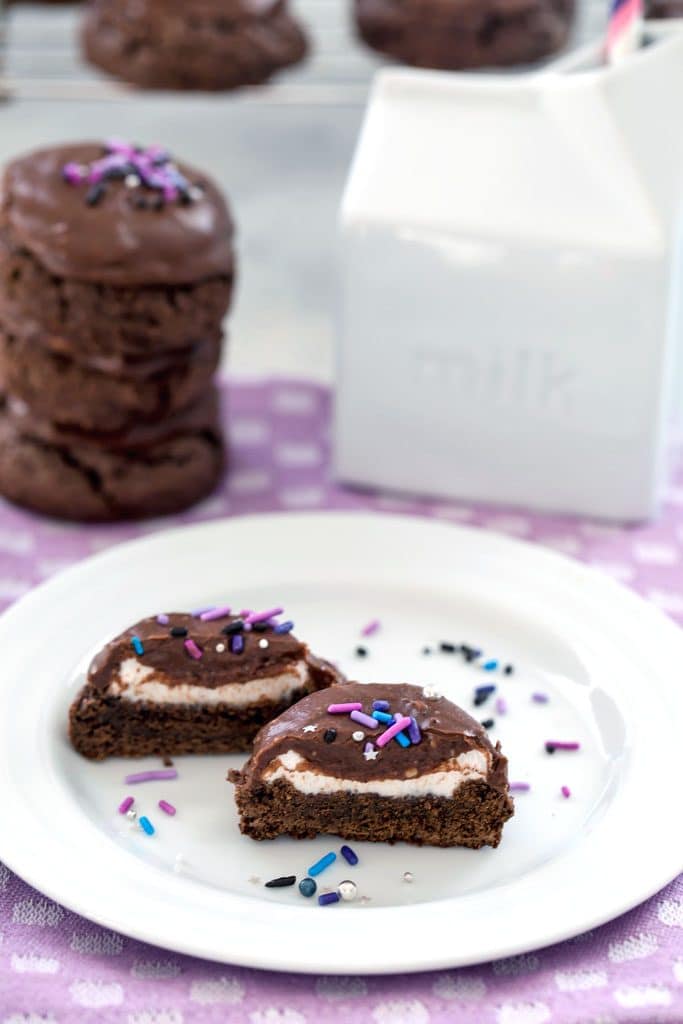 You definitely don't have to add sprinkles on top of the surprise cookies, but I think they give them an extra special look and make these a bit more fun. Because if you're gonna call a cookie a surprise cookie, I feel like it should look extra freaking fun. I'm all about doing it up right.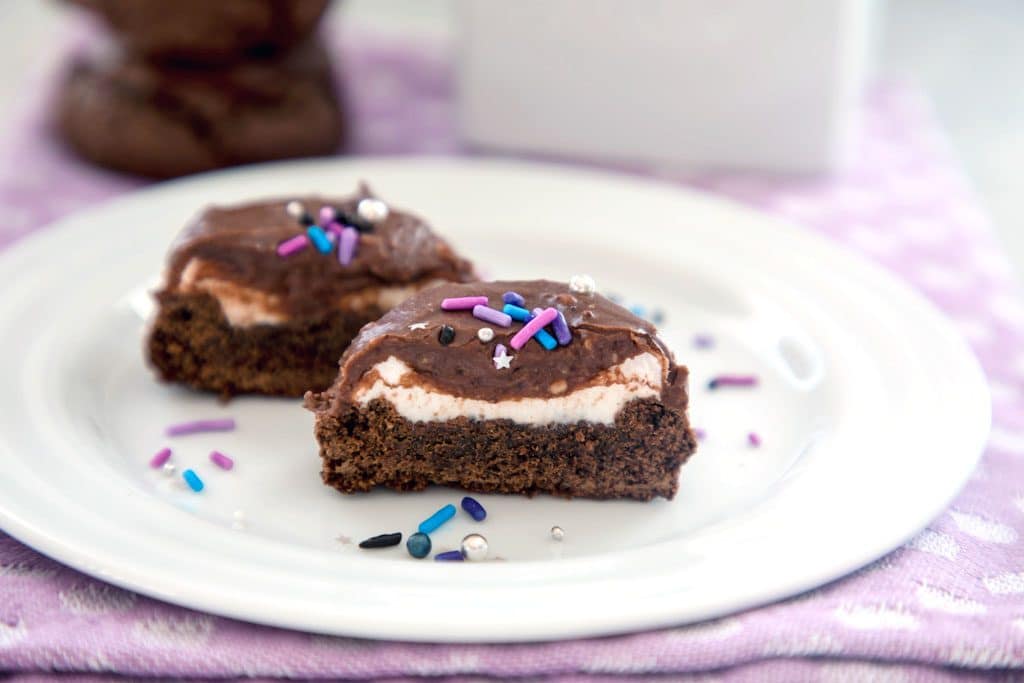 I recommend bringing these to a party and just setting them on the table without telling people what they are. They'll likely innocently pick one up thinking, "oh, looks like a nice little chocolate cookie." But then they'll bite into it and their eyes will light up with glee and they'll immediately grab another before running off to tell everyone else at the party how fabulous the cookies are. At least that's my prediction.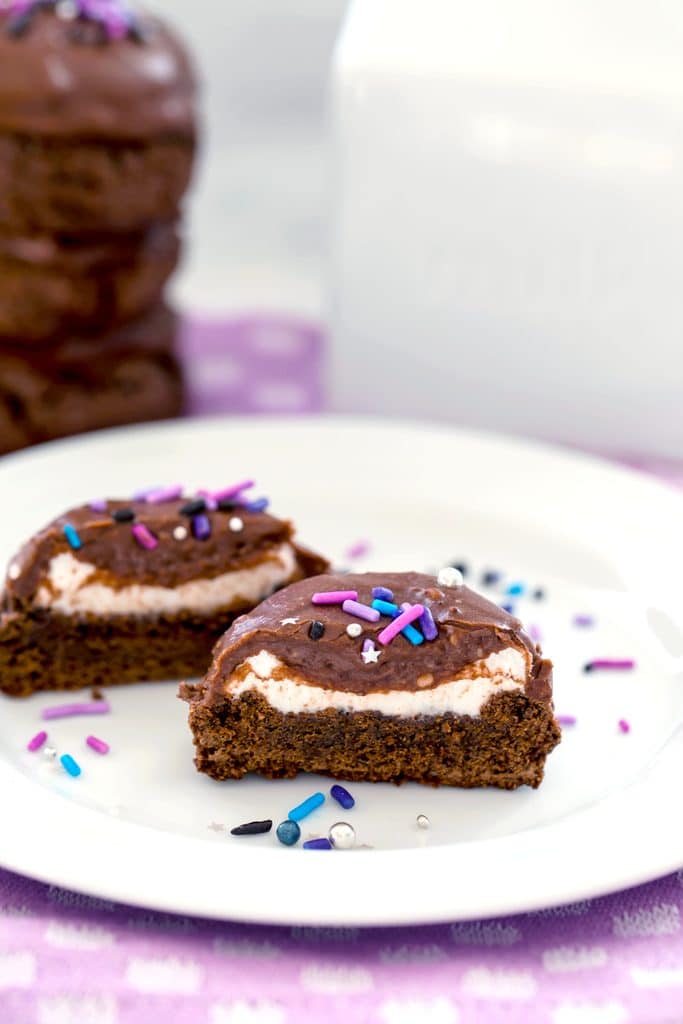 But seriously, these cookies are deliciously chocolatey and gooey and make me feel like a kid again. And in the words of Martha herself, I think that's a fabulous thing.
What's the most fun cookie you've ever had? 
If you're looking for other fun cookie recipes, check out these Momofuku Milk Bar Cornflake Chip Marshmallow Cookies or these Banana Split Cookies. I also love these Hot Cocoa Cookies from Just Add Sprinkles!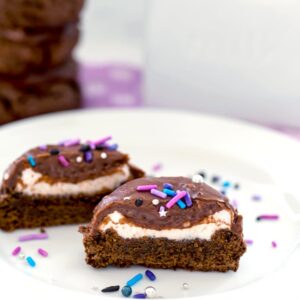 Print Recipe
Chocolate Surprise Cookies
These look like simple chocolate-frosted cookies. But take a bite and you'll uncover the reason they're called surprise cookies... there's a marshmallow hidden inside!
Servings:
2
dozen cookies
Ingredients
1 3/4

cups

all-purpose flour

3/4

cup

cocoa powder

1/2

tsp

baking soda

1/2

tsp

salt

1/2

cup (1 stick)

unsalted butter,

room temperature

1

cup

granulated sugar

1

large egg

1

tsp

vanilla extract

Chocolate frosting

(recipe below)

12

large marshmallows,

cut in half horizontally

Sprinkles,

optional for topping
Chocolate Frosting
2

cups

confectioners' sugar

1/4

cup

cocoa powder

4

Tbsp (1/2 stick)

unsalted butter,

melted

1/4

tsp

vanilla extract

1/4

cup

milk
Instructions
Pre-heat oven to 375 degrees.

n a medium bowl, whisk flour, cocoa powder, baking soda, and salt together.

In the bowl of a stand mixer or in a large bow with a hand mixer or whisk, cream butter and sugar together until light and fluffy, about 3 minutes. Add egg, milk, and vanilla, and beat until well combined.

Slowly add flour mixture and mix until just combined, taking care not to over-mix.

Drop about a tablespoon of dough onto an ungreased cookie sheet, about 2 inches apart. Bake until cookies for 9 minutes before removing from the oven.

Place a marshmallow, cut-side down, in the center of each cookie, pressing down slightly. Put the cookie sheet back into the oven and continue baking for just one more minute, until marshmallows begin to melt. Remove from oven and transfer cookies to a wire rack to cool completely before frosting.

Starting in the center of the marshmallow and continuing outward, spread about 1 tablespoon of frosting over the marshmallow, until it's completely covered. Top with sprinkles if desired and let frosting harden before serving.
Chocolate Frosting
In a medium bowl, whisk together confectioners' sugar and cocoa powder. Add melted butter and vanilla, while continuing to whisk until combined. Mix in milk and whisk until smooth.