If I said it once I said it a million times. Sometimes I'm scared to check Closet Cooking's blog because I KNOW whatever I happen to see I'm going to NEED to make for dinner that night. Sigh. This is kind of annoying when I'm not in the mood to cook or I already know what I'm making (God, Closet Cook stop making such amazing meals!!). But it's great if I want to cook and don't have a clue what to make. The other day, I headed over to the blog to see what Kevin's been up to and I saw the White Chicken Chili. Done. Dinner planning is so easy with Closet Cooking around.
And you have to admit, this Boston weather (and I'm pretty sure the California weather even!) calls for a nice bowl of chili. If you're in the mood for a different take on chili, this is absolutely perfect.
White Chicken Chili (serves 4):
1 T olive oil
1 onion, diced
4 cloves of garlic, chopped
1 T cumin (ground)
2 (4.5 oz.) cans of chopped green chilies (I found them at Trader Joe's)
2 jalapeno peppers (sliced)
3 C chicken (cooked and shredded)
2 (19 oz.) cans northern beans (drained and rinsed) (I used cannellini instead)
2 C chicken stock
1 t oregano
salt and pepper to taste
2 T masa (or cornmeal)
1/2 C milk
Cheddar, shredded (for topping if you'd like)
Avocado (for topping, again, if you'd like!)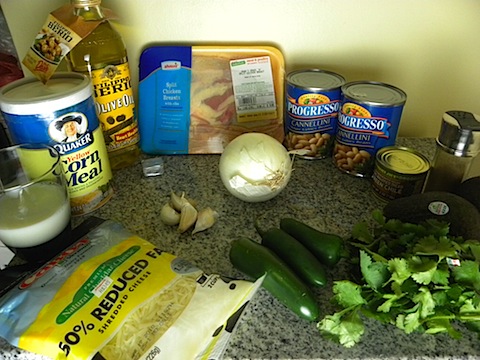 I wasn't exactly sure what kind of chicken would work best for this chili, so I asked my mom. She said to buy bone-in chicken breast, rub some olive oil and salt and pepper on it, and stick it in the oven at 350 degrees for about 30-40 minutes. So, I did!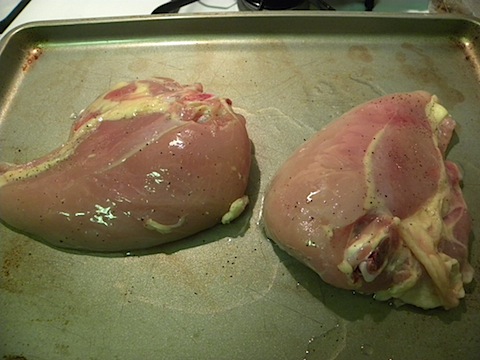 While the chicken was baking, I got to chopping.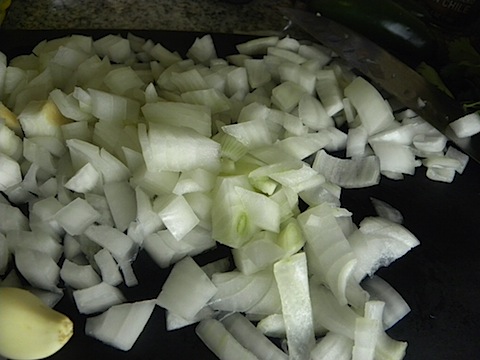 Of course, I used my Chef'n Garlic Zoom again. I'm kind of obsessed!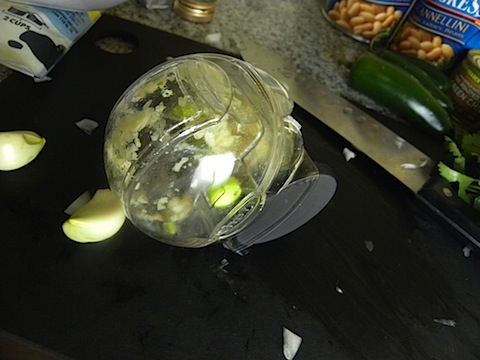 I heated my olive oil in a pot. And sauteed the onion until tender, about 5-8 minutes.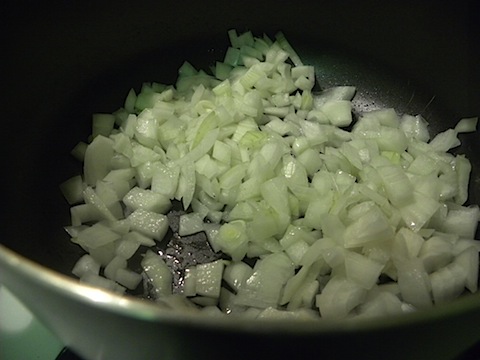 Then I threw the garlic and cumin in, too and sauteed until "fragrant," about one minute.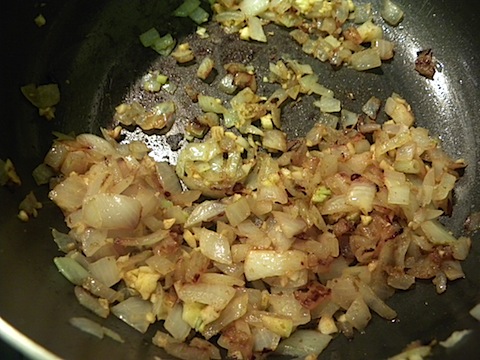 While the onions were sauteing, I took my chicken out of the oven. I let it cool a bit and then I shredded up the 3 cups I needed.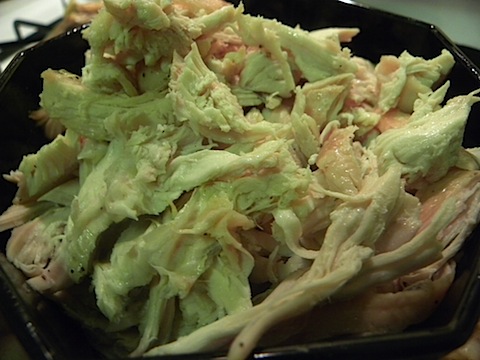 I added the green chilies, jalapenos, chicken, beans, chicken stock, oregano, salt, and pepper. Since I only had one can of the green chilis, I added 3 jalapenos, instead of 2. Whoo! Bring on the heat! Seriously, though.
Now, I brought the mixture to a boil, reduced the heat, and let it simmer for about 20 minutes.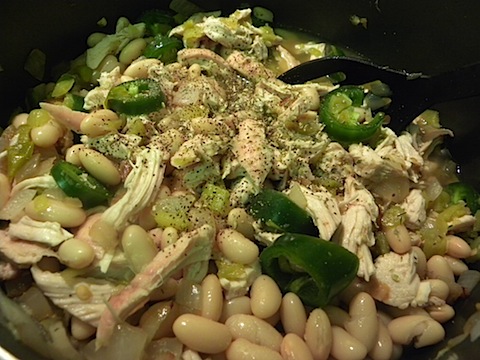 I mixed the masa and the milk together and mixed that into the chili, letting it simmer for another 10 minutes. The masa helped the chili get nice and thick!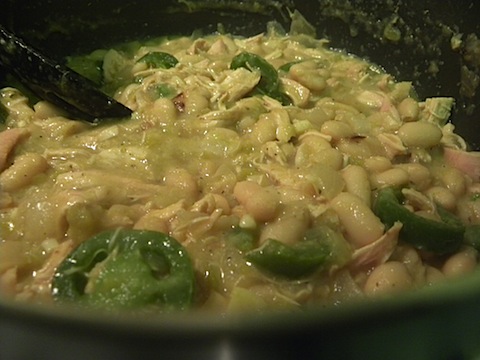 I served the chili with a little shredded cheddar cheese on top and some sliced avocado. I also toasted up some nice bread to accompany.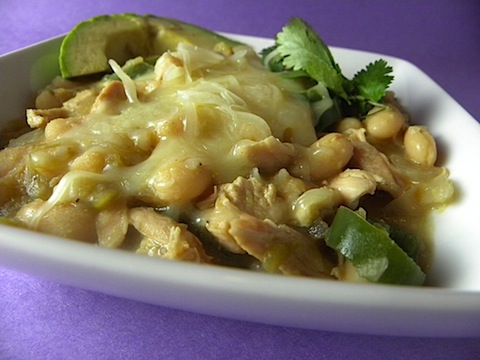 This chili had an awesome bite to it! It was definitely spicy, but not overly so. But if you're not a fan of heat, you'd probably do well to cut down on the jalapeno (but you need to include at least one! SO much flavor!). Oh, and you might want to scrape the seeds out too. I don't because I love the extra spice!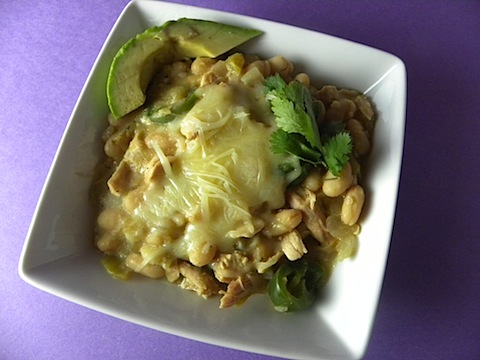 The chili is really pretty healthy too, packing in lots of protein. Plus, it was super filling and made me feel all warm and cozy. If the weather is going to be cold and miserable outside, you may as well feast on chili inside! Preferably while watching trashy reality television. Like The Bachelor. No, I'm not kidding. It's the perfect winter watching, chili-eating show.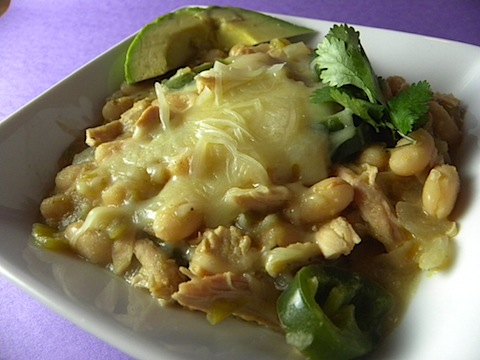 The sun is actually finally coming out in Boston this morning (this morning did not look very hopeful!), but I'm still kind of in the mood for more chili. And bad reality television. What can I say? It's just something that winter does to me!
[Sues]