It's that time again! Time to get your holiday shopping on. If you're anything like me, you have a lot of culinary gifts on your wish list (OK, so I'm basically just calling our wedding registry my Christmas list!). And chances are your friends and family wouldn't mind a few foodie inspired gifts, too. After looking over my 2010 guide, I realize that almost all of my gift selections are absolutely timeless and they pretty much ALL still apply. So, definitely check last year's gift guide out. It was packed with lots of basics and many unique gift ideas, too. In the meantime, here are several more holiday gift ideas for food lovers in 2011! They're in no particular order; but I'm hoping you'll be able to find at least a few items that will make good gifts for you to give this year… Or to ask for yourself 🙂
(FYI There are some affiliate links in this post, which means I may earn a small commission for any sales). Thank you for supporting WANM!
Owl Measuring Cups from West Elm:
File these Owl Measuring Cups ($19 for a set) under "kitchen essentials" for everyone in the world. I mean, can you think of anyone who wouldn't be thrilled to measure out flour with these. Also, file these under things that are going on my Christmas list ASAP. Also, file under why the heck does West Elm not have a wedding registry option?!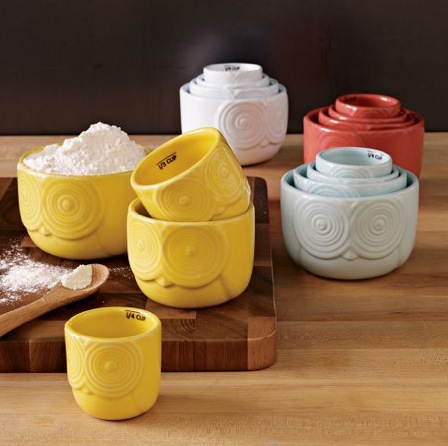 Recycled Glass Containers with Cork Lids from West Elm:
For any chef that strives to be more organized (read: everyone), these Recycled Glass Jars with Cork Lids are a must. Sure, they seem like a super simple gift, but they can make a world of a difference in the kitchen. Bonus points if you fill them up with your favorite grains and nuts before gifting them, allowing your gift recipient to try something new and be super organized.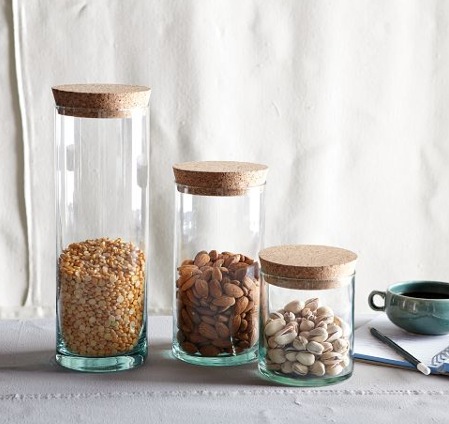 Sunburst Tea Towel from West Elm:
Yes, it's just one tea towel. And yes, it's a pretty pricey tea towel at that, but this Sunburst Tea Towel from West Elm is a great add-on for any gift that's not quite complete. Perhaps you have a few dollars left over and want to make your gift really impress. This tea towel will do the trick. Heck, I'd be thrilled if someone gave me this tea towel and only this tea towel. And I never say heck. I love Sunburst, but West Elm has lots of other fun patterns, too.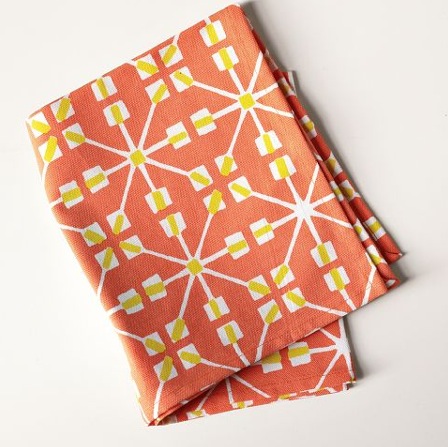 Illustrated Tidbit Plates from Kate Spade:
There are few designers that I'm really truly loyal to and Kate Spade is one. Not only do they make what I consider some of the most fabulous handbags, but they also have some pretty stunning home decor. I'm especially loving these Illustrated Tidbit Plates. I think they're absolutely adorable and something most people probably wouldn't buy for themselves. They make me want to immediately whip up some finger foods and invite some girlfriends over. But I'd also be very tempted to hang these on my wall.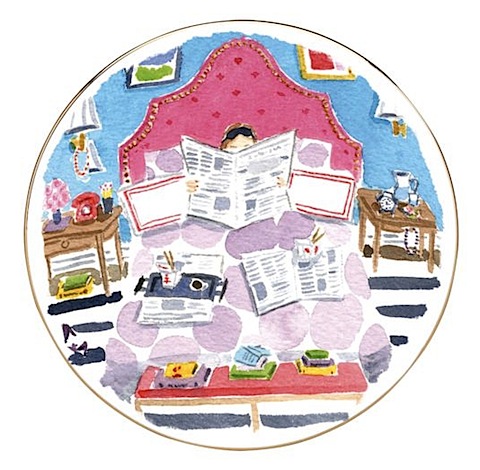 Molecular Gastronomy Kit from Think Geek:
This is what you get the cook who has everything… But still wants more. I mean, molecular gastronomy is SO in right now, but it's nothing most of us home cooks really contemplate much. Until now. This Molecular Cuisine Starter Kit has everything you need to get started (that you didn't know you needed to get started), including 50 individually proportioned chemicals, essential tools, and a DVD. This is awesome.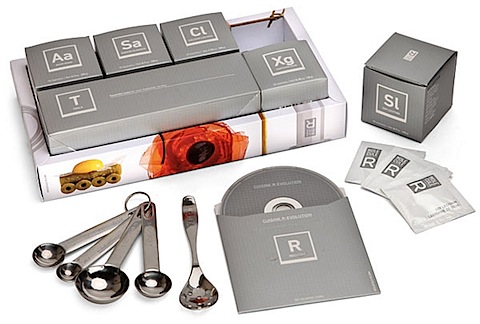 Digital Spoon Scale: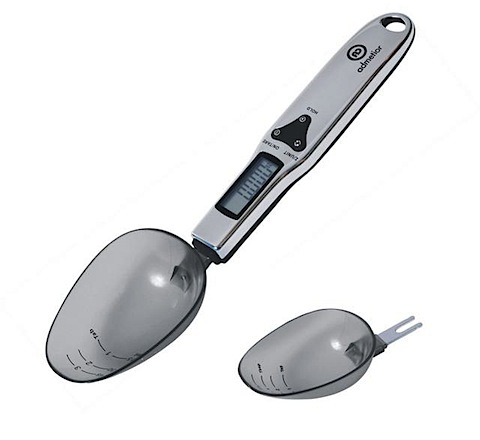 Now, I can't speak to the functionality of this, but I have to admit it's a pretty incredible idea. You want to measure your flour with a measuring cup, but you also want to weigh it, right? Well, this Digital Spoon Scale from Admetior does both! This is the perfect gift for any bakers in your life.

Obol, the Never-Soggy Cereal Bowl from Brookstone:
OCD? Take forever to eat a bowl of cereal? Or just like to keep your food compartmentalized? This bowl is perfect! Obol, the Never-Soggy Cereal Bowl from Brookstone keeps your cereal away from your milk, until you're ready to combine them. Then again, you could also serve up a nice bowl of clam chowder and oyster crackers. Or chips and salsa. Or milk and cookies. The options are endless. And this bowl, which comes in tons of colors, is pretty fabulous.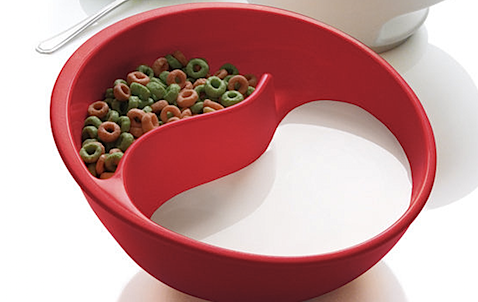 Willowherb Rolling Pin from Anthropologie:
I roll a lot of dough. Seriously. I have a flatbread-making problem and I'm in love with making bread, pastries, and more. Plus, I'm obsessed with the idea of perfecting the chocolate croissant. So, I think a pretty rolling pin is needed. Actually, I think it' s pretty much a requirement of anyone who does much baking. These are the things that make spending time in the kitchen even happier. This Willowherb Rolling Pin from Anthropologie is one of my favorites because of the cheery colors and Scandinavian print.
And you probably need the matching muffin pan ($36), too, yes? Um, I mean your gift recipient will need the matching muffin pan.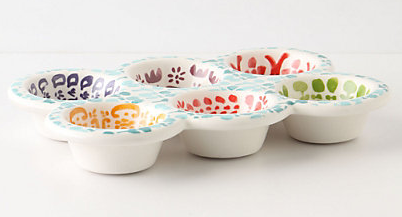 Jeni's Splendid Ice Cream:
What do you get for the person who has everything? Ice cream. And from what I've heard, Jeni's Splendid Ice Cream is the top of the line amazing. If you know someone who's been crying themselves to sleep at night because Jeni's Splendid Ice Cream isn't available where they live, you will make their holidays very happy. Jeni's website allows you to purchase and ship their ice cream. I think this Sublime Holiday Collection is perfect as it includes Cumin and Honey Butterscotch Cake, Smoked Tea and Plum Pudding, Vanilla Cedar Wood, The Black Forest, Black Currant Lambic Sorbet, and Frankincense and Almond Cake flavors. Can you say unique?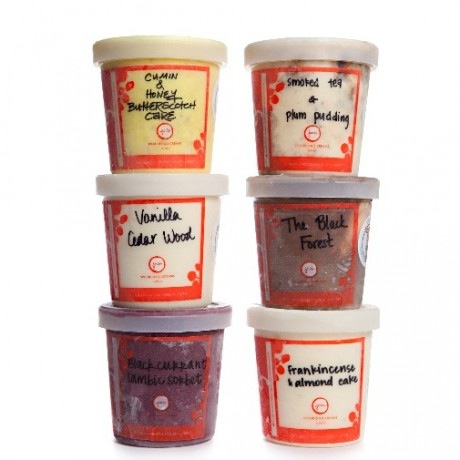 Of course, you could also pair it with the Jeni's Splendid Ice Cream cookbook. I have this and it's an insanely beautiful cookbook with the most unique ice cream recipes ever.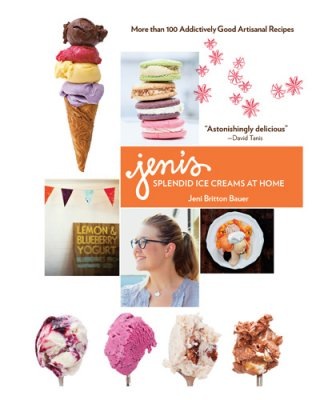 Black Pepper Body Wash from Molton Brown:
So, it's not really food. And it sounds a little odd. But I've heard absolutely amazing things about Molton Brown's Black Pepper Body Wash. Yes, it's body wash that is made with black pepper oil. But something tells me if you're a food lover, you're a fan of black pepper. It will help relax your muscles, remove toxins, and wake you right up. The body wash is unisex, so it makes the perfect gift for everyone in your life.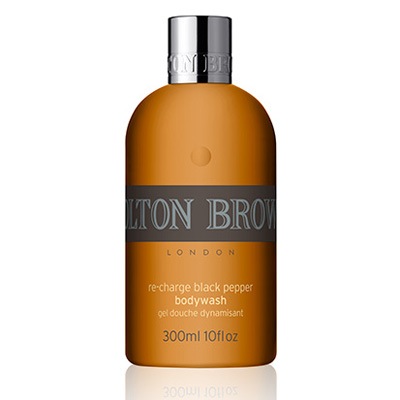 Eat Boutique Gift Box:
Want to make your gift recipients swoon? Of course you do! Eat Boutique is the perfect way. The incredible Maggie (a blogging friend in real life!) started Eat Boutique for food lovers to celebrate local and handmade foods. Not only can you purchase her gift boxes to give as gifts (prices vary), but you can even purchase a subscription, which means your recipient will get a handmade food gift box every month. Maggie sent us the Holiday Breakfast Box and I'm absolutely in love with it. It has six local products (New Harvest Coffee, Whimsy and Spice Honey Lavender Biscotti, Lark Fine FOod Teacakes, Sweet Brook Farm Grade A Maple Syrup, Quince and Apple Orange Marmalade w/ Lemons, and Cown and Crumb Granola). We'll be posting more about Eat Boutique soon, but for now, you should know the gift boxes make the perfect totally fun, unique gift for any food lover. Plus, the presentation is BEAUTIFUL!
Meat T-Shirts from Wooster Meats: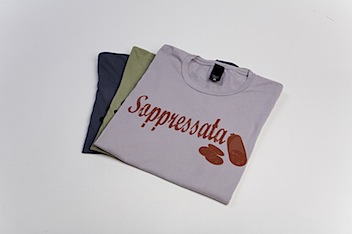 I mean, does it get any better than a t-shirt proclaiming your love for Italian meats? I don't think so. Wooster Meats offers meat t-shirts for everyone in your life. Well, the meat-eaters anyway. Particularly the ones who love Italian meats like prosciutto and soppressata. But they even have a Kosher matzo ball soup tee!

Chalkboard Spice Rack from Etsy: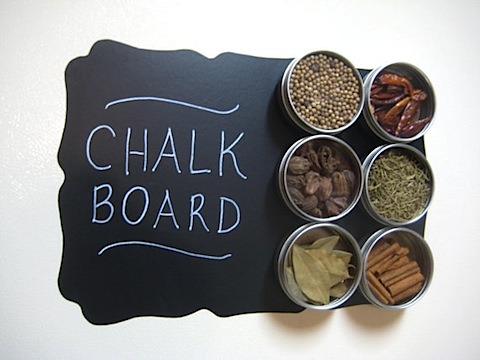 Maybe it's not the most practical thing in the world, but this Chalkboard Spice Rack from Etsy shop Salt City Spice sure is cute. Spices are beautiful and it's fun to display them. Plus, this chalkboard would be perfect to write your nightly dinner menu on, adding character to any kitchen.

Core Bamboo Bowls:
These Core Bamboo Bowls are my new obsession and you'll probably see them making multiple appearances on the blog in the future. They're fun, they're beautiful, and they can really jazz up any table or meal. In fact, I truly believe these bowls could make even a boring romaine lettuce salad more exciting. Try it. Plus, they come in so many colors, you can definitely find one (or four) for everyone on your gift list.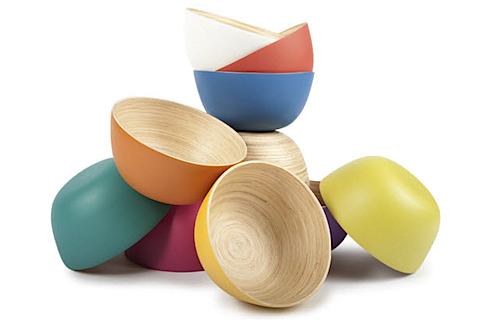 Bodum Pavina Double-Wall Thermo Glasses:
I've talked about these glasses before, but I'm saying it again. Bodum's Pavina Double-Wall Thermo Glasses are a wish come true. They keep coffee hot, but don't burn your hand. They keep water cold, but don't give you the chills. And they come in all different sizes. Plus, they're more fun-looking than the average glass.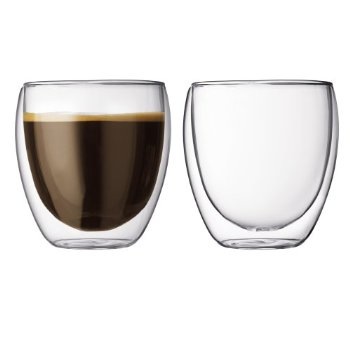 Aerobie AeroPress: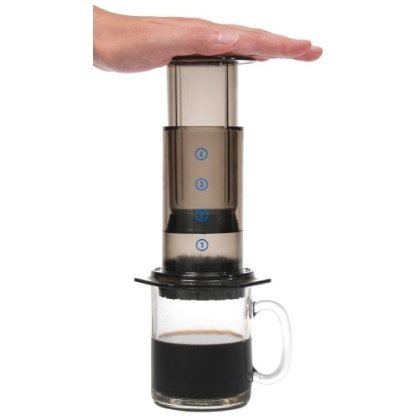 Again, you've seen this contraption on We are not Martha before (read the post to learn more), but I highly recommend the Aerobie AeroPress as a gift for any coffee drinkers in your life. It's super inexpensive and makes what I believe is some of the best coffee ever. Talk about value!

Contigo Travel Mug: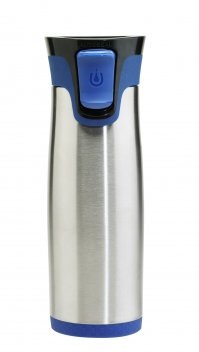 Another gift for the coffee-lovers out there. Anyone who takes coffee to work likely knows how annoying it is to a) get to work and have the coffee be cold and b) go to take a sip of coffee and have it spill all over you (and your white coat when you're on your way to work… Not that I would know…). Well, the Contigo Travel Mug solves both those problems. It seriously keeps coffee hot for HOURS. Like so hot you won't believe it. Plus, the autoseal lid actually automatically seals between sips so there will be no danger of spilling. Oh, and if you prefer cold drinks to hot coffee? Contigo keeps those cold for 12 hours.

Bloody Mary Gift Basket from GourmetGiftBaskets.com: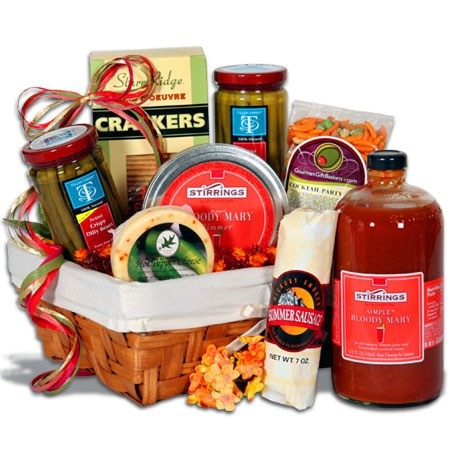 You must know someone who has a healthy obsession with bloody marys. If so, this is their dream gift. This Bloody Mary Gift Basket comes with everything (and much more!) you need for an amazing bloody mary. If you don't know any bloody fans, there's always the Mojito Gift Basket and many more.

Sign up for Fab.com:
OK, this isn't a gift, but more of a demand from me. Because you'll find lots more holiday gifting inspiration here. You probably think the last thing you need is a daily deal site to send you emails. But Fab is, well, fab. That's all. It's filled with design inspiration and will make your heart melt. In a good way. You can sign up with my invite code and I'm pretty sure you'll become as obsessed as I am.

I could keep going. Forever. Really. But, even though it's December 1, the holidays are coming upon us quickly and I know you want to finish up your shopping! I hope you found a gift idea or two on this list… And remember to check out last year's Holiday Gift Guide because I still highly recommend everything on there!
What's your favorite holiday gift for food lovers this year?
[Sues]