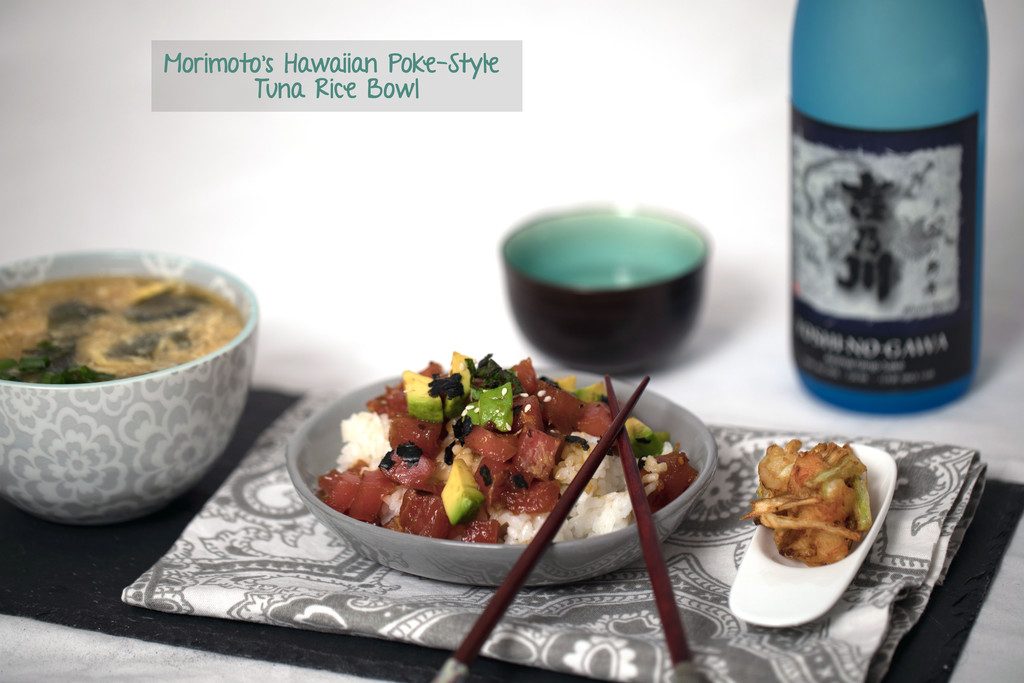 Happy New Year!! I hope your 2017 is off to a fabulous start and that your holidays were everything you hoped for. I couldn't believe how quickly the holiday season arrived and now I can't believe it's already over. How the heck does that happen? But here we are in 2017. Hi!! The last couple of years, Chris and I have opted to stay in on New Year's Eve. It's actually one of my favorite days; I always look forward to a nice cozy evening at home as we usually spend it cooking together and then watching all of the NYC celebrations on TV (Mariah Carey, anyone??). This year, we decided to cook from Morimoto's new Mastering the Art of Japanese Home Cooking cookbook.
Fun fact you may not know about me... I have a pretty serious Japan obsession. It goes back to my days of watching Big Bird Goes to Japan and was obviously only made stronger by the sushi obsession I developed in college. I haven't had the opportunity to visit (yet!), but I did spend a fair amount of time attempting to learn Japanese. I'm still sad that I kind of sort of gave up on learning the language (I'm still in denial that I haven't actually looked at a book or a flashcard in literally five years), but maybe it's something I'll come back to again some day. In any event, Chris and I have been to Napa's Morimoto restaurant twice and had incredible experiences both times. We absolutely love the food and were excited to attempt making a few recipes in our home.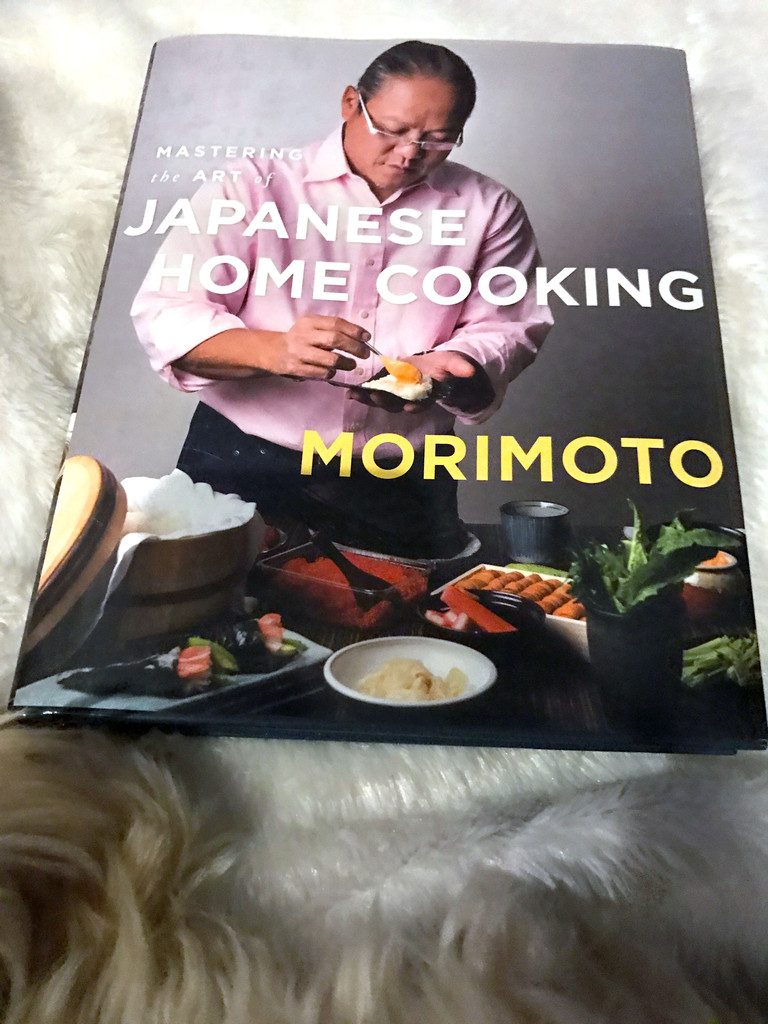 The book is meant to be pretty accessible to everyone and I think that for the most part, it is. Of course, there are some ingredients needed that you probably won't find at your regular grocery store, which can sometimes be a bit of a challenge. We took a little trip to H-Mart; a huge Asian grocery store near our house. It was awesome, but so, so crowded and a little tough to navigate considering we didn't even know what half of the ingredients we were looking for were. But it was all just part of the adventure! Miraculously, we found almost everything we needed, aside from a couple things that I knew we could use substitutes for.
We got home and I obviously spent a little bit of time studying the recipes.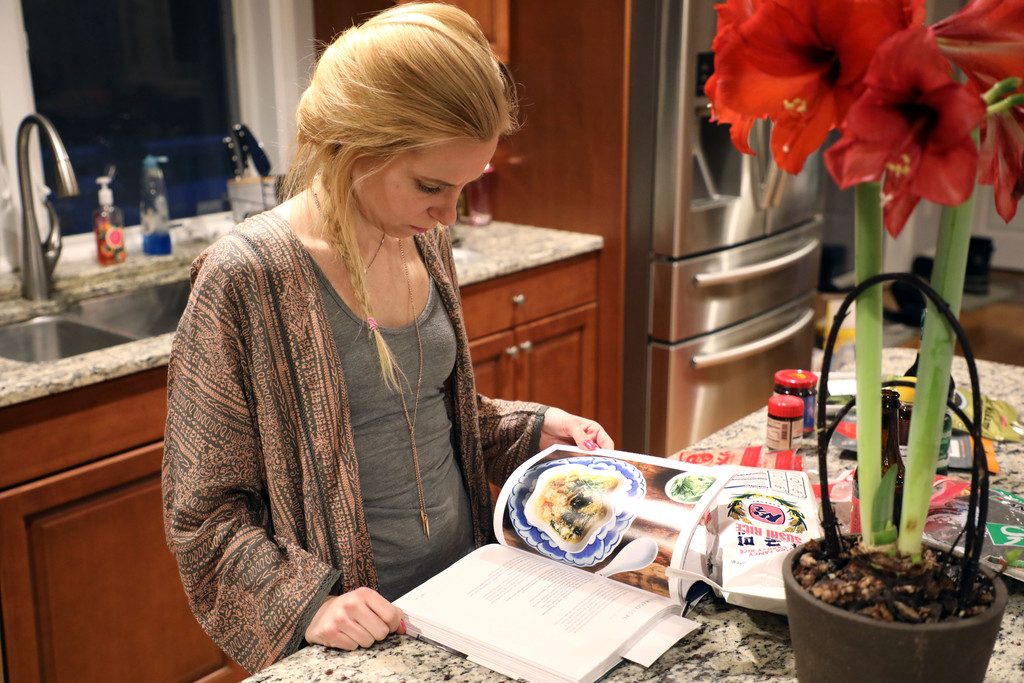 We started with Morimoto's shrimp and vegetable fritters (Kaki Age), which utilized tempura batter mix. I never even realized tempura batter was something you could purchase, but I was game!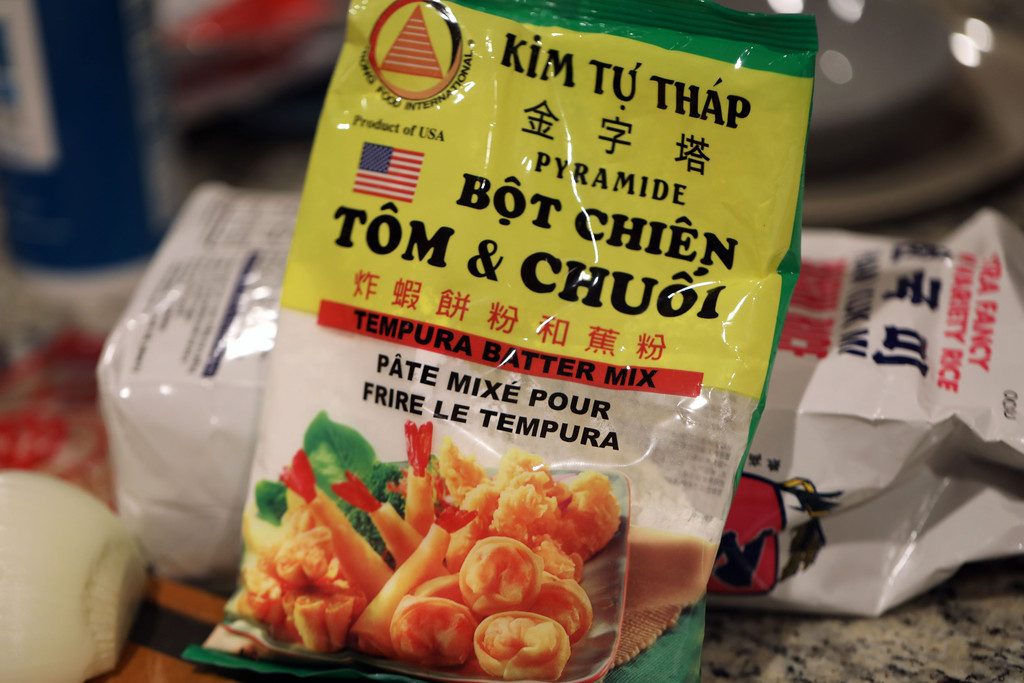 The fritters were fairly easy to make. We couldn't find some of the produce, but were able to use some simple substitutes. I was super excited to find burdock at H Mart... It's a root vegetable that's about 3 feet long (I'm disappointed I didn't take a photo with my whole burdock, but you can see it below chopped up... It looks a little like a parsnip, but maybe a little crispier and sweeter.)
I also just love the fact that you can see Winnie's little face in the below picture where I'm chopping the shrimp. That's pretty much where she always is when I'm in the kitchen.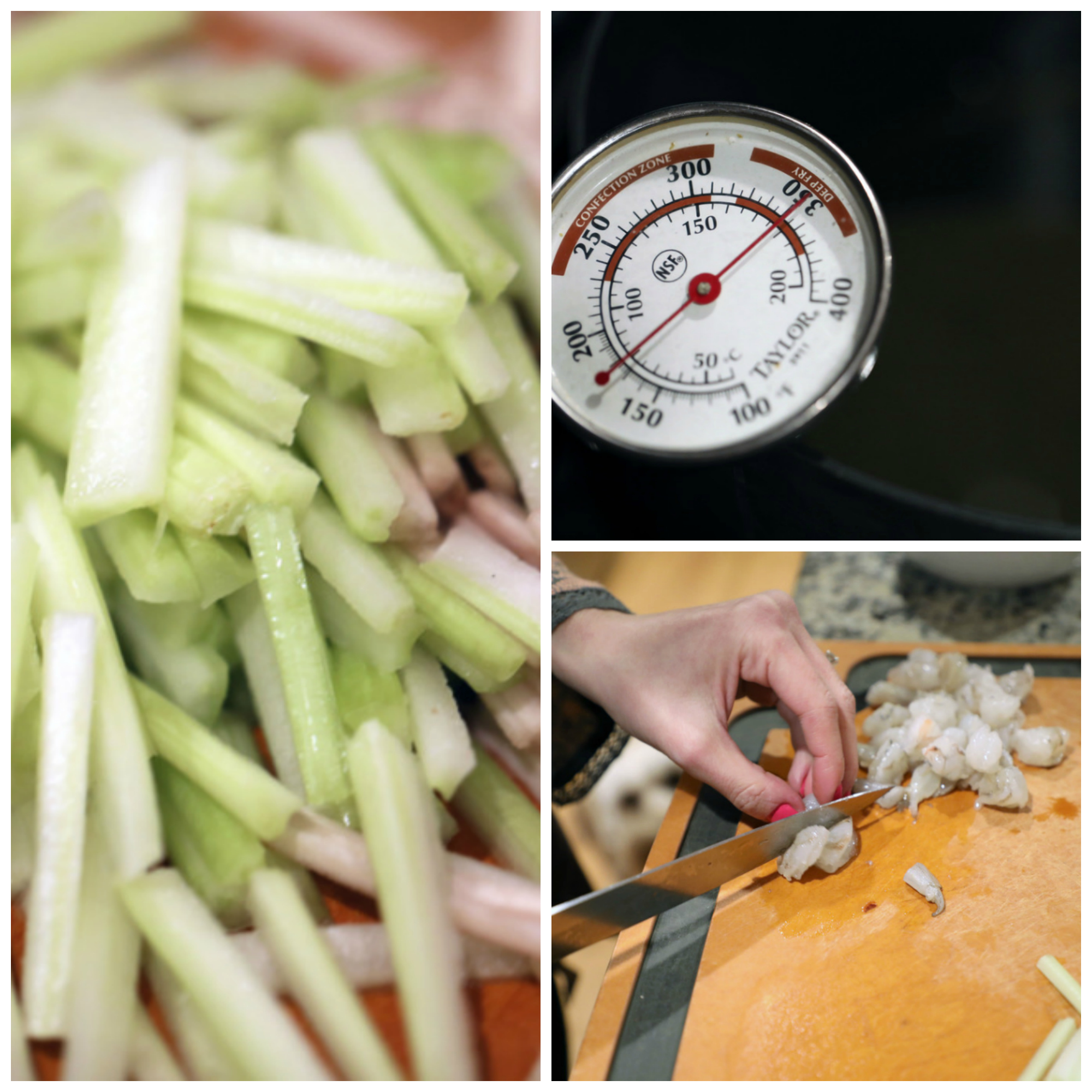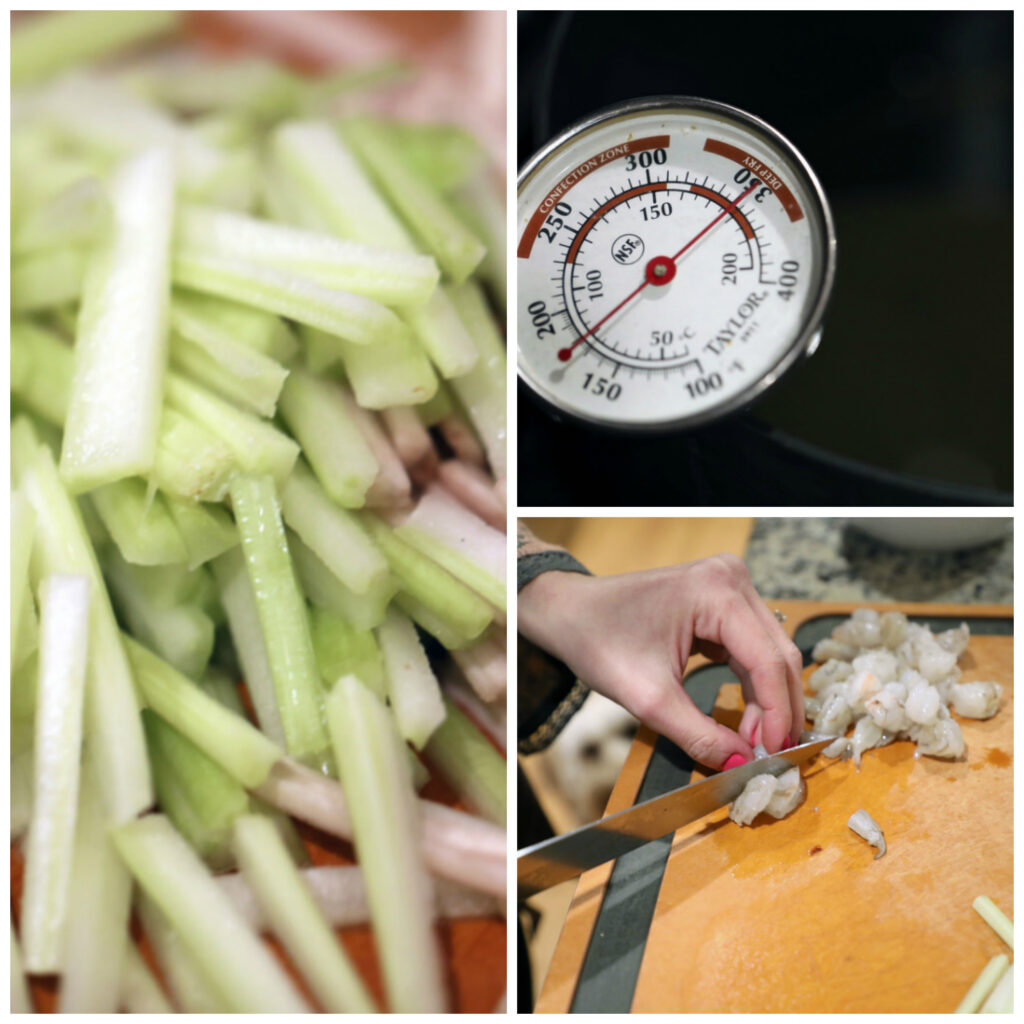 I found the tempura batter a little bit difficult to work with. It was way runnier than the batter I'm typically used to and didn't hold together as well when I dropped the fritters in the hot oil. But they turned out just fine and were seriously delicious. I would definitely make these again.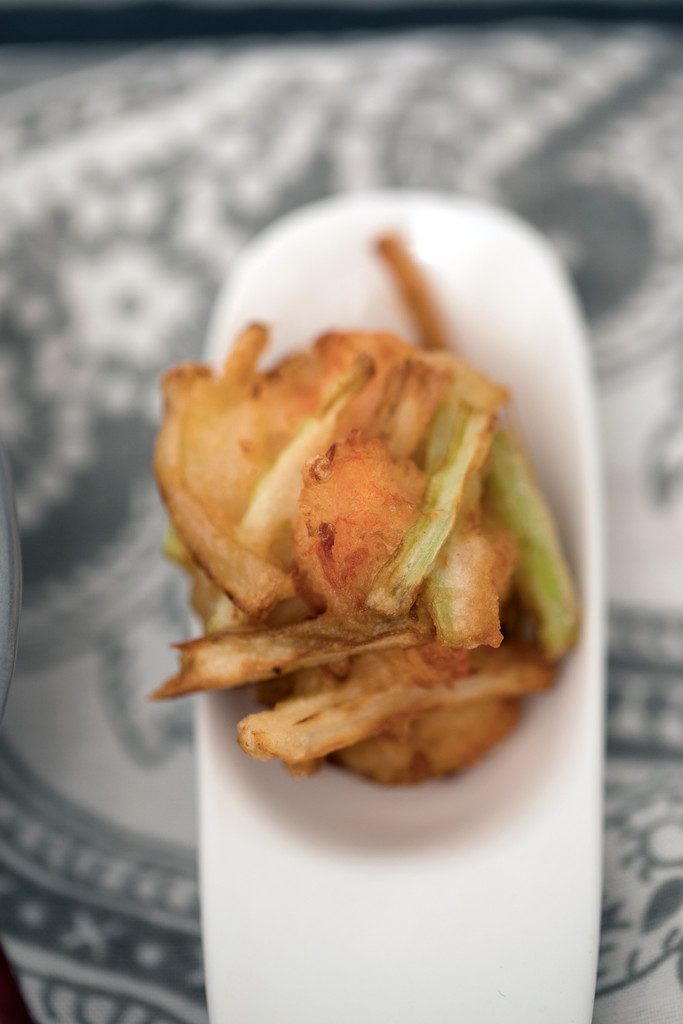 We also opted to make Morimoto's egg drop soup and this was probably my favorite recipe of the night because it made me feel the most accomplished. First of all, we had to make our own stock with dried kelp and bonito flakes, a fact I didn't fully realize until I started in on the cooking. I'm still questioning whether or not we bought the right kind of dried kelp (there was about 9232 different options in the grocery store and ours looked pretty different than the one in Morimoto's photo), but it seemed to work out just fine.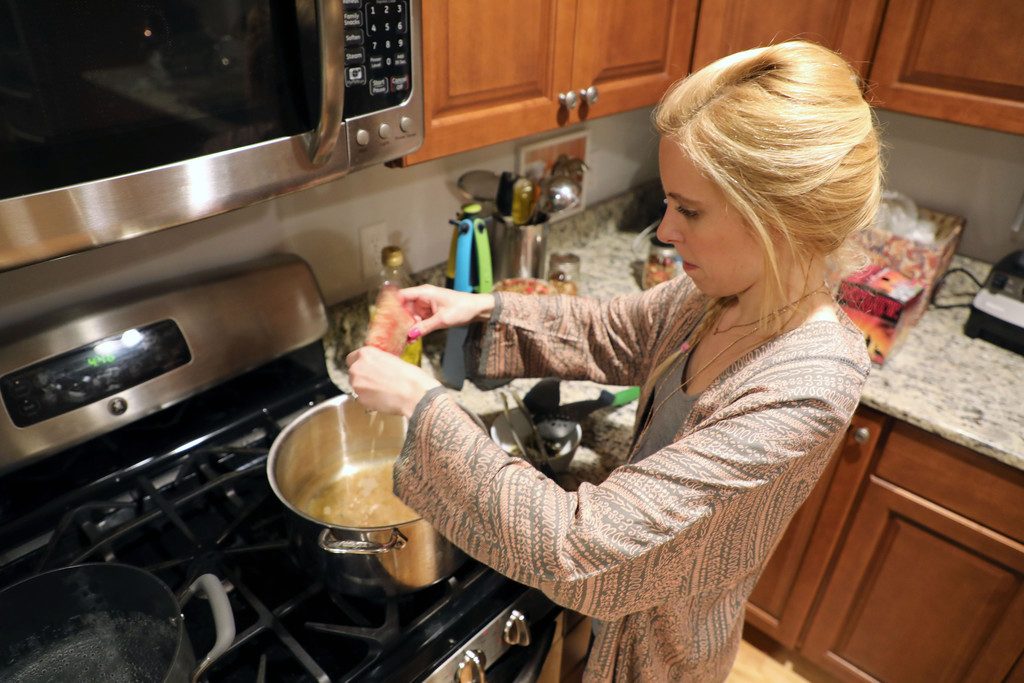 The homemade broth was filled with seaweed, tofu, and, of course, eggs. As the name implies, you "drop" in the lightly beaten eggs at the last minute and stir a bit before serving.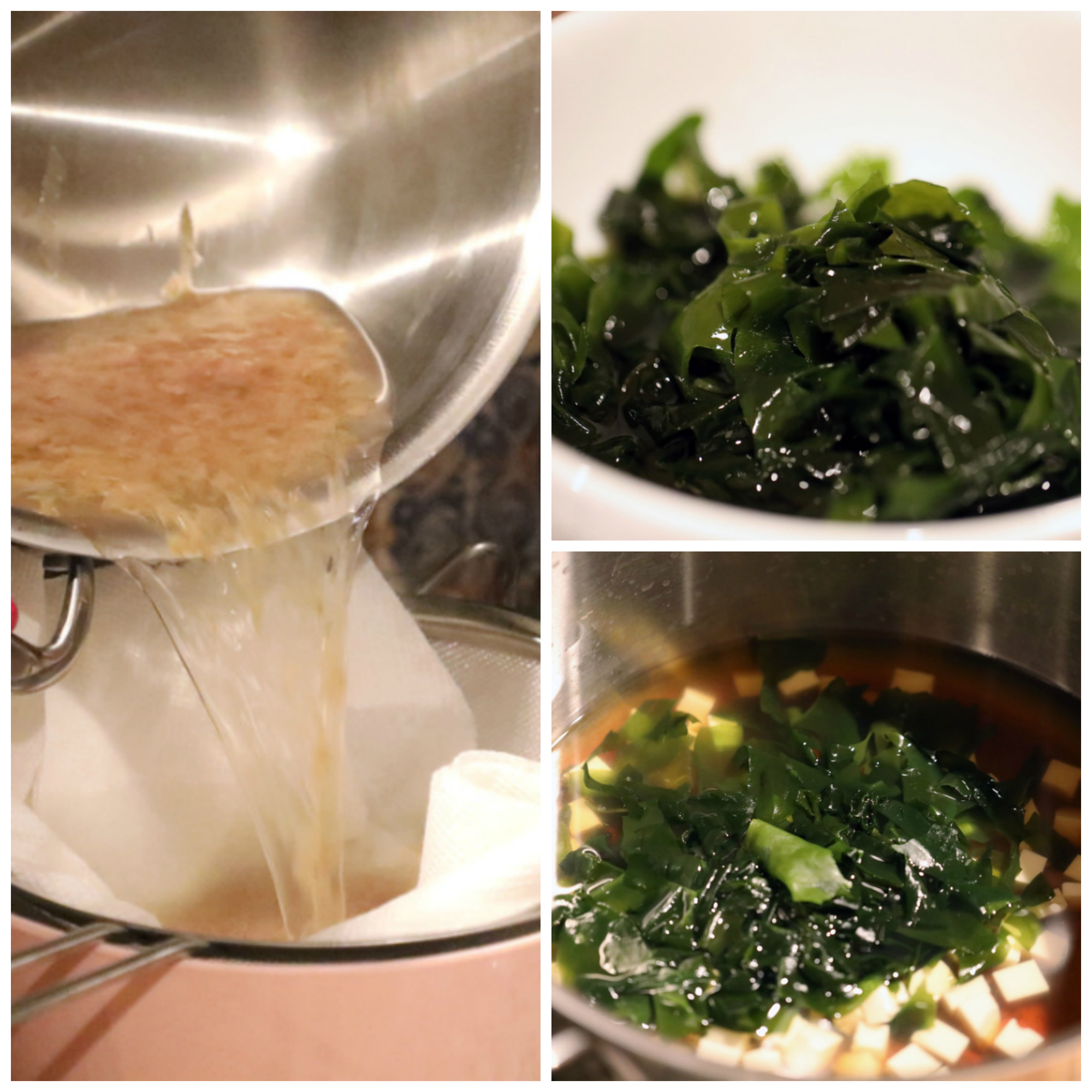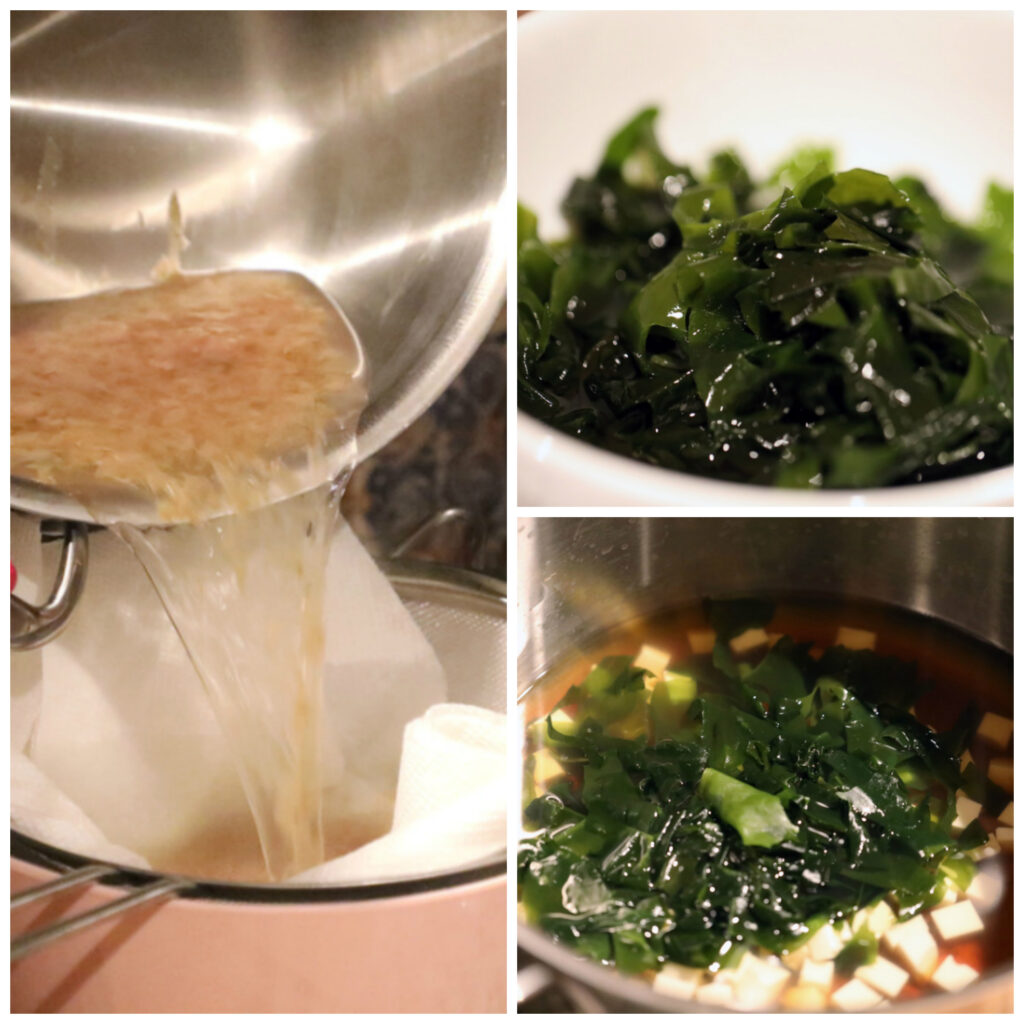 I was so, so thrilled with how this soup came out! It tasted way better than what I've had in restaurants (granted I've never had egg drop soup in Morimoto's restaurants and have probably really only had it from some not super high-end places) and I could have slurped this down as my meal and been perfectly happy.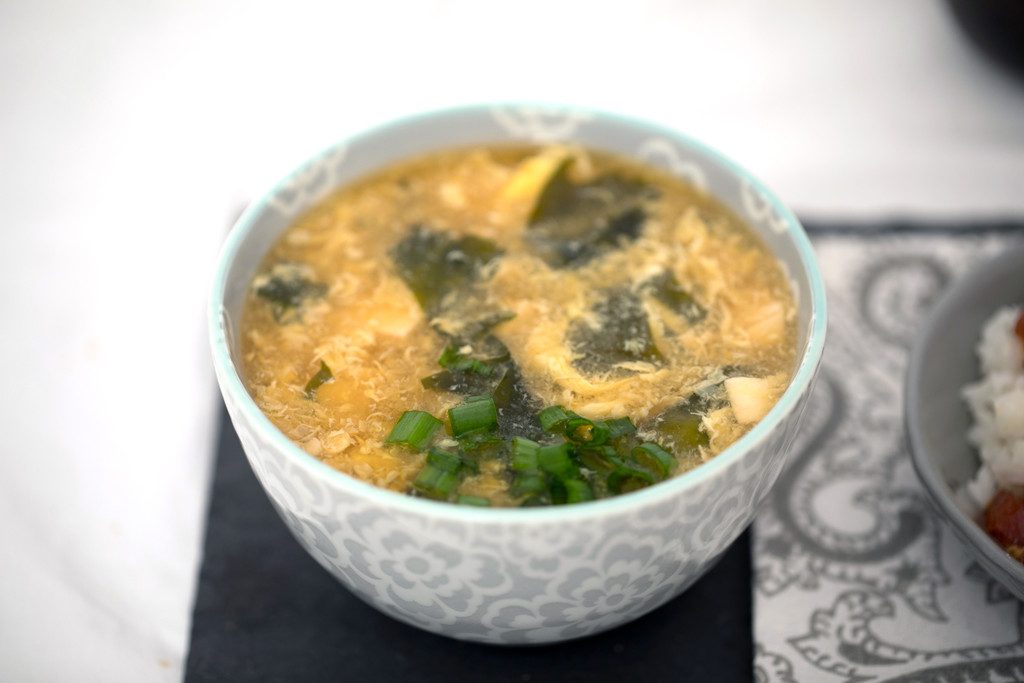 But we also wanted to have more of a "main" dish and for that, we opted for Morimoto's Hawaiian Poke-Style Tuna Rice Bowl (Tekka Don No Poke), which I'm sharing the recipe for below. This is a super simple dish and the only real potential complication is that you need to find sushi-quality tuna for it. Now that I know where I can get sushi-quality tuna (H Mart), I want to eat it every night. I'm totally becoming an H Mart regular.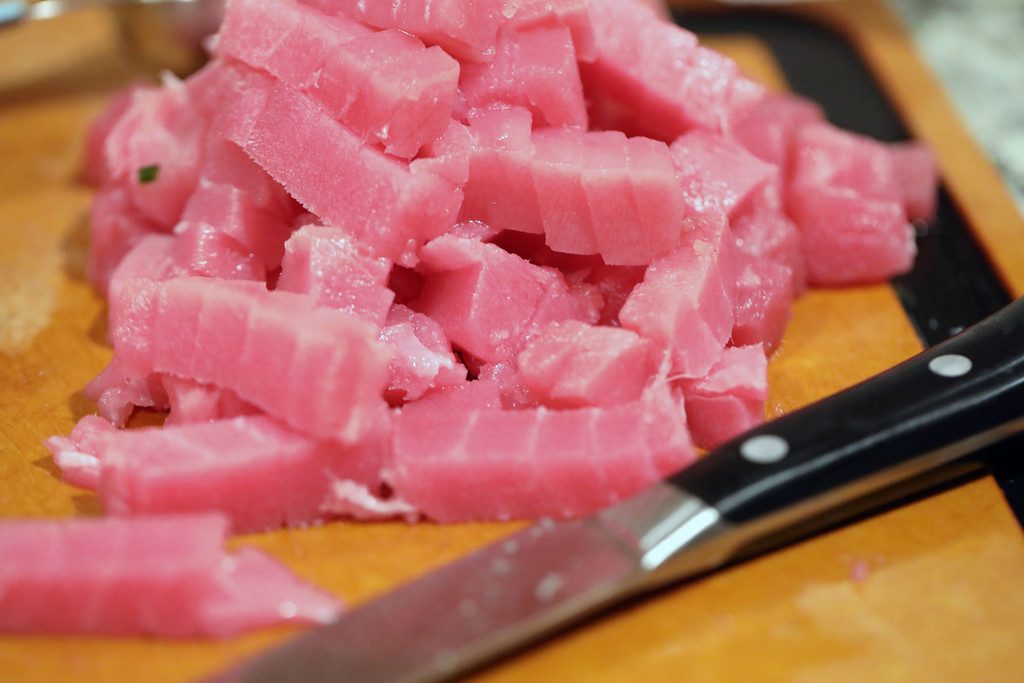 The tuna is combined with avocado and tossed in a mixture of chile bean sauce (tobanjan), soy sauce, mirin, and sesame oil with a little bit of sugar. It's placed on top of short-grain rice and then topped with dried nori seaweed, shiso leaves, and sesame seeds. We sadly couldn't get shiso leaves at the grocery store, but Morimoto recommended mint instead and that seemed to work just fine!
Is it silly to say that I was just so happy that I was able to enjoy a dish like this at home? Tuna, avocado, and carbohydrates with a little bit of spice is my dream combination.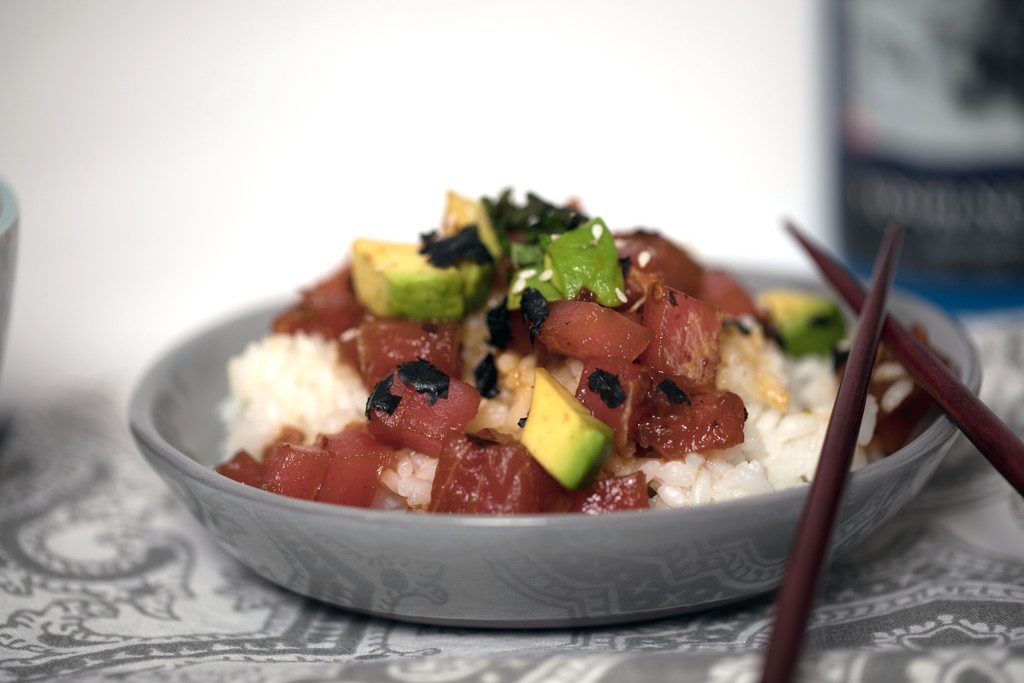 Really, the entire meal gave me such great satisfaction. Not to mention, Chris and I had such a fun time cooking it together (OK, in case you can't tell, I did most of the cooking... But he assisted and was a wonderful photographer!).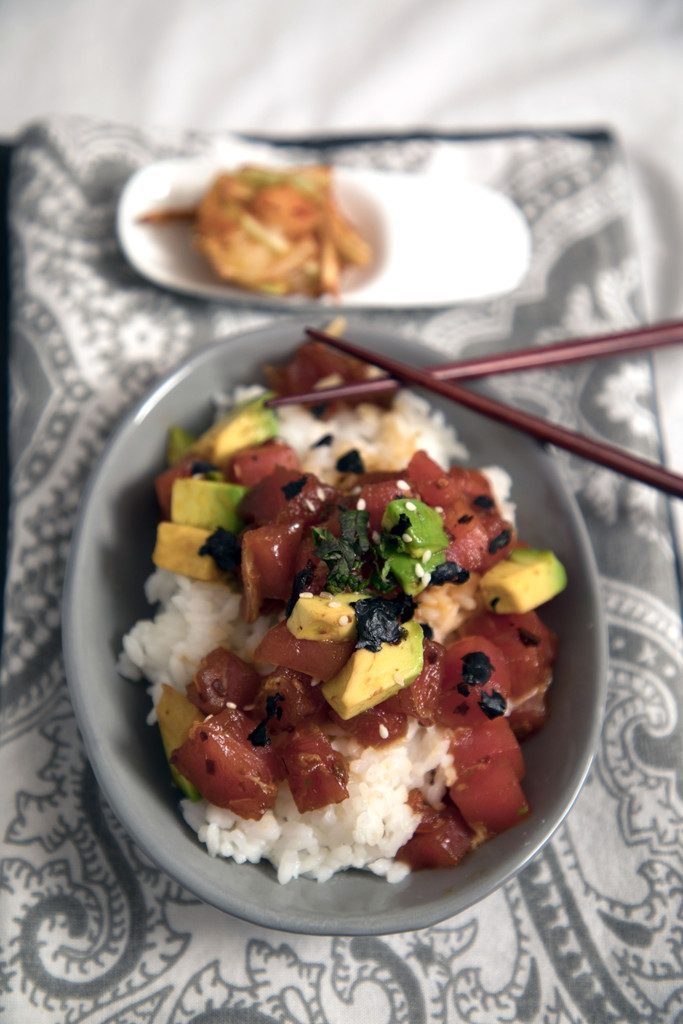 I'm sure the sake helped, too. I had no idea what I was doing when I picked out this sake at the liquor store, but I loved the bottle and did a little quick Googling on my phone to determine this was a good pick. And I think I was right! At least it tasted delicious and seemed to be a great complement to our meal.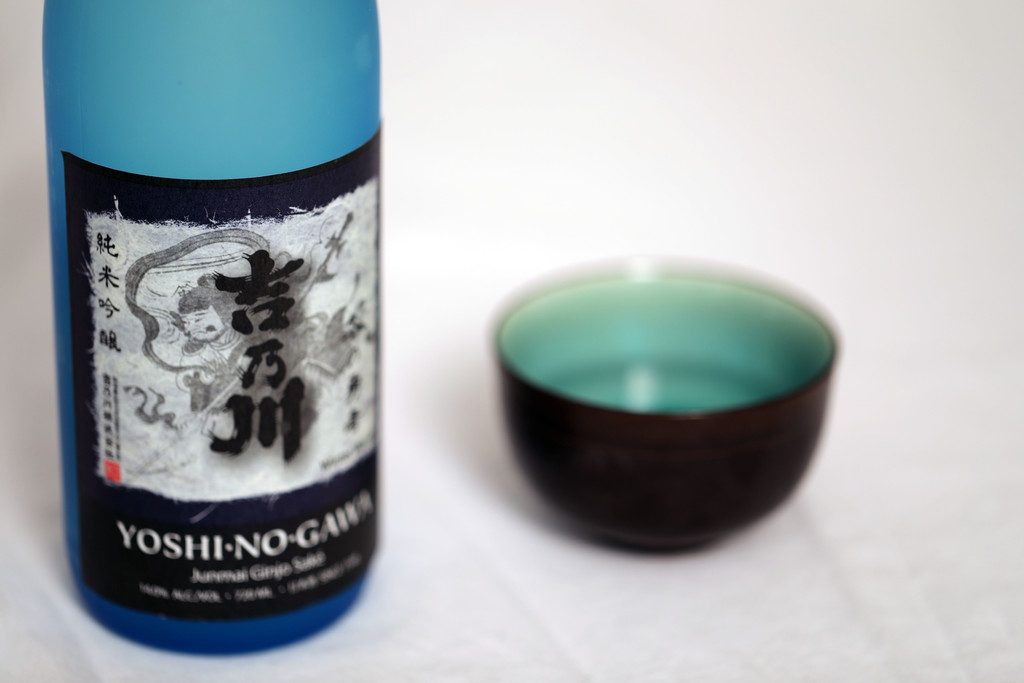 This felt like the perfect way to end 2016 and launch ourselves into a hopefully bright and happy 2017. I'm giving it all I got to make sure it's the best year ever.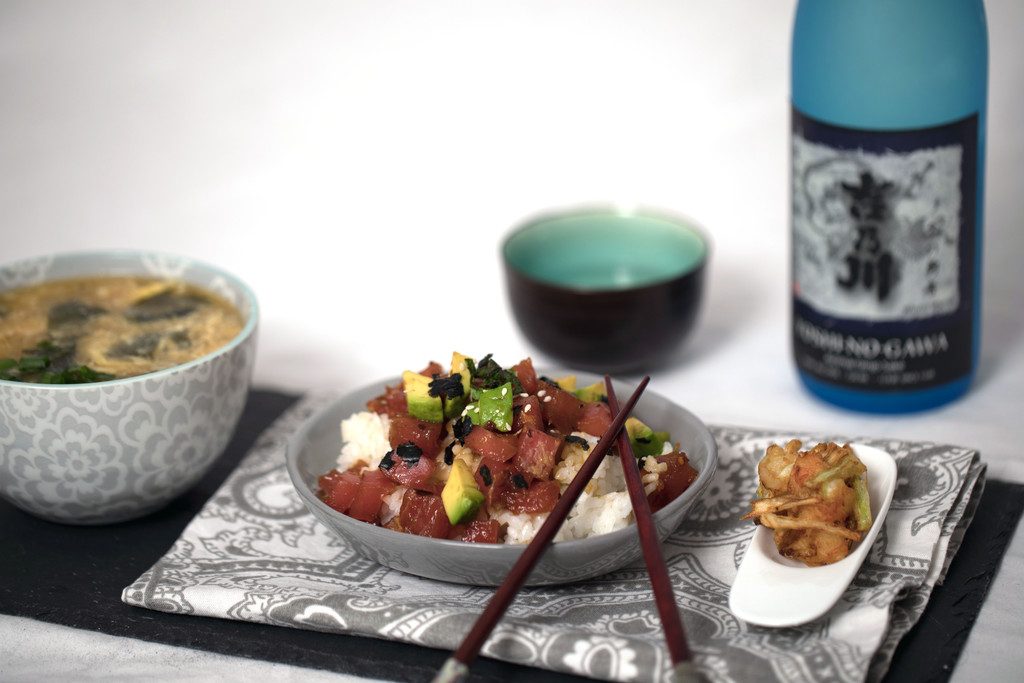 I hope you ended 2016 in an equally fabulous way and are already being blown away by how fabulous 2017 is!
I highly recommend Morimoto's cookbook if you want to try your hand at making Japanese food at home. Please invite me over when you do!
Have you ever made your own Japanese food?
📖 Recipe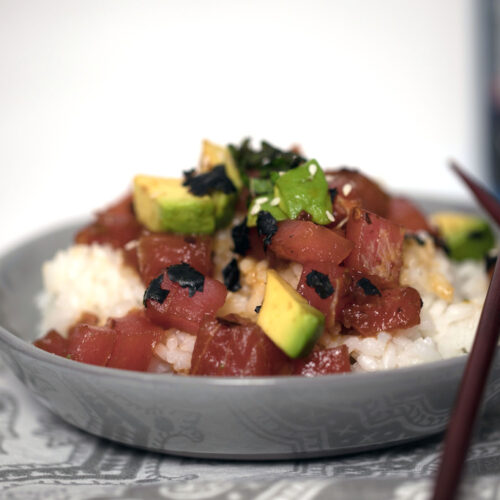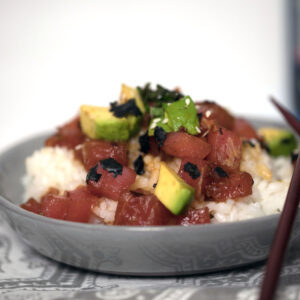 Morimoto's Tekka Don No Poke (Hawaiian Poke-Style Tuna Rice Bowls)
This recipe for Poke-Syle Tuna Rice Bowls from Morimoto will make you feel like you're at a restaurant. They're so easy to make, you won't believe you can this Japanese dish at home!
Print
Pin
Rate
Ingredients
¼

cup

Japanese soy sauce

1

Tbsp

+ 1 tsp mirin

sweet rice wine

2

tsp

toasted sesame oil

1-2

tsp

tobanjan

chile bean sauce (I recommend 2 tsp for a nice spicy kick)

1

tsp

granulated sugar

1

lb.

sushi-grade tuna

cut into ½-inch cubes

½

medium Haas avocado

peeled, pitted, and cut into ½-inch pieces

6

cups

cooked short-grain white rice

I used sushi rice

1

nori seaweed sheet

¼

cup

thinly sliced fresh shiso leaves AKA Japanese mint or perilla

I substituted with mint

1

tsp

toasted sesame seeds
Instructions
Combine soy sauce, mirin, sesame oil, tobanjan, and sugar in a medium mixing bowl and stir until sugar dissolves.

Add diced tuna and avocado to sauce in bowl, toss well, and let marinate for up to five minutes (but no more than that!).

Divide cooked rice between wide bowls and top with tuna and avocado mixture, leaving sauce behind.

Drizzle sauce over the tuna/avocado.

Tear nori sheets into small pieces and sprinkle over the bowls. Top with shiso leaves and sesame seeds.

Enjoy immediately!
Share a Photo of Your Finished Recipe!
Mention @wearenotmartha and share a photo if you've made the recipe!
Peapod Giveaway Winner: And with the new year comes a new winner! I'm excited to announce the winner of my Peapod gift card giveaway. Drumroll please... Congratulations to Monica!! I'll reach out ASAP so you can claim your prize and take part in glorious grocery delivery.