I was a Girl Scout for many, many years. More accurately, I was a Daisy in kindergarten, worked my way up to become a Brownie, and then became a Girl Scout from there. It seems like I was in the Girl Scouts forever, but I actually believe it was only until the 5th grade. I'm sure I learned many important lessons, but the things that stick with me are cookie selling and camping. Cookie selling I loved; camping I hated. I was also not a fan of the brown or green uniforms. Could you get any more unfashionable?
Today's world of Girl Scout cookie selling? Is probably a little bit different than it was in my day (I feel like a grandma saying that). But seriously, sonny, do you think parents these days let their children go door-to-door at strangers' houses? Do you think people open the door when someone they're not expecting comes a-knocking? No. These days you're much safer staying in your house making your OWN Girl Scout cookies.
I kid. I still support the Girl Scouts of American 100% and would never discourage you from purchasing from them. And let's face it, Girl Scouts aren't likely going door-to-door these days (right??). They're selling the cookies to their parents' work friends and on busy downtown corners with the rest of their troop. I also heard whoever sells the most cookies in each troop or district wins an iPad. Yup, times have changed. In my day, I think we won a stuffed teddy bear or a clock radio. Woot.
But I still wanted to try my hand at making my very favorite Girl Scout cookies from scratch, Tagalongs. They're the chocolate covered peanut butter ones and they've always been my favorites. Well, those and Samoas, which I kind of recreated here. The seemingly best Tagalong recipe I found is AWESOME, but it does create almost double the cookie dough that you need. Honestly, I'm happy it did because these are amazing and now I have more dough in the freezer, but if you just want enough for one batch, cut the cookie ingredients in half (butter through flour).
Homemade Tagalongs:
• 2 sticks (1 cup) unsalted butter, room temperature
• 1 C sugar
• 1 large egg
• 1 T vanilla extract
• 1/2 t kosher salt
• 3 C all-purpose flour
• 1/2 C smooth peanut butter
• 1/2 C confectioner sugar
• 2 C semi-sweet chocolate chips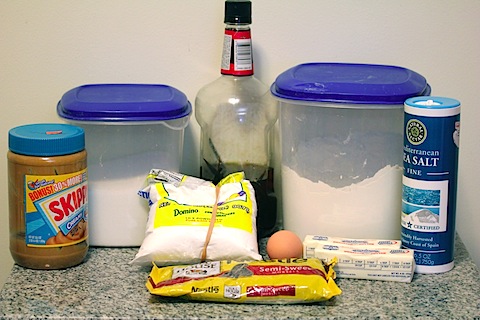 Cream together butter and sugar using the paddle attachment of an electric mixer (you could use a hand blender if you need, too!). Beat until smooth.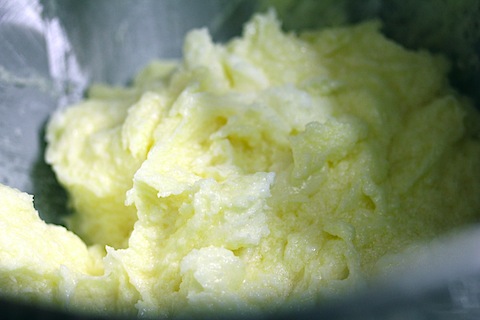 Then add in the egg and vanilla and beat until incorporated and smooth.
Turn the mixer to low and add in the salt and flour. Mix until well incorporated.
Shape dough into a cylinder with a diameter of about 2-3 inches. Like so: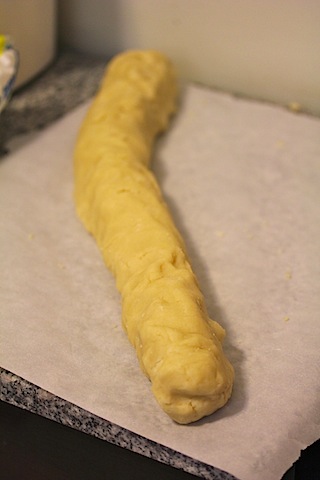 Then wrap this dough in parchment paper (which was a bit awkward) and put it in the freezer for at least 25 minutes. (there are so many that's what she saids in my head right now, it's not even funny).
When the dough is sufficiently chilled, slice it into 1/8 inch disks and place on baking sheets. Slice 30 cookies and then wrap the remainder of the dough in plastic wrap and stick it back in the freezer for another time. If you want to use all the dough to make about 60 cookies, you'll want to double the measurement of peanut butter, confectioner sugar, and chocolate that you use later.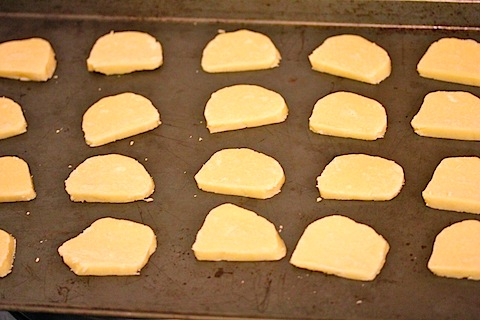 Bake the cookies at 350 degrees for about 8-10 minutes. Then place the cookies on a cooling rack and let them cool completely.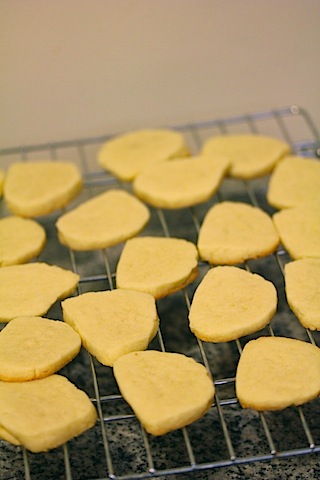 Now, it's time to make the filling. All you need to do is mix together the peanut butter and powdered sugar.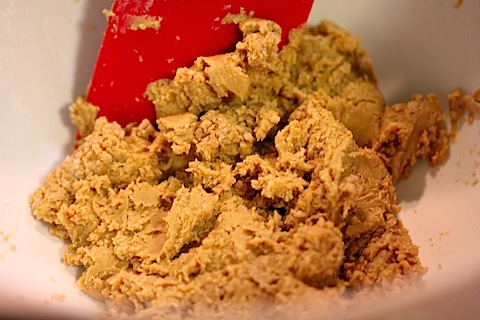 Melt your chocolate chips over a double broiler (or in the microwave).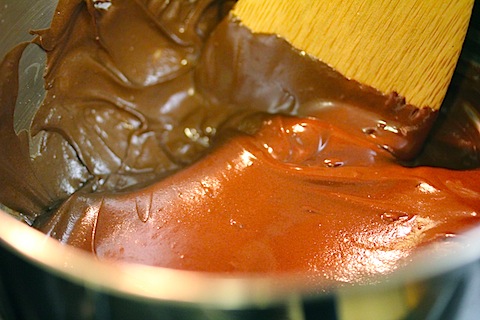 Now, press a small disk of peanut butter mixture onto a cookie.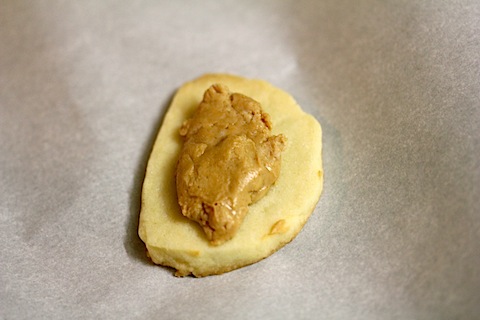 Coat the cookie completely in chocolate.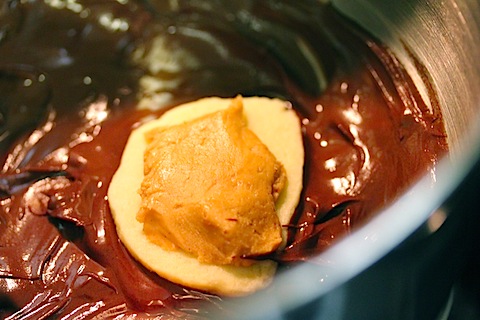 Remove cookie with a fork and place on a parchment paper-lined baking sheet.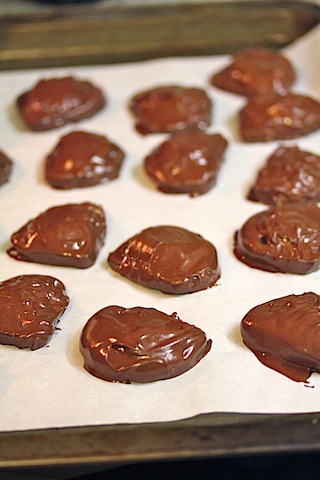 Let cookies harden. Or pop them in the freezer to speed this up. I obviously put mine in the freezer. I think these cookies are so much better cold anyway!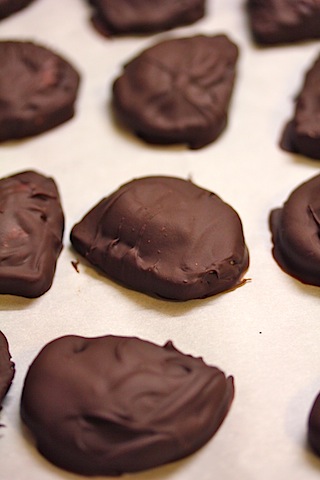 Serve with a big glass of cold milk. And marvel how they taste pretty much exactly like Tagalongs! Seriously. I was actually kind of shocked.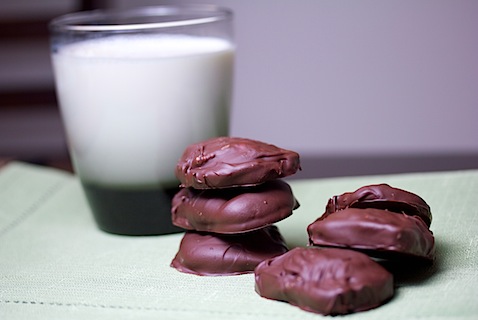 The only thing I'd change if I made them again? I'd probably use higher-quality chocolate. My chocolate discerning palate could tell it wasn't the very best chocolate, but it was still delicious. I kinda want to try these with dark chocolate. Mmmm.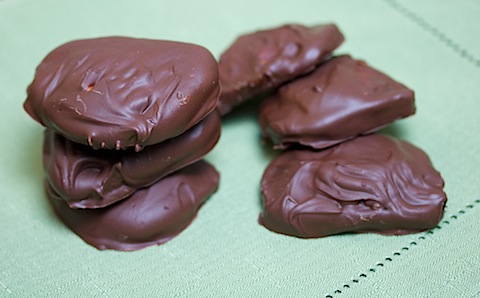 I mean, how could you go wrong with a shortbread cookie topped with peanut butter and sugar and coated entirely in chocolate? You really can't.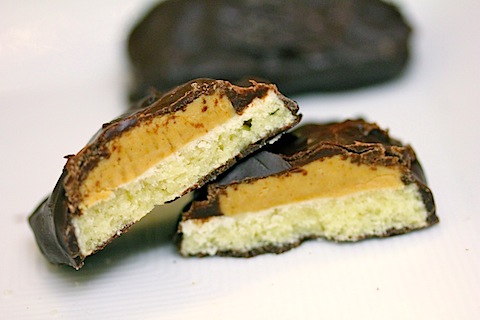 But this could mean trouble for me. Now I know how easy it is to make cookies that I previously thought I could only get during one part of the year. I could get a craving at midnight and have these made by 1 a.m…. without a Girl Scout in sight. Or an ugly brown uniform. Or a campfire.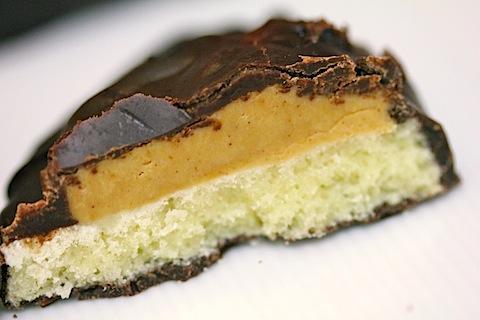 And something tells me I'm going to have to work really hard to resist. Especially considering this recipe makes 30 cookies. And there are probably only about 15 Tagalongs in a box. Yup, trouble.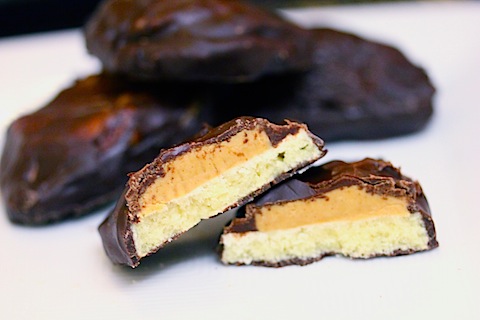 If you are a Tagalong fan, you really must make these. If you've never had a Tagalong but love the chocolate-peanut butter combination, you also really must try these. I'm seriously in heaven.
In speaking further about supporting the Girl Scouts, here's an idea I've been hearing more and more people doing. Instead of buying 5 boxes of cookies and pigging out (I'd really prefer to pig out on cookies I make from scratch), buy 5 boxes and donate them to the troops, your local shelter, or church. OR, simply donate the money you would spend on cookies to the GIrl Scouts without getting anything in return. Visit this site to find a Girl Scout cookie seller near you. I really am big on supporting organizations like the Girl Scouts, but I also love making cookies from scratch and am so thrilled I duplicated this recipe!
What's your favorite Girl Scout cookie? Would you duplicate it if you could? This could get dangerous!
[Sues]
Garden of Eatin' Giveaway Winner:
The winner of the wonderful Garden of Eatin' Prize-pack giveaway is (drumroll, please) Alycia of Fit n Fresh! Congrats Alycia and I hope you enjoy chowing down on the Garden of Eatin' tortilla chips while watching the Super Bowl in a couple weeks! I'll e-mail you to get your info 🙂