This bright green frozen honeydew margarita combines fresh honeydew melon, ginger simple syrup, and tequila for a frozen drink that's perfect for any time of the year.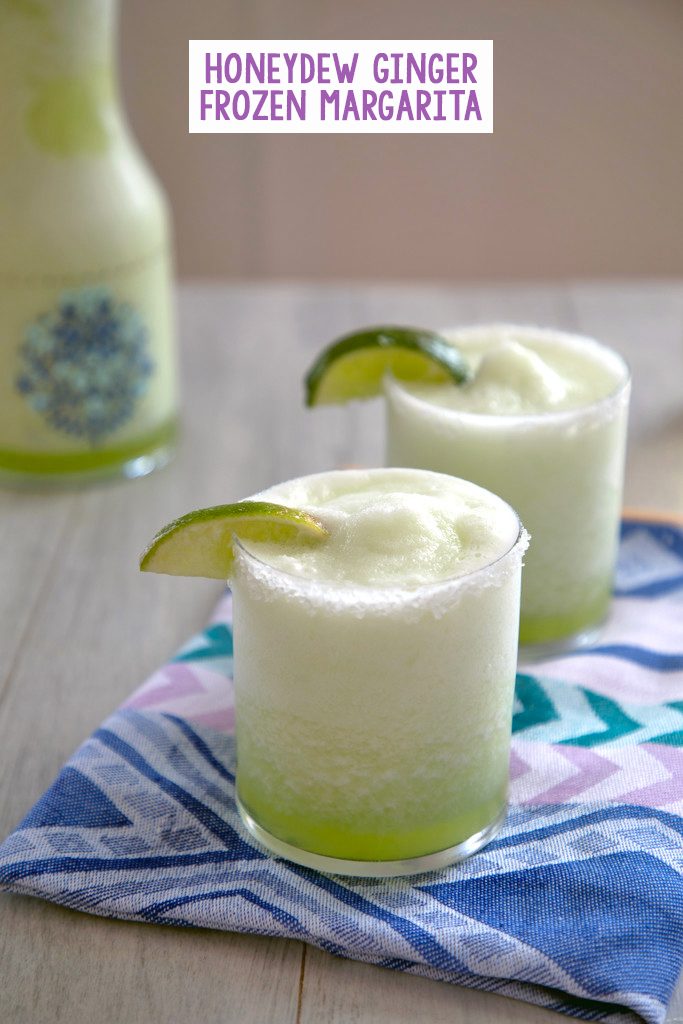 Back in my younger dive bar-going days, I pretty much exclusively ordered gin and tonics. But after a bad g&t experience in New York City (ugh let's not talk about it), I had to walk away from gin completely and turned, instead, to the vodka soda. Which is where my loyalty mostly remains today if I'm in a sketchy-type bar. You know the type... the kind where all the bottles on the bar look slightly dusty and when you ask for the cocktail menu, the bartender just glares at you like you're from another planet. Back in the day, those are pretty much the only bars we frequented. And while I was sipping on gin and tonics, a lot of my friends were drinking Midori sours, which I thought looked SO cool. They were neon green concoctions that looked eerily similar to the Ecto Cooler of my youth that I was rarely permitted to drink. But... whenever I tried them, I realized that the Midori sour drinks you order at dive bars were not for me. I didn't love the overly sweet taste of sour mix and knew that just one would result in a pretty much automatic headache.
But I'm not going to lie; I'm still ridiculously attracted to brightly colored foods and beverages, though I try my best not to use food dyes for non baked goods. So, I was pretty psyched when I blended this frozen margarita together and it slightly resembled a Midori sour, but with a whole lot less sugar and artificial coloring. Honeydew melon for the win! As you can imagine, I'm not a big fan of green beer and don't really think green smoothies made with kale and/or spinach are super appropriate for St. Patrick's Day celebrating. But this honeydew margaritas? They're perfect for pretty much any occasion be it St. Patrick's Day or in the dead heat of summer.
FROZEN HONEYDEW MARGARITAS WITH GINGER RECIPE
Not only is it super easy to make these honeydew margaritas, but it's just as easy to make for one as it is for a crowd. All you need to do aside from make (and cool) the ginger simple syrup, is to add everything into a blender. Blend away and then garnish the whole shebang with a little lime.
Welcome to paradise.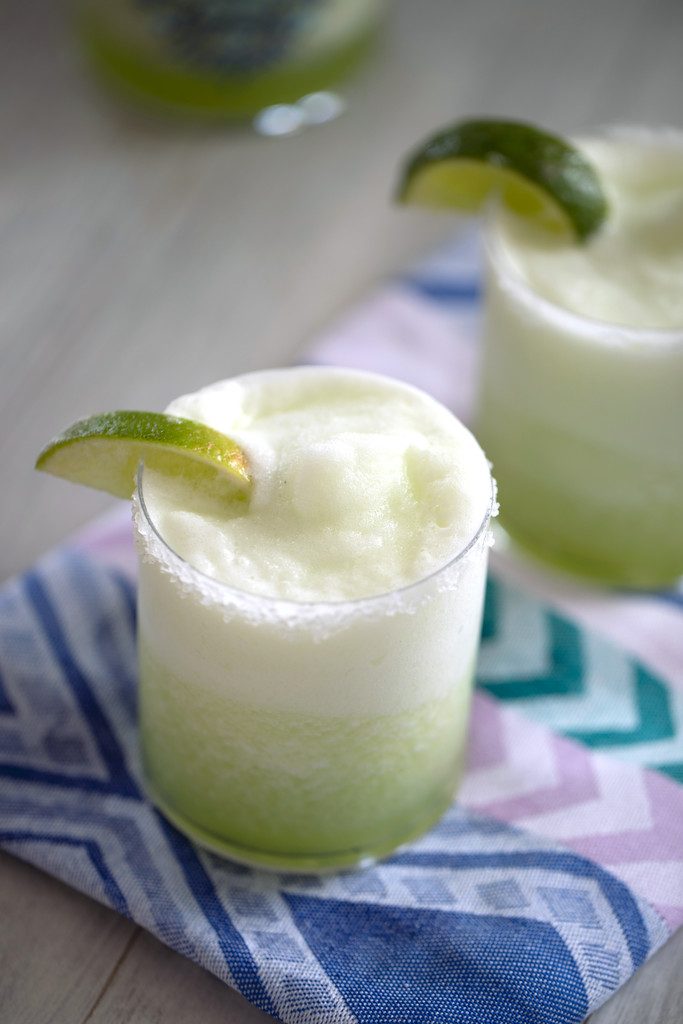 It's always a gamble as to what the weather will look like each year on St. Patrick's Day. This year in New England, it seems we're expecting cold and snowy (lovely!), but some years it's sunny and warm. While you probably don't want to be sipping on a frozen margarita while you're standing outside in 30 degree weather at a parade, I'm considering it a perfectly acceptable March drink for being indoors.
I'm personally not a big St. Patrick's Day celebrator as standing outside in potentially cold weather with a bunch of drunk people is so not my thing (wow, I'm making myself sound fun today, huh?), but I'm totally game for some green drinks and adding a little green to my outfit.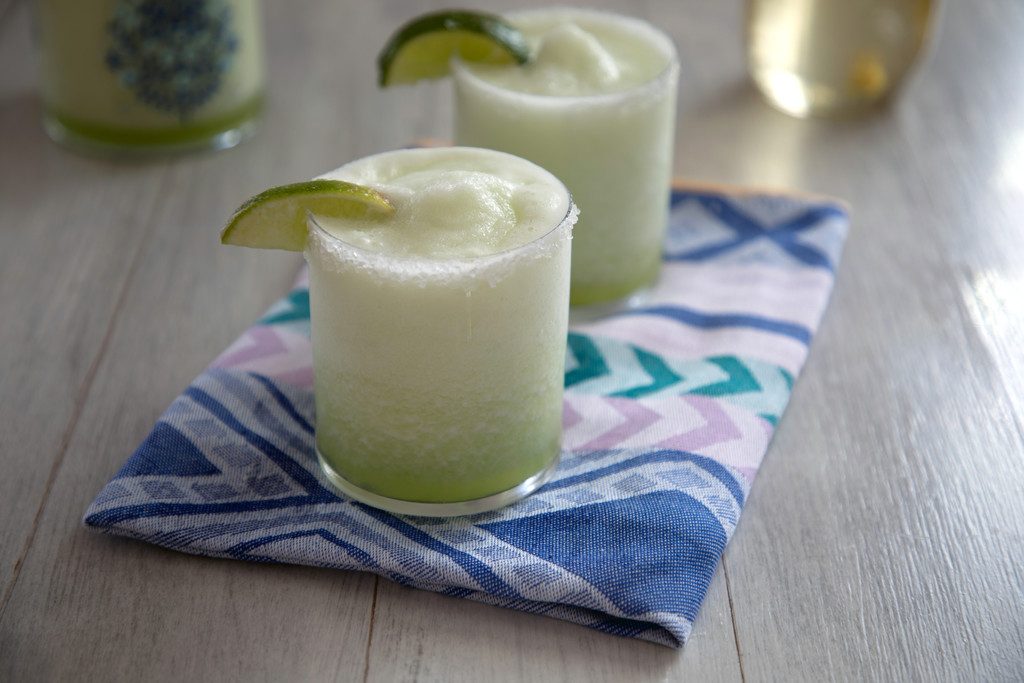 Also, you will have some ginger simple syrup left over (especially if you're me and you make a double batch!) and I highly recommend adding it to soda water throughout your week. Or you could just continue drinking frozen honeydew margaritas throughout your week. Because why not?
Can I tell you a secret? I made this cocktail for fun the other day and completely forget St. Patrick's Day was coming up. It wasn't until I was sipping away in Margaritaville that I realized how perfect this was. Green foods are pretty easy (and mostly healthy!), but now I think you just found your St. Patrick's Day cocktail option. Did you even know you were looking for one?? Of course, if you're not feeling a margarita in March, don't forget this Lucky Charms Martini I made a few years ago. Talk about bright green! And just file these margaritas away for summer. It's coming soon! I promise.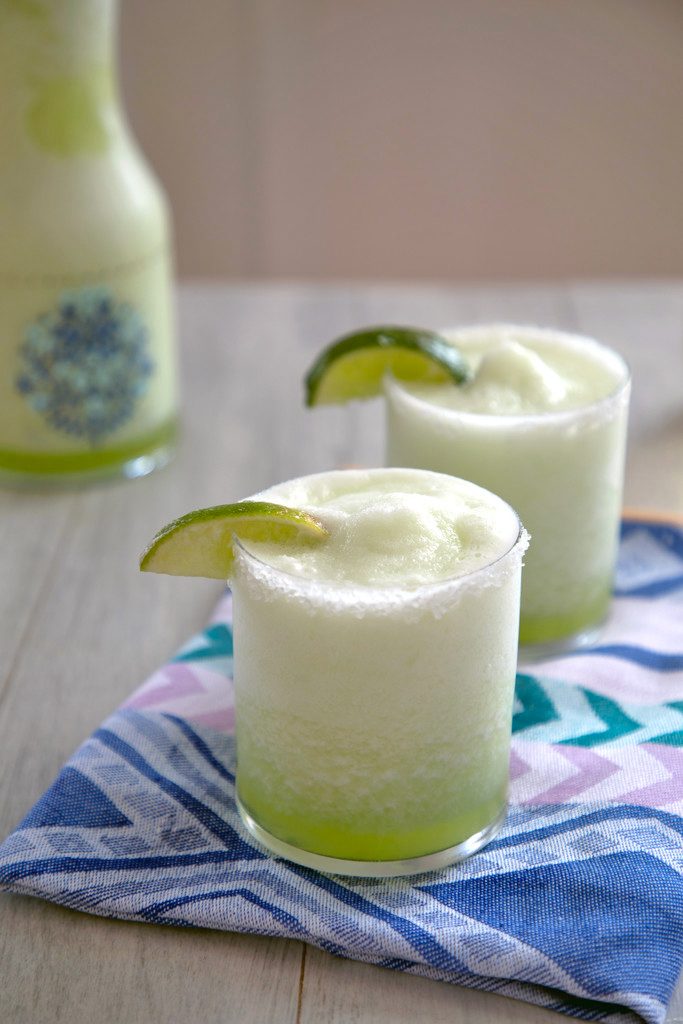 Another secret is that Chris and I each had one of these honeydew margaritas and then I put the remainder in the fridge. It's just sitting in there waiting for me to add a dash more tequila or two and re-blend it with some ice. Happy St. Patrick's Day to us.
What's your favorite green drink?
If you love this frozen drink recipe, be sure to check out my Blueberry Frozen Moscow Mules and my Frozen Peach Margaritas. I also love these Frozen Pineapple Mimosas from Seasoned Sprinkles!
📖 Recipe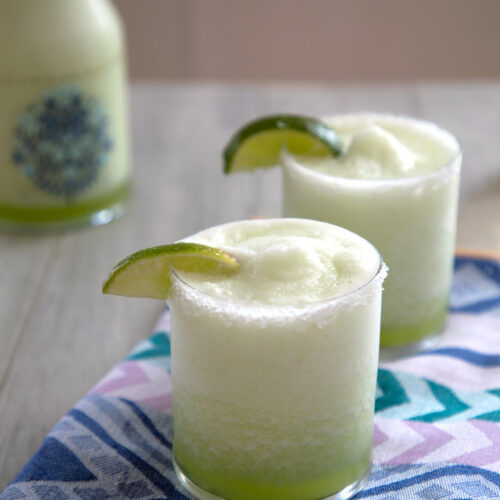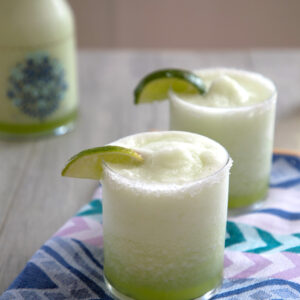 Honeydew Ginger Frozen Margarita
This bright green frozen honeydew margarita combines fresh honeydew melon, ginger simple syrup, and tequila for a frozen drink that's perfect for any time of the year.
Print
Pin
Rate
Ingredients
2

cups

chopped honeydew

3

cups

crushed ice

6

oz.

tequila

4

oz.

Ginger Simple Syrup

(recipe below)

Sliced lime for garnish
Ginger Simple Syrup
1

cup

water

1

cup

granulated sugar

½

Tbsp

chopped fresh ginger
Instructions
Combine chopped honeydew, crushed ice, tequila, and ginger simple syrup in a blender and blend until smooth and icy.

Pour into salt-rimmed glasses or a pitcher and garnish with sliced limes.
Ginger Simple Syrup
Bring water, sugar, and chopped ginger to a boil in a small saucepan.

Once boiling, lower heat and let mixture simmer for about 10-12 minutes, until syrup thickens.

Pour syrup into a heat-proof bowl or mason jar and place in fridge to cool completely before using.

Leave ginger in syrup for a more full-bodied flavor or remove to keep ginger flavor lighter.
Share a Photo of Your Finished Recipe!
Mention @wearenotmartha and share a photo if you've made the recipe!