It can be tough to find good Indian food. I know this from experience. If you had asked me 15 years ago if I'd ever be obsessed with Indian food, I may have laughed. And it's all because of a, shall we say interesting, experience with carrot cake at an Indian restaurant in London when I was a teenager. But instead of holding one cat food-like carrot cake against the entire cuisine, I simply learned maybe you shouldn't order dessert from every Indian restaurant at which you dine. Or maybe you should just never order carrot cake in an Indian restaurant. Why bother when you can have rice pudding anyway?
Since I moved to the "burbs," I no longer have an amazing Indian restaurant steps away from me (Rani in Coolidge Corner is like a heaven). Now I have to get in a car and drive 12 minutes to a restaurant that's not overly impressive. So, I realize I'm going to have to get cooking Indian food myself more. I already discovered a killer lamb vindaloo recipe, but it's a wee bit time-intensive. I always have shrimp in my freezer and was inspired by a shrimp recipe I found that was packed with Indian spices. This Indian Style Shrimp dish is way simpler and less time consuming. Plus, as long as you have the main spices, you can do a bit of improvisation. I did. Especially when I discovered a) I didn't have a yellow onion, b) my fresh ginger was growing something extraterrestrial on it, and c) I ran out of brown rice. That's what happens when you are too lazy to go to the grocery store and just assume you must have everything in stock because you always have those things in stock. Not so. But no matter, I made it work. With a red onion, ground ginger, white rice, and a few last-minute additions.
Indian Style Shrimp (serves 6):
Print this recipe!
2 T olive oil
1 cinnamon stick
1 bay leaf
2 cloves
1 medium onion, chopped
1 1/2 T lime juice
2 T minced garlic
1 1/2 t ground coriander
1 t ground cumin
1 t yellow mustard seeds
1/2 t ground turmeric
1/2 t garam masala
1 lb. peeled and deveined shrimp
1/2 t ground ginger
3 C water
2 C rice
2 T butter
2 T chopped cilantro
1/2 C peas
(pre-heat oven to 350 degrees)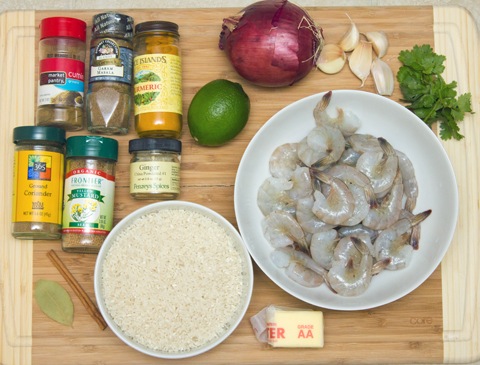 Start by putting oil in a dutch oven or heat-proof dish over medium heat. Add cinnamon stick, bay leaf, and cloves and cook until fragrant, about 2 minutes. Then add chopped onion and cook for another 4 minutes, until starting to brown.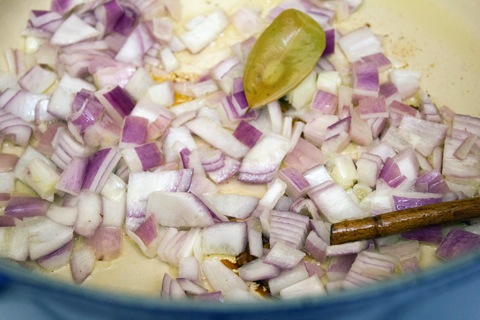 While the onion was cooking, I whipped up my shrimp marinade. In a large ziplock bag, I squeezed the lime juice and added in 1 T garlic and the coriander, cumin, mustard seed, turmeric, and garam masala. Then I put my shrimp in the bag and made sure the marinade covered them. I set the bag aside for about 20 minutes, while I continued on the rice.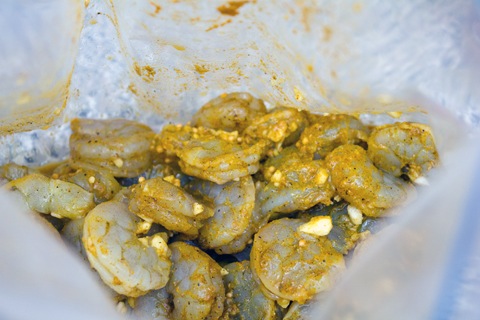 One my onions were browned, I added the garlic and ground ginger to the pot and sautéed for 1 minute.
I added in 3 cups of water and brought to a boil.
Then I poured in my rice and a pinch of salt. Some people insist you soak your rice before cooking it, but I'm not a fan of soaking. You can do whatever you want!
I added 1 T of butter, too, and then brought the pot back to a boil. Then I covered and moved to the oven, setting the timer for 20 minutes.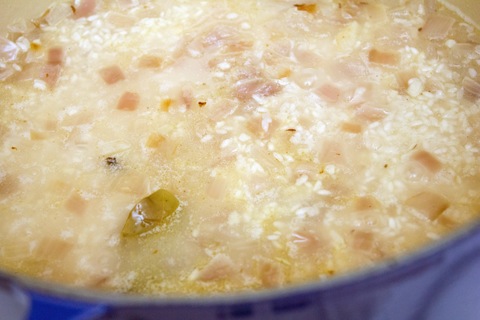 When the rice was almost ready, I put my shrimp in a large wok with 1 T butter over medium heat.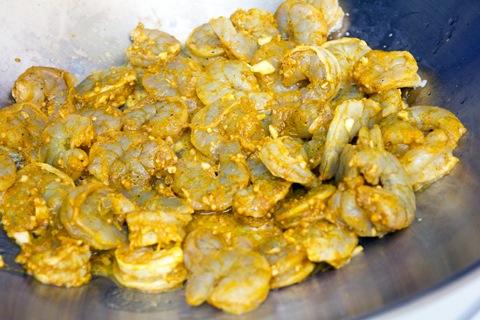 I sautéed the shrimp for a few minutes, until it was just cooked through.
Then I sprinkled my cilantro in.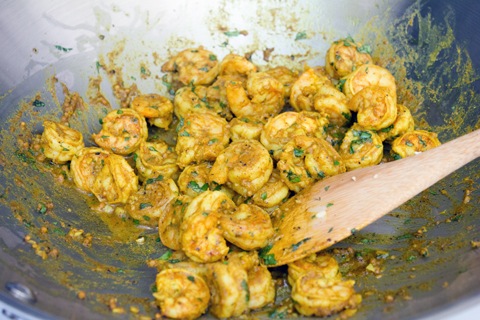 I took the rice out of the oven and mixed in my peas.
I put rice in a bowl and topped with shrimp.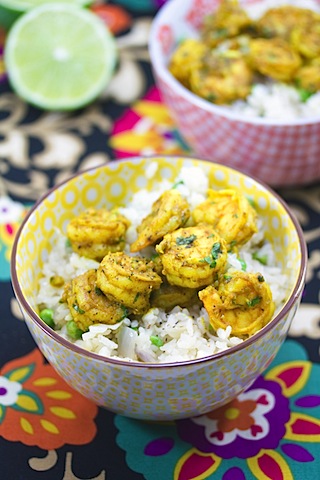 I never ever eat white rice and definitely would have used brown if I had had it, even though that's probably an Indian faux pas or something. But I forgot to restock my pantry and since this dish is already what I planned for dinner, I figured I'd just go with it. I'm actually at a point where I prefer whole grains not only for health, but for taste, too, but I have to admit, this rice was delightful. It was stickier than brown rice and definitely let the spice flavors come through more than brown would.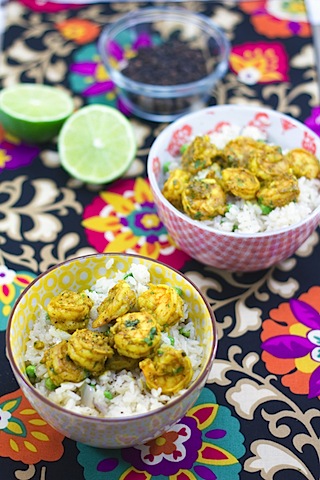 The shrimp? Holy moly the shrimp. You don't event really need rice for this one. You could just eat a pound of shrimp. Or I could have. Is that bad?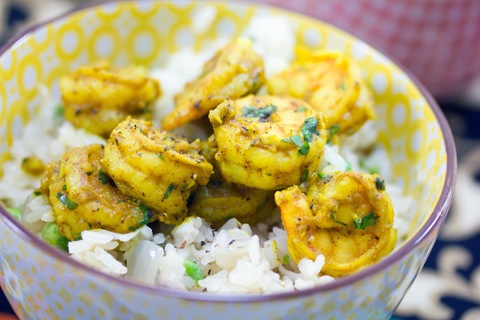 This is a good dish to introduce Indian food skeptics to the cuisine. It has loads of spices in it, but isn't spicy per se. Just full-flavored.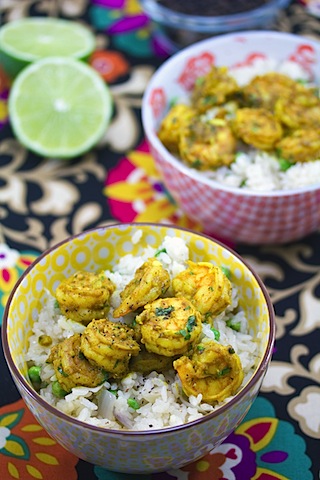 I'm pretty excited to get home from work tonight so I can eat leftovers. And watch night two of The Bachelor. I mean, really? Two nights in a row? Stop spoiling me, ABC.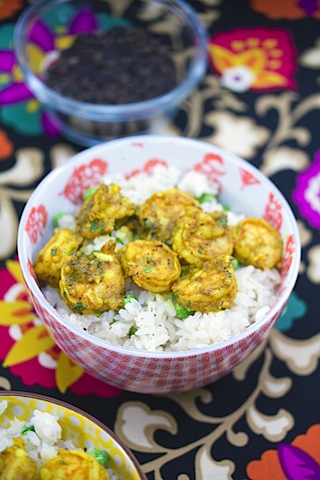 Are you still watching? I admit that I am. And I'm cheering full-on for Ashlee as she seems to be one of the few with an actual head on her shoulders. Then again, she's on the show, so maybe I'm wrong on that.
Then again, I'm attempting a deep discussion of The Bachelor on my food blog and excited that I can spend 4 hours of my week watching it, so maybe I'm the one with issues. Hmmm.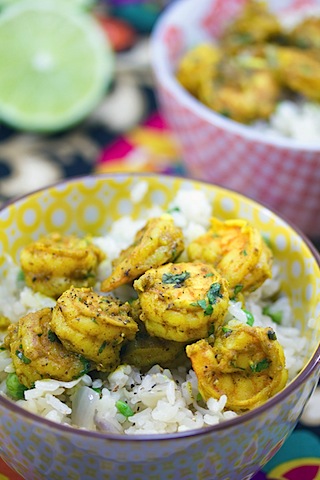 But one more thing– don't you ever wonder what the girls eat on that show? You see them hanging out in the kitchen sometimes mixing drinks, but never really eating or cooking. Do they get takeout? Do they have a chef? Do they crave things like Indian Style shrimp, but have to wait until getting kicked off before they can get some? So many questions. But for now, I'll just take solace in the fact that I'll never go on the show and can have my shrimp whenever I want it. Even if that is when I'm sitting on the couch watching 25 girls go on awkward dates with the same guy.
Do you make Indian food at home?
[Sues]