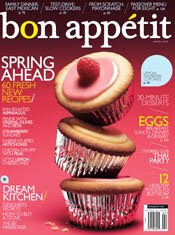 When I got April's Bon Appétit in the mail, I immediately knew I had to make the lemon-raspberry cupcakes on the cover. Even though I'm not the biggest lover of raspberry-flavored things (LOVE fresh raspberries, artificially-flavored not so much), I just didn't see how these could be bad. They sounded like the perfect springy treat, so I decided to make them for Easter.
Fabulous idea. I often take a few times to perfect a cupcake recipe, but these tasted really, really good the first time I made them. One reason for this? I went to Epicurious.com and read reader comments before making them. I highly recommend you always do this whenever possible. Yes, I trust Bon Appétit , but when 8 different people are saying, "No! I made these and you need to cut down on the butter," it makes sense to listen.
The cake batter for these cupcakes was different than anything I've made before. First, the lemon peel. You really should use a zester (if you don't have one, they're cheap and very useful!), but you can use a vegetable peeler if you have to. Second, the butter. The recipe says to use 3/4 C (1 1/2 sticks), but everyone on Epicurious said that was way too much and to only use 1/2 C (1 stick). I ended up using a little less than 1 1/4 sticks and I thought it was just fine.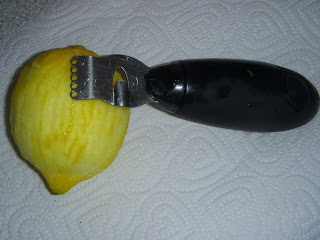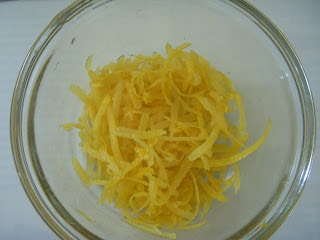 So, beat the butter (about 1 1/4 sticks), powdered sugar (1 1/2 C), and lemon peel (3 T) in a large bowl until fluffy and pale yellow. Then add the eggs (2) one at a time, beating after each addition. Beat in self-rising flour (1 1/4 C) adding half it, then beating in buttermilk (1/4C) and lemon juice (2 T), and then the rest of the flour.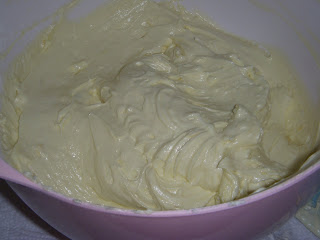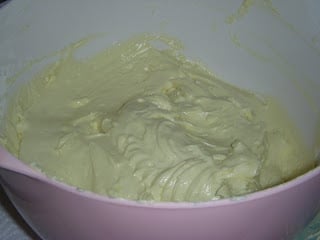 Now, the recipe says to drop a tablespoon of batter into each muffin paper. But the reader comments I read said to put more batter in because the raspberry jam you're going to add will sink to the bottom while baking. So I filled the cups more than half-way up with batter. The jam still sunk to the bottom. It wasn't a huge deal and they still tasted delicious and were pretty, but if I make them again, I'll probably fill the papers with batter and then add the jam on top. Or inject the cupcakes with jam. In this case, I added 1 teaspoon of raspberry jam on top of the already added batter and then covered the jam with more cupcake batter.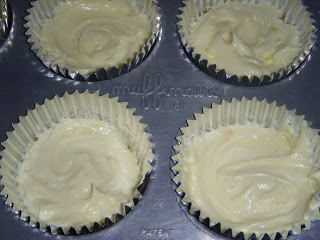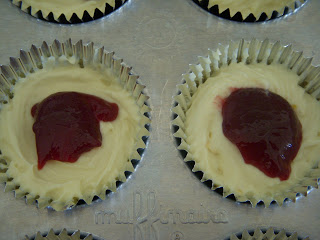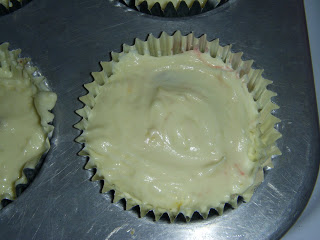 Put them in the oven at 350 for about 23 minutes. In the meantime, you can make the frosting, which is simply powdered sugar (1 1/2 C), lemon juice (2 T), and lemon peel (1 1/2 t). Whisk it until it's nice and smooth (don't get discouraged if it clumps up; just keep whisking). The recipe says to put this lemon icing on half the cupcakes and then stir in jam to the remainder of the icing and use that for the rest of the cupcakes. I wanted all my cupcakes to have pink icing, so I added the raspberry jam (1 1/2 T) right away. Spoon the icing over the cupcakes and let it set.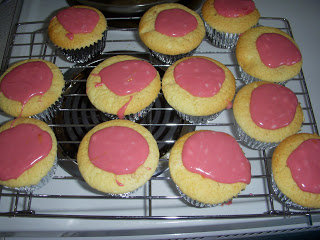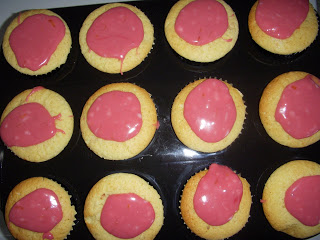 Since I was going to my parent's house, I used the awesome cupcake carrier my sister bought me. So cute and convenient!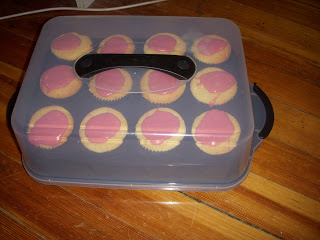 When you're ready to serve, top with a fresh raspberry. These cupcakes were an Easter hit and I can definitely see myself making these past spring and all the way through summer. They were the perfect amount of moist and had a nice little lemony zing.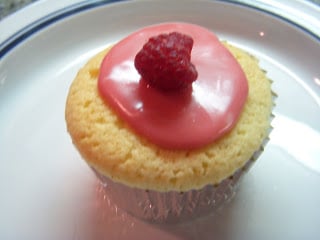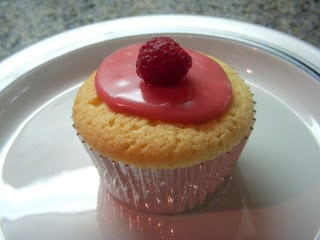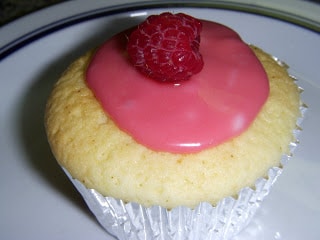 Hope your Easter was wonderful!
[Sues]