This simple summer treat requires just three ingredients: mangos, honey, and water. Mango Popsicles are incredibly easy to make and perfectly refreshing as a snack or dessert on a hot day!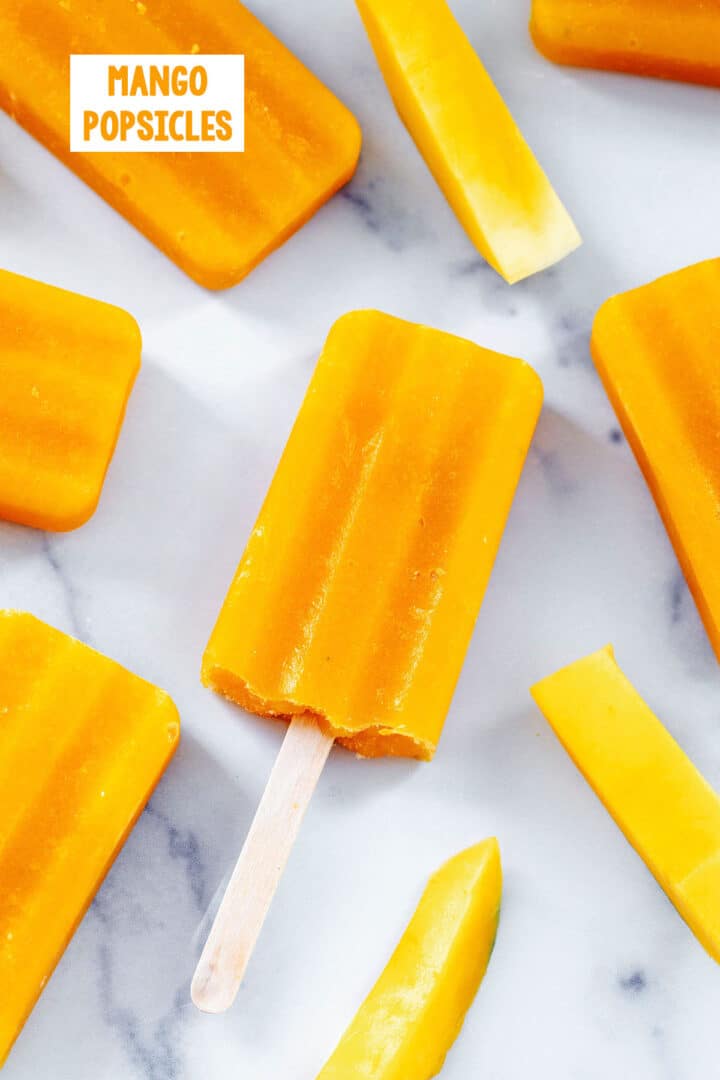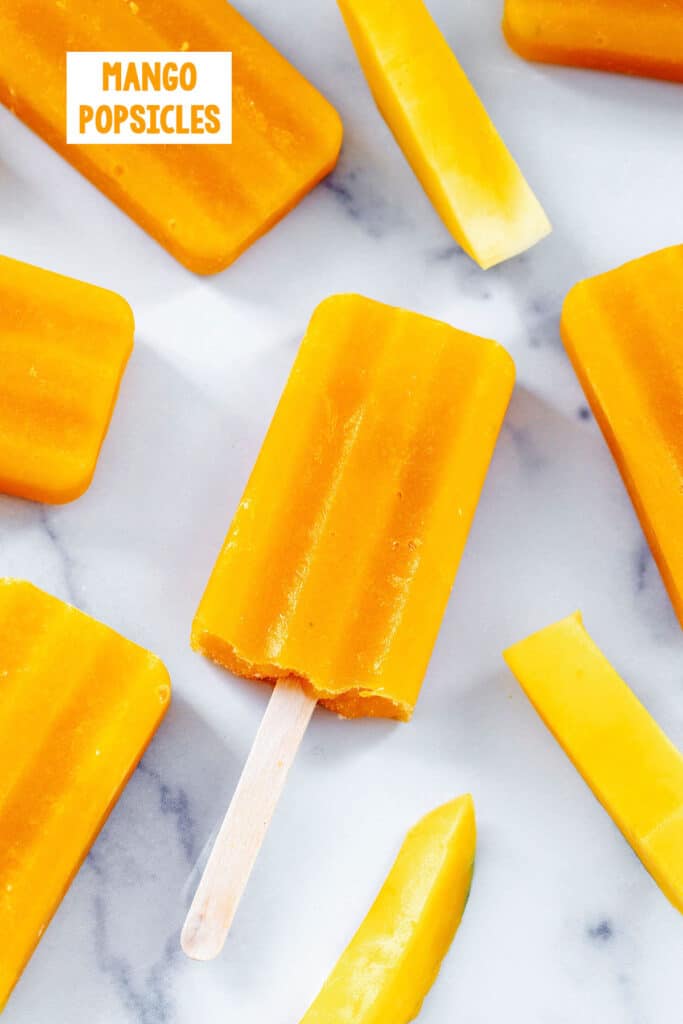 Jump to:
It's my opinion that mangos are a seriously underrated fruit. I've always liked them, but have only recently started buying them on a weekly basis and enjoying at least a couple a week.
They're easy to slice and deliciously juicy and flavorful. Plus, there's so much you can do with them! I loved the idea of turning them into an icy treat for a hot summer day, so I made the fabulous fruit into mango popsicles.
The thing about these mango popsicles is that there's not much to them. In fact, they only use 3 ingredients. I wanted the mango to be the star of the show and I didn't want to bog them down with other ingredients.
❤️ Why you'll love this recipe
These popsicles are SO easy to make! And require only 3 ingredients.
Since mango is naturally sweet and flavorful, I didn't want to add much processed sugar. I opted for just a touch of honey to boost the sweetness. I also thinned out the puree with some water.
Once they're made, you can keep them in your freezer for an instant sweet and icy treat on a hot day. You'll feel good about giving them to your kids or enjoying one yourself!
If you love mango as much as me, you'll also want to try this no bake mango cheesecake!
🗒 What you need
You will need a popsicle mold in order to make these. You can use the mold of your choice, but I highly recommend the PopsicleLab mold as it's super easy to use.
Other than that, you just need 3 ingredients:
Mangos (I recommend fresh, but you can also use frozen)
Honey (you can substitute with agave if you want)
Water
🥣 How much puree is needed?
I did the math to determine how much puree I'd need to make 8 popsicles with my particular molds.
Each of the individual popsicle cavities holds about 3.4 oz. I don't fill them all the way, so I rounded down to 3 oz. and determined that to fill 8 of them, I'd need about 24 ounces of puree, which equates to roughly 3 cups puree.
For me, 4 mangos combined with the honey and water was enough for 8 popsicles. But all mangos are sized differently and all popsicle molds are a bit different, so your may need more or less puree.
Don't worry, this just means you may get fewer or more popsicles with your puree. Or you can always feel free to add more water or honey or use more or fewer mangos.
This recipe is very versatile and since the ingredients are super simple, it should turn out deliciously no matter what ratios of each ingredient you use.
🥭 How to make mango popsicles
The process of making homemade popsicles is easy and these ones are especially easy.
Start by peeling and dicing your mango. Add to a blender or food processor, along with honey and water.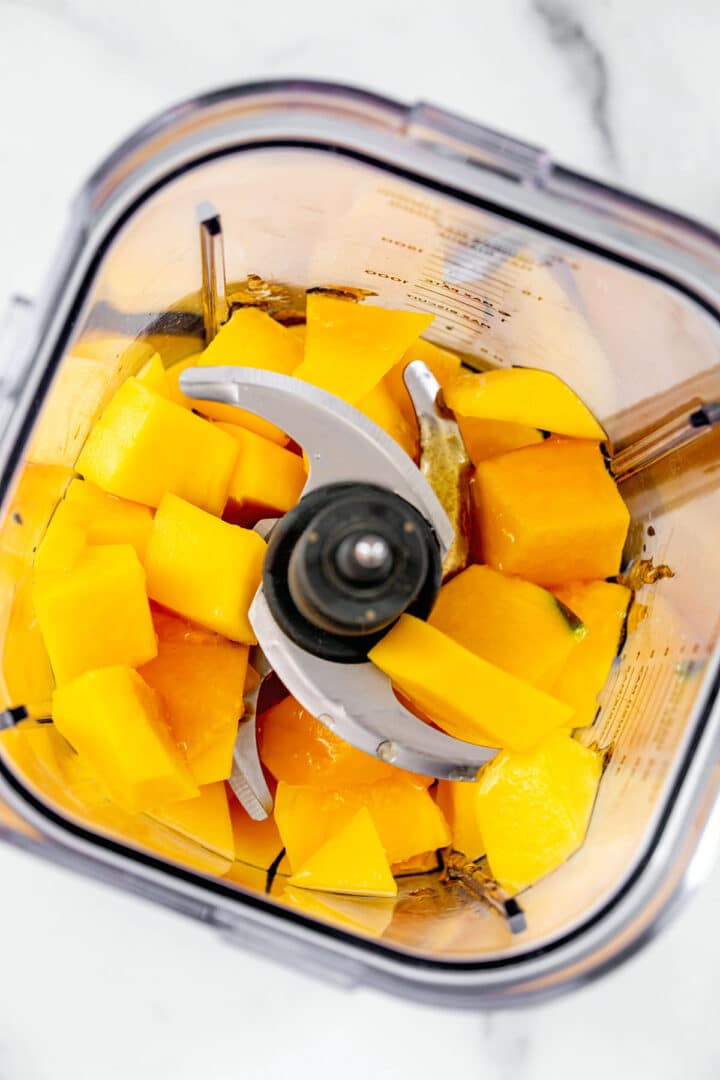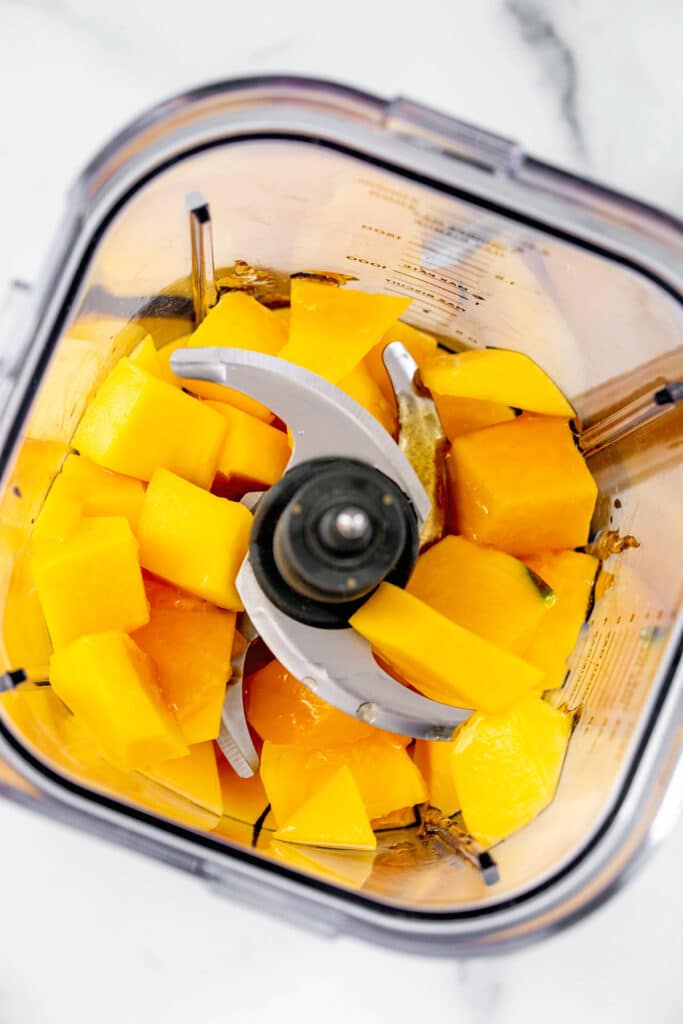 And puree until mixture is fully combined.
It should still be pretty thick... I didn't want a watered down popsicle!
I would taste it at this point and see if it's sweet enough for you. If your mangos aren't super sweet, you may want to add a bit more honey.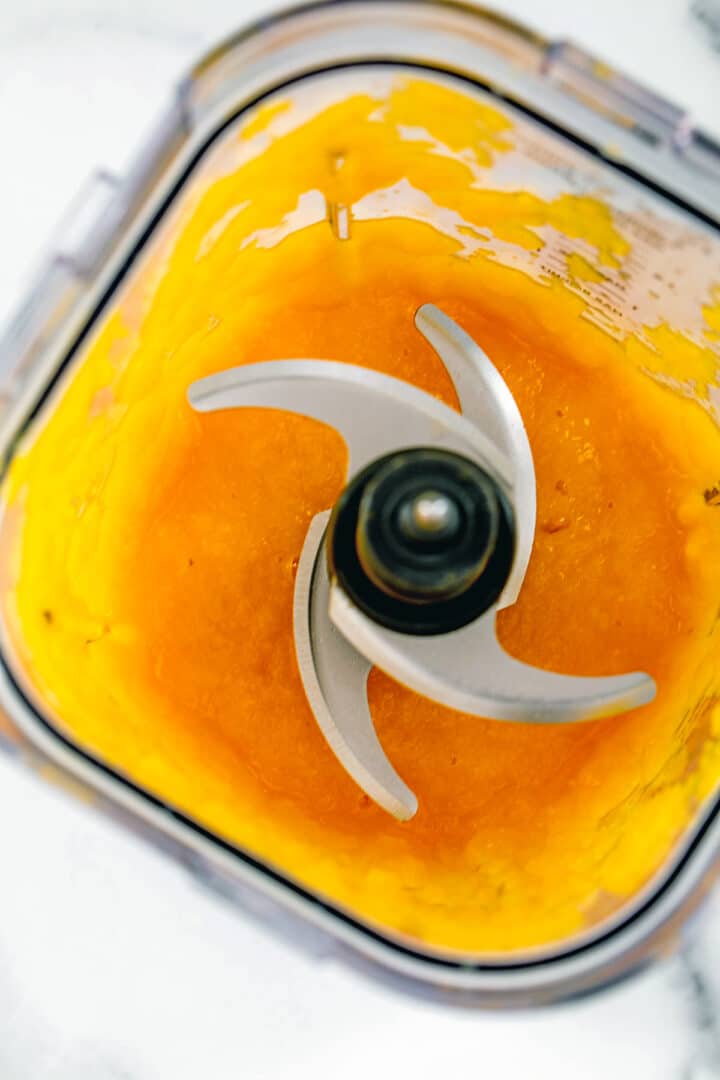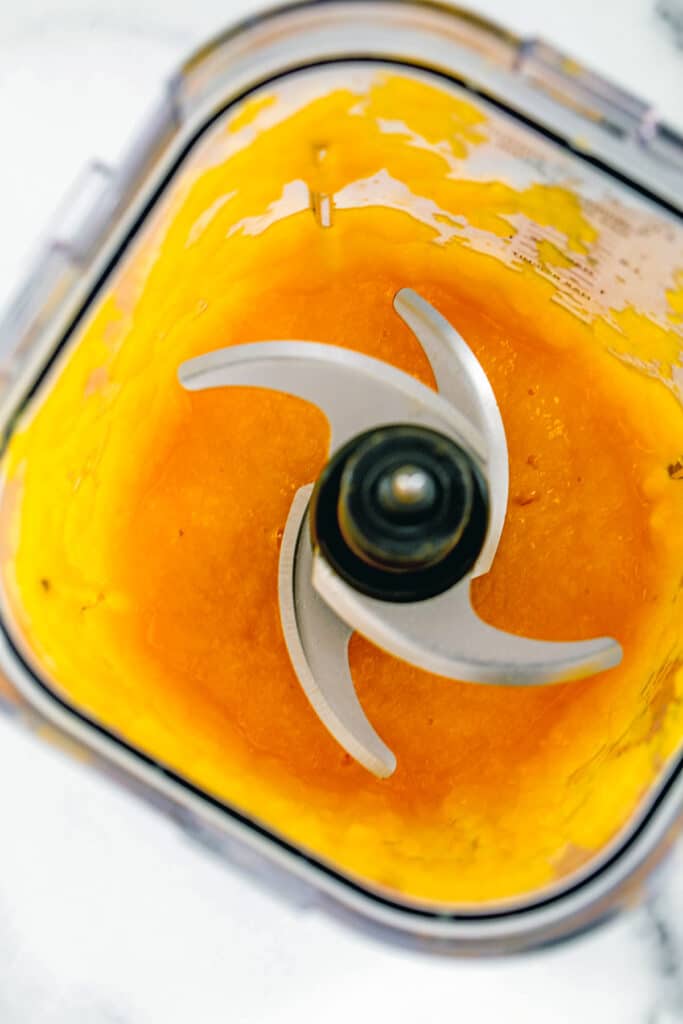 And then fill your molds almost all the way. You can either pour the puree in with the spouted blender container or a bowl/pitcher with a spout. Or, since the mixture is quite thick, you can spoon it in.
The popsicles will expand a little bit as they freeze, so you definitely don't want to fill the molds all the way to the top.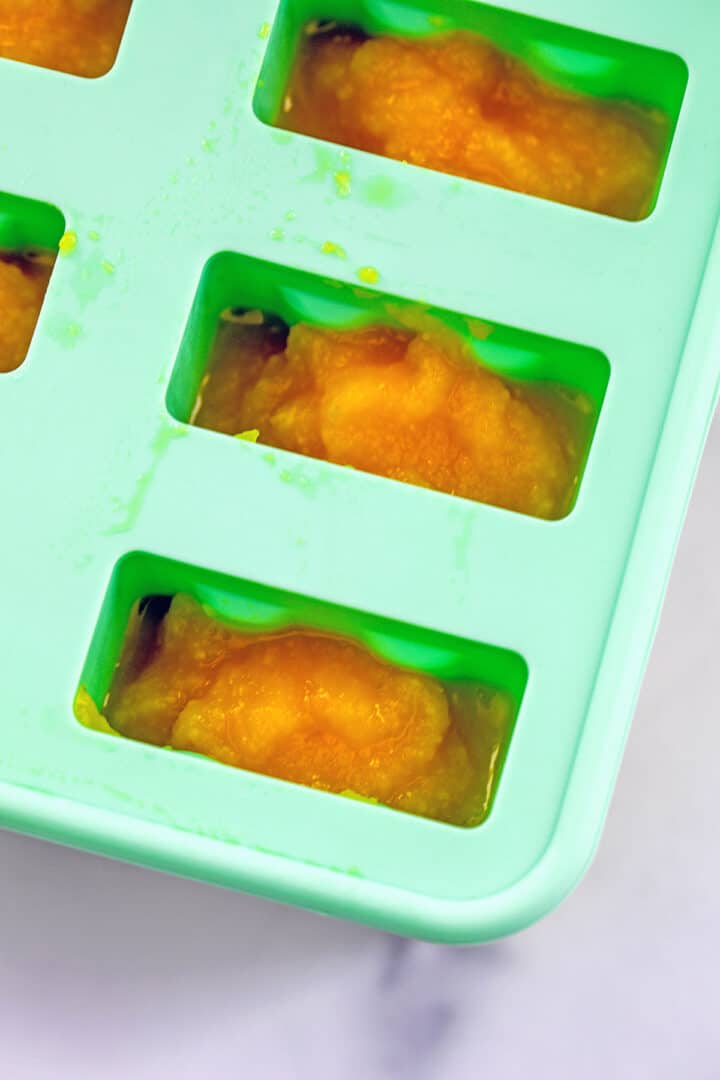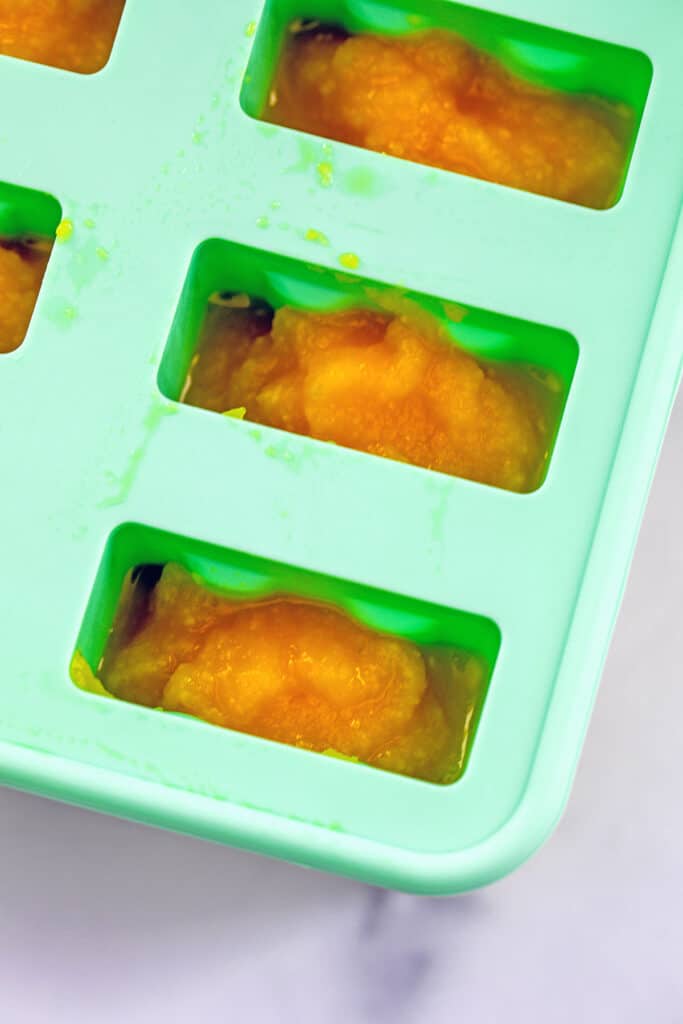 Place the cover on them and stick the popsicle sticks in. Don't forget this step or else your popsicles will just be frozen bars!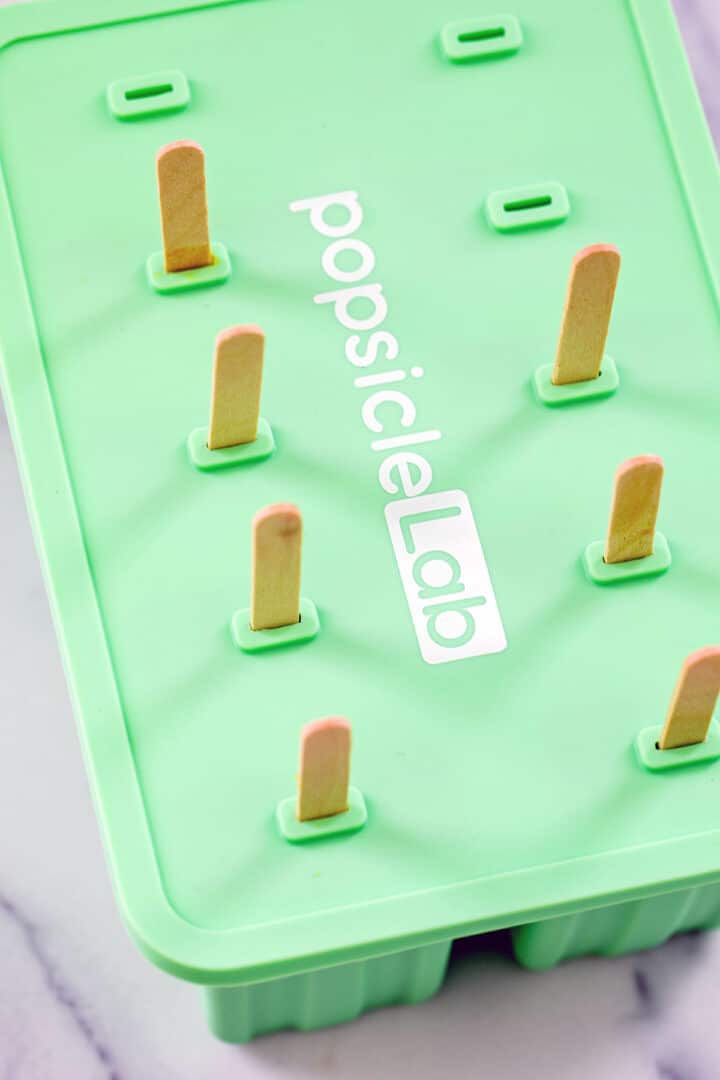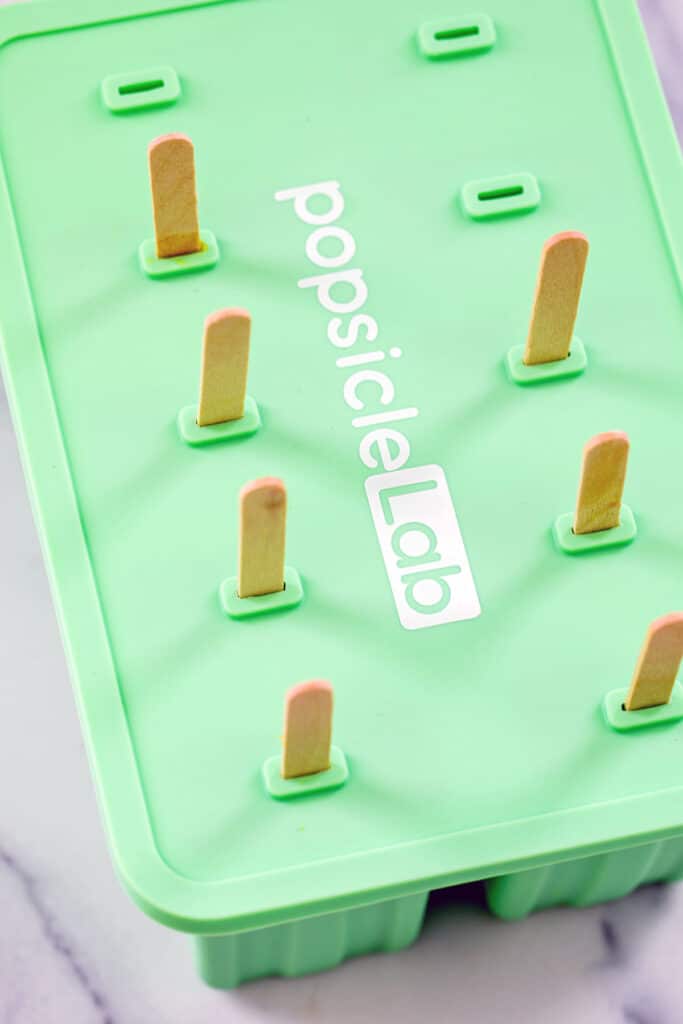 I recommend putting them in the freezer for about 4 hours, but you can obviously keep them in longer.
Once frozen, carefully remove the popsicles from the molds. You may need to run a little warm water over the molds while you gently jiggle the stick to remove the popsicle.
And your fresh mango popsicles are ready to enjoy! These frozen treats are basically ALL fruit. Almost like you're biting right into a fresh mango... But cold and refreshing and everything you want on a hot day!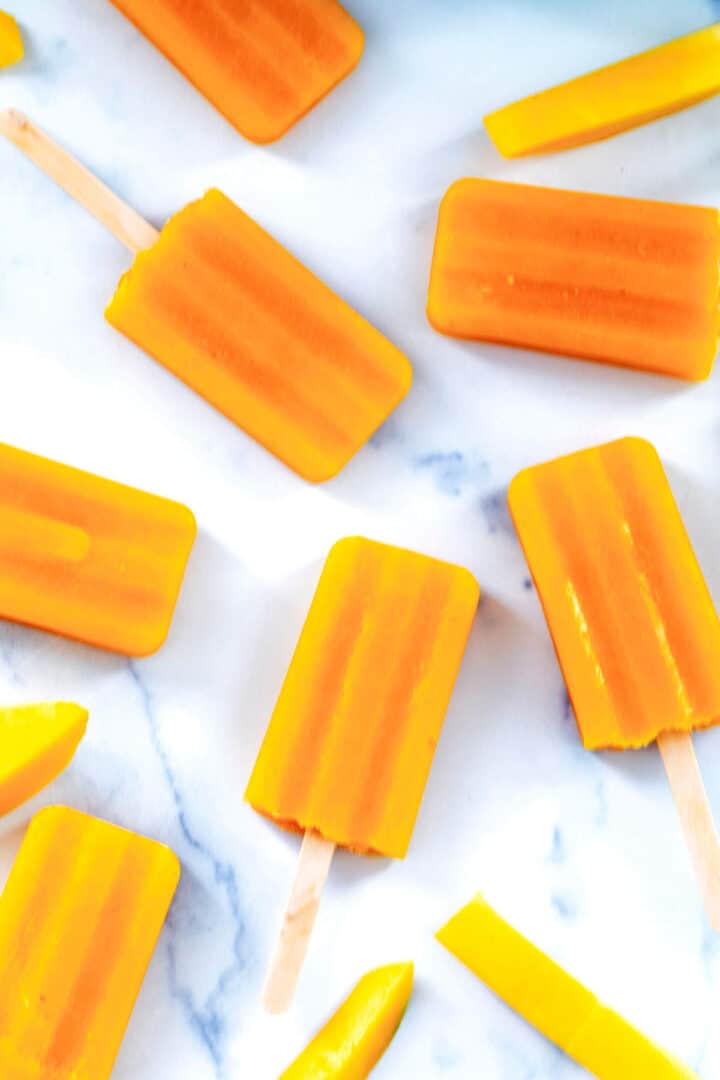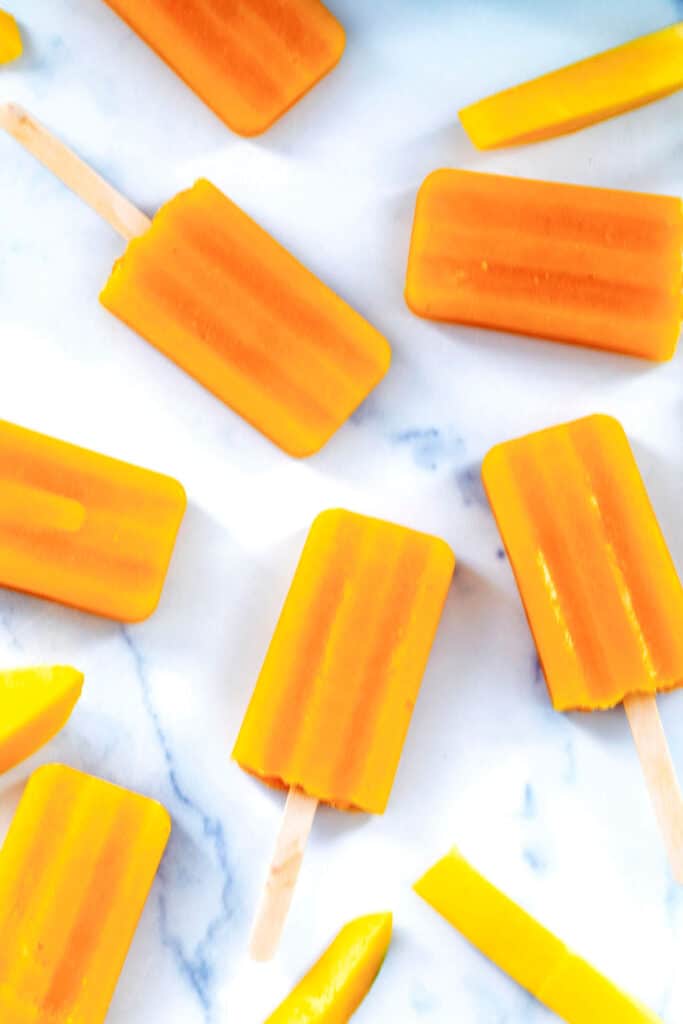 🧊 How much frozen mango to use
If you're using frozen mango for these popsicles, you'll likely need about 5 cups.
I recommend letting frozen mango come to room temperature before blending and waiting to add water until you see what the consistency of your puree looks like.
❄️ How to store
The popsicle mold I have actually comes with little plastic wrappers for the popsicles. But you can also buy these popsicle wrappers.
However, if you don't have wrappers you can wrap each popsicle in plastic wrap or even store them in a big Ziplock bag. If storing in a bag, make sure each popsicle is completely frozen before putting in bag, otherwise they'll all stick together.
Lastly, you can certainly keep the popsicles in the molds until you're ready to eat them, but since they're not wrapped, they may get freezer burn more quickly or take on some of the smells from your freezer.
When wrapped properly, the mango popsicles should keep for about a month in your freezer.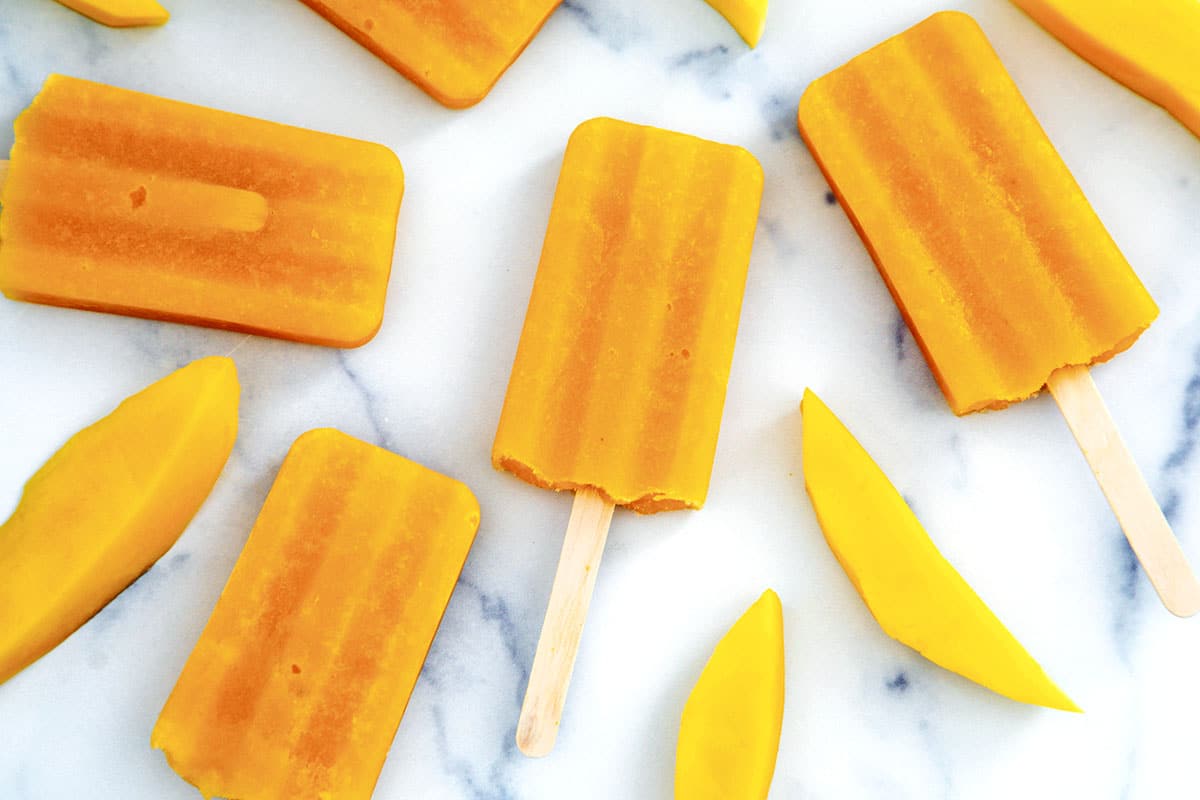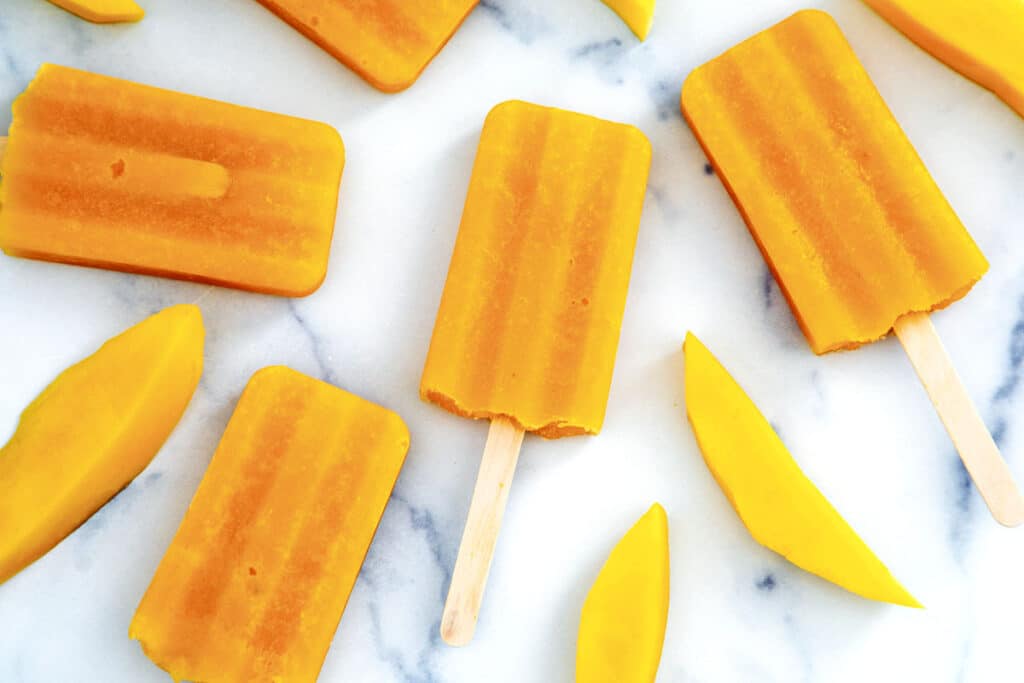 But chances are, they won't last that long! Especially if you have kids. They're going to want one of these frozen treats every time they come in from playing outside this summer.
And you'll be totally OK with it because they're basically eating ½ a mango with every serving of mango popsicle.
It just means you might be buying A LOT of mangos this summer!
💡 More mango recipes
I can't get enough mangos and while I mostly eat them freshly cut, I also love adding them to all kinds of recipes. Here are some of my favorite ways to enjoy fresh mango!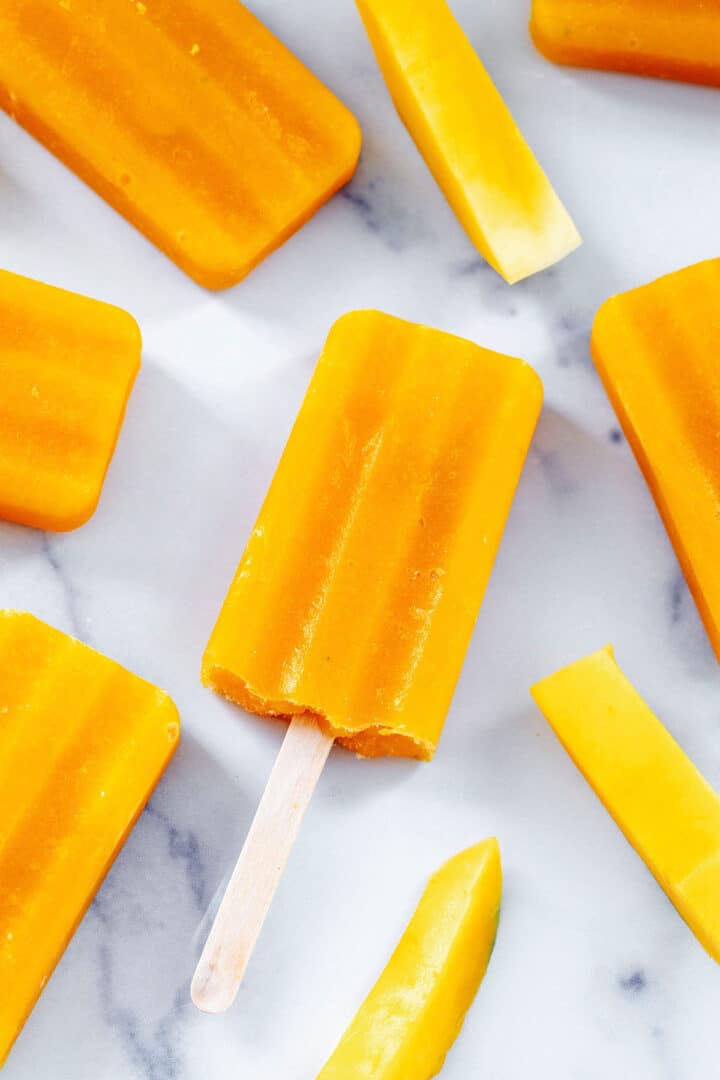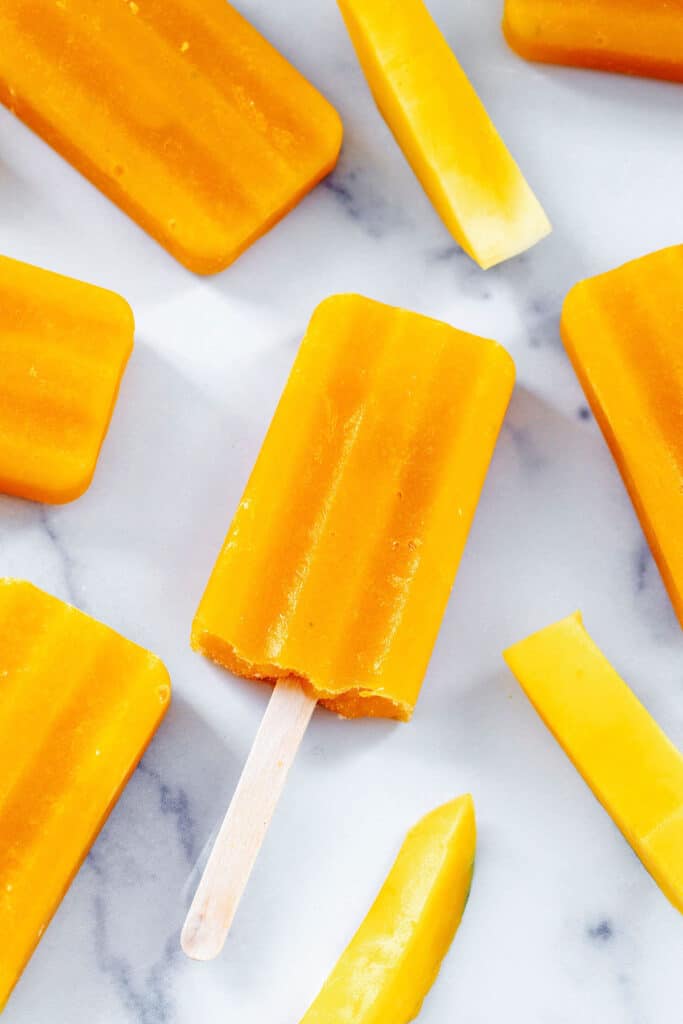 I hope your summer is packed with fresh mango and lots of frozen treats to cool you down on a hot day!
What's your favorite kind of popsicle?
I also love these fun recipes for Fruity Pebbles Popsicles and Berry Greek Cheesecake Popsicles!
📖 Recipe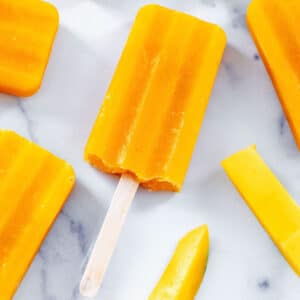 Mango Popsicles
This simple summer treat requires just three ingredients: mangos, honey, and water. Mango Popsicles are incredibly easy to make and perfectly refreshing as a snack or dessert on a hot day!
Print
Pin
Rate
Ingredients
4

large mangos

(about 4 cups diced)

2

Tbsp

honey

¼

cup

water
Instructions
Place mango, honey, and water in a blender or food processor and process until smooth. Taste and if you want a sweeter popsicle, add more honey.

Divide mixture between popsicle molds, filling almost to the top (make sure to leave a little space as popsicles will expand as they freeze). Cover and add popsicle sticks.

Chill in freezer for at least 4 hours, until popsicles are fully frozen.

Gently remove popsicles from mold. If it's difficult to do so, run a little warm water over the molds while you gently jiggle the stick to remove the popsicle.

Store popsicles in freezer, either in plastic wrappers, plastic wrap, or a large Ziplock bag. They should keep for about a month.
Share a Photo of Your Finished Recipe!
Mention @wearenotmartha and share a photo if you've made the recipe!