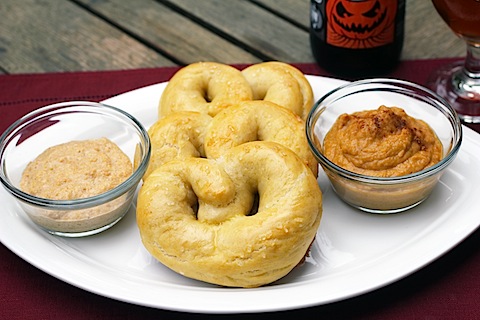 It's starting. The most wonderful time of the year. No, not Christmas. Pumpkin season. I even mixed pumpkin puree into my oatmeal yesterday. Yes, I stockpiled about 6 cans from last year just in case it was tough to find in stores this autumn (like you don't remember the great pumpkin drought of 2009? Nightmare). But it really is the most wonderful time of the year because, while it's pumpkin season, my basil plant is still flourishing, summery fruits and veggies are still available, and it really is the best of both seasons. I'm slightly confused, but mainly happy.
I first made soft pretzels back when Chels and I had our Orville Redenbacher Oscar's party. I didn't blog them because, well, I was trying to throw a party and am not good at photographing each step of a recipe when I'm also trying to do 8392 other things. Basically I'm the worst party thrower ever. I've been wanting to make soft pretzels again ever since, but this time with a twist. Beer pretzels are better than regular old pretzels. And if you're going to make beer pretzels, you may as well make pumpkin beer pretzels! See my logic there? This is how my brain works from September-November.
I also made two dipping sauces because I couldn't decide if I wanted mustard with my pretzels or a sweet dipping sauce. Instead of deciding, I made a pumpkin beer mustard and a sweet pumpkin dip and alternated bites.
'Tis the season. Embrace it with all your heart. Ready, set, go!
Pumpkin Beer Pretzels (makes 12 pretzels):
Print this recipe!
1 packet active dry yeast (2 ¼ t)
½ C warm water, plus 2 C warm water
½ T sugar
½ t fine sea salt
1 t olive oil
1 C pumpkin beer of your choice
3-4 C all-purpose flour
1 t baking soda
1 egg, beaten
2-3 T coarse salt
1 T butter, melted
Dipping sauces (see below)
(pre-heat oven to 425 degrees)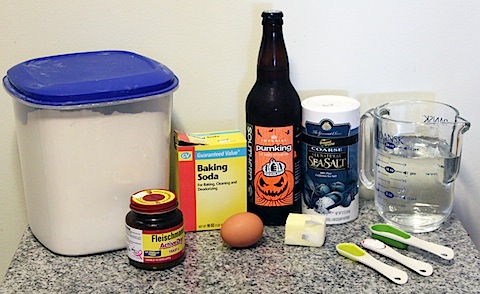 I chose to use Southern Tier's Pumking because it's one of my all-time favorite pumpkin ales.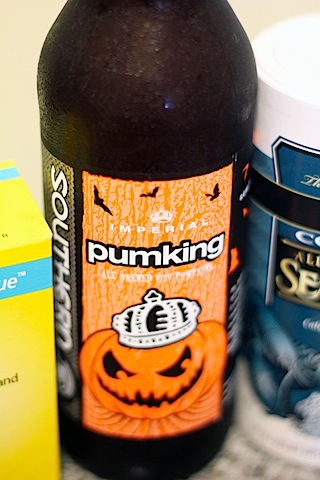 In a large bowl, sprinkle yeast over your ½ cup of warm water. Let rest for about 5 minutes.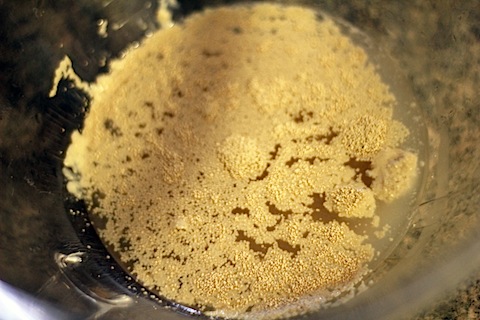 Then stir in sugar, salt, and olive oil. Pour in the beer. It will get all kinds of frothy as it reacts with the yeast already in the bowl. It was kind of fun to watch, but then, I'm easily entertained.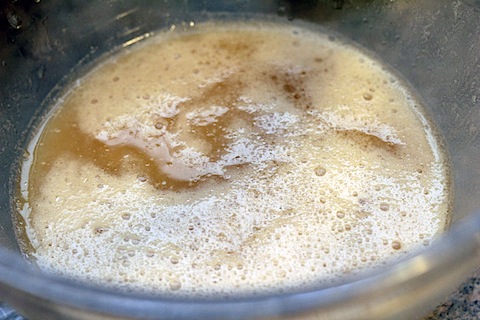 With a wooden spoon, stir the flour in one cup at a time. You don't want your dough to be too sticky, but you don't want it to be too dry either. I started by adding 3 cups of flour (you can always add more in as you knead it. Or need it. Hehe).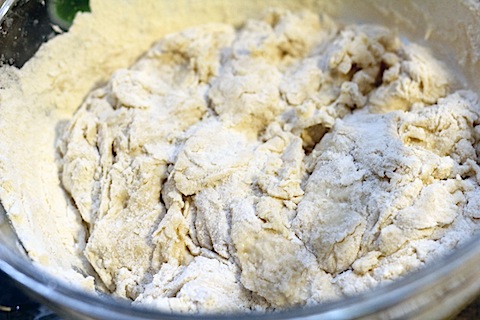 Now, knead the dough on a lightly floured surface for about 8 minutes. Or you can throw it in your mixer with the dough hook for about 3 minutes and save your muscles that work. As I kneaded my dough in the mixer, it started getting sticky, so I ended up adding another ¾ C flour in.
Once you're done kneading, place your dough into a lightly oiled bowl.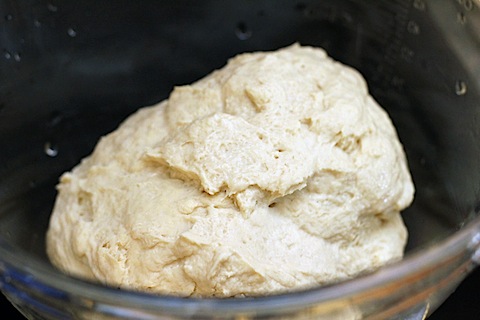 Place bowl in a warm spot, cover with a kitchen towel, and let sit for about an hour to rise.
When you come back to it, it will likely look something like this:
Punch the dough down and you're ready to form the pretzels! Start by dividing the dough into 12 balls, so you can make sure your pretzels will all be relatively the same size.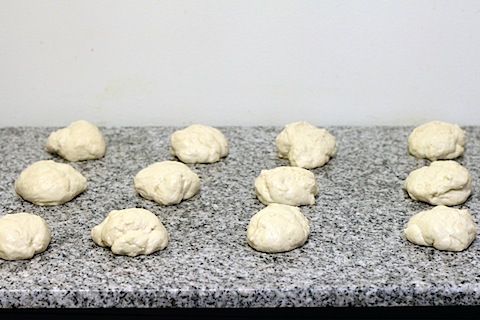 Take one dough ball and roll it into a rope, like so:
Shape the rope into a pretzel by forming into a "u."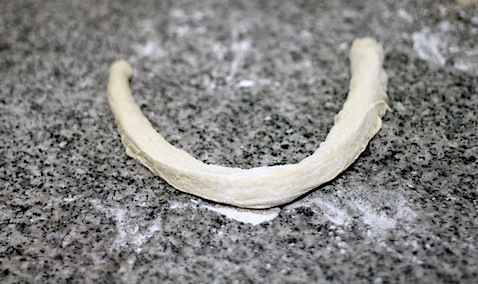 And crossing one end down.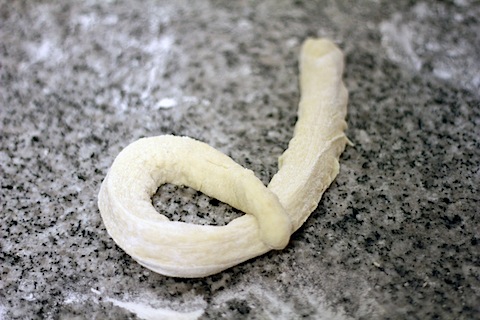 Followed by the other end.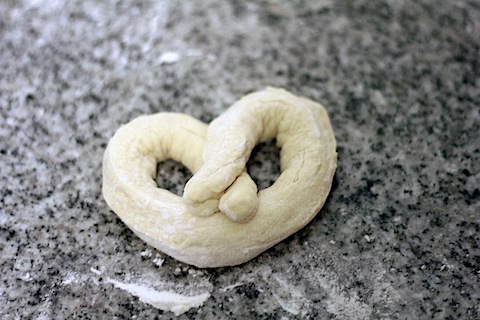 Now, mix your remaining 2 C warm water with 1 t baking soda in a baking pan or other shallow dish. Dip the formed pretzels in. And then place on a greased baking sheet.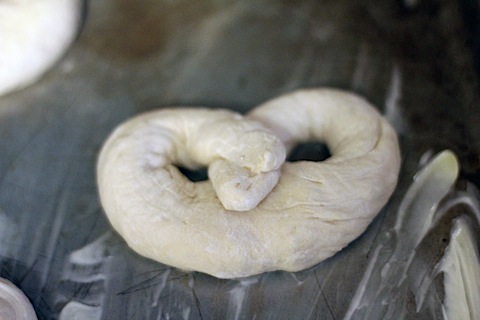 Continue with the remaining dough balls.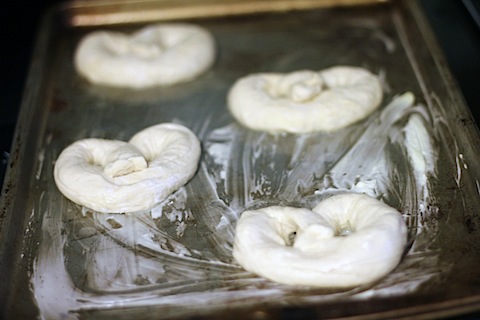 Cover with a kitchen towel again and let rise for another 20 minutes.
Now brush each pretzel lightly with beaten egg. Sprinkle with coarse salt.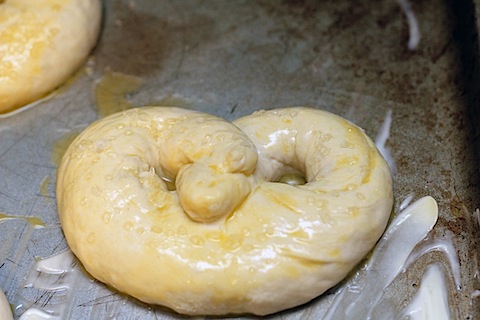 Pop in the oven at 425 degrees for about 15 minutes.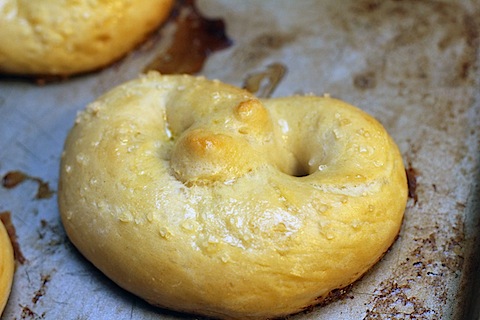 Right when they come out of the oven, brush them with a little melted butter and let cool.
Now for the dipping sauces, which you can make ahead of time if you choose. In fact, you should make the mustard ahead of time because it needs to sit for a bit. While I was doing my mustard research (right before I started baking the pretzels), I realized that the mixture was supposed to sit for a day or two before processing. Um, oops. I decided to just make my own mixture on my own terms. The pumpkin beer mustard I made ended up coming out wonderfully. It was super strong (likely because the flavors didn't have time to mellow), but what's the point of mustard if it's not strong? I loved it!
Pumpkin Beer Mustard (makes about ¾ C):
½ C yellow mustard seed
¾ C pumpkin beer of your choice
⅛ C apple cider vinegar
Pinch of black pepper
Pinch of fine sea salt
Pinch of cinnamon
Pinch of nutmeg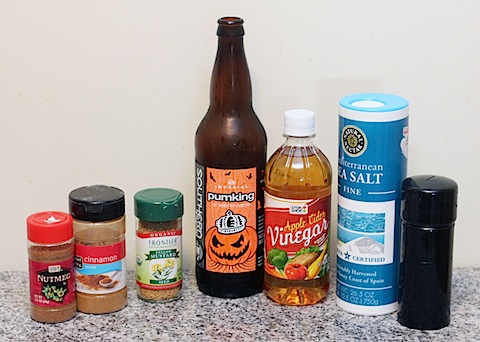 In a medium bowl, mix together mustard seed, pumpkin beer, and apple cider vinegar. Put in fridge for about 2 hours (or up to 2 days) to marinate.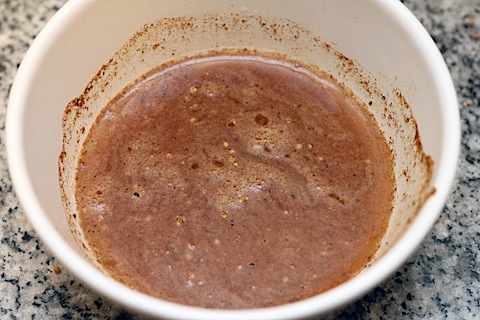 Transfer the mixture to a food processor and process until the mustard seeds are ground and the mixture thickens.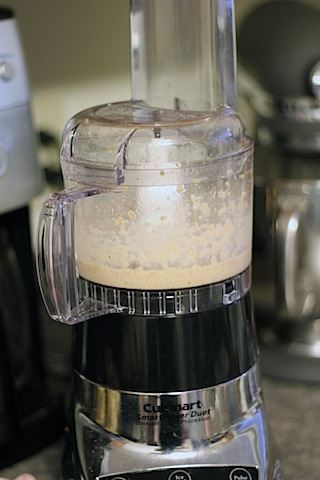 Whoa! I couldn't believe it went from looking like a brown liquid to a thick yellow mustard, all from a little processing. Pop it back in the fridge until you're ready to use it. If you let it sit for a day or two, the flavors will begin to mellow.
I had briefly considered adding a cinnamon sugar mixture to my pretzels, but wasn't certain I wanted them to be sweet over savory, so I refrained. Instead, I decided to make a sweet pumpkin dip. This is basically the easiest dip in the world. I used fat free sour cream in mine, but definitely would have used plain Greek yogurt if I had any on hand.
Sweet Pumpkin Dip (makes about 1 C):
½ C pure pumpkin
¼ C brown sugar
¼ C fat free sour cream (or plain Greek yogurt)
¼ t cinnamon
⅛ t nutmeg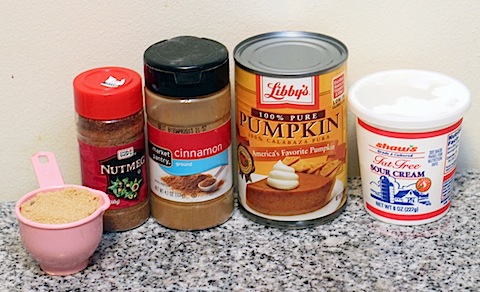 I told you this one was easy. Just mix all the ingredients together and put in the fridge until you're ready to eat.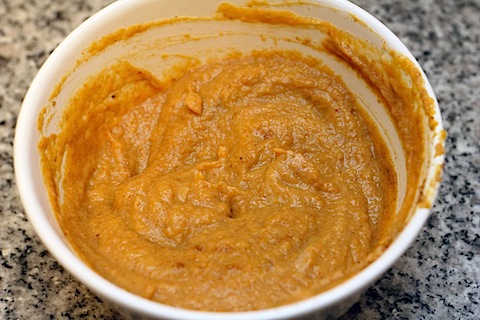 Your pretzels are ready. Your two dips are ready. And you're ready to dig in. With the extra beer on the side, obviously. Not my fault the Southern Tier bottles are so big!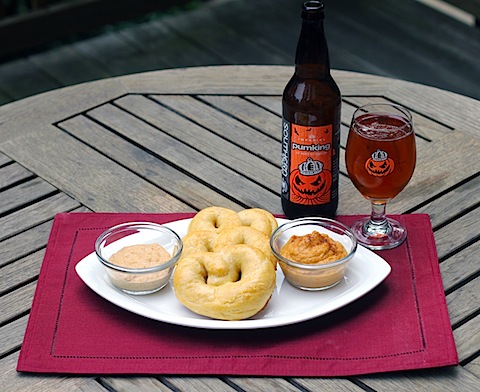 You obviously don't have to make both dips, but if you're horribly indecisive like me, you might want to.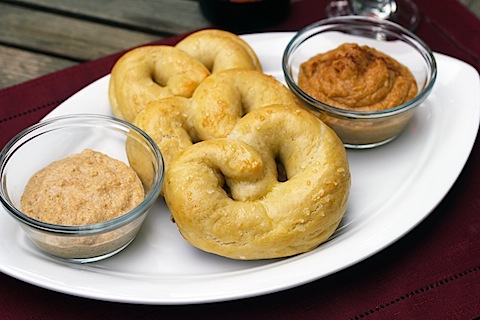 I literally tore off a piece or pretzel and dipped it in the mustard.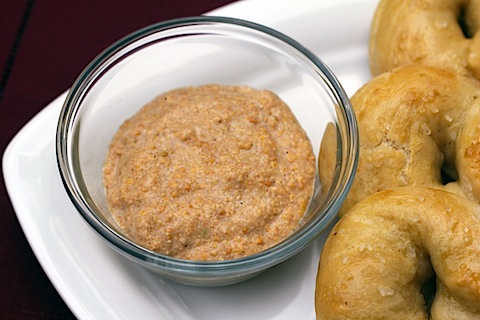 And tore off another piece and dipped it in the sweet pumpkin dip.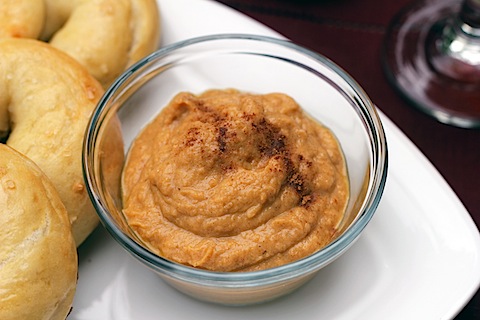 And could not have been happier. But then, I really enjoy weird food combinations.
The pretzels themselves are actually pretty fabulous without the dips. The pumpkin beer taste was not overwhelming at all and was more of just an essence. The pretzels were soft, chewy, salty, and everything a soft pretzel is meant to be.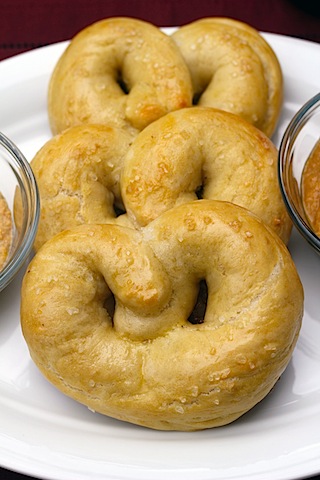 You could certainly make these pretzels even more pumpkin-y (yes, it's a word) by adding cinnamon, sugar, and nutmeg to the mix, if you want to go for a sweeter pretzel. You could even mix in pumpkin puree. There's something about pumpkin and pretzels that just works. And beer. Always beer.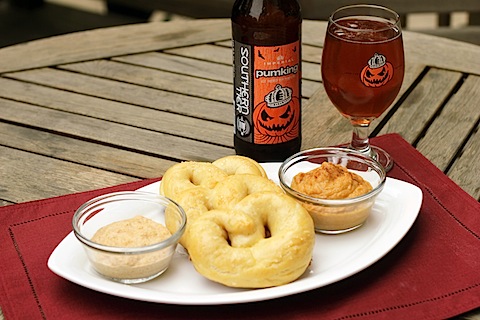 With football season starting, these would be the perfect game time snack. I'm not a huge football lover, but when there's good food involved, I'm always in, so I'm planning to develop some more fabulous game time snacks this season.
OK, time for me to go have my pumpkin oatmeal breakfast. I told you, when I go in, I go all in.
Favorite Pumpkin Recipes on We are not Martha:
Pumpkin Whoopie Pies
Pumpkin Pie Martini
Cranberry Pumpkin Granola
Pumpkin Cinnamon Buns
Pumpkin Chicken Tacos
Pumpkin Pasta with Chicken Sausage and Spinach
Pumpkin Snickerdoodles
Chicken Potpie in a Pumpkin
Pumpkin Pancakes
Pumpkin-Swirl Brownies
Pumpkin Fudge
Pumpkin-Chocolate-Chip Squares
Pumpkin Quinoa Parfait
Pumpkin Pie Bars
Molasses Ginger Cookies with Sweet Pumpkin Dip
Has pumpkin season started for you or are you waiting until the official start of fall?
[Sues]
Gap Jeans Giveaway Winner!
The winner of last week's Gap jeans giveaway is Lauren from Keep It Sweet! Congrats, Lauren; I'll email you ASAP to get your contact info 🙂