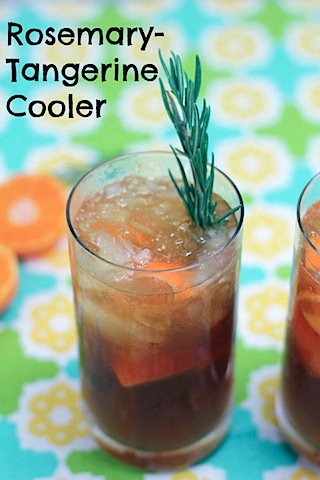 When someone declares it National Rum Day, you celebrate. Right? OK, so National Rum Day was actually yesterday. And I just happened to have this drink planned before I had any idea it was National Rum Day. Coincidences like this keep happening to me… I made s'mores cookie bars for our work potluck last Friday on National S'mores Day before I had a clue it was National S'mores Day (not sure how I missed advance notice of this very important holiday). It's uncanny really. Maybe I have the psychic ability to determine what national food day it is? I definitely just Googled to see if today was a national holiday for any of the meals I have planned… But it's actually National Vanilla Custard Day. And, alas, I do not have a vanilla custard recipe planned, so I guess my psychic theory is wrong. But I also learned that Sunday is Hot and Spicy Food Day (which you know I'll be celebrating!) and next weekend is Whiskey Sour Day, which is also cause for celebration. Consider this a public service announcement.
But back to Cocktail Friday. I spotted this swoon-worthy cocktail in Bon Appetit and found it instantly appealing from the image alone. It screamed summer and made me realize I haven't made nearly enough cocktails this summer. In fact, I haven't even made a single cocktail in a mason jar. Who am I?? I still have a few weeks left and will most definitely be taking full advantage of them. Starting with this deliciousness.
Rosemary-Tangerine Cooler (serves 6):
Adapted from Bon Appetit
Print this recipe!
4 tangerines or clementines
1 bunch rosemary (about 12-16 sprigs)
4 T raw sugar
2 C white rum
Crushed ice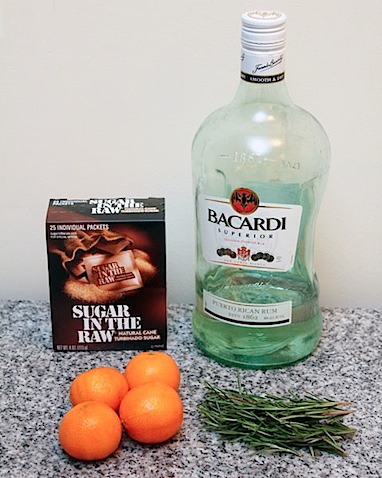 Start by slicing all your tangerines in half. Fill a bowl with 2 T of raw sugar.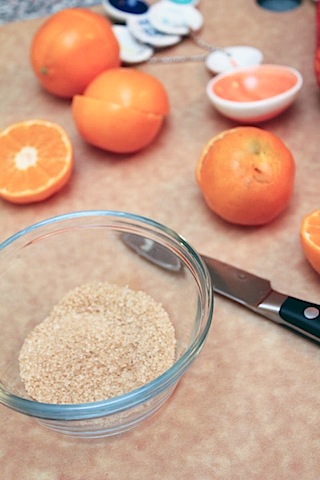 Dip cut side of tangerines into sugar. Yum. I wanted to eat the tangerines just like this.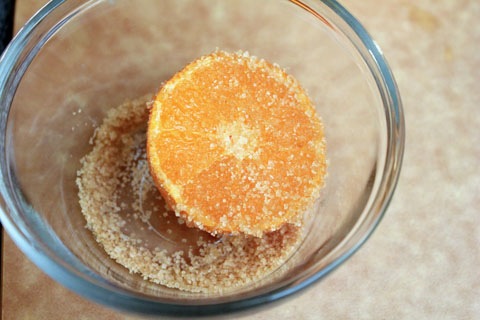 Put tangerines, cut-size down in a cast-iron skillet over medium-high heat. Put about 6 sprigs of rosemary in pan, too.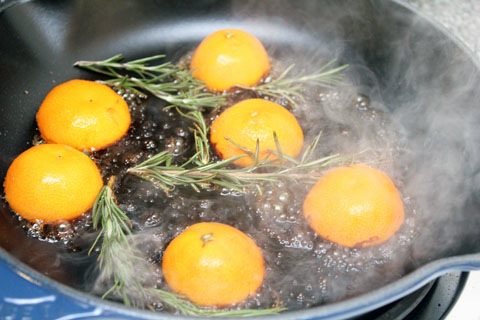 Let cook for about 2 minutes, until sugar caramelizes, and then remove from heat.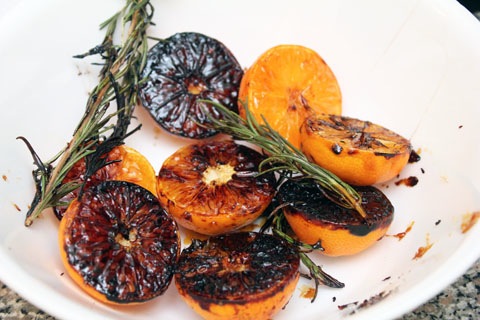 Discard rosemary. Even though you'll feel bad doing so. Let tangerines cool a bit and then cut them into quarters (I wasn't sure if the recipe meant to cut the halves in half to make quarters of the whole… Or to cut the half into quarters. I went with the latter because I figured the smaller pieces would be easier to muddle).
Put tangerines and 2 T sugar into a pitcher.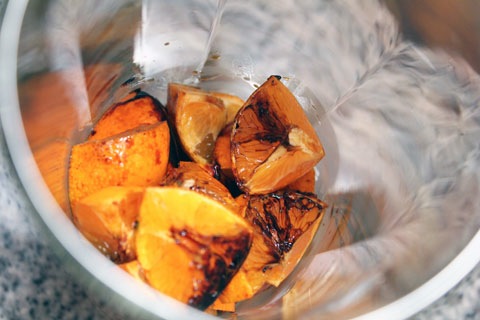 Muddle them to release lots of juices. Then pour rum into pitcher, along with lots of crushed ice. I crushed my ice in my food processor since I'm not lucky enough to have an ice crusher (is that really what they're called?). You could use a blender, too.
Pour cocktail into glasses and garnish each with a sprig of rosemary.
I was a little concerned because my drink ended up a lot darker than Bon Appetit's. But I mean, if you're caramelizing something, aren't you browning it? Isn't that like the definition of caramelizing? So, I have no idea how their drink was so lightly-colored and clear. Though I admit, I probably caramelized my tangerines a tad too much.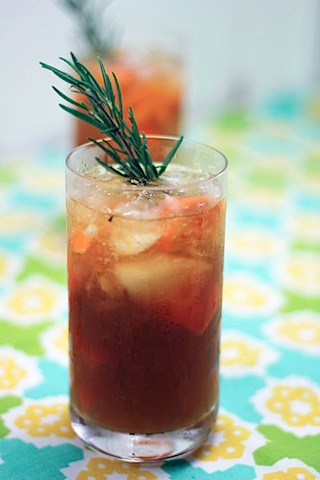 But it was super tasty! The cooler definitely tasted strongly of citrus (and rum!) and I thought the light caramel flavor was wonderful.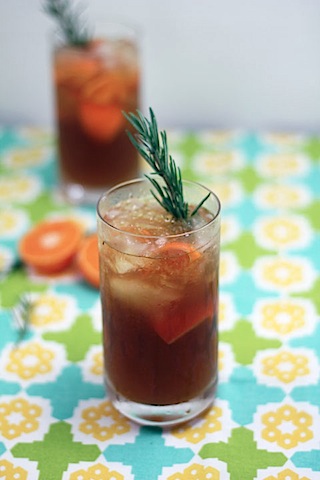 I do, however, wish the rosemary flavor was a bit stronger. Next time I would probably muddle the rosemary I had in my skillet along with the tangerines. Because, while I understand, those tangerines got the "essence" of rosemary, I wanted more!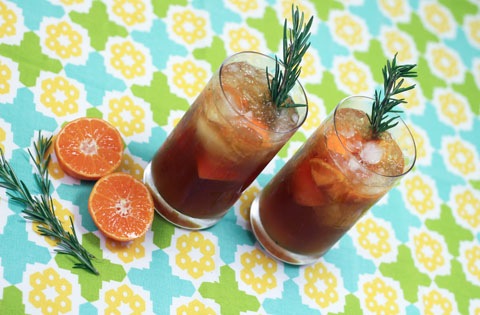 Not that muddled caramelized rosemary would make this drink look any prettier. But still. Also, I sort of wish the rosemary could function as a straw. How fun would that be? That's my next invention: herb straws.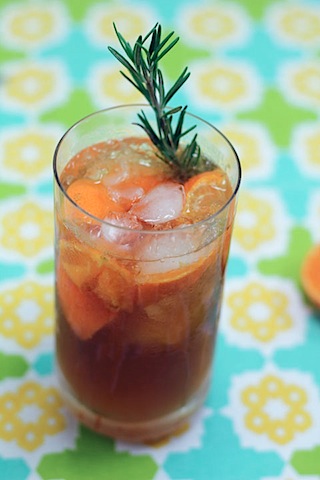 I kind of want to try this very same drink, but with grapefruit, thyme, and tequila. Which would make it not the same drink at all, but you know what I mean. Once you get the "method" of caramelizing, muddling, and pouring, you can switch out whatever you want and your drink options are endless.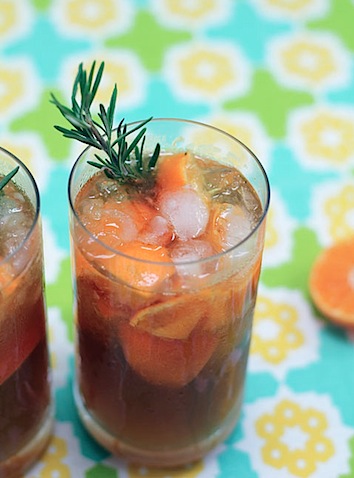 The way drink options should be. I hope you have a very happy Cocktail Friday, no matter what your drink of choice might be!
I popped the leftover of this in the fridge (yes, there were leftovers. There were only 2 of us. And it was Thursday evening. And in my mind, there's nothing more miserable than a day at work when you're not feeling so hot from the night before. THE WORST), so I'm interested to see how the flavors melded overnight when I get home this evening. Yes, very interested.  You know, just doing my due diligence for you all 🙂 You're welcome.
Did you celebrate National Rum Day? Will you this weekend??
[Sues]