Oatmeal doesn't have to be boring! This Strawberry Banana Oatmeal is ready in 5 minutes and sure to brighten up your otherwise average weekday morning!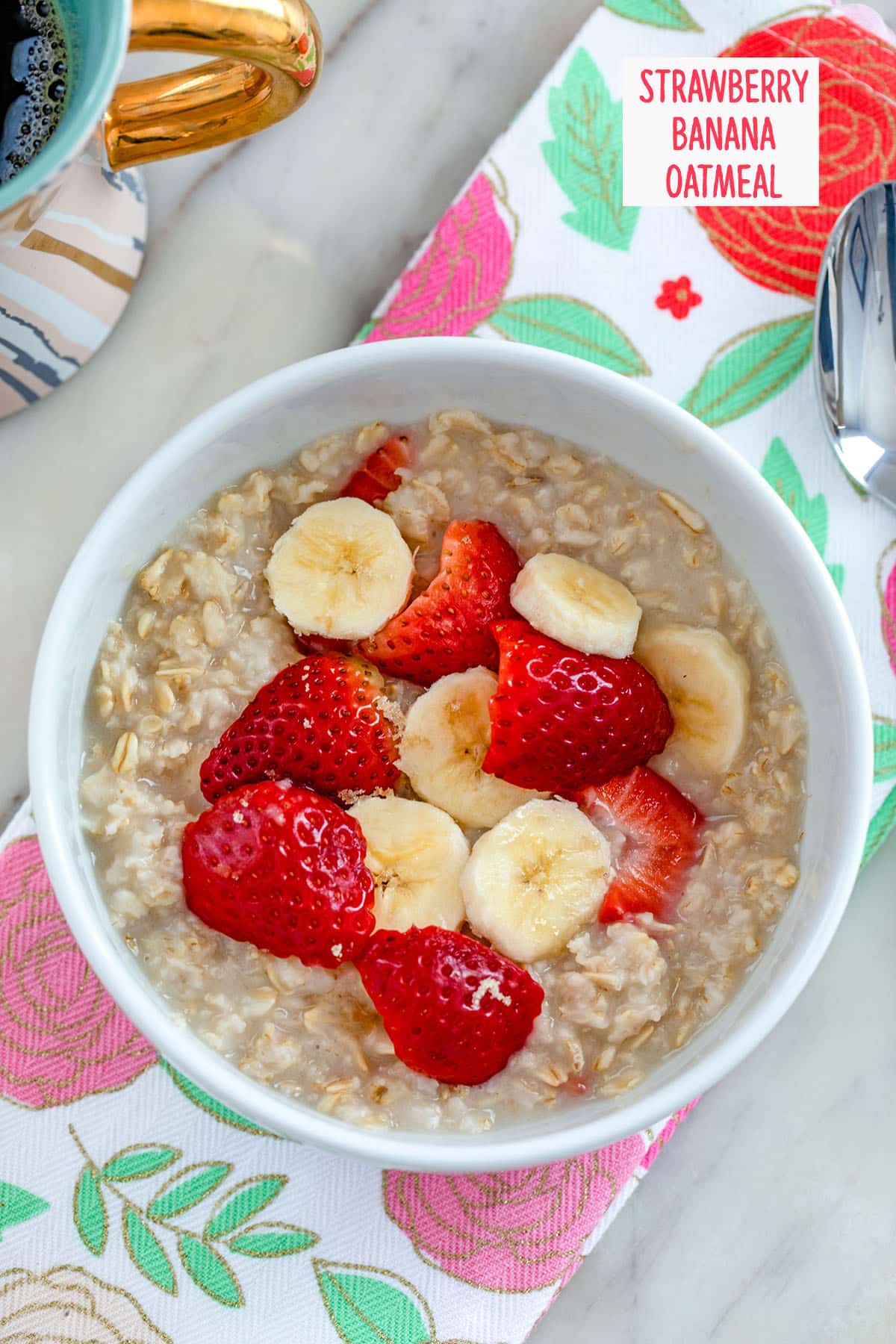 Jump to:
Oatmeal is so boring, right?? But it doesn't have to be! I promise! Not only is oatmeal one of the easiest breakfasts to throw together, it's also one of the healthiest. And you can make it even more delicious with just a few super quick and simple fixes. Namely, some fruit. OK, and some brown sugar, too.
As you may already know, I love my oatmeal. A lot. And you know when you have total brand loyalty to a product? That's how I am with Quaker. I cannot bear buying oats that aren't Quaker Oats. I'm sure it has something to do with my childhood.
When I was at the grocery store last night, I was disappointed they only had super huge containers of it. Then I thought about it and realized I had no problem getting 2 lbs. of Quaker Oats because I'm obviously going to eat them all. Starting with this very easy oatmeal breakfast.
❤️ Why you'll love this recipe
OK, so I realize this recipe is barely a recipe. Most of us know how to put together a bowl of oatmeal and adding fruit to it is not rocket science. But I kind of feel like this post is a bit of a public service announcement.
Attention friends: oatmeal is easy and strawberry banana oatmeal is ridiculously delicious with almost no work involved. Stop calling oatmeal boring and start waking up to this delicious and totally satisfying breakfast that will get you straight through to lunchtime.
Yes, this recipe is ridiculously easy and will make your oatmeal breakfasts so much more fun!
Strawberry banana is basically my favorite flavor combination ever and though I might prefer a strawberry banana daiquiri, I feel like those are looked down on in the morning. So for now, I'm sticking with strawberry banana oatmeal.
🗒 Ingredients
Of course, the ingredients for this oatmeal are super simple. Here's everything you need (be sure to view the recipe card at the bottom of this post for ingredient amounts and full recipe instructions):
Old-fashioned oats
Water
Light brown sugar
Strawberries
Banana
🍓 How to make strawberry banana oatmeal?
My oatmeal making secret? The microwave is your friend. Especially when you're making oatmeal for one. I simply mix my old-fashioned oats and water in a small bowl and put them in the microwave for about 1 minute and 40 seconds.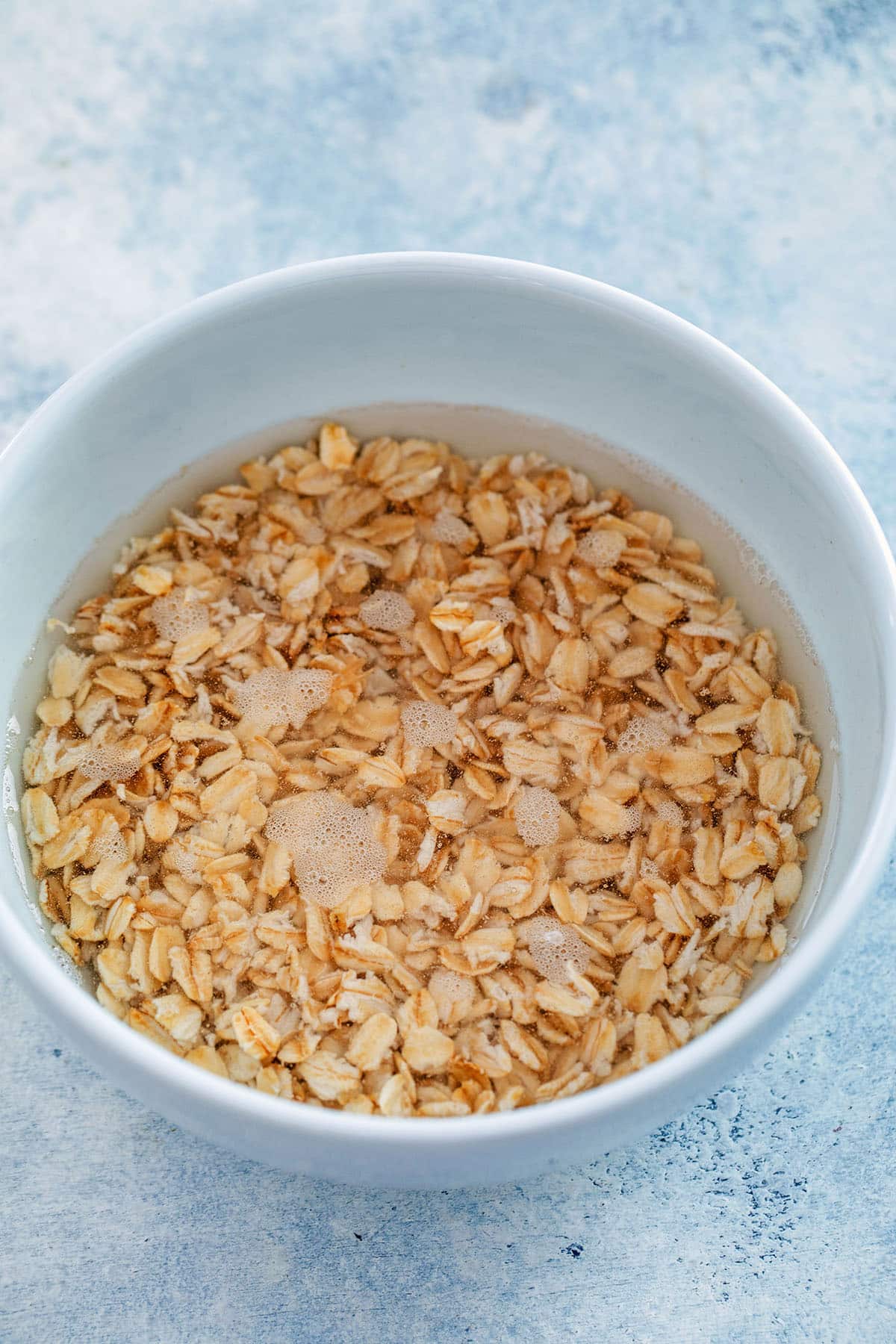 When you first take it out of the microwave, it may still look a little watery, but don't worry, it will thicken up very quickly. Now for the rest of the "recipe"...
Simply stir in a little brown sugar and some strawberry and banana slices. Then top the oatmeal with more strawberries and bananas.
That's it! I told you this was an easy one.
And also a delicious one. Strawberry banana oatmeal is so much more fun and tasty than plain oatmeal and really only takes an additional minute or two to make!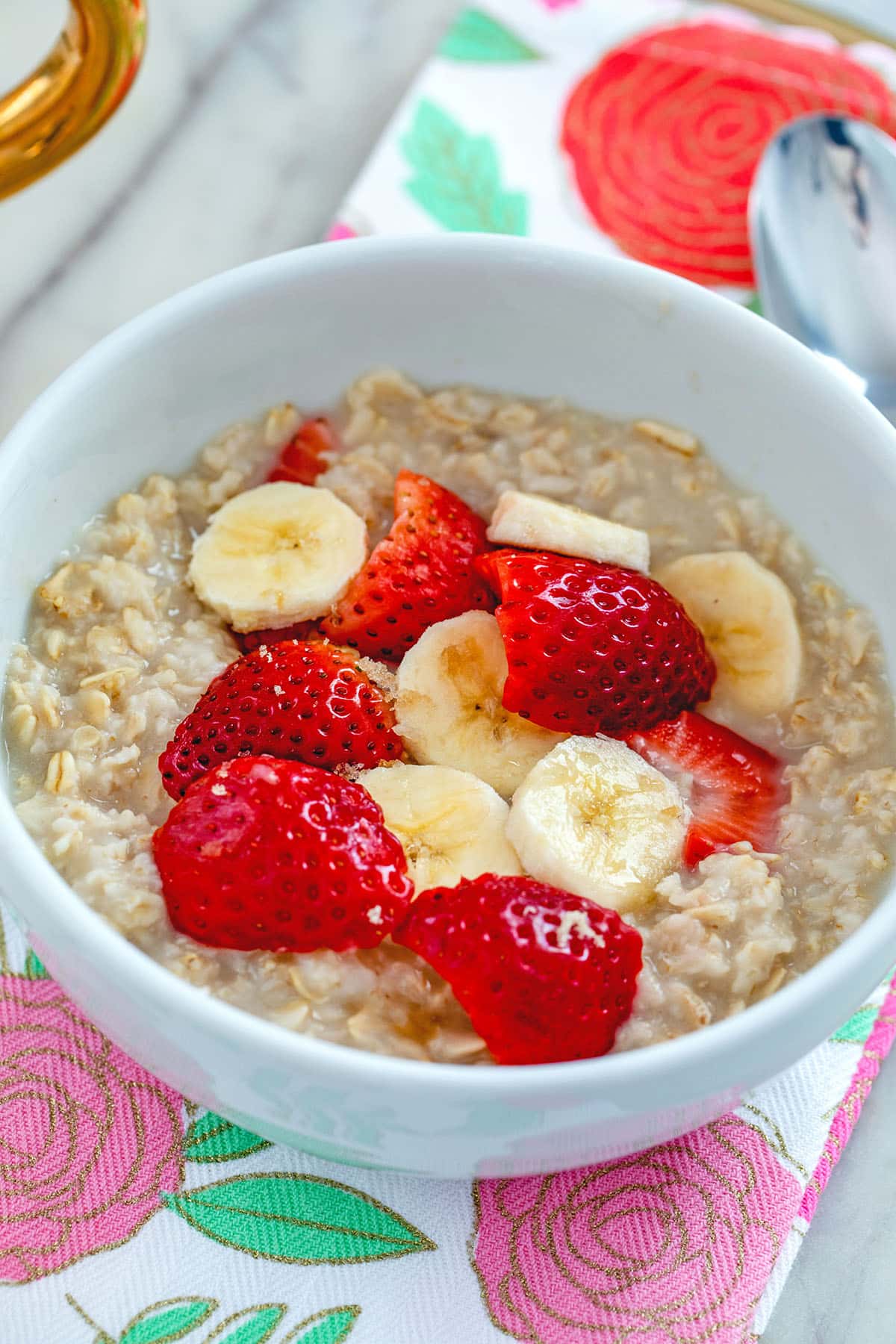 Of course, you can add in as much fruit as you want. The key is really stirring in chopped fruit while the oatmeal is hot... It kind of infuses the strawberry banana flavor throughout the oatmeal and tastes so much better than simply adding it on top!
🎉 Variations on recipe
I love the simplicity of this oatmeal, but there's also a lot you can do to take this recipe and alter it a bit. Here are some ideas:
Obviously it's easy for you to control the sweetness of this oatmeal. If you don't like starting your day with added sugar, you don't have to add it at all.

And if you need a lot of added sugar to make oatmeal appealing to you, feel free to add more. You can also try using maple syrup, honey, or agave.
Sprinkle cinnamon top for even more flavor.
Add nuts. If you like a little bit of crunch and even more nutrition in your oatmeal, add walnuts, cashews, or almonds.
Add additional fruit. Of course, this is strawberry banana oatmeal. But blueberries, mango, raspberries, and blackberries would also be delicious!
⏲️ How to make ahead of time
Though this recipe is quick and easy to make, I totally understand if you want to make it ahead of time to make your mornings as simple as possible!
I recommend making the oatmeal, letting it cool a bit and then packing it in an airtight container (or multiple individual serving-size airtight containers) and storing it in the fridge. It should keep fresh for about 5 days.
You can reheat it either in the microwave or in a saucepan, but you may need to add a little more water (or milk) if it is too thick.
I do recommend adding the strawberry and banana topping right before serving otherwise the fruit may get soggy and the banana may brown.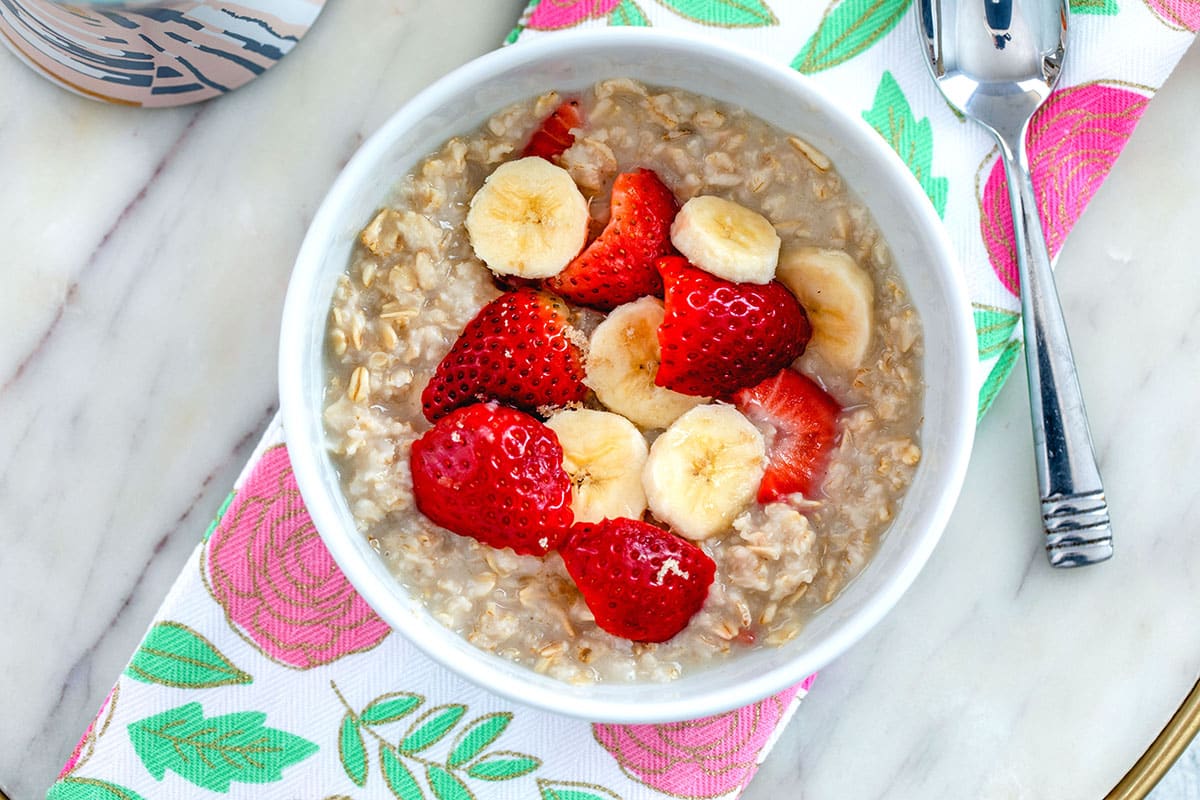 I generally pair my strawberry banana oatmeal with a cup of black coffee- the only way I like my coffee and the perfect way to wake up.
Also, since I don't add sugar to my coffee, I figure that gives me a little more leeway with adding sugar to my oatmeal. Right? Right??? That's what I thought.
🥣 More oatmeal recipes
If you're a fan of eating oatmeal for breakfast, but don't like it plain and want some added excitement, check out some of my other oatmeal recipes... I even have one for your pup!
I also love this Sweet Potato Pie Oatmeal from Minimalist Baker!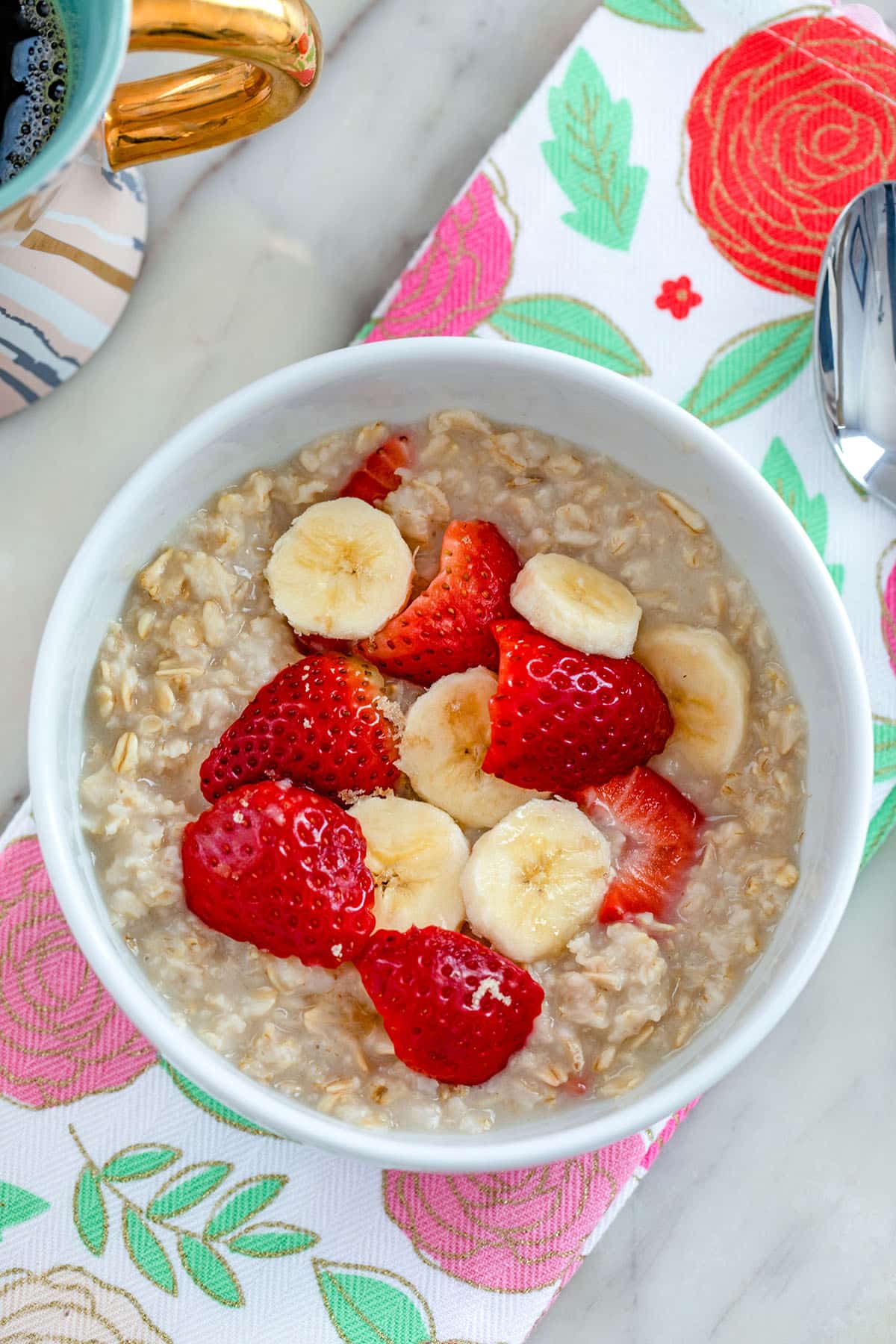 This is the perfect breakfast, but to be honest, I enjoy oatmeal any time of the day. And even for dessert.
And this is one oatmeal I make over and over again, especially when strawberries are in season. Now, if only the rain would stop, this would be the perfect Friday!
What's in your perfect oatmeal?
📖 Recipe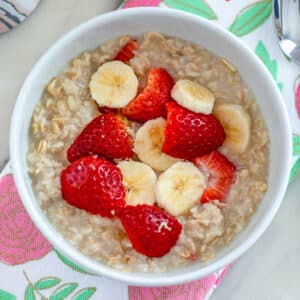 Strawberry Banana Oatmeal
Oatmeal doesn't have to be boring! This Strawberry Banana Oatmeal is ready in 5 minutes and sure to brighten up your otherwise average weekday morning!
Print
Pin
Rate
Ingredients
½

cup

old-fashioned oats

1

cup

water

1

tsp

light brown sugar

4

strawberries,

sliced

½

small banana
Instructions
Add old-fashioned oats and water to a small bowl and place in the microwave for 1 minute and 40 seconds. Remove from microwave and stir.

Stir in the brown sugar, half the strawberries, and half the bananas. Top with remaining strawberries and bananas. You can also top with more brown sugar if you want!
Share a Photo of Your Finished Recipe!
Mention @wearenotmartha and share a photo if you've made the recipe!