Stop everything you're doing and sit in the sun and relax with this strawberry banana daiquiri. You can use a mixer to make this frozen summer cocktail or a light rum and some sugar instead.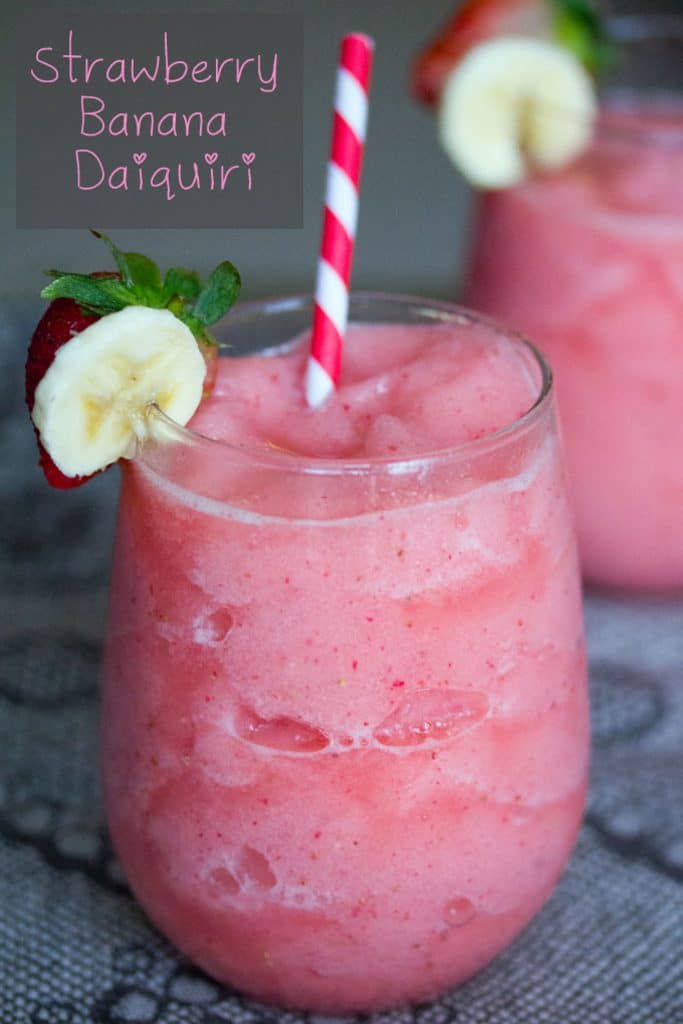 Don't daiquiris make you just want to jump on a boat and go on a cruise somewhere? Or at least some kind of tropical vacation where you sit on the beach all day and miraculously forget you have a job or responsibilities or a driveway to shovel back home. So, how about jumping on a plane and heading to a beach where there's a cabana boy who mostly stays out of your way until he sees that a) you need your umbrella raised and b) your glass is empty. That's more like it. Siiiiigh. Let's go now. OK fine, a daiquiri at home will definitely take second place to a full-on tropical vacation. And I speak from experience when I say it's tough to find a good strawberry banana daiquiri. Sure, you can get a plain old strawberry one. You can also get a Pina Colada. And even often a "Miami Vice" (alright, yes, those are pretty tasty and fun looking). But I've been told no to my order of a strawberry banana daiquiri on more than one occasion. It all stops here, friends. I'm living on my own terms. I can't be the only one who loves that strawberry banana combination, right?
Bacardi sent me a bottle of their Bacardi Light Strawberry Daiquiri and I wasted no time popping the top. They make it pretty easy for you and the instructions basically tell you to pour it over ice. For only 95 calories, which is a super sweet deal. And basically what I want to do every night when I get home for the evening. But you know me and must have known I wasn't going to just pour this over ice. I wanted a more true daiquiri. A frozen one. So I can pretend I'm on a tropical island and this drink was made for me by a cabana boy.
Don't worry. My way of "complicating" things still makes this one super simple drink to whip up. And all my strawberry banana dreams can now come true in my very own kitchen. Cabana boys need not apply. I got my own blender, yo!
But if you prefer a strawberry banana daiquiri without using the special Bacardi liquor, I've got you covered for that below, as well!
Step one: Throw all ingredients in a blender and blend.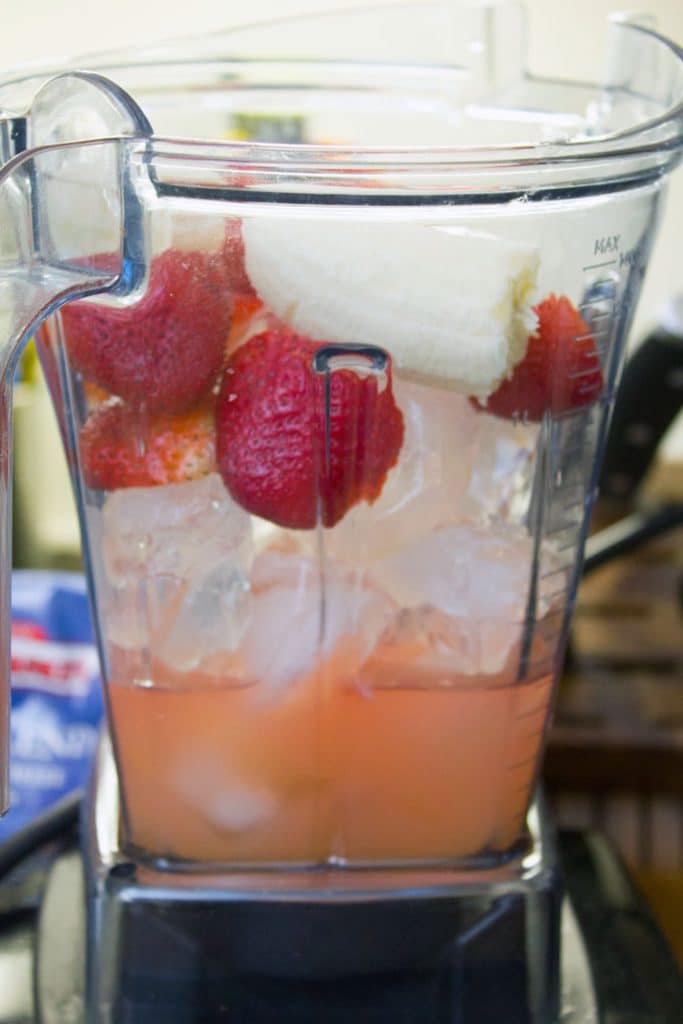 Step 2: DRINK!
Well, you may want to pour in a glass first. But if you live alone and nobody will find out, you don't have to. I'd probably do the same. You're in a no judgement zone here, friend.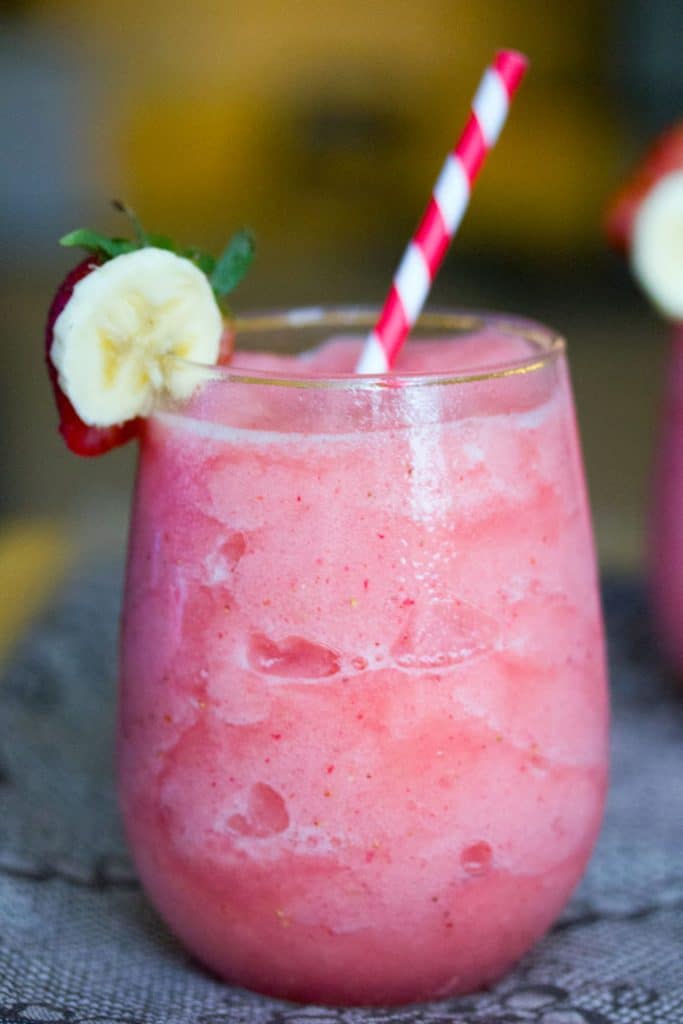 A little strawberry and banana garnish may help contribute to giving you that island feel.
But also? If you can't find the Bacardi Strawberry Daiquiri or prefer not to use it, it's not biggie at all! You can simply replace with light rum and 1 ½ Tbsp sugar. I used fresh strawberries in this strawberry banana daiquiri anyway, so you're already getting plenty of strawberry flavor and just need to add the alcohol and a little extra sweetness.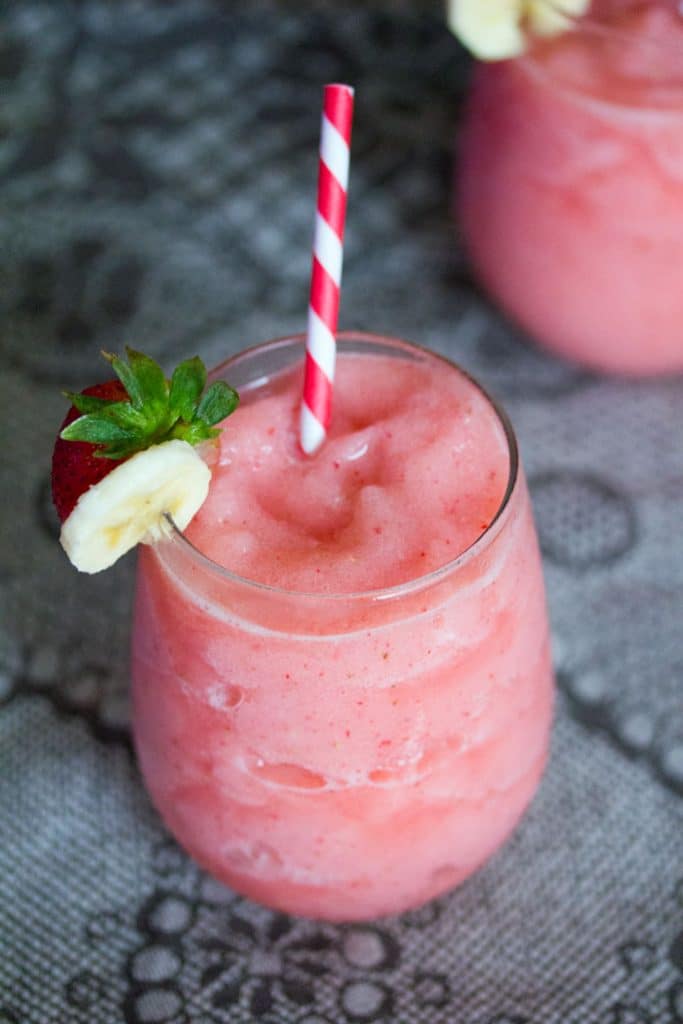 You have no idea how happy I was to sip on a strawberry banana daiquiri. Especially knowing it didn't contain a bajillion calories and wasn't all syrupy sweet.
But I'd totally pour this Bacardi over rocks and sip on that, too. Isn't summertime the absolute best?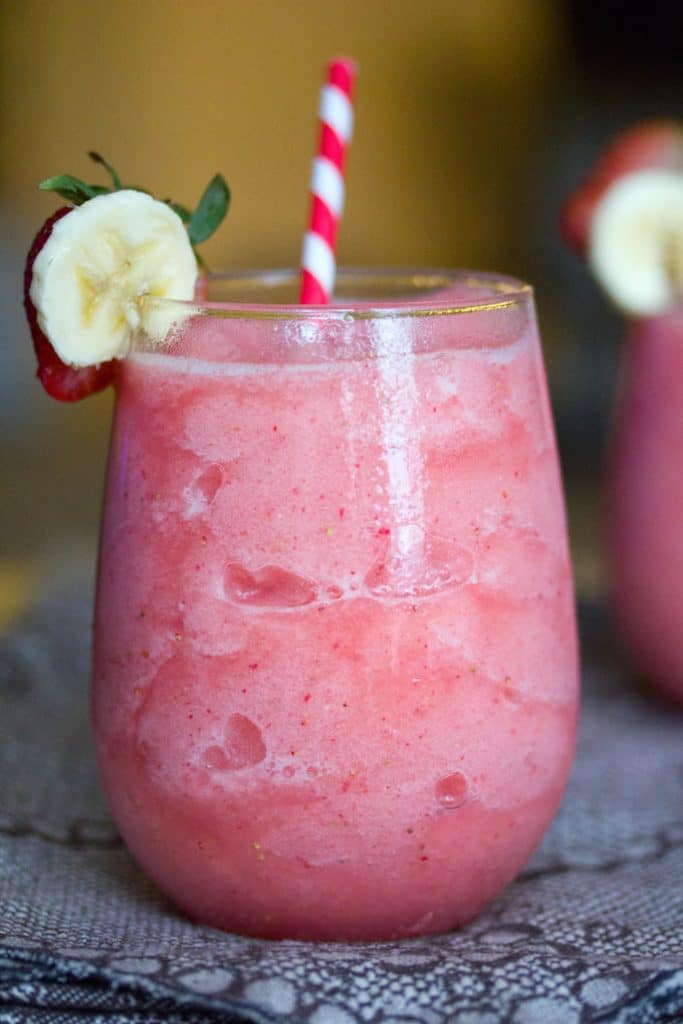 No matter how you choose to make this drink, one thing is for sure... You're gonna want to cancel all your plans, sit in the sun all day, and forget you have a job or any other responsibilities.
What's your favorite kind of daiquiri? Favorite place to drink them?
For more summer drinks, check out my Key Lime Pie Mojito or my Blueberry Vodka Lemonade.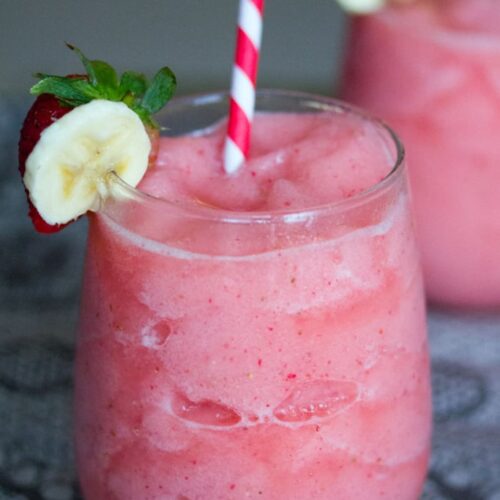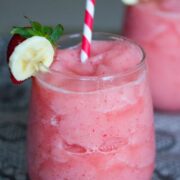 Print Recipe
Strawberry Banana Daiquiri
Stop everything you're doing and sit in the sun and relax with this strawberry banana daiquiri. You can use a mixer to make this frozen summer cocktail or a light rum and some sugar instead.
Ingredients
3

cups

ice

4 oz.

Bacardi Light Strawberry Daiquiri

(can substitute with 4 oz. light rum and 1 ½ Tbsp granulated sugar)

1 ½

oz.

orange juice

1

cup

strawberries,

hulled and halved

½

banana
Instructions
Place all ingredients in a blender and blend until smooth.

Divide between two glasses and garnish with a strawberry and banana slice, if desired.
This is a sponsored conversation written by me on behalf of BACARDI. The opinions and text are all mine.