Happy holidays! I love this time of year for SO many reasons, one of which is the opportunity to write my annual Holiday Gift Guide for Food Lovers! This is my fourth year putting together a guide and it's definitely one of the most fun posts to write. I don't want to repeat anything from previous years, but take a look at last year's list, too, if you need some more ideas... I still love pretty much everything on there!
There are only 2 more weeks to get holiday shopping done, so I hope this idea gives you an idea or two for any cooking and food loves in your life. Orrrr it may just help you build your own Christmas list even more 🙂
(FYI There are some affiliate links in this post, which means I may earn a small commission for any sales at no extra cost to you)
Moscow Mule Copper Mug:
Sur la Table is making me seriously kick myself for not having already purchased these and planned a holiday party. It's impossible not to love a Moscow Mule Copper Mug and Sur la Table has styled theirs so brilliantly. This would probably just plain become my regular drinking cup.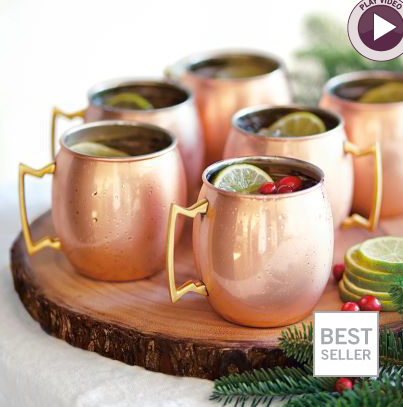 OXO Good Grips Press & Pour Cocktail Shaker:
For as much as I love making cocktails, I'm pretty darn horrible with a shaker. Seriously. I often imagine myself working in a bar, mixing up a cocktail and having extreme difficulty taking the top off the shaker. Only to have the entire shaker come flying out of my hand. I'd be fired in like an hour. So, when I saw this OXO Good Grips Press & Pour Cocktail Shaker, I kind of fell in love. Like a lot. It has great reviews and looks super easy to use. Not that I reallyyyy need another excuse to make more cocktails, but here it is.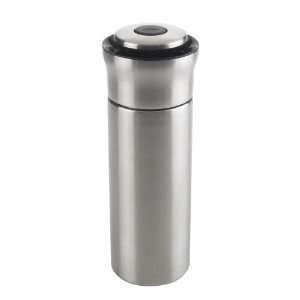 PieBox:
I don't make pie nearly enough. But I want to. And when I do, I'll need to share it with my friends and family. And so, I think this PieBox is pretty necessary. Yes?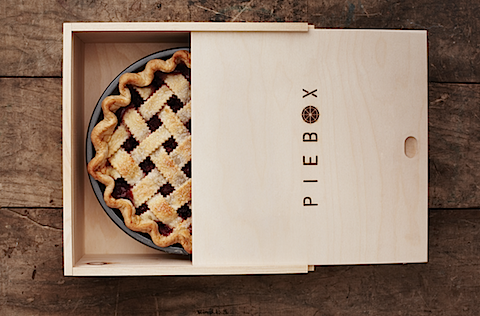 Daniel: My French Cuisine:
This book is on my Christmas list. And from everything I've read, Daniel: My French Cuisine is way more than just a cookbook. It's a beautiful coffee table book. And though many say that the recipes aren't exactly attainable for the home chef, serious food loves will certainly have fun trying.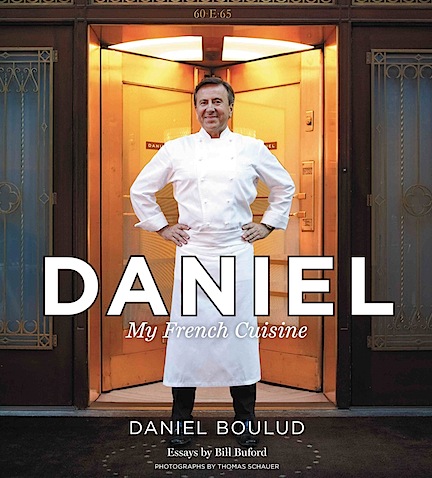 Food Ornaments:
At this point in my life, I am very much a Christmas tree purist. I didn't used to be and I'm sure I won't be once I have kids and start collecting all kinds of crazy fun ornaments. But now, my dream is a beautiful tree with white lights and some sort of fabulous theme, whether it's the color of the ornaments… or something else. Like food. There's an ornament for basically any kind of food you can imagine. Bronners.com has tons of food ornaments, but a simple Google search will bring up even more. I want the garlic and the taco. But also the nachos, the pomegranate, the peanut butter, and the grilled cheese. Basically, I want to create my dream meal on a Christmas tree. is that so wrong?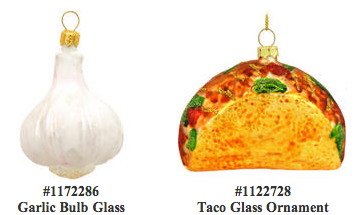 Neon Hardwood Serving Spoons:
In my little dream world where everything in my life corresponds, I'd have beautifully clear countertops with little carafes holding all my perfectly matched serving pieces. And obviously these 6 neon wood serving spoons from Nicole Porter's Etsy store would have their own carafe. And it would be glorious. I'm also still desperate for the neon bowls I listed in last year's guide, but at $185, I'm going to need to hold off a little while longer. But if you have someone in your life you love very, very much, they might just love these bowls, too.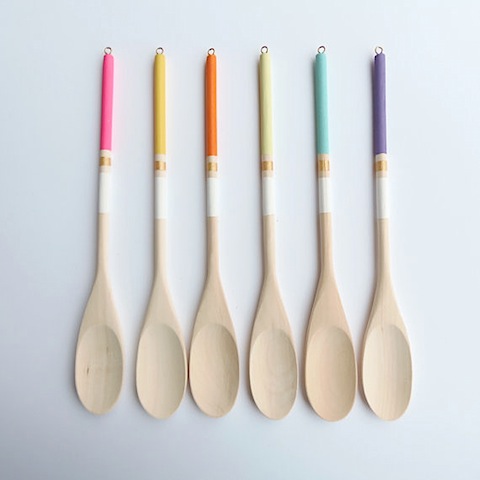 Aqua Zinger Water Bottle:
This is one of the coolest things ever. You basically put whatever fruit you want into the Aqua Zing Water Bottle device and it crushes it up and infuses it into your water. I'm a sucker for naturally flavored waters, so yes please.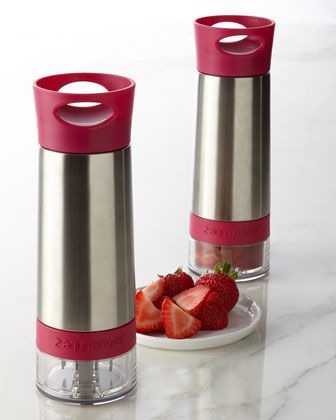 Oregonian Salt Cellars:
These salt cellars are so precious and make the perfect little gift when paired with an artisanal salt.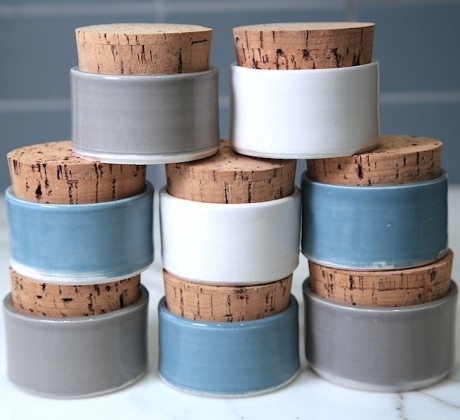 Bambu Cutting Boards:
I have a serious cutting board obsession. I believe you can NEVER have too many cutting boards. Ever ever. And I think these colored Bambu boards are so fabulously fun and perfecting for putting a bow on and gifting.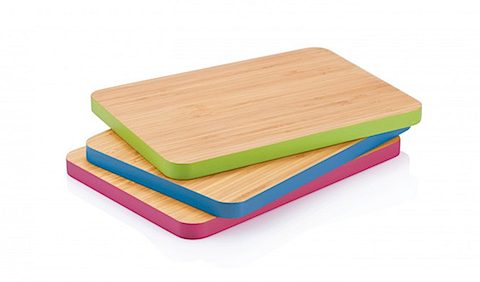 Sodastream:
My parents got Chris and me a SodaStream a couple years ago and it is one of the best gifts we've ever received and one that we use every single day. We aren't even soda drinkers! But we do love soda water. And we make a couple bottles of carbonated water every day and keep it in the fridge. It gets us to drink more water and we love mixing it with juices occasionally, too. A fabulous gift idea!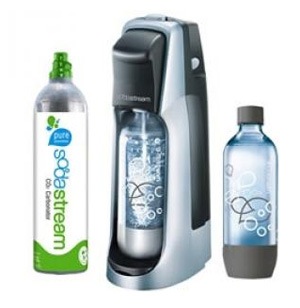 Mini French Macarons:
When in doubt, gift with macarons. Nobody on EARTH would complain about unwrapping these.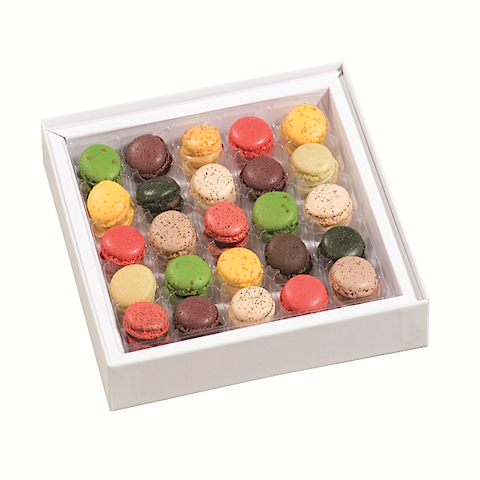 Moleskine Dessert Journal:
What creative doesn't love a good Moleskine? The brand recently released the Dessert Passion Journal, which is perfect for the innovative baker in your life. They can record all their recipes, plan parties and even refer to a glossary of equipment and follow along with a cake-slicing guide. There's a recipe journal, too, along with wines and restaurants.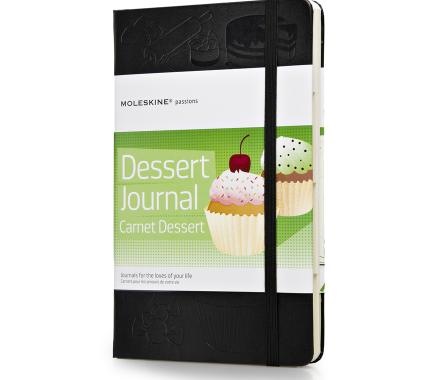 Rose Quartz Platter:
I'm going to take my Gwyneth Paltrow Goop moment right now. This rose quartz platter is to die for. Die for. It also breaks the bank at a whopping $396. I'm not going to be like Gwyneth and pretend like ugh, obviously you can afford this. Because I can't. But I still love it. And if you have the moolah, it's a gift that will likely make someone very, very happy.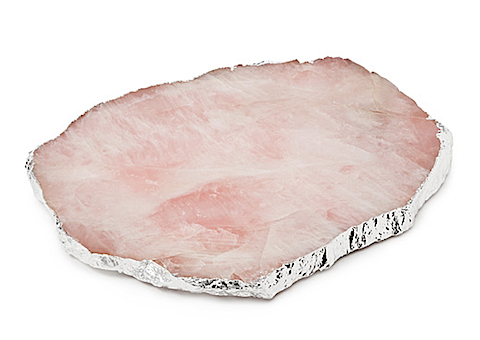 West Elm Beech Wood Wine Glass Shelf:
Obviously I have way more wine at any given time to store on this shelf from West Elm, but I love the look of it and think it would make an excellent functional and fashionable piece in many kitchens. Keeping your wine and glasses within easy reach? Win. Or is it, wine.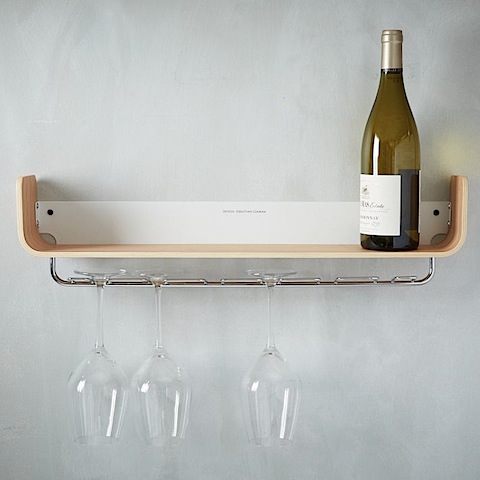 Copper Cook's Tools:
I'm also a sucker for these copper cook's tools from West Elm because they're different than the utensils most people have in their kitchens. Perfect for anyone you know with a more rustic-looking kitchen.
Nespresso Machine:
I wrote about Nespresso the other day and have a giveaway coming up next week, but I had to include it in my gift guide! I bought my mom a Nespresso last year and she's still loving it. Since they come in at all different price points ($99-$699), it's easy to find one for anyone on your list!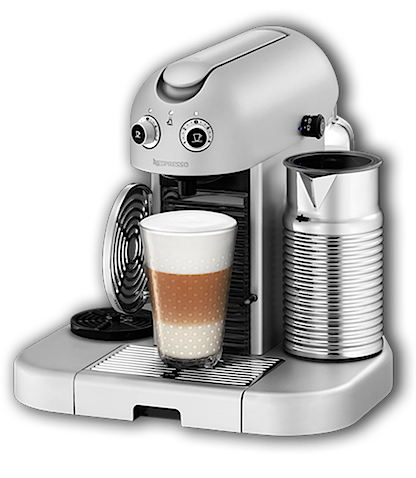 Kate Spade Bloomsbury Park Trumpet Vase:
This Kate Spade vase made it to my wishlist this year. I imagine it some day residing in my all-white kitchen for a pop of color. But for now, it would be filled with beautiful flowers and would add a little cheer to my apartment kitchen.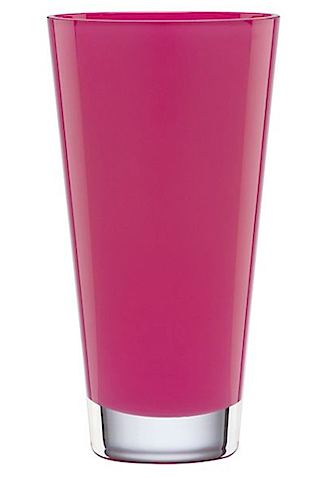 Gold Baking Cups:
Clearly, I'm quite into gold this season and I think these gold baking cups would make the perfect cupcake liners. It's always fun to put together a gift featuring all kinds of fun baking goodies!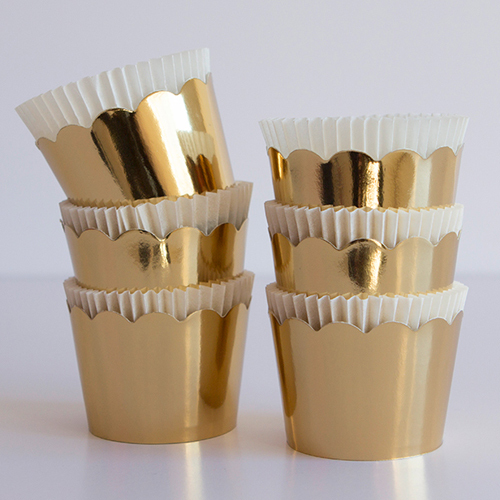 Peanut Butter and Co. Sampler:
Have a peanut butter lover in your life? Who doesn't?? Peanut Butter and Co. peanut butters are to die for and it's tough to choose a favorite (ahem, White Chocolate Wonderful and Mighty Maple, ahem). Give the peanut butter lovers in your life a chance with this Peanut Butter and Co. gift set. And maybe a loaf of bread, too.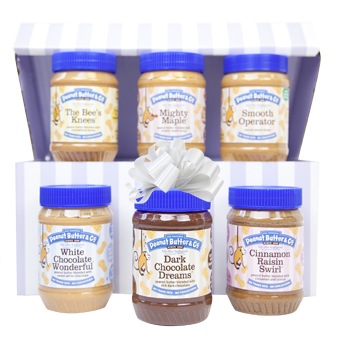 Glittering Serveware:
Can you resist? Can you?? Because I can't. This glittering serveware from Anthropologie is just too much to handle. Think of the dinner parties that could be thrown! It comes in gold, too.
Core Bamboo Mortar and Pestle:
I have a lifelong obsession with Core Bamboo and especially their fabulous colored bowls. They're always a great gift, but I also believe that everyone needs a mortar and pestle in their lives. Even if it's not something you use every day (and you probably don't), it comes in handy on many occasions and it makes a nice countertop decoration. Especially this Core Bamboo Mortar and Pestle.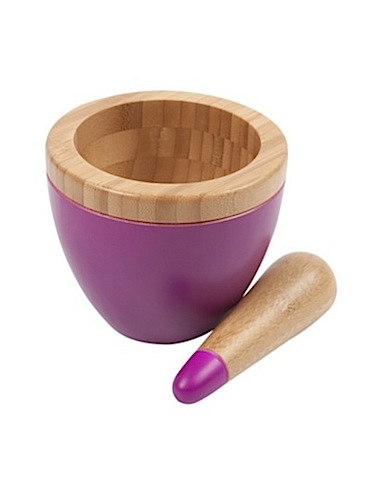 Theo Holiday Chocolate:
Everyone knows chocolate makes the best stocking stuffer. And have you seen Theo's holiday chocolates yet? Um, Peppermint Stick, Nutcracker Brittle, Gingerbread Spice, and Coconut Mint. Theo sent me a selection and I'm in love with all of them, but especially the Nutcracker one. I recommend getting the sampler pack.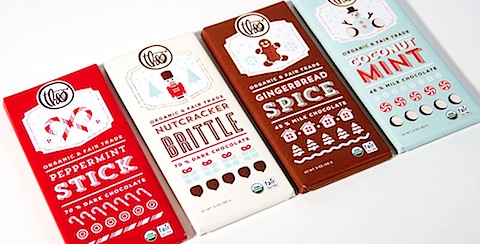 Videri Chocolate:
Another fabulous chocolate to stuff the stockings with. I love the Willy Wonka-ish packaging of Videri Chocolate. And their Pink Peppercorn Chocolate Bar is totally unique and amazing. I'm telling you, chocolate is always the perfect gift.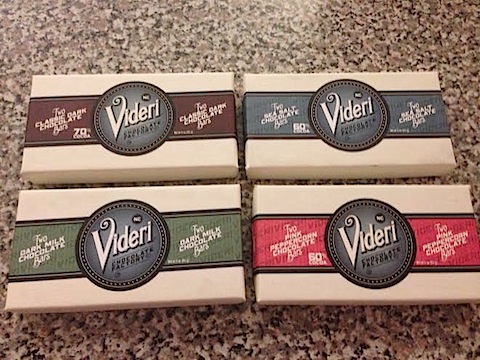 Cocktail Prints:
Im in love with these prints from Drywell Art and especially love all their cocktail prints. I envision a wall filled with these so the perfect cocktail recipe is always at hand!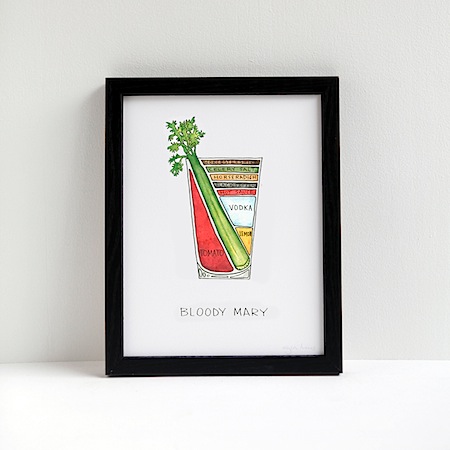 I'll also always be a fan of "of-the-month" or subscription clubs, like cheese-of-the-month, Craft Coffee, and wine clubs. They can sometimes be a little pricey, but you can often find 6-month or 3-month options that are a bit more reasonable.
What food, dining or entertaining focused gift is topping your wishlist this year?
If you're interested in checking out my past gift guides, you can see 2012, 2011, and 2010!
[Sues]