There are officially 12 days to Christmas. And for me, that means 12 days of peppermint. It sounds like a Christmas carol, doesn't it? For me, that means I have 12 days to see how many peppermint/candy cane goodies I can stuff in my face before it's not acceptable anymore (but really, peppermint is enjoyed year-round! So it's always acceptable). When I saw this Chocolate Peppermint Cupcake recipe, it was too beautiful to resist. It came with its share of complications, but was totally worth it. If only because I had dreams about the peppermint frosting (no, really, I actually did). Nothing like peppermint frosting dreams to ensure you have a fabulous next day.
One of the "complications" is what happened to half the cupcakes. See, I went to two holiday parties on Saturday night. I carefully packed up all my cupcakes and ended up with a platter of them on my lap for the first party, safely covered in tinfoil. Well, a freaking bicycle pulled out in front of us while we were driving to the first party and all the cupcakes slid off the platter and onto the car floor. And my boots. I had icing all over my boots. And Chris had icing all over his car. And the cupcakes were beyond saving. Wah. Happy holidays to me.
Anyway, moving on (really, I'm trying). If you have a favorite chocolate cupcake recipe, definitely use it and just use this frosting recipe. The cupcake part didn't wow me. The recipe was super strange, but I decided to try it because I don't have a favorite chocolate cupcake recipe and thought this could be amazing. But then I didn't want to use shortening (am I the only person who's seriously averse to shortening??), so I used butter instead. And instead of water, I used milk. But the cupcakes were a little dry. For the second batch I added more chocolate chips and they were much better. Anyway, the frosting makes these totally worth it.
Chocolate Peppermint Cupcakes (makes 24 cupcakes):
• 2 1/12 C flour
• 1/2 C unsweetened cocoa powder
• 2 t baking powder
• 1/2 t baking soda
• 1 t salt
• 1 3/4 sticks butter (14 T)
•1 C sugar
• 2 t vanilla
• 4 egg yolks
• 3/4 C milk
• 4 egg whites
• 2/3 C sugar
• 2/3 C semisweet chocolate chips
• 1 C crushed peppermint candies
• Peppermint frosting recipe (below)
(pre-heat oven to 350 degrees)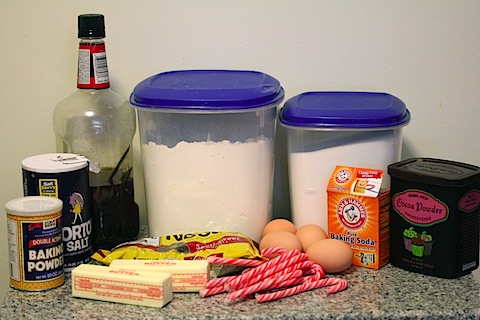 I didn't photograph the frosting recipe (my kitchen was already a disaster at this point), but here's the recipe (and really, you have to make this, even if it's just to take frosting shots. Yes, frosting shots are a real and incredibly delightful thing!).
Peppermint Frosting:
• 2 C butter, softened
• 5-7 C powdered sugar, divided
• 3-4 T milk
• 4 t peppermint extract   
First, make your cupcakes.
In a medium bowl, stir together flour, cocoa powder, baking powder, baking soda, and salt. Set aside.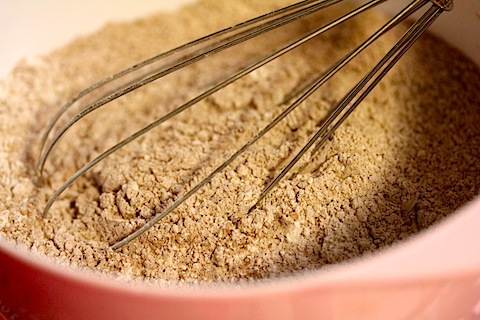 In an electric mixer (or large bowl with hand mixer), beat butter on high speed for 30 seconds, Add 1 C sugar and vanilla. Beat until combined, scraping down the sides of the bowl. Add egg yolks one at a time, beating well after each addition.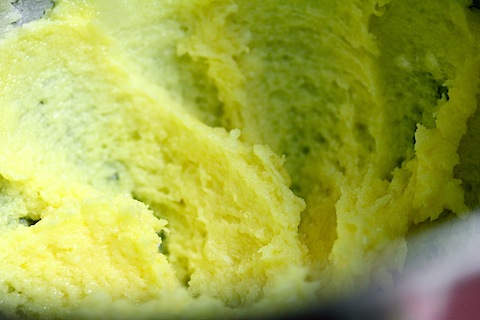 Alternate, adding 1/2 the flour mixture and and 1/2 the milk to the butter mixture, beating on low speed until just combined. Then add the rest of the flour and the rest of the milk.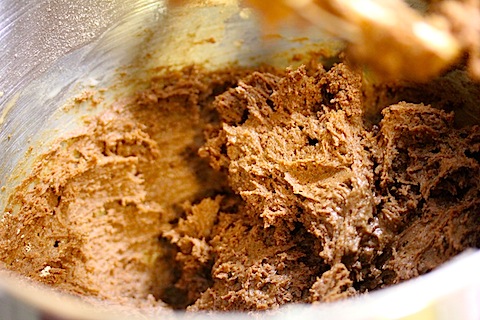 Then, in another bowl, beat egg whites on medium speed until soft peaks form. I used my hand mixer for this part. Then, add 2/3 C sugar, 1 T at a time, beating on high speed, until stiff peaks form.
Fold the egg white mixture into the chocolate batter in small batches.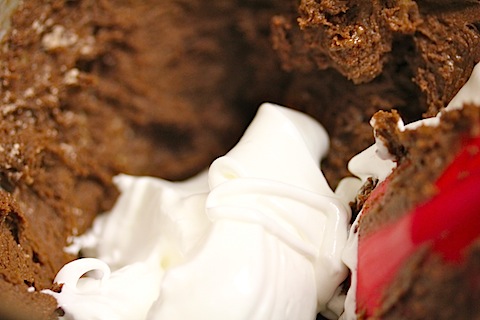 And gently fold in the chocolate chips.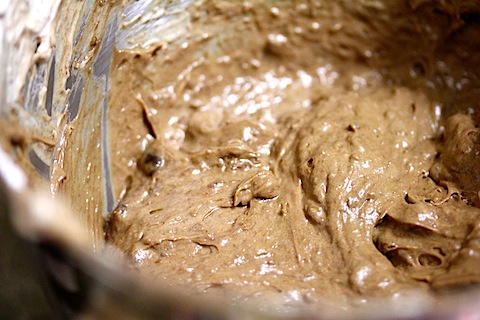 Spoon batter into lightly greased cupcake tins. And bake cupcakes at 350 degrees for 20 to 22 minutes.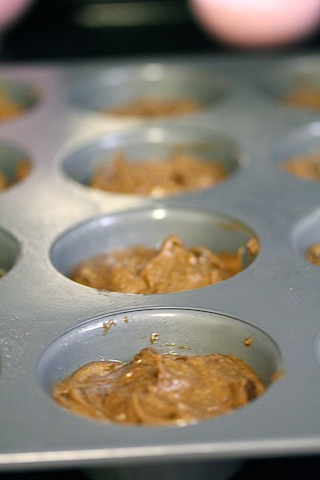 Let cupcakes cool in pan before removing.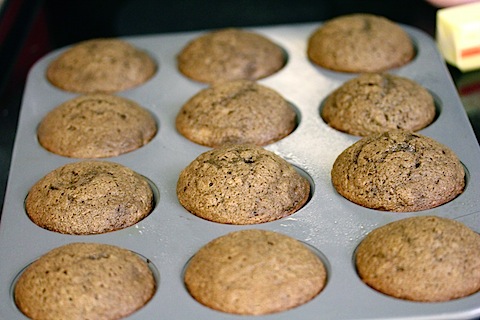 I baked my cupcakes in batches of 12, so after the first ones were done and I saw they were a tad dry, I added some more chocolate chips to the remaining batter and those seemed to be much more moist.
OK, on to the glorious frosting!
In a medium bowl, beat butter with electric mixer on medium speed, until fluffy. I KNOW it's a lot of butter. Ignore it; it's worth it. And the sugar balances it out. Gradually add 3 cups of powdered sugar, beating well. Beat in 3 T milk and the peppermint extract, too.
Now, beat in 2 additional cups of powdered sugar. You can add more milk or powdered sugar depending on what constancy you want your frosting to be. You'll have to keep tasting it to make sure it's exactly how you want it 🙂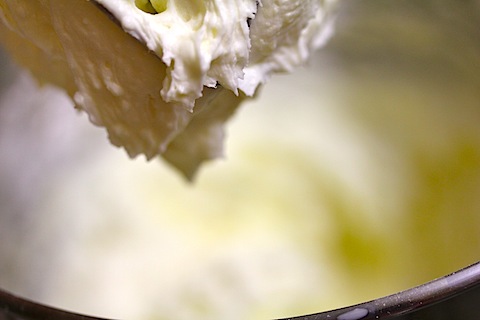 I still had some of this peppermint powder from my Peppermint Sugar Cookies sitting in a bowl on my counter. I decided to sprinkle some in my frosting. Totally unnecessary, but delightful nonetheless.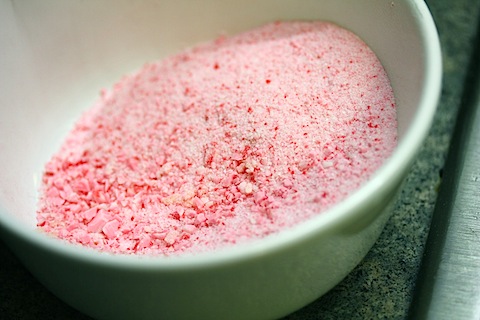 Also, put your candy canes into a plastic bag and crush them. But leave them in chunks and not so powder-like like you see above.
Now that your cupcakes are cooled, cut them in half horizontally Pipe about 1 T of frosting onto the bottom of the cupcake and then replace the top and push down to spread frosting to edges. I used a pastry bag, but you could just spoon the icing on it you want.
Here, you can put your candy cane pieces on a sheet of waxed paper and roll the sides of the cupcakes into the candies to coat frosting. But I found this to be rather messy, so I just held the cupcakes and sprinkled the candies around.
Pipe or spread remaining frosting on top of cupcake. Sprinkle with more peppermint candies.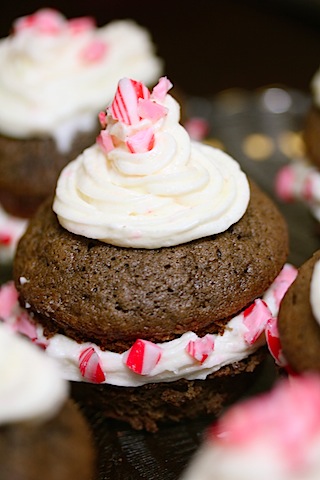 The frosting was absolutely AWESOME and the chocolate peppermint combination was seriously the stuff of dreams. And to be honest, it didn't even matter much that the cupcakes were a bit dry because the creamy, buttery frosting sandwiched between totally made up for it.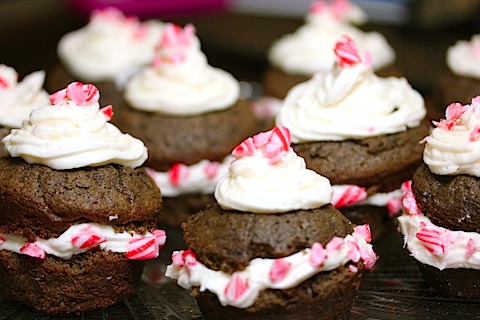 I loved the way the original photo looked with the huge candy cane pieces, but while quite aesthetically pleasing, I thought it could possibly break party-goers teeth. So, I crushed mine a little bit more.
I don't think I'll ever be satisfied by a cupcake again unless it has frosting in the middle of it and on the top.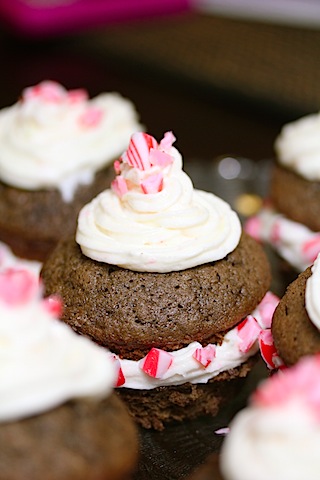 Overall, I would most definitely make these again. But really, I'd just like to make a huge vat of that frosting and take a bath in it. Or at least spread it on toast. Or waffles. Or candy bars. The possibilities are endless, really.
Or wait. Spreading this frosting onto those Peppermint Sugar Cookies?? Yes, yes, yes!!!
In the meantime, please send any and all out-of-this-world chocolate cupcakes, so I can make these even better next time!
[Sues]