Both pancakes and Cinnamon Toast Crunch cereal make delicious breakfasts... But have you ever tried combining them? These Cinnamon Toast Crunch Pancakes are packed with the cinnamon sugar cereal and topped with a delicious cinnamon maple syrup.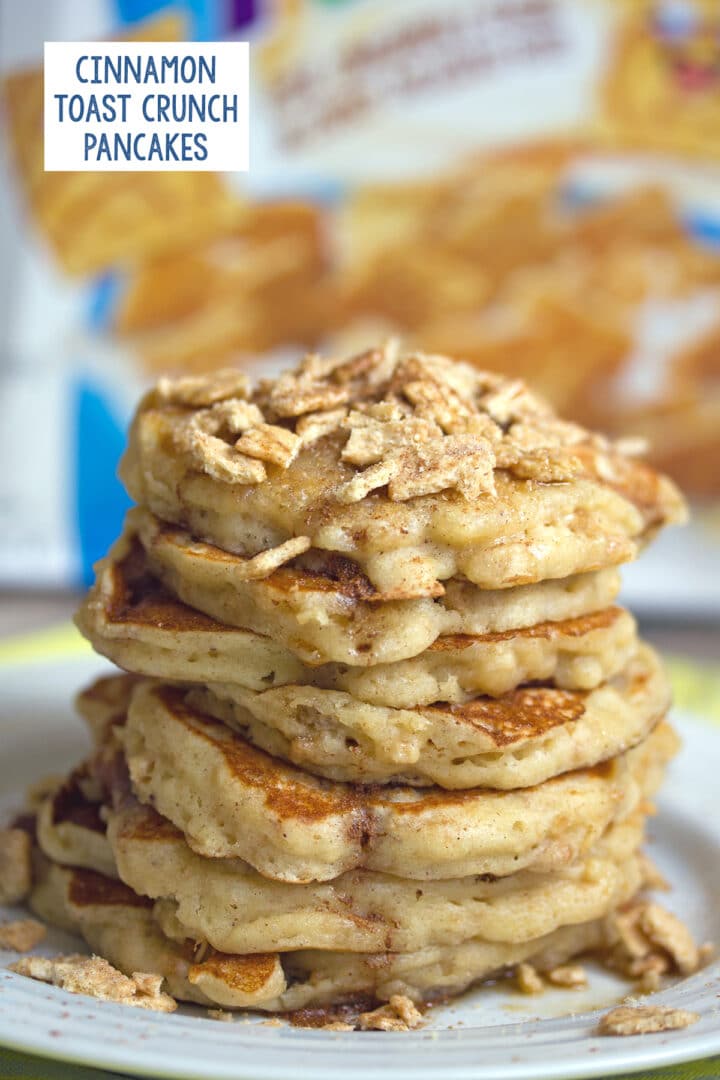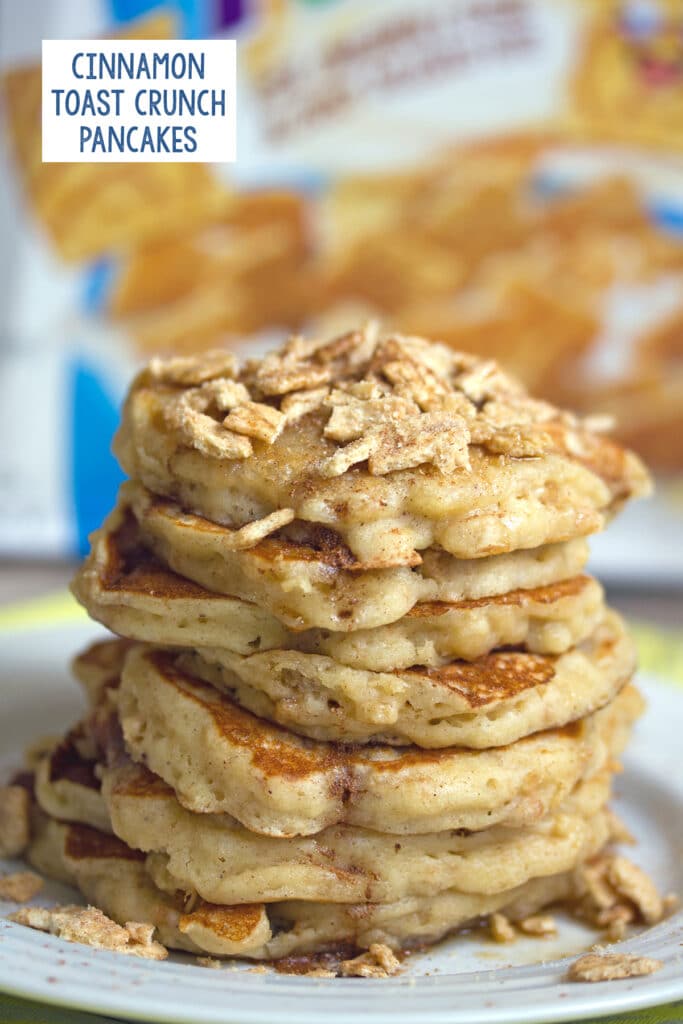 In my dream world, I have time to make pancakes for breakfast every morning. OK, maybe that's not quite true; I'd probably want eggs some mornings, too.
Potentially a huge plate of eggs benedict with extra hollandaise and avocado on the side on occasion. And maybe one day, I'd feast on Belgian waffles.
But you're missing the point here. The point is having time in the morning to do things like make pancakes.
I might, you could argue, just wake up a little earlier and make this dream a reality. But I already get up at 5:00 a.m. during the week and I'm not sure even pancakes are worth me setting my alarm "in the 4s."
Of course, if we were in my dream world I'd be getting 8-9 hours of sleep every night, so it wouldn't really be a big deal... But we are most certainly not in my dream world. Depressing, I know.
So basically, pancakes are reserved for the weekends. Sigh.
While I'm kept pretty satisfied with a stack of simple buttermilk pancakes and large amounts of maple syrup, I like to mix things up every now and then.
I had a box of cinnamon toast crunch sitting atop my fridge for a ridiculous amount of time, so I decided to do what any reasonable person would do... Put them in pancakes.
How to Make Cinnamon Toast Crunch Pancakes
Aside from the Cinnamon Toast Crunch cereal and extra cinnamon, these really are your standard pancakes and super easy to make.
You make the batter the same way you would any other pancake recipe, but mix in the crushed Cinnamon Toast Crunch cereal and cinnamon.
So, I guess technically, I wouldn't have to get up that much earlier. But still.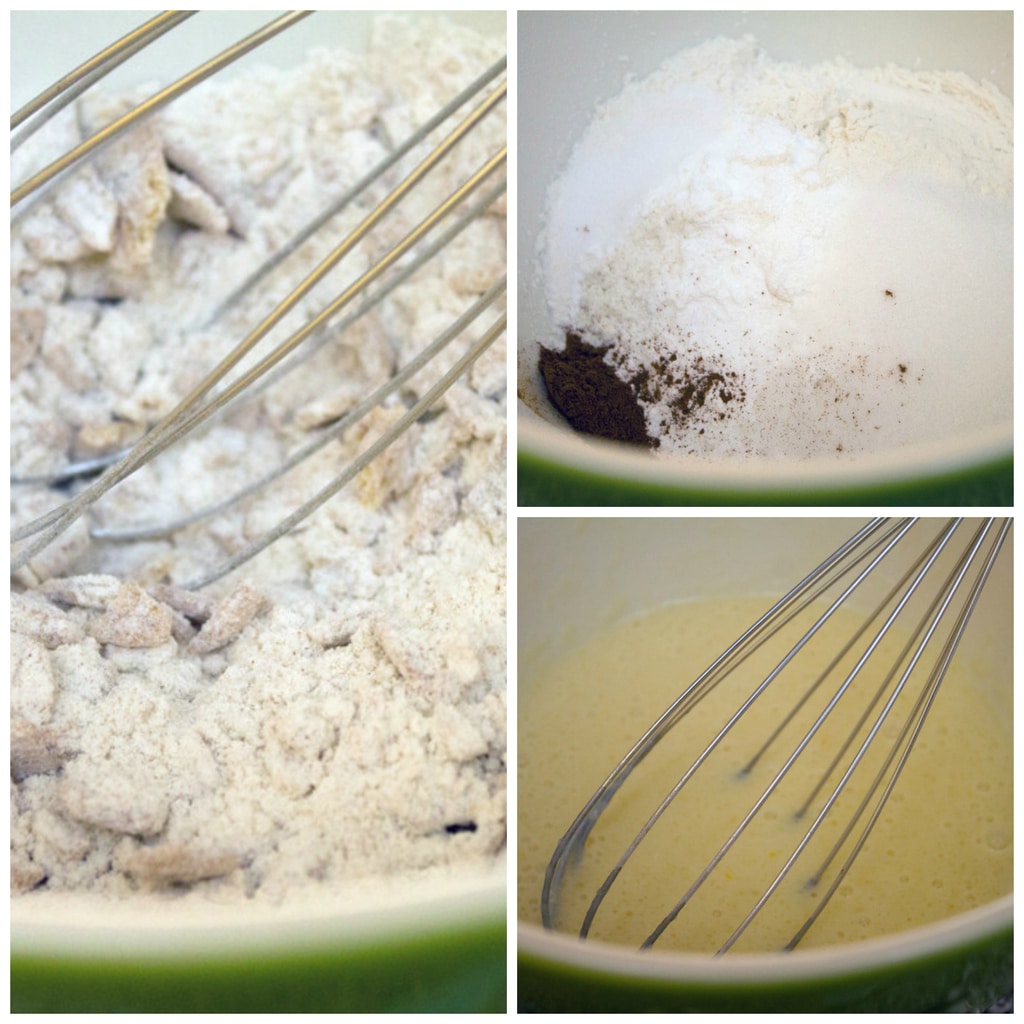 I'm not sure I physically have it in me to lug my griddle out of my cabinet at 5 a.m.
I'm just not that kind of morning person.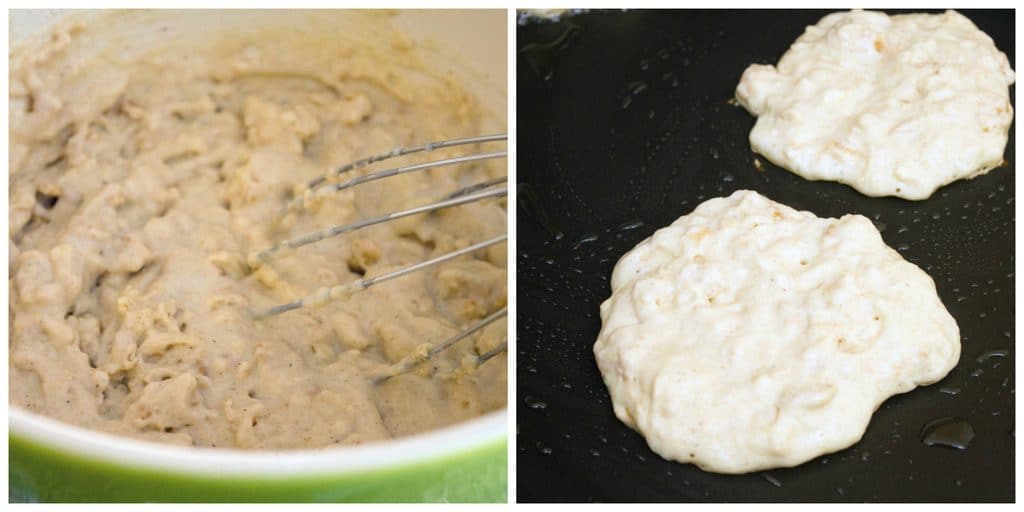 But if someone wanted to make these Cinnamon Toast Crunch Pancakes for me, I'm sure the smell of them would be enough to lure me right out of bed! Hint, hint... I'm not exactly certain who I'm trying to hint to, but just anyone who is listening I guess.
Simple Cinnamon Maple Syrup
I topped the pancakes with maple syrup, but not before adding cinnamon to it for some extra kick.
Literally that's all I did... Sprinkle some cinnamon into maple syrup.
And that's how you make cinnamon maple syrup.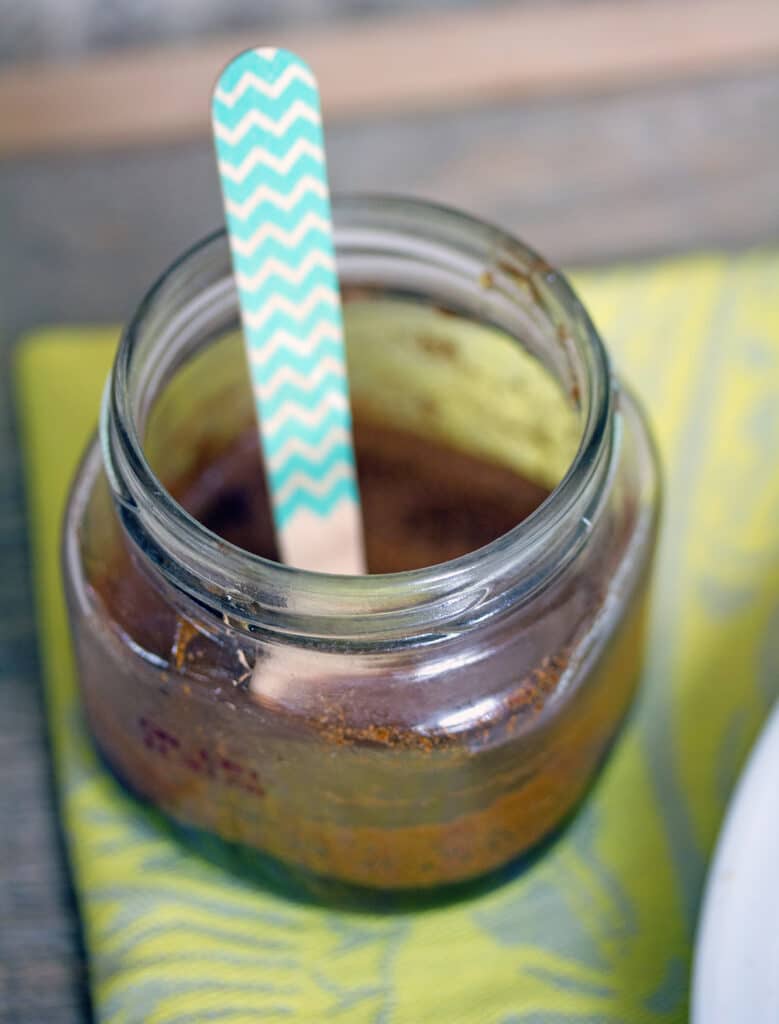 Don't be shy; you'll want to eat an entire stack of these, so pile them up.
Once you drizzle the syrup on, I recommend crumbling some more cereal over the top.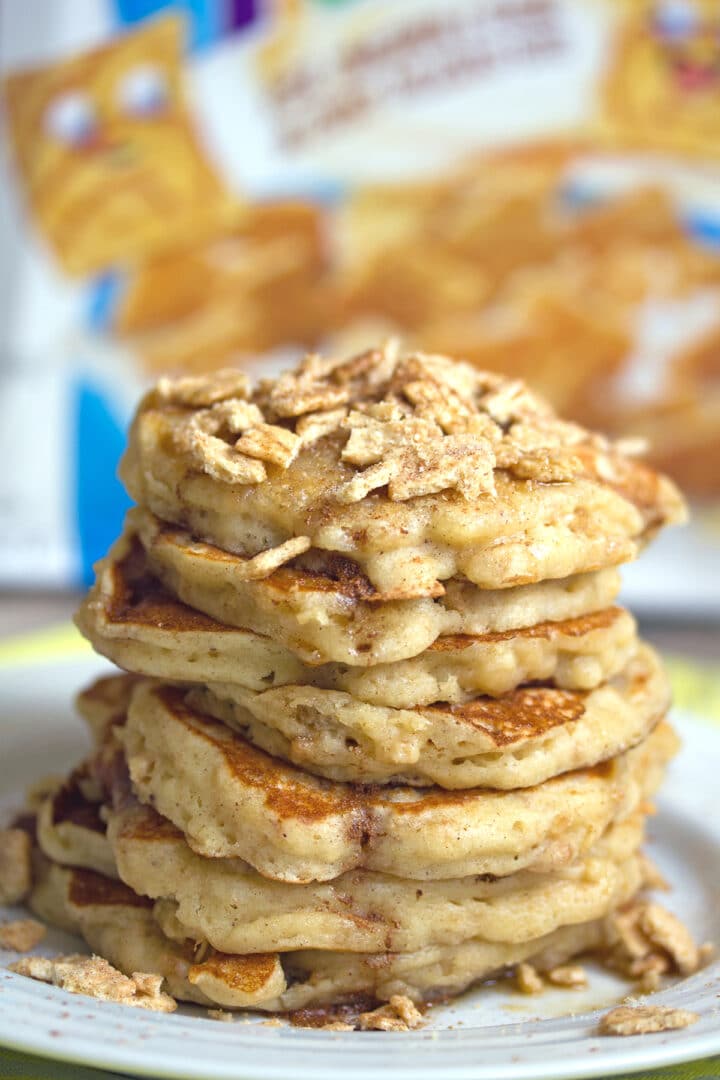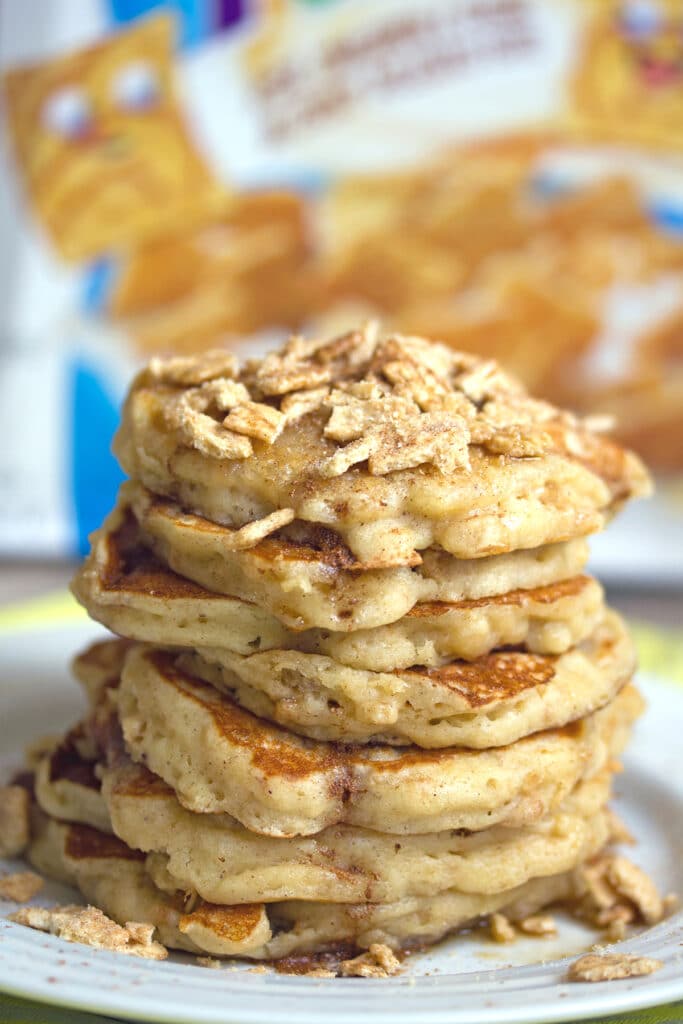 Every single bite of these pancakes was heavenly. I think fluffy is the biggest compliment you can give pancakes.
Hi Cinnamon Toast Crunch Pancakes; you are the fluffiest. And I love you.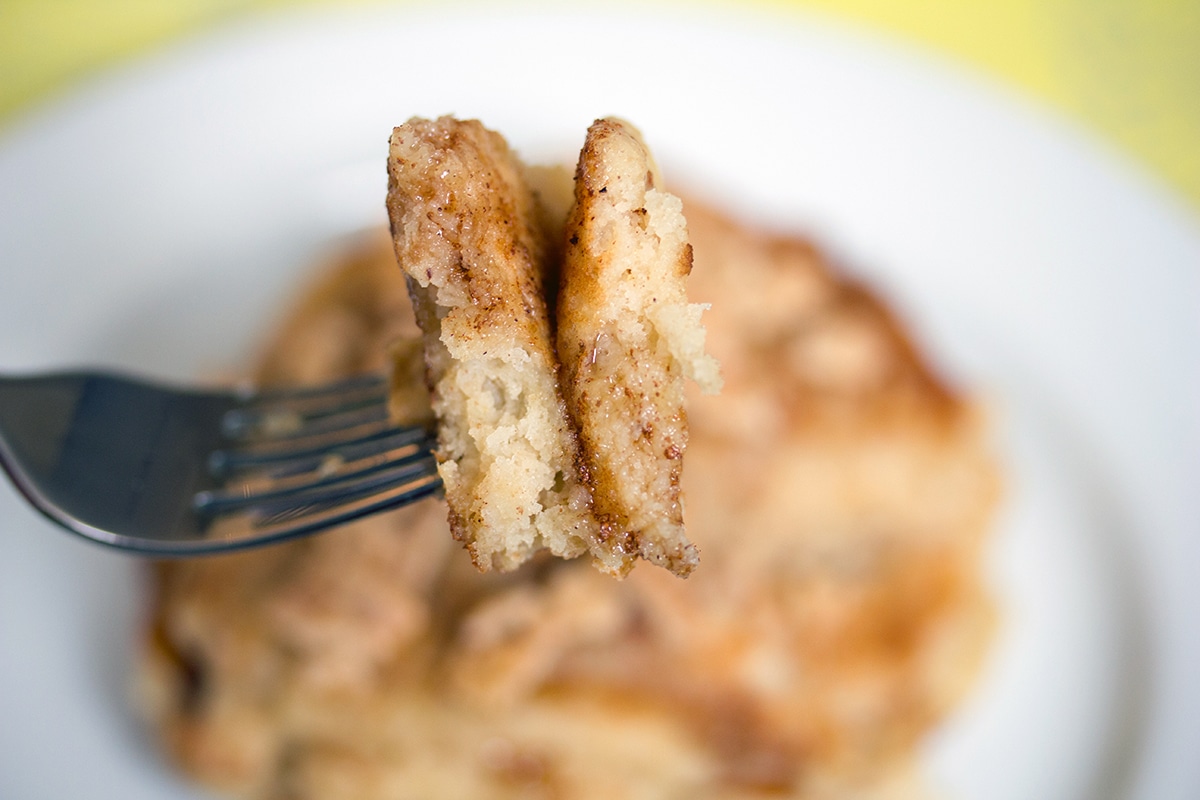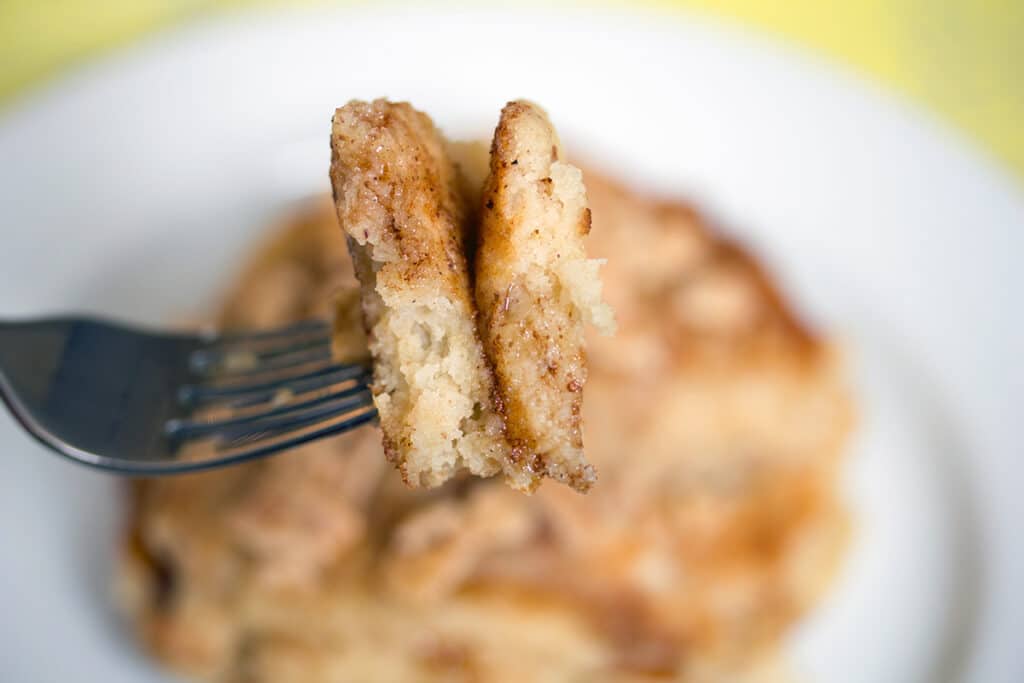 More Cinnamon Toast Crunch Recipes
I am a HUGE lover of Cinnamon Toast Crunch cereal and truly believe in putting it in all kinds of recipes. If you are are also a CTC lover, check out these other recipes!
Did you know that cinnamon is like really, really healthy for you? It can lower your bad cholesterol and your blood sugar, too. It can also allegedly improve your memory. Just from smelling it.
Which makes me feel like I should keep a dish of it on my desk because I've been having the worst memory issues lately. Seriously, I feel like an 90-year-old woman who forgets people's names and tasks I was working on 5 seconds earlier.
I guess that's a good argument to get up and make Cinnamon Toast Crunch Pancakes every morning? Just give me this, OK?
Also, did you ever notice that the Cinnamon Toast Crunch illustrations on the box look so skeptical and unhappy? Why so grumpy, guys? You're Cinnamon Toast Crunch, that's a pretty sweet gig. Plus, you get to be in these pancakes.
CHEER UP PLEASE.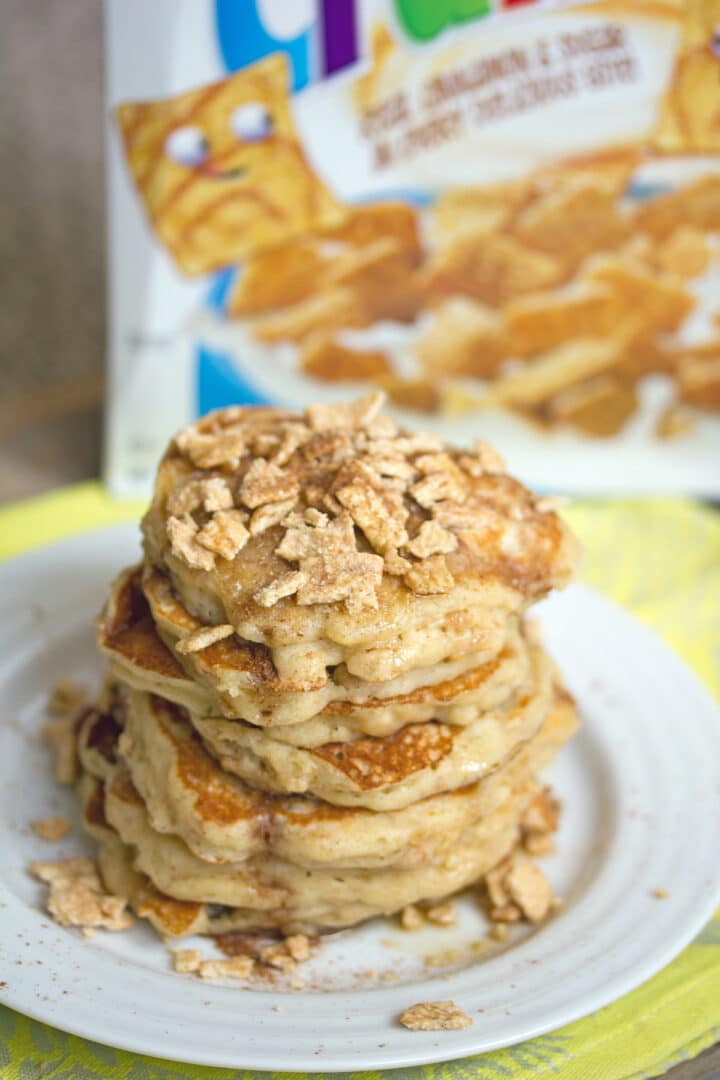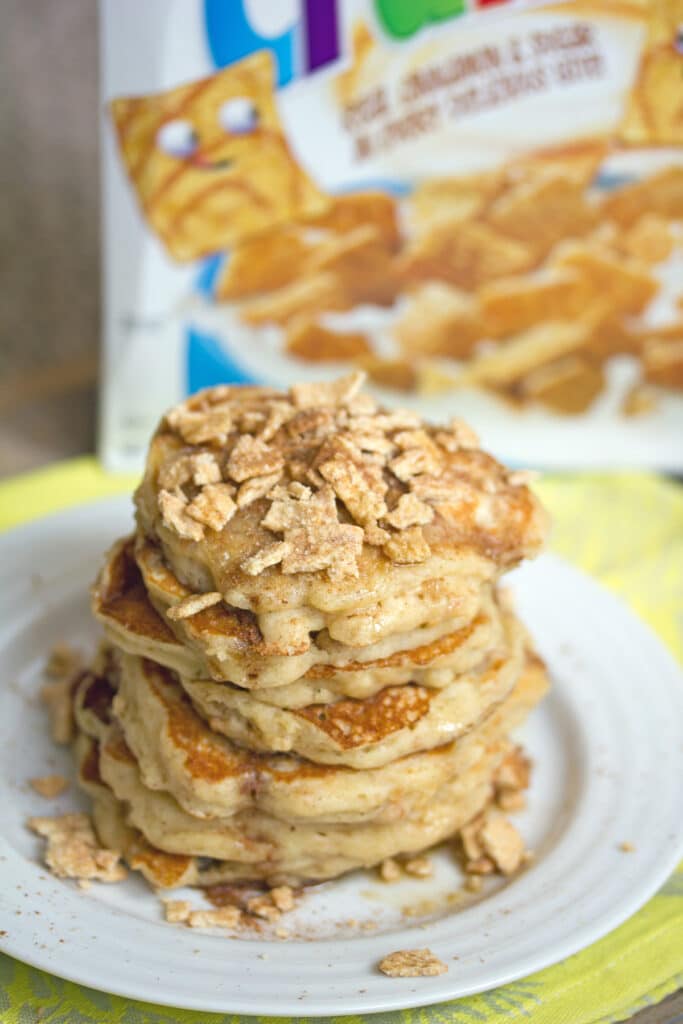 And now I'm talking to the drawings on the cereal box. I guess I'll need more than cinnamon to help me at this point.
What would you have for breakfast every morning in your dream world?
If you choose pancakes, be sure to check out my other fun pancake recipes, like S'mores Pancakes, Pretzel Stout Pancakes, and Pumpkin Butterfinger Pancakes.
📖 Recipe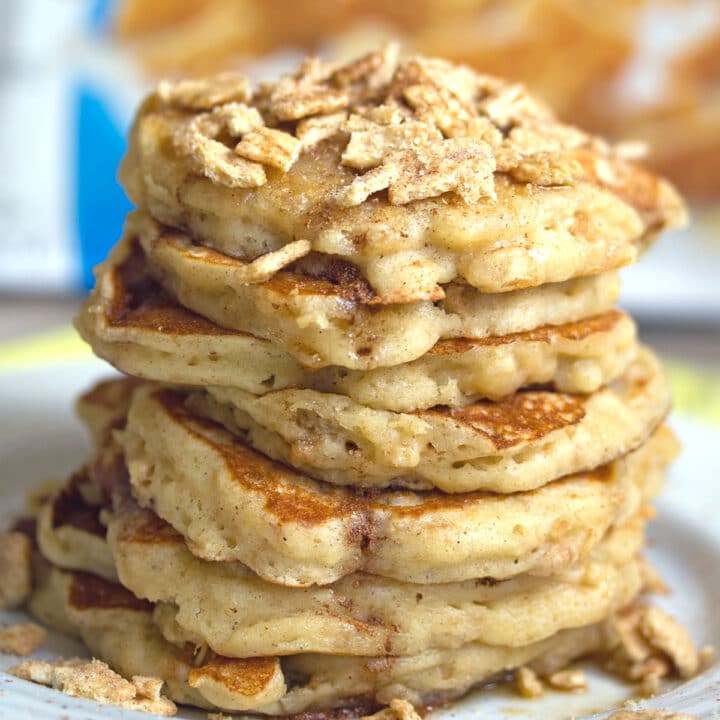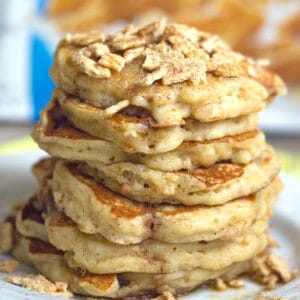 Cinnamon Toast Crunch Pancakes
Both pancakes and Cinnamon Toast Crunch cereal make delicious breakfasts... But have you ever tried combining them? These Cinnamon Toast Crunch Pancakes are packed with the cinnamon sugar cereal and topped with a delicious cinnamon maple syrup.
Print
Pin
Rate
Ingredients
1

cup

all-purpose flour

2

Tbsp

granulated sugar

2

tsp

baking powder

2

tsp

cinnamon, divided

½

tsp

salt

1

cup

Cinnamon Toast Crunch cereal,

crushed

1 ¼

cups

buttermilk

3

Tbsp

unsalted butter,

melted

1

large egg

1

tsp

vanilla extract

¼

cup

maple syrup
Instructions
In a small bowl, whisk together flour, sugar, baking powder, 1 tsp cinnamon, and salt. Stir Cinnamon Toast Crunch cereal into mixture.

In a medium bowl, whisk together buttermilk, melted butter, egg, and vanilla.

Slowly pour the dry ingredients into the wet ingredients, stirring until they're just combined, but being careful not to over-mix.

Heat a griddle or frying pan over medium heat and pour about ¼ C batter onto it. Cook pancakes for about 2 minutes on each side, until they're nicely browned. Repeat with all batter.

Stir the remaining 1 tsp cinnamon into the maple syrup and serve syrup over a stack of pancakes. Crumble additional Cinnamon Toast Crunch cereal over the top, if you desire.
Share a Photo of Your Finished Recipe!
Mention @wearenotmartha and share a photo if you've made the recipe!