This rosé spritzer, made with fresh lemon slices and elderflower liqueur, is the perfect summer cocktail.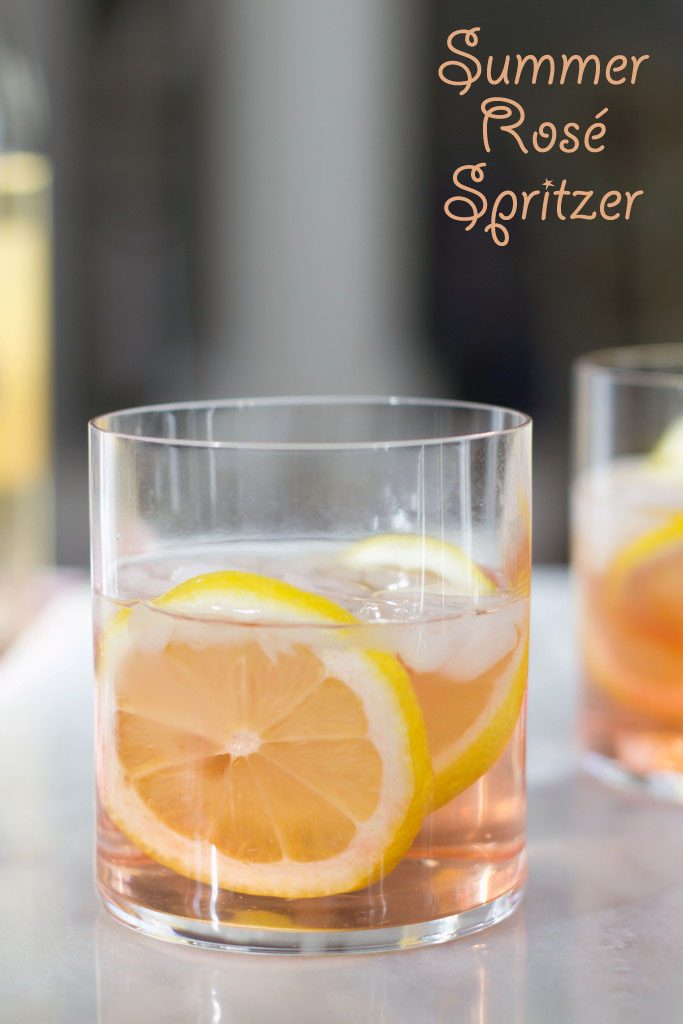 I hope you don't mind that I'm writing about rosé cocktails on a Monday. If you do, then feel free to ignore this post and come back to it on Friday. But I think it would do us all some good to start off the week with a light and happy spritzer. Especially since this week marks the first day of summer (!!!) and even more especially since it happens to be a pretty gloomy and un-summer-like Monday.
Anyway, you're probably all kinds of weekend hungover today, whether it's from watching the entire third season of Orange is the New Black… Or staying up late to watch Game of Thrones. I didn't have time this weekend to watch a single episode of OITNB and I don't watch GOT. But I did stay up making lunches and finishing laundry while Chris watched GOT. As you may already know about me, my attention span doesn't allow me to watch things like Game of Thrones… On Sunday nights, I watch shows like Rich Kids of Beverly Hills. I know… it's the most ridiculously stupid show in basically the whole world, but it entertains me. And I don't have to pay 100% attention to it to get what's going on. Pretty much my requirements for the perfect television show.
My requirements of the perfect summer cocktail? I'm all about the sparklers and spritzers. Bonus points for pink. And citrus. I spotted this Summer Rosé Spritzer in Bon Appetit magazine and immediately went out and bought a bottle of Peychaud's Bitters because I had to make it. To be fair, I've been meaning to add bitters to my bar for about a billion years now, so this was just the push I needed.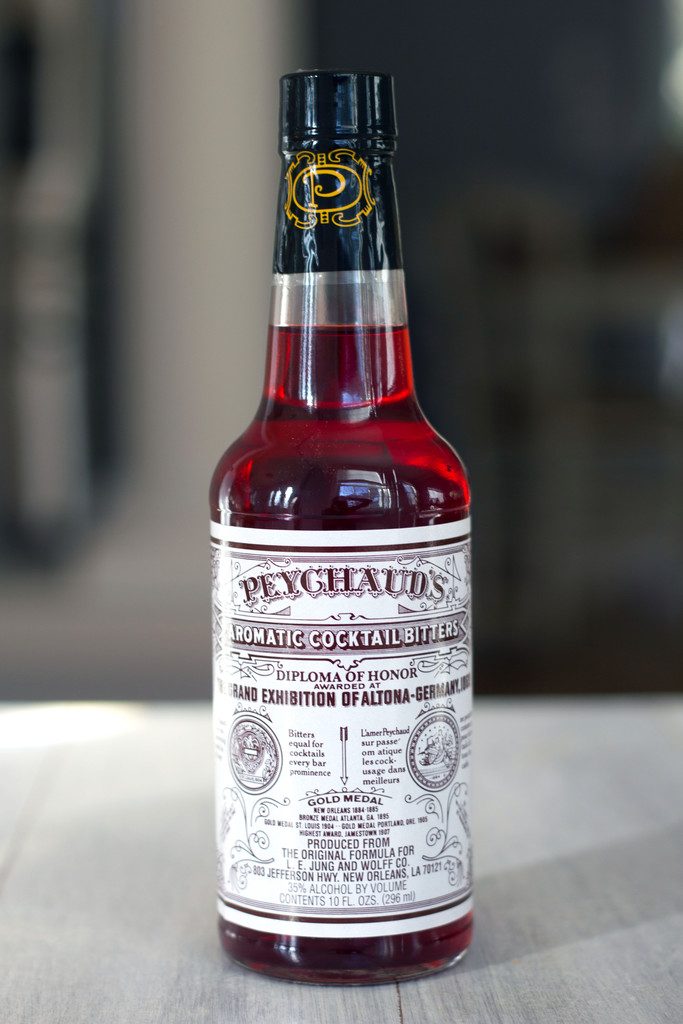 I asked Chris to pick up some St. Germain when he was at the liquor store and was kind of disappointed when he said they didn't have any. He bought this St. Elder instead and I was a little skeptical until I looked it up and found out it's made in Somerville, MA, and has awesome reviews. Guess what? It was delicious and a whole lot less expensive than its elderflower liqueur counterparts. Hooray!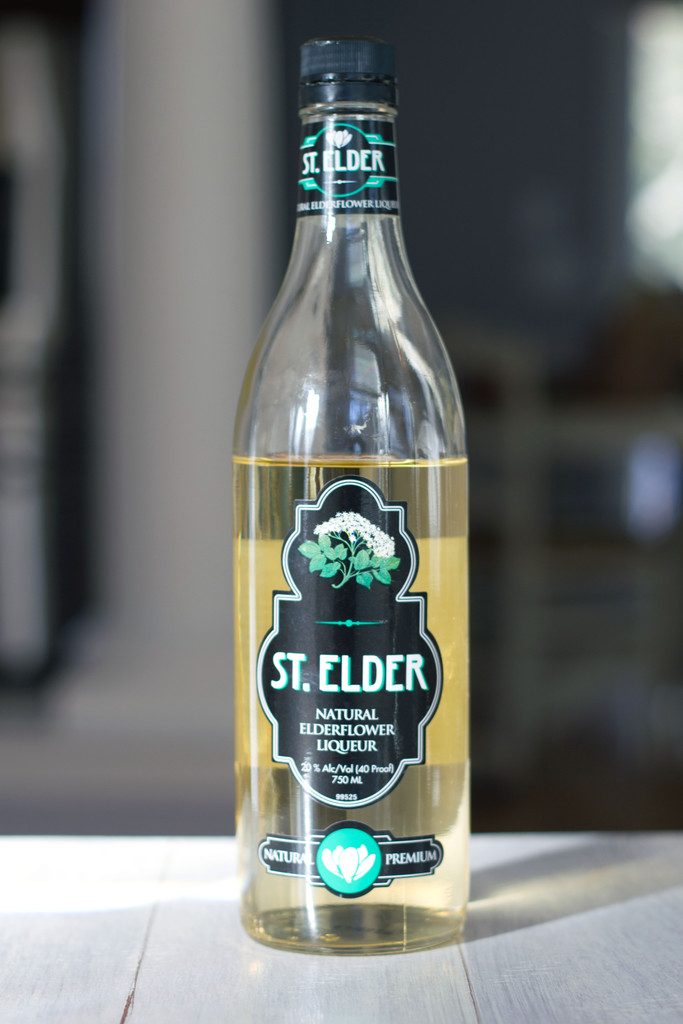 Like most good cocktails, this is super simple to make. Just grab a rocks glass and place 2 lemon slices, 4 dashes Peychaud's bitters, and ½ ounces elderflower liquor in it. Add some ice and top off with 4 ounces rosé.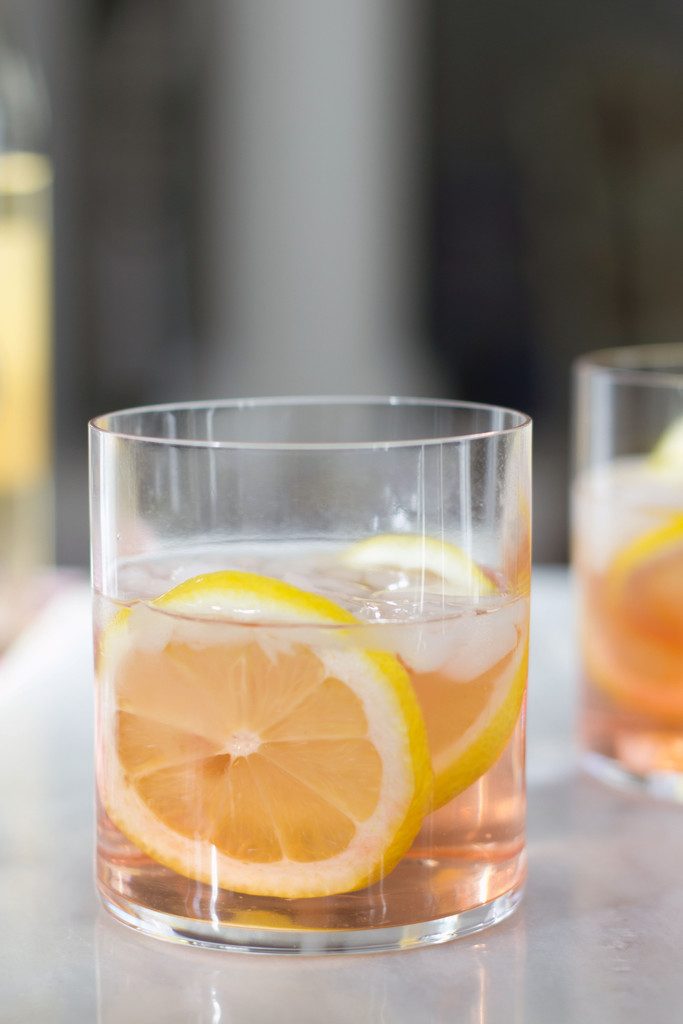 Because this is so quick to make, you don't have to waste any time before heading outside in the sun to enjoy the first of what is hopefully many summer cocktails. Drinks in the sun is pretty much my favorite part of summer.
And that is especially true when there's lots of citrus involved. A rosé spritzer is like a super grownup, way less sugary version of lemonade. Well, maybe that's a little bit of a stretch...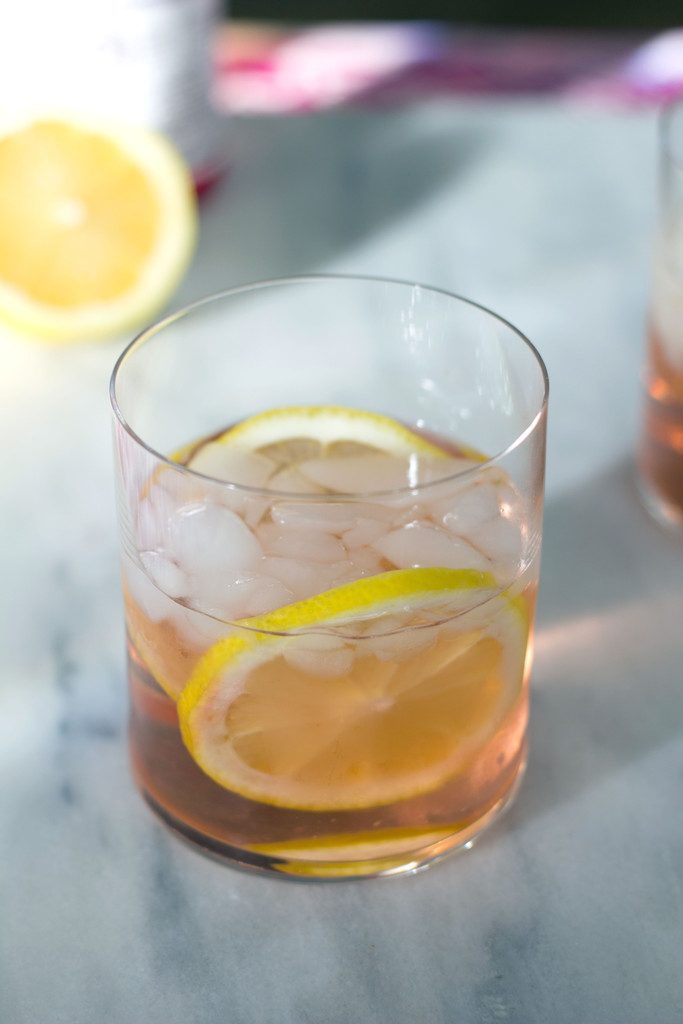 Pink lemonade?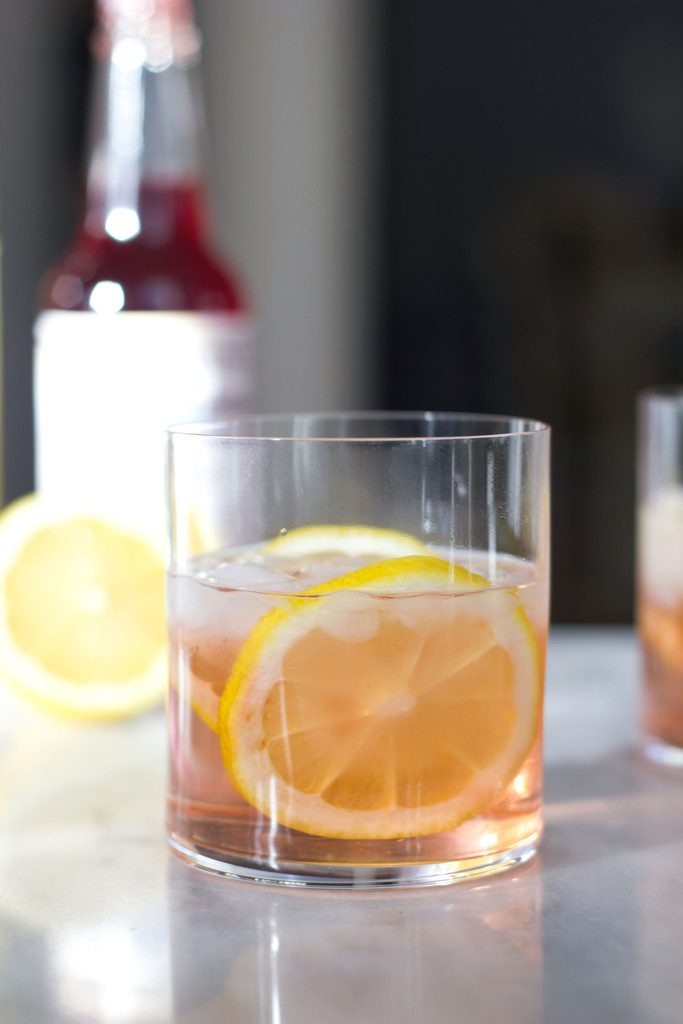 Let's just go with that. I love sparkling rosé oh so much. And rosé cocktails are pretty much a summer dream come true.
Before I made this cocktail, I Instagrammed my bitters and my friend mentioned she just bought bitters, too, because of a Summer Rosé Spritzer she saw in Bon Appétit. What a coincidence and pretty much verification that the magazine is doing something right.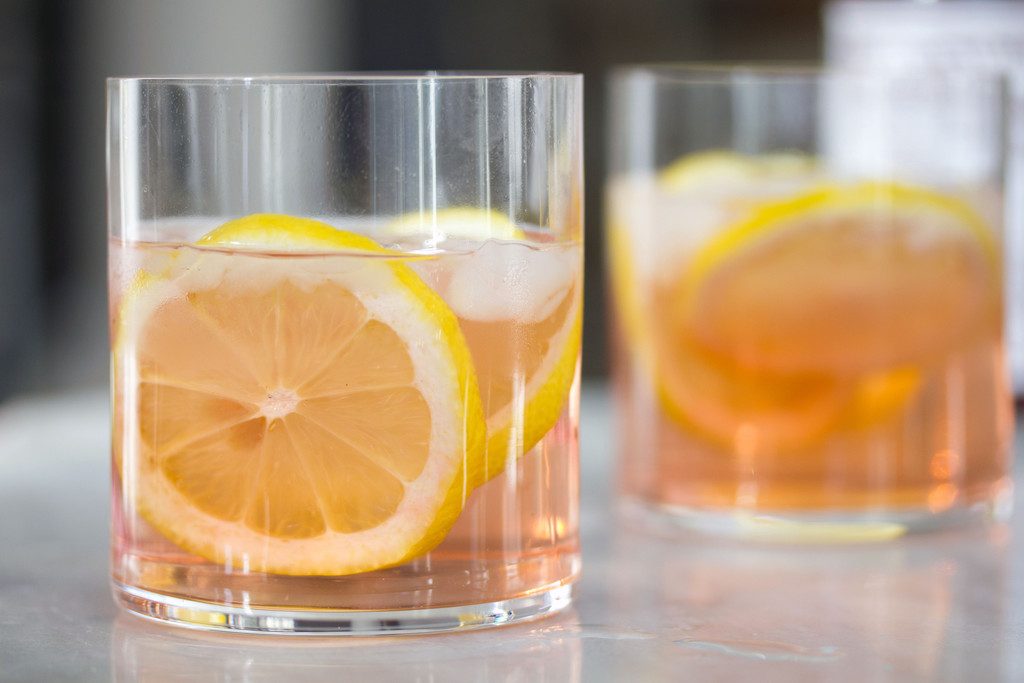 Of course, they do a lot of things right. But this rosé spritzer moved up to the top of my list. And they're not kidding when they claim, they're "the kind of thing you can drink all afternoon."
That is, if you can find a free afternoon. Does anyone else feel like the spring has been ridiculously busy this year?? As in, I've had like zero free minutes to hang out and sip cocktails outside so far. I think I need to take a week off from work or something and just do nothing but cocktail and sun. Though you know I'd end up spending most of the time in the kitchen or cleaning the house or running errands or something like that. When did life get like this??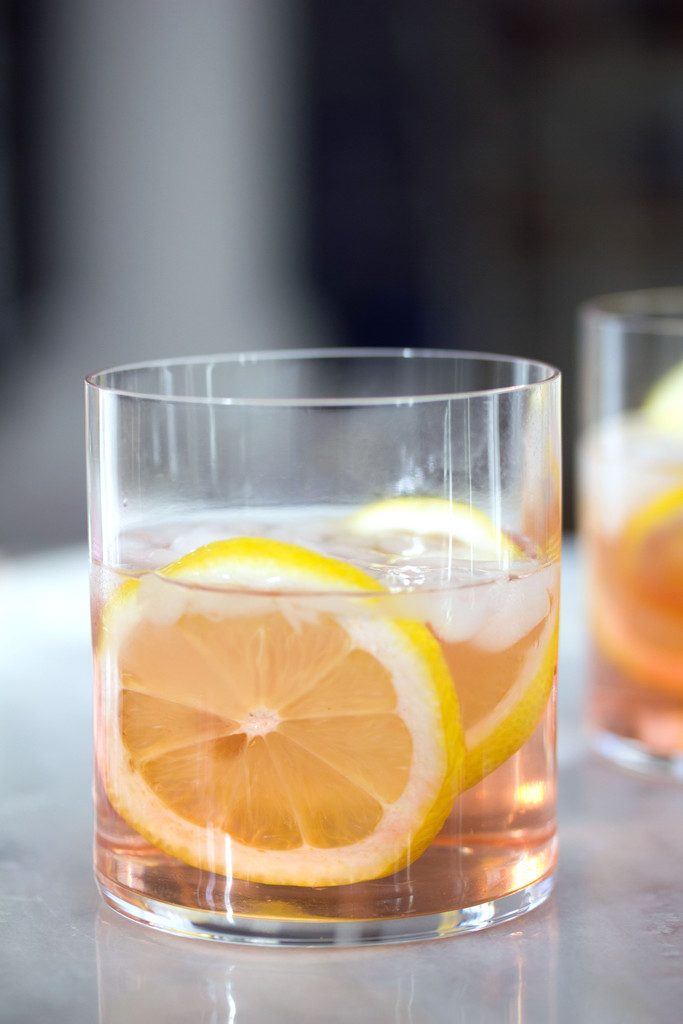 I guess that's why I'm writing about rosé cocktails on a Monday. And guess what? I've got more sparkling delights coming for you later this week. Now, if only I had time to actually sit and enjoy them. Happy almost summer!
What's your perfect summer cocktail?
If you're looking for some other fabulous rosé recipes, check out my Watermelon Rosé Slushies or my Rosé Sour Patch Kids.
📖 Recipe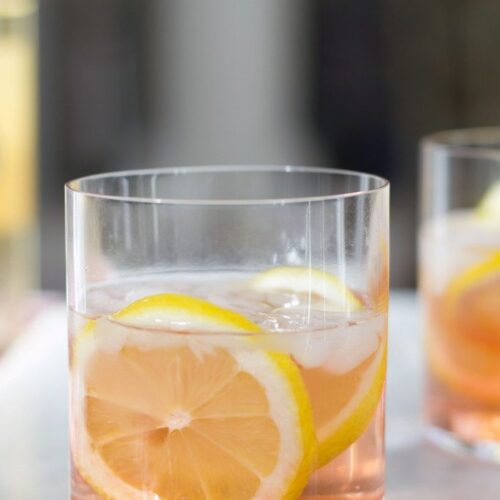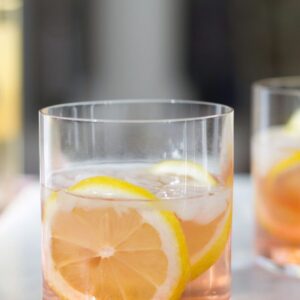 Summer Rosé Spritzer
This rosé spritzer, made with fresh lemon slices and elderflower liqueur, is the perfect summer cocktail.
Print
Pin
Rate
Ingredients
2

lemon slices

4

dashes Peychaud's bitters

½

oz.

elderflower liqueur

Ice

4

oz.

sparkling rosé
Instructions
In a rocks glass, place lemon slices, bitters, and elderflower liqueur.

Add ice to glass and top off with rosé.
Share a Photo of Your Finished Recipe!
Mention @wearenotmartha and share a photo if you've made the recipe!