Caesar salad was most definitely the food of my childhood. I probably went through a brief period in my life when I lived off caesar salad. And somehow I'm still here today to tell you about it. Really though, I ate a lot of caesar salad when I was a kid/early teen. I think it had something to do with going to nice restaurants with my family and being too cool to order off the kids' menu (if there was one), but not being adventurous enough to order an entire meal of "adult" food. I pretty much always knew I'd enjoy the caesar salad, no anchovies please, anywhere I went. Of course, my parents did eventually explain to me that there were generally anchovies in my caesar whether I wanted them on top or not. This rivals the time they fed me and my sister calamari at a restaurant and I thought it was fabulous until the waitress came by and said, "I can't believe such young kids are eating squid!" Um, what? But that's a story for another day.
All restaurant caesar salads are measured against my mother's caesar salads. Which, in my opinion, are the gold standard on caesars. You have to be a garlic lover because everything from the dressing to the croutons is drenched in it. And that's just the way I like it.
Now that I'm older, I'm not so scared of anchovies anymore. But I realize they weren't necessarily involved in the original caesar recipe. However, for me, anchovies are now a necessity. If you're feeling adverse to them, by all means leave them out. You could probably substitute with some worcestershire sauce.
I chose to top my caesar salad with grilled citrus salmon for a little protein and extra deliciousness.
Caesar Salad (serves 3-4):
• 4 anchovy fillets
• 3 cloves garlic, peeled
• 1 egg yolk
• 1 T dijon mustard
• 1/2 lemon juiced
• 2 T water
• 1/4 C- 1/2 C extra-virgin olive oil
• 1/4 C grated parmesan
• Freshly ground black pepper
• 1 head romaine lettuce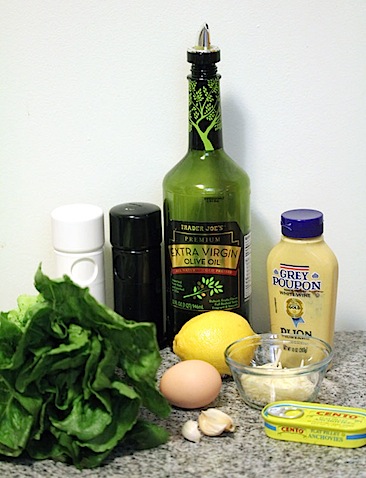 First, crack open that tin of anchovies. Try not to think about the fact that they're fish in a can. You like tuna, right? So, there's that. And they're actually kind of pretty…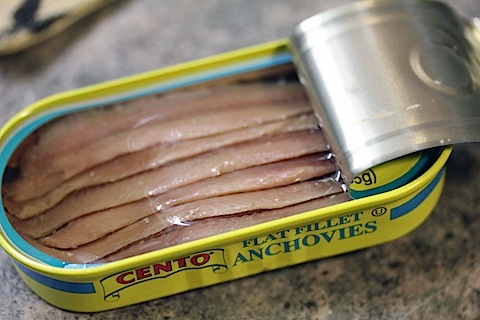 Put anchovies, garlic, egg yolk, mustard, lemon juice, and water in a blender and process for about 30-40 seconds, until the mixture is smooth.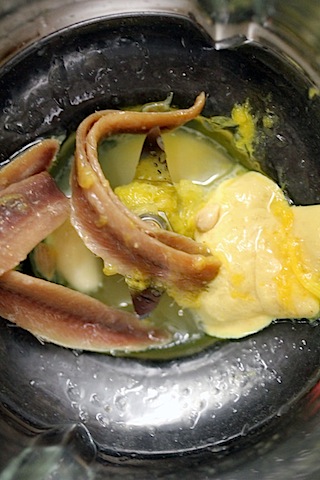 With the blender still running, pour the olive oil in very slowly, so the dressing emulsifies. Pour until you have the consistency you like (you might have to taste often to determine).
Pour the dressing in a bowl.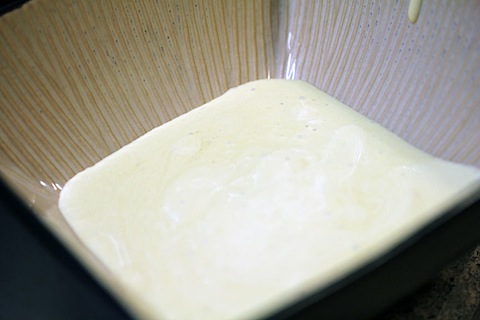 Stir in the parmesan cheese and ground pepper. I didn't end up adding any salt since the anchovies added quite a bit of saltiness.
Oh, yum! Make sure you stick the dressing in the fridge if you're not using it right away. Lick the spoon though.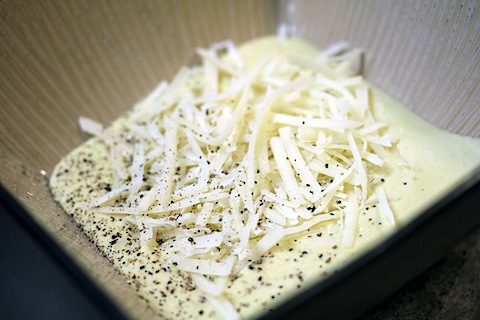 You can't have a caesar salad without croutons and in my opinion, there are absolutely no croutons like homemade croutons. Homemade garlic croutons.
Garlic Croutons:
• 1/2 loaf french bread
• 4 cloves garlic, peeled and minced
• 1/4 C olive oil
• freshly ground black pepper
(pre-heat oven to 350 degrees)
Cut bread into roughly 1-inch cubes. Put in a bowl and toss with minced garlic and olive oil. Sprinkle pepper on top.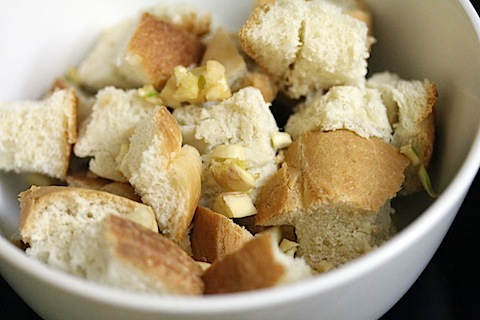 Cover a baking sheet in tinfoil and place bread cubes in a layer on the sheet. Bake for about 15 minutes, checking now and then (you might need to turn bread over if it's not browning evenly).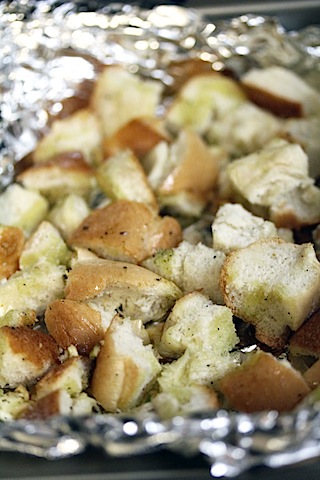 While you can top your caesar salad with anything you want, or nothing at all, I went with some grilled citrus salmon. Easiest recipe ever.
Citrus Salmon:
• 3/4 lb. salmon
• 1/3 C fresh orange juice (about 1/2 juicy orange)
• 1/4 C fresh lemon juice (about 1 lemon)
• Extra-virgin olive oil
• freshly ground pepper and salt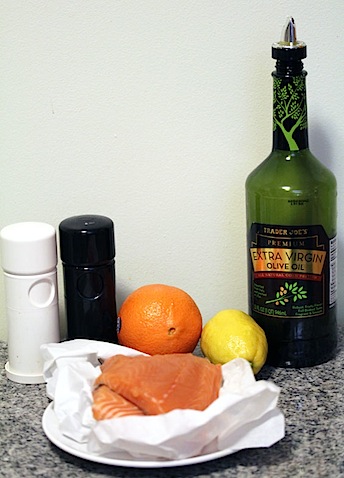 Juice your orange and lemon.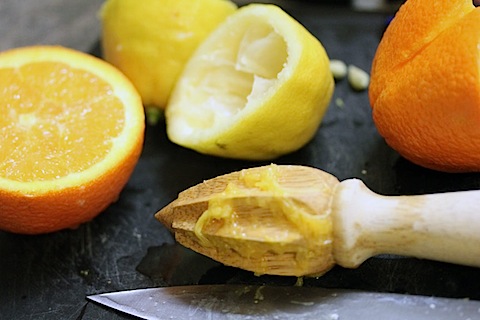 Put the salmon in a large ziplock bag and pour the juice in. Make sure the salmon is properly covered in the juices and stick in the fridge for at least 45 minutes.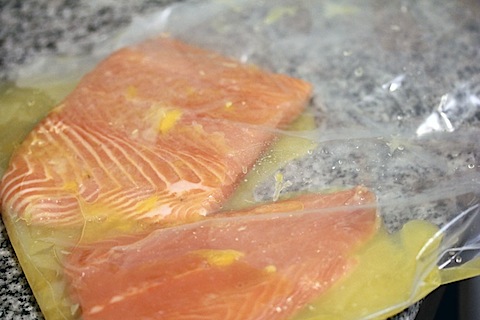 Lightly coat a grill pan (or regular frying pan) with olive oil. And grill salmon, skin-side up, on medium heat for about 5 minutes. Then turn over and grill for another 5 minutes skin-side down. Make sure the salmon is flakey; then you know it's done.
P.S. I love my Le Creuset grill pan!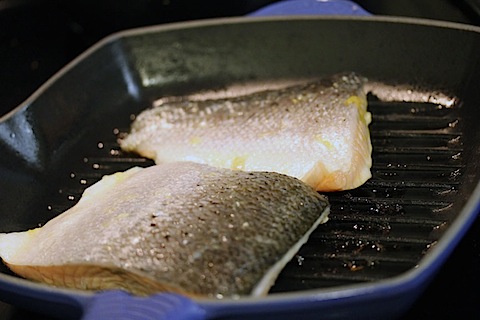 Super easy, right??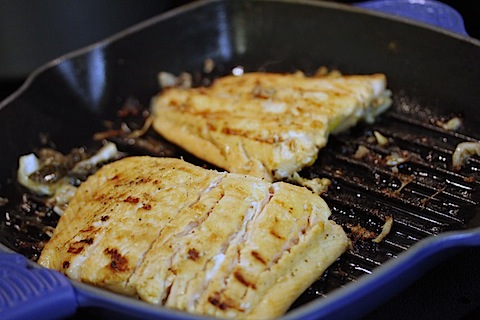 Now, clean, dry, and tear your lettuce into a bowl. Get your salad dressing out and pour it over the lettuce.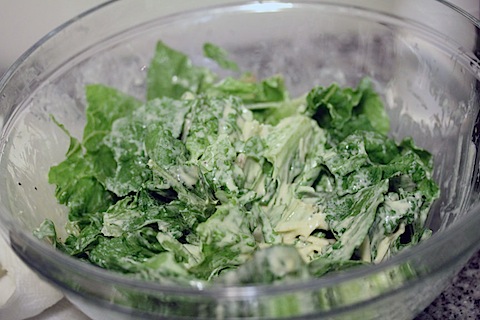 Toss with the croutons.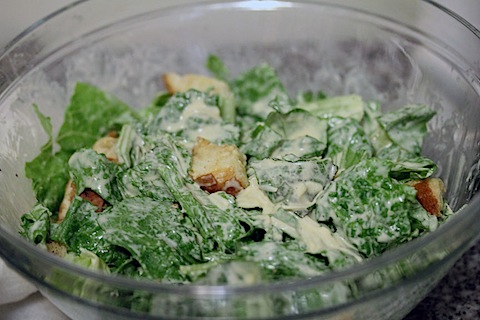 Place some of your beautifully cooked salmon over the top.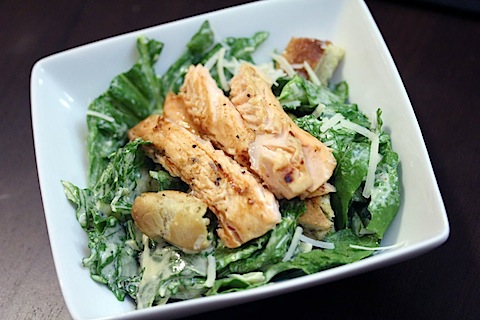 This is seriously my ideal meal. I LOVED how garlic-y the dressing and croutons were and the salmon had a nice light citrus flavor the complemented the dressing well.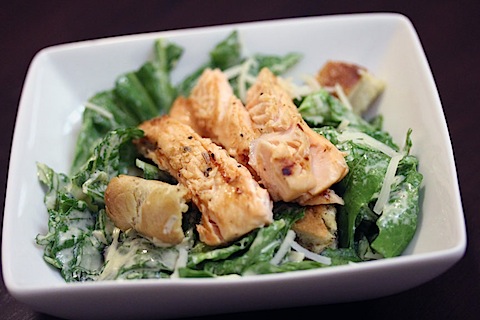 I think it's amazing how something so simply to cook can be so amazingly delicious. Salmon is definitely one of my favorite stand-bys, but I'd love this salad topped with shrimp, too. Actually, one of my favorite caesars comes topped with grilled calamari from Coolidge Corner's Pizzeria Dante in Brookline. It's quite large and I can eat the entire thing.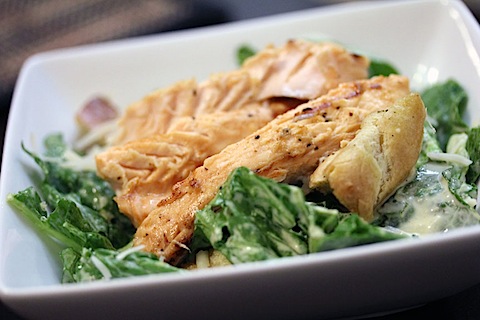 Oh, and I served some asparagus with the salad, too. I'm no fool and realize just because it's called a "salad," doesn't necessarily mean it's healthy for me. This is a salad filled with indulgence.
Now I'm going to have to convince my mom to make a caesar salad the next time I'm home visiting. It's been way too long. And while I absolutely loved the one I made, there's nothing quite like mom's 🙂
Do you have any childhood favorites you still can't get enough of?
[Sues]