It's currently the Monday after the best weekend ever. Yes, this week is going to be rough. But at least I have another potential best weekend ever up ahead. This Saturday was my wedding shower and it's tough to even put into words how amazing it was. That's why I'll pretty much leave it up to the photos to do the talking. They really do say it all. But you know me, I won't be able to help inserting in a word here and there.
First of all, so many of my relatives came, from as far as Texas. It was so wonderful to see them and I feel SO SO lucky that they made the trip for the occasion. Especially since they'll be doing it all over again in about 6 weeks for the wedding. I guess they must love me 🙂
When I came downstairs, I was a little nervous about what I'd find. I knew next to nothing about what the shower would consist of and I spent a couple hours before the shower up in my sister's old bedroom with the door closed while everything was finalized. Chels and Katie finally came upstairs to get me, a little bit before all of the guests arrived (I didn't want to walk in with 60 eyes on me!). Everything looked absolutely amazing, but I wasn't sure what was being so hidden from me... Until I walked in the kitchen.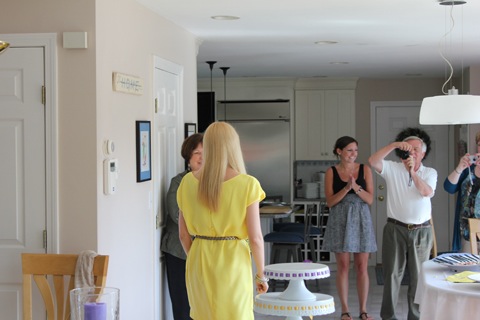 This is what my face looked like as soon as I turned the corner: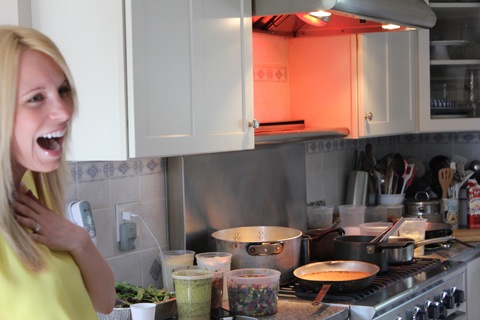 Why? Because HE was standing in my parents' kitchen!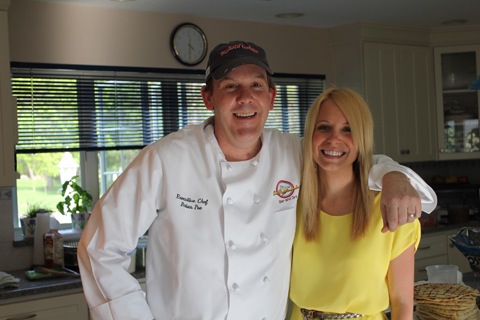 If you've been reading the blog for a while, you'll recognize him as Chef Brian Poe from the Rattlesnake Bar and Grill. And basically the best chef ever. Chels and I have written about the Rattlesnake many, many times and Brian threw us our We are not Martha 2-year anniversary party a couple years ago.
Rattlesnake has some of my favorite food in all of Boston and I never expected to see Brian Poe standing in the kitchen of my bridal shower. My mom, sister, and the rest of my bridesmaids finagled him into setting up shop in the kitchen and catering the event. They somehow managed to keep this secret from me for months! And yes, that means my shower had the best food ever!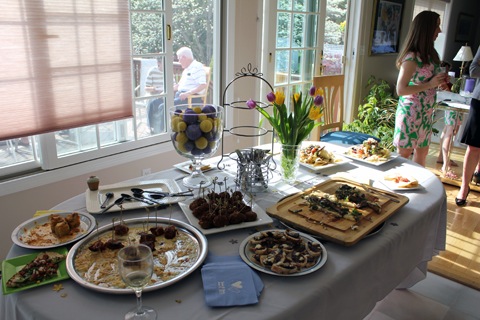 Like Poe's famous grilled cornbread that I could literally eat an entire pan of. Really.
Stunning quesadillas.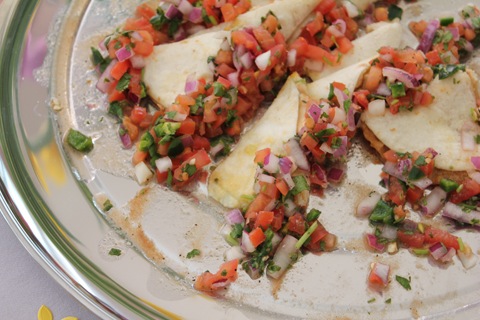 Another all-time favorite: lobster avocado spoons.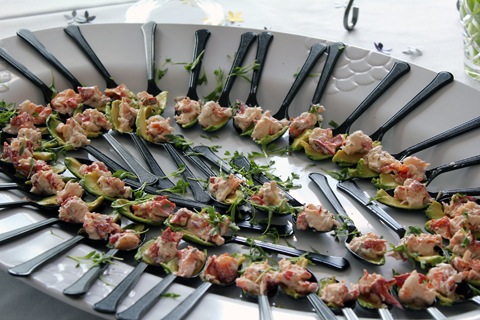 The most deliciously spicy meatballs that I think I ate about 20 of (including several cold ones long after all the guests left).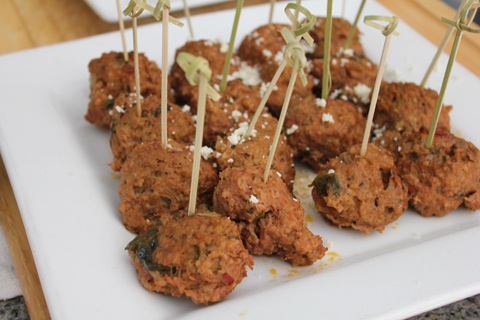 And the nachos that started it all. Seriously, way back in July 2009.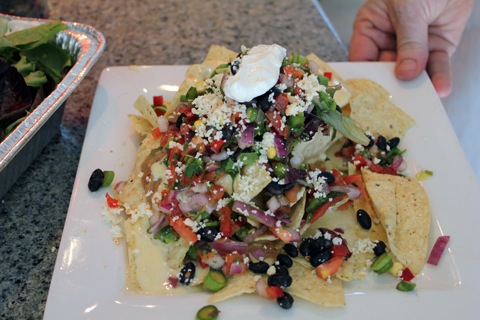 So obviously, the three of us had to get a shot with the nachos prior to them being devoured.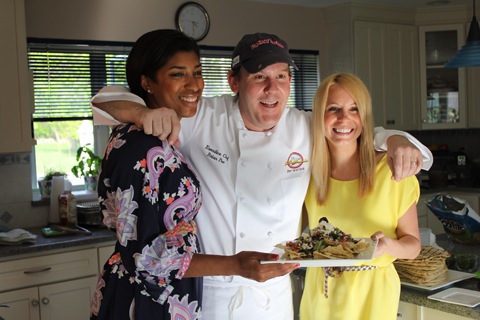 There was also a bar area that I absolutely could not get over. I mean, check out the details: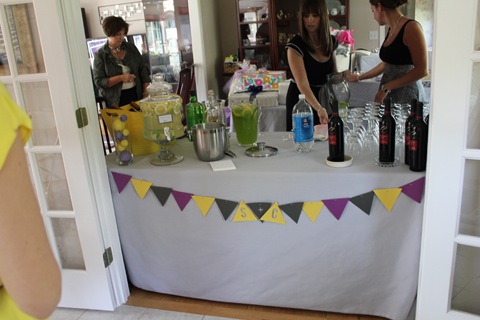 Plus, the girls made cocktails straight from the pages of We are not Martha!
Really, every single detail at the shower was totally well-thought-out and just perfect.
My mom and bridesmaids thought of EVERYTHING. From the glitter balls in our wedding colors: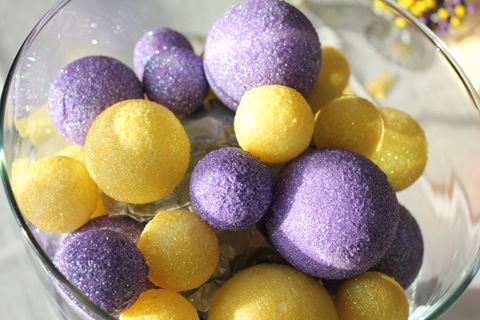 To the personalized napkins.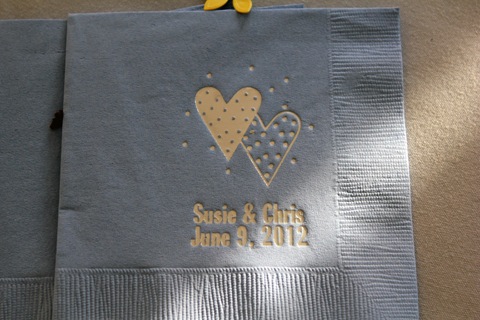 And, of course, some fabulous m&ms designed just for us!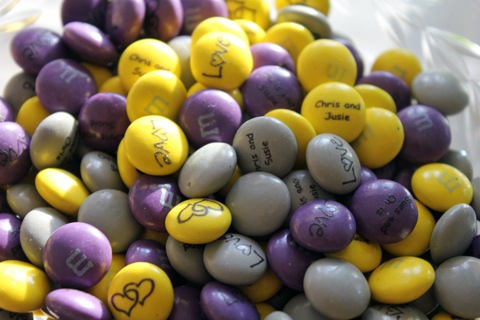 I mean, even the water was kicked up a major notch to stunning.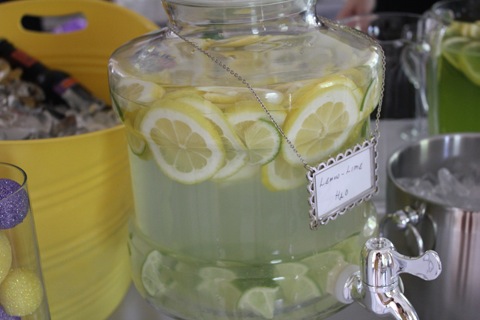 Dessert also came straight from the blog: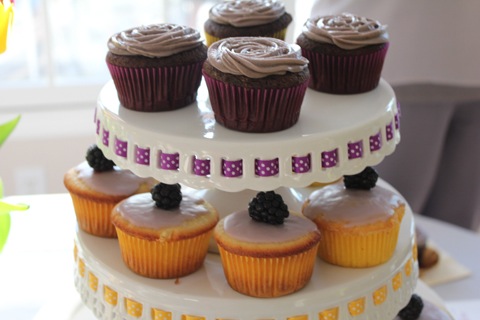 And included my Chocolate Stout Cupcakes with Irish Whiskey Filling and Baileys Frosting...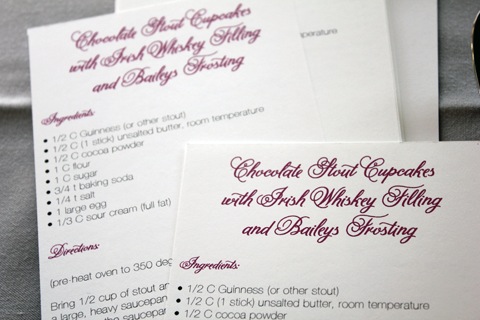 And Lemon-Blackberry Cupcakes.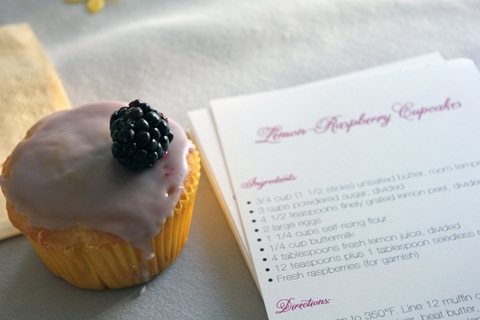 (I think these are actually way prettier than the ones I made!!)
Can't forget the beautiful heart sugar cookies in our wedding colors!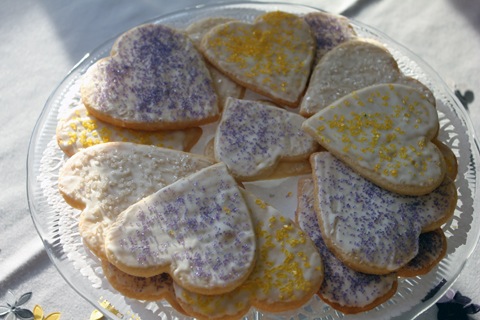 Of course, the people at the shower were also absolutely fabulous! I feel incredibly lucky that my nearest and dearest were all there celebrating with me.
In case you couldn't tell, I have the BEST friends/bridesmaids.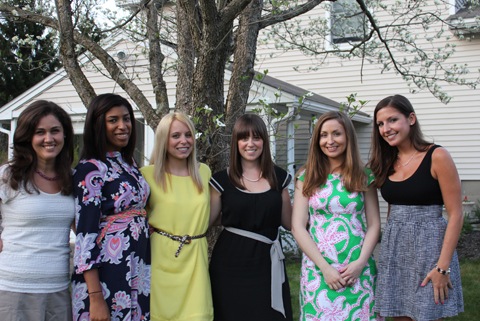 Along with an awesome group of high school friends. One of which (ahem, Libby) came straight from the airport after her flight being delayed in Germany overnight! That's impressive.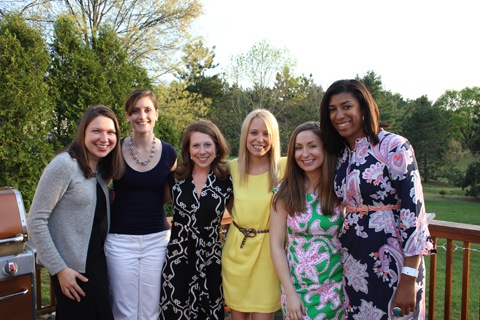 And lots and lots of family friends and fabulous relatives who came for the weekend from all over.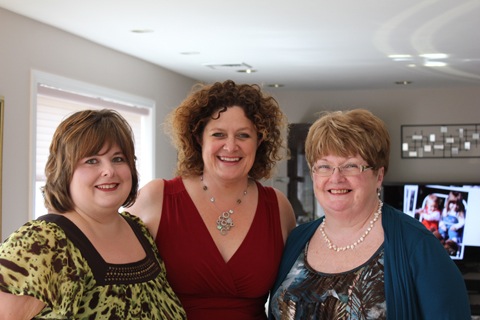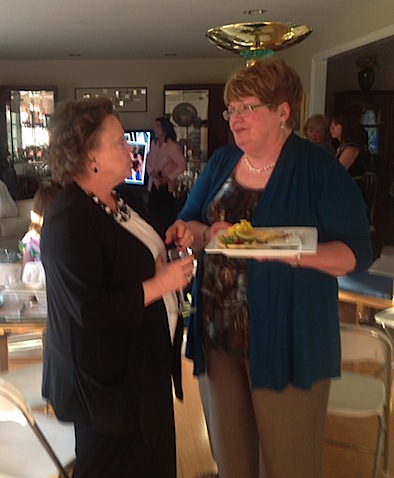 Somehow we lucked out on having the most beautiful weather possible... Especially a miracle considering what the last couple days in Boston have been like!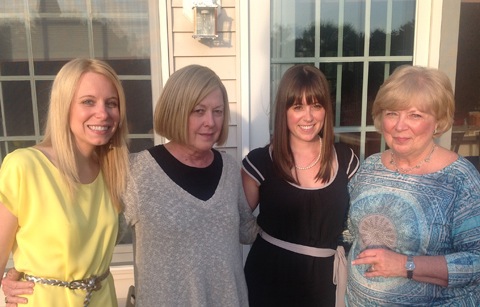 The nice weather also meant we could spend some time on the deck that my dad spent a lot of time staining... And in the yard he spent a lot of time working in and planting beautiful flowers in!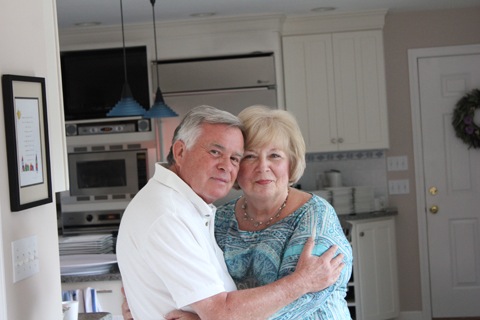 There was a crazy amount of presents and I am very impressed that all 30+ guests sat and patiently watched me open them all... I'm not known for my speed in situations such as these.
At least there was a little entertainment going on beside me... A slideshow with photos from all different periods in my life!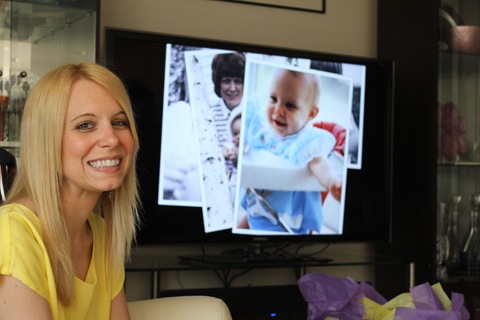 I won't make you watch me open all our gifts either, but I will say we got some very exciting new kitchen fun stuff and we are so honored to have received such special gifts!
And I have to show off the beautiful and touching gift Chris's mom gave me (with a handkerchief from Chris's grandmother inside).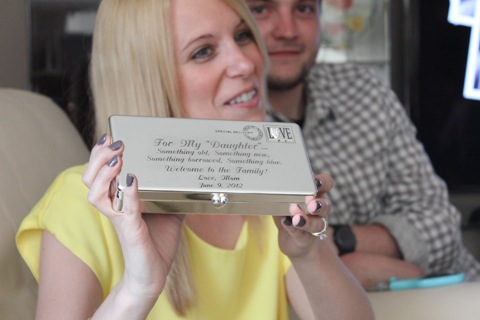 And because it's totally appropriate to the blog, the amazing book Kyle's mom gifted to me. If you can't see, it's Martha Stewart Weddings straight from 1987! How appropriate, right? Even more appropriate is the fact that Kyle's photo happened to be up on the slideshow as this photo was taken 🙂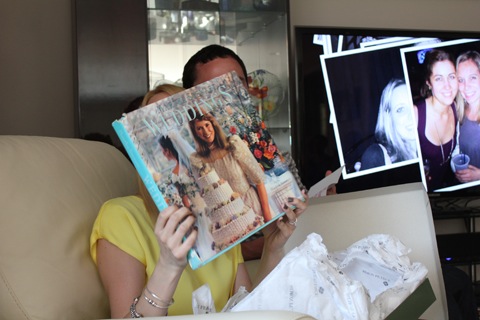 And the bridesmaids got Chris and I an entire honeymoon related gift, including tote bags... Mine with my new initials on it! First time I've seen that...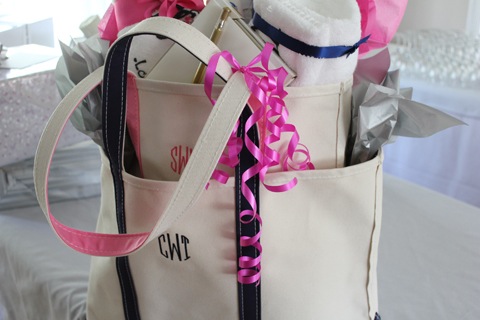 And flip-flops that will leave "Just Married" footprints as we walk on the beaches of Mexico 🙂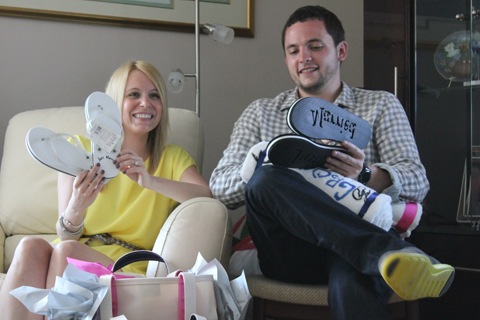 Another super thoughtful touch that we can keep forever? The girls bought these beautiful plates and had everyone write messages to us on them... Once we get a home, we can hang them all on a wall and read all our lovely messages whenever we want.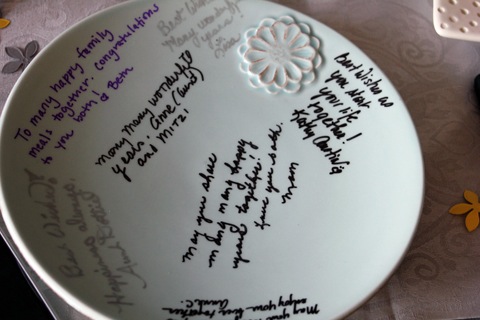 And I definitely can't forget the wedding favors... Homemade vanilla for everyone! How absolutely perfect? And it's not the vanilla I usually use in baking out of my giant vodka bottle; it's beautiful! And quite useful, too.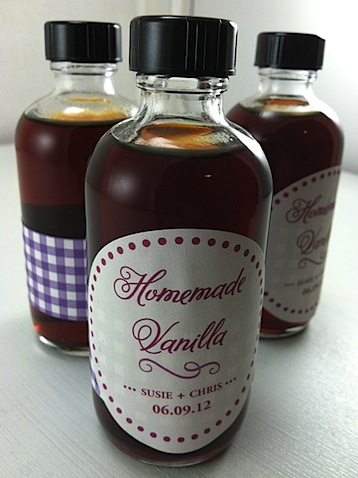 My dad was going to take the boys out for a late lunch during the shower, but considering a famous chef was in his kitchen, he decided it would be best to stay home and enjoy the food Poe was cooking for us. Which meant Chris stuck around for most of the shower, too (besides playing some golf). He made sure to wear his "wedding color shoes!"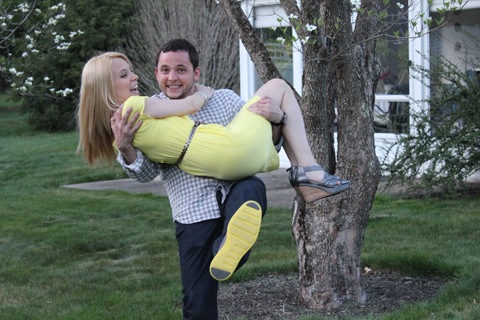 I also have to give a HUGE shoutout to my Texas cousin, Angela, for acting as the most fabulous photographer for the day. She is credited for all the shots on this blog and did such a good job capturing the whole day. THANK YOU, Angela!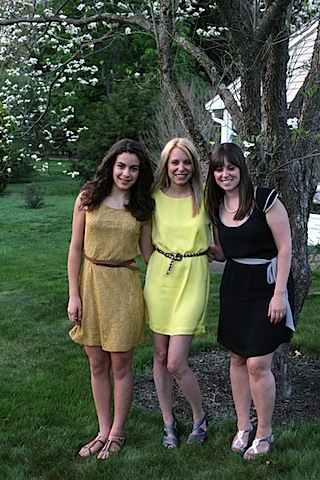 I think I was pretty much in shock the entire shower; it was all a bit difficult to process. I felt like I was in a daze the whole time, like, is this really happening? Even looking back at these photos, I can't quite believe it happened. Can we do it again?? 🙂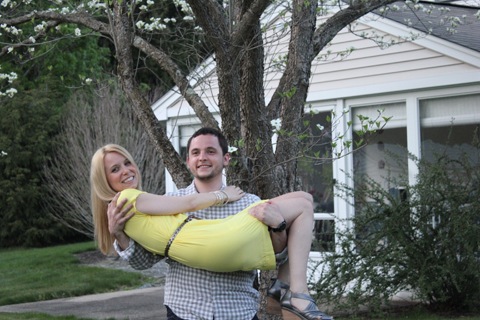 No matter how much I say "thank you" and talk about how much fun I had and how lucky I feel, I don't feel like I'm doing the shower enough justice or giving everyone enough credit. It was THAT amazing.
But I'll try one more time, THANK YOU THANK YOU THANK YOU to my mom and my bridesmaids, including my sister, Beth, and friends Liz, Kyle, Katie, and the other lovely blogger you know as Chels. And to the fabulous Brian Poe for cooking (he also happens to be quite busy opening a couple new Boston restaurants!). And to each and every person who attended! I'm the luckiest girl in the world. Not to mention, all THIS just because I'm marrying the man of my dreams and my best friend!
And now I just have a few work days to go before I have another very exciting weekend consisting of a bachelorette party!! Once again, I am being held in suspense and have no idea what we're doing (or what I should wear!). I'm sure I'll be filling you in soon... And it's also likely that Chels will be blogging about some of the details of the shower since I know she worked super hard on them.
Yay for getting married! And having the best wedding shower ever!
[Sues]