Today is Thursday, which means tomorrow is Cocktail Friday. That's how my train of thought is working this week. Fair enough, right? But if you just can't wait, I recommend making a dish that involves wine in some way, shape, or form. Like this risotto. Pop open a bottle but only need 1/2 C for your dish? Well, then it's only right that you have a glass or two with dinner. Wasting is bad.
To celebrate the almost end of another week, not only do I have a summery risotto recipe for you, but also a giveaway! Read to the end and enter to win a fabulous apron from Scarlet Threads.
I know I say this every time I make risotto, but it's easy. EASY. Stop being intimidated by the negative stigma risotto-making has somehow been labeled with, and just make it. You'll see for yourself. And then you'll wonder how on Earth you went so long in life without making risotto from scratch. And then you'll want to make it every night. And you'll never ever get sick of it. I promise. (Within limits. I mean, if you eat a bowl of risotto for every meal every day, you might start to get a little tired of it. But that's only a might).
Lemony Summer Risotto (serves 6):
print this recipe!
• 4-5 C vegetable broth
• 2 T butter
• 1 medium onion, chopped
• 2 cloves garlic, finely chopped
• 1 1/2 C arborio rice
• 1/2 C dy white wine
• Zest of 1 lemon
• 1 T olive oil
• 1 small bunch asparagus, cut into 1/2-inch pieces
• 1 small zucchini, chopped
• 1 1/2 C corn (fresh or frozen. If frozen, defrosted)
• 1 bunch basil
• Juice of 1 lemon
• 1/2 C parmesan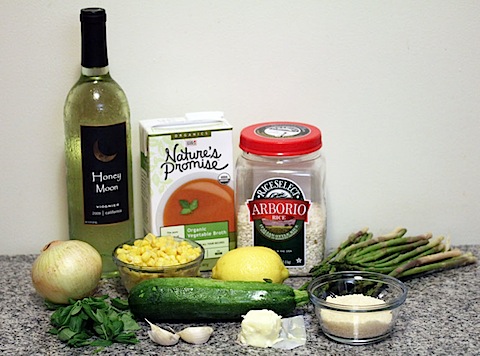 Start by bringing the vegetable broth to a boil in a saucepan. Then lower to a simmer.
Now, in a separate medium saucepan, heat the butter over medium heat. Add onion and garlic and cook about 3 minutes, until onions are transparent.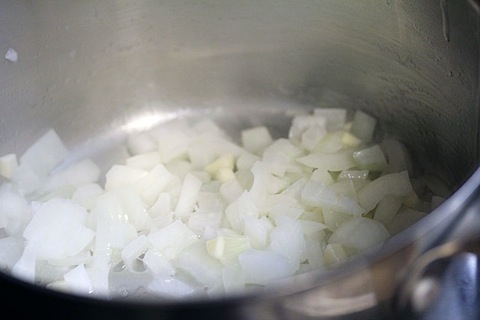 Add the rice and cook for about 2 minutes.
Add the wine and stir a bit, until the rice absorbs the wine. Add the lemon zest at this point, too.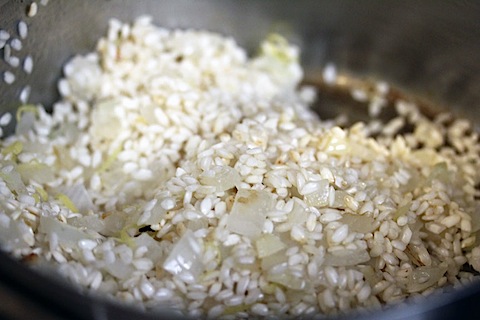 Now, add 1 cup of the warmed vegetable broth to the rice. Stir. And let the rice absorb the stock. While I don't believe you have to stir like a crazy person like some risotto lovers will have you believe, I do think you should check on the pot every couple minutes and give it a good stir, so the rice doesn't stick to the bottom of the pot.
Once the vegetable broth is absorbed, continue to add more, a cup at a time, letting it absorb before adding more. Continue with the rest of the broth, or until the rice is nice and tender, but still firm.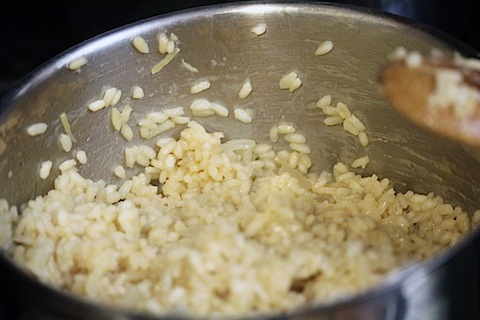 While your rice is busy absorbing vegetable broth, heat the olive oil in a pan over medium heat. Add the asparagus and zucchini and saute for about 4-5 minutes, until tender.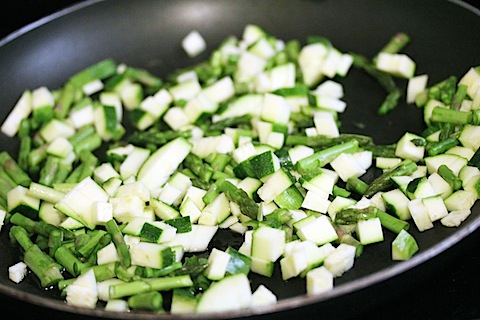 When your risotto is done, add in the corn, basil, fresh lemon juice, parmesan. Then stir in the asparagus and zucchini. Season with salt and pepper, if needed.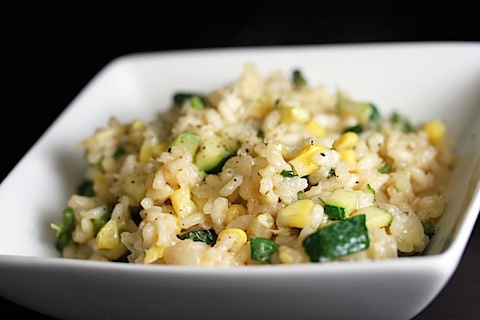 While some people think of risotto as a comforting winter dish, I say there's no way I could go a whole summer without risotto in my life. The lemony flavor and summer vegetables in this dish lightens things up, making it fit for a summer meal that doesn't stuff you (unless you eat the whole pot. Which I wouldn't put passed myself).
I loved the delicate, not over-powering lemon flavor, but if you like more, you can always add more lemon juice when your risotto is already on the table. Zest, too.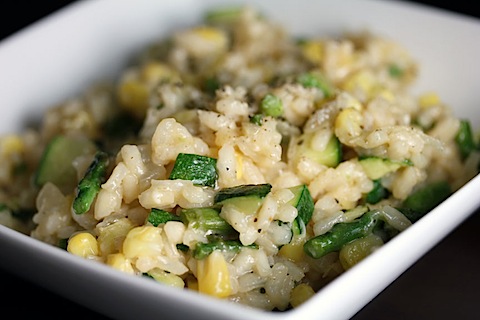 This is easy. And you really don't have to stand over a hot stove slaving away for a delicious dinner of risotto. Just relax, have fun, and stir the pot every now and then.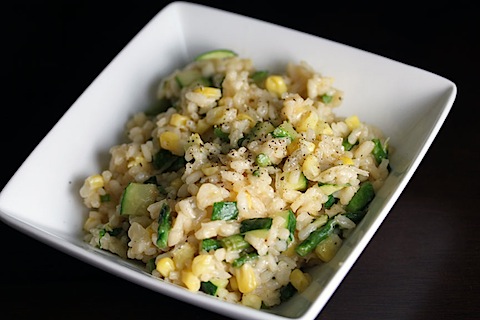 Scarlet Threads Apron Giveaway!
Have you guys heard of Scarlet Threads yet? It's a compassionate boutique that specializes in products designed and produced by talented seamstresses in Central Asia. The founders of Scarlet Threads, Carrie and Jacob, moved to China a few years ago and decided to start a sewing cooperative made up of the amazing seamstresses in the poverty-sticken area. The company aligns to fair trade principles, paying workers a fair wage and allowing them to work in their own homes according to their own hours.
I absolutely love that Carrie and Jacob say the result of their efforts with Scarlet Threads is "Dignity, which is always beautiful and never goes out of style."
And their products are beautiful! We especially love their aprons (but the kids' clothing is adorable and the handbags so fun) and lucky for us, Lexi has offered to let us give one away to one of our lucky readers! Here's the "Daphne" apron you could win: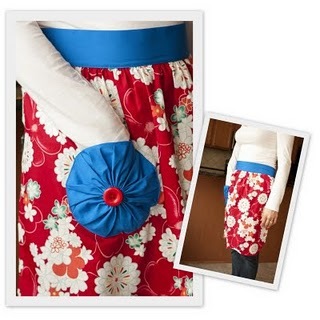 And even if you don't win, you're in luck because Scarlet Threads is offering all WANM readers 25% off any of their products. Just enter code "WANM" when you're checking out for the discount.
To enter, just check out Scarlet Thread's shop and let us know what product is your favorite. I'm personally lusting after the Mattie May apron. Enter before Monday night at 11:59 for a chance to win.
For an extra entry, tweet about this giveaway (you can follow us on Twitter at We are not Martha and Scarlet Threads). Just let us know if you tweet, so we can give you an extra entry 🙂
Also, check out the cookbook swap Lexi is organizing and let her know if you would like to be involved,
Good luck! And happy almost Friday 🙂
Of course, I have to give a shout-out to the Boston Bruins (who I'm certain are reading this blog right now) for winning the Stanley Cup last night!! While I'm not the biggest hockey fan ever, I'm really excited that made it so far and actually won the whole thing. The Bruins totally deserved a win after all these years and their loyal diehard fans did, too! I love Boston!!!
And now I'm going to take a short break from my work to hang out at the pool with my sister for an hour. I don't generally take lunch breaks, so I figure I can spare an hour when the weather is nice (and it finally is!). Plus, I can chalk it up to sister time 🙂
[Sues]