This kale salad from the popular Boston food truck, Mei Mei, is sure to impress even the biggest kale skeptics. From the super tender and flavorful greens to the garlicky panko to the heavenly slow poached fried egg, this salad really is magical!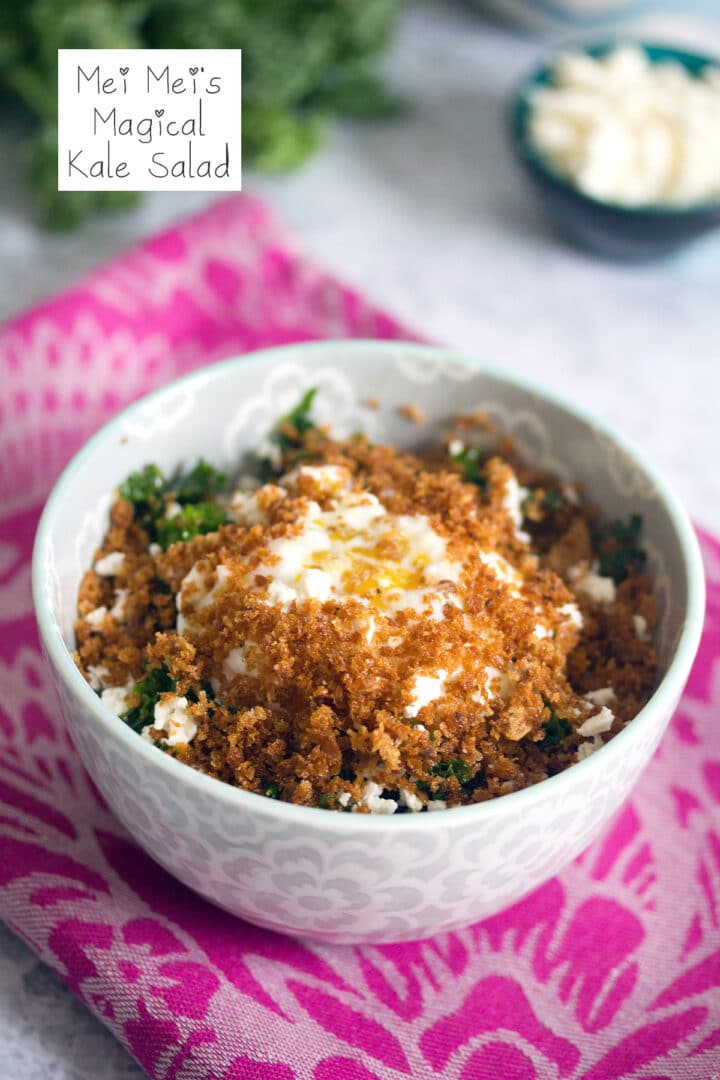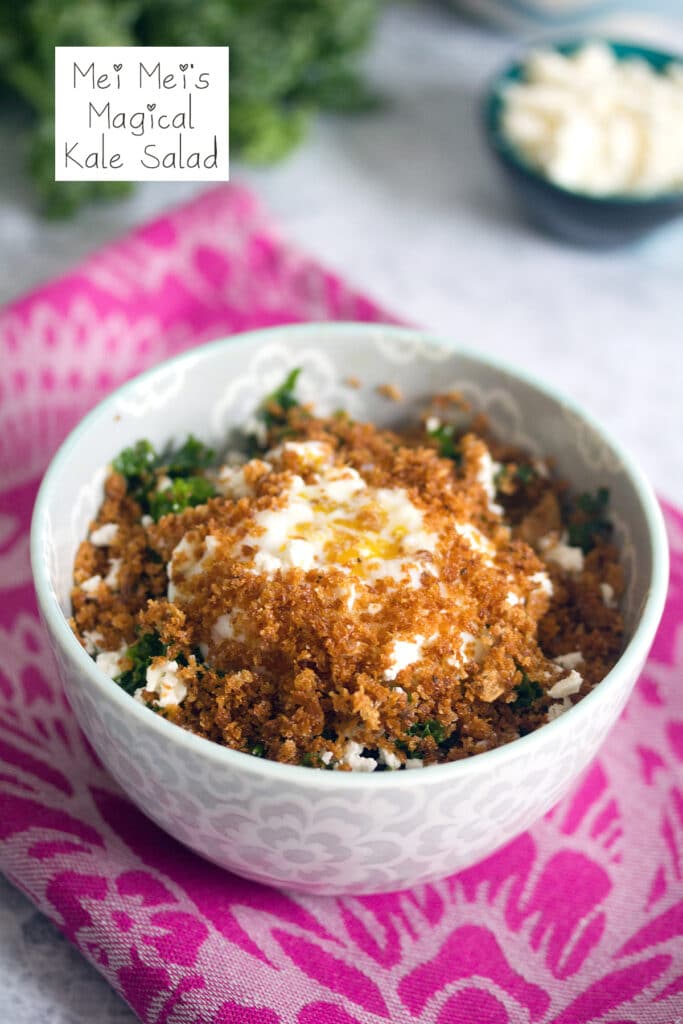 You can tell me to stop if you want. You can go back and count all of the kale salads I've posted on this blog over the last couple years and tell me you're unsubscribing.
I honestly don't know what my kale salad grand total is, but I know it's probably close to some sort of world record. And this is the second kale salad that I had at a restaurant and then ran home to recreate.
And if there's one kale salad you make off of my blog, I hope it's this one. If you hate kale and you're starting to also hate me well then, I'm sorry.
I'll probably go back to posting things like cupcakes in jars next week.
The Magical Kale Salad
I was introduced to this magical (legit) kale salad last summer when Chris and I went to Boston's SoWA Market with my sister and Adam (and their newborn babies!) and stopped by Mei Mei's food truck.
We'd been hearing about Mei Mei for a long time and there was a bit of an extra draw to their truck, considering the lovely Kristen Kish (of Top Chef fame) was on board helping out for the day!
My sister and I ordered the "magical" kale salad to share. The egg was optional and we most definitely took part in that option.
Yes, the salad is indeed completely magical and it's been one of those dishes I've thought of way too often since enjoying it. A couple months ago, I spotted a recipe for it in Food & Wine magazine and knew I'd be making it!
The thing is, there's no precise recipe since the siblings at Mei Mei are such pros, they can whip it up with no measurements. But I've experimented with it enough that I'm happy to share my (pretty accurate) take on Mei Mei's kale salad recipe.
How to Make Slow Poached Fried Eggs
The Food & Wine recipe called for fried eggs, which I knew couldn't be right. Those eggs were like no fried eggs I'd ever had!
So, I did a little research and found out that the eggs are actually slow poached before being fried! I'd never even heard of such a thing, but gave them my best attempt, following this slow poaching recipe from David Chang on Martha Stewart's website.
Slow poaching is basically the same as poaching eggs, but a lot, you know, slower.
You're supposed to put the eggs on a rack in the pot, but I didn't have one that would fit, so I just put them right in.
You also need to keep the water between 140 and 145 degrees, which means you'll likely have to adjust the temperature as the eggs cook and may even need to add some ice cubes to the pot to cool things down.
But it's all worth it for the most perfect slow poached eggs.
You can just tell how awesome this egg is going to be when it's cut into.
Once you have your poached eggs, you'll want to fry them a bit. Obviously.
Just put them in a little olive oil over medium high heat and fry until the eggs are turning golden. Be careful since you don't want to break the yolk!
While the eggs are slow poaching, you can be working on the rest of the kale salad.
How to Make Panko Garlic Topping
The crunchy topping is one of the keys to this kale salad. Actually, all the elements are keys, but since the ingredients are pretty simple, it shouldn't be an issue to make all of them.
For the panko topping, heat extra-virgin olive oil in a large nonstick skillet and add garlic. Cook over medium heat for about 30 seconds, while stirring.
Add panko to the skillet and cook, stirring, until golden and crispy, about 3 minutes.
Season with salt and pepper and transfer to a plate to cool while you mix together the greens.
How to Make Mei Mei's Kale Salad
Aside from the egg and panko/garlic topping, this kale salad just consists of mixing together kale, rice vinegar, and extra-virgin olive oil.
The ratio is the tough part… Food & Wine said to use 1 bunch of kale with ½ cup EVOO and ¼ cup rice vinegar. I always think it's dangerous to measure greens in "bunches" since sizes of bunches can vary so much, so I worked with cups and changed the amounts of liquid a bit.
(Note that my recipe makes 2 servings, but is easy to multiply to make more. I also top with maybe more crispy panko than I should, but it's so good, I can't help myself).
The video I found basically tells you to use a 3 to 1 ratio of olive oil and vinegar, but to use your eye and taste buds to figure out how much to use.
I ended up using about 5 cups chopped kale, ¼ cup + 2 Tbsp EVOO, ⅛ cup rice wine vinegar, and a pinch of salt and pepper.
I massaged all of the salad ingredient together really well. And then tasted them to see if they needed any more salt or pepper.
Now, divide the kale mixture between two bowls and top with that crazy awesome slow poached fried egg and crumbled feta.
And, of course, the panko.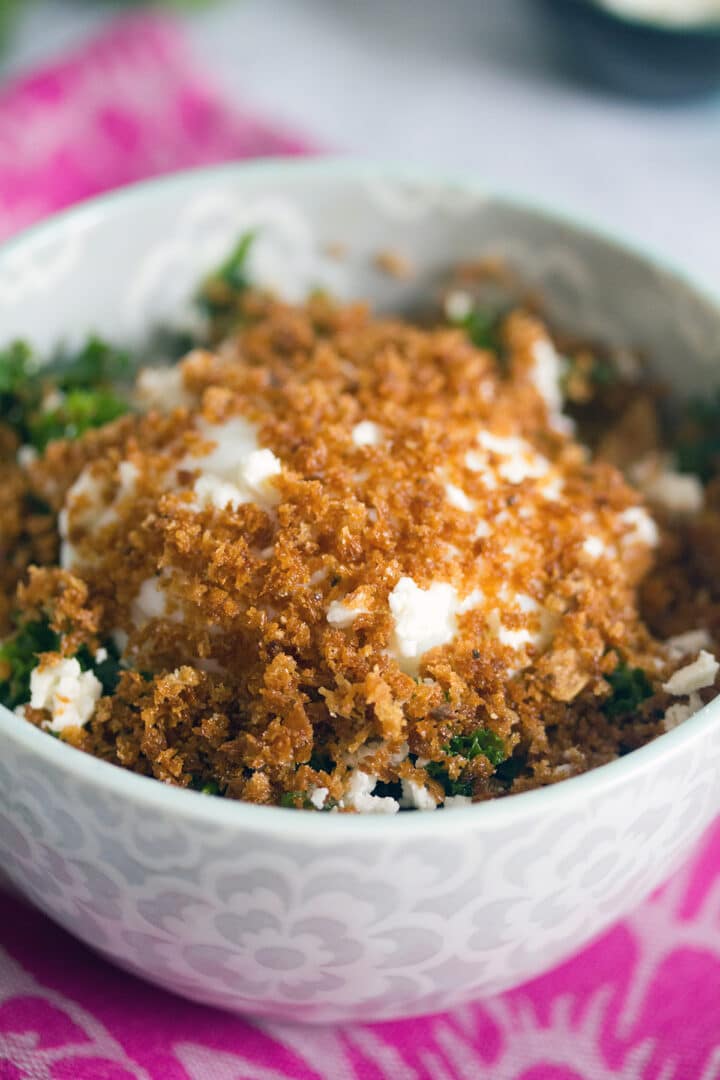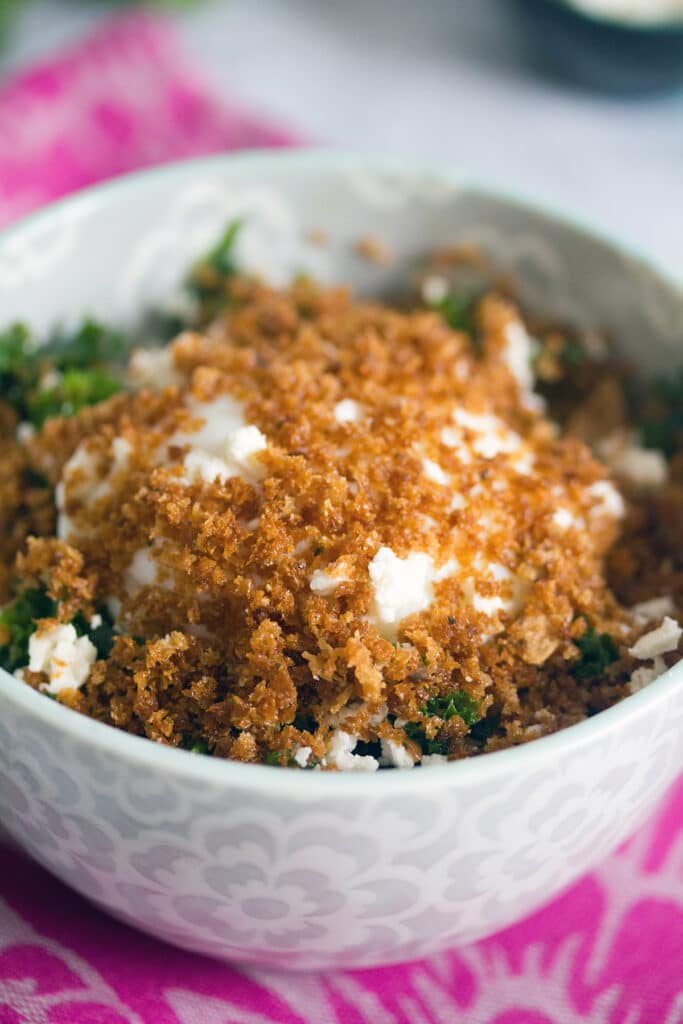 I am in love. 100%. It took me a couple tries to get the ratio right, so I ended up eating a lot of this kale salad over the past month or so. Even when not perfect, it's still delicious!
The panko has just the right touch of garlic in it... Crispy panko is really one of my favorite things.
OK, but the best part? When you break open that egg. YES. How have I never heard of slow poached eggs before?? How?? My life has not been complete until now! And this one? It's been slow poached and THEN fried.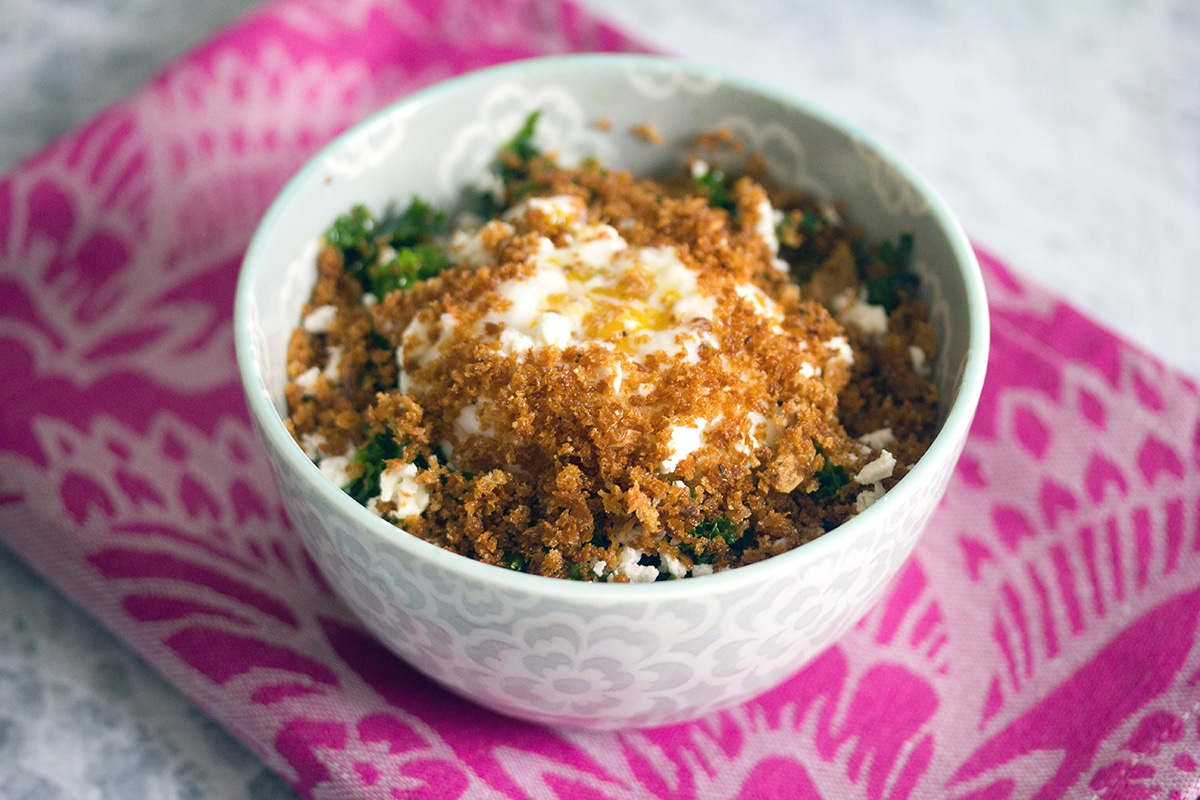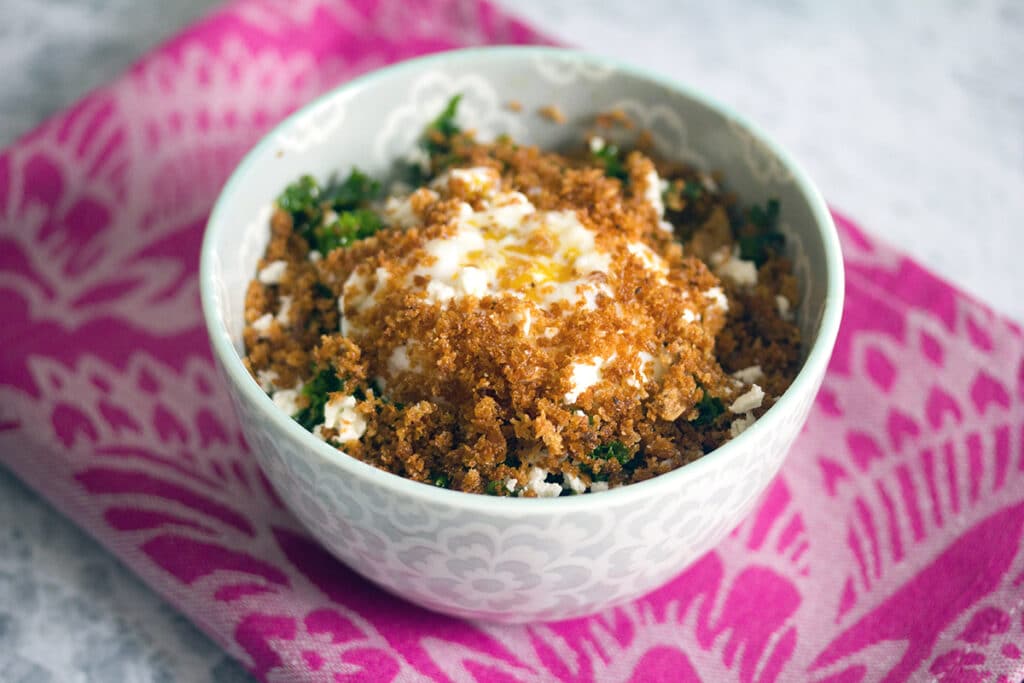 Slow poached eggs have the most perfect yolk you've ever experienced and the extra time they take to make is so entirely worth it. I may even get up early on a Sunday morning just to make these.
More Kale Recipes
If you love kale as much as I do, you can likely never get enough of it! Here are some of my very favorite kale recipes:
Now can you see why I had to make Mei Mei's kale salad so badly?
I don't want to have to apologize for my thing with kale anymore. I just want you to see what I see. And I think this salad can do it for you!
When you massage kale like crazy with olive oil and rice wine vinegar, it gets extremely tender and flavorful. All the bitterness is gone and you won't be able to stop eating this.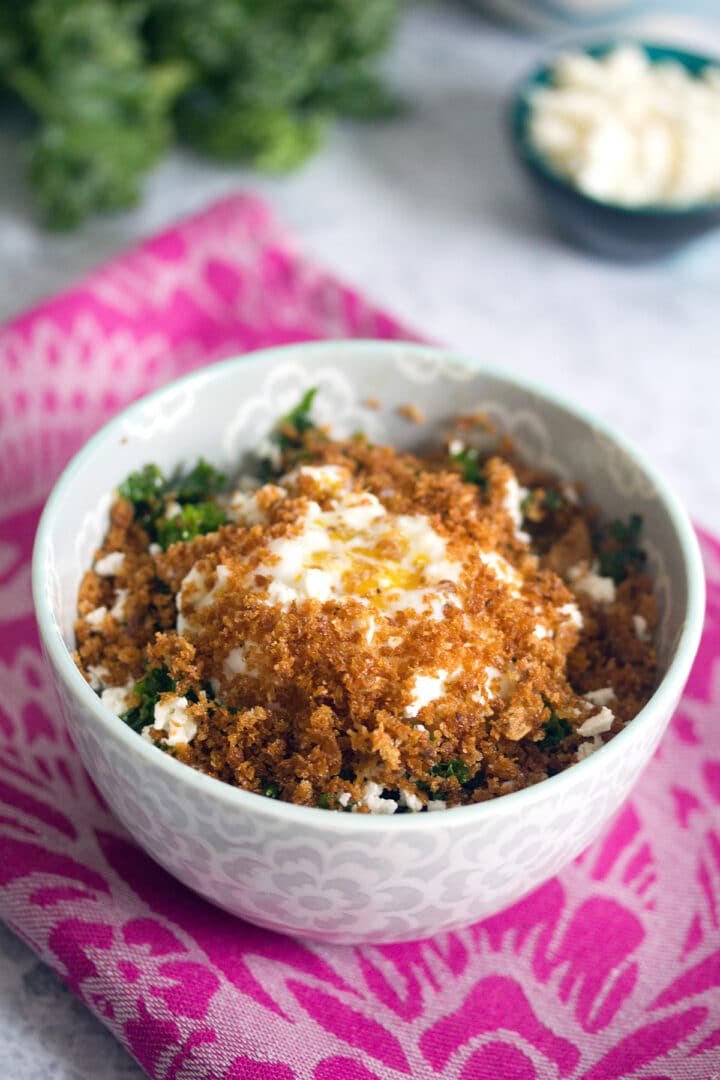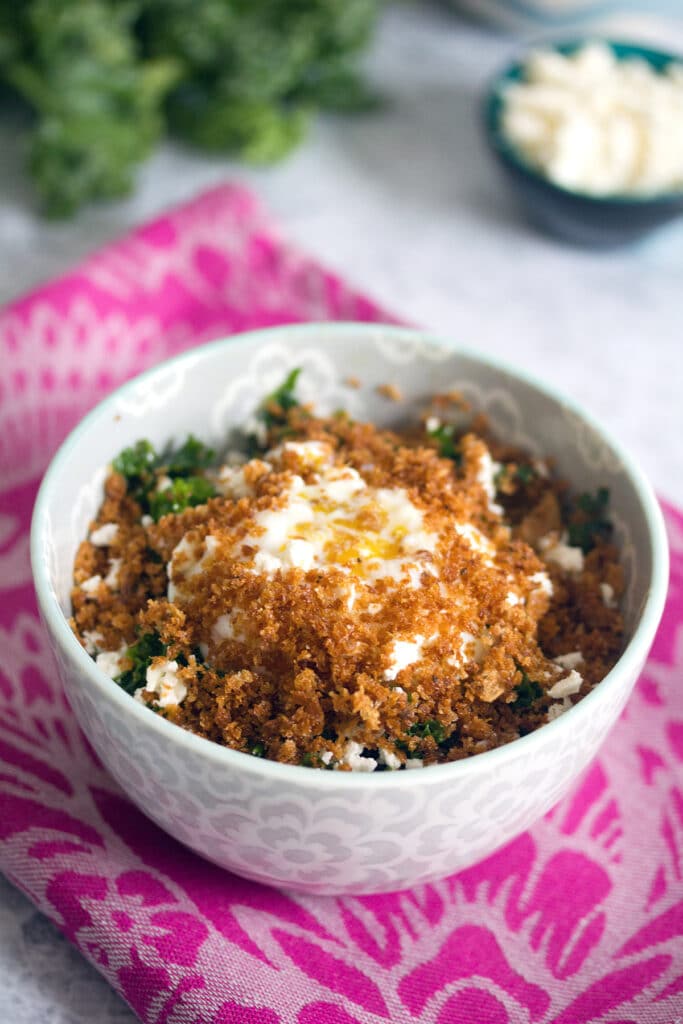 Magical really is the best word to use to describe this salad. Thank you, Mei Mei, thank you.
Have you slow poached eggs before? Massaged kale with olive oil? Called a salad magical?
📖 Recipe